NORTH THAILAND AND THE GOLDEN TRIANGLE
23/7/04
Leaving KAMPHAENG PHET, a historically listed town on the World Heritage List, noted for its fine example of an unrestored walled city and temple. I crossed the river Ping and again joined Highway No1 to CHIANG MAI, around 360k north.
I pass through TAK, then on to THOEN, I was planning to take Highway 106 to CHIANG MAI, but missed the turn, it didn't matter as LAMPANG was on the main highway and after that about 30k's of fast long bends through the mountains, it's times like this you wish you had a big sports bike, I still managed 120 k/h through the sweepers, fully loaded and passing most trucks and cars.
Finally arrived in CHIANG MAI around lunchtime and booked into the North End Hotel, recommended by David Unkovich,I checked in and gave David a ring and arranged to meet him and have a beer.
24/7/04
I arranged to meet David for breakfast and go over some of his excellent maps he has produced of the area over the years, riding his bike for thousands of k's using his trusty GPS. He also introduced me to an expat German called Joe, who owns a motorcycle repair shop here, Doris, my bike will be in his workshop for new brakes and tyres in preparation for my next major trip through LAOS and CAMBODIA. David has also written a book about rides in Northern Thailand and is well worth a look if you are thinking of touring in this area. The next few days will be spent checking out this ancient moated city.
I have decided to stay for a month in CHIANG MAI, as there is so much to see in Northern Thailand, all within 2 or 3 easy riding days away (about 350k to 800k round trips).
David mentioned that he may go to the Burma border to update his visa and invited me along for the ride together with his American mate, you beauty a chance to get out on the road again with a bit of company for a change. Unfortunately it absolutely pissed down for 2 days, so we had to wait for the weather to break.
29/7/04
Meet the boys for breakfast at a favorite café, called "The Kaff" and plan to leave around 10.00 am, people up here don't get out of bed too early, heading towards CHIANG RAI and The Golden Triangle.
David Unkovich (Dave 1) is on his 750cc Honda Africa Twin and David Early (Dave 2) is on his 850cc TDM Yamaha and I'm on poor DORIS at 650cc,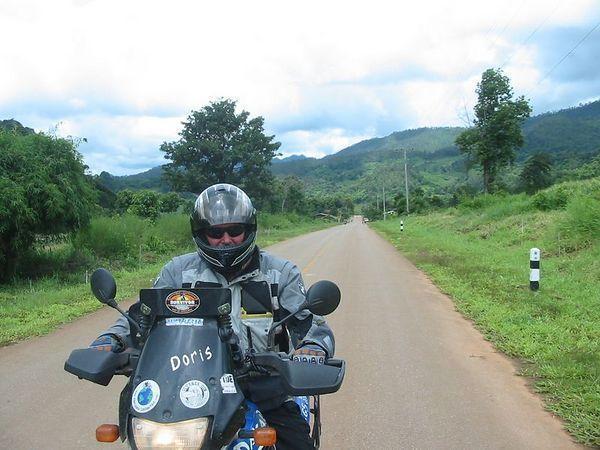 a little out gunned in the horsepower stakes.
Dave 2 (shit there's a lot of Davids up here) really flies, he's been riding these roads for years and really knows his way around.
Leaving Chiang Mai at a good rate of knots, (would you believe 120k/h through the suburbs!) try that in OZ, and a steady 140k/h on the open road. DORIS was just coping, then into the mountains and the twisties, DORIS was more at home here and wasn't far behind at our first coffee stop. The scenery (what I saw of it) was absolutely breathtaking, and Dave 1 was taking the opportunity to plot some back roads on his GPS ultimately we ended up at the Golden Triangle for lunch and took a great boat ride over the mighty MEKONG River (now in flood) to DON SAO in LAOS to flog off some of his maps to the local stall holders. If you get up this way, buy some local whiskey with an assortment of venomous snakes and scorpions inside the bottles, all dead of course.
We stayed the night at Chiang Rai at a good hotel for 500b after another high speed dash through the mountains, I even managed to tee bone an unfortunate chicken.
After a good hot shower and a change of clothes, it was off to a good Thai restaurant, the 3 of us are partial to a good Irish Whiskey over diner, and it was at a local bottle shop, that we bumped into 2 Brits, (Suzy and Simon) who had just come through Burma on their bikes, not easy in today's political climate. Keen to hear their story, we asked them to join us for diner and Irish Whiskey of course.
Next day was another 10.00 am start, after a good breakfast, god we love our bacon and eggs, it was off to the Burmese border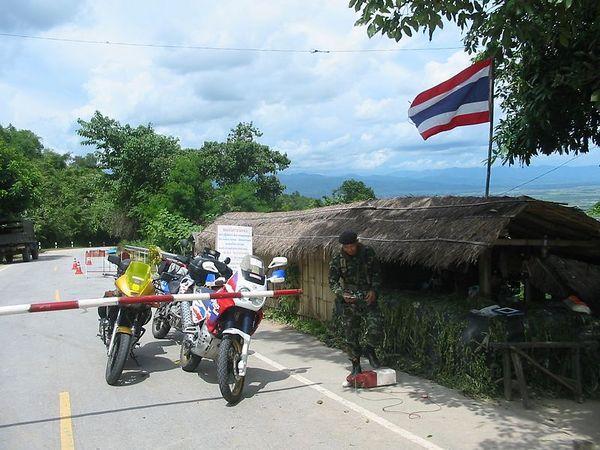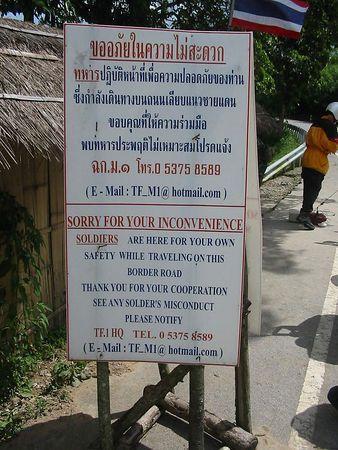 and some of the most breathtaking scenery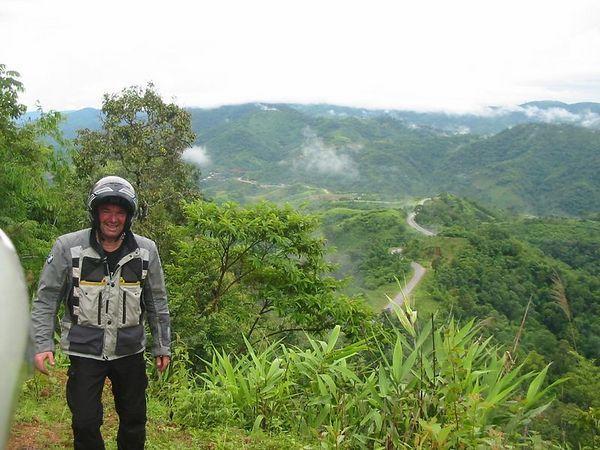 I have ever seen in my life, riding through the clouds on unbelievable switch back deserted country roads and into MAE SA LONG, a Chinese village at about 1300m above sea level, from there it was back down to FANG (pronounced FUNG) and yet more incredible roads and scenery. We finally stop at THA TON by the river for lunch.
Dave 2 seemed to have a sign on his bike, saying "HIT ME!" as he not only disappeared into the biggest pot hole on the trip, trucks, bikes and the occasional animal, including a dog and a cow were all near misses, I got off relatively lightly with the chook, decapitated by my spokes.
We stayed in FANG for our final night for the princely sum of 300b, as we are 3 old bikers, not quite geriatric mind you, our bodies were starting to feel the worse for wear, we decided to shout ourselves a traditional 2hr Thai massage, definitely the highlight of the night in sleepy FANG, and a laugh a minute, listening and watching 3 mature aged western men go through absolute torcher at the hands of 3 very small Thai women.
Next day it was off to the head waters of the Ping river, the road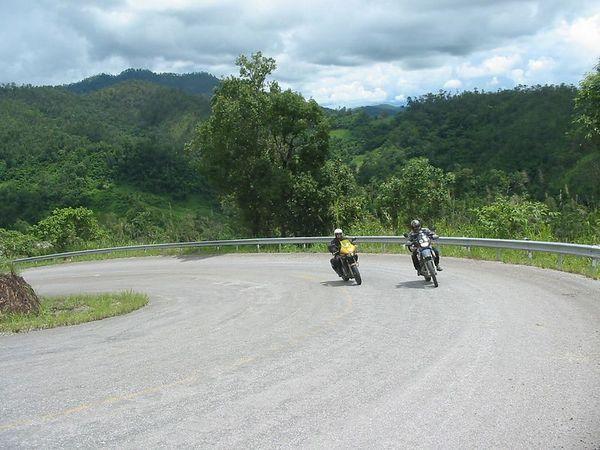 runs towards the Burmese border and the rural area of the Hill Tribes and the Chinese village of Nong Ouk, apparently the remnants of the fleeing army, chased out of China by good old Mao back in 1949. We topped up with fuel from the local petrol station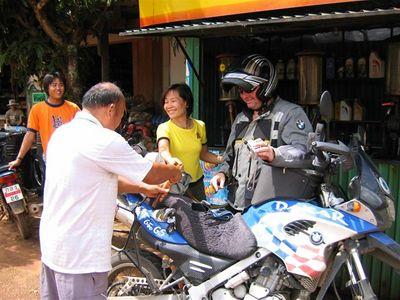 (a 44 gallon drum with a hand pump and a plastic hose) and an audience of a dozen smiling kids and a few rather dodgy looking adults, still a bit of illegal goings on in these hills.
Dave 2 said in passing, how fortunate we had been with the weather, you guessed it, next corner it totally pissed down and it was a very wet afternoon ride back to CHIANG MAI, with a stop off CHIANG DAO for hot coffee.
All in all some of the best riding and scenery I have experienced in over 30 years of motorcycle riding, and Dave 1 reckons there is even better to come, YAHOO!
Total distance traveled, 862k in 3 days and 2 nights.
VERDICT: ****in Awesome!