Administrator
Staff member
Subscribed
Jan 16, 2003
13,316
4,228
113
68
MY LUANG PRABANG LOOP
DATES: 13 days. Tues 22 Jan – Sun 3rd Feb 2008
THE WAY:
Day 1: Chiang Mai – Chiang Rai- Mae Chan – Chiang Saen – Chiang Khong
Day 2: Chiang Mai- Houei Xai- Luang Nam Tha
Day 3: Luang Nam Tha – Muang Sing –Luang Nam Tha
Day 4: Luang Nam Thai - Oudom Xai
Day 5: Oudom Xai - Luang Prabang
Day 6: Luang Prabang
Day 7: Luang Prabang
Day 8: Luang Prabang
Day 9: Luang Prabang - Vientiane
Day 10: Vientiane
Day 11: Vientiane
Day 12: Vientiane - Loei
Day 13: Loei – Chiang Mai
THE ROUTES:
Ex Chiang Mai: 118-1016-1290-1129.
Laos: Route3A-13
Thailand: 2-211-27-203-2013-1143-1246-11
THE RIDERS & BIKES: Davidfl & the Africa Twin. Rhodie & the Triumph Scrambler
THE WEATHER: The start warm sunny & then cold wet & miserable!
THE TRIP
Got away from the Kafe at 10.45 pm. 15 mins before Rhodies preferred departure time.
We fuel up with 95 at a PTT in town & the first pit stop is approx 140 kms out to top up the tank on the Scrambler. The Triumph Scrambler has such a small tank that Rhodie's actually had it cut on half & re-welded to get an extra litre or so in there.
The next pit stop is Charin Resort for the obligatory coffees & pies.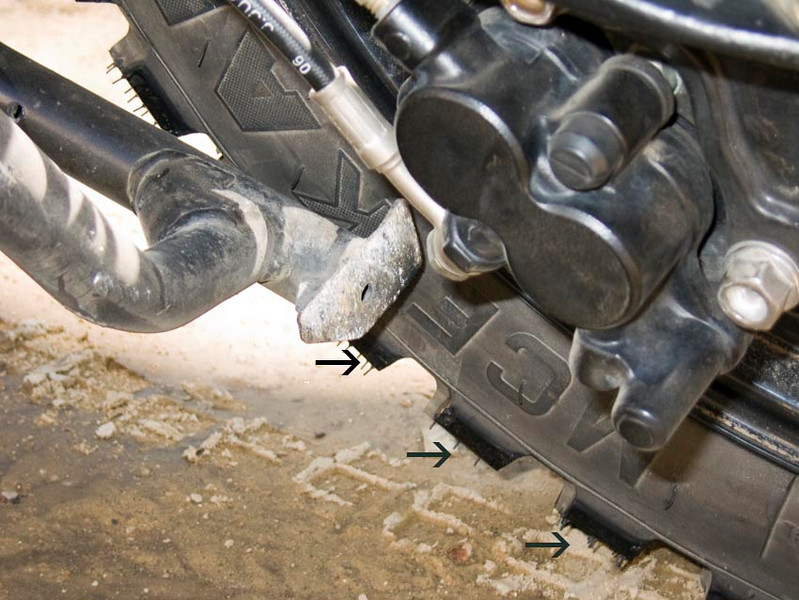 It's here that Rhodie complains about a scuffing noise when he's riding in left handers. We take a look at the bike & see that the centre stand has actually been rubbing on left hand side of the tyre, cutting into the knobs. A new chunky knobby tyre had been fitted to the bike & my guess is it was not quite the right profile; but then again it could have been the centre stand fitting after the tyre change. First stop after Charin then was an engineering shop 10 kms up the road to fix the bike. Rhodie was not impressed with my idea to fix the tyre & shave off the knobs with an angle grinder & leave the centre stand alone, so the centre stand it was. Not your everyday job in an upcountry rural engineering shop & at first the workers wanted to have a go at it with a blow torch! Eventually the staff understand the problem & what action was needed. Tricky & fiddly, & under pressure from two farang supervisors the lads actually seemed to enjoy themselves, especially watching Rhodie lay his fully loaded bike over & hold it up while they had fun & ground away at his half a million baht++ machine.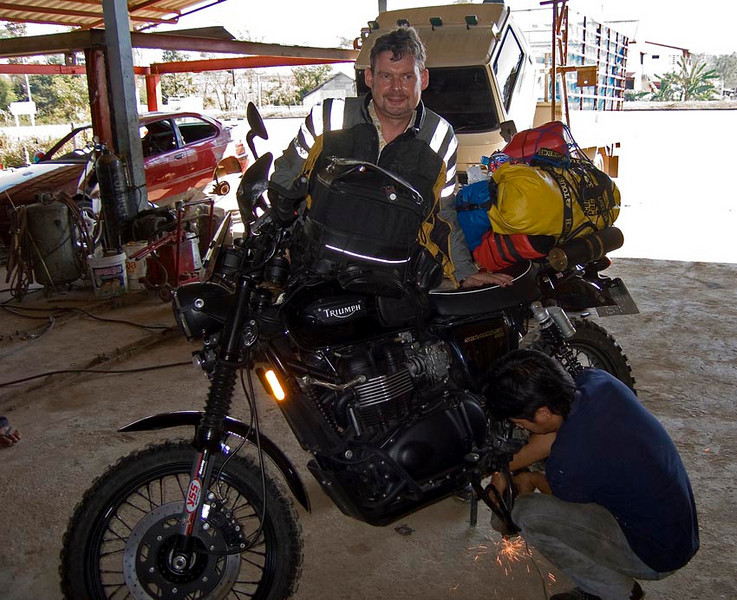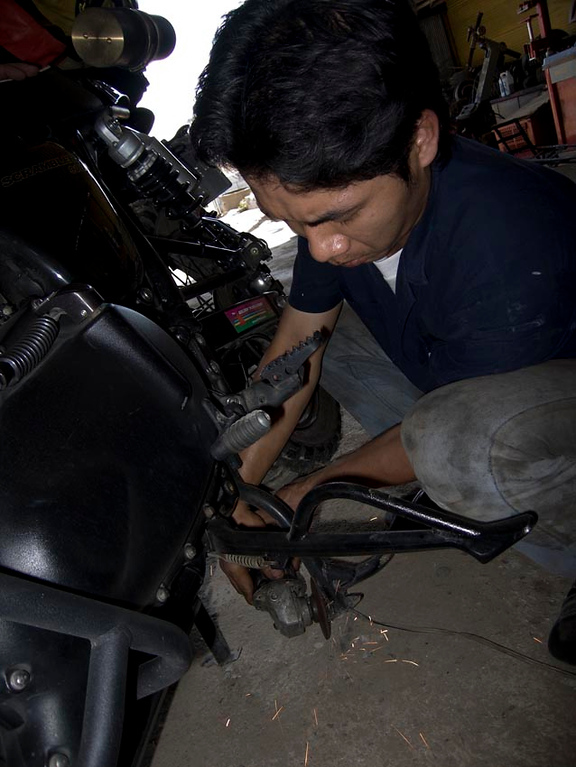 They must have enjoyed themselves immensely, because when the bill came they only wanted 50 baht. Unbelievable! I forced 100 baht onto them & told them to buy some beers after work & joke about the silly farang motorbikers!
This done it was a bit of a race straight up to the Golden Triangle for a bit of a photo shoot in the angelic light of the late afternoon.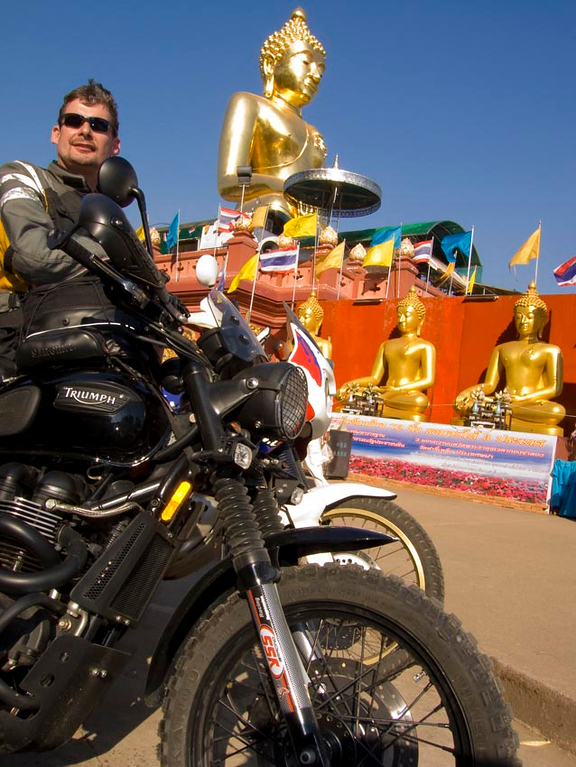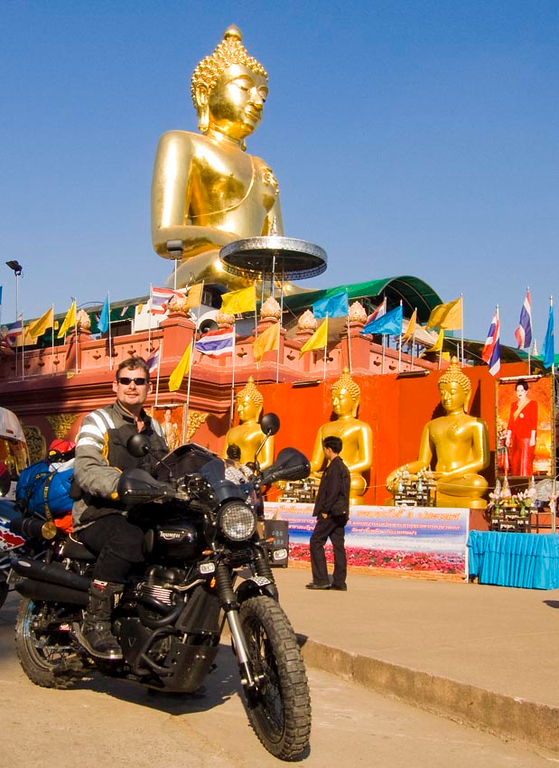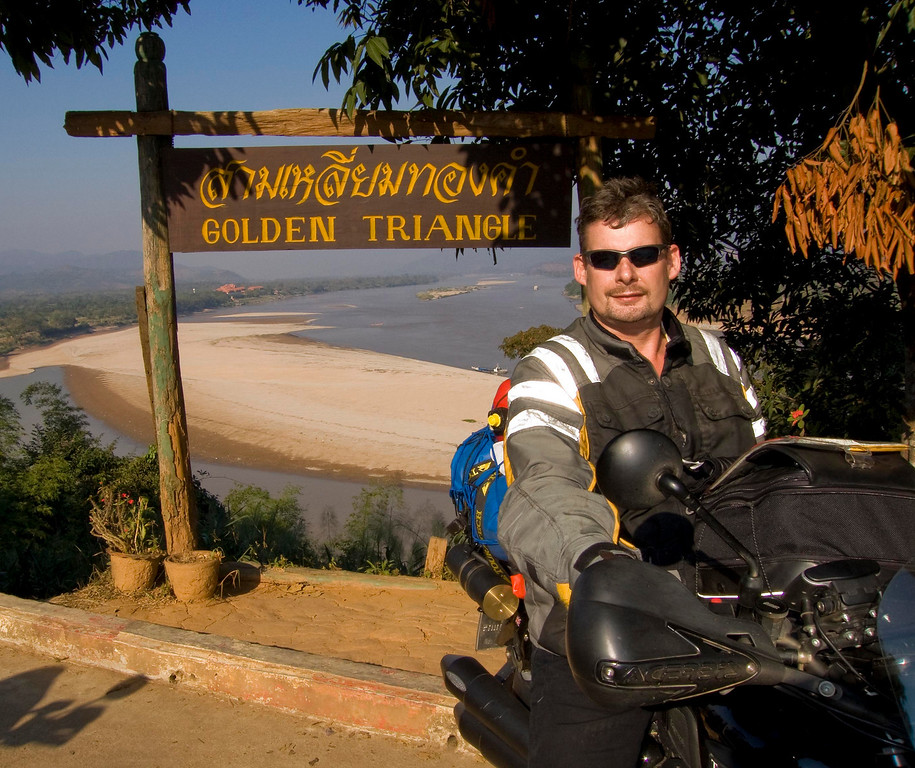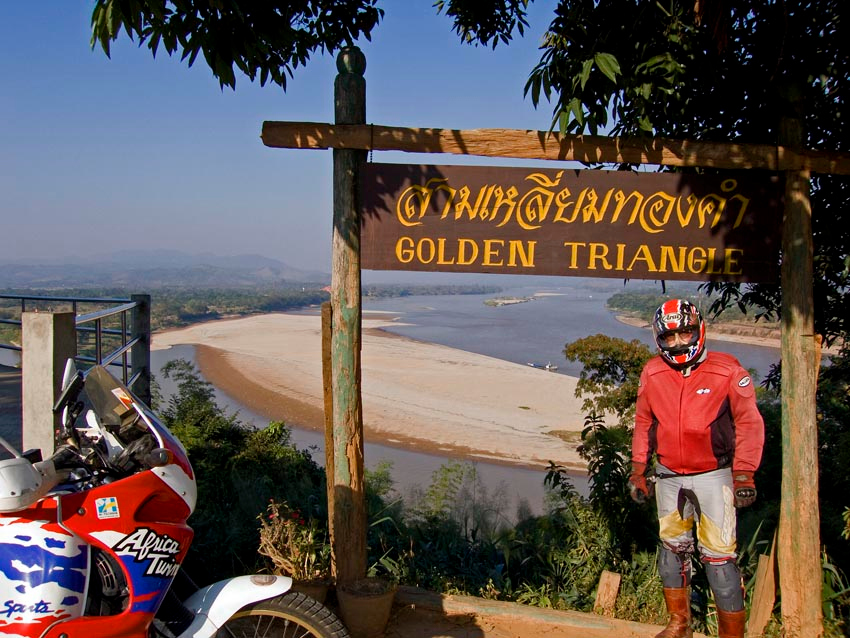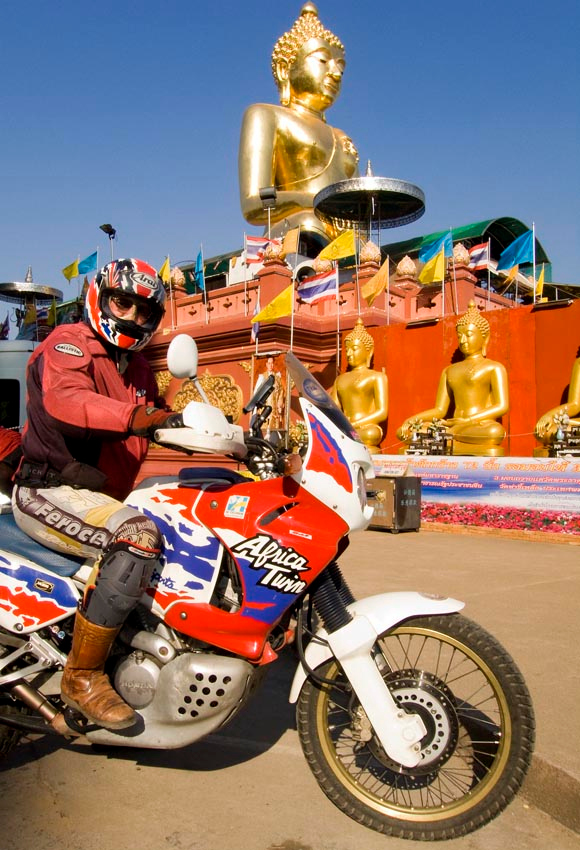 More coming..
Last edited: