0
Staff member
Subscribed
Jan 16, 2003
14,081
5,079
113
69
THE MAE HONG SON LOOP
The GT Rider map that started it all!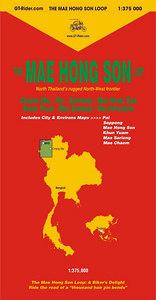 Asia's legendary Motorcycle Loop – ride the road of 1,864 bends.
1st Edition November 2002. 2nd Edition November 2003. 3rd Edition November 2006. 4th Edition December 2009.
Laminated - waterproof – indestructible.
You can't lose, hundreds of kms of twisting mountain roads – asphalt & dirt!
MAP DETAIL
CITY MAPS
1. Pai
2. Soppong
3. Mae Hong Son
4. Mae Sarieng
5. Mae Chaem
ENVIRONS MAPS
1. Pai
2. Mae Hong Son
WATERFALLS
1. Huai Hom
2. Huai Nam Dang
3. Huai Phung
4. Mae Klang
5. Mae Pan
6. Mae Sa
7. Mae Samat
8. Mae Sapok
9. Mae Surin
10. Mae Ya
11. Mae Yen
12. Mo Paeng
13. Mokfa
14. Na Poei
15. Nang Khoi
16. Natee Rachan
17. Om Taeng
18. Pha Bong
19. Pha Sua
20. Siriphum
21. Sop Pong
22. Sri Sangwan
23. Susa
24. Tard Mork
25. Vatchirathan
HOT SPRINGS
1. Muang Paeng
2. Nong Haeng
3. Pha Bong
4. Pong Deud
5. Pong Kwao
6. Pong Ung
7. Tha Pai
8. Theppanom
CAVES
1. Borichinda
2. Chiang Dao
3. Coffin
4. Erawan
5. Fish
6. Kaew Komol
7. Mae Sap
8. Ma Ka Noi
9. Mae Lana
10. Muang Na Nua
11. Nam Lang
12. Nam Lod
13. Pa Daeng
14. Pa Daeng
15. Pa Puek
16. Pha Daeng
17. Pha Mon
18. Susa
SCENIC VIEWPOINTS
1. Doi Inthanon
2. Doi Kong Mou
3. Doi Ong. Mae Na Chon - Khun Yuam
4. Doi Pha Tang
5. Doi Pui MHS
6. Huai Nam Dang
7. Kiu Lom. Pai - Sop Pong
8. Mae Samat. MHS - Khun Yuam
9. Meo Microwave. MHS - Khun Yuam
10. Pangma Pha. Sop Pong - MHS
11. Pa Puek
12. Tung Jaw
NATIONAL PARKS & WILDLIFE SANCTUARIES
1. Chiang Dao NP
2. Chiang Dao WS
3. Doi Inthanon NP
4. Doi Suthep NP
5. Doi Wiang La WS
6. Huai Nam Dang NP
7. Khun Khan NP
8. Lum Nam Khong NP
9. Lum Nam Pai WS
10. Mae Lao - Mae Sae WS
11. Mae Tho NP
12. Mae Yuam WS
13. Mae Surin NP
14. Ob Khan NP
15. Ob Luang NP
16. Salawin WS
17. Tham Pla -Pha Sua NP
RESORTS & GUESTHOUSES UP-COUNTRY / OUT-OF-TOWN NOT ON CITY MAPS
1. Ban Farang G/house
2. Ban Krating
3. Ban Rai Lanna
4. Bed & Breakfast G/house
5. Belle Villa
6. Cave Lodge G/house
7. Chiang Dao Hill Farm
8. Chiang Dao Nest G/house
9. Deva Montra
10. Fern Resort
11. Golden Pai
12. Hmong Lodge
13. Hod Resort
14. Imperial Sports Club
15. Inthanon Eco Hut
16. Inthanon Highland
17. Inthanon Paradise
18. Inthanon Resort
19. Inthanon Valley
20. Kao Mai Lanna Resort
21. Karen Eco Lodge G/house
22. Kaw Krairaj Resort
23. Krisada
24. Lanna
25. Lisu G/house
26. Lisu Lodge
27. Lisu Mountain G/house
28. Little Eden G/house
29. Mae Hao
30. Mae Sarieng Resort
31. Malee Nature Lovers G/house
32. Mokfa Resort
33. Navasoung Resort
34. Pang Ma O G/house
35. Par Daeng Cabins G/house
36. Peuksa Nakow
37. Rim Doy Resort
38. Royal Ping Garden Resort
39. Saksuay Resort
40. Soppong River Inn
41. Thapai Spa Resort
42. Touch Star
43. Wong Nam Yard
ELEPHANT CAMPS
1. Chiang Dao
2. Huai Tor
3. Mae Ping
4. Mae Taeng
5. Mae Sa
6. Mae Tamann
7. Mae Wang
8. Noi's
9. Pong Yang
10. Thom's
TEMPLES
1. Buddhapat Tak Pha
2. Chomthong
3. Doi Kham
4. Doi Lang Tham
5. Doi Noi
6. Had Nak
7. Into A Garden
8. Kukut
9. Luang Khun Win
10. Mae Pang
11. Mae Yen
12. Nong Kai
13. Pha Doi Som
14. Phra That Doi Kong Mou
15. Phra That Doi Suthep
16. Phra That Hariphunchai
17. Phra That Si Chomthong
18. Samlian Wan
19. Siri Mangklacharn
20. Tham Doi Don
21. Tham Thong
22. Tham Wua
23. Ton Luang
24. Tor Pae
OTHER POINTS OF INTEREST
1. Aung Ngern Royal Villa
2. Bo Kaew Forestry
3. Doi Inthanon. Highest Mountain
4. Green Valley Golf
5. Hornbill Bird Habitat
6. Huai Bong Forestry
7. Huai Tung Thao Lake
8. Lanna Golf
9. Long Neck Hill Tribes
10. Mae Chaem Forestry
11. Mae Ngat Dam
12. Moss Garden
13. Nong Khaew Lake
14. Ob Ping Canyon
15. Prem Centre Intl School
16. Rafting Camps
17. Royal Chedis. Doi Inthanon
18. Royal Chiang Mai Golf
19. Sunflowers. Mae Ho
20. Sunflowers. Mae U-Khor
21. War Museum. Khun Yuam
22. Weaving Museum. Nong Ap Chang
23. Weaving Village. Thong Fai
24. Wiang Takan Ancient City Ruins
Plus, the Mae Sot Loop outline