Route - Mae Hong Son Loop off road
Rider - urm...me
Bike - KTM 525 EXC
Mileage - 900 km
After putting in a few multi day super motard trips with the boys on pavement it was time to get back on the dirt bike. The KTM was switched over to off road duty and the map perused to figure out where we would head.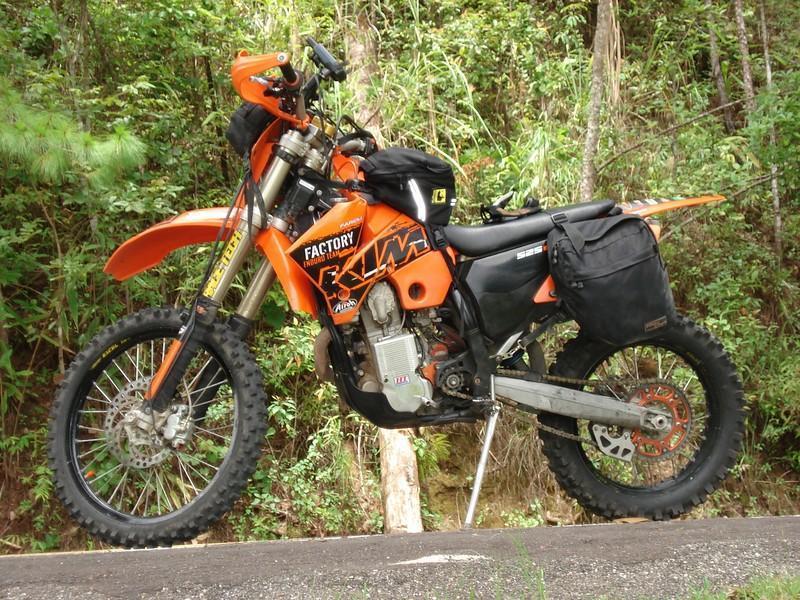 A quick call to rally the troops elicited the same response a farang gets in the Thermae bar nowadays in Bangkok, in other words…nil. Luke was getting work done on his back, (I always thought it was fun, not work) and could not be bothered to dirty his fingernails, Silverhawk was deep into interior design work of his new home. Something is taking place amongst the biker expat community I feared, is it losing the biking spirit?? Jeez I thought, my friends have got different priorities. Ole Happy Fingers actually had a reasonable excuse with an upcoming business commitment tour group so he was prepping bikes and gear.
So the choice was either to while away the night in the nighttime haunts, searching out new short time rooms and spending money or go for a multi-day off road ride by myself.
The Mae Hong Son loop going around Chiang Mai – Pai- Mae Hong Son – Khun Yuam – Mae Chaem- and back to Chiang Mai via pavement gets most of the tourist attention for riding. Its OK, but I feel there are other more interesting sights and roads to be had elsewhere in northern Thailand. Add to the fact that nighttime activities add up to next to nothing in those towns and it would take another variable to have me head around the loop. The KTM in dirt bike trim would be that missing variable to urge me forward and get me doing the Mae Hong Son loop counter clockwise the preferred way….in the dirt.
I thought BMW had the corner on the market with laughable advertising slogans stating their GS1200 adventure was an off road capable motorbike. Seems KTM has been sipping the BMW marketing "Kool Aid" with their own embarrassing "ready to race" slogan. Ready to race would have you assume you could ride the KTM EXC series of bikes off road without needing any modification. Its hogwash. Just as an FYI for potential owners of the EXC series of dirt bikes. If you're used to owning Japanese Enduro bikes the Austrians come up a wee bit short in a few areas.
1. Tank range – its got a motocross bike like 2 gallons which barely gets you into the woods on a decent ride let alone getting out of the woods. So now I have to carry extra fuel with me in inappropriate containers until a $300 larger tank arrives from the states.
2.Kickstand – How difficult is it to design a bloody kickstand? KTM is the first manufacturer I've come across to fail miserably in something so simple. A cheap Honda scooter has ones that work, why not the KTM? Mine has broken and been rewelded three times so far just holding the bike up!!!!! Not me sitting on the bike on the stand. Useless, so a replacement has to be bought and shipped over from the states. More money.
3.Triple clamp offset – First dirtbike I've ever owner that needs a steering dampener to calm the headshake at high speed. My motocross bikes shook their heads less than this so called Enduro bike. So either a $400 steering dampener or $300 triple clamps with a different offset is needed. Unless you like hanging onto something that resembles a dog shaking its head trying to get rid of a burr up its nose.
4. Radiator fan – This bike overheats when you ride it in tight enduro like conditions it was designed to be ridden in. It should come stock with one if the cooling capacity needs it. KTM charges another $100 for this item
5. Over flow catch tank- for when you overheat the bloody KTM. Even my cheap Kawasaki KLX has one stock, why not the "ready to race" expensive KTM?
The bike has got a great engine with a wonderfully nice wide ratio 6 speed gearbox. KTM just seems to have skimped a bit on the details when charging a premium over the Japanese competitors. OK enough nagging lets go for a ride.
I loaded up the bike four a four day off road ride and headed out to BungyIans X-center for breakfast.
Since I'm riding the overpriced Queen I have to adopt the aloof model suck in the cheeks pose before she lets me on.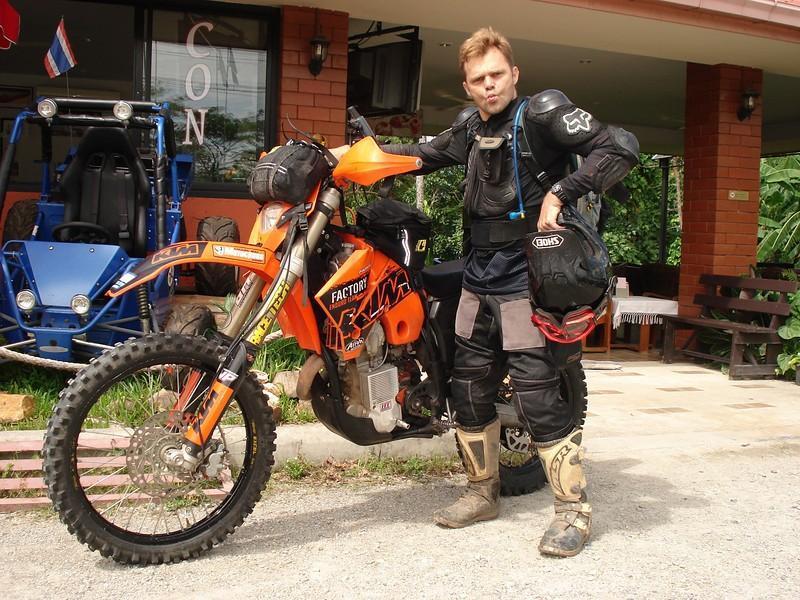 I told my intended route to Ian and he suggested a loop to include in my itinerary. It was fast and sandy and perfect for riding alone he recommended. Perfect I thought. Motored off on the bike past the Prem center in Mae Rim and headed for the first stretch of dirt that would bring me out by the Mok Fa waterfall on the 1095.
The pavement on the 1095 is in great nick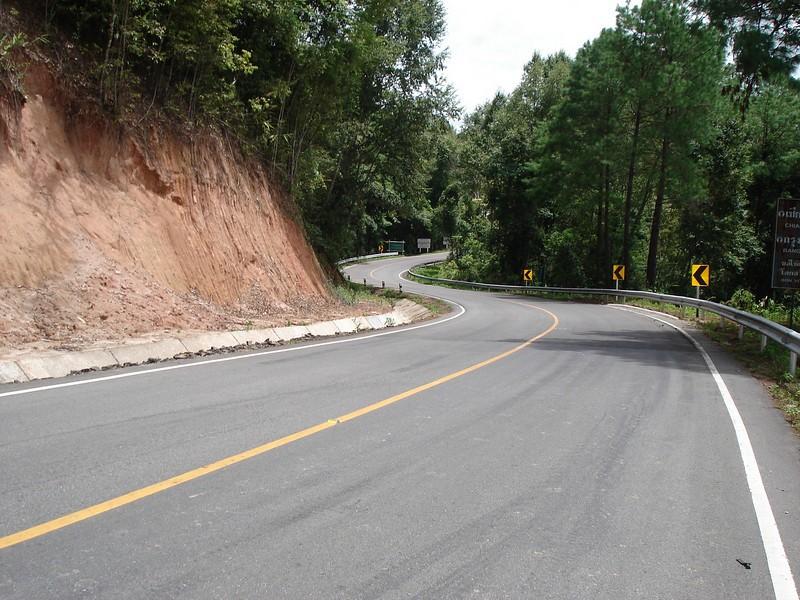 I was originally going to head north up the 1095 for about 7 km's then hang a left onto some more dirt. Instead I was going to do Ians bit of dirt he suggested at Huay Nam Dang that would bring me into Pai for the night. However when I got to the turnoff to Huay Nam Dang the KTM would need fuel for its mini motocross tank. Damn. This would necessitate me going to Pai for fuel then doing the loop backwards from Pai to Huey Nam Dang then back to Pai for the night. After filling up in Pai it was back into the dirt. The Road north out of Pai is on Davids Mae hong Son map, it was graded smooth as butter and offered a chance to open up the KTM through the foothills.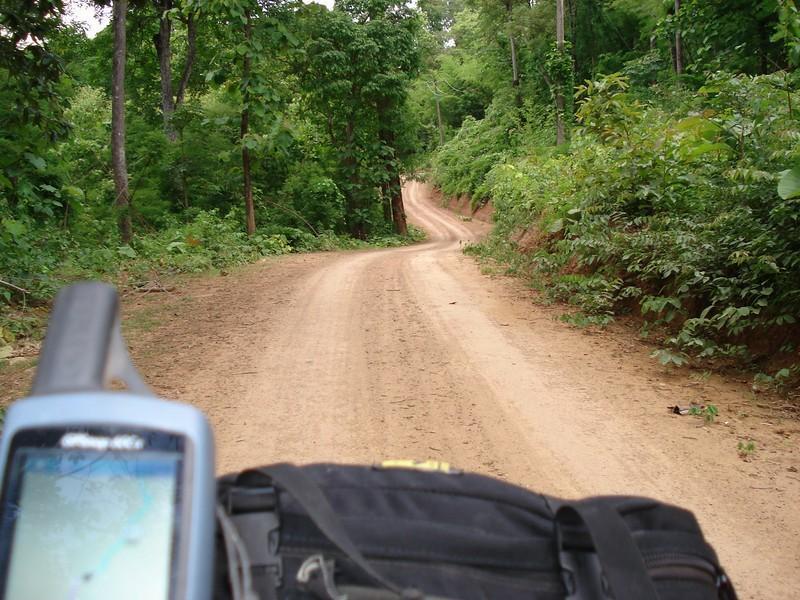 Came into Ban Muang Noi for some gas.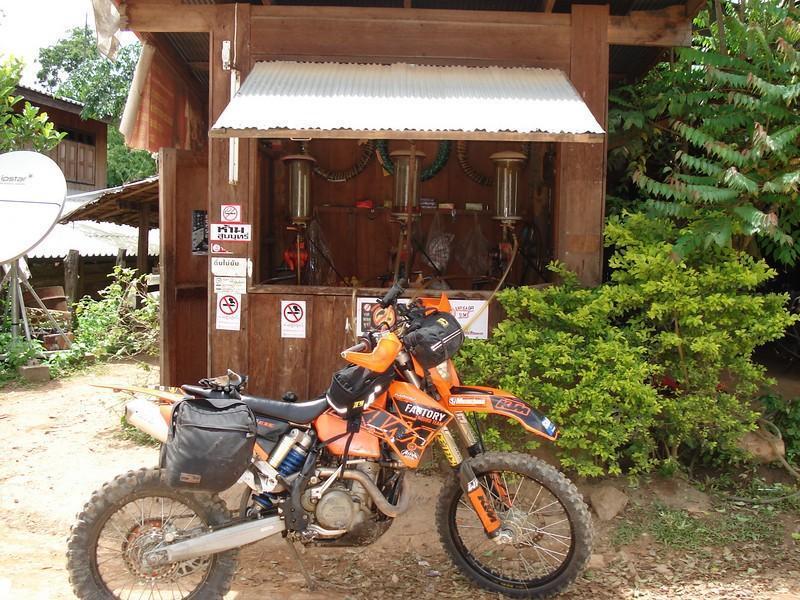 After Muang Noi there is a fork in the road. Left is a long loop to Sappong and right goes into Wiang Heng. I headed right for lunch and gas in Wiang heng about 60 KM's away. The road climbed higher into the forest and the greenery increased.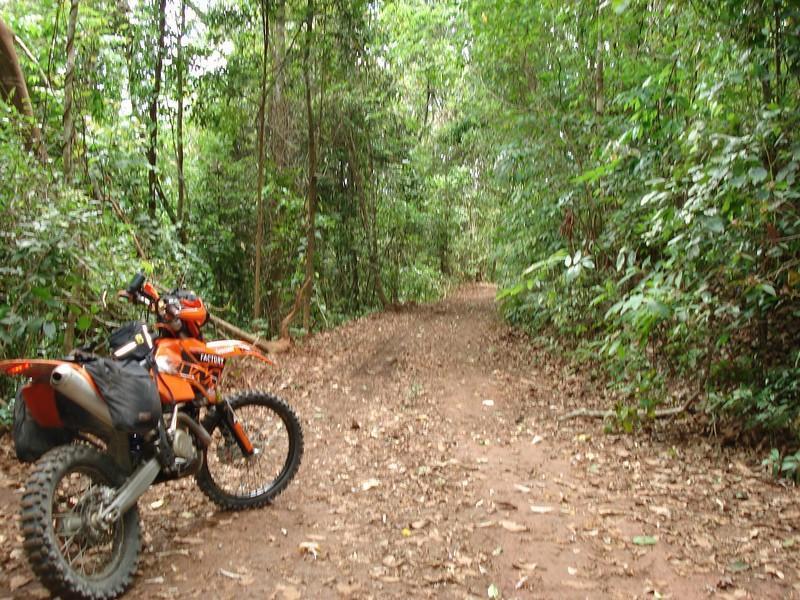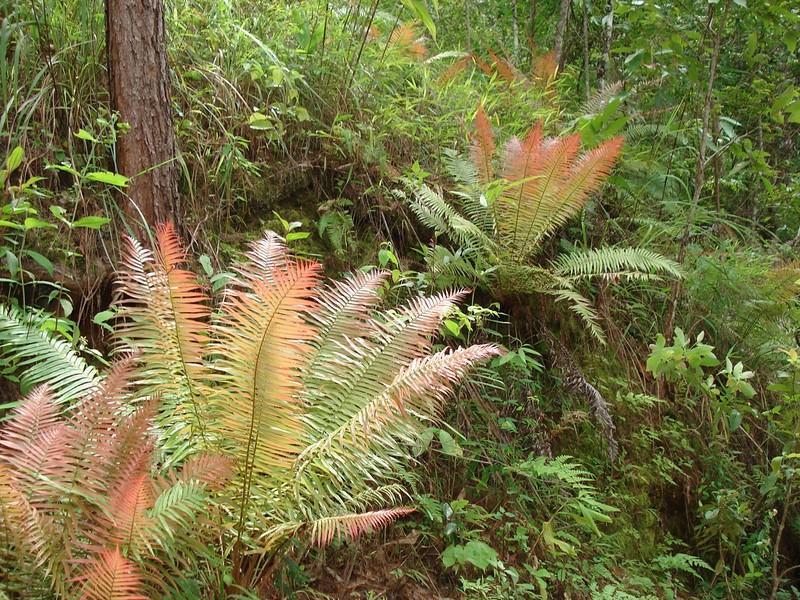 Followed this leg to another fork, it was right to begin dropping down to wiang heng. This is where I came from:
Here it was a bit clay like and rutted probably not a great joy in the wet but so far it was dry as a bone and the trails flowing and easy. As long as the rain stayed at bay.
They don't have whoopdeedo's on the trails in Thailand like they have in California, they have their own kind of whoopdeedo.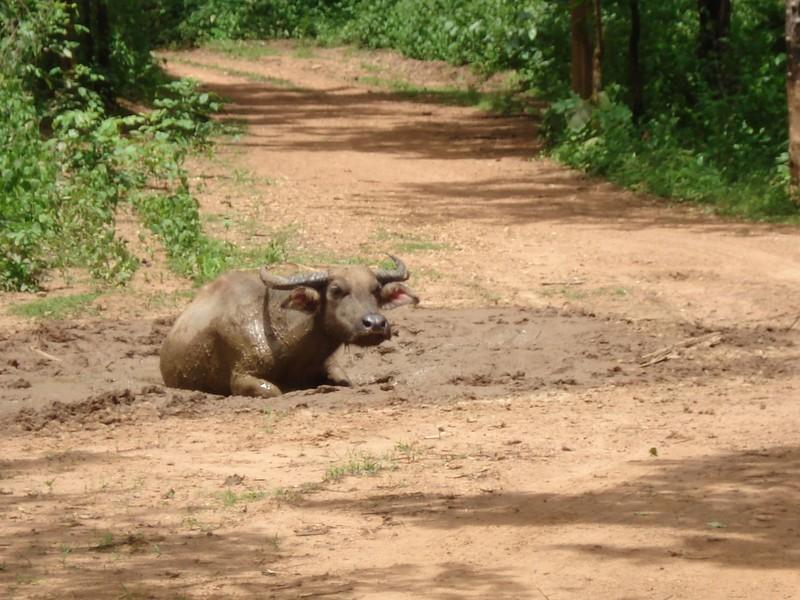 Both the KTM and I got sustenance in Wieng heng before departing on the second leg of Ians suggested loop. Dropping down to Wieng Heng: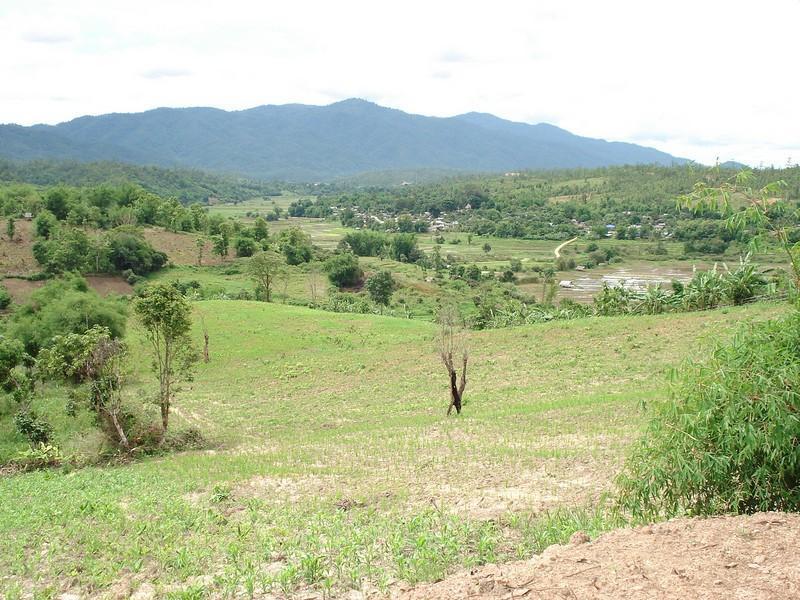 Friendly faces in WH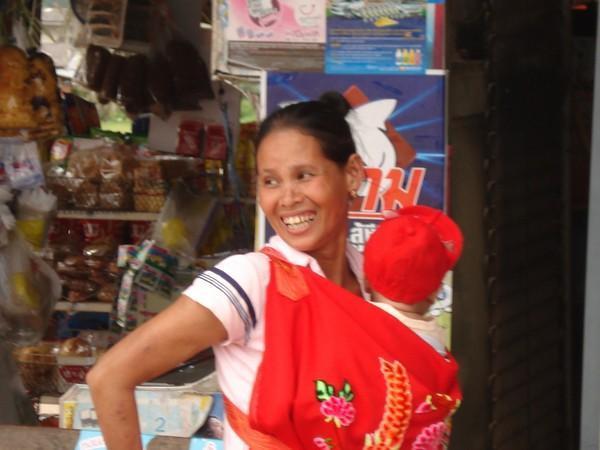 This track was supposed to be a sandy track paralleling a river. Hmmmm. The trail started out loads of fun through some sand/gravel rolling small dirt roads with lips and jumps to launch the orange pumpkin off. Great fun…until it dead ended in a small Hill tribe village. I asked for directions to Huey Nam Dang and the locals signaled pavement all the way back to the 1095. After a bit of sign language stating the big motorbike likes dirt instead of pavement and with my 10 words of Thai that don't revolve around the bar industry I managed to figure out the singletrack that headed into the jungle out the back of the village should end up in Huey Nam Dang 50 km's away. Definiteley not Ians recommended Sandy truck road paralleling a river but hopefully it goes through.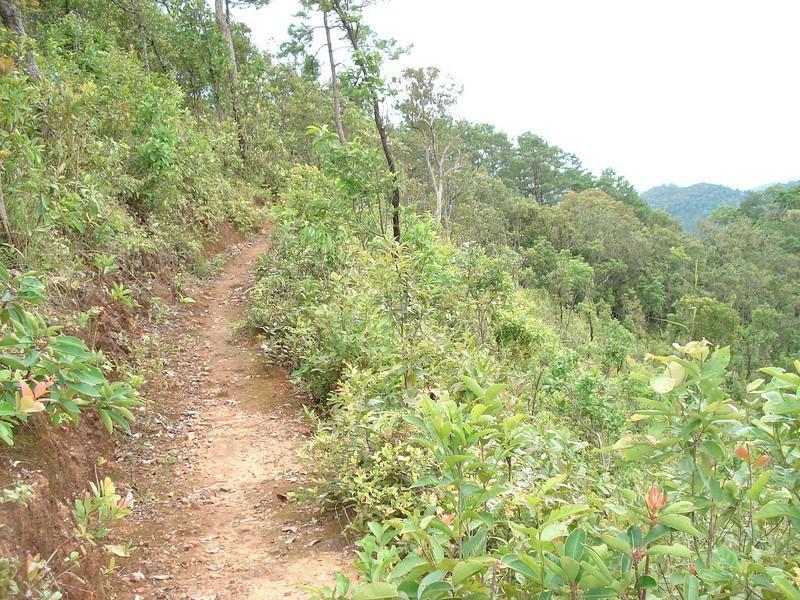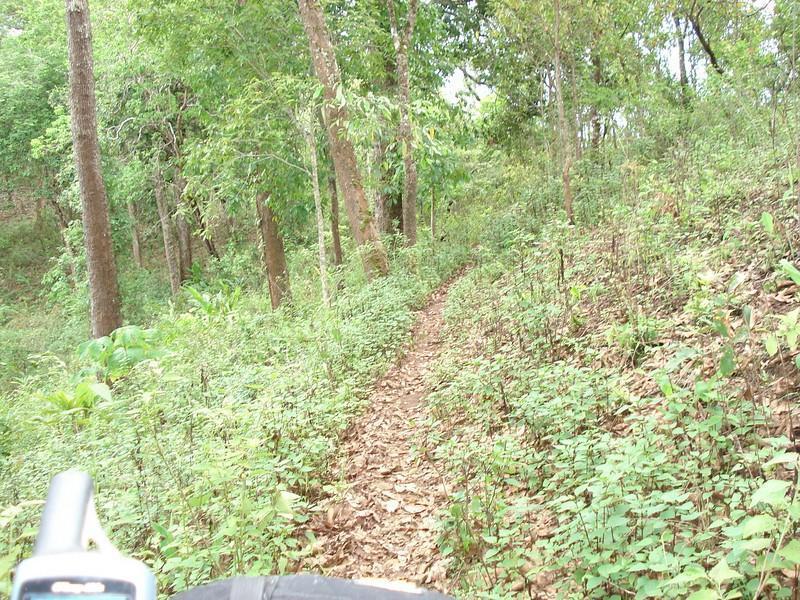 Problem being it started raining a bit. Uh-oh!! Rain and off roading in Thailand on clay surfaces don't always end up with miles of smiles as the surface resembles a lesbian love show in patpong with all surfaces as slick as Teflon. Not conducive to keeping the bike upright. Especially when your only 5'5" perched high atop a 38" tall KTM seat. I wobbled off onto the singletrack which was pleasant and scenic. Then the trail stated getting a bit slick. Good for the lesbian shows bad for me on the dirt bike. Lurid slipping and sliding began and it all began to go a bit pear shaped.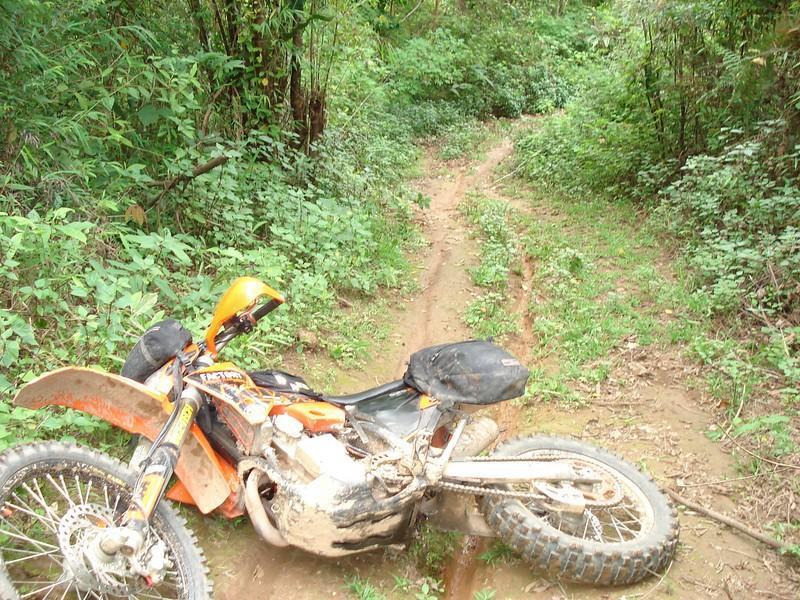 You see everytime I fell over fuel would begin draining out the carb. No big deal unless your heading onto an unknown singletrack trail with unknown distances, with limited fuel on board, rain on the horizon, and its 3:00 PM, alone. Bottom line is that picture taking got sacrificed in the name of making headway on the trail. After dumping the KTM more than a couple times and trying to gingerly roll on the big bore KTM in the slippery stuff the trail ended onto a dirt road. The singletrack portion was lovely and little used and wandered through the jungle which is very nice in the Wiang Heng area. This area is really worthy of your time and exploration if you fancy off roading.
Once back on the dirt roads progress could be made as the KTM was put on the main jet and the scenery got ingested. The road was nice as it paralleled the river through the valley.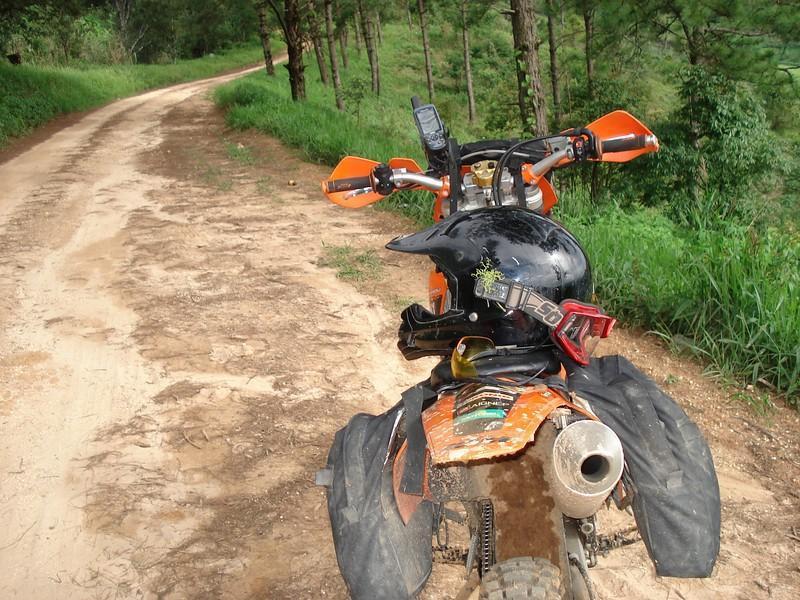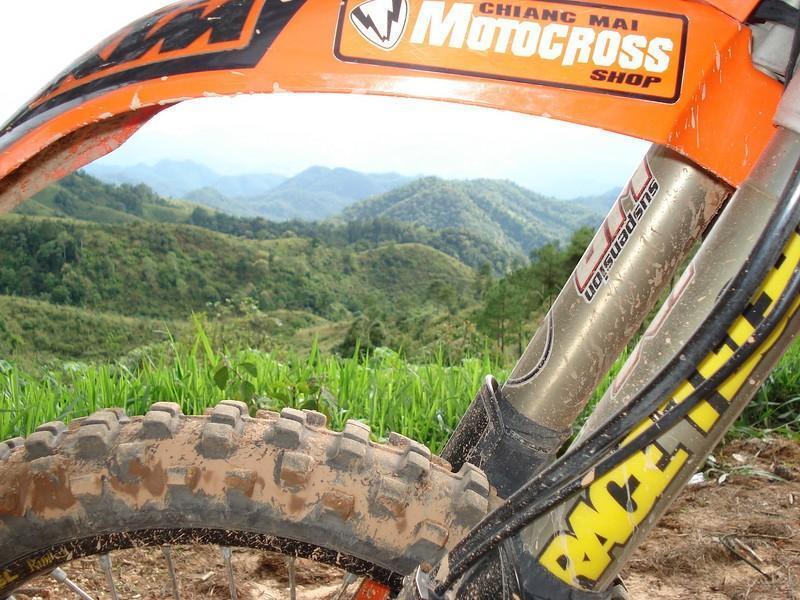 As it climbed the other side of the valley up to Doi Chang the road became a bit more used, especially with the farmers coming home from work, so be careful along this section.
Dropped into Huay Nam Dang and back onto the 1095 into Pai. At the 1095/1265 the garlic farmers were staging a protest and the roads were blocked to through traffic. The road was lined with buses and trucks held up by the protest and the farmers were out in force. Many a backpacker was frustrated as their travel plans got a bit screwed, TIT.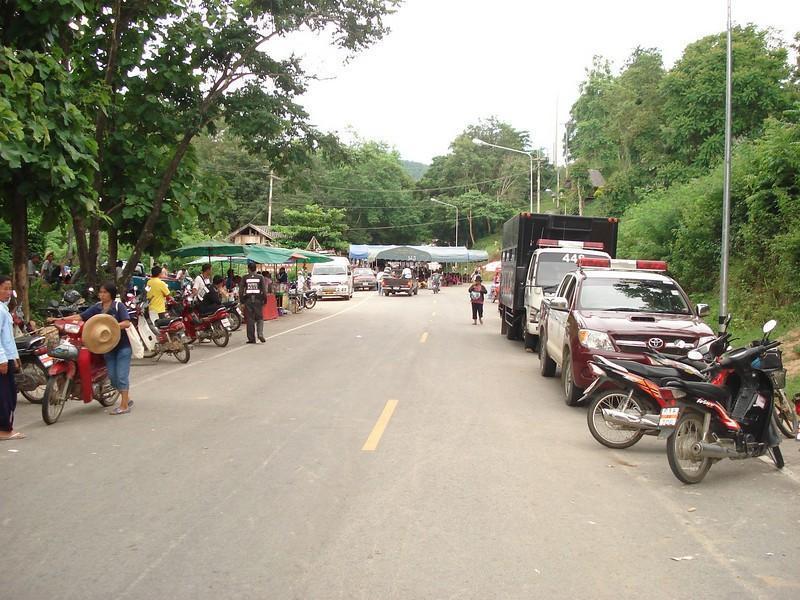 Luckily they let motorbikes through the blockade so all was well.
Pai is not my favorite city, sadly its beauty is overshadowed by all the fisherman pant wearing, dreadlocked haired tourists with their noses stuck too deep into the Lonely Planet guide. It is however great to see the Thai tour guide lads raking in the farang tourist females for a twist on the farang male/thai female relationships ratios. Good on 'em. Found an able and willing gal to provide the customary post ride massage and dinner company to divert my attention from the lack of nighttime festivities in Pai.
The next morning was overcast and threatening rain. Over breakfast it started to rain lightly.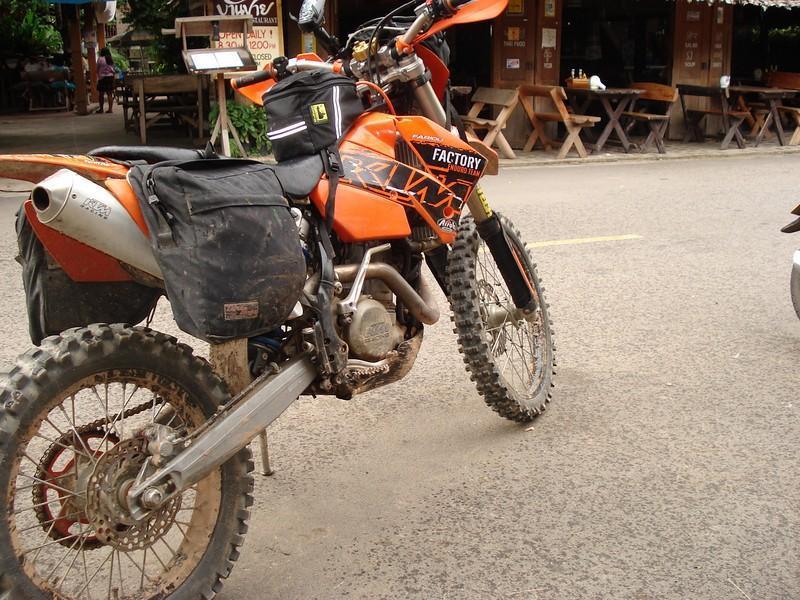 I muttered obscenities as I wondered what to do. I was planning the Pai to Sappong off road loop on Davids map. However this section gets pretty hairy and awkward if it's wet. If I did not go this way I would have to do pavement to mae hong son, my next destination. I waited for half an hour trying to suss out whether it's a local squall or a major system. Silverhawk had called and let me know it was pissing down in Chiang Mai which was not encouraging news. What was more discouraging was the thought of riding pavement to Mae Hong Son instead of dirt. So I prayed for the rain to stay away and headed for Sappong off road.
Thr trail was dry and I made good progress clicking off the KM's. Gassed up the KTM in a village and realized my spare fuel container was leaking.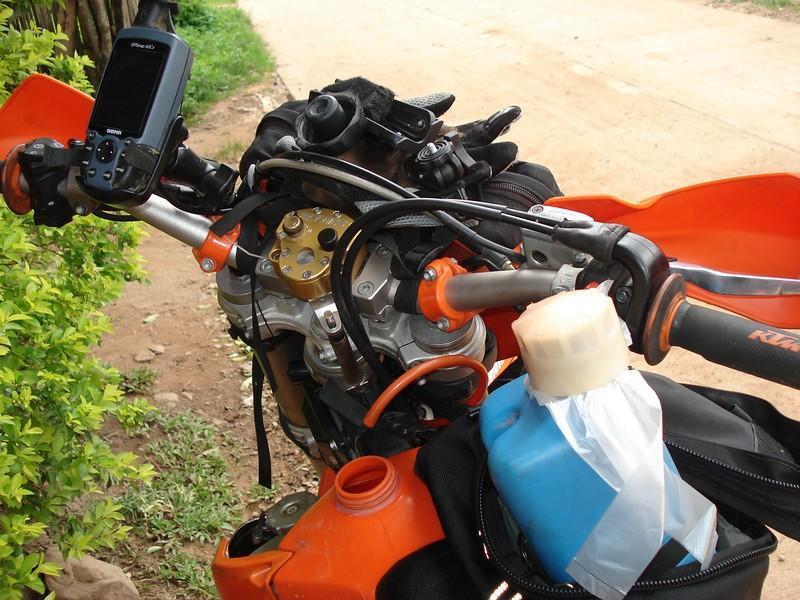 Loved this gas station (shed)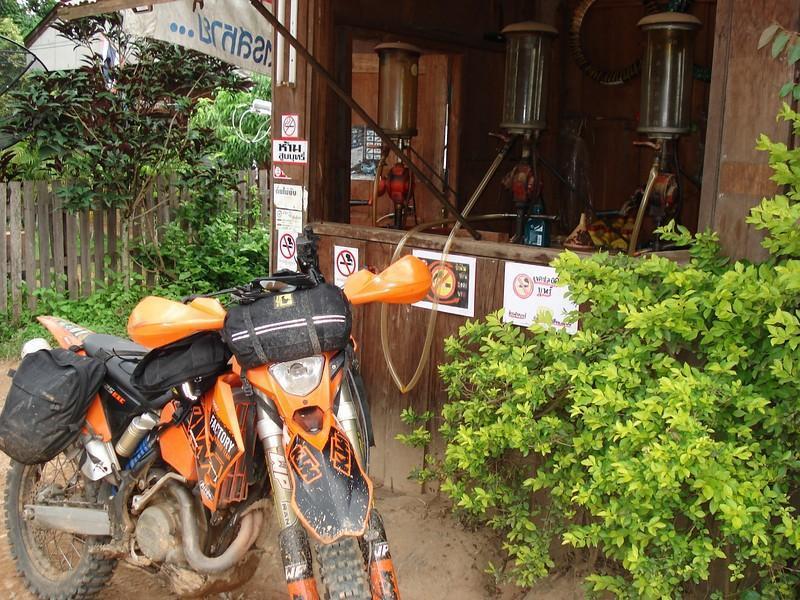 as it was evident that gas stations worldwide all share the common trait of gearheads and a fan of girly pics.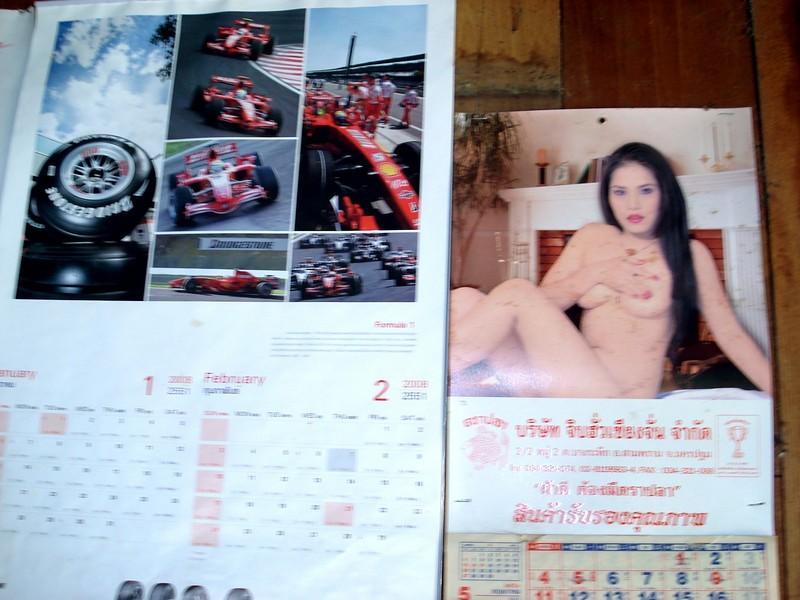 Damn since this loop would be right on the edge of my mileage capabilities of the miniature KTM gas tank. Not confidence inspiring. Plus the sky was not looking to inspiring.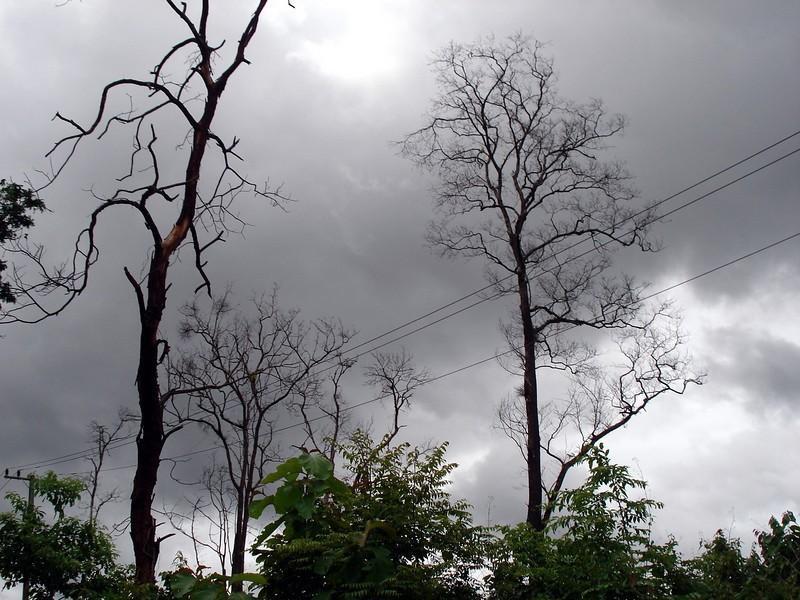 Got to where the trail starts to get interesting and past what looks like a hydro electric plant. The trail is a fun section of dips and rolls through here and I was really enjoying it.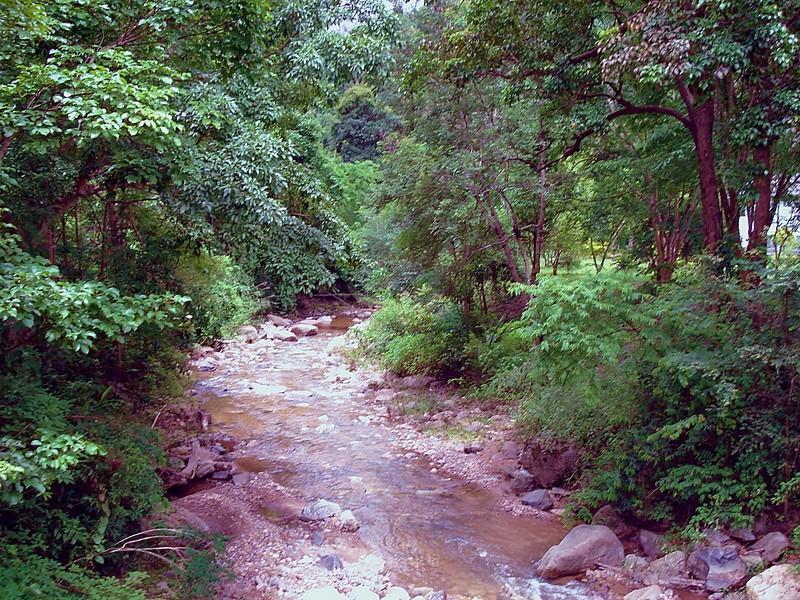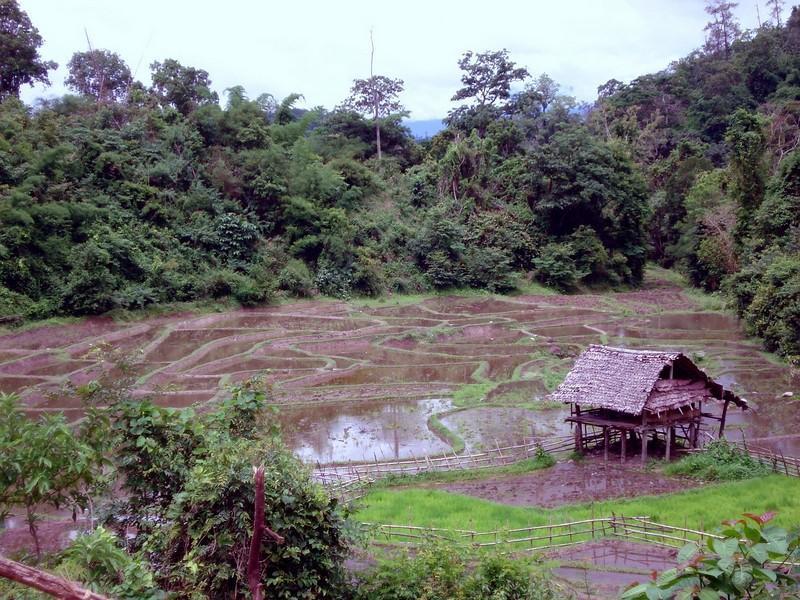 I came around a corner and saw a local hunter out looking for vittles for the pot. Thought I'd stop for a picture and say hello. Turns out its lucky I stopped.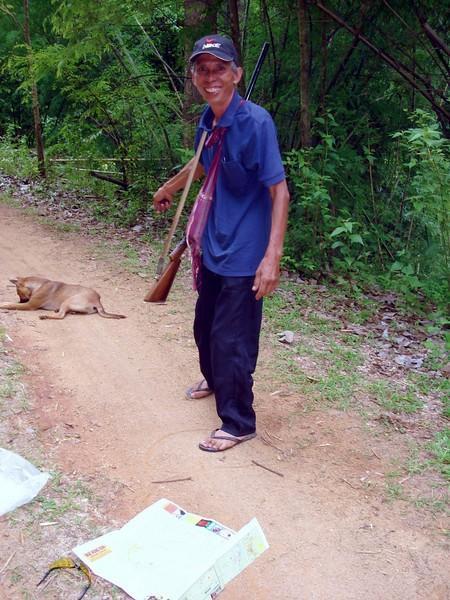 He asked where I was going and when I told him Ban Aecho then to Sappong. All I understood was "mie die" which was not what I needed to hear. Some frantic finger scratching in the dirt, pointing at a tree and babbling in broken Thai and I figured out a tree was blocking the trail. I asked if I could ride around the tree and he said no way. He said he had to walk two days to get to the next village. He said it was a huge tree near Aecho which ruined my plans. I wanted to try and ride to the tree to see if I could make my way around it and continue my ride. Sadly it was too far out to make it back if I had to backtrack. I would run out of gas. I decided it was not worth the risk since last time I doubted the hill tribe advice in terms of trail conditions I ended up spending the night in the jungle instead of a bed.
After looking at the map my only other option to get to mae hong Son was to backtrack the trail 40KM's to Pai, fill up gas there, then take the 1265 60 km's to Wat Chan, more gas and some lunch then take the elephant trail north from Wat Chan to mae hong Son for another 80km's of off road. Whew!!
I'll continue the post later