0
Staff member
Subscribed
Jan 16, 2003
14,190
5,162
113
69
The Mae Hong Son Loop yet again
(Sat 31st Jan – Mon 2nd Feb 2004)
Can't get enough of the loop you reckon?
This one was a bit different though, with just 3 riders for a run out to Pai: David Unk, John "Street-corner" Skinner, & Julian Bowyer with his yellow praying mantis (
http://www.geocities.com/julianbowyer/
)
Getaway time was a lazy 1.30 pm, after a planned 11.30 – mid day departure, & the only reason for the delay was an attempt by David Unk to maintain his late Chiang Mai departure tradition….....& I succeeded magnificently.
Traffic was a bit too busy, but what you'd except for end of the month & payday.
First stop was Mae Sae, where Julian was almost right behind, except for the fact he had to repair the front mudguard that was dragging on the tyre in some of the corners! Otherwise watch out, he's always right behind & often right up your arse, especially at the end of the straights! That Ford Capri 1600cc motor has got a bit of grunt. Having Julian right behind actually is quite a worry, as you know he's going hassle you when he can, but the trike is so whisper quiet that you never hear it, its just there filling your mirrors right up!
The Mae Sae stop got a bit lengthy on account of the fact I decided to have breakfast, after which Julian decided he too would indulge, and I thought it was only me skipping meals?
The run down into Pai from the mountain ridgeline was real nice, seemed to be a lot less traffic, which helped Julian even more and we got into Pai around 3.45 pm, just right for happy hour, after checking into the Tamarind Ghouse.
At the Tamarind, the rooms are basic, but clean, with hot water & reasonable value for money at 300 & 200 baht a night. Another major factor too is the location, straight across the street from the Be Bop Pub, so there's no need to ride home from the Pub. Just park your bike at the ghouse, stroll across the street & then stagger home.
Happy Hour started at the Baan Pai, then continued on at Miss O's Golden Triangle Bar while a movie ran to entertain the backpackers.
Later on it was to Mr Pai, Guy Gorias's birthday party bash up the hill at his new La Terrasse restaurant. The atmosphere was a bit alright with clean country air, stunning views of Pai, plus free food & grog – the punch was superb & somehow we seemed to end up with the jar at our table – well done Julian, John & DU. We even managed to drain the jar.
Much later on it was the be Bop Pub, which was packed yet again. Of note here too, were the North Comets guys, organizers of the Chiang Mai bike week, propping up the bar & generally taking the scene in. Thoe, Lek, Ping & Somkuan (from BMW) it was good to se you out and about - I wonder what are you guys are planning for bike week next year, a trip to Pai?
Next day was a subdued start, blame it on Guy's punch, and a late breakfast was taken at Baan Pai. Over brekky, Julian decided he could really get to like Pai with its mellow atmosphere, and opted to hang out for a few more days. John headed back to Chiang Mai the same way & I headed onto Mae Sarieng for the night.
Mae Hong Son – Mae Sarieng: generally the road is in very good condition, with quite a few bits of new race track quality asphalt, complete with bright new lines marked on the road!
However, the run to Mae Sarieng did get interesting as the last 1 ½ hrs were in the dark, & wow, doesn't it get chilly as soon as the sun goes down behind those Burma border hills!
I also found that I did not enjoy the ride so much, because the new asphalt on the road is jet black with almost no light reflecting off it. In many paces it was unclear exactly what the road surface was – clean / dry / wet /sandy. I had several moments & got a bit disappointed / frustrated when some (good) car driver was closing in on me all the time, but with his lights on high beam just to make the riding more trying.
Mae Sarieng is real quiet, although not as quiet as Soppong or Mae Chaem or Khun Yuam you might say.
However, after the chilly night ride I felt somewhat drained (must be the age, or perhaps Guy's punch), and hit the sack at 10.30 pm – something of a record for me.
In Mae Sarieng the new place to stay is the Riverhouse Resort, right on the banks of the Mae Yuam River. They've made extensive use of timber in the premises, and it is impressive. With the rooms priced at 750 baht a night it is a bit steep for MS, but generally its ok & the only really good place to stay in MS. The views of the river from each room are also very pretty, especially if you wake up early at first light.
Next day I was on the road by 10.30 am, and with a bit of time to spare I checked out & GPS-ed a couple of "new" asphalt side roads. The 2nd one was unreal & rates as one of those "most amazing steep & winding mountain road" category.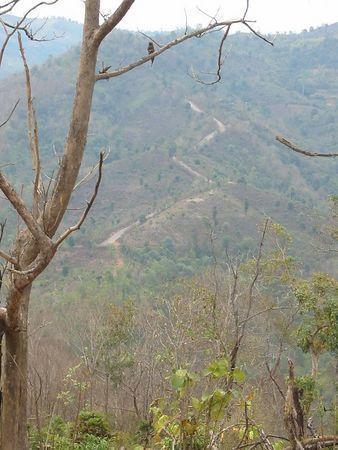 Take route 108 east towards Chiang Mai, & 32 kms out at the police check point turn right (south). Go in just 175 meters & you're at the Huai Hung school. Turn left & the road soars straight up onto the ridgeline, then twists & turns like a roller coaster track for 15 kms for the asphalt to end in a Karen village Huai Hia. Believe me this one is a totally amazing 15 kms side road & the ascent to Huai Hia is incredibly steep & tight, & its asphalt! En route, there are a couple of Karen villages, plus other new concrete / asphalt side roads going to other villages (which need to be explored).
Also, from Huai Hia, a dirt road continues to exactly where I'm not sure, but the info I got was that you did not need to turn around & come back out the same way - there is an exit, linking up to another road.
So, if you're looking for a new piece of asphalt or dirt link up to explore, then check this out, it is totally awesome!
Note that in places the asphalt does get a bit broken up & may not be such fun on a sport bike or a cruiser.
I was pretty much satiated by this new "baby" & after getting back onto route 108, headed straight home to Chiang Mai.
The next trip to Mae Sarieng might not be too far away…..