After our ride to the Golden Triangle the previous week, DORIS (my F650 DAKAR) was booked into Joe's for new tyres and an oil change and a general going over.
I was concerned about the front tyre being scrubbed out from the long straight roads in OZ, and the effect it had on DORIS'S handling in the twisty mountain roads, surprise! The bottom head stock bearing was cactus and had to be replaced. I was reduced to walking for 3 days while DORIS was taken care of.
Total cost of Labour and parts, (2 days work) 3600b. Bloody cheep compared with OZ.
David had arranged an around trip to MAE HONG SON over 3 days and 2 nights, and asked me along.
Just 2 of us this time, David on his long term loan F650 BMW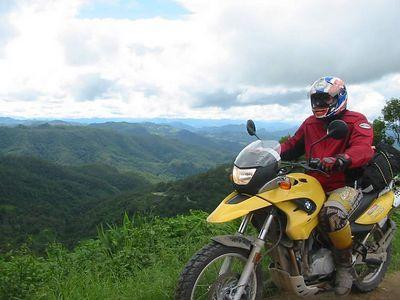 and DORIS and I,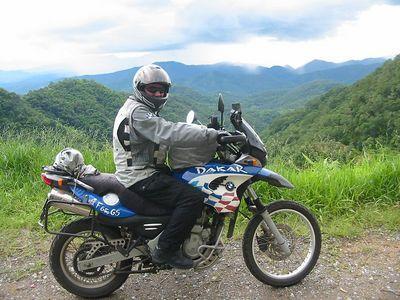 nice morning for a ride, overcast, but no sign of rain, we have breakfast as usual at the KAFE in CHIANG MAI and off along 107 at the usual rate of knots, then into the twisties along 1095 for around 80k of non stop mountain corners.
I just let David blast ahead, I stayed within myself as the road surface was some of the worst I have encountered so far in Thailand, totally stuffed from the rain and heavy trucks, plus the ever present buffalo shit splatted all over the road and the odd herd of cattle just lounging over one lane, not to mention the odd dog or two sleeping halfway across your lane. Thinking its road kill, it wakes up and you hope it disappears to the left side of the road.
Our first port of call is PAE, a nice little village which has become a bit of a hippy and backpackers hangout. I am obviously getting older because I look at this particular type of tourist with a healthy amount of skepticism; after all we invented this whole bloody life style in the sixties!
Saying that, the place has a good feeling to it and as night approached we book into a group of comfortable huts by the river, with your own bathroom for 300b a night.
That night over a bottle of Jameson's Irish whiskey (yes, you can buy it, even in the far north) we decided to have at the towns night life, we ended up at a blues bar called "BE BOPS", what a great night! Even though we were the oldest there, we totaled the bottle of whiskey and proceeded to ride home (don't try this at home folks).
Well we got stopped by the local police at a road block, just asked for our licenses and ushered us through…..mm!
A very late start in the morning, I missed the free breakfast by ½ hr. and drunk a huge amount of coffee waiting for David, who was busy catching up with his business contacts.
Then off to MAE HONG SONG, the 111k of winding mountain roads are some of the most spectacular motorcycling roads in Thailand, they even surpass the Golden Triangle ride the week before. This section of road deserves a few days to explore, as it is dotted with many natural wonders.
Into MAE HONG SONG around 3pm and just as we were approaching town our luck run out with the weather, down it come in bucket fulls, not even enough time to stop and put on our wet weather gear. We just rode through it and arrived at our abode for the next few nights looking like drowned rats.
That afternoon more dramas, a Thai Airline plane had to emergency land with no nose wheel, closing the Airport for 3 days, luckily no one was hurt, but there was a lot of farangs with even whiter faces than usual.
Next morning, David is finishing off his business, so I took the opportunity to visit a longneck village in the mountains. Now beware, Thailand has a lot of things living in the jungle that can kill you, especially a herd of little Suzuki 4wd (make that 4) hurtling toward me on the wrong side of the road. Driven by foreigners thinking that their behavior is a cool thing to do in the jungle, ****in idiots everywhere!
What is great about the mountains on the bike is every corner is another experience, you may encounter the odd elephant and as you idle up to this great king of beasts and pat him on the trunk and say "hello", look into his eyes and wonder what he is thinking, maybe "piss off and leave me alone or I will throw you and your noisy motorbike into the bush," or "what a nice bloke, where's the banana?". I prefer the latter.
The creek crossings are flooded this time of year and are up to 1m deep in places, making crossing a bit slippy on road tyres, so take care. Just idle up in a straight line in 1st or 2nd gear, staying upright and stay off the brakes and accelerator, good fun!
The Kayan longneck tribe are refugees from Burma, who settled in Thailand about 12 years ago. They can't work here so the villages are set up as little tourist spots, a little tacky but I suppose they have to survive, good to see good old capitalism has even reached the refugee camps. They charge you 250b to enter their village and have endless stalls of trinkets for sale, for the admission fee you can take as many photos as you like.
Next day it was an 8.30am start (early for Thailand) along road 108
to KHUN YUAM for morning tea and a chance to visit the Japanese War Memorial. Set up by the descendants of the retreating army of WWII, apparently a few settled in the area and married into the local inhabitants, it's highly patronized by the Japanese tourists during the dry season.
Back on the bikes and off along road 1263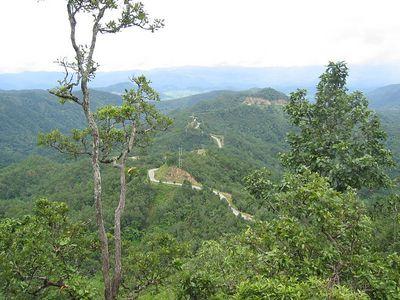 and through the mountains once more. David and I changed bikes, WOW! The little GS650 is just made for the mountain twisties,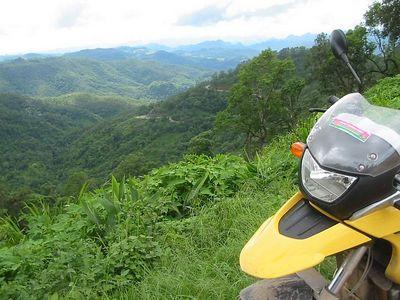 compared with DORIS, it stuck to the corners like glue, and you could just dive in late into the corners and accelerate out, great fun. The DAKAR with its skinny 21" front wheel and taller suspension felt a bit twitchy on the front.
However DORIS has a few mod's done to her breathing and fuel injection and is a lot smoother and responsive on the throttle. Now how can we persuade Mr. BMW to modify there GS's in production form?
By this time I have run out of superlatives to describe the roads and scenery of this area of Thailand.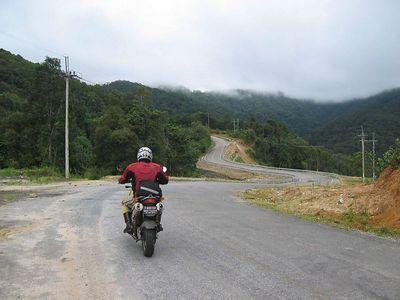 Riding through the misty mountains at around 1700m, we stopped so many times to take photos, that we run our of batteries in 2 digital cameras.
All I can say is get up here and do it, we even dodged the rain, it must have been the 3 whacks of a stick on the big bells at the Wok overlooking MAE HONG SONG that give us luck.
VERDICT: Better than sex (well almost)