Administrator
Staff member
Subscribed
Jan 16, 2003
13,363
4,308
113
68
Pottered out along the Mae Wang road a few days ago to test out the old arm.
Found out that R1013 is not exactly in the best of nick - lots of potholes from the wet season. But the scenery is gorgeous right now & worth checking out, for the Mae Wang loop
https://www.thegtrider.com/tour-options/chiang-mai-thailand/touring-loops-day-rides/mae-wang-loop
is beautiful 1 day loop 'n ride from Chiang Mai.
Now in Huai Pong village I also picked up a nice looking dirt trail that is supposed to run up the east side of Inthanon, & maybe coming out on R1284 the Inthanon - Khun Wang - Huai Tong road. Along the way, you'll probably get a bit confused, if not lost, but have a great time exploring Karen hill tribe villages & steep tricky trails in good forest. Dlevedag,if you're reading this, email me & I'll send you the start of the GPS track for you to check out & finish for me. It should be a brilliant day's dirt riding.
Out the back of Huai Tong, Silverhawk noted a sign for a waterfall & off we went.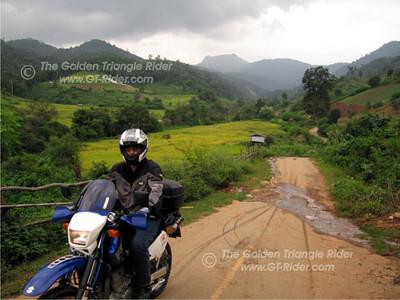 3kms down the bumpy potholed asphalt, the road ran out in the rice paddies, where a group of Karen guys were loading up a pick up with veges. The laughed & stared dumb struck at the stupid farang asking for a waterfall. "Mai mee." Silly aren't we, fancy following a sign for a waterfall & expecting to find one....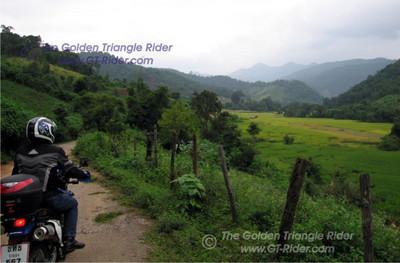 Back on the "main road" we split up. Silverhawk returning to Cnx via the Bo Kaew tin mine & old wonky going home the safe non-steep dirt way, back down R1013.
Laugh, I managed to get back home 30 mins before Silverhawk, but it was straight into the medicine cabinet for some pain killers. Got a long way to go before the joint can handle the potholed bumpy stuff.
Last edited: