0
Staff member
Subscribed
Jan 16, 2003
13,947
4,918
113
69
Re-posted from
Link removed
originally posted on 7 April 2005
DATES: Tues 22nd Feb – Sunday 13th March 2005
WEATHER: Hot dry & dusty, plus a totally unexpected freezing cold snap!
THE WAY:
1. Chiang Mai – Chiang Khong
2. Huay Sai
3. Huay Sai – Luang Prabang (boat)
4. Luang Prabang 4 days
5. Luang Prabang – Vang Vieng
6. Vang Vieng – Vientiane
7. Vientiane 4 days
8. Vientiane – Tha Khek
9. Tha Khek – Naphao (Vietnam border) - Tha Khek
10. Tha Khek – Namphao (Vietnam border)– Vientiane
11. Vientiane
12. Vientiane – Vang Vieng
13. Vang Vieng – Luang Prabang
14. Luang Prabang – Sayabouri
15. Sayabouri – Loei
16. Loei – Chiang Mai
TOTAL DISTANCE: 3,887 kms.
This trip was so called because of the Mekong boat trip from Huay Sai to Luang Prabang & because of the lost & near lost riders en route……
It was a trip I'd wanted to do for a few years – sailing the magnificent Mekong on a semi-luxury teak wood boat from Huay Sai to Luang Prabang in a day, with the both the bikes & girlfriend(s) on board: a classic family (brownie point) trip for the girlfriend & mother-in-law, plus my good riding mates & their girlfriends.
I reckon that we owed it to them, "the girls" as the boys have spent a lot of time away from home on the road, mapping & enjoying the delights of motorcycle touring in S E Asia ………fortunately the trip went extremely well & most likely will become an annual event for the GT Rider & his good GT riding mates.
The trip has already cracked mentions & reports at
Lost Rider
Link removed
Lao Viet Border Crossing
Link removed
Mr KTM version of the Lao Trip
Link removed
New Bridge Crossing in Loei
http://www.aprilia.com.my/myclubaprilia ... php?t=1307
GT Rider goes in the Mekong
Link removed
If you want to take a look, Robert (Mr KTM)'s report is well worth reading & he covers the trip as far as Vientiane.
Getting this trip, organized turned out to be a bit of a serious headache, & I almost spat the dummy a couple of times before I even got on the boat (must be getting old & too grumpy, eh BobS?). But once the boat set sail from Huay Sai I felt enormous relief & tremendous joy. Overall the whole trip was relatively easy, apart from 3 flat tyres & 1 run in with a not so friendly Thai immigration officer (par for the course some experienced motorcycle border crossers might say!)
The main problem with this trip was picking a date, booking the boat & sticking to the agreed departure date. Simple you might think…
ORGANIZING THE BOAT
1. Booking & confirming a date for pick up in a port in not so easy. I have a serious fave boat & skipper- Tui, who sails the Mekong daily & is only contactable by mobile phone when he's in the port of Luang Prabang or Huay Sai, & not Pak Beng in between the two.
2. Setting a date. Once you've agreed with Tui on a date you have to be in port on that day & not stuff up his schedule. So 10 days in advance I booked the boat to be safe & sure.
However as the sailing date approached it became obvious that getting everyone together on time in Huay Sai was going to be a bit of a problem.
(1) The mother-in-law's new Thai passport had not arrived as claimed it would. Eventually it arrived the day before departure, so both parties were greatly relieved. I dearly wanted her to go – this would be her 1st trip overseas & if she did not do this one, I did not know when there was going to be such another easy one for her.
(2) One of the GT Riders, Joe had an unexpected condo deal to conclude in Chiang Mai the day before we were scheduled to set sail from Huay Sai & would find it difficult to get there in time, unless he rode either at night or set off before dawn on the sailing day. Mr KTM then decided it would be a good idea for him to hang back & escort Joe, just to provide extra back up??
At first, no problem I thought……………..just ring Tui, my mate with the boat on 1 of his numbers & hey presto he lays over a day in port & off we go, provided he does not have any other sailing commitments.
However contacting Tui was impossible over the next few days. None of his phone numbers worked & I got quite frustrated (somewhat pissed off) trying to contact him via numerous friends both in Luang Prabang & Huay Sai. It was if he had vanished off the planet. Indeed this was a bit perplexing, but if we could not contact Tui, then we simply had to stick to the original schedule. However, we would never really know until we actually arrived in Chiang Khong to see what was going on – was Tui in port waiting for us or not?
OPTIONS
It was actually possible for Joe & Robert to set out from Cnx before dawn & probably get to Chiang Khong at 8.00 am, but then they still had to clear immigration and customs on both sides before they could join the boat. Also the boat had to set sail as early as possible for us to get to Luang Prabang in a day from Huay Sai. Sailing time would be about 10 hrs & a bit, depending on the current & police checkpoint at Pak Tha, 1/3 of the way down.
Unbelievably, the boats don't have any spotlights for nighttime sailing, so sailing at night was out of the question as it is dangerous with numerous rocks & whirlpools en route.
If we could not get to LPB in a day, then the option was to overnight in Pak Ou, 1 hr out from Luang Prabang, unload the pax & luggage, rent a pick up & drive the last bit into Luang Prabang. Then trust Tui with our bikes, to sail into LPB first thing the next morning. "Oddly" enough none of us brave GT Riders were keen on leaving our beloved bikes "alone" on the boat for a night, so it had to be on board with an early sailing time!
If you set sail from Huay Sai by 8.00 am, you can safely be in Luang Prabang at 6.00 pm, before dark.
The boatman's plan was have the bikes on board the night before, & set sail at 7.30 am, 30 minutes before the harbour office opened. To do this we had to be organized plus slip the harbour master a back-hander to let us clear port before it opened! (Note: if you're doing any Mekong boat trips, that the port authorities on the Mekong work 8.00 am – 4.30 pm & if you want to set sail outside these hours you need to make special arrangements.)
Confused are ya? Well my head was spinning a couple of times……read on:
THE 1ST DAY
Chiang Mai – Chiang Khong via the pie shop. Riders: Marcus on the 250 Baja & me on the Africa Twin. A slowish trip up as we had the girls following in the mini bus with all the luggage. After dawdling a bit longer than normal at the "Pie shop" (Charin resort), we cut thru to Chiang Khong via Payamengrai, as this is a bit quicker. It was a bit of surprise then that not 15 minutes after we'd arrived in Chiang Khong the girls also arrived in the mini bus (the driver new yet another route!)
I found out about the girls arrival as Marcus & I were taking a sandwich & ice cold drink break at the Tamila. They phoned in to advise that the mini bus driver had dumped them at the pier, luggage & all, & wanted to know what to do. This was in contrast to the original master plan for them to be dropped off at the riverside Tamila & relax for a bit while we got sorted out & probably stayed in Laos for the night.
1. Marcus & I immediately got our customs papers for the bikes cleared ok & we were ready to either leave for Huay Sai or stay the night in Chiang Khong & cross over tomorrow, if I could contact the boat skipper & delay the departure for day to make it easier on the real estate developer & his escort.
2. I made another couple of phone call to the Laos side to enquire about the boat & turned up yet another blank = not looking good at all. At this stage I figured we were well & truly locked in & needed to spend the night on the Laos side as planned to pick up the boat tomorrow morning. So I cancelled the rooms booked at the Tamila.
3. The girls headed down to the pier & ended up in a restaurant for yet another feed. Well if the girls were going to eat yet again, there was one last chance for delaying the boat.
4. I grabbed a long tail boat & cruised the bank on the Lao side looking for Tui's boat. No luck I thought, then at the last minute his sister recognized me & called out. She was on another boat & confirmed that Tui was indeed coming upstream today to pick me up tomorrow. More importantly she also knew he had no other trips booked the day after, so we could indeed delay a day to make it all safe & easy.
5. I then rang the Tamila back & rebooked the rooms I had cancelled 30 minutes earlier. Arriving back on the Thai side I found the girls ready to go, they had decided to help by getting themselves stamped out of Thailand. Sorry girls but we're not going today now, but tomorrow. More confusion & semi-self control (= I almost spat the dummy.)
And so the first day ended, safe & happy that in the end everything was working out nicely.
2ND DAY (EASY)
The next day we crossed over to Huay Sai nice & easy in the late morning.
Pic Below: the girls in Huay Sai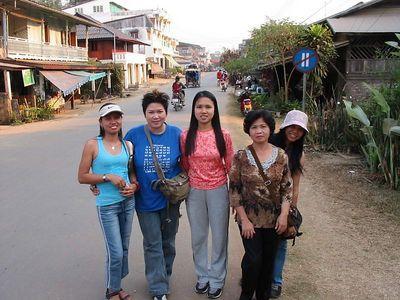 Mid-arvo Joe & Mr KTM arrived in Chiang Khong, ready to cross over & join us.
Or so they both thought. It was a Buddhist holiday & the Customs office on the Thai side was closed - Joe was unable to process the temporary export papers for his bike!
Mr KTM was ok, as he only had to hand in the temporary import papers for his Cambodian registered KTM & depart the country.
A little light stress to counter balance the euphoria from yesterday's happy ending, perhaps?
Late that arvo on the Lao side we loaded the bikes on the boat, ready for an early morning departure, real estate developer depending.
That night an excellent fun time was had by all at the Wang View watching the sun go down over the Mekong, drinking numerous bottles of ice cold Beer Lao.
Surprisingly the next morning everyone was up by 7.00 am & down to the pier by 7.30 am for an early morning departure………
Eventually we got away at 9.20 am, a bit later than the planned 7.30 am start, which we thought would safely see us into Luang Prabang before dark.
The girls were delighted in the extreme that there was mini-kitchen & picnic gas stove on board so that they could cook their own food & eat all day – which they did!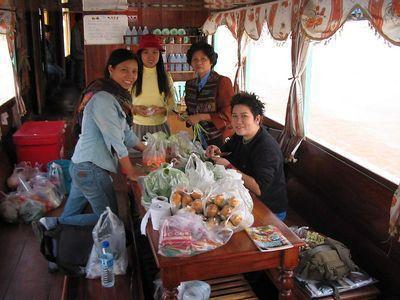 A couple of them also managed to consume all the beer on board & so excelled themselves incredibly well. No names are mentioned, but
Davidfl
Keep The Power On