Administrator
Staff member
Subscribed
Jan 16, 2003
13,363
4,308
113
68
A short trip to check on some old & explore some new dirt trails.
2 nights 3 days trail riding on the MHS Loop.
DATE: Tues 3rd – Thurs 5th May 2005.
WEATHER: generally fine, hot & a little cloudy, with 1 light shower.
THE WAY:
(1) Chiang Mai – Chomthong – Mon Hin – Khun Pae – Mong Luang – Mae Chaem.
(2) Mae Chaem – Pang Hin Fon – Mae Hae – So Lo Sa – Mae La up – Mae La Noi – Mae Hong Son
(3) Mae Hong Son – Huai Pong – Nong Khiao – Mae Surin – Pang Ung – Mae Na Chon – Mae Chaem – Doi Inthanon – Khun Wang – Sanpathong – Chiang Mai.
THE ROUTES:
1. Cnx - Mae Chaem: 108 – off road – 1088
2. Mae Chaem – MHS: 4006? – off road – 1266 – 108 to Mae Hong Son
3. MHS – Cnx: 108 - off road – 4009 – 1263 – 1192 – 1264 – 1013 – 108
THE RIDERS: Silverhawk & Davidfl (minus a 3rd one who piked out as it was boring riding with old man Unkovich while he was mapping. What's the world coming to I thought?)
THE BIKES:
Picked up a couple of rental 250s from Tom & Jerry motorcycles. This was the end of the high season & there was no doubt that the bikes had done their work picking up loads of baht for Tom & Joe (Joe's Bike team.) Read this as the bikes were a "bit tired" = soft suspension, poor rear brakes & "steel" seats (after 45 mins you sat on the frame!)
This might all sound bad, but unfortunately it is standard for rental bikes at the end high season, such are the joys of riding a renta 250 in North Thailand. To get a good one, just make sure you come at start of the high season.
This is also not a black mark against Joe's Bike team, but rather an approval, as while Joe's bikes sometimes might be no less tired than any other rental shop, they are always mechanically sound & seldom break down, unlike a few of the others. And true to form neither of the bikes suffered any break down or the slightest mal function in the 3 days on the road riding long hours on steep twisting mountain roads / trails. We were impressed yet again Joe, you're a renta winner!
By the end of the trip though, it was the seats that bothered us the most & boy did your arse hurt after several hours in the saddle. It's been awhile since either of us has ridden a 250, having been pampered for too long riding our bigger bikes - 750 Africa Twin & 850 Yam TDM. And it certainly was obvious to anyone around that each time we got off the bike, we found it painful to walk the first few steps! Age might also have something to do with this, as I recall riding from Luang Nam Tha (N Laos) to Chiang Mai, non-stop in a day on a 250 Baja a few years ago & not complaining as much, but that was my own 250 with a nicely re-padded seat.
Even happy Tom had a line for me as I picked up my bike: Silverhawk's name is Dave Early, which would be correct as he is on time & early compared to you late (as usual) & behind schedule. So you must be David Late. I could not disagree with that & seem to remember it being a bit of a feature on this board several times. (The trouble is that none of these other guys have a happy voluptuous girlfriend singer who comes home late every night & wakes you up for a gossip plus some "slap & tickle" before sleeping.)
THE TRIP DAY 1
With our 2 handy bikes we got away around 11.00 am, just a tad later than my regular start time.
My original plan was to take a run out to Samoeng & then head west-south-west to check out a trail that linked Samoeng directly to the Mae Wang – Sanpathong road, but I felt a little heavy that morning after a busy night with some mates in various bars drinking various spirits. The various bars were ok, but the various spirits were not a good idea or conducive for an early start & challenging dirt trails.
So (unknown to Silverhawk) I piked out, took the easy way out & headed straight down R108 to Chomthong. This was nice & easy (boring) to give me enough time to freshen up.
To the west-north-west of Chomthong there are some really good trails that run into the mountains & onto the west side of Doi Inthanon.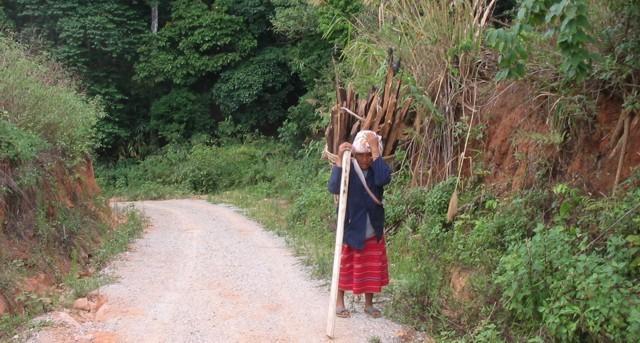 If you're a bit of a trail riding fan, then this is one of the best areas for good trail riding in North Thailand. The whole area is crisscrossed with tracks that go high up on the side of Doi Inthanon & you could easily spend a couple of days riding around here. I have still not worked out the full network of trails & it is easy to get confused, if not "a bit lost" in here.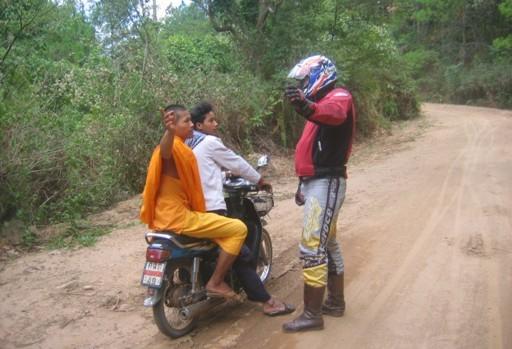 But from wherever you start off from you should basically end up in 1 of 3 places (1) Chomthong, (2) Doi Inthanon near the Pha Tang lookout opposite Siriphum waterfall, or (3) Mae Chaem & somewhere on route 1008.
For this trip I decided to take a look at the Mon Hin – Khun Pae – Mong Luang trail (check out the MHS map to see where), one that I had not been on for a few years & was keen to check out again.
Just before the turn off we stopped at the PT fuel station to fuel up both the tanks & the bodies. It was stinking hot, a bit cloudy & so humid with sweat pouring out from the various spirits. And we had not even got off the asphalt yet!
Talking to the sweet shop assistant she asked why I was trying the Khun Pae road as it was still rough & one that you would not want to be caught out on in the wet. Yep that's right I agreed, on one trip there several years ago we turned back because of light rain & a totally greasy track that offered no traction, steering or braking whatsoever. I explained this to Silverhawk & he sort of smiled – he must have been thinking the almost non existent rear brakes on the bikes?
Anyway after a lengthy break & a full load of liquids on board we headed off. (I'm not sure if it was the sweet shopkeeper or the genuine heat & need for the extra liquids that kept me / us in the shop for so long.)
You turn off at Mon Hin & after just a km the asphalt runs out & the road becomes slightly stony, steep, winding gravel. It's a beauty & winds its way up a small canyon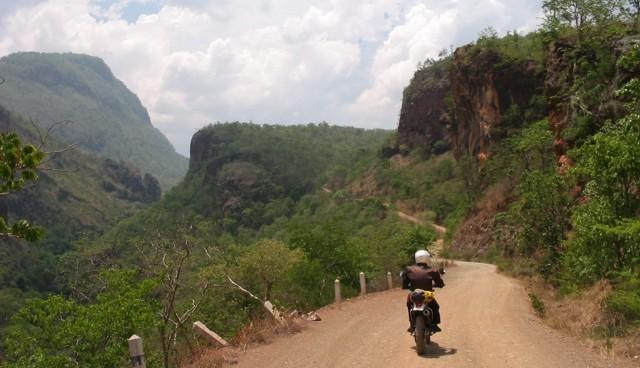 to give some glorious views. Once thru the canyon the road changes to a grit like sand, then laterite.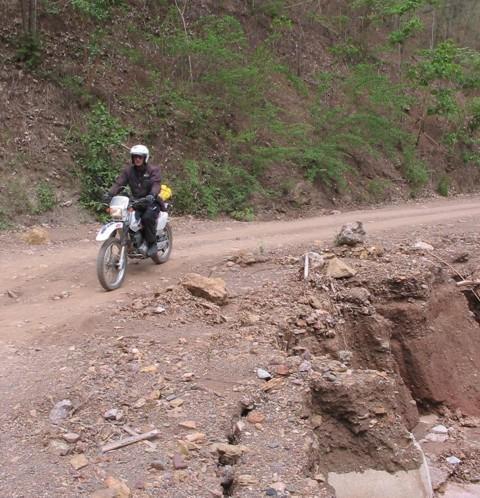 Just follow the road in & there are no real turns, apart from one to Om Ting, (now on the right).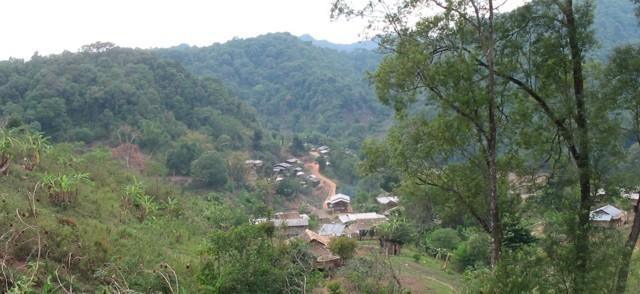 Khun Pae is 23 kms in, & there's a bit of asphalt thru the village. KP is a large Karen village & a royal project site, so there is a bit of activity & development going on.
Stop & have a drink or two in Khun Pae to get the feel of the place & you're bearings.
After Khun Pae it gets tricky, with numerous turns & a narrower steeper tighter trail. The road is also laterite & one you would not want to be caught on if it rains.
Basically after Khun Pae you take all the left turns, except the 1st one from memory, & you should end up in Mong Luang. There's about 19 kms of trail to get across to Mong Luang, if you get it right. If you don't then you should end up either back in Chomthong or on Doi Inthanon by the Pha Tang forestry lookout…….good luck.
Pic below: deforestation (what you don't like to see) on the way between Um Lan & Mong Luang.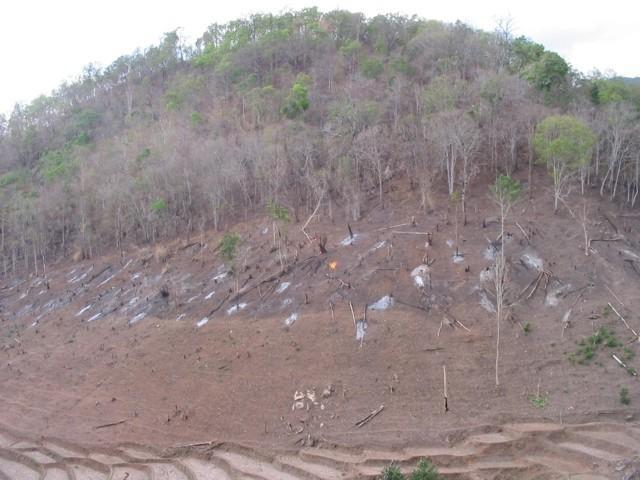 If you get to Hin Lek Fai & then Um Lan, (both Karen hill tribe villages) then you've got it right & are on the road to Mong Luang.
High up, there's splendid forest cover & superb views with loads of fresh air gusting in.
We lucked out with the weather – no rain despite the clouds building up the higher we went & it does get a bit worrying at times, as you know should not be in there when its wet!
In Um Lan, we took a longish break. There's a nice little village shop on the left as you pass thru, and this shop has one of the thickest solid wooden table tops that I've seen in a long long time. Silverhawk & I both had a chuckle over it & wondered where it would eventually end up. The Karen villagers were all cool people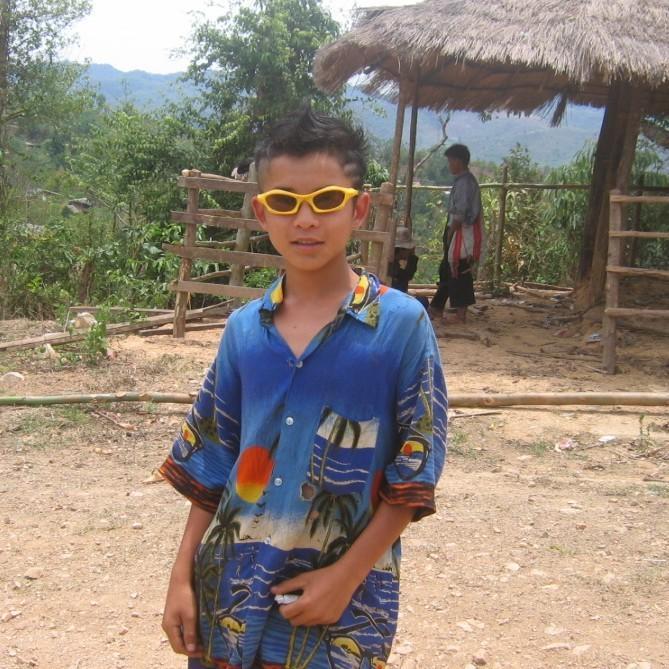 & had a fun time chatting to the silly ol farang on their motorbikes looking for forestry trails to ride. The mature female shopkeeper was a delight & a truly amazing lively character. We could have spent an hour in the village but had to move on as it was getting late in the afternoon & more clouds were moving in.
Between Um Lan & Mong Luang the road gets pretty steep in places, but nothing serious as there are no real switch backs to complicate the issue. In fact it's all probably easy if you had any sort of rear brake for a quick dab to slow you down at the right moments.
From Mong Luang it's only 2 1/5 kms & your back on asphalt.
Pic below: the asphalt from Mong Luang - to R1088.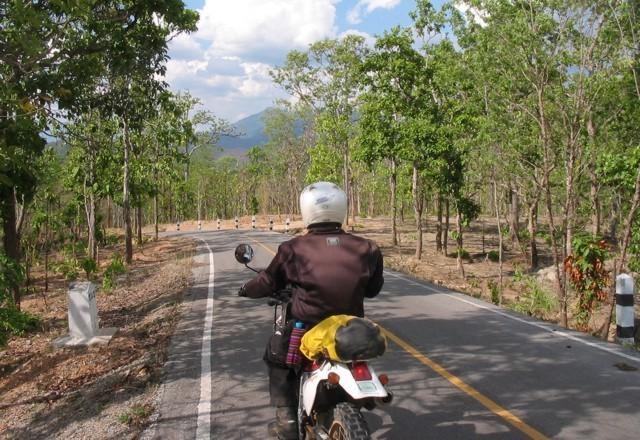 On route 1088 & headed North towards Mae Chaem, I decided we still had a bit of time to play around with & took a dirt side road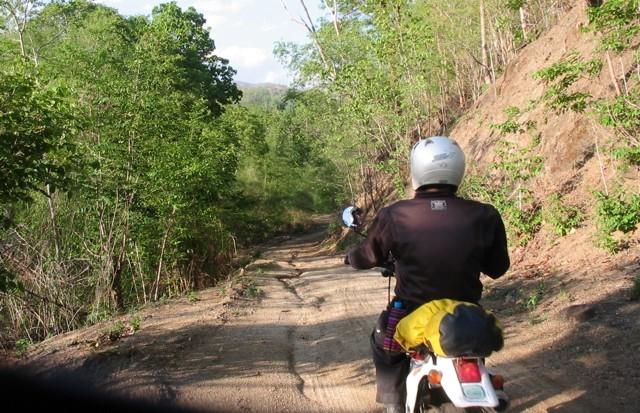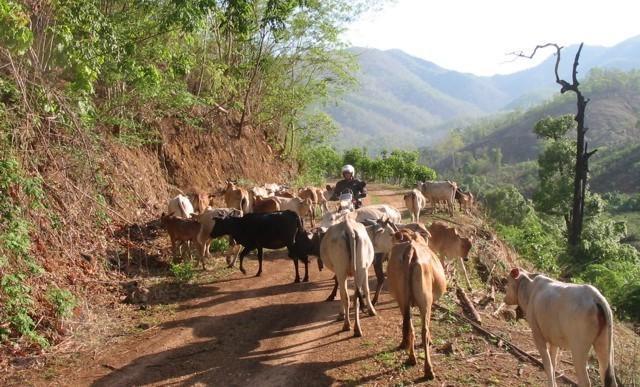 west to Sop Long. This too was a little beauty as it runs out 14 kms, generally alongside the Mae Chaem river.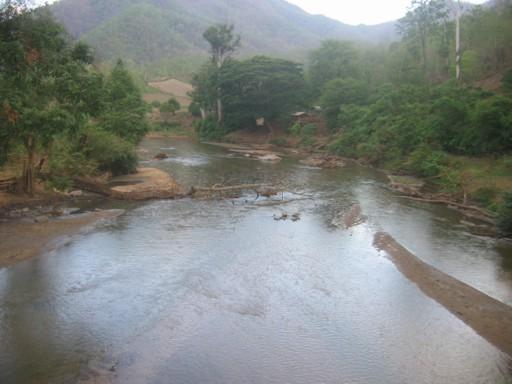 There are some wonderful views of the river, but the countryside on the road side is badly deforested & somewhat disappointing. However this does make for panoramic views & as we headed back in from Sop Long we were rewarded with some outstanding pictorials of Doi Inthanon in the fine late afternoon light.
This side trip would be a real gem in the rainy season as beside the road there are heaps of little waterfalls, that must tumble across the road & into the Mae Chaem river. But we were in the dry season & they were all dry. A likely problem though is that the road is all dirt & most likely impassable in the wet!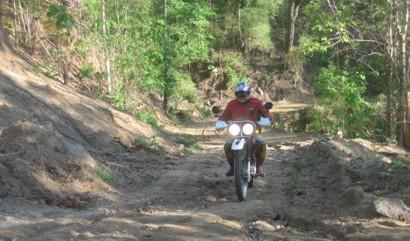 Now if they could only asphalt the road, it would be a totally gorgeous wet season excursion from Mae Chaem.
Pic below: the bridge across the Mae Chaem river in Sop Long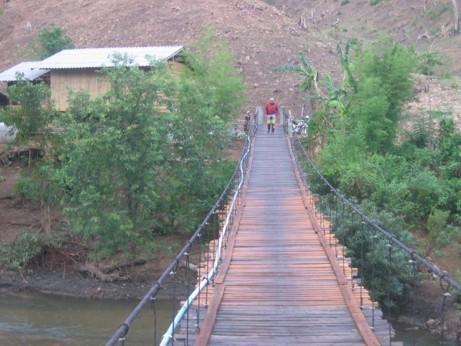 In Sop Long, we lucked out again, with a shower of rain, but were under cover at the time & so kept dry. The shower was also only light & short so that we had no trouble getting back out to the main road.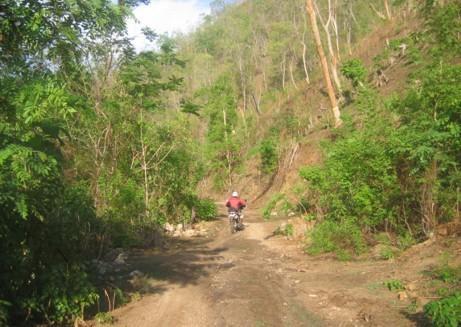 Pic below: R1088 heading north towards Mae Cahem & Doi Inthanon.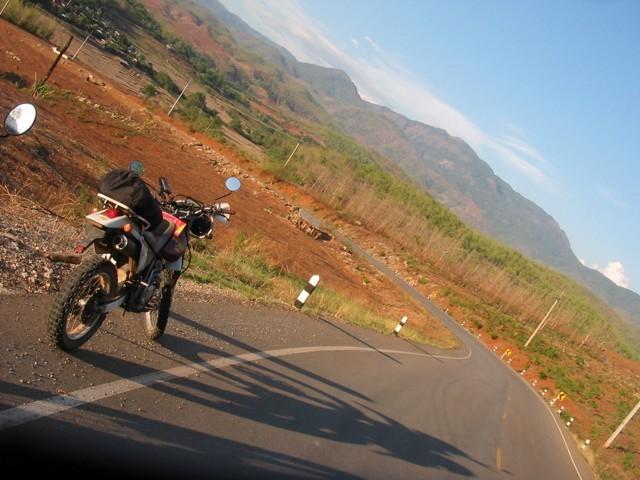 We hit Mae Chaem at 5.45 pm, hungry, thirsty & tired.
Mae Chaem's actually booming with several new guesthouse / resorts in town, and we opted to stay at the new Mae Chaem hotel Resort. The old hotel was a bit of a rat hole (& I could tell a few stories about over nighting there on the creaking floor boards, paper thin walls & cold showers), but the new resort's got a nice clean pool & a bit alright (you'd think.)
The other good option for Mae Chaem is the Navasoung Resort, a few kms out of town beside R1192 the road to Doi Inthanon. It's got better food service & probably rooms, but no pool.
We sat by the pool for happy hour & a snack, watching the cool clean pool & kids splashing around having fun. But both of us were too tired to want to change, shower & get in the pool.
Despite the fact that Mae Chaem's booming, the town is still bloody quiet quiet – arguably the quietest in North Thailand! Khun Yuam / Tha Ton / Doi Mae Salong have more night life, & only Soppong might beat MC for quietness at night!
Unbelievably I was in bed by 9.45 pm & it was a shocked girlfriend who rang At 10.00 pm to check up & could not believe that I was already in bed – you can't be alone & must have a girl in there with you!
Actually I was not that sabai in my little bungalow, as I'd opted for the non air-con one rather than the "deluxe" air con bungalow. The logic being that
(1) It would be nice & cool at night, so need for air con
(2) I could do with the few extra baht
(3) I was not expecting any company & so did not need to impress anyone.
Foolishly I thought I was putting one over Silverhawk as he paid the extra 200 baht & got the air con hut. This did not quite work out, as once in the bungalow I found out that the hut was un-shaded, had been out in the sun all arvo, & so was warmed up like a microwave oven.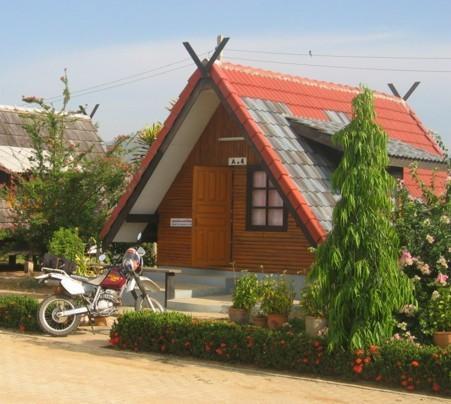 And unbelievably I could not open any of the windows to get an air flow & cold it down - one of the windows was jammed shut & the other two had furniture in front of the windows so that you could not even access the windows! Real fine you eh? The pink curtains, pink bathroom floor & wall tiles, complete with pink grouting, plus a blue plastic bathroom door made me feel as if I was in a little doll's house. This was definitely not hunky dory, & there were flying insects in the hut with the one small ceiling fan not of sufficient power to even keep them at bay. At breakfast I was not smiling, but once he'd inspected the doll's house Silverhawk thought it was all quite funny. Yeah yeah I thought, just what I needed after a long tiring day's ride - a poor sweaty sleep under siege from flying insects! You can't win 'em all…
Next morning it was breakfast out at the Navasoung & good it is. In hindsight we should have definitely stayed at the Navasoung & not the Mae Chaem resort, where the pool looked good (but we were too tired to try it!) We also had quite a bit of trouble getting our food at the MC poolside. The fried mixed vege dish was ordered 4 times, & still came out as a fried rice, plus the beer & the soda took a good 15-20 minutes to appear – you've been warned!
What was good was the actual meal we had later on at the Khrua Lai Hin restaurant. This is a huge open air restaurant out of town, on the road into Mae Chaem from Doi Inthanon. We were the only customers & were a bit worried about what we might end up with. The food however as excellent & the servings huge - we only ordered 3 dishes for the 2 of us & just finished half of it! What was hilarious here was ordering & getting the attention of the female owner who was addicted to the Thai soapie on TV at the time. The TV was high up on the fridge & she stood less than a metre directly in front of the TV, totally glued to the screen. She could not even complete writing down a 3 line order without taking a break & standing in front of the TV, obsessed by the melodrama. And in the same manner, the 3-line bill took a good 10 minutes to write out. Not even Bin Laden or Saddam Hussein turning up for a meal would have distracted or motivated her to move any faster!
THE TRIP DAY 2
After brekky we chugged around Mae Chaem environs GPS-ing a couple of new roads & 1 trail, then headed west towards Mae La Noi via Pang Hin Fon & Mae Hae.
Pic below: looking east towards Mae Chaem & Doi Inthanon
On some of the newer maps coming out of Bkk this is shown as a main highway with connections to both R1270 & Kong Loi / R1266 & Mae La Noi. I have not been out here for a few years either now & wanted to see what was going on & if it was true that the highways & connections were complete. To cut straight to the point – they aren't & the connections are still "goat tracks" the same as they were years ago.
Pic below: The connections are still the same.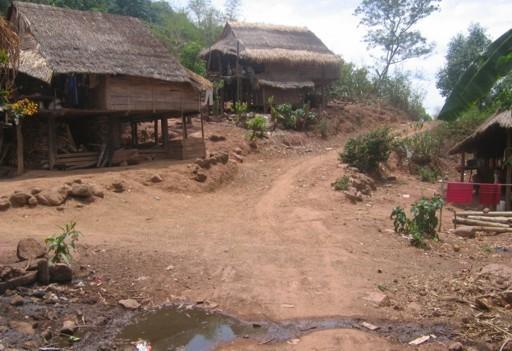 What is new is that there is considerable asphalt on the Mae Chaem – Mae Hae road, oddly enough at both ends, with a good dirt section still in the middle. That asphalt runs 21 kms out from Mae Chaem to the road junction at Ban Pui / Pang M O.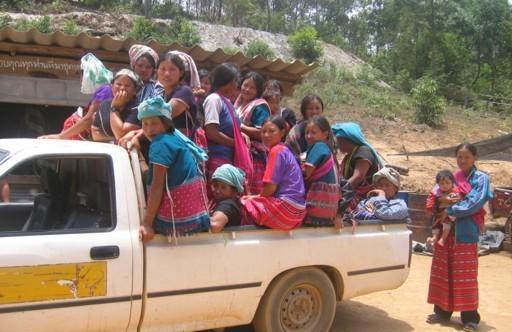 Then dirt until another 10 kms before Mae Hae, then asphalt into Mae Hae. The asphalt is going from Mae Hae towards Mae Chaem. Silverhawk & I both noted that the asphalt application did not appear to be generous & we hoped that it was not going to be the final layer, or it would not last 12 months & the wet season. Good on you Dept. of Rural Roads!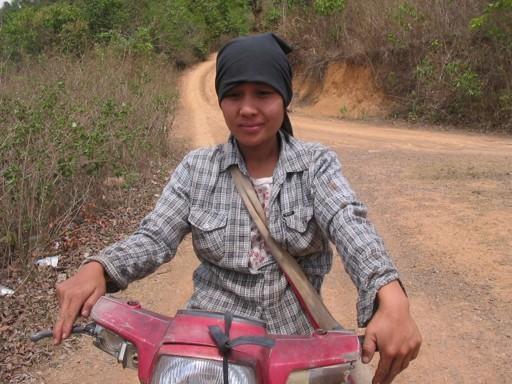 From Mae Hae then we took the trail up the mountain a bit further to Se Lo Sa & onto Huai Ha & Mae La Up. 5 kms after Se Lo Sa the track links up with R1270 from Kong Loi (& I need to check this one out later on to see if how much asphalt is on the road from Kong Loi & R108.) At the R1270 junction we continued on the trail to La Ang Nua, then Mae Pi Khi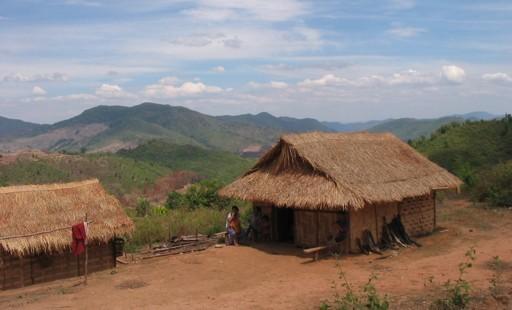 & eventually came out at Du La Poe, 12 ½ kms further on.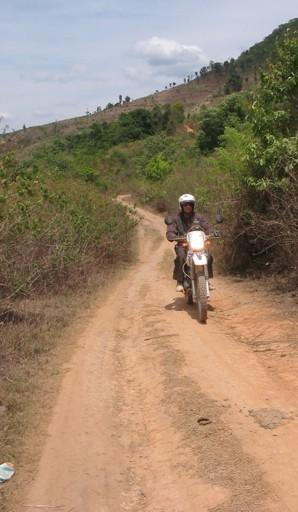 After Du La Poe the track improves & 10 kms from Mae la Up it is a pretty good dirt road.
Pic below: Mae La Up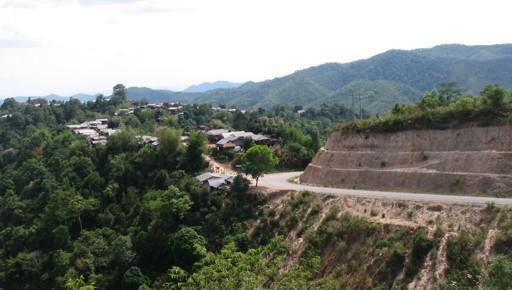 This puts you on R1266 & the asphalt starts 13 kms further at Huai Manu. From Huai Manu then its approx 12 kms into Mae la Noi & R108.
It was around 4.00 pm when we arrived in Mae La Noi, took a lengthy break & headed straight for Mae Hong Son. Silverhawk would have preferred to go to Mae Sarieng, but I wanted MHS for some night life / good food / massage. The pressure was on & the ol 250s were wound right up for an excellent thrash thru the golden twisties of R108. I only got away from Silverhawk a couple of times due to superior road knowledge (that maniac quality?) and we arrived in MHS just on dusk, not tired but exhilarated. Yes sir a 250 is perfect for a thrash on the MHS loop as you can throw the lighter bike around a lot easier & so carry much corner speed. It really does give you a buzz!
In MHS it was the Piya ghouse by the lake. One of my fave spots in N Thailand.
Later on it was a foot massage at the Mae Thai to start the evening with the papers & a bottle of scotch.
Then onto the Salawin Restaurant Pub. The Salawin's got the best farang food in town, plus is a bit of a Hang out for the local NGOs, so you often get a decent farang conversation. Alan the pommy owner is also a bit alright.
After the Salawin, Silverhawk retired & I hit the disco at the Baiyoke Chalet.
The band at the Chalet rocks & most nights the place is good, except when there's a crowd of boisterous obnoxious Israelis trying to run the show. And tonight was no exception. It was break time & a couple of members of the band, mates from Chiang Mai, came over to sit at my table & help themselves to my whisky (one of the perks of being a muso & certainly not unlike the girlfriend singer).
Anyway during the break the band had some taped music on, when an Israeli jumps up on stage grabs the microphone & starts to sing & dance to entertain only himself & his mates. Not very cool I thought. The bandleader sitting at my table grimaces, quietly slips over to the back of the stage & turns off the microphone. End of performance & the failed Israeli Idol superstar sits down. But not for long, several drinks later he pounces back onto the stage to test all the microphones and manages to find one still switched on. The Israeli rabble let out a cheer & hey presto its shown time once more for our Israeli Idol, but no one else is impressed. My mate, the band leader promptly and firmly walks up onto the stage & switches all the sound gear off – is that a message or not. Still not good enough for an Israeli Idol fan, who stumbles over to our table & asks for the manager so he can complain because they can't sing to entertain (their own little crowd.) What is it with these guys I thought? I'm glad he never asked me anything as he would most definitely not have been impressed with my reply, & WW3 might well have erupted. As it was the Thais handled it real well, "oh yeah you need to speak to the manager, he has just gone across the street to the market for some rice soup, you can go find him over there yourself & ask him if it would be ok." Our drunken Israeli warrior staggered off into the street in search of the manager, only to return unsuccessful and see that the Thai band was back on stage playing at full volume & speed.
That was enough for me though. I did not want to hang around any more annoying drunken Israelis - the air con no longer seemed to be working so well. So it was off to a late, quiet relaxing massage, then home to bed for a solid nights sleep in the cool air con without any flying insects.
It had been just another day at the office………
Davidfl
Keep The Power On
Last edited: