0
Staff member
Subscribed
Jan 16, 2003
14,190
5,161
113
69
Date: Sat 3rd – Mon 5th Jan 2004
A 2-night 3-day brownie point trip with the singer-girlfriend, before heading off to Laos.
THE ROUTE
(1) Chiang Mai – Mae Kachan – Wang Nua – Phayao – Dok Kham Thai – Chun – Pong – Chiang Muan – Nan. Routes: 118 – 120 - 1- 1021 – 1091.
(2) Nan – Nam Yao – Bo Luang – Pua – Tha Wang Pha – Nan. Routes: 1169 – 1081 – 1256 – 1081.
(3) Nan - Sa – Phrae – Lampang – Chiang Mai. Routes: 101 – 1023 – 11.
Total distance: 880 kms.
Got away from the super at 11.30am, a fair time for 2 night owls.
The weather was a bit warm & the sky a bit smoky / foggy = no clear views.
First stop was 142 kms out at the PTT station on route 1, immediately after you turn left off route 120 & head North towards Phayao. Here there's a big 7-11 mini mart, an air-con Thai restaurant, plus a funky wooden coffee house towards the back. I opted for the coffee house, as there was less chance of the girlfriend eating. Unfortunately she found a kwiteo stall next door, so the quick 10 mins coffee break turned into a 30 mins snack stop.
Second stop was Wat Tha Fa Tai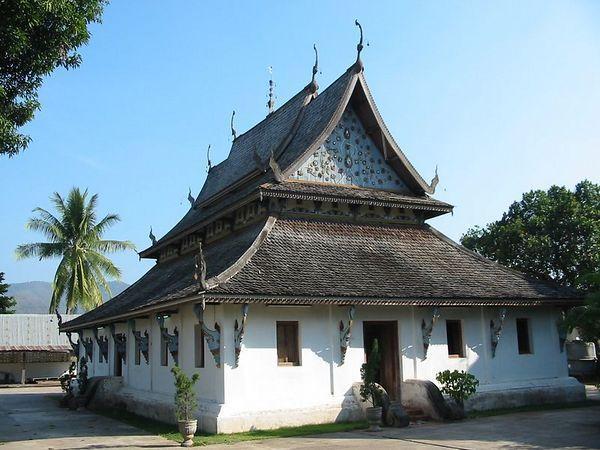 a beautiful restored old Thai Lue temple on route 1091, between Pong & Chiang Muan. This temple is a little gem, being classic Lue style, with colourful "tungs"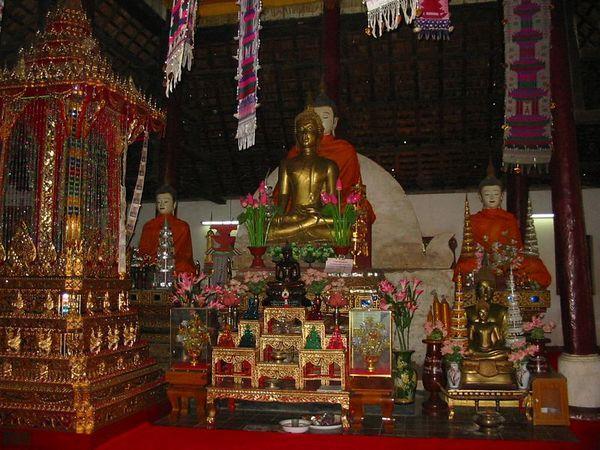 hanging from the ceiling & built using joinery & no nails!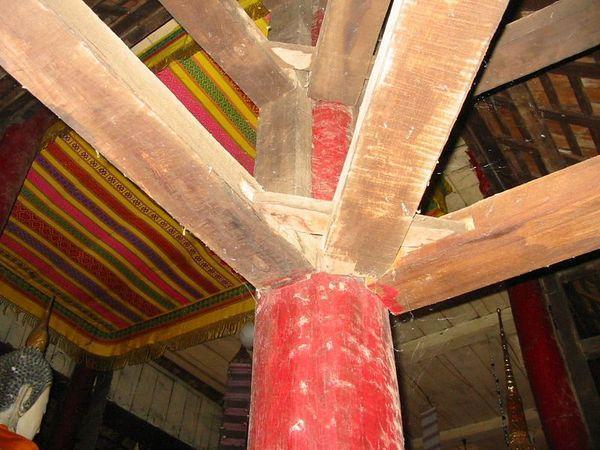 The place is also overseen by a very cute monk – a "tootsie" the girlfriend says & I agree after watching him explain the temple to us.
Between Chiang Muan & Nan we made several photo stops on the 2 steep climbs, (1) up out of Chiang Muan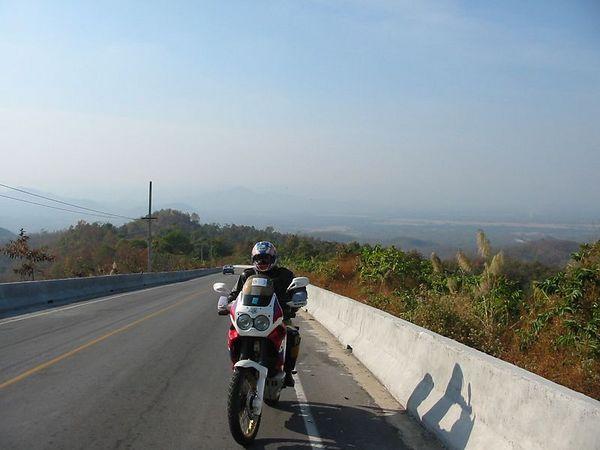 & (2) up out of Ban Luang.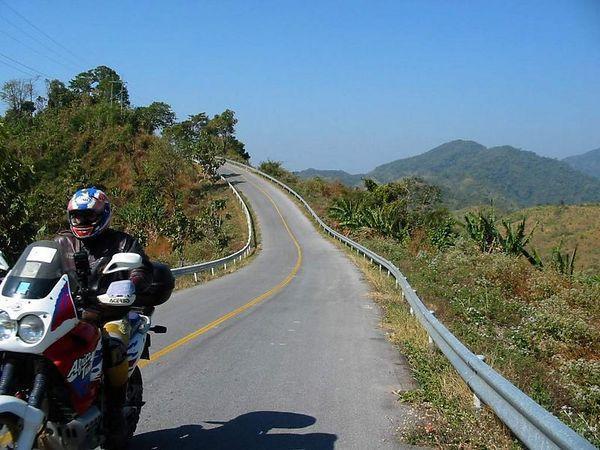 Arrival time in Nan was around 4.30 pm, perfect for a short nap & then happy hour in the Dheveraj hotel coffee shop.
ROAD NOTES
ROUTE 120: from Mae Kachan – Wang Nua is a race track. The old spring in the middle of the road on the last hill before Wang Nua has been plastered over with asphalt & the road's currently dry.
From Wang Nua – route 1, the road's a bit uneven in places with a lot of dips from land subsidence, so you can't really enjoy yourself to the limit. The road's also damp - wet in shady places, so watch it in the dark corners!
ROUTE 1021: from route 1 is 4-lane highway to Dok Kham Thai. Dok Kham Thai - Chun = fast generally flat flowing, with 1 nice big hill just before Chun .
ROUTE 1091: Chun - Pong good condition, undulating, fast flowing.
From Pong - Chiang Muan is excellent fast flowing hilly very undulating stuff. You do need to watch out here cresting some of the little hills, as the way ahead is not always clear. We almost wiped out on a pick-up coming out of the bushes on a sidetrack. The girlfriend let out a scream as we brushed his front fender at 120 kph. (The next stop was the temple & I noticed that Meow immediately raced in to pay respects to Buddha…..…just another day on the road for me?)
From Chiang Muan – Nan is also (extremely) good, although there are 2 lots of road works on the steep uphill climbs. The 1st on the ascent east of Chiang Muan is just a few hundred metres and no trouble, although I hit it just right after the water cart & it was somewhat greasy. The 2nd dirt section goes for a few kms – around 4 ks at a guess - on the hills just east of Ban Luang. The road here's gravelly & a bit slippery, especially if you're on a sport bike with nice slick road tyres, otherwise no trouble. Expect this to be finished in a couple of months. Once your past the dirt & up in the hills east of Ban Luang, the road becomes a bit of a race track with a nice new thick smooth asphalt surface, new lines on the road, as it swoops through the hills. You'll get a real buzz riding in here fast!
In Nan that night we hit Da Darios for real good Italian food. Da Dario's is a real surprise & always impresses; & you can't claim to have been in Nan unless you've eaten at Da Dario's!
For any old "timers" (like myself) who've been going to Nan for a few years, Swiss Paolo who founded Tip Top & Da Dario's with his (ex) wife Tum, passed away from the big C in Nan in August 2003.
The # 1 music pub restaurant in Nan has to be the Mai Muang, & we hit this place after Da Darios. The Mai Muang is just around the corner from Da Dario's, & was packed full with Thais on holidays so the atmosphere was a bit boisterous, but good-natured. (Oh to be alone & on the prowl?) The band however was a bit tame & somewhat restricted to playing "songs for life" & nothing else. I wanted the girlfriend to get up & sing to liven the place up, but she insisted on staying on holidays, oh well…….
SUNDAY 4TH
The Doi Phukha Loop "in reverse." (Done in reverse as Yam TDM 900 rider Phuah from Sing suggested the road was a bit chopped up & a bit gravelly going down from the Nat Park HQs towards Bo Luang. My logic being that with the girlfriend on the back, it would be easier riding uphill on the steep gravel than down. However, it did not seem that bad, & the gravel was only pebbles / broken asphalt in a few of the steepest corners. Regardless, thanks for the tip Phuah, I appreciate it, that's good biker's camaraderie mate – sharing info & tips.)
Set off from Nan at 10.40am - almost a record early time for us.
Route 1169 out of Nan is a bit busy with traffic & a lot of villages at the start, but after it really is a gem of a ride – smooth asphalt, winding hilly to very undulating and often steep. You could really let rip in here but not with the girlfriend on the back – my kidneys can't handle the rabbit chops!
1st photo stops were on route 1081 about 10-15 kms in from Nam Yao. There are some amazing views of the steep & winding road zigzagging along here & it's always a quandary trying to decide whether to keep riding or break the magnificent ride & take a photo.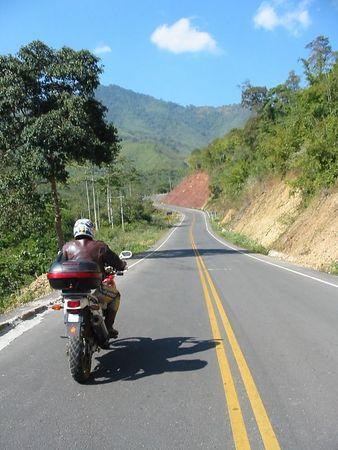 With the pax on the back I chose the photos to maintain the peace, otherwise the loop might be done non-stop just for the adrenalin buzz you can get from riding that unreal 200 kms roller coaster road.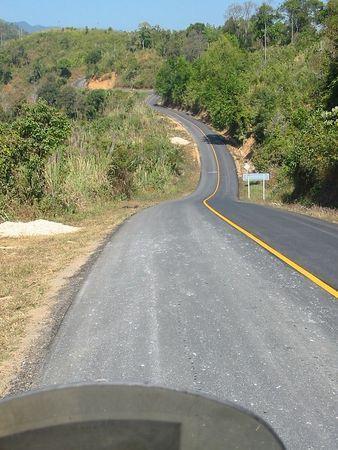 We made several photo stops before we got to Bo Luang & the ancient salt wells.
The salt wells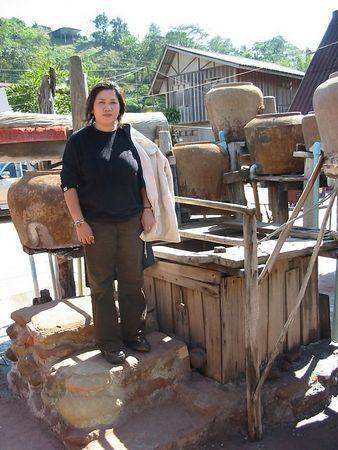 at Bo Luang are pretty amazing when you think that the villagers have been doing there salt thing - boiling up salt water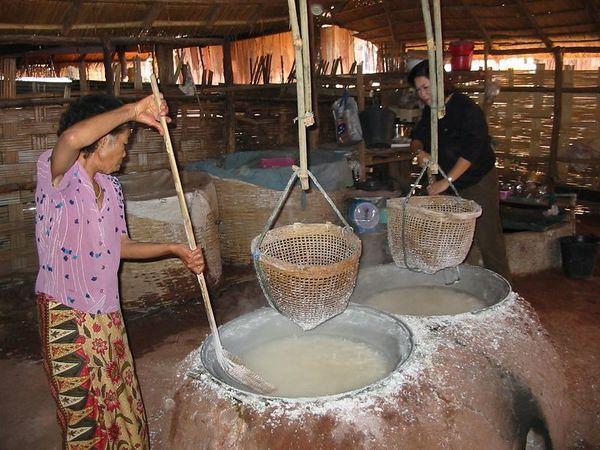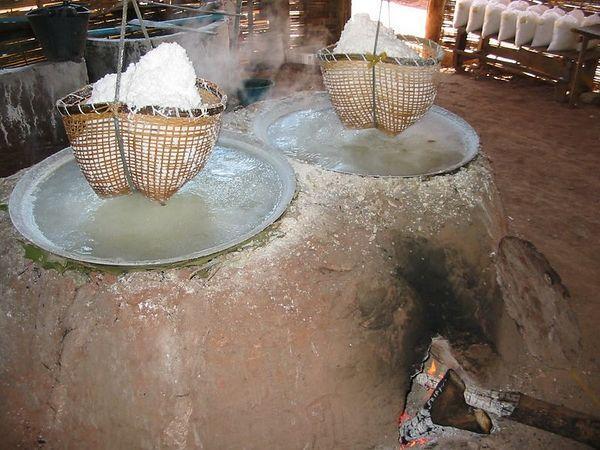 to sell salt (for 3 baht a kg today) - for a hundred odd years! You have to check it out sometime.
After a lengthy lunch break, for the girlfriend to digest her food & the fact the villagers lived off boiling salt for a massive 3 baht a kg, it was on the road & up onto Doi Phukha. Route 1256
from the east Lao border side does get a bit chopped up in places, but generally is quite ok.
Once you get up on the ridgeline & just west of the famous pink Chomphu Phukha tree the road is newly surfaced & an unreal ride back down into Pua.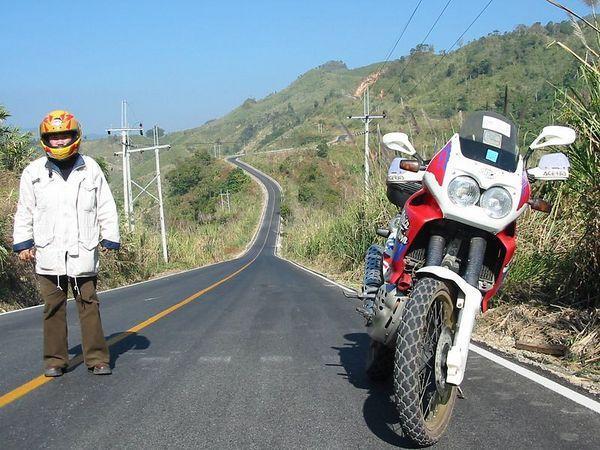 If you are into pink Chomphu Phukha trees, then note that this "one-off" tree will flower in Feb sometime.
From Pua we took the fast way home to Nan & raced down route 1080, via Tha Wang Pha.
Having done the Doi Phukha a few months ago, the right way going from Pua to Bo Luang, I can say that this still is the right way to go. My reasons are that (1) it is a better ride & (2) the views are better looking east towards the Lao border, and this should nearly always be away from the sun (unless you start from Pua or real early from Nan.)
I still rate the Doi Phukha loop as the TOP ride in North Thailand – its beats them all every time! You can't claim to have ridden North Thailand until you've done it. (Take a look at P156-159 of the Mc Guide to the Golden Triangle for more road & kms info.)
ROAD NOTES
ROUTE 1081: There is one 3kms dirt section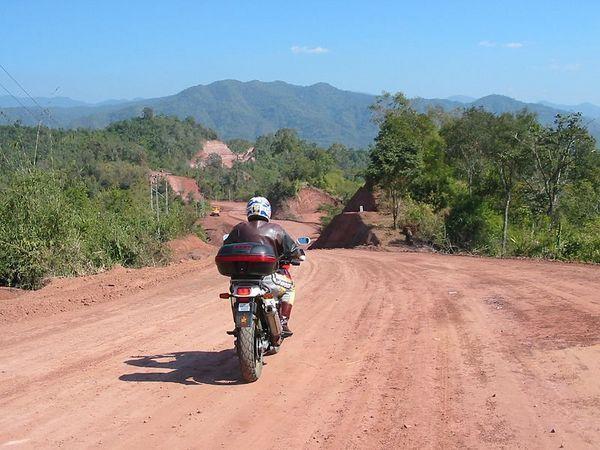 just before Pak Huak, where they have taken out that incredible steep switch back descent into Pak Huak. That's a shame, as this was a highlight on route 1081. It should also be a few more months before it is finished and if it rains it could be pretty slippery!
ROUTE 1256: Road condition on the Pua side is much better than on the east Bo Luang side.
ROUTE 1080: Tha Wang Pha – Nan gets a 9 out of 10 for being fast flowing swooping smooth asphalt.
TRAVELLING WITH THE GIRLFRIEND
1. She's put on weight.
2. She loves to eat like all good Thai girls, whenever & wherever.
3. I don't understand how she can put smelly dried BBQ squid in the Givi box with the clothes.
4. She's always good company, sincere loving & honest.
5. Now can I go to Laos…?
Davidfl
Keep the power on