Wed. October 11, 2006
RIDERS: Silverhawk (Dave E.), Big & Tall (Justin) Pikey (Jeff), SuzukiLuke (Luke), BarryBBQ (Barry)
WEATHER: Overcast, Rain, Drizzle, FLOOD.
ROUTES: 118-1252-4074-1317-118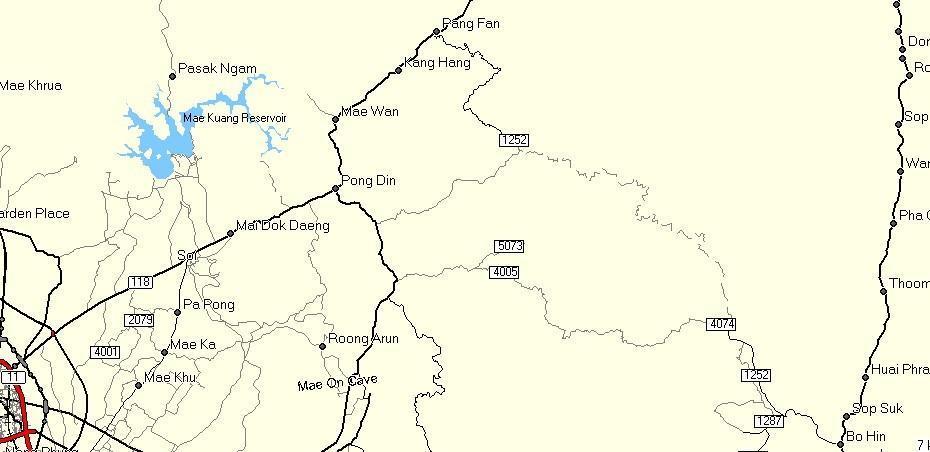 Also see-
Sukhothai and the North's Worst Shortcut ………………
Link removed
1252 The Good End………….
Link removed
1252 Again, and Again, and........
Link removed
"Misfits" small loop N.E of Chiang Mai
Link removed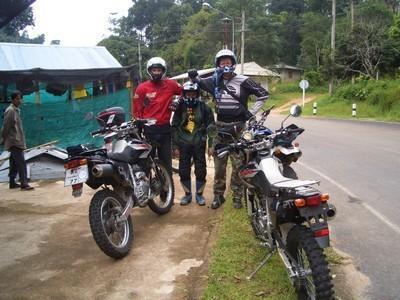 Luke, Barry, and you can figure out who is in the center.
I have written about 1252 many times as you can see above.
BUT, I did predict that one day it would be a great loop and now it is. They have paved 1252 for it's entire length.
Take Hwy 118 (Chiang Rai Rd) and the turn off is approximately 40 kms from the Super Highway on the right(N19 00.982 E99 18.270). The turn off for 1252 is not marked by a road number but by overhead signs pointing to Chae Hom. The right hand turn is just after a left hand curve and bridge which makes it easy to miss. It is just a small road that actually doubles back parallel to 118 before making a left curve and then heading what feels like straight up the mountain.
The road winds through some of the fullest "rainforests" in the areas and some just gorgeous views of the mountains. The last time I did this road was in June 2005 so the asphalt was completed since then. It is already suffering from many areas that have been covered and partially cleared by mudslides and road erosion but is doable on any bike with some caution.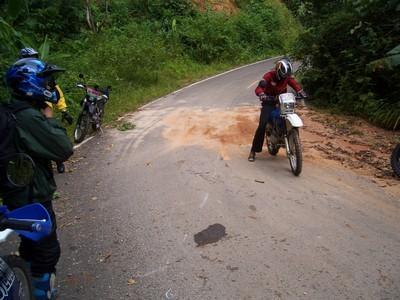 The scrapes on the road only tell part of the story. I have never seen anyone's leg bent like Luke's, but when we pulled the bike off he jumped up only complaining about his hand and some road rash. Must be that Yoga.
The "discovery" of Hwy 4074 now makes it a GREAT loop. APPROXIMATELY 40 km along 1252 is a turn off to Jaeson (Chae Son) National Park and hwy 4074 (N18 49.741 E99 29.744). You will immediately come to entrance gate to the park. Tell them you are just passing through and heading for Chiang Mai and they won't charge you what is now posted as "Foreigner 400Bt" (ridiculous fee). When you clear the park stay to the right and you will come to a bridge followed by and uphill. Unfortunately for us the bridge AND the road was now a roaring flood.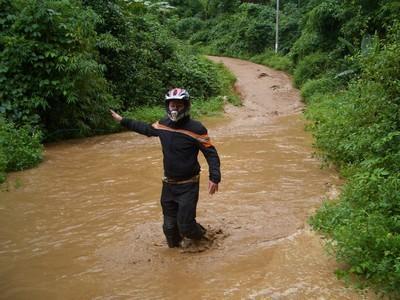 Jeff was the first to try to walk on water, we were just waiting for that hidden sink hole.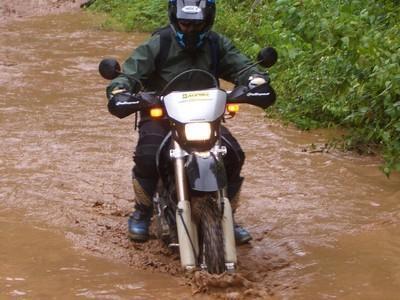 Justin was the first to prove it was crossable but was almost swept away by the water at the top of the hill. When everyone else it at the bottom waiting "It's lonely at the top".
We did make it through and found one of the most desolate paved roads, twisting and climbing back through the mountains, that I have been on.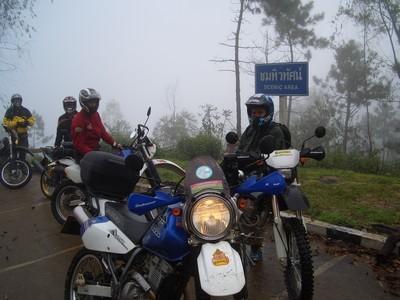 Great view, when you can see
Hwy 4074 twists back and connects with Hwy 1317 (N18 51.588 E99 16.530). A right turn takes you back to the 118 or a left will lead you to San Kamphaeng.
Now due to the rains the roads are dirty and wet. Once it dries out a little this will be one of he best day trips in the area. It took us almost 7 hours but that was due to food stops, waiting for rushing waters to subside and an incident that now may change Luke's moniker to "Cool Hand Luke" (hope all is well today, Luke. I see you are able to type at least). Total was about 150km. Actual riding time (according to the GPS was just under 4 hours).
I will leave the color commentary to be added by my riding mates. Enjoy.
Dave Early
Ever notice that "What the Heck!" is usually the right answer?