Just a quick personal observation;
I have been watching the many threads, along with listening to the numerous conversations over a bottle of beer, about the perfect bike. Guess what;
There isn't one.
The Versys seems to have aroused a lot of interest and the below quotes are somewhat typical of what appears in many threads.
X wrote: [quote quote=X]Not so sure it "can go on crappy roads and dirt roads no problem"

See my concerns that I perceive as problems on dirt roads.
I think the key word here is road, and if that is a crappy potholed tarmac road, it would be OK but a crappy dirt road with 17" street tires and alloy wheels no way.

The problem posed by the exposed rad and underslung exhaust remains an issue.
Yeah you are right... the rougher the terrain, the worse the Versys, the better the KLR. Bottom line Versys suitable for very light dirt road duty only, judging from the above thread.
About the 17" wheels - are there no knobby 17" off road tires one could fit? Street tires are obviously going to be terrible on dirt roads.[/quote]
I think you really need to think about how you are going to be using the bike for the MAJORITY of the time. Do you really want to buy a bike (or not) based on the chance you may do a few trips into Laos, or somewhere else, and encounter some dirt? How many times are you actually going to do this? If you know how you ride the majority of the time, match that usage with what you buy. Compromise may be the key word.
Davidfl and I did a trip into Laos in 2004. Due to a project David was commissioned to do, we intentionally were seeking out-of- the way places and desolate areas . At that time there were not many dirt bikers on this site.There was also a limited selection of big bikes available for ANY kind of riding. I am far from an accomplished dirt biker, but I had to ride the only bike I had. A Yamaha TDM850, street tires/low pipes (they did get a few dents)............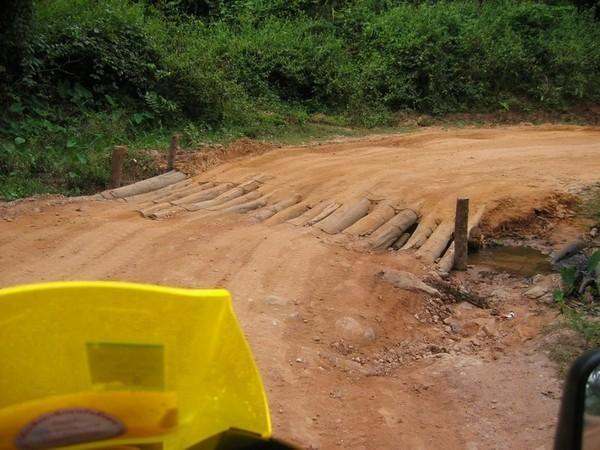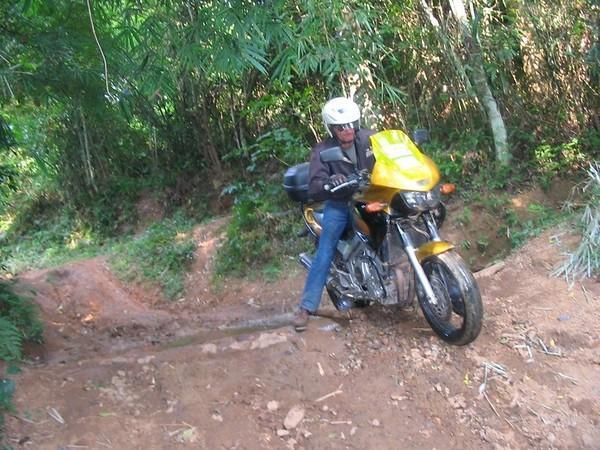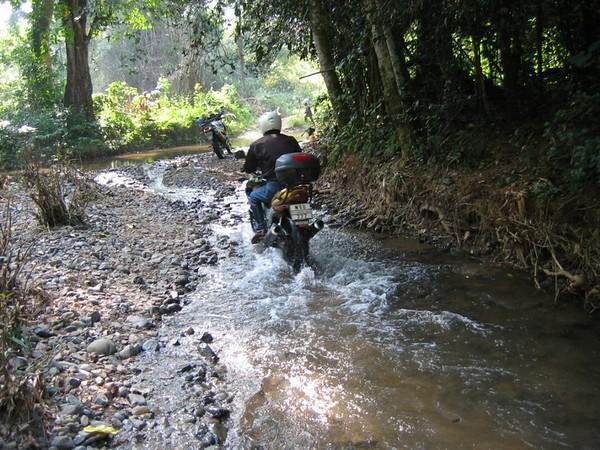 Was this the right bike for the terrain? Obviously not. But sometimes you have to do what you have to do. Don't be so quick to say "It can't, No way, It's not the right size wheels, It's not the right bike". You may be missing out on a lot of riding and adventures out there while you are waiting for that 'perfect' machine.
For you guys that I hear say you are waiting because you
must
have a certain "special" bike in order to ride in Laos; you don't. You don't have to go off road to see the country unless you really want to. You can spend a couple weeks and travel from one end to the other and never leave the pavement. My suggestion is go there first, on what you have or rent. Get an idea of the country and what type riding you really want to do on a regular basis. How many times are you really going to travel in rough terrain? I have talked to some who are basing a major purchase on their perceptions without having set foot in the country or even know if they are going to like it.
I know many riders who are having a blast on unlikely motorcycles. Yes, now I also have a dirt bike. But, I am sure glad I didn't miss out on that Laos trip because my bike wasn't the perfect one for the job. Whatever you ride or buy enjoy! :thumbup: