HI FOLKS.
Since most GT-Riders seems to complain about the heat, buys expensive cool vests and even make a very much read thread about it
https://www.gt-rider.com/thailand-motorcycle-forum/cool-vest-t5359.html
. At the same time they are very scare and publish warnings
https://www.gt-rider.com/thailand-motorcycle-forum/hot-n-greasy-road-warning-t5335.html
I want to present a little different way of motorcycling and Motorcycle Weeks. The Finish "Talviralli" (Winter Rally) is a more 20 year old annual motorcycle meeting in Finland. It is run by the Finnish 69-Club, a club I was among the people who established it. After seeing these pictures you may understand why Finland produces very fast riders in all motor racing disciplines.
I think the pictures tell all and after you can go back to the road without your vests and you probably see the asphalt more solid.. And feel more cool…. The pictures are from the 2009 Rally at Pihtipudas, Finland and they are copied from Paul and Eki and since we probably are members of the same club I don't think they get angry for this.
And please after enjoying the pictures pls go out enjoy the Thai heat...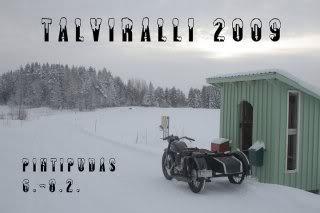 Welcome to the 2009 "TALVIRALLI" The dates this year you can see. It is damned cold in middle and northern Finland at that time.
Maybe these pictures give you an idea about what it is all about.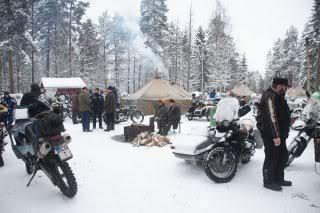 Snow and cold and sleeping in tents. Behind you can see the army tents, developed when Finland almost "crushed" the USSR army during the Finnish/USSR winter war 1939-1940.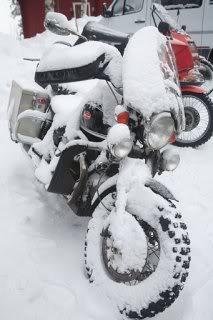 Do you think this Moto Guzzi will start easily in the morning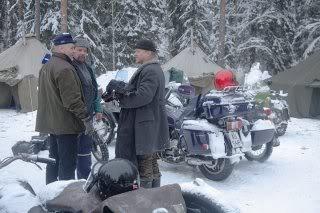 Old but tough bikers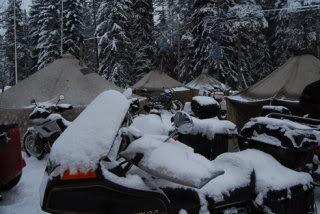 And more snow on the bikes in the morning

Tandem skiing can be very difficult as you can see from these pictures.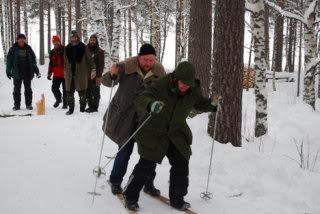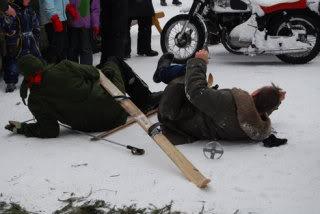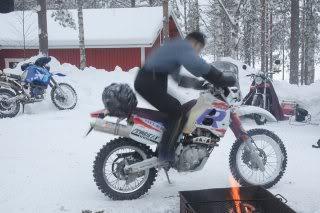 And in the morning "kick starting" is quite difficult and heavy when the oil is still stick.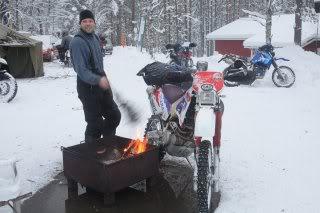 But when you heat it up it helps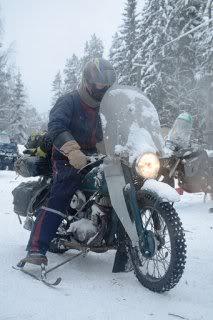 This is an ideal winter bike. IC-350 two stroke twin. Manufactured by, probably the biggest motorcycle factory by that time an army owned USSR Conglomerate PLs note the skies. Both the Finish and the Swedish army had skies for their army bikes. It is great fun to drive with skies when the road is just snowy and frozen, just before the big maintenance machines destroy the fun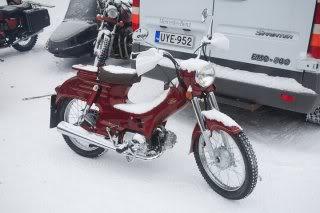 This a funny Hybrid at the rally. I think that it is a result of the already finished joint venture of Czech Jawa and Italian Cagiva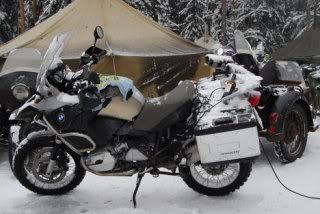 A frozen BMW in front of a Finish army tent.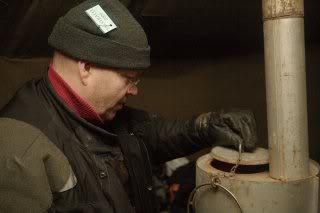 Here you can see how the tents are heated. It's very much up to the "heater boss" who is responsible for putting the tree blocks in the owen.Normally you have continiuos 2 hours "duty" to take care of that but sometimes the people on duty get to drunk and we all wake up with frozen legs. It is also a skill how to sleep. If You sleep with the head in the middle where the heater is, you wake up with your head swetting and your feet freezing. The tent can acomodate up to 20 people. I've seen it....

Even ladies participate in the fun. The Lady at the left from your perspective is Maiju, a Lady I taught driving in the early 1980 when we were a couple. I think we stayed together for ten years and she has been my book keeper since that She also became a very passionate biker and she is going every year to the FIM rally in Europe. Her driving skill has improved quite much since I taught her on Suzuki LS 650. But I'm still proud of her and we are still good friends.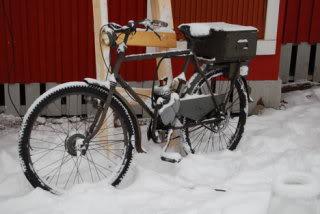 At the end I present one in 2007 homemade (by Paavo) motorcycle, which is based on a Swedish army bicycle, a Russian made engine and the petrol tank made from the Finish army's grenade box.


HIKO