Finally it was 31.01.2006, from Belgium we drove with the car to Dusseldorf Airport to take the plane to Bangkok. Though it was not our first trip to Thailand, this one had something special. We wouldn't go for three weeks but three months. Filip en I we quit our work temporary to travel around in Thailand, Laos, Malaysia and Singapore with the motorbike we bought last December.
The first of February we arrived at Bangkok Airport from where we went to Pattaya to stay a few days in Cabbages and Condoms before starting our adventure. We still had to arrange the insurance, the transfer of the motorbike at Siam Racing in Pattaya and we also wanted to recover from the flight.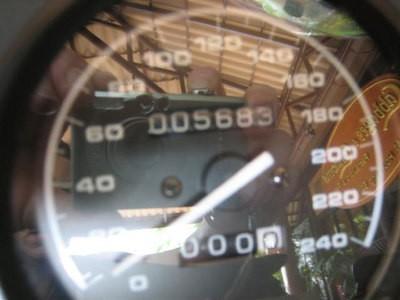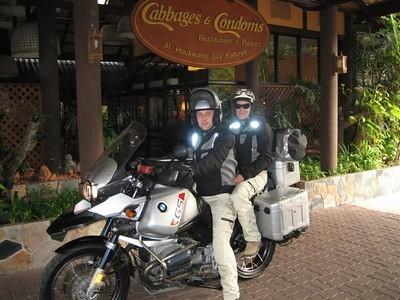 5683 km at departure at C&C, Pattaya
On Saturday, 04.02.2006, at 10 a.m. we drove to Nakon Ratchasima, from there via Ubon Ratchatani and Nakhon Panom to Nong Khai were we would like to cross the Friendship Bridge to go into Laos. On the way we could take a lot of beautiful pictures. The weather was very nice, the people we met very friendly and the surrounding became more and more beautiful.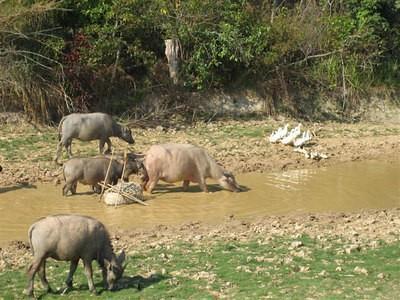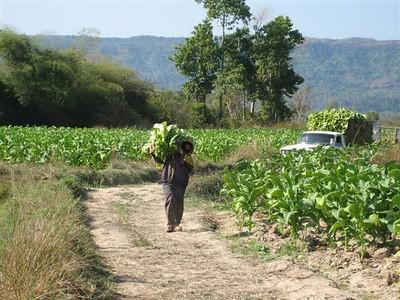 Freedom & Tobacco plantation
Thursday 09.02.2006, after a day of rest in the very cosy guesthouse Mut Mee in Nong Khai we left enthusiastic to the boarder. At the Thai side everything went smooth but at the Lao side the problems began. They decided (the government) that from February on no moreThai registrated bikes could enter Laos through the Friendship Bridge. Khampean, a lovely women, from room number 6, would like to help us, she sent us to the Ministry of Transport and Communication so that we could ask permission to enter Laos with our motorbike at the general-director in personal. The answer of the big boss was short and snappy "NO". Back at the boarder Khampean told us the best we could do was driving to Chiang Khong and cross boarder over there.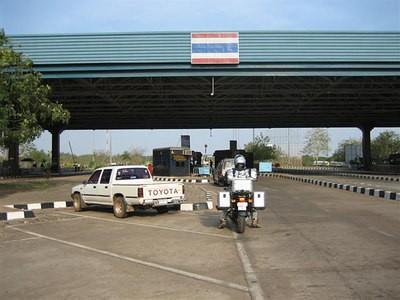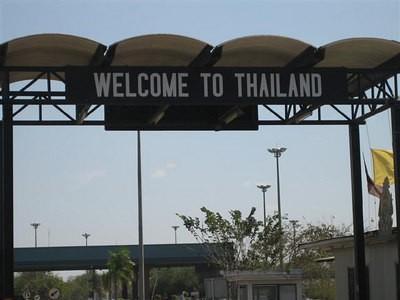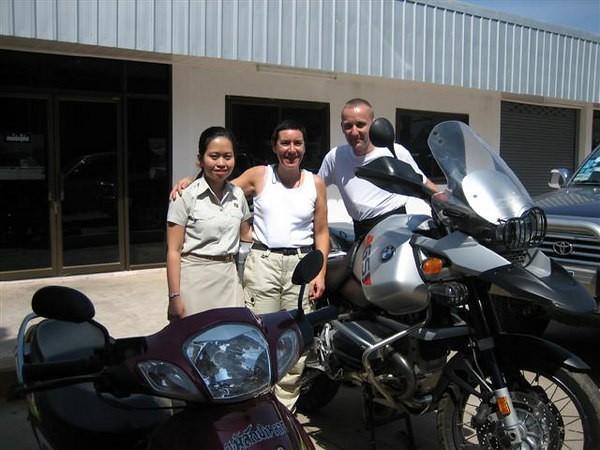 At the Thai-Lao Border with Khampean
A few hours later we were back in Thailand. Now we had to change our plans. After putting a mail on the GT-Rider site David Unkovich gave us the same advice as Khampean, via Chiang Khong there would be no problem to enter Laos. That day we drove to Khon Kaen and from there via Sukhothai and Mae Sariang to Chiang Mai. The roads became more beautiful the more we drove to the North. The road from Mae Sot to Mae Sariang is magnificent. You pass a Birmese refugee camp, it is 5 to 6 km long. The nature is wonderful, nice curves and not much traffic, ideal for bikers.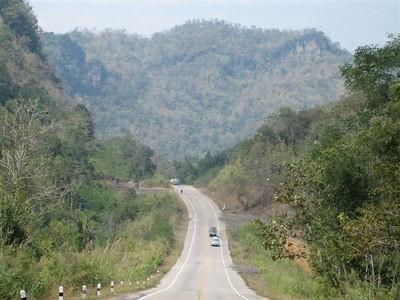 On the way to Sukhothai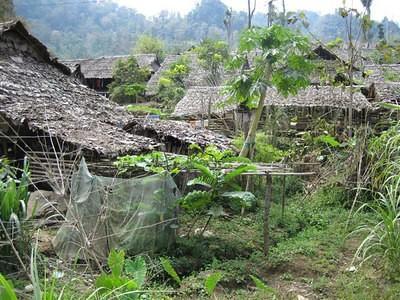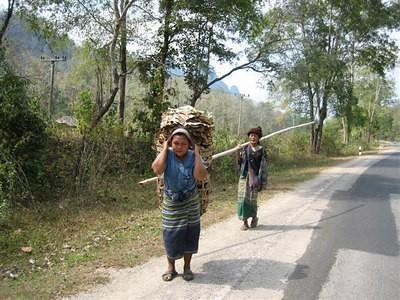 Birmese refugee camp & On the way to Mae Sariang
From Mae Sariang we drove via Doi Inthanon to Chiang Mai where we stayed a few days to relax and to give the motorbike a check up because once in Laos there would be no more opportunity to do that. After two days of rest we drove to Chiang Kham and from there via Doi Pu Chifa to Chiang Khong. The last part by the Mekong was magnificent.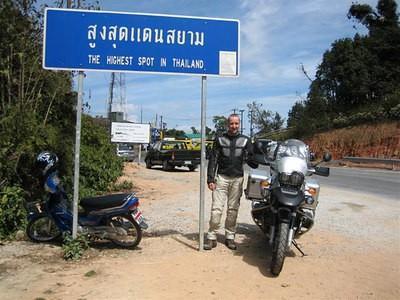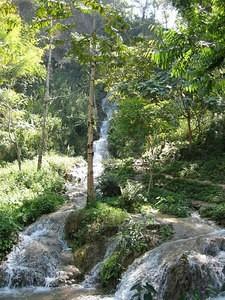 Doi Inthanon, the highest spot of Thailand & On The way to Chiang Kham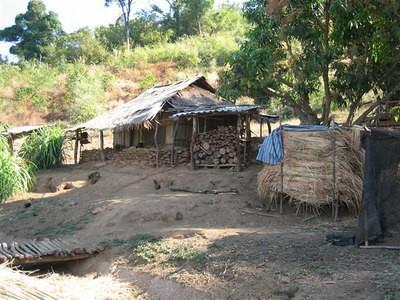 On Doi Pu Chifa
Eventually on Friday 17.02.2006 we could cross the Mekong to enter Laos. In Chiang Khong we had to go first to Custom House for the export papers of the motorbike, than there was the passport control and we had to fill in the ownershippaper and the passengers list. Everything went okay. After this we took the ferry to Huai Xai where we had to go again to Custom House to arrange the papers for temporary import of the bike, than we had to arrange the insurance and after that we had to go to immigration to stamp our passports. We succeeded, we were in magnificent Laos. The ferry costs 500 Bath, it isn't cheap for such a small distance but you don't have another opportunity to cross the Mekong.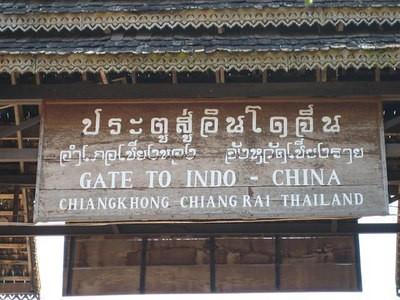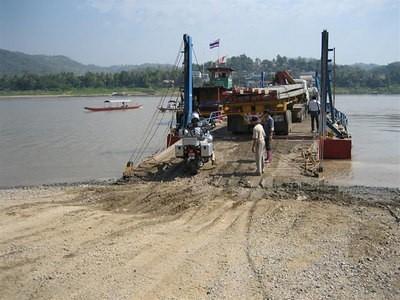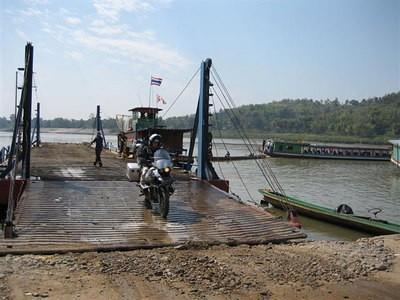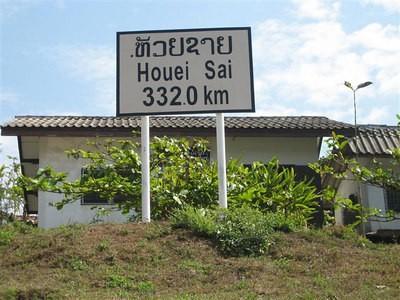 The ferry over the Mekong from Chiang Khong to Huai Xai
The day after at 8 a.m. we went to Luang Namtha. This road was under construction, we had to do 190 km and only 6 km was asphalted. But that was positive for us, it was the hardest day of our trip but also the most beautiful day. We rode through many little villages where everybody waved to us and said SAIBAIDEE what means "hello", we didn't know where to look first, it was amazing. We had to pass small rivers and wooden bridges, I had to get of the bike to control first if there came no nails out of the wood. Also the ride through the jungle was very nice but muddy because the sun couldn't come through the leaves. Our bike, a BMW GS-adventure was actually too heavy for that route, full loaded and me behind, but we wouldn't have missed it. At 16.30 we arrived in Luang Namtha, as we only could ride in first or second gear and we stopped many times to take some pictures, we did it very well.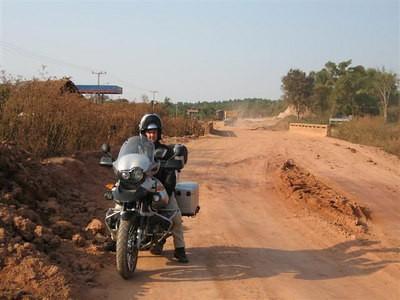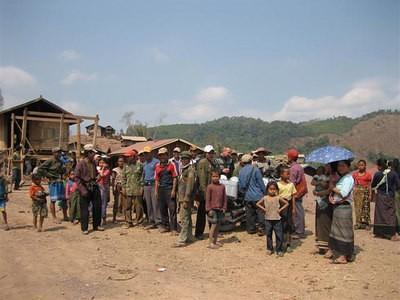 The whole village was curious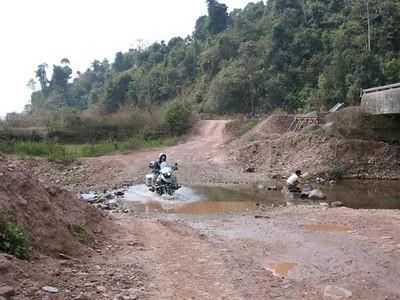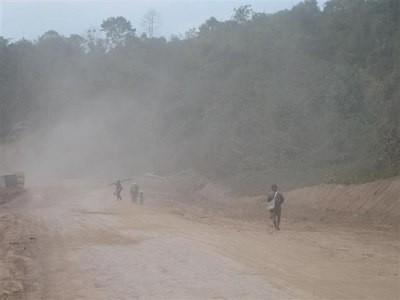 The road from Huai Xai to Luang Namtha, dusty but so beautiful
From Luang Namtha we went to Udom Xai. Because we were so close to the border of China we made a detour to Boten, the boarder to China. There we got a penalty because we parked the bike after the stop-sign. From Udom Xai we drove to Luang Prabang, again a very beautiful road, we could not get enough of the amazing sights, landscapes and the friendly people. Luang Prabang is a world heritage city and quite rightly, it is a nice small city. There we had a few days of rest. In the neighbourhood we visited the beautiful Kuang Si waterfall. Maybe it is getting boring, but we can't say anything else about Laos, it really is a beautiful country.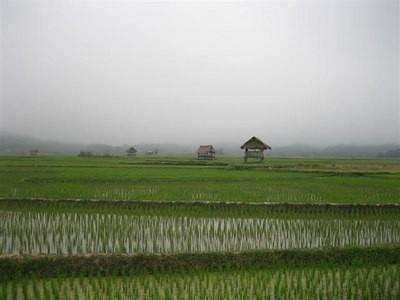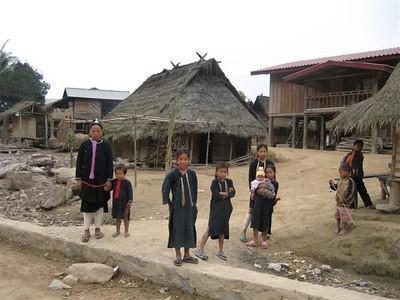 Morning haze over the rice fields in Luang Namtha & Village people in traditional outfit
Kuang Si Waterfall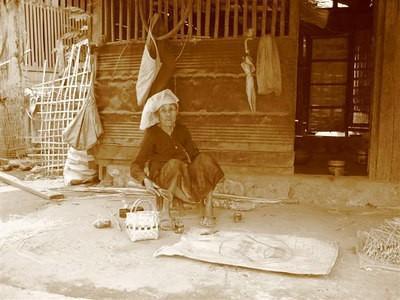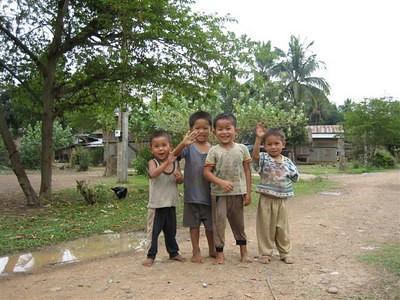 Woman and children in a village nearby Luang Prabang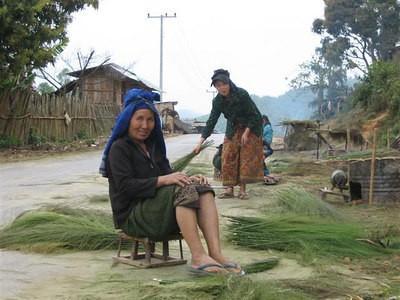 Women making brooms beside the road
Friday 24.02.2006 we went further to Phonsavan, a very nice road through the mountains, an amazing view. We visited the Plain of Jars and the Tampui Cave where, before the American bombardments, a village was situated with a hospital and a school. We also visited a Hmong Village.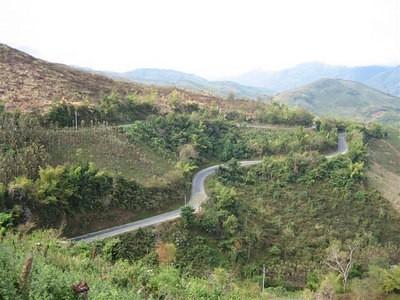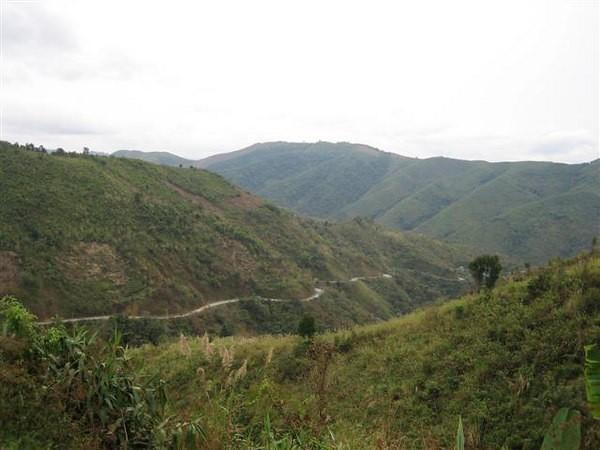 The beautiful road to Phonsavan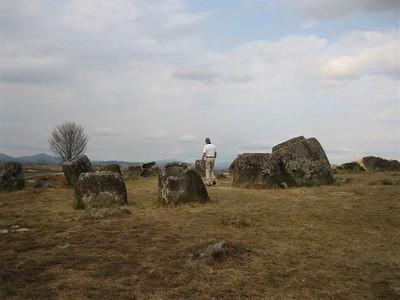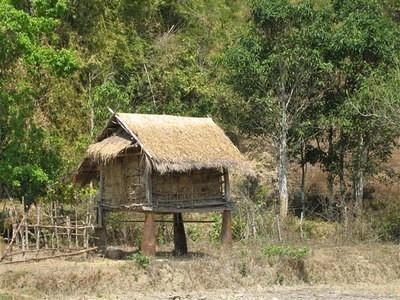 Tha Plain of Jars & Little house on a undercarriage of bombs
In the morning and the evening it was rather cold in the North of Laos, during the day it was pleasant warm.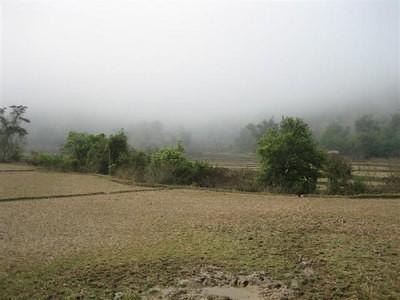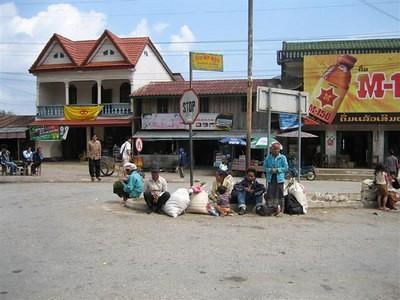 Morning haze in Phonsavan & Crossing Luang Prabang – Vang Vieng – Phonsavan
After Phonsavan we went to Vang Vieng, there you have a splendid view on the Karstmountains. The time we were there the streets in Vang Vieng were under construction but it didn't bother us, for us Vang Vieng was a pleasant village. We hired a bicycle and visited many caves and small villages, that was a nice change after weeks on the motorbike.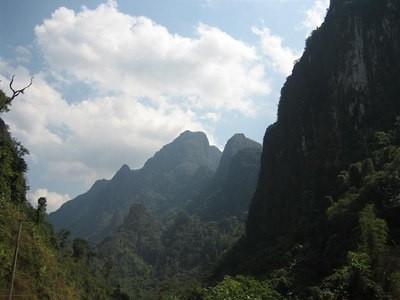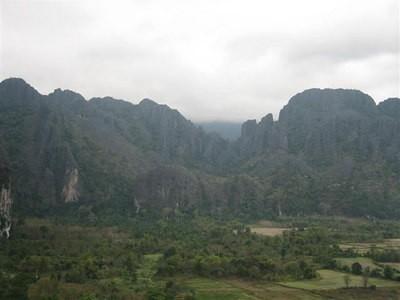 The Karst mountains in Vang Vieng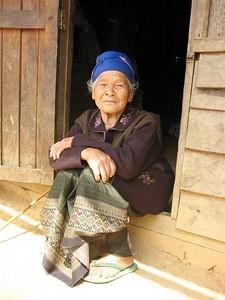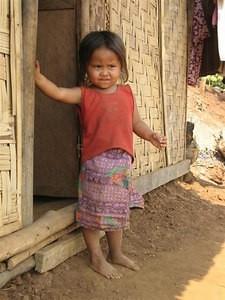 Friendly people everywhere
Our last day in Laos we spent in the capital Vientiane, we didn't liked the city that much, maybe because it was our last day. VIA the Friendship Bridge we left Laos for the second time, that was on Friday 03.03.2006.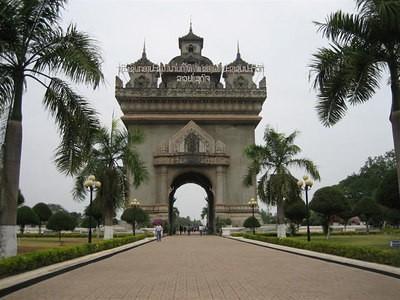 Delicious Banana pancakes & Triumphal Arch in Vientiane
Already more than one month was passed, time goes quickly when you go through a lot of things. We have a positive image of Laos, we will never forget the beautiful nature, the friendly people, the pigs, turkeys, chicken, buffalos and dogs on the streets, as a biker you have to have eyes everywhere. Also the many dust roads we won't forget, you imagine that you're years back in time, people live on the rhythm of nature, stress is far away and let's hope it will stay like that for a long time. We will sure go back, probably (definitely) next December.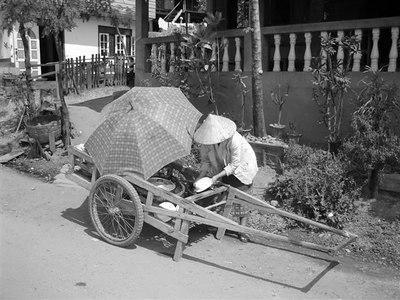 A mobile foodstore & Beautiful ricefields
Back in Thailand we drove via Nakon Ratchasima to Hua Hin, in Bangkok we lost a lot of time because we couldn't find the right way immediately. From Hua Hin we drove to Ranong and then to Phuket were we stayed four days. We found a nice hotel in Makam Bay where it was very peaceful. We passed Khao Lak on our way to Phuket, the Tsunami made a lot of victims there. It was a shock for us when we saw all the new buildings and the cleanliness, it gave us an unpleasant feeling.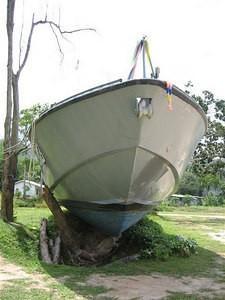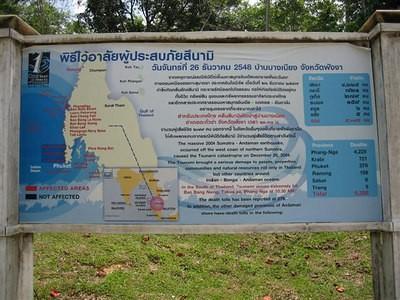 The boat that was throwed kilometres far on land in Khao Lak
In Thailand there is much more traffic, you really have to be careful on the dual carriageways, oncoming traffic pass cars if they don't see us, we have the feeling that they think we are as manoeuvrable as the small bikes. You see that they aren't used to big bikes. Many times we have to swerve because the motorists make a wrong assess of our speed and size.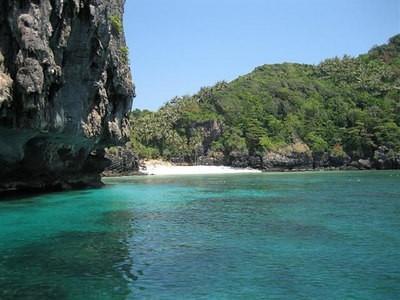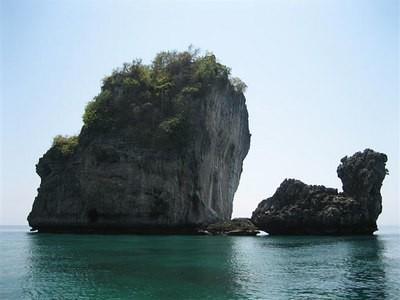 Nearby Phi Phi Island
From Phuket we went to Satun where we crossed boarder to Malaysia. We thought it would go quickly, but no. We couldn't get an insurance because our green book wasn't translated in English. We had to go back to Satun to the Ministry of Transport to get a translation. Lucky for us they helped us very good, a few hours later we were back at the boarder with the right papers, that was 14.03.2006.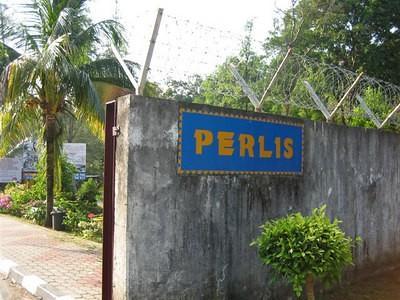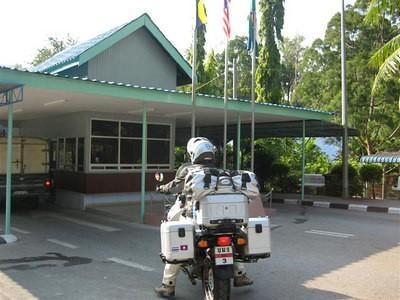 At the border of Malaysia
Malaysia is a more structured country than Thailand, you don't see overloaded pick-ups and people adhere the traffic rules pretty well. The first day we slept in Kuala Perlis where you can take the boat to Pulau Langkawi (an island). We would like to go to Pulau Langkawi, but we could't go together with the bike, it would be two separate boats, so we changed our plans and went to Pulau Penang, Georgetown, which you can reach to take a 13 km long bridge, it was quite impressive. In Malaysia you can take in contraxt to Thailand the tollway, but they aren't used to big bikes, we had to follow the signs of the small bikes, sometimes it was very small for us. But on the other hand we didn't have to pay to use the tollway.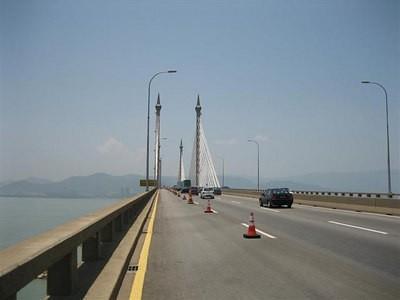 The 13 km long bridge to Pulau Penang
In Georgetown we stayed three days. We visited the 2000 years old Kapitan Keling Mosk, the Penang Museum, several temples, Fort Cornwallis and the Fatt Tze Mansion. The last one we liked a lot, it was a beautiful mansion, you can also stay there (on reservation) in restored rooms. We did everything by feet so we discovered many beautiful small streets, cosy restaurants, small temples and mansions. The heat was oppressive the time we were there.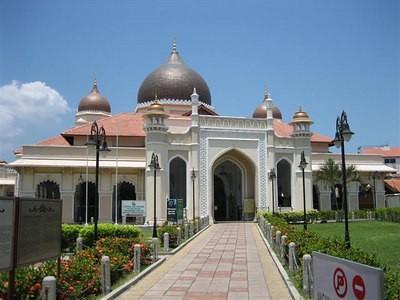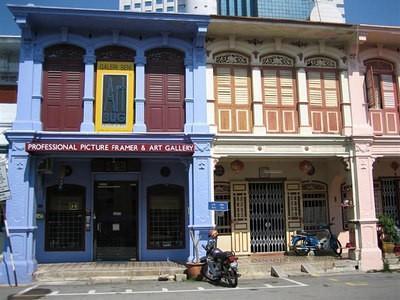 The Kapitan Keling Mosk & Colonial houses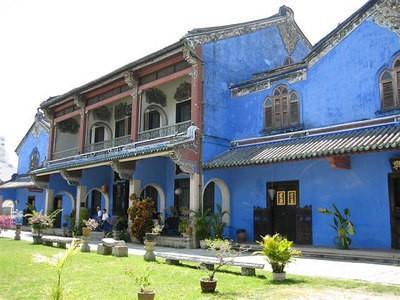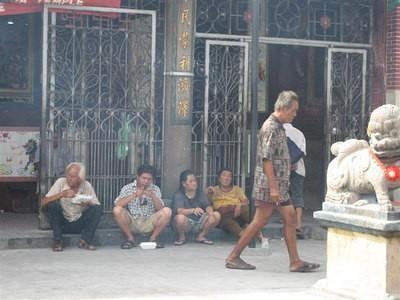 The Fatt Tze Mansion & People at a Chinese temple after getting free food
Saturday 18.03.2006 we left Pulau Penang to go to the magnificent but cooler Cameron Highlands. On Sunday we visited the wonderful teaplantations of Boh, and of course we tasted some and bought it as souvenir for when we were back home. We also did the highest mountain Gunung Brinchang. We had rain in the Highlands but we enjoyed the beautiful rides in the amazing nature. On Monday we drove to Bukit Fraser, you have a beautiful one-way road to the top and back with beautiful views and a lot of monkeys near the road. For the biker this is the most beautiful part of Malaysia.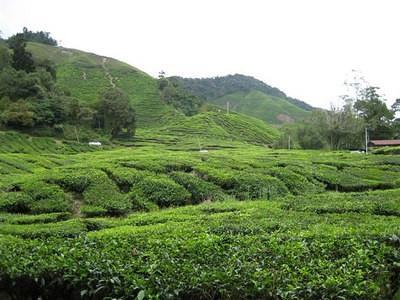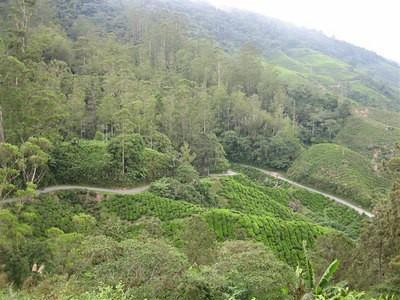 Tea plants in the Cameron Highlands and the beautiful road in between
The same day we drove to the capital Kuala Lumpur where we met some Malay biker friends who helped us two years ago when we had trouble with a rented bike in Thailand. These people, Kenny and Serwee, gave us a very warm welcome and spend their time with us after their work. They took us to the best Chinese Restaurants in town, we enjoyed it a lot.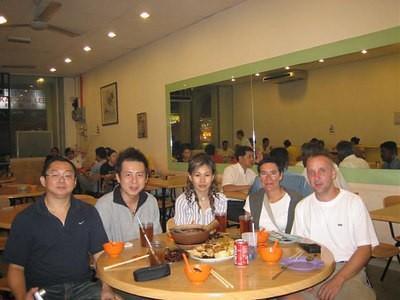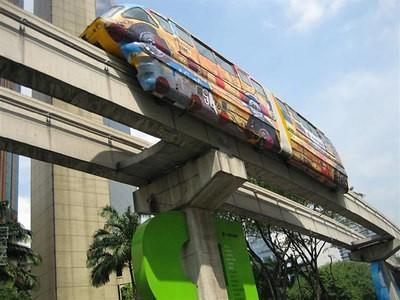 Serwee, Kenny and girlfriend, Marleen and Filip A nice painted skytrain
In KL are many colonial houses but the Petronas Twin Towers impressed us the most. From our hotel room we had a magnificent view on the Towers. Wherever you were in town, you could practically always see this beautiful piece of architecture. Most of the time in KL we just hang around an drunk good cappuccino's while we had to hide for the heavy rain and thunderstorms.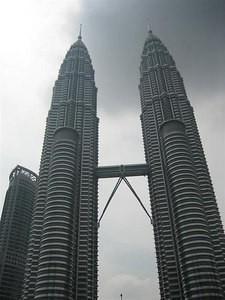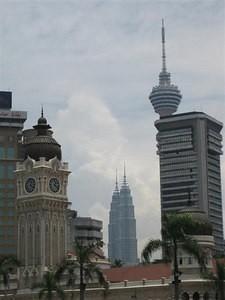 The Petronas Twin Towers
Friday 24.03.2006 we went further to Melakka, that day we had rain from the start in KL until we were almost there, that was not so fun. Melakka is a beautiful and quiet city. We visited several museums, temples and nice small streets. Jonker Walk is cosy to walk around in the evening with a street market and many food stalls.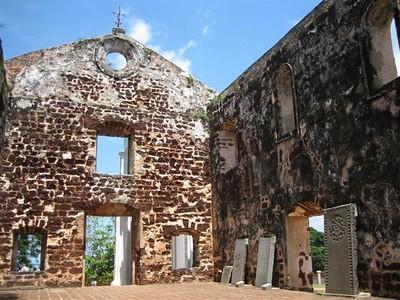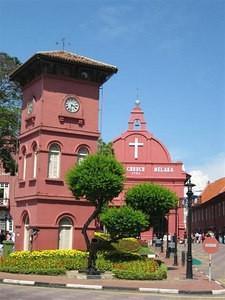 St. Pauls Church in Melakka & The Dutch influence in Melakka
Two days later it went in the direction of Johor Bahru, this city is nothing much but because we already travelled so far we would also like to visit Singapore. We had a hotel with swimming pool out of the city and that's why we spent there a few days to relax.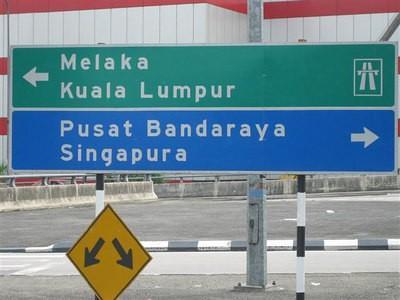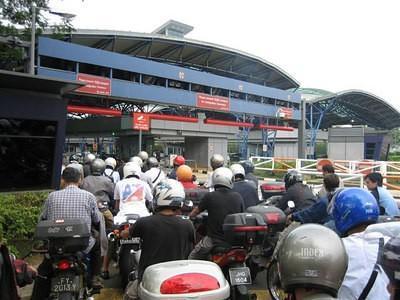 On the way to Singapore where in the morning and the evening passes al lot of traffic at the boarder
We couldn't get into Singapore with the motorbike because earlier at the boarder in Satun they didn't give us the original insurance-paper but a copy. The day after we went back with the bus. This was very easy. Once you passed the boarder you see a big difference with Malaysia, Singapore is a clean country, you cannot spot one little paper on the ground. In Orchard Road, the most famous shopping street, you find all big names of the fashion-world. We only did window-shopping because of too expensive. On Clarks Quay it was very cosy, after visiting Chinatown we went back to Clarks Quay to have a good dinner there.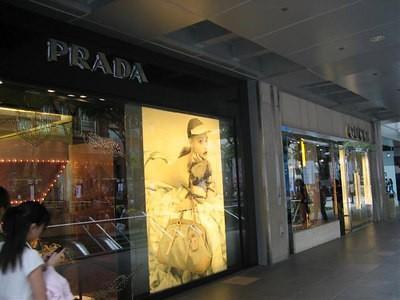 Orchard Road & Clarks Quay
After staying the night over in Singapore we went back to Johor Bahru where we left Friday 31.03.2006 to Kuantan. Kuantan is situating at the east-coast, we would like to stay a few days at the beach but it was water-festival and we could only find a hotel for one night. The road to Kuantan was beautiful with the nice wooden fishing houses. Than we drove to Tasik Kengir, a big lake, where we had a boat-trip to a beautiful waterfall, a herb-garden and a fishing-village. We also visited the Kengir Dam, also very beautiful, and in the late afternoon we arrived in Kota Bahru where we would spend our last night in Malaysia.
On the way to Kuantan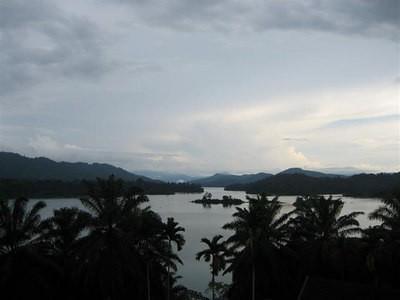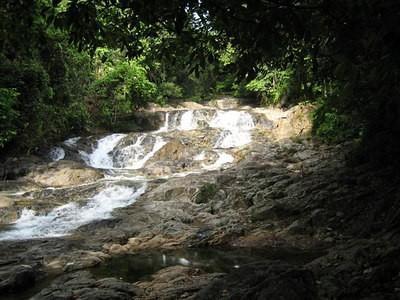 The Kengir Lake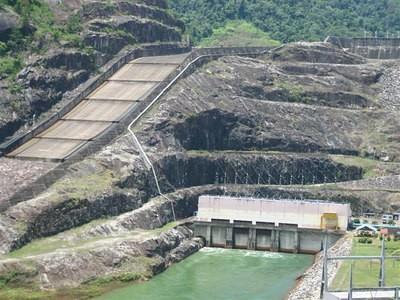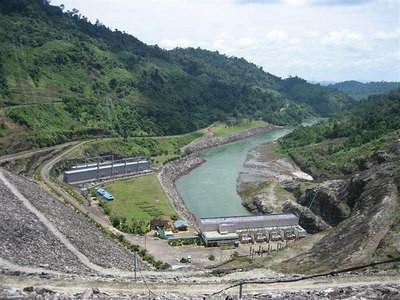 The Kengir Dam
Malaysia was beautiful, we saw and did many beautiful things, but it couldn't equal the feeling we had of Laos. Malaysia is not a dreamland for a biker, the really nice roads you can count on one hand and the food can not be compared with the food of his neighbour Thailand. The people, a mix of different races and cultures, was friendly everywhere, we can not complain about the hospitality of Malaysian people.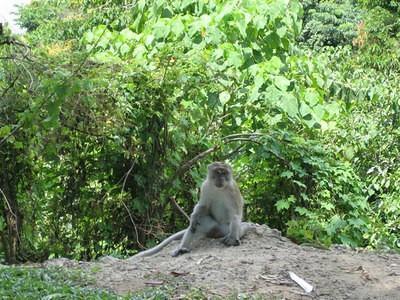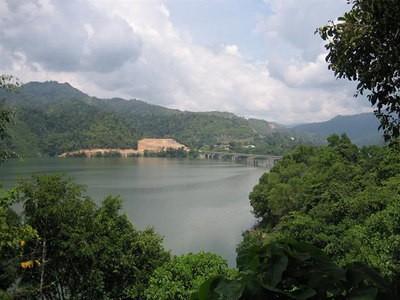 On the way from Kota Bahru to Hat Yai
On Monday 03.04.2006 we arrived in Hat Yai, Thailand. From Hat Yai we went back to Phuket, Makam Bay, for a few days of lazyness, swimming, Thai massage and having good food was our only concern.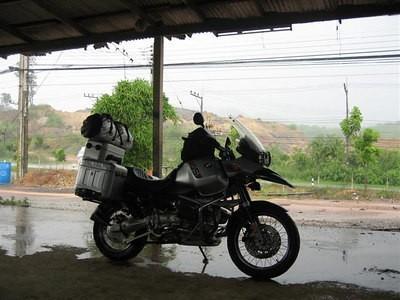 They transport everything in their pick-up & Hiding for a tropical shower
From Phuket we drove via Chumpon and Hua Hin to Kanchanaburi where we stayed two days in the very cozy guesthouse Sugarcane near the River Kwai.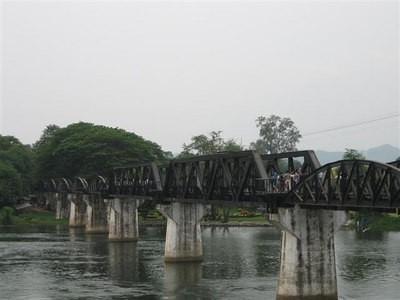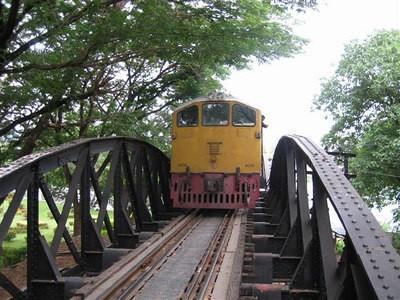 The bridge over the River Kwai
Wednesday 12.04.2006 we were riding again in the direction of North Thailand, in Mae Sot we spent the night. They were already celebrating Songkran, at first we liked it, they just throw a little bit of water to us, but the next days we didn't liked it anymore. You have to take care of the road and the people who are throwing water because when they throw a big bucket with water to you and you haven't seen it coming it can be very dangerous.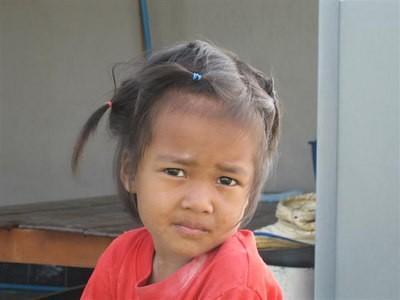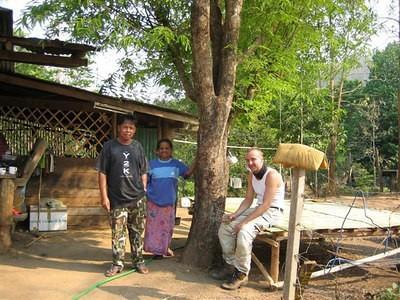 On the way to Mae Sot
From Mae Sot we took the same wonderful road to Mae Sariang as two months ago. This time the people from the refugee camp were at home for Songkran, it was very nice to see them celebrating. The locals gave us permission to take pictures of them but the guards told us to drive on. I still wonder if it is forbidden to take pictures or not.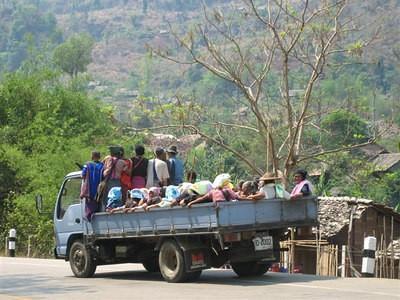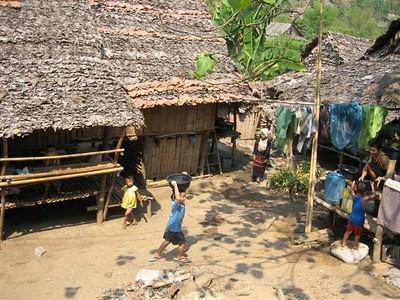 Local transportation & The daily live in the camp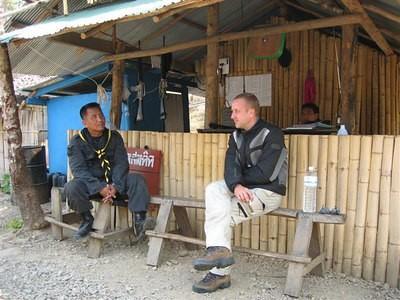 Having a rest at a checkpoint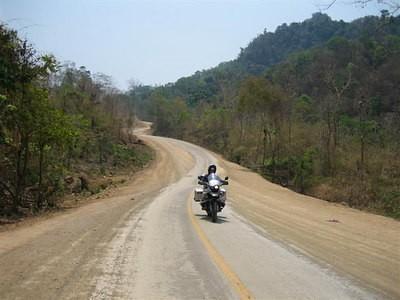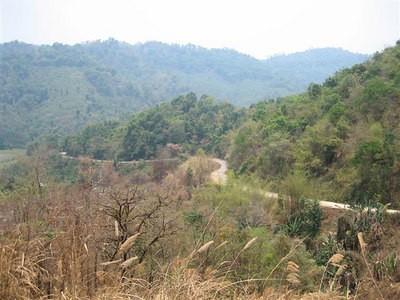 The magnificent road to Mae Sariang
In Mae Sariang was a big parade for Songkran and at the river was a Songkran party. The next morning the monks were having a special procession, people offered a lot. This gave us the opportunity to take some beautiful pictures.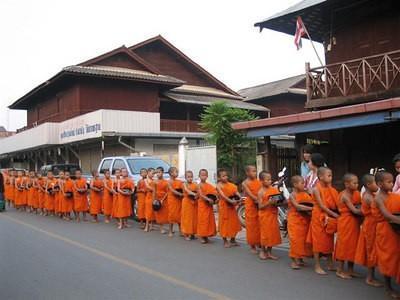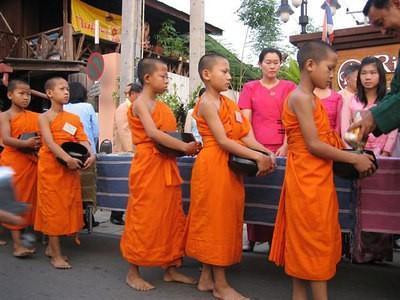 Very young monks
From there we went to Pai, a small cosy village, the roads became more beautiful, Filip had the time of his life on the motorbike and so had I. From Pai it went to Tathon, we also did Doi Ang Khang at the Birmese boarder where we passed a nice mountain-village.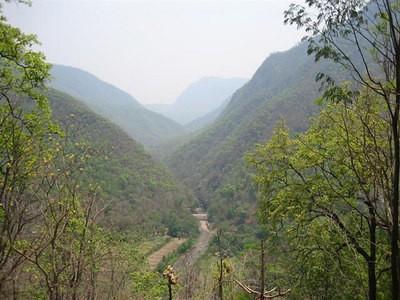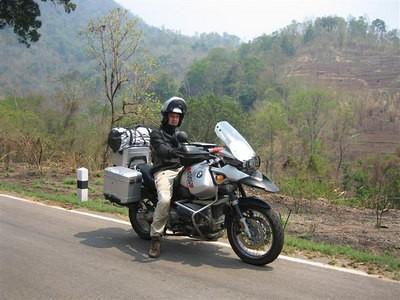 On the way to Pai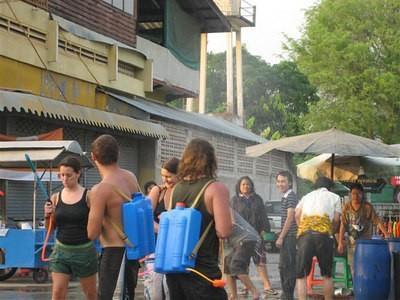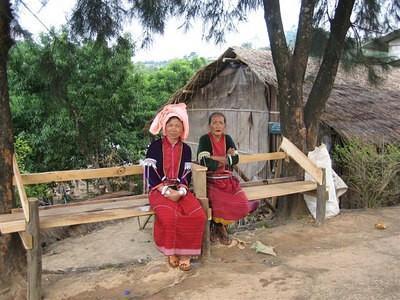 Tourists and locals celebrating Songkran in Pai & A mountain village near the boarder of Birma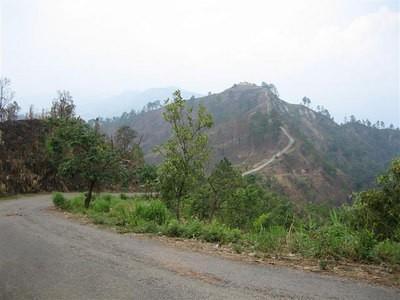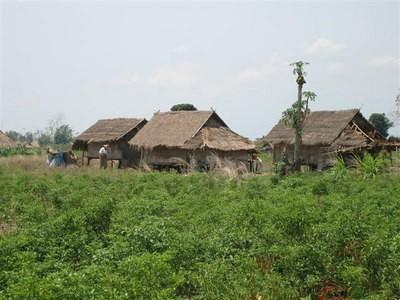 On the way to Tathon & The countryside of Tathon
Thursday 17.04.2006 we drove via Doi Mae Salang to Chiang Mai, a very nice road, little traffic. In Chiang Mai we spent a few days in the beautiful and peaceful hotel Tamarind Village, situated in the old town.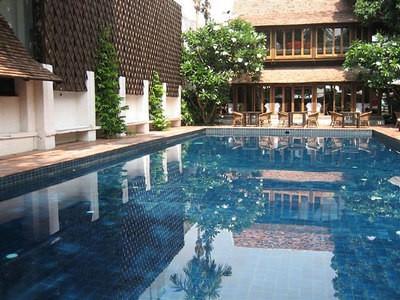 On Doi Mae Salang & Tamarind Village
We also had the opportunity to meet David Unkovich, the godfather of gt-rider. As cartographer he makes very good (the best) road-maps of Laos and the North of Thailand and through the site you keep in touch of the changes at the boarders and a lot of good travel information. When you are in trouble he will always try to help you or give you good advice, through the site you can always communicate with him. This was a height on our last days, he is a pleasant and nice man. We met him in a biker cafe called Jai Yen en managed by an English guy Jeff.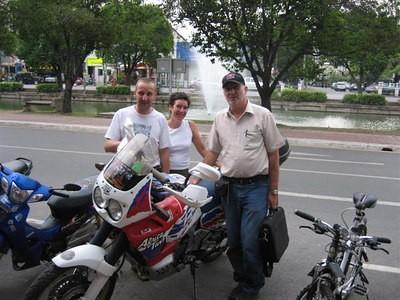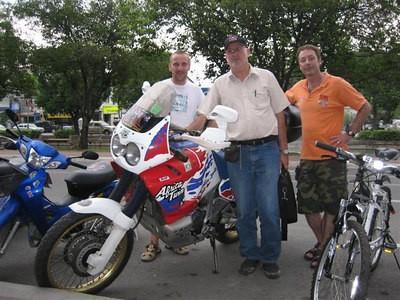 Together with David Unkovich and Jeff
From Chiang Mai we drove in two days to Pattaya, the first day to Nakhon Nayok (744 km), was a hard ride. In Pattaya we could enjoy four whole days of the peace at the sea in the beautiful and peaceful resort Cabbages and Condoms before we had to take the plane again to Düsseldorf where our parents were waiting for us to drive us back to Belgium.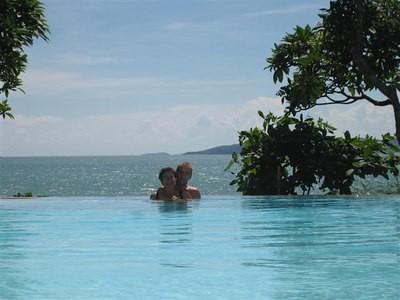 Relaxing in the swimming pool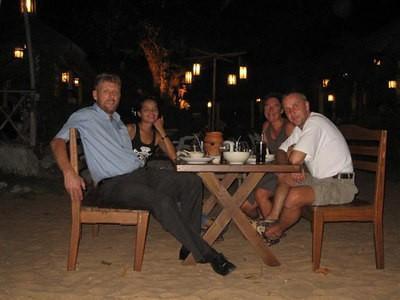 Delicious food at the beach
Before we knew it the three months were passed by. It was a great experience for us, if we have the opportunity to do this again in a few years we won't hesitate. But before it's so far we will definitely spent our yearly holiday in Asia like we did before.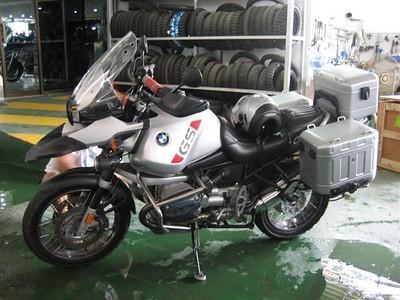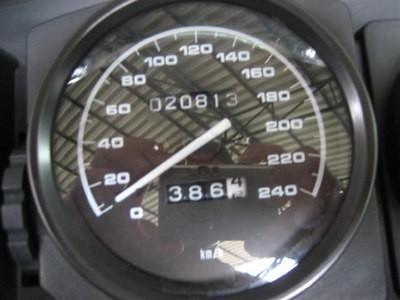 Stabled the motorbike for a few months & 20,813 km at the end of out trip
We made this report on request of David Unkovich and later, when we were back in Pattaya, Scott from Siam Racing asked us the same. We hope you enjoyed reading it and maybe you have the feeling to go to Asia and to explore it yourself.
Filip and Marleen from Belgium