0
Staff member
Subscribed
Jan 16, 2003
14,190
5,161
113
69
GHOUSE
Souansavan. 132 Ban That Luang. Boun Khong road. (This is the lane that runs alongside the Souvannphum hotel.) Tel 856 - 71 - 213020. Rooms cost US$8-12-20. The US$12 rooms are excellent value for money. The ghouse also has a huge parking lot. Staff are typically Lao super-friendly. Look out for the maids / gardeners, cutting the lawn with normal scissors!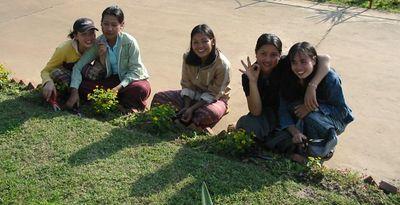 Its a scream & worth a photo or two. The only drawback at the g/h is that they close the gate at midnight, but I did not find this a problem in LP.
FOOD:
1. Indochina Spirit.
2. Scandanavian Bakery for brekky & Thai newspapers & CNN / BBC TV.
3. Soudaphone Restaurant riveside by the Mekong for cheap beer, excellent Lao / Thai food at dusk / early evening. For really great food, try the larb-gai, spring rolls & fried fish with garlic. "Awesomely tasty" in the extreme, especially when washed down with a few bots of ice cold beer Lao.
INTERNET
P&T Internet & Email. Straight opposite the Scan bakery had the fastest internet connection in town while I was there (a week.)
WHISKY
Glen Turner pure malt scotch, only 500 baht a 1-litre bottle at the liquor shop, 100 metres from the Indochina Spirit. This is incredibly good value for money. In Vte the same stuff costs 600 baht a bot.
SHELL GAS station, west of the Phousi Hotel, has the best car / bike wash in town. It only takes 4 guys 15-20 mins to wash / clean your bike. (Just make sure they turn the pressure down & don't get to close to the bike with the nozzle to blow out seals & bearings.)
Davidfl
Keep the power on