Transfer Ownership and Location
This has been covered before but I am posting it because it is different every time.
Vehicle
Motorcycle
Phantom TA 200. 2 years old.
Purchased new and registered in Prachuap Kiri Khan
Registered in the name of Swedish owner
Seller
Swedish man on working visa
Resident in Kantaralak near Sisaket
With Passport plus signed copy
Buyer
Australian with Non Imm B and Work Permit
With Passport plus signed copy.
With Work Permit plus signed copy
With Statement of Residency from Employer
Process
The Seller and Myself(Buyer) went to the Sisaket Transport Office and filled in all the documents for transfer of ownership and paid B25.
They then told us to come back in a week while they transferred ownership from the Prachuap Office to Sisaket. They gave us back all the forms and Green Book.
We came back after a week and they took the forms and Green Book and asked us to take the bike for inspection. They took a rubbing of the Frame Number (there was a hiccup here I will detail later). We then went back into the office and waited while they typed my name and new details into the Green Book. They then issued a new Sisaket Plate and charged us B420.(Because the bike had only just been re registered by the previous owner they did not renew the Insurance component of the registration cost)
We were then free to go, happily.
The hiccup mentioned above was that when the worker did the Frame rubbing his fat supervisor came over and said this bike is not genuine, it has been chopped and rebuilt. I told him it was only 2 years old but he wouldn't have it. He pointed to the lumpy welding at the front of the frame near the steering head. I told him my other Phantom was exactly the same. So they made us wait for over an hour while his director came in, took a look and without a word took us into his office and signed the transfer. I must say that while we were sitting there wondering, it crossed my mind that I could have been duped because I didn't look that closely because the seller was local and known to my friends. I wondered how I could prove its authenticity without any invoice the bike having been purchased new in Prachuap .
Prachuap Plate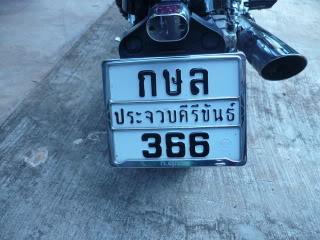 Sisaket plate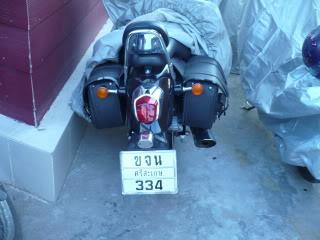 Next Trick.
Go back and get a Certificate of Registration and Bike Passport for travel to Laos.
Cheers, Peter