This is the trip report to follow up on my request for accommodation in the Chiang Saen area.
The idea behind this trip was to hookup with David Llearmonth who lives up close to the Golden Triangle as like myself, he owns the new style Triumph Bonneville and I'd picked up a couple of sets of brake pads for him whilst visiting the UK. Sure, I could have EMS'd the pads or put them on the bus, but then I wouldn't have had an excuse for a ride would I?
Over the following days, a very eclectic bunch of bikes and riders were gathered with no real route plan, rather just a destination (Chiang Saen) and a desire to have fun on bikes. The motley crew were:
Simon Grant – XR400 Motard (visiting from Phuket)
Me (Pikey) – Bonnie Black
Sean (of the Dead) – 1200 Sportster
Ian Bungy – Tiger 1050
"BullDust" Bob – Yam TDM900
Shadi – new guy with a 135 Yam Spark!!!
Con – new guy with a Honda 400 Shadow Slasher
Told you it was a varied mix!
After the usual excellent brekkie at the X-Centre on the Wednesday morning and with cloudy skies, we ripped/meandered up the 107 to Mae Taeng and slung a right towards the Mae Ngat Dam on the 1323 and then cut across to the 1001 Mae Jo/Phrao road. I really like this stretch of road, not for the riding but for the views of the floodplain and sometimes daydream about building a house out there when I am a sad old git with no desire for the conveniences of being close to the heaving metropolis that is Chiang Mai
I'd stopped just before hitting the 1001 and said to Simon that the road had been recently resurfaced and was a ripper. Somehow I managed to get this a bit wrong and the surface was absolute crap until about 10km south of Phrao where it turned nice and smooth. Riding the same road a few days later, I realized that there was still a long rough section, the resurfacing having being completed south of Mae Ngat/Buatong and then north but leaving a crappy patch of about 30km in between. Still tarmac but a bit cut up and pot holed.
Through Phrao and then take a right about 7km out (sorry, can't see the road on my map) and a nice scenic ride takes you back onto the 107 near to Chai Prakan. Then onto the Fang bypass (nicely surfaced, sweeping curves and not too much traffic so a chance to wind the bikes up)
Through Mae Ai and the road starts to open up nicely with good visibility through the bends and awesome mountain views. We arrived in Doi Mae Salong and stopped for lunch at a place which I can describe but can't remember the name. It's the big Chinese wooden joint on the left in the centre of town with mini ornamental gardens and you go up steps to the restaurant. Great food and nice hosts.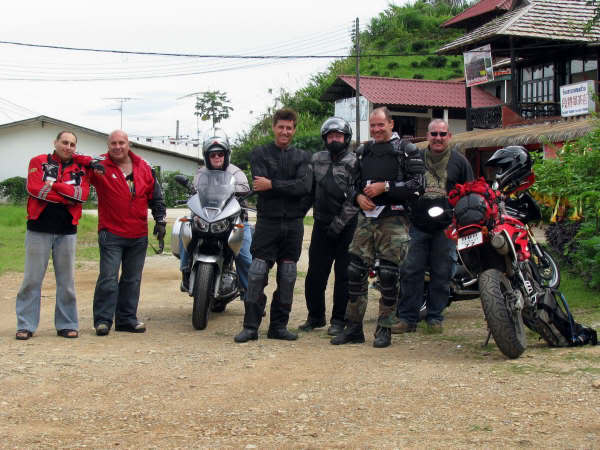 It's worth noting that the road to DMS from the checkpoint on the 107 is fantastic – superb on a motard but fun on the Bonnie giving it full beans up hill and then braking like crazy (for me anyway!) for the hairpins – top fun!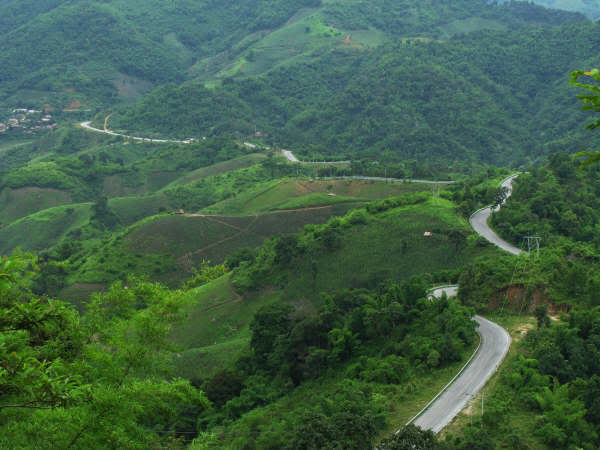 After a leisurely lunch in DMS it was on the road again to our overnight destination of Chiang Saen. Given the different types of bikes and styles of riding, a "road order" developed with Simon or Bungy taking the lead, me following a minute or so later, then the others over a period of several minutes or more. I'd caught up and stopped with Simon & Bungy at Mae Chan after an awesome ride from DMS and we were wondering what was taking the others so long to catch up as it had been 10 mins or more. Sean rolls into view and stops, jumping off his Sporty and getting rather animated. Turns out that he is riding along minding his own business, a truck in front of him and a girl on a Wave in front of the truck. Suddenly, the girl hauls on the anchors of the Wave for no apparent reason, the truck bangs into the back of her and Sean detours slowly around the both of them. Then he sees what made the girl stop so quick – a 2 metre long King Cobra slithering across the road. Sean reckons it was it was as fat as his bicep at the thickest point and not to be messed with!
We regrouped and road into Chiang Saen to check out accommodation. We wanted something on the river but after checking stuff out, it was obvious that CS was a bit limited accommodation-wise for our tastes. A group decision was made to press on to Chiang Khong via the 1129 and stop for the night there. Looking up, still cloudy but hopefully it would hold off for the last 50km. We arrived about 6:30 into CK with just a small sprinkling of rain and plotted up for the night in the big teak place opposite the Tamilla at 300B/night (I think). You'll have to forgive me dear reader, as I have a sh*te memory/no GPS and don't pay too much attention to names e.t.c at the best of times. Riders seasoned to the area will recognize places from my vague descriptions but hopefully one of my riding buddies will chip in and help out on the name. Anyway, thirsty riders proceeded to quench the fire and then showered and shot over the road to the Easy Corner for a spot of grub, some bullsh*tting and more beers.
Next morning, after sorting out the beer bill (the lady tried to charge us for 24 Leos when we could only account for 20 so be careful if you stay here) we met with David L and his mate Phil for a quick chat and to handover the brake pads before heading out into the rain. Yep, after an almost completely dry day on Wednesday, Thursday greeted us with pouring rain. So, togged up we set off – today's destination was Pua and we'd take in the legendary 1148 on the way. Originally we were going to travel down the 1155 close to the Lao border but given the conditions and looking at the sky only to see rain and dark grey clouds, we decided to change the route a bit and head south on the easier 1020 to Thoeng and the 1021 to Chiang Kham before getting on to the 1148. Even in the wet (and yes, it was very wet!), the roads were good fun and we made reasonable progress stopping for a tip-top lunch of gapow moo at Song Kaeo. After lunch we pushed on in the rain, arriving at the Pua Phukka resort (?) at about 3:30 in the afternoon. As it was a Buddha day today, questions had been raised as to the availability of booze. Turned out to be no problem so we had a beer each before checking into our (rather nice) 600B rooms and showering before getting on the pop in a major way! Given that we'd started at 3:30 in the afternoon, it wasn't a late night and I think it was lights out before 10pm for most of us.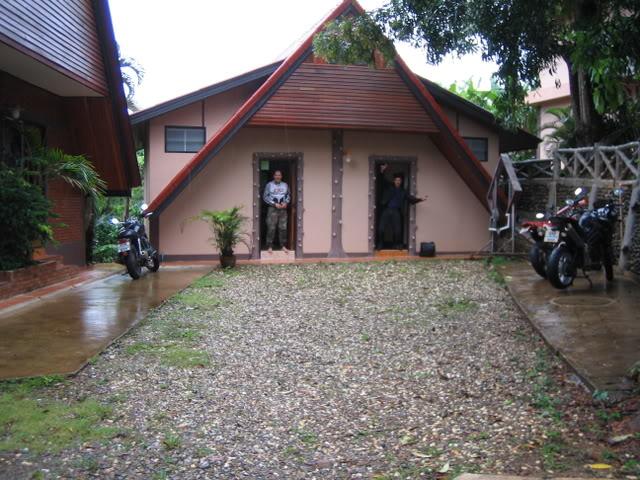 Friday morning saw more rain and clouds in the head as well as on the horizon (8 large Leos tends to do that to me…). So, a brekkie at the resort which was acceptable but by no means great but was included in the room rate and then on with the waterproofs again. By this time, Con had shredded his cheapo Thai plastic suit, my 200B overtrousers had a hole the size of a football in the crotch and most of the others were experiencing various degrees of dampness. We left Pua heading towards Nan on the 1080 and then headed west on the 1091 towards Ban Luang. It was still coming down in stair rods and I saw Simon and Ian pulled over in front of me. I'd been having a few small slides from the back wheel and generally eased way off and pussied around a lot of the corners. On stopping, Simon and Ian both commented on how crap the road surface was in the wet, each experiencing slides of their own. We somehow managed to split the group up here even after Bulldust Bob giving specific and easy to follow directions – I guess some people just don't listen…
So, we took the 1251 into Phayao (or at least some of us did!) and had lunch. By this time it was drying out and there was no need to tog up against the rain so my plastic silver spaceman trousers got consigned to the bin and we had a great hack along the 120, meeting up for the final time in Mae Khachan before heading into CNX. It's worth mentioning that there are still roadworks on the 118 at the hot springs south of Mae Khachan but nothing serious.
OK, that's it – not too many pics on this trip as it was raining a lot so the cameras were wrapped up in plastic bags. We did a shade over 1000km in the 3 days and it probably rained for about 350 - 400 of those. One thing that I personally took out of this trip was that wet riding improves your overall confidence as it's 3 or more years since I did any real distance in the rain but once you get into it, you can have just as much fun (at lesser lean angles) as in the dry.
Thanks to all the guys for being good road buddies and providing amusing and interesting company over beers & meals.
Cheers,
Pikey.