The weekend started on Friday morning with a breakfast gathering at a local Joke restaurant. We saddled up at 0830 and were on our way, seven bikes and a pickup on a cool clear morning.
The bikes were; Road King - Mr Fat, Street Bob – Mr Tune, Dyna – Mr Puu (leader), Africa Twin – Mr Nong, Honda X4 1300 – Mr Aee, Yamaha 750 – Mr Kiao, Phantom – Peter. Mr Tune's pickup with all the gear, trailer, and comfort girls was driven by his minder Mr Chang.
The Lineup, Trailer.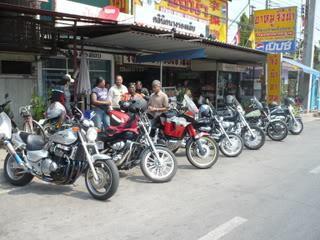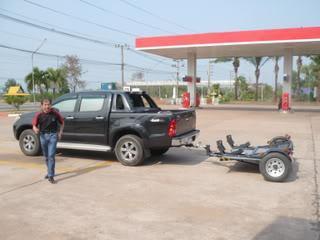 Down the 226 and onto the 24 at Surin and after stopping for fuel a couple of times it was lunch at a bikers restaurant in Nang Rong. Further along the 24 to Pak Thong Chai and we turned South onto the 304. Through some pleasant rolling hills with earthworks going to expand to four lanes and then on to the 331, past the nightmare traffic through the roadworks outside Franz Eastern Seaboard factories, on to a link road and into Jomtien to the Dolphin Hotel right opposite the beach at around 6pm. By 3pm Mr Tune had had enough and swapped places with his minder who propelled the Street Bob the rest of the way. Pleasant spot.
The Dolphin.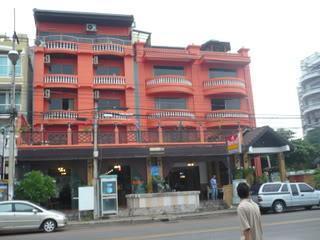 By coincidence the Dolphin is right next to where Ians group were staying so I wandered next door and met them. Good to put some more faces to GTR names. In this photo are Robert, myself, Franz, Ian and David.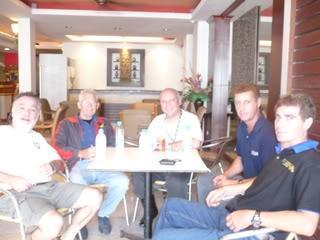 As we have seen in a couple of other posts the Burapians put on a huge, well organized show, well worth the visit with something for everyone not just motorcyclists. There was also a lot of merchandise on offer.
There's a Phantom under there. Look Mum no brakes, Insect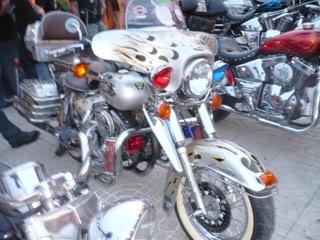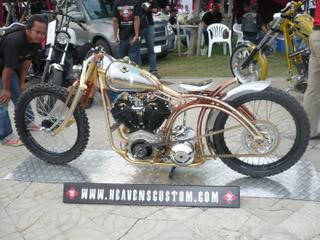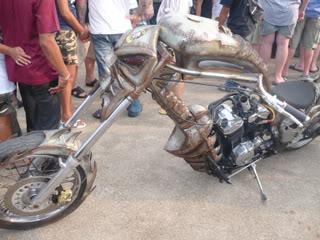 A feature of the last few meets I have attended is the number of old scooters there. The young guys do them up with new motors and fancy paint jobs and throw their girlfriends and a tent on the back and ride hundreds of K's to the meetings. They do it all on a shoestring and have a great time. We passed convoys of them going back to Korat
Silver Bike. Carpark Overhaul
Silver bike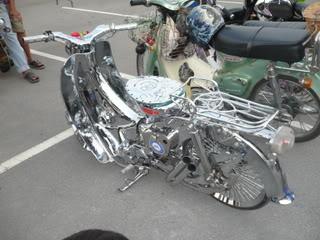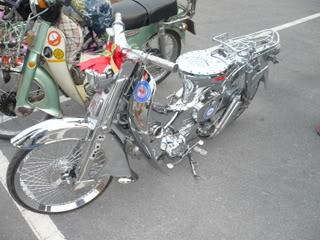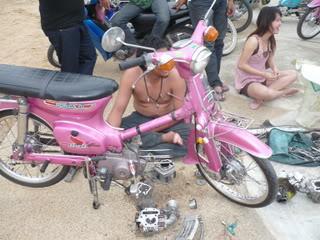 I had a Honda 90 Sports like this when I was here in 1967
On the return journey the boys decided to do it in 2 days with an overnight at a Resort in the mountains South of Korat. We had a look at the map and talked about the route, tied the Street Bob and Dyna on the trailer and headed off at 1130 am – no sense in rushing!
Street Bob & Dyna taking a rest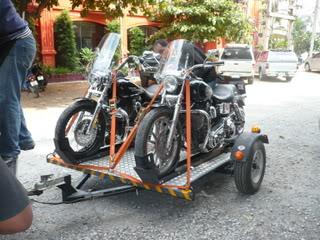 For the next 2 hours we followed our leader round in circles and did over 100k and ended up 40km from where we started. There were consultations between the leading rider and those in the Pickup (5 of them, with maps) talks with shopkeepers, countless U turns and phone calls and at one stage we saw the big signs for Suvannabhumi which is the last place I wanted to be.. For those of us who feel stupid about getting lost – forget it, we are rank outsiders. These guys had all the maps a car full of people, mobile phones and the ability to talk to people along the way and still they got more lost in virtual suburbia than I have ever been. Eventually after a pleasant lunch we found the 331 and headed North to the 304 and on to the Resort in the mountains at Wang Nan Khiao. Not without passing the turnoff and re-tracking 30km through the roadworks and numerous phone calls, then down a bumpy side road for 8km in the dark till they found the sign for the resort, all in Thai, arriving at around 7pm. After we settled in it was off to a nearby barn/restaurant for dinner. This place looked like the pits but the food was delicious. The first thing they brought out was farm grown small mushrooms in a delicious sauce, then wild pork, then frogs legs(big as chickens) and frogs skin which I declined (warts & all). Plenty of rice, fish, and being an Ex Kiwi I was almost expecting mountain oysters to appear but no such luck. The boys helped this down with a liter of Johnnie Walker but I stuck with my Pepsi, then to bed to count the snores of my roommates.
The Resort – we would call it a Farmstay. 3 of us slept underneath.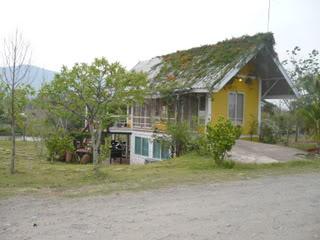 In the morning the bikes headed off before the others were up and went North along the 304, right on to the 24 and waited 2 hours at the bikers restaurant in Nang Rong for the pickup. When the pickup got to Nang Rong they disappeared and loaded on a Road King bound for Ubon which had sheared the bolts on the drive sprocket.
Street Bob & Road King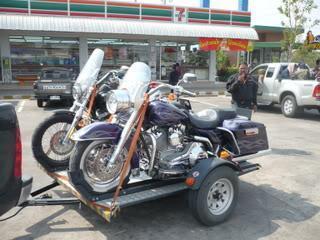 We finally arrived back in Sisaket at around 3.30 just in time for me to get cleaned up and start teaching.
An interesting feature of the weekend is that Mr Tune picked up the tab for all the meals on the road for 11 people, a seafood banquet at Jomtiem and the Resort. It was his big weekend and he was going to pay. He is a developer and a concrete supplier and is mega rich so he can afford it but it was appreciated.
For the statistically minded The Phantom traveled 1305 km, used 54.3 litres of fuel which cost 1745B. This is an average of 24 km/litre. Normally I would get a better kpl than this but most of the time over the weekend I had the throttle opened to 95% + to keep up with the bigger bikes. Our average road speed was around 120kph by my speedo.
I have heard reports from a couple of different sources that Halsan (sp) had his Dyna low rider stolen while he was at the party on Saturday night. Halsan is a guy from a European country, I forget which one, who lives in Thailand and is constantly on the road touring. He maintains his bike with all the right gear but never washes it so it looks quite scruffy but is very sound mechanically. He evidently went to find it at around 3am and there it was – gone. For those who may not know Halsan he has one short, or one long leg, depending on which side you stand. He speaks fluent Thai and also reads Thai newspapers. His life is on that bike so lets hope he gets it back.
All in all another enjoyable weekend on the road in Thailand.
Cheers,
Peter