UNDER 175 CC TO VIETNAM, FORGET IT!!!!
We are a gang of mostly finish guys who spend at least the winter here in Thailand and have our base in Pattaya. Most of us have been traveling heavily in Cambodia and Laos by motorbike, Personally I was the first time in Cambodia by motorbike already in 1993 crossing the border from Thailand illegally and I have done more than hundred motorcycie tours there since.
Even if I have been traveling around Vietnam on a MOCHBA 175 cc I have always wanted to try to get in to Vietnam on my own vehicle. I have tried a few times with a big bike but always I have been turned down.
So last year we decided that this season we do it and since most of us had quite new Yamaha Nuovos for local transport and we already had a "Nuovo Club Pattaya}" we decided to make a "FINLAND VIETNAM FRIENDSHIP TOUR" with Yamaha Nuovos. Some of us bought the bike only for this trip and all together 8 of us left Pattaya for Vietnam.
We all thought that there will be no problem because the bikes are 123 CC and even on the GTR site is it many times said that it is ok.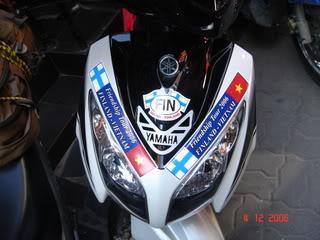 We even made special stickers for the trip in order to make tough officials melt down.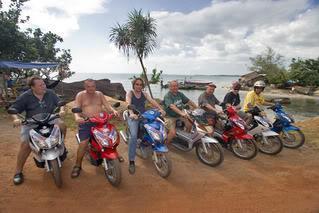 The whole gang except the photo man Pekka.
OK so we left Pattaya for Trat driving mostly on small roads (there is plenty of them around Pattaya all the way to Klang) because Sukumvit is not so funny on a scooter…
In Trat we stayed for the night in that terrible Trat Hotel at the market. In the morning we left Trat for Had Lek. Even if the border opens already 7 a clock in the morning try to avoid coming there during the first hours because all the day workers from Cambodia check in at that time and it is the same people in immigration who take care of them and the vehicle papers for tourists.
When we arrived at the border the Customs and Immigration had quite fun seeing us falangs (most of us in the 40- 60 age range and a median bodyweight of over 100 kilo) arriving with Nuovos, especially since they used to see me with big enduro bikes like Africa Twin.
The fun did not help in the immigration. The boss for that day did not accept that two of my friends bike were in my name without a written authorization that they can use them. It did not help that I told him that I have crossed the same border almost 100 times with up to 10 bikes in my name with different riders. The very nice lady (the one wearing glasses) in the Immigration could not help me even if she knew very well that as long as the owner is present no papers have been needed before. Okey she advised us to go to Klong Yai (about 20 Km) and at the market there should be an office who can make the papers.
At the market most shops were closed because of Sunday but luckily we found the Custom Office which was open and after explaining our problem we got perfect service in good English by the big boss who made the papers himself and picked up some tax stamps to make it look official, despite that the papers were requested by the immigration. Amazing Thailand….
Back to the border and now everything went smoothly, especially the customs is very efficient now, they fill up the temporary import paper direct on the computer. Maybe the service has improved partly because of my yearly happy new year Black Label and some tea money in the green books. For westerners it may look wrong that officials need "tea money" but if you stay long time in Thailand and want things to run smoothly it makes a big difference at a low cost.
Ok Koh Kong –Sihanoukeville. The road is now in very good condition almost 50% paved and two of the bridges almost ready. Two bridges are still at initial stage. Probably the road will have surface before next rain season. The only bad parts are where there is the new construction work . For some strange reason the Khmer authorities who are now in charge for the road could not accept the Thai Army:s "design" of the road with beautiful curves when going up and down the hills and now they are stretching it out by huge concrete works and what will be left are huge straight up and down hill roads, not so funny for motorbikes. Actually I am already missing the road as it was when the Thai Army did it. A very broad dust road, well maintained and no traffic…Even the top speed of Africa Twins was not enough…. I will maybe even miss the luxury car ferries despite their overpricing practices.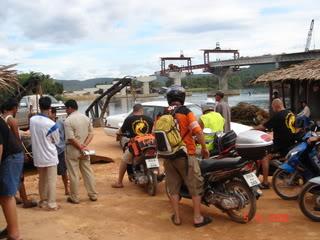 The first ferry from Koh Kong. As you can see from the picture the bridge is soon ready and it seems a little oversized for the traffic at the moment.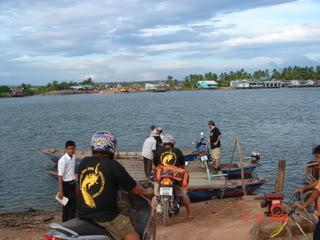 Some of the river crossings still demand that motorbikes are not allowed on the car ferries but must take special "motorbike ferries". It is ok with scooters but coming with 5 Africa Twins is a little scary.
We arrived to Sihanoukeville in the dark as usual (despite the normal "this tour we do not drive in the dark"). And as usual we first stopped at Bamboo Light Café to have some drinks and get some info about the best hotel deals at the moment. The owner of Bamboo Light Café (Sora) is a Sri Lanka guy who has lived in Cambodia for ten years. He speaks good Khmer and he has good connections. He helped me 5 years ago when I hit a Khmer moto taxi with 20 passengers and no lights (in the dark off course) at 100 km/h. While I was healing my wounds at Bangkok Pattaya Hospital he negotiated with the police to get my bike released and even put up his own money to get it out at a reasonable cost so when I came back two weeks later I only had to bring the spare parts and off we went again. He also serves very good food, has a buffet twice a week at 3.50 Usd and if you say hello from me you will get Finlandia vodka drinks for 1 Usd each. He arranged 8 rooms for us for 15 Usd per night in the new Golden Sea Hotel close to the Lion Circuit. Other good hotels in Sihanoukeville are Golden Sand Hotel (Luxury hotel) very close were you can get room for 20 Usd with breakfast when they have room. Popular among bikers is also Oasis in the centre of town, 15 Usd up, Aussi biker owner, and a very helpful German manager. For some strange reason the rooms are huge I think some of them almost 40 m2…
The next day we went to the Vietnam Consulate in Sihanoukeville to make the visas. It is very easy and hassle free to do it in Sihanoukeville compared to Phnom Penh. Actually we even wouldn t need any visa because since a year Scandinavian citizens get 15 days visa on arrival but we wanted to be sure. In the visa application we truthfully filled in that we are arriving by motorbike.
The bikes also needed some maintenance mostly new spokes for the wheels and new light bulbs.
Next day we continued to Kampot and Kep and after breakfast at seaside in Kep we decided that we do not even try the closest Vietnam border to Ha Tien. I ve been to some of these borders before and they does not look international. Also to get from Cambodia to Vietnam at this border you have to cross the river and the boats did not seem very suitable for scooter transports. The border is probably not yet an international border so we decided that we skip it and go to Chau Doc instead. We did not want to take the main road up to Takeo and catch the main road nr 3 to the border but instead we opted for small roads along the border. some of the roads were on the Gecko map but mostly we drove forward relying on the locals. Anyhow we did end up hitting road nr 3 just 10 km before the border. During the last 10 km we almost lost our faith when the road got smaller and smaller and sometimes disappeared ending in somebodys backyard but the locals always showed us how to continue. The road would have been fun with a good enduro bike but with a scooter….The road we drove were probably Road 33 then to 31, from 31 to 113 and 112 around the mountain.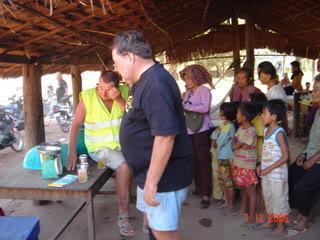 When leaving Road 31 for Road 113 we had to stop and ask the way because on the map 113 was a right turn and here it was straight. Anyhow we were on right track and stopped for a beer and some new spokes on my bike at the work shop next door.
At last at the border, Vietnam here we come!!! We even started to look at the map were we can spend our first night in Vietnam so we went to the Cambodian immigration in good mood. The officers were very polite and told us it is no problem for them but pls. go first to Vietnam immigration and ask them for permit to take motorbikes with you. Ok I went to the Vietnam immigration and an officer told me it is ok. Back again and we got one passport stamped out of Cambodia when a Vietnamese Custom officer rushed to the scene on a motorbike telling us NO MOTORBIKE to Vietnam!!!!!
Back to Vietnam and more negotiations. Now it seemed that immigration was no problem but Customs. They told us to go (without bikes) to the next police station (some 40 km) and apply for permission there. They also contacted some "big boss" but everything in vain so we had to return back in Cambodia. Luckily the passport that was checked out only got a cancellation stamp so we did not have to buy a new visa.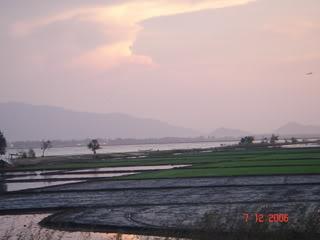 At least we had time to take some beautiful pictures of Vietnam at the border and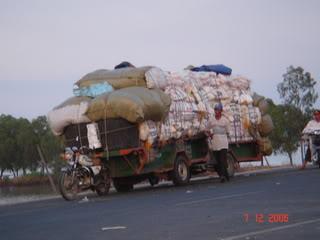 some pictures of the incredible vehicles that crosses the border, look carefully and you can see that it is a motorbike.
The nearest village was some 20 km which we had to drive in the dark again. In the village was two guesthouses with only 2 rooms left but a local speaking good English, told us that he maybe know a place were we can get rooms so off we went and ended up in a local whorehouse were the ladies kindly accepted to sleep outside under mosquito net while we slept in their beds for 5 Usd per room. Good service.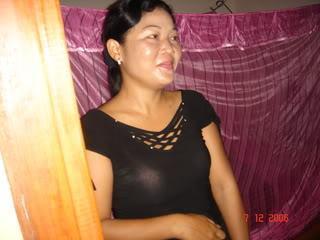 One of the unlucky "service" girls who had to spend her night outside when we occupied her room.
Matti posing outside our beautiful special motel where we even kept the scooters in the room.
In the morning we went back to the border hoping that there are new persons working but after 2 hours of negotiating we were told that no chance so we turned around and headed for Phnom Penh where we arrived in the dark….
In Phnom Penh we stayed as usual at Big Luck Hotel (former Hong Kong Hotel) which is a very good hotel with Swimming Pool and sauna on the sixth floor. You should get it for 20 usd/night if you say hello from me. The hotel is situated next to Lucky Lucky motoshop and very close to Capitol. While in Phnom Penh we dropped in at California 2 for a few beers and Jim told us to try a small border at the Mekong River.
So next morning we left Phnom Penh along road nr 1 and just one km before the Mekong ferry crossing you turn right to a small road nr 101 and follow that for about 60 km keeping the Mekong all the time at your left hand. The road is terrible for scooters and some bridges are "interesting". We stopped in a big village Kam Samna 15 km before the border (according to the map) and after seeing a big Immigration house together with a still bigger Custom house we realized that this was the border.
The local gasoline drivers were incredible. They could drive the road twice faster than we and they could carry more than 250 liters of gasoline on the bike with a 70 cc engine and no shock absorbers. PROFESSIONALS. In the rear Pekka seems to have parked his rear wheel in a pothole.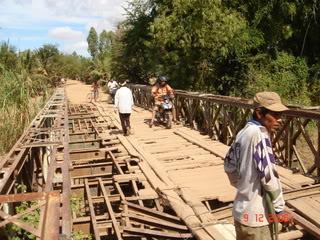 Pekka trying to avoid the biggest potholes.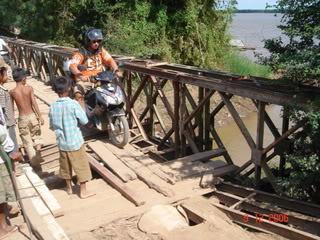 With a little help from the locals we got some pieces of wood so that we could cross the river.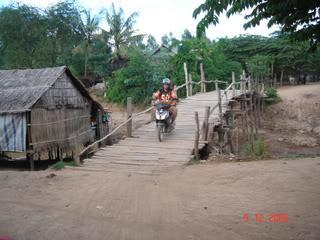 Other bridges were more home made and easy to use.
Cambodian immigration was no problem but they advised us to go and ask the Vietnamese first before they check us out. So two of us together with the fluent English speaking Cambodian immigration Chief went off to Vietnam immigration. After 2 hours of negotiation "NO WAY" despite a very good effort from the Cambodian boss. The only proposal they made was that I can go to the nearest police station ( 80 km) and apply for a permit…
Back to Cambodia where we found our friends sitting drinking beer in the Immigration Officers private garden. Good service. Then 60 km bad dust road and 60 km good road to PP, where we arrived in the dark…..
Now we decided to change plans. As a precaution we took Laos Visas and decided that we go and try from there to Vietnam. Anyhow we wanted to make one try more from Cambodia, this time along the main road to Saigon road nr, 1 and the border crossing at Moc Bai. We also went to the Vietnamese consulate in Phnom Penh to ask for help but that was a waste of time. First of all there is a big sign in the office stating that NO VEHICLES ARE ALLOWED INTO VIETNAM and after asking for the Consular we were advised that that is no use if you don't speak French. I fluently lied that that is no problem but our discussion with the Consular using my 30 years ago learned school French was not very fruitful…
So off we went next morning early to the Moc Bai border. First immigration said Ok no problem and we filled in the Arrival Cards. (we had asked permission before from Cambodian immigration to go and ask the Vietnam authorities about the bikes) But then arrived "Mr No" from the Customs NO MOTORBIKE TO VIETNAM.. After a long discussion with him he told that it is not up to him but the police. So where is the police? Oh just over there in next building and there we went. In the building we just found 20 paper producing staff members of which nobody was speaking anything but Vietnamese. Next to the police station was the Health Authorities in the next house and there we found a young guy who spoke good English and he started to help us. He succeeded to find the "big police chief" who was a very nice guy and he followed us to immigration and said everything is OK. We almost thought that now we can go and presented our passports with the arrival cards but then arrived Mr No. "NO MOTORBIKES TO VIETNAM." I told him that police gave us permission but then he said that his Custom Boss will not allow us. So where is the boss? He is upstairs but only one person can see him and he does not speak English. So we sent our new guide from the Health Authorities to try to talk with the Custom Boss in the second floor. One hour later he came back and told us "NO MOTORBIKE TO VIETNAM".
Disappointed, but used to it already, we returned to Cambodia and after destroying a few beers we drove to Sveay Rieng and decided to stay there for the night. We found the only decent hotel in the town but it was full and they told us everything is full in town. Hun Sen (the premier minister) is coming tomorrow . Ok, anyhow we found two guesthouses that had rooms so we stayed for the night. But it was actually true that the City was full, in front of all Guesthouses and hotels were Lexus, Land cruiser and Pajero cars parked with government plates and CPP stickers (CPP = Cambodian Peoples Party) Over 50% of Cambodias state budget are donors money, I wonder how the governement officials can afford to buy the Lexus cars....
Next morning we headed North for Laos. We didn't want to go back to Phnom Penh and take the main road so we decided to go straight north and catch the road Nr 7 east of Kampong Cham. There were two routes on the map, one was under construction and one was ready and bigger on the map. We took the later, road Nr 13, up to Kampong Trach, but frankly speaking that was probably as bad…. In Kampong Trach we continued North but we could not follow the map any more but had to rely on the locals. Anyhow we ended up at the Vietnam Border and followed the border (probably at Anlong Schrey) up to road Nr 7. By now we were fed up by mx on scooters so we took the main road up to Kratie were we arrived in the dark….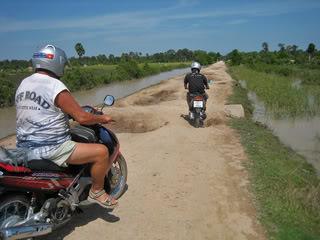 Sometimes the road was dry and bumpsy,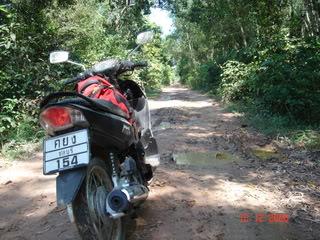 Sometimes the road was wet and bumpsy
And sometimes you have to disturb the family life of the pigs.
We found a good Hotel/guesthouse on the outskirts of town and the restaurant was loaded with empty Black Label bottles and plenty of Tiger Beers so we had a nice evening.
Next morning we were early up and heading for Stung Treng speeding at over 110 km/h on good roads. In Stung Treng we had breakfast at Riverside and a chat with the owner who is a good guy and very helpful if you have problem with your bikes. We also saw that the new bridge over the Tonle San River is almost ready.
We still had to rely on the old towing boat powered prom and driving 50 m in the low water to embark in order to cross the river and then 50 km good dust road to the Laos Border. Both the road and the Bridge is built by China using Chinese labour who are living in closed camps. According to some rumours they are prisoners who serve their terms this way.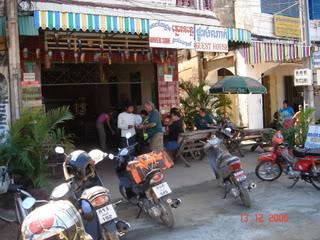 Riverside, a good place to ask advices.
The new Chinese built bridge will be ready at the end of 2007.
From Stung Treng you have a good dust road about 60 km to the border which is international despite some other rumours. Along the road there is nothing to see, nobody lives there and there is only bush vegetation. The only thing you can see is some Chinese labour camps and dust…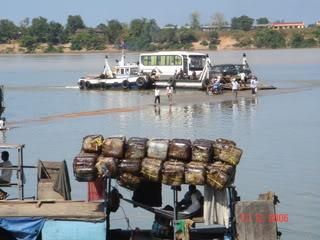 When the water is low the tug-ferry boat can not reach the "terminal" so you have to drive through the water.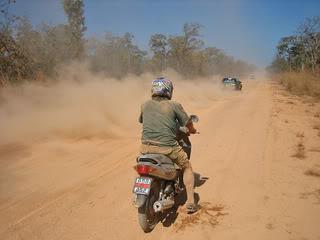 Anytime a speeding car is overtaking you you have to slow down and let the dust come down.
The border is very easy. The Cambodian immigration is very polite and they are speaking good English. If you travel from Laos you can get visa on arrival here and they also provide visas for the boats on the Mekong some 10 km away. Ok they charge 1 Usd for the departure stamp but so what… The Cambodian Customs have their own "business set up". They have every time told me (and I have crossed this border 5 times) that you need a paper from customs in Stung Treng to cross the border. After a discussion around their round garden table in front of their office with a coffee they tell you "that here we can talk freely, how much you can pay I close my eyes". Normally the problem is settled for 200 Baht per bike.
After that you have to drive a small path through the bush and look for a small boot and wait there. Before long some Laos immigration officials will arrive and stamp your passport (after they have finished their volleyball game). They will also ask you to pay a one dollar fee for the stamp. Then you continue the very small and bad road maybe 10 km and when you hit the very good main road (Nr 13) you can see the custom office. Normally they are not interested and let you go without any paper work but that can sometimes cause you some problems when you leave the country.
Our next destination was the 4000 islands in the Mekong river just after the border. We even brought our bikes to the Island and spent the next day exploring the biggest Islands. A very relaxing and easy going place with a smell of marihujana in the air.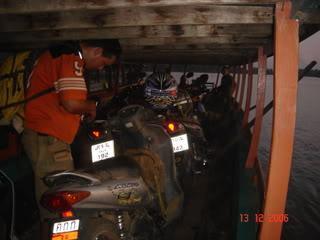 The bikes had to be carried on board along some very steep stairs. Don"t even try by yourself, buy some locals to do the work.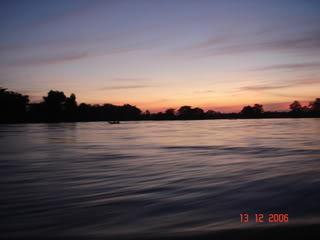 The sun settings are beautiful on the Mekong.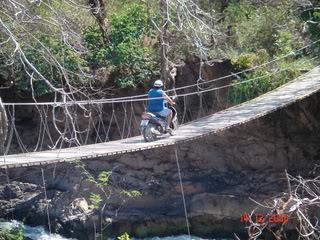 The roads on the Islands are few and very small and so are the bridges.
After two nights on the Islands we put the bikes on one boat and took another boat to the mainland. Unfortunally our boat hit a stone in the river and got seized there. The captain had to jump into the water and with the help of some other boats we got afloat again. Lucky the bikes were not on that boat because such hard was the impact when we hit the stone that the bikes would have ended up in the river.
Now just highway up to Pakse and Savanakhet and her we stayed for the night in the best looking hotel in town (Hotel Savanakhet?) but the front was lying. The hotel was beside expensive also terrible. Early next morning 270 km good road ( road Nr 9) to Vietnam Lao Bac border. One of our guys decided to stay in Savanakhet with fever after two scooter fall downs. The rest of us left the Laos Immigration without checking out for discussion with the Vietnamese authorities and how strange no problem they stamped us in off we went to the last boot where we just have to show our passport. But then arrived Mr. No again from the customs. This time we did not hear the normal NO MOTORBIKE INTO VIETNAM but do you have an international border crossing permit? He showed us an Laos version of it and told us that we must get it from Thailand. We tried everything again but no chance. Anyhow this customs fellow was very polite and fluent in English and he showed us the paper that allows under 175 cc to enter Vietnam provided they have the international border crossing permit. He also showed us the paper that declares that big motorbikes can only enter Vietnam if they have a permission by the border crossing areas police chief. All these papers were totally unknown to customs at Cambodia Laos border.
OK back to Savanakhet again mostly in the dark and at chilling temperatures. As normal I only carried T-shirt and short trousers so I could not complain when we stopped for my friends putting more and more cloths on. On the other hand I am not quite sure my friends believed me when I told them that "it is not very cold".
Luckily our friend left in Savanakhet was also freezing there so when we at last arrived there he had bought a bottle of Negrita Rhum which disappeared quickly together with hot water.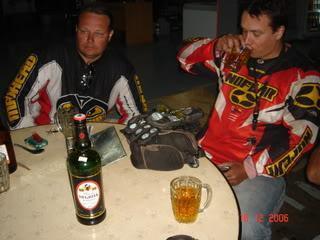 No text needed.
Now we gave up and decided to go back home. Next morning we found out that the bridge was to be open in a few days and we can not use that yet. The ferry service is closed on Sundays and despite that we succeeded to charter a boat to take us over to Thailand the Customs did not want to let us out because they haven"t heard about such a border crossing at Vouen Kham where we entered Laos.
So we gave up and hit the road again to Pakse and then overland to Thailand. We arrived before dark to Aran and stayed at Aran Mermaid as usual. Next day back to Pattaya along small roads through the Wild Elephant Reservoir.
Summary:
We made 4.400 km in 2 weeks and actually we traveled 4400 km around Vietnam.
I got 6 MMS message in my telephone "welcome to Vietnam" and one entry stamp.
The borders from Cambodia to Vietnam seems to be closed for all bikes despite the 175 cc rule.
On the other hand we were quite close to cross the borders even here and I think that if we had been a smaller group they maybe had allowed us. 8 big falangs are quite visible at the border.
Borders from Lao may accept us when we come with the International Border Crossing Books.
HIKO