0
Staff member
Subscribed
Jan 16, 2003
13,947
4,919
113
69
Continued from Chiang Mai – Luang Prabang -Vientiane
Chiang Mai - Luang Prabang - Vientiane
Fortunately (or unfortunately, depending on which side of the fence you are), it was time to leave Vte & head south in search of more map distributors & networking.
I took Route 13 South from Vientiane. It's not quite as "curvy" as R13 North & I had trouble trying to out-corner photo Captain Slash.
R13 South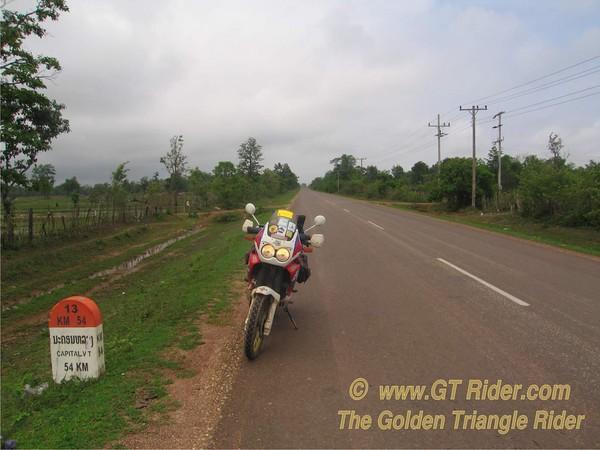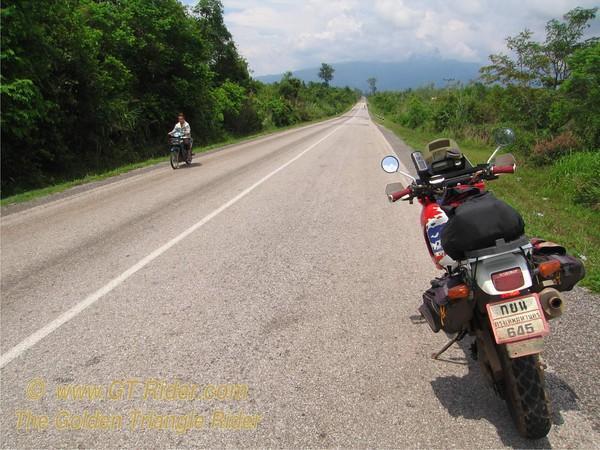 Mainly because there aren't any corners.
First stop was Pak Kading 190 kms out of Vientiane.
Pak Kading city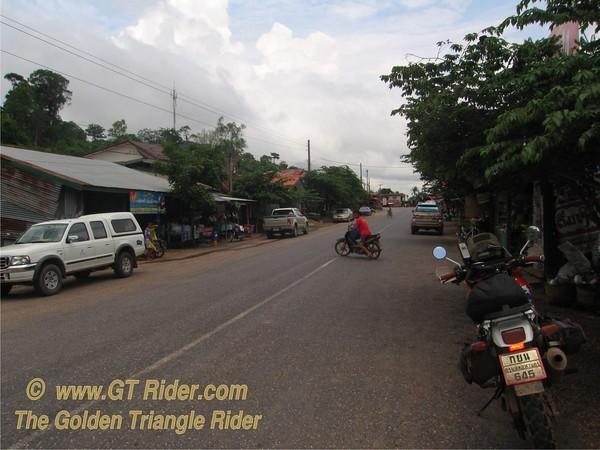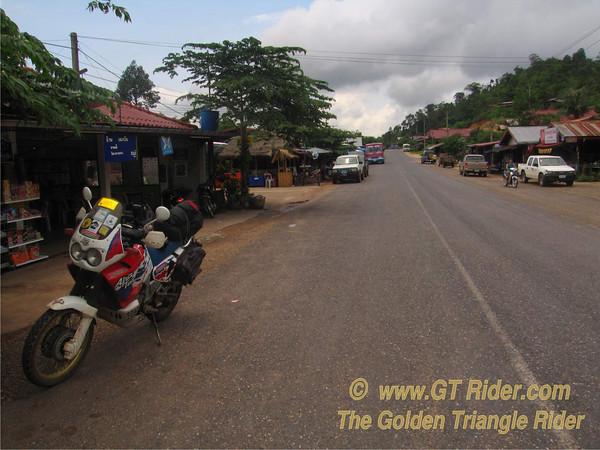 7-11 Pak Kading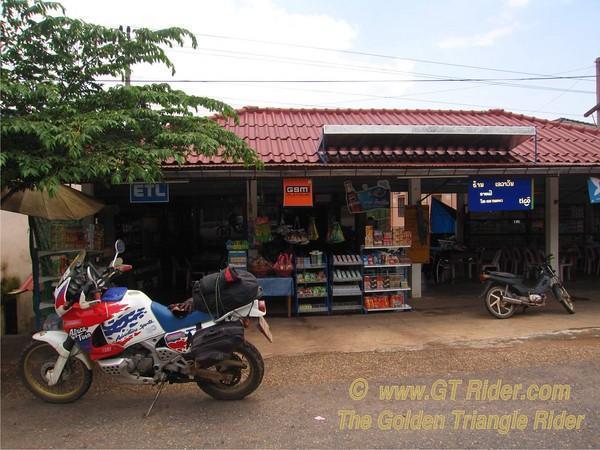 It was hot 'n humid. There was no aircon to hang out in so I did not feel hungry & made do with a couple of drinks.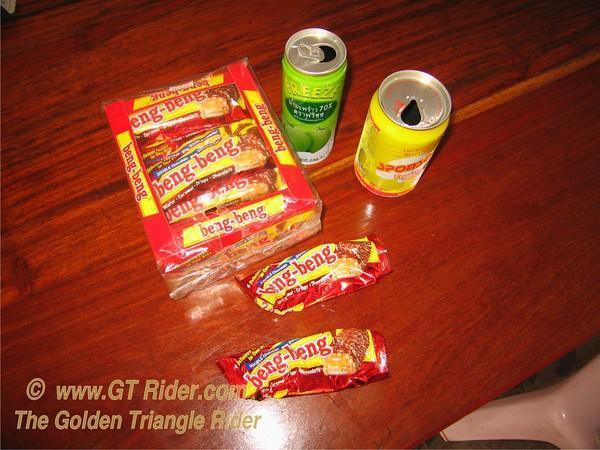 plus a couple of Beng bars, the GT Rider's fave cheap Charlie chocolate bar energy snack.
The service in the shop was a tad slow, so I'd helped myself to the fridge for the cold drinks & the box for the Beng bars. What I had not noticed was that the Beng Bar box was sealed & priced. So lo & behold when I asked for the bill for the 2 cans of cold drinks & 2 Beng Bars I discovered I was buying the whole box. You should have seen the expression on my face!
Oh well lesson learned. It was only 35,000 kip = 145 baht.
For the next few days I ate Beng bars every night before I went to bed & when I got up in the morning - good ration food you could say. :lol:
And the moral of the story – don't be smart, wait to be served.
Back on the road. Route 13 South. Still in search of a corner.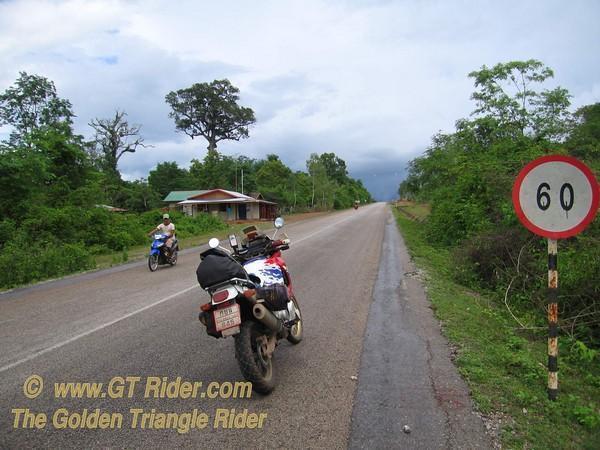 not really sure about the speed limit sign on a straight road like this.
Aha. A corner in the distance, already negotiated safely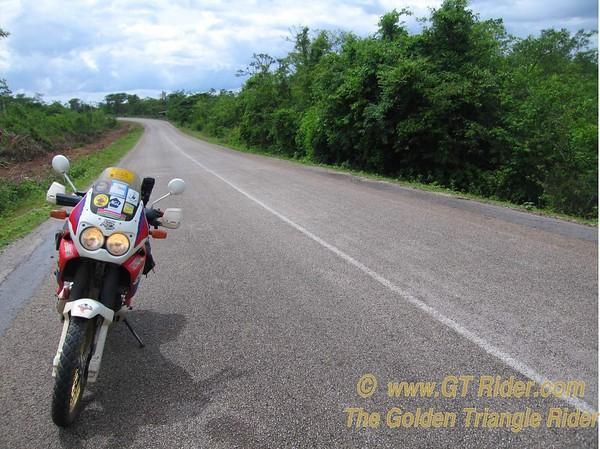 Heavy traffic on R13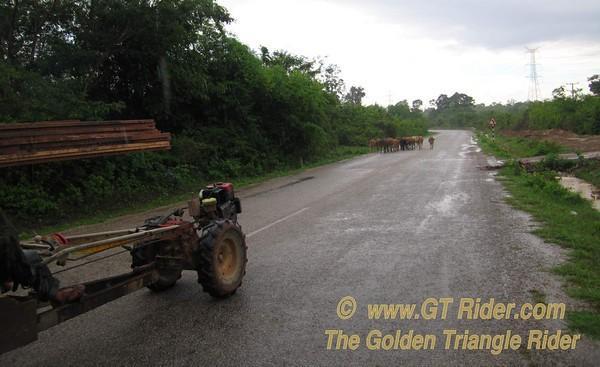 Light – heavy rain briefly came, but there was no need for rain gear.
The road however was treacherous in certain spots, even on the straight…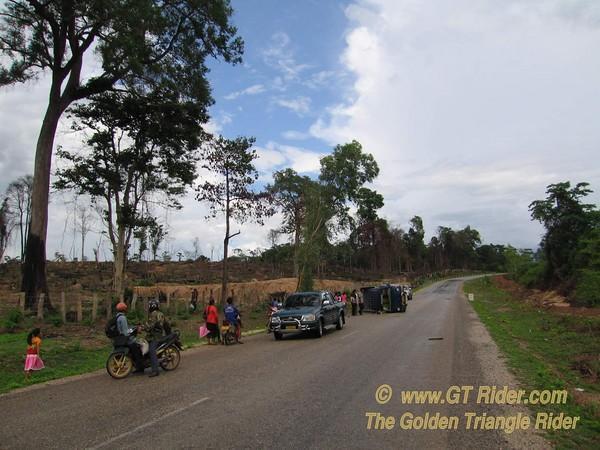 You need to watch out for the smooth shiny tar layed on the road for road repairs. In the wet it is like ice, as this driver found out.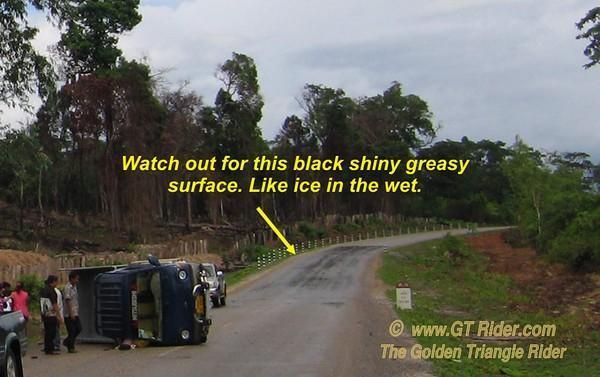 No other vehicles involved, just a slide & a roll over.
Tigo mobile phone service has heaps of interesting incomprehensible (to this western mind) advertising signs along the road.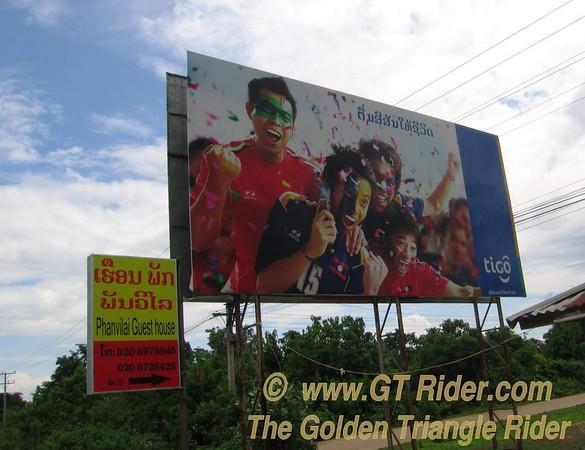 Unfortunately by the time I decided to stop & take photos of them, this was the last one.
I carried on Route 13 South in search of another corner..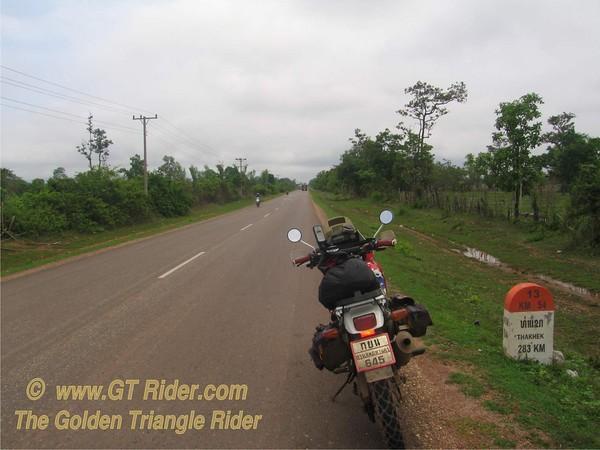 I fueled up in the rain at a real petrol station.
For those guys who worry about fuel in Laos. This is what a petrol station looks like in the south.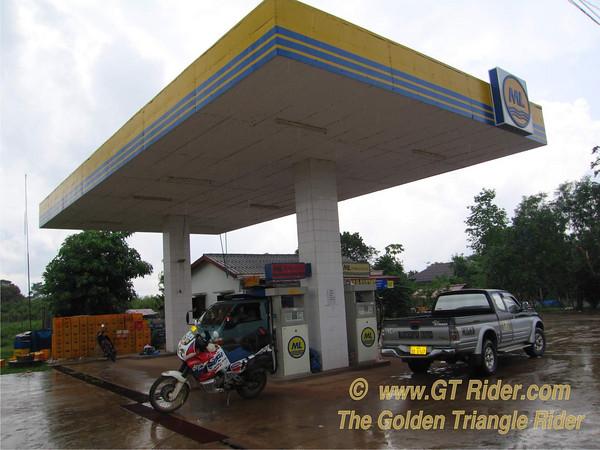 I reckon you see these at least every 80-100 kms.
And the price of fuel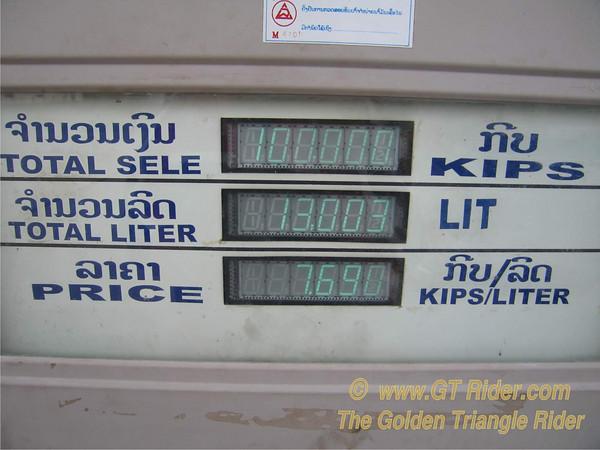 7,690 kip a litre.
With 240 kip to the baht that = 32 baht a litre.
Tha Khek was my stop for the night & my place of stay was Green Discovery's boutique Inthira Hotel.
A tastefully renovated old building now a boutique hotel with nice rooms for US$18 a night.
It's amazing what you can do with brains & good ideas in such a small space. Congratulations Inthy & Green Discovery.
The Inthira Tha Khek is a sweet little place to stay.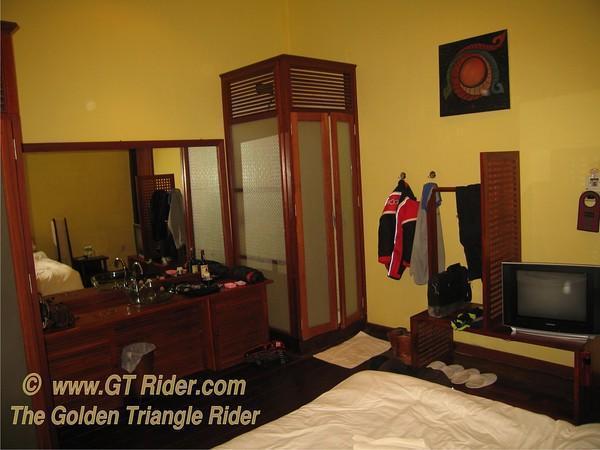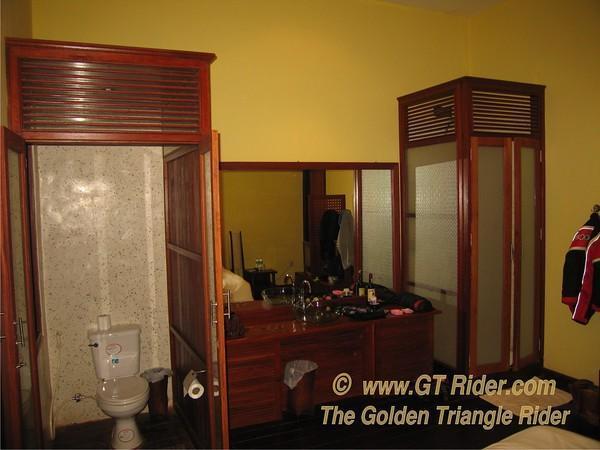 For any of you guys living there in Esarn, why not slip over to Laos via Nakhon Phanom / Tha Khek. Stay a night in Tha Khek at the Inthira, then ride up to Vientiane for a night or two & re-enter Thailand across the Friendship Bridge.
The Travel Lodge Guesthouse in Tha Khek had the best info display.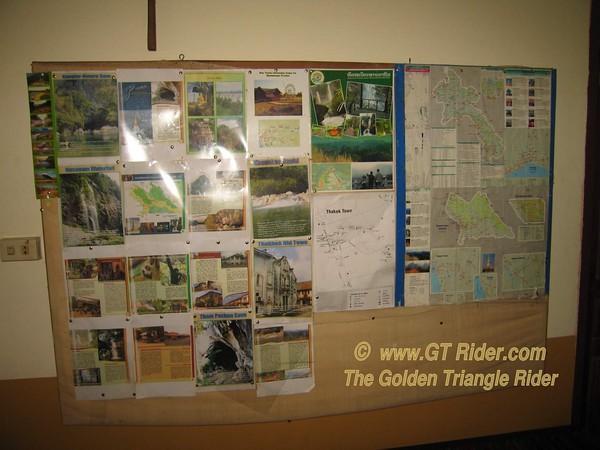 The Smile House Boat in Tha Khek looks quiet during the day,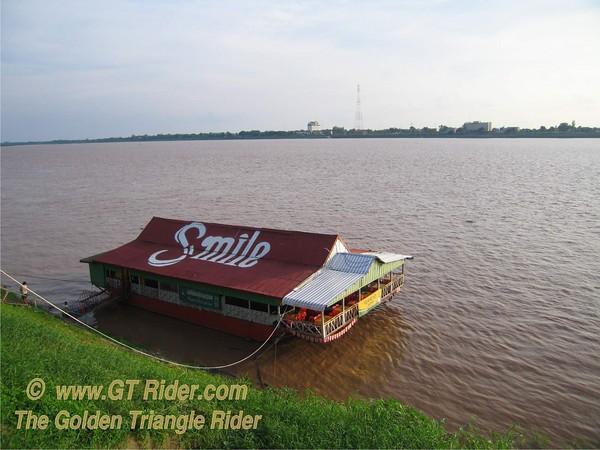 but at night it is the number # 1 disco in town. I ate at the Smile Pub & Restaurant across the road from the Smile Boat & was amazed by the number of young guys & girls heading onto the boat. I was sure it must have been close to sinking with an oversupply of youth on board.
The Tha Khek Riveria Hotel is a big newish joint in town & for sale.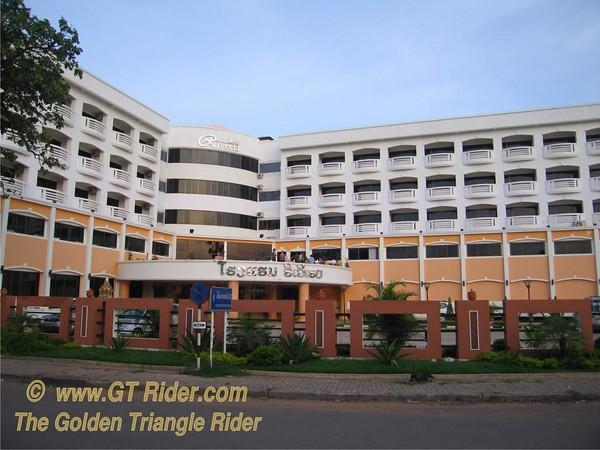 The Malaysian investors did not get the casino / night club licence they were promised & aren't making enough money. So if you've got a spare US$3.5 million start negotiating. Tha Khek is going to boom in the next few years when the new Friendship Bridge is built.
Last but not least, The Mekong "Boulevard" at Tha Khek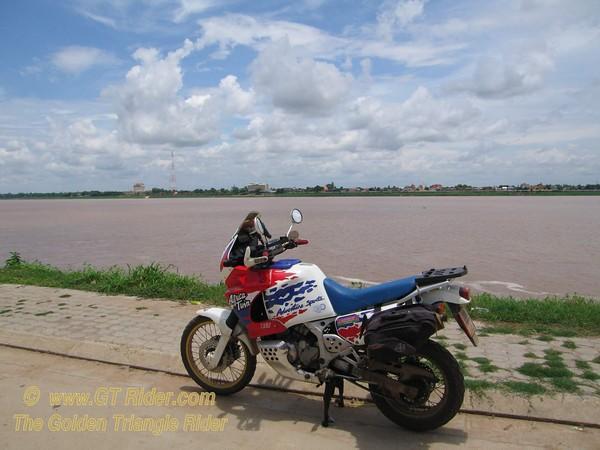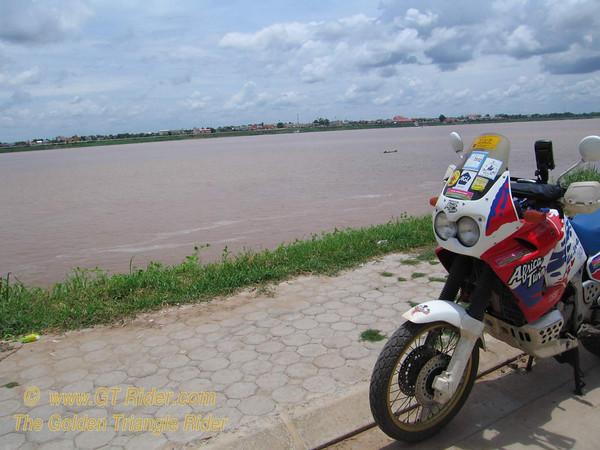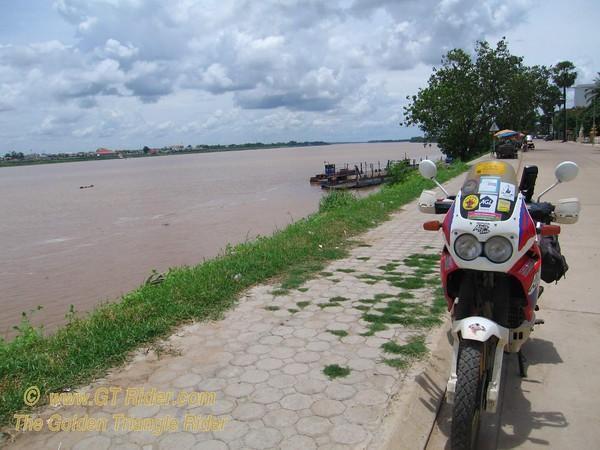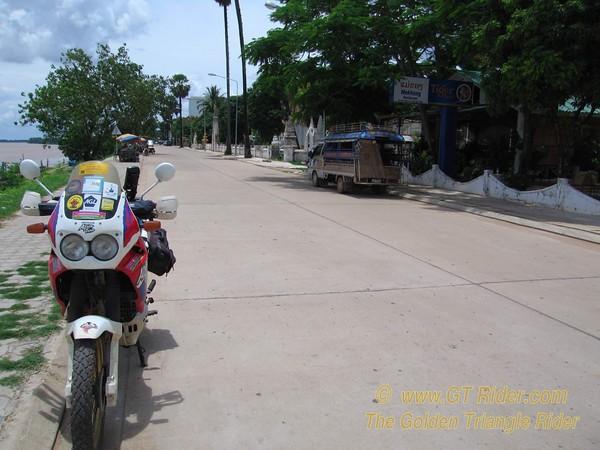 And the river only, looking towards Nakhon Phanom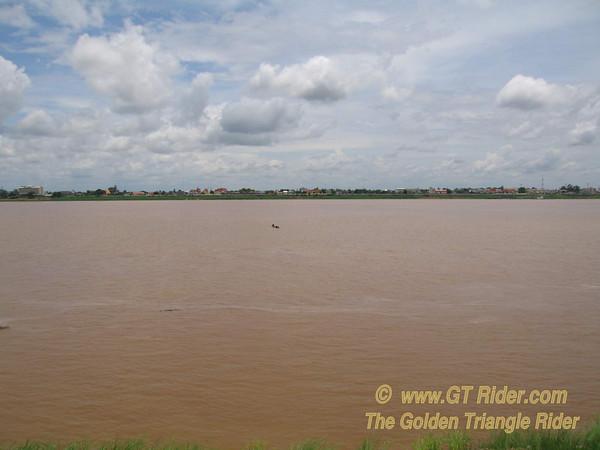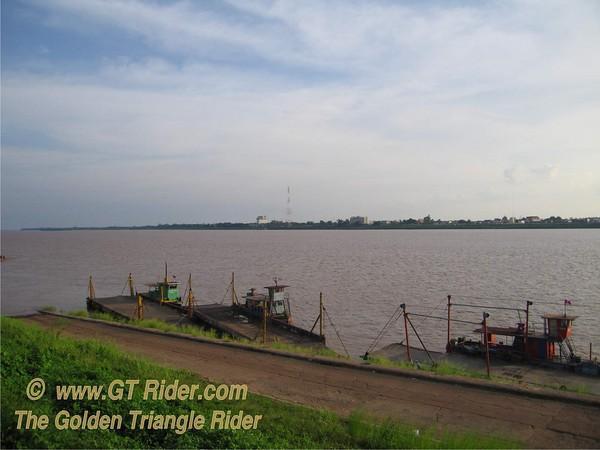 Last edited: