Hi all,
I just got back home to very very cold (-18C), but snowy beautiful Europe from a christmas/new year holiday in SE Asia. I wasn't going to post a trip report, but I briefly ran into David at Mr Mechanic in Chiang Mai who persuaded me to do one, so here we go. Apologies for the location spelling/transliteration, as I don't have any maps with me right now. Also thanks a lot to David and the folks running this forum, and publishing the Laos GT Rider Map, without which I'd have been hopelessly lost ;-)
This was going to be a two-up trip, girlfriend and I, starting off in Vientiane. After arriving in Vientiane, we set out to find Jimoi as recommended by the board, but somehow ended up with renting from Jules instead (it turned out to be just around the corner from our guest house).
For girlfriend comfort we didn't get the WR, but a Baja/XR hybrid of sorts (I think it was a Baja, but with XR tank/fairing, and different exhaust). No complaints about the bike, ran very well and had no failures during the trip apart from a blown fuse and being a little moody in the mornings ;-)
DAY 1
We left Vientiane to the west, along the Mekong at around noon. Oh how good it felt to get out of the city, cruise along the Mekong, take in the landscape and look forward to the trip to come! (click the pics to enlarge)
Edit: seems that sometimes the pics dont display, you might have to refresh the page ...
Roads were mostly good and we easily made it to Xanakham after ~120km. The most 'exciting' bits of the road:
DAY 2
The next morning we had planned to continue along the Mekong to Phalet and cross there, but the locals assured us that we wouldn't be able to get transportation across the river on a Sunday and suggested to take the direct road to Pak Lay instead. It turned out that there is a new looking sealed minor tarnac road more or less straight from Xanakham to Pak Lay, which wasn't on my edition of the GT-Rider map:
The road was in very good shape, albeit a little dangerous in the steep windy parts if a truck is coming your way that takes up the whole road ;-) After crossing the Mekong (there also is a car ferry btw), we promptly found lunch on the other side:
Once out of Pak Lay we were back on the dirt on the way to Thonmixay with beautiful views of rivers, mountains, rice fields, ...
In some places it was very sandy, and the locals looked like they could use an extra pair of hands, so I sweated with them pushing big logs uphill (I really don't want to imagine doing this in the rain!). Funny how it doesnt look steep at all in the picture ...
A bit more climbing of sandy hills and we arrived in Thongmixay, ready to look at elephants and a big lao-lao party with the locals (during which I didnt have the camera with me
DAY 3
The next day started off with a couple of slightly confusing junctions, but thankfully the locals always know the way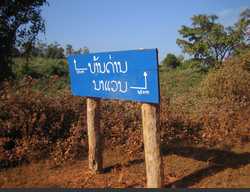 The ~100km stretch from Thonmixay north to Phuay (?) was one of the most beautiful parts of our whole trip. A quick word of caution here though for anyone wanting to travel this way: whilst pretty much anywhere on our trip, dirt road or tarnac, there would always be some village, even if only 2 huts within 5-10km. On this stretch of road though, apart from a lot of soldiers (??, I guess you don't hunt monkeys with AK47's) at either end of the road, we hardly saw a soul in between. The road is also in worse condition than marked on the map (many fallen trees and land slides almost make it 4WD only in some places). So if you do venture there, then take a toolkit, tire repair kit, etc rather than heaps of good spirit only (which we did - thankfully it worked out). I'm also not sure if this is doable in the rainy season, mainly due to river crossings - see pictures.
More than a foot deep and my first river crossing ever
Another one:
This river would've been too deep without a raft (which did struggle a bit with the weight of the bike):
Back to civilisation ;-) As nice as it is to be surrounded by ~100 kids, I always have a bad feeling for the teacher from whose class they ran away :?
A toll bridge on the way to Phouy (don't remember how much it was though):
In the evening we reached Xayabury, where we were first invited to a sumptous meal by a friendly shop owner at the road side, followed by merry lao-lao
You gotto love these people!
DAY 4
More elephants on the way to work in the morning, and this time we had a camera at hand
you never know who you'll be sharing the road with ...
Slowly getting closer to Luang Prabang, and crossing the mighty Mekong again (I must have crossed that river like 17 times during the trip...)
Along the way we stopped off at two waterfalls:
Tat Kacham
Tat Xe
DAY 5
We started the day off with a lay-in in bed, two short trips to Tham Ting to the north and famous Tat Kuang Xi to the south, before treating ourselves to a massage, a big feast a the food market and some tribal shopping, ready to set off to the northeast the next day ...
Tham Ting
=====
The second part of the trip was Luang Prabang - Pak Xeng - Vieng Tong - Muang Kahm - Phonsavan - Luang Prabang; I will do a seperate post for that one when I get a chance.