I successfully took a bike into Vietnam
Ok. So I had to leave the bike at Na Meo. Go 200 km to Thanh Hoa, the provincial center, and get permission from the transport department to bring my bike into the country.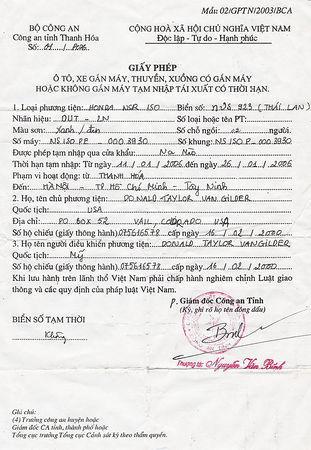 Pic above: the import doc that Donnie got for taking his NSR150 into Vietnam. Amazing, it's been done!
Would only give me until the 26th, when my visa runs out, but said that if I get a visa extension I can come back and they'll extend it for the duration of my visa. Will have to go by there on the way south anyway.
Na Meo - Mai Chau the roads are pretty much like northern Laos, winding, potholes everywhere, and blind corners abundant.
Mai Chau - Hanoi the road was great until you got close to Hanoi and it turned into bumper to bumper.
You might be able to get that permission letter in advance by calling 032669326, the transport office in Thanh Hoa, but I doubt it as their English is not good.
My advice is , don't use this border unless you have a Vietnamese or Laos registered bike or you want to spend three days getting to Thanh Hoa, wait for the permission letter, and get back to Thanh Hoa to get your bike.
Any other questions feel free to drop me an email.