Xam Neua – Ban Dan Check Point – Muang Et – Xam Neua.
GPS Track.
https://www.gt-rider.com/thailand-m...ea-–-Muang-Et-–-Dan-Ban-check-point
.
A two day trip riding north out of Xam Neua to the Vietnamese border crossing at Ban Dan check point, staying overnight in Muang Et.
Two main towns on the way to Muang Et are Sopbao, which has plenty of guesthouses, and even an ATM, and Xiegkor, which has a couple of guesthouses. You can also ride to the Vietnamese border crossing at Pahang from Sopbao, as shown on the GT-Rider Laos map. I gave this detour a miss, but I'd say this would be a pretty interesting ride.
I did this ride in late June, and I think it the most enjoyable area I've ridden in Laos. Being June, the entire ride was full with people working the fields, in anticipation of the wet season which was fast approaching. The whole area was alive with activity, with real people, doing real work.
As good as it was riding through this area was, I reckon that riding here in the dry season would be boring and dusty. So it's best to go riding there when it's raining, with a new set of tyres, and an umbrella.
The pink line showing the way, with Laos/Vietnam border in yellow.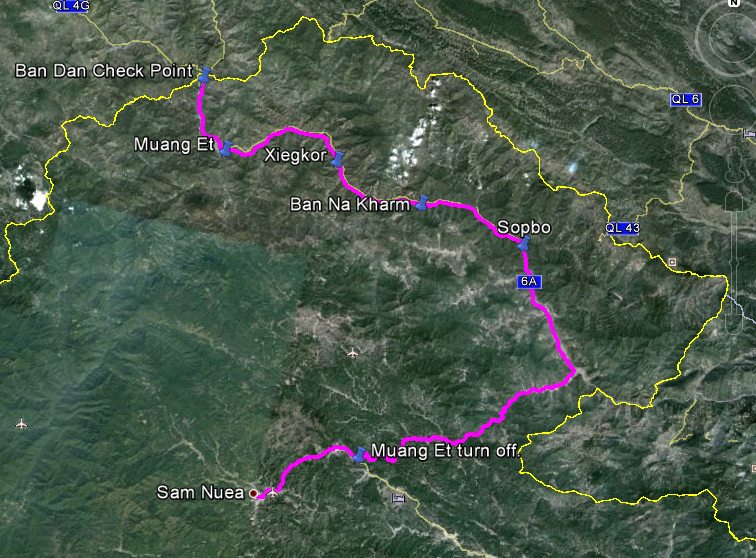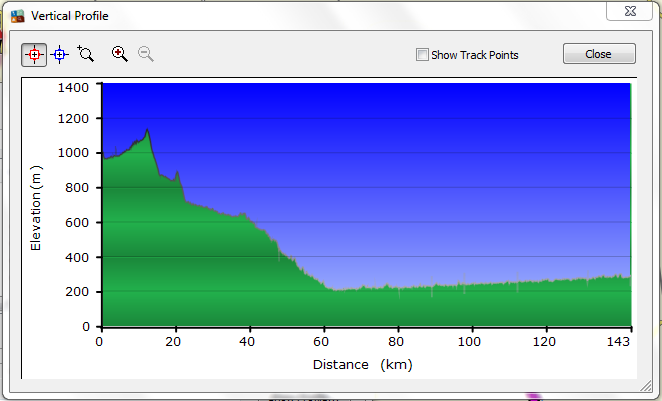 It was a wet start to the day, and first stop was a small road side market just out of town. They had plenty of stock, but not much variety.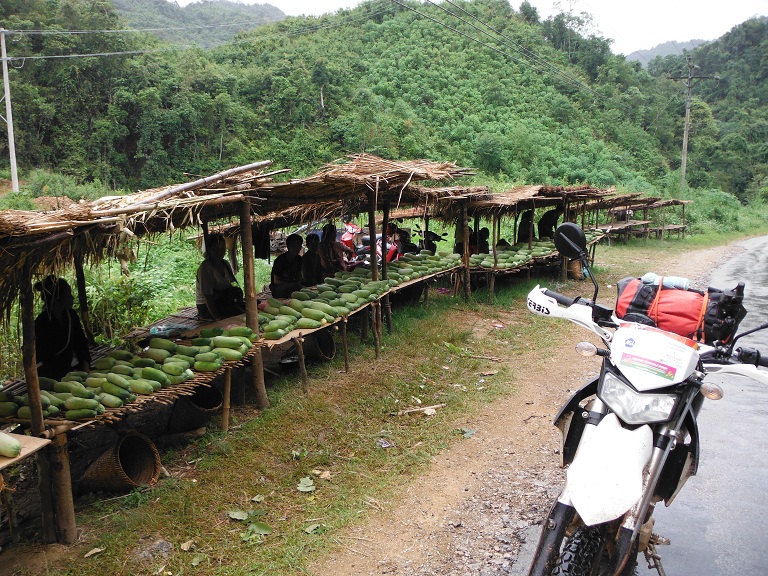 I didn't know what the green vegetable was, but I was given a simple to try, which created a problem. I didn't want something that someone had planted, grown, harvested, and brought to market for free. But would it be insulting to the seller to try and pay for a gift? I chose it make fun of the situation at some time paying for the product. She was happy, and so was I happy.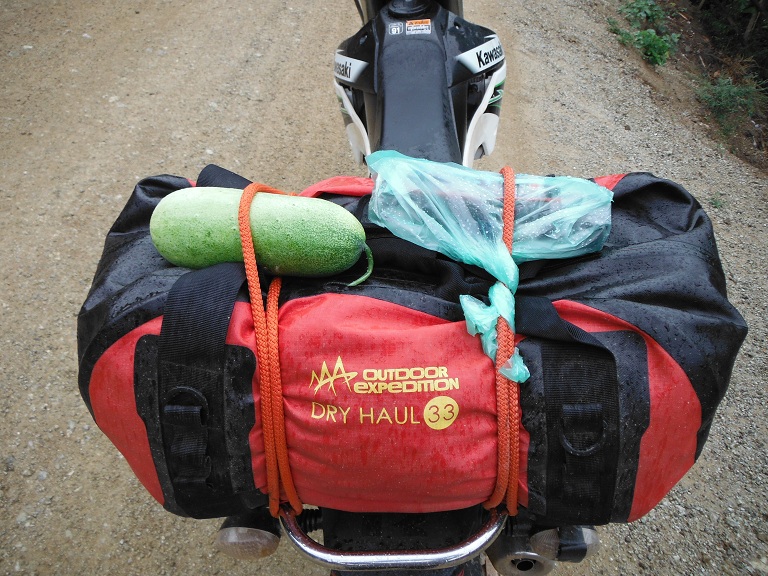 Cool damp day with no dust. Just perfect.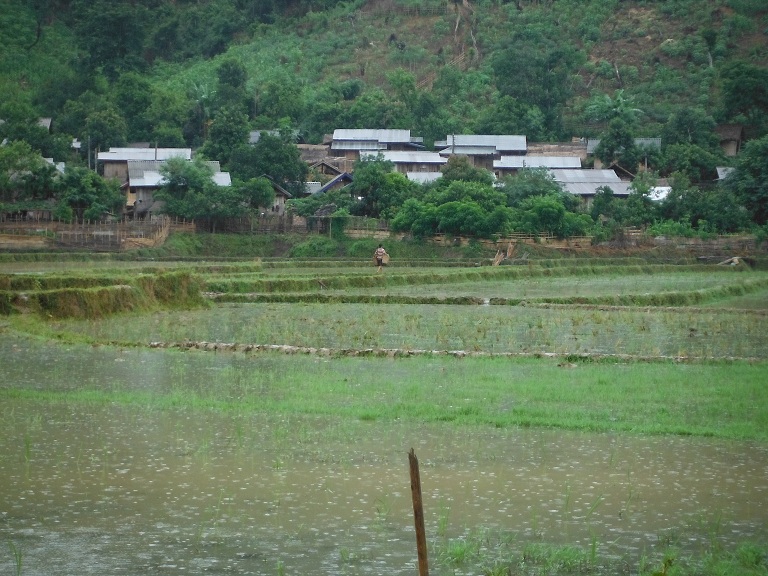 The start of the 6A,..the road that's heads north from HWY6.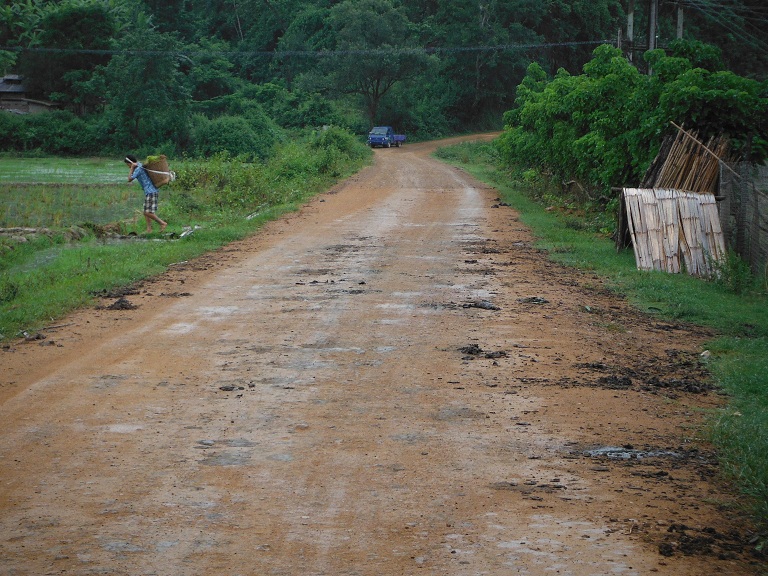 A waterfall in the lush jungle.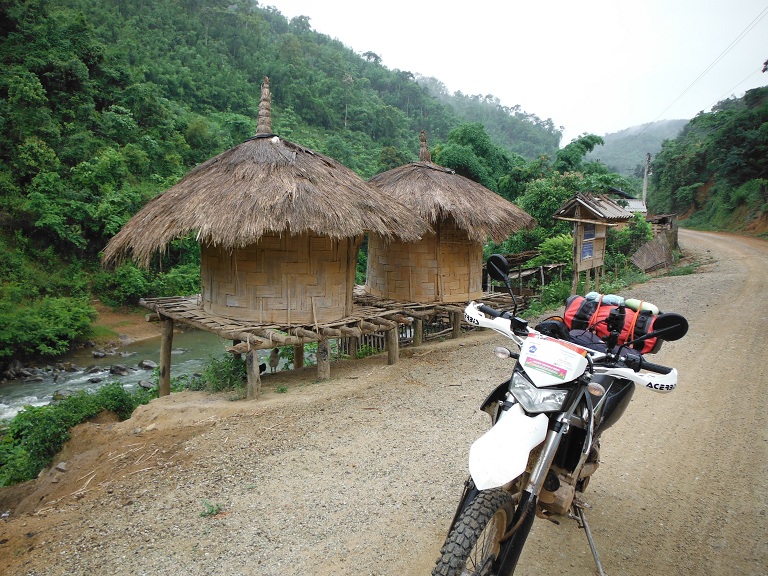 It was just beautiful through here. A little slippery, but what a view.
One of the many small villages along the way.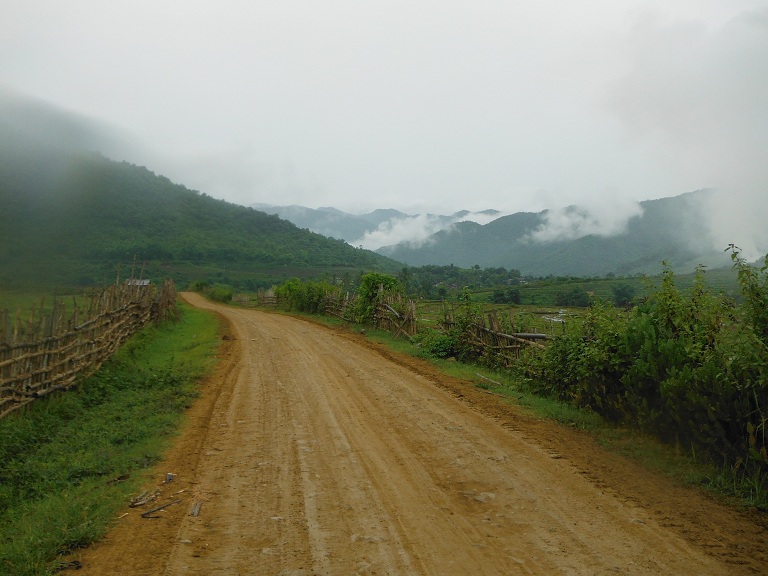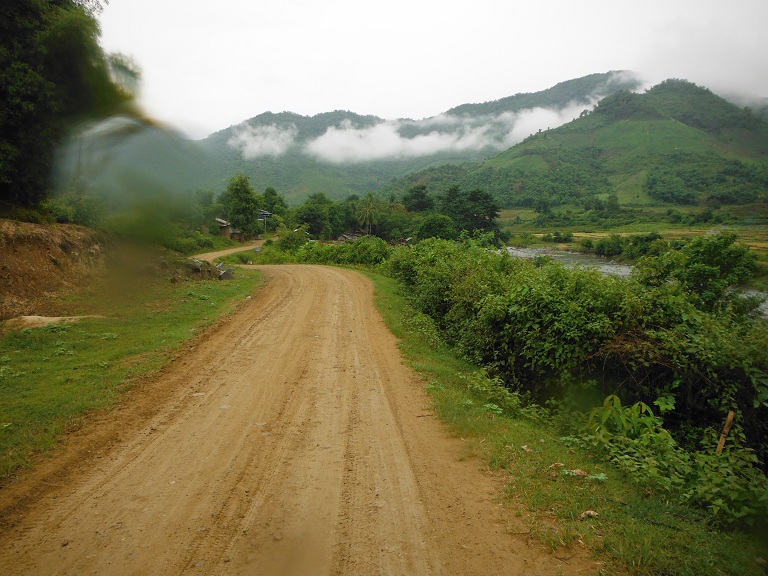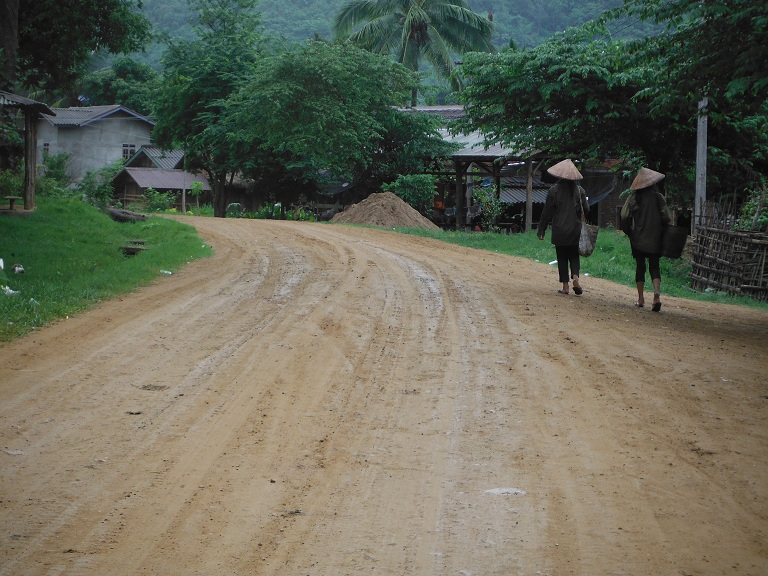 There were plenty of these bridges that head east from the road across the river towards Vietnam.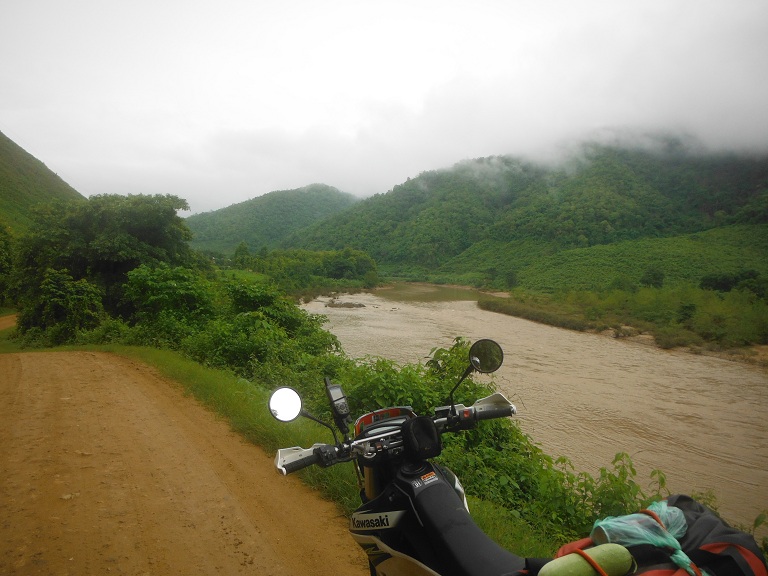 There are currently three new hospitals being built with the help of the USA between Sopbao and Muang Et.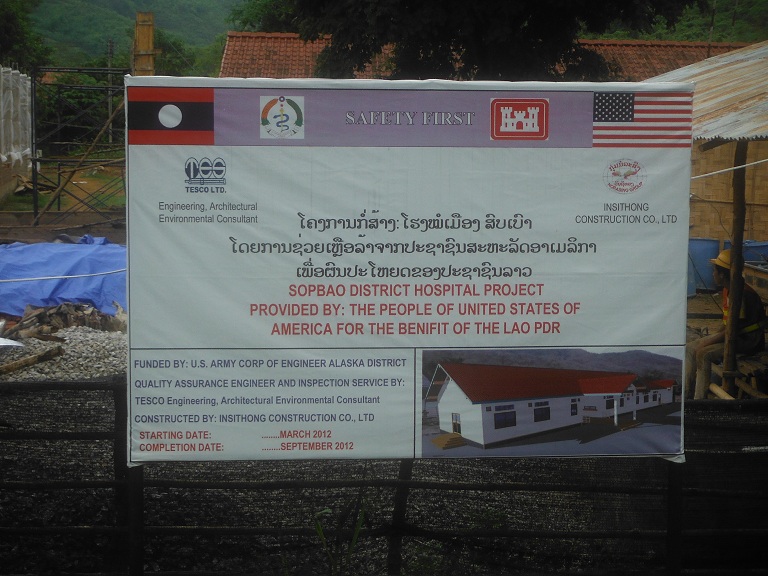 The road in parts is under full scale construction. With one stretch of road resembling a dirt super highway.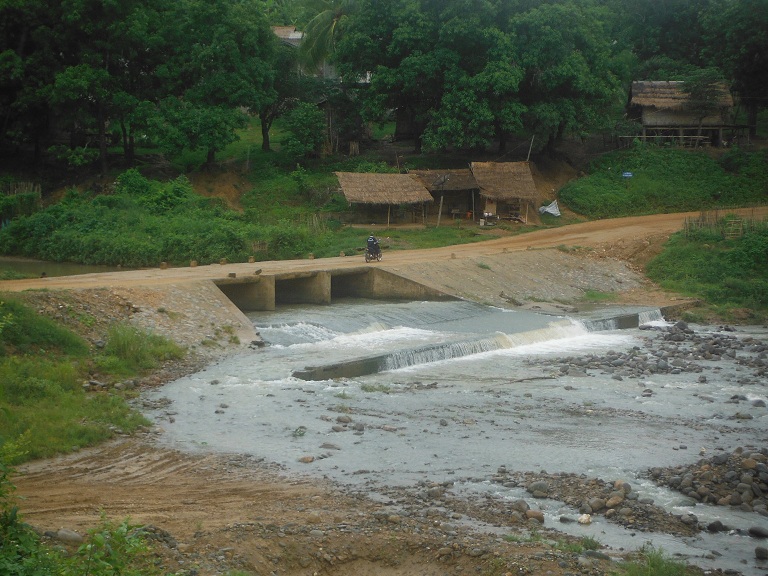 I wonder if the occupants of this house were consulted about the new road works.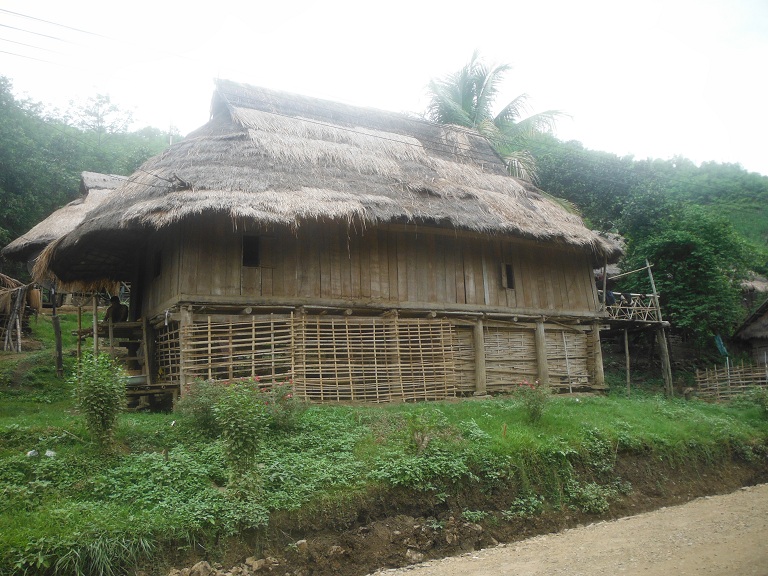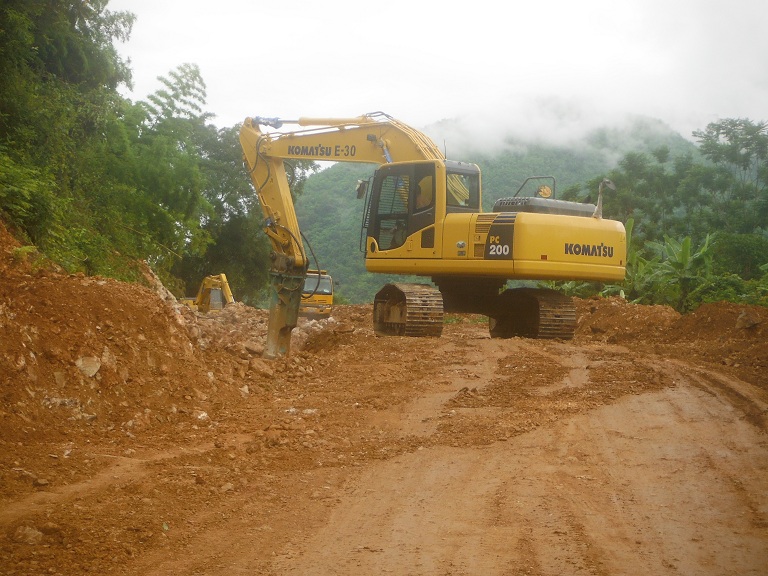 The Nam Ma river at Muang Et. The Veitnamisse border is around 12kms beyond the river.
The big ferry wasn't going anywhere, so it was all aboard the sports model.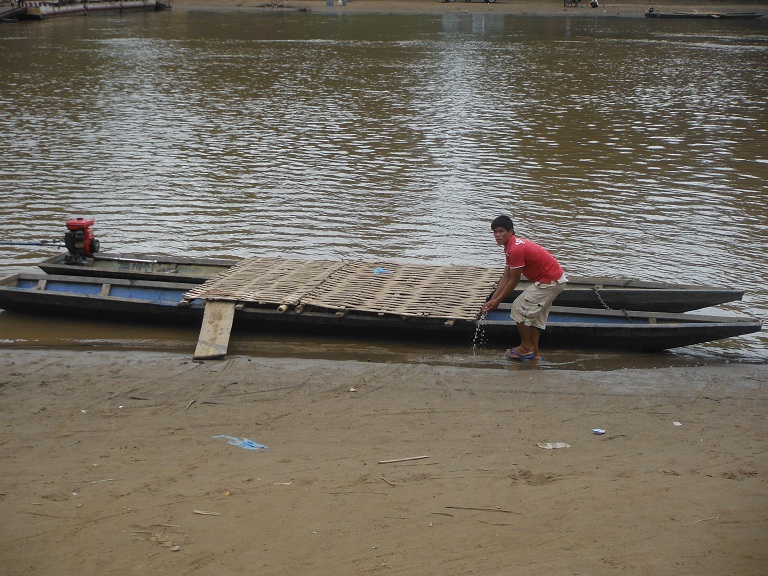 No worries.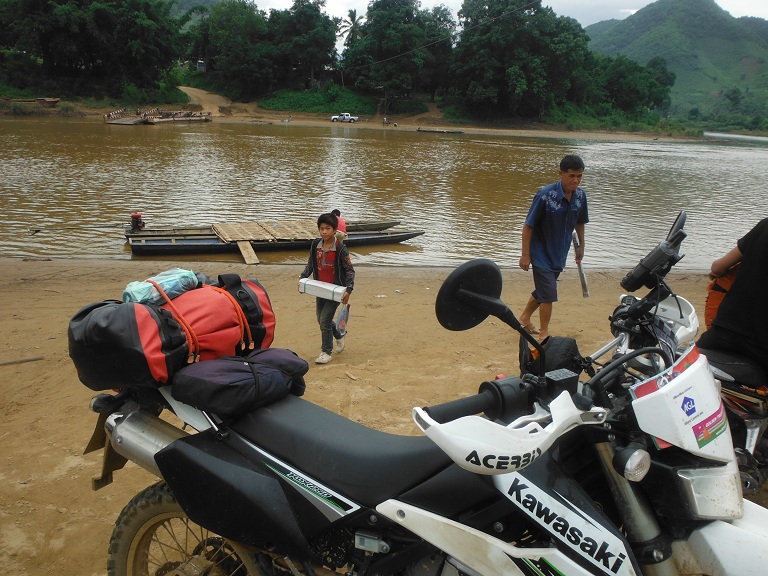 The road heading north to the border is in very good condition.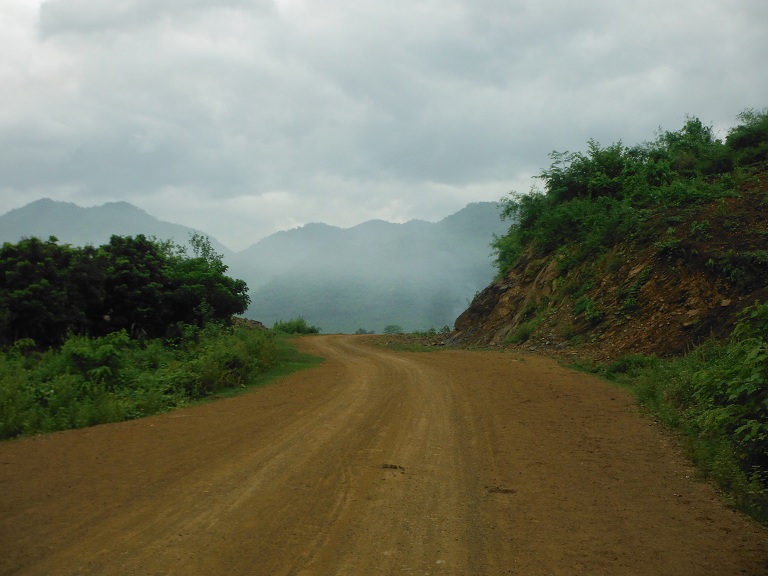 There's a real Wild West feel up here.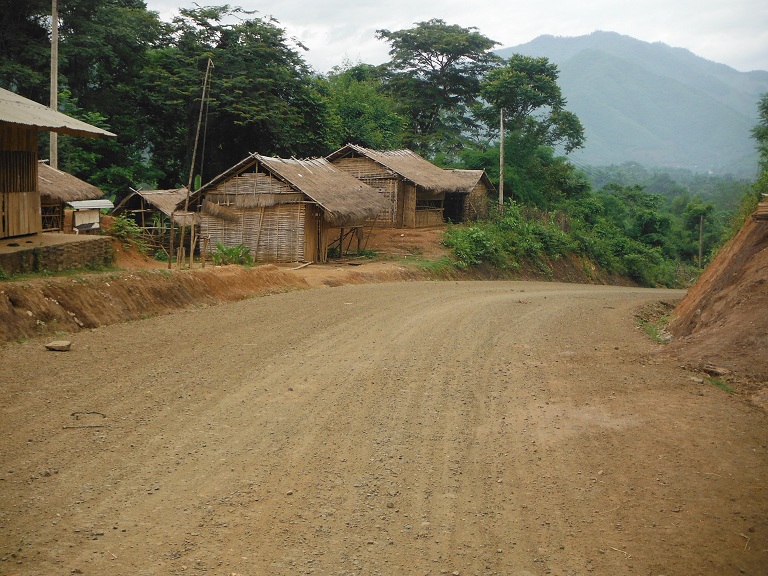 Ban Dan check point, the last stop before Vietnam.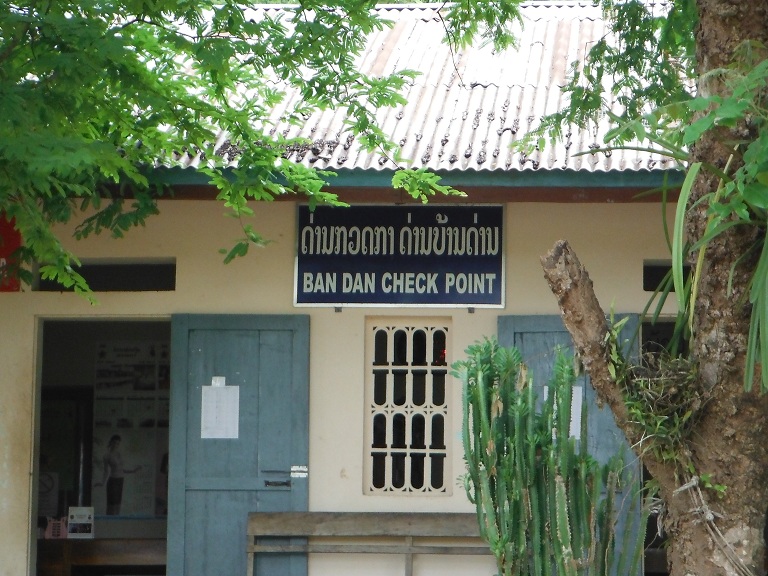 The superbly appointed KLX, with Vietnam as a back drop.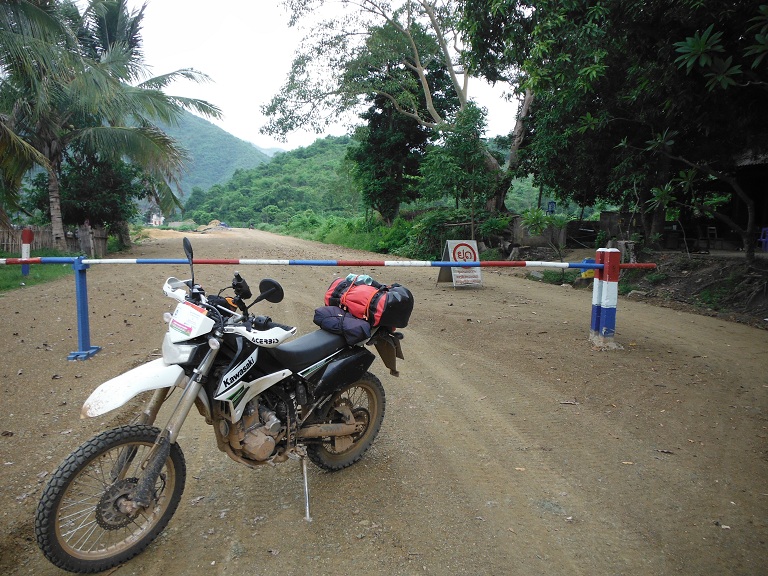 Back at the river the big ferry was back ruling the waves. Too bad I missed it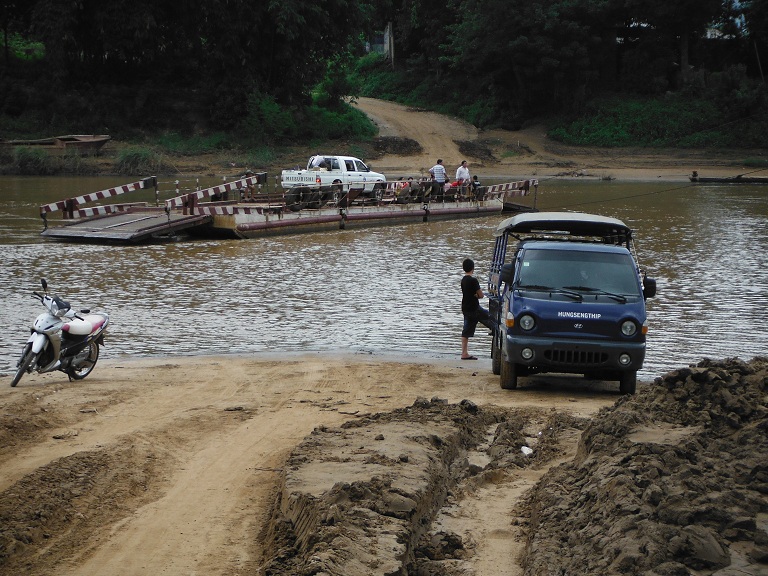 .
It didn't matter, old trusty was waiting.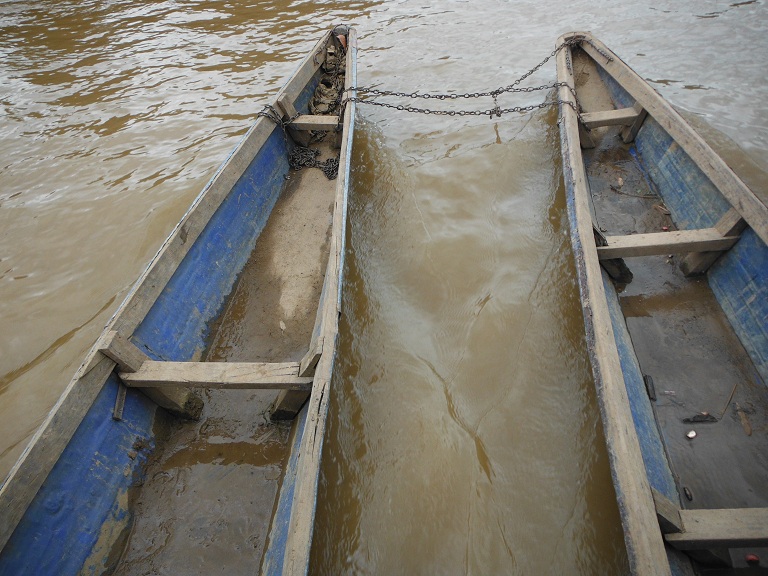 Just across the river in Muang Et I found a good little guesthouse for 40,000 kip.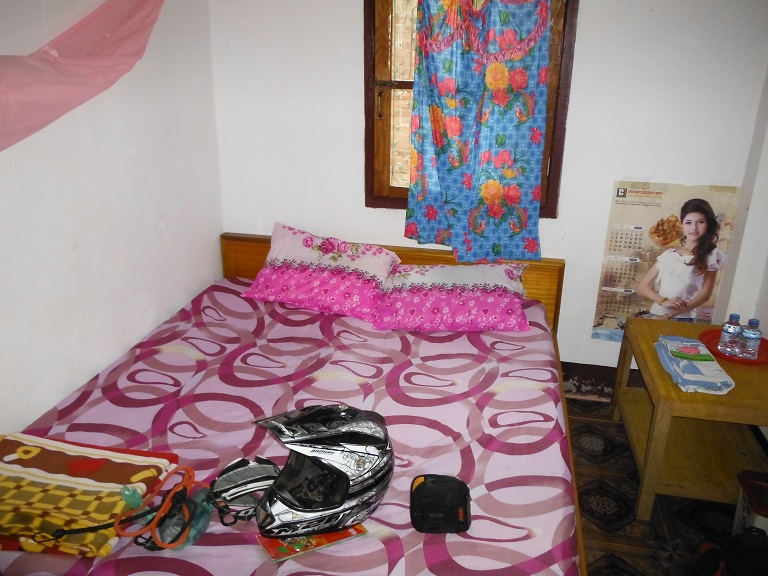 The door was decorated with posters of lovely non smoking ladies posing with packets of cigerettes. Light me up.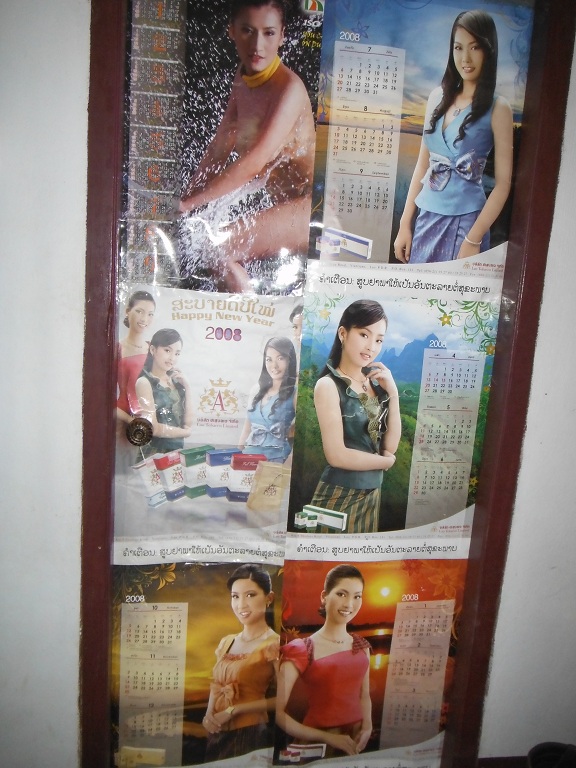 After a shower and change of clothes it was off to the local market. This was to be one of those great travel experiences you get now then. I began walking through the market and sensed that they probably don't see too many foreigners up this way. There were about 200 people staring at me so I began to chat and smile which broke the ice. These people where so friendly, and inquisitive, all laughing and giggling. What a photo opportunity I thought. So I pulled out the camera, and all hell broke loose. Three quarters of the people turned and ran, so I immediately put the camera a way.
I looked at an old lady and she shook her head as if to say no photos thanks. So no snaps of one of the best travel moments I've ever had.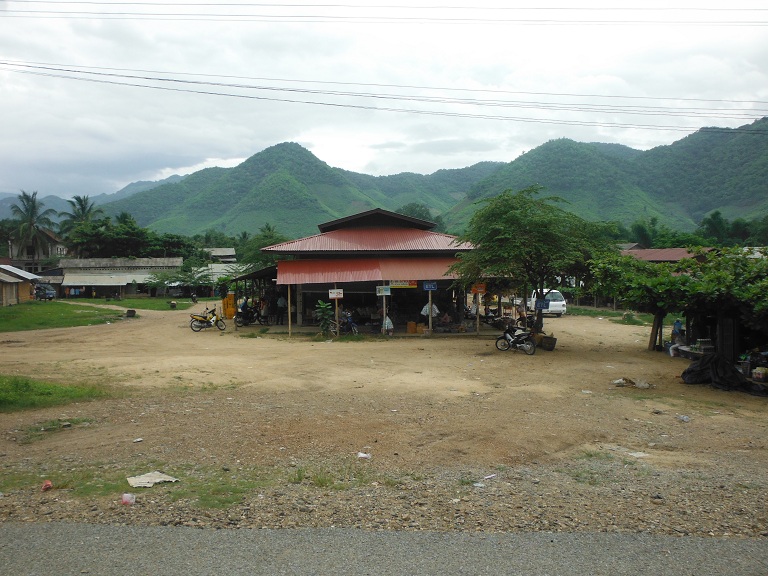 After the market it was off to find some food. There were about 5 small restaurants next to each other, and none of them Id take the chance of eating in. But one of them had a few local ladies that had the appreciation of beer lao as I do, so liquid dinner it was to be.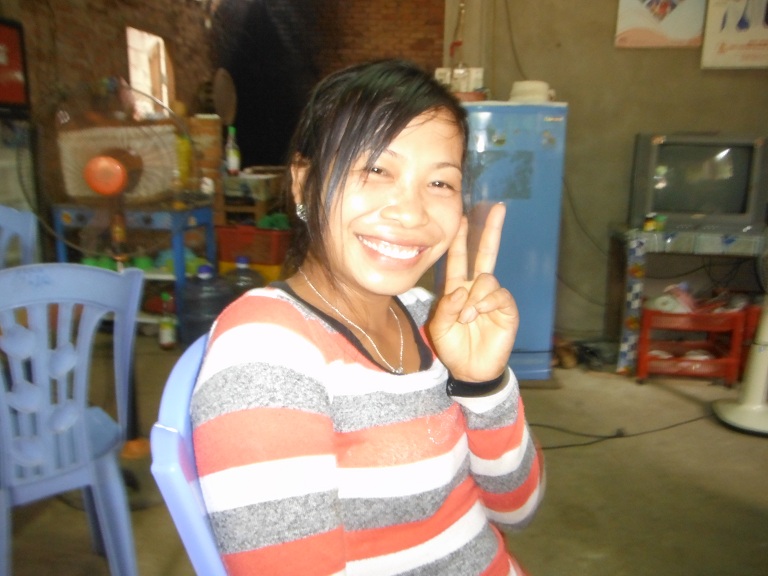 Next morning it was time to head back to Xam Neua, so after quick top up I headed south.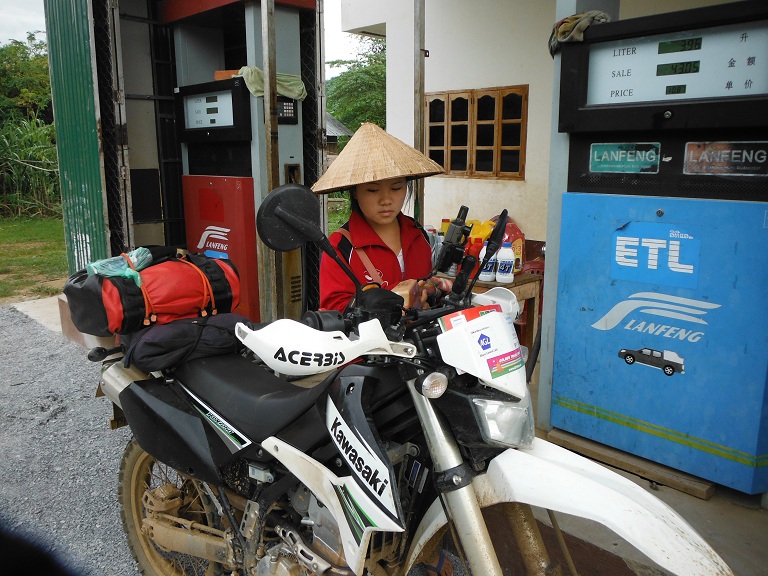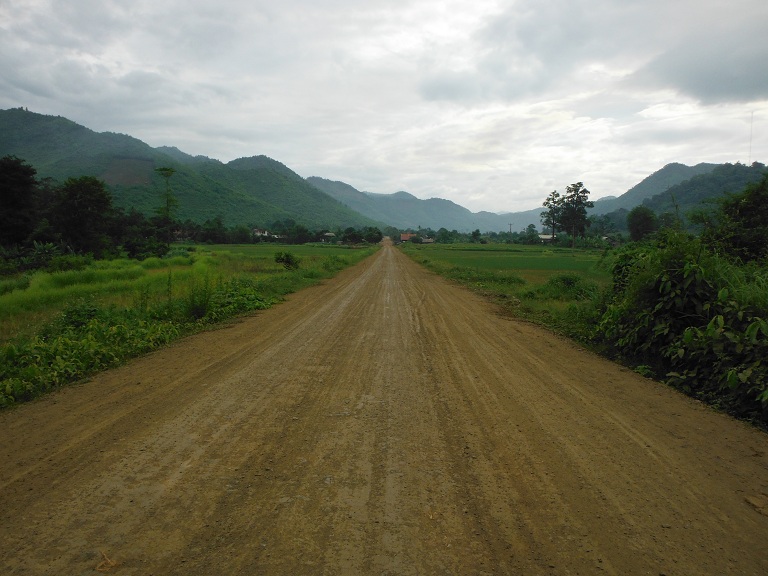 A few kilometres down the road, the local butcher was open for business.
Vegetarians…….They don't know what there missing.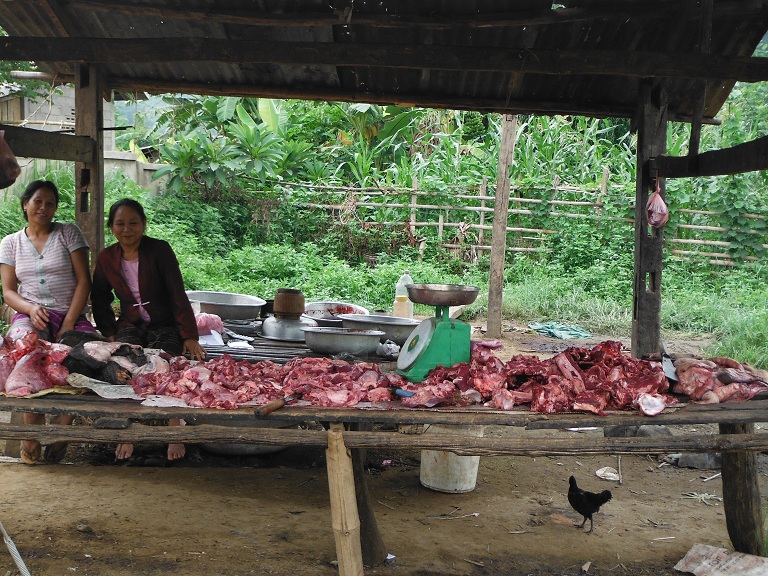 I ventured on.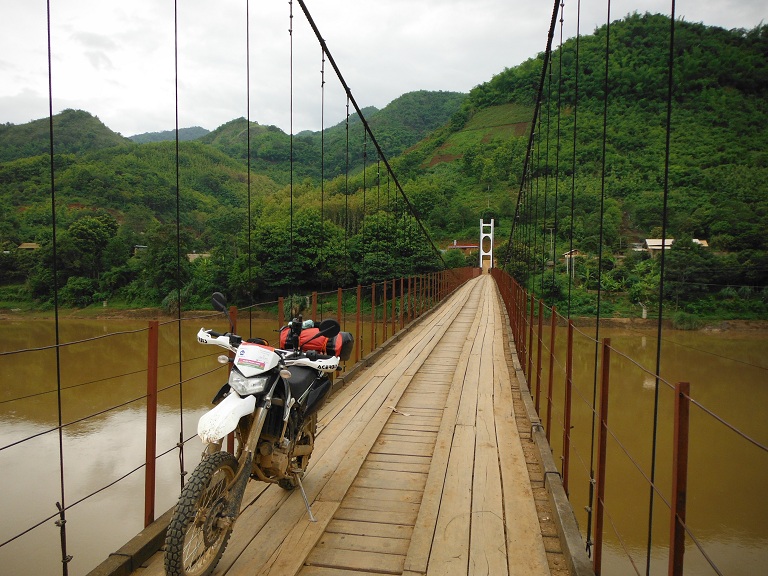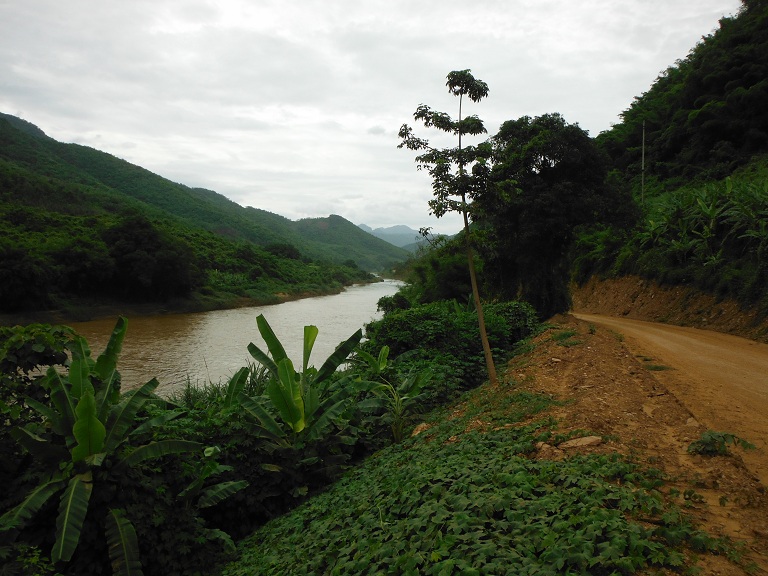 Nice through here.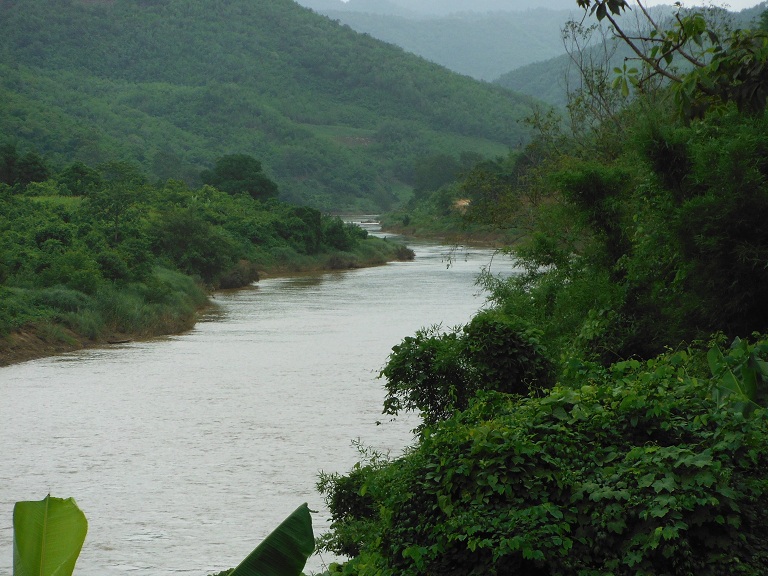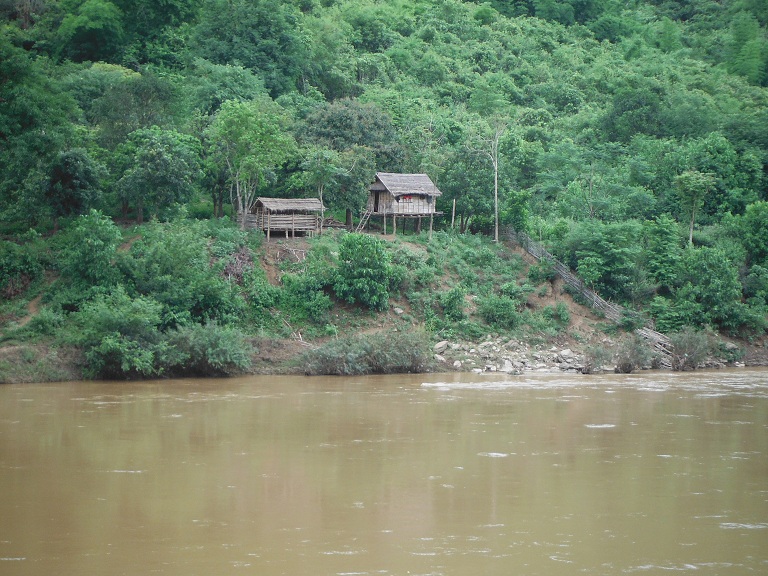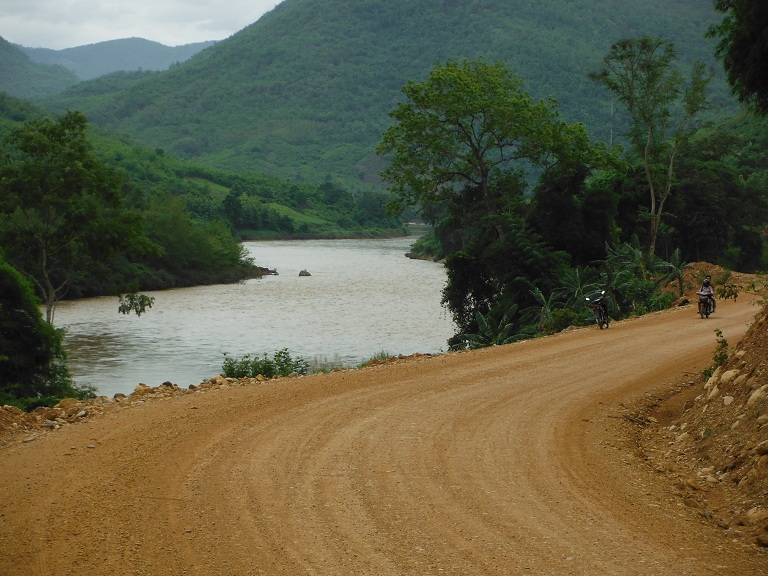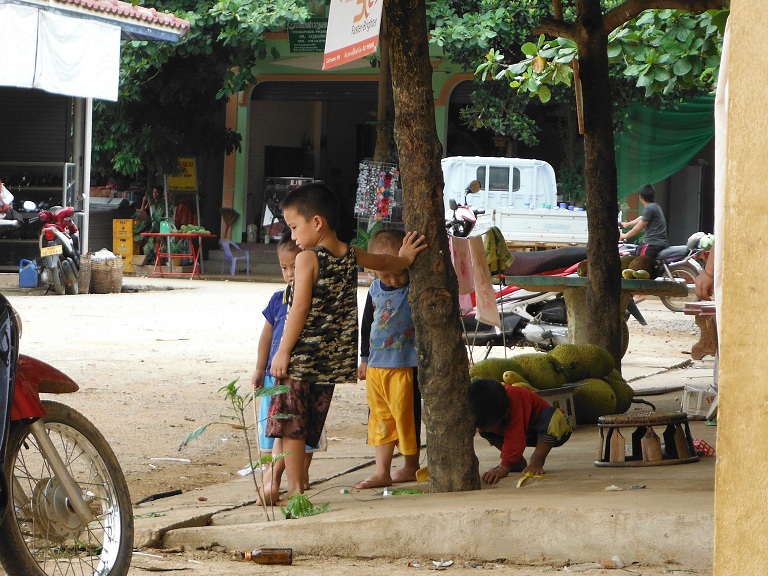 Mama noodles, savour of the laos motorcycle rider.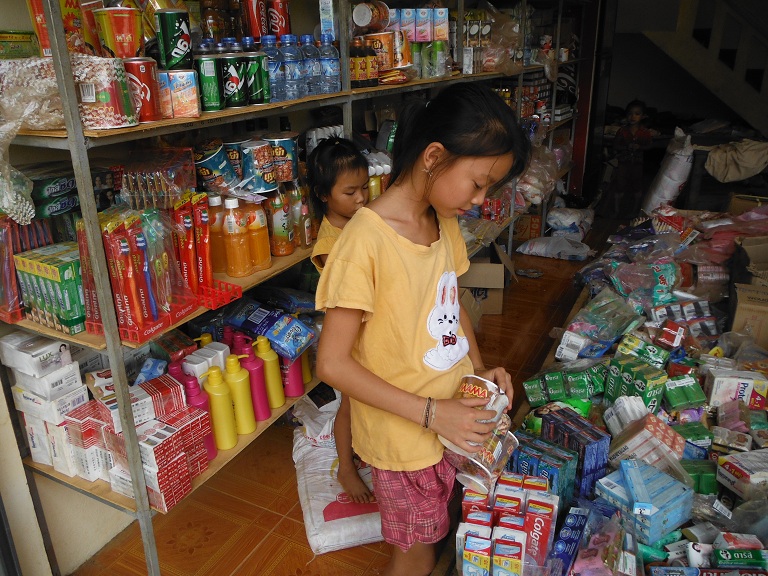 Local kids play ground.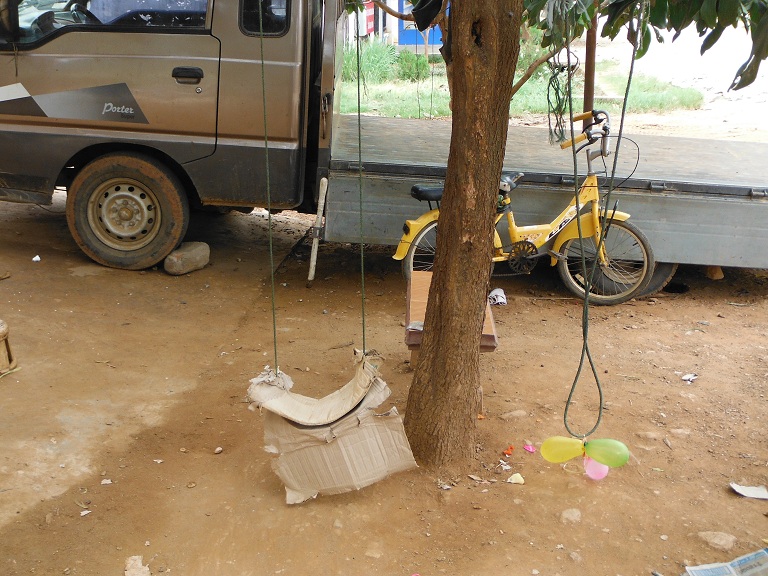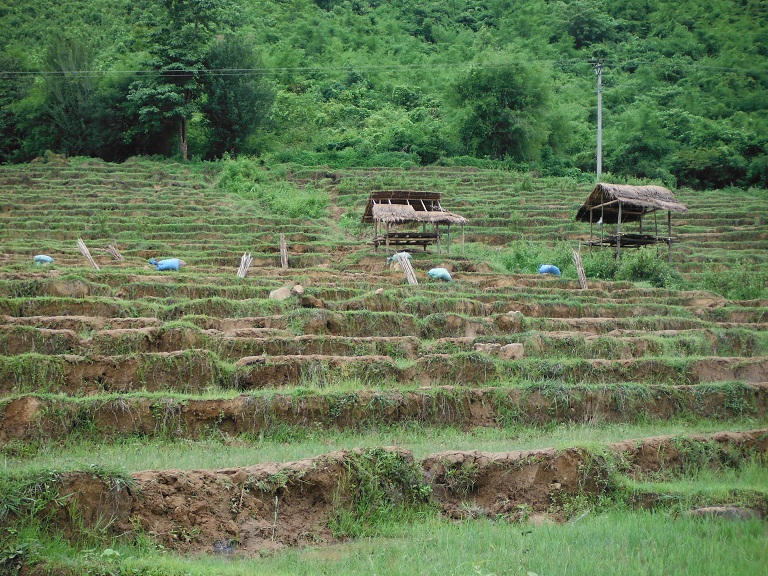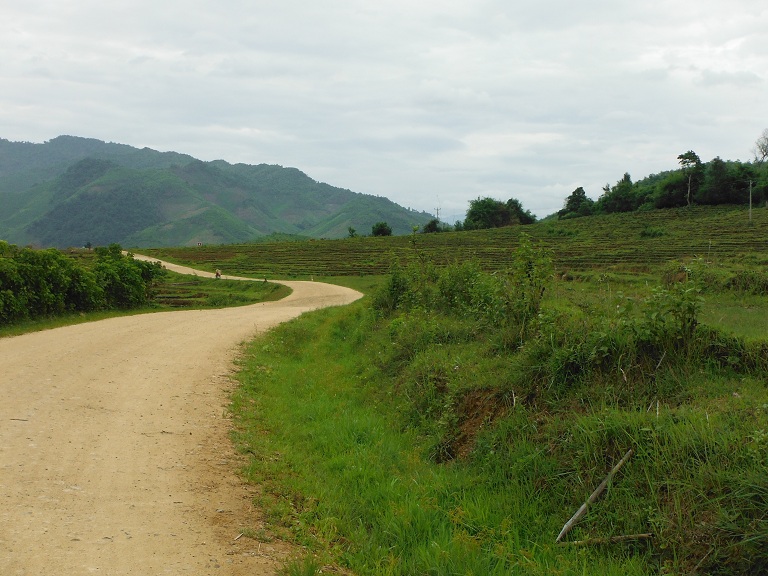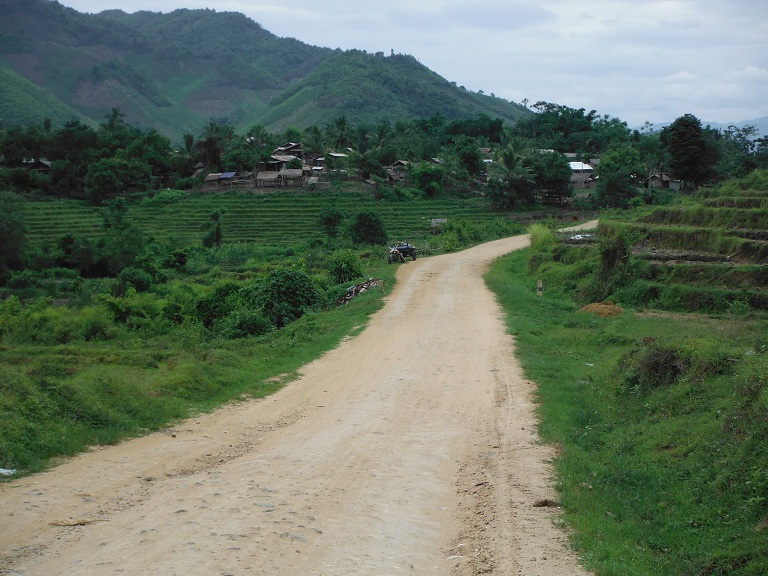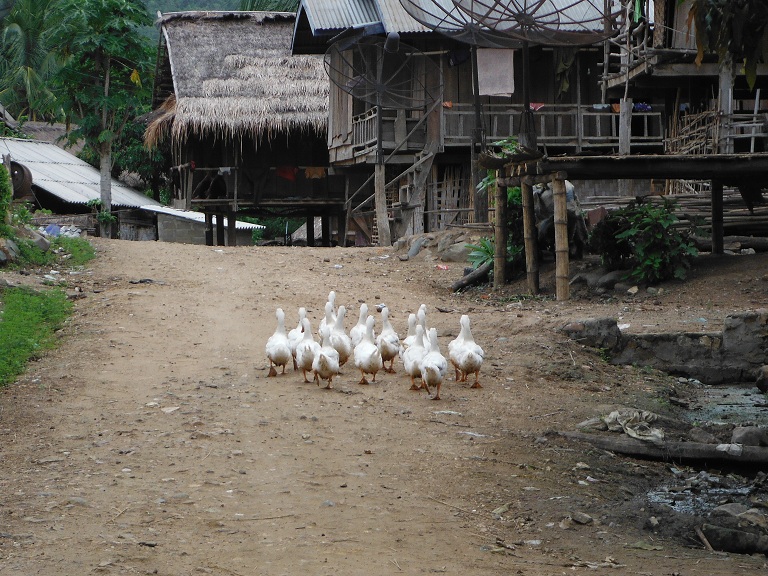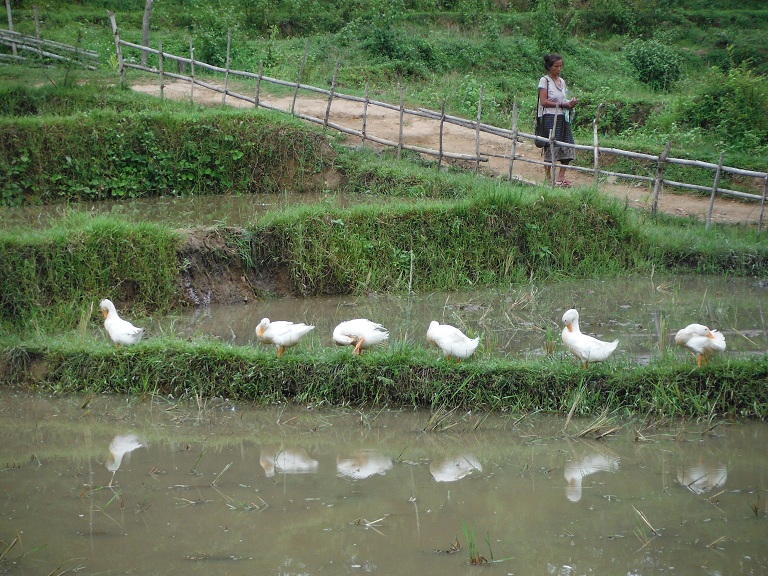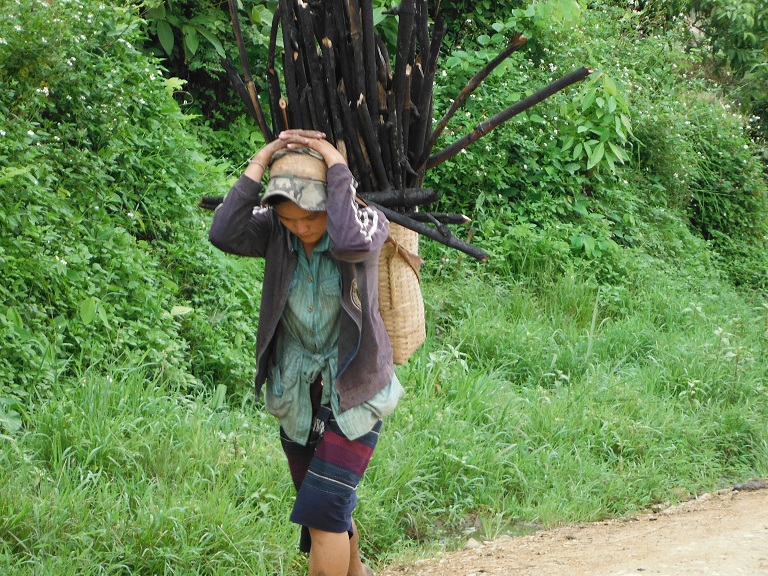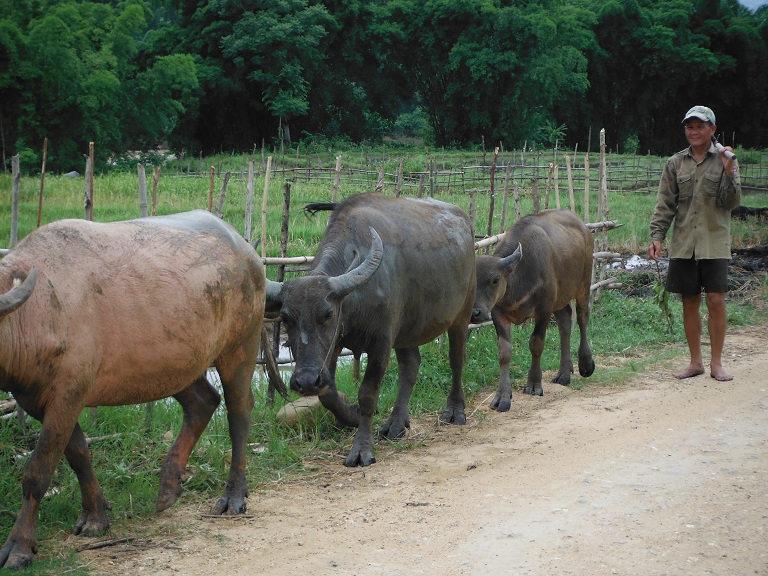 Everyone does there fair share of the work. Although the girl on the rights not doing much.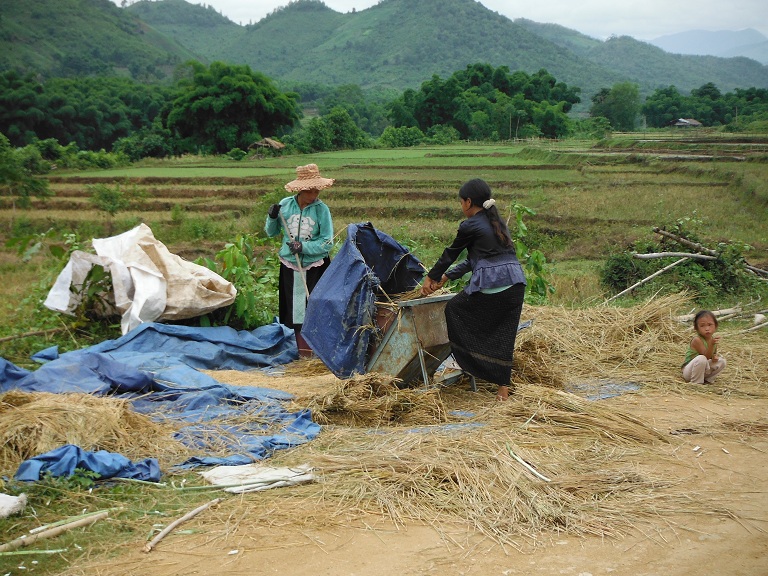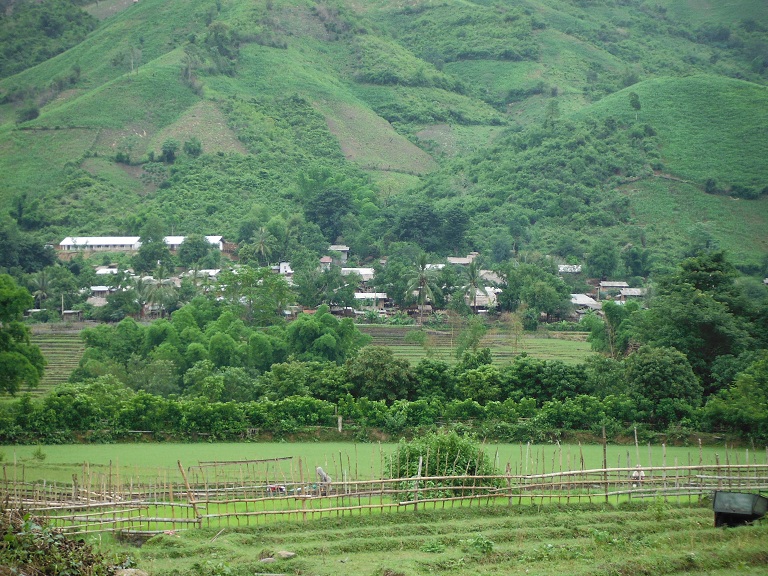 Beats working.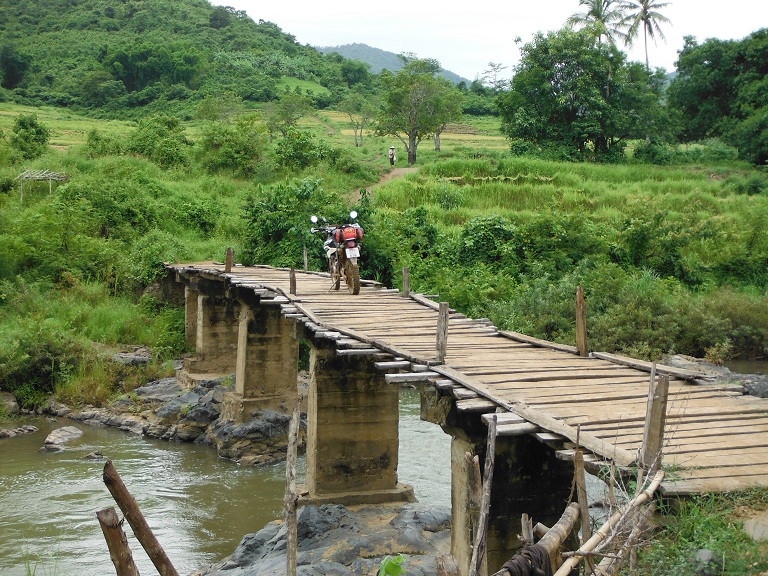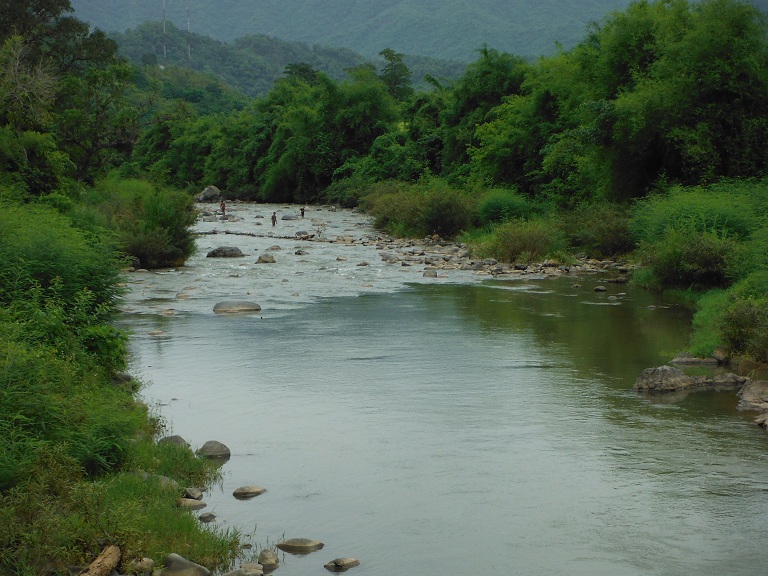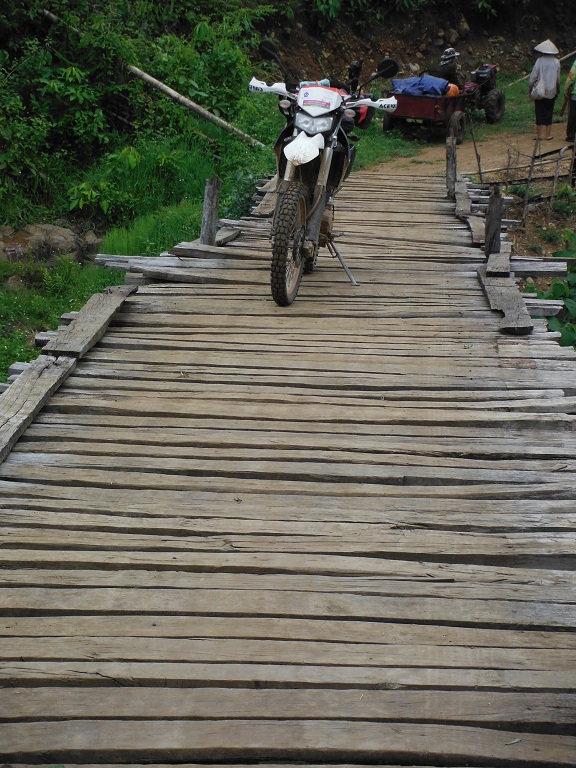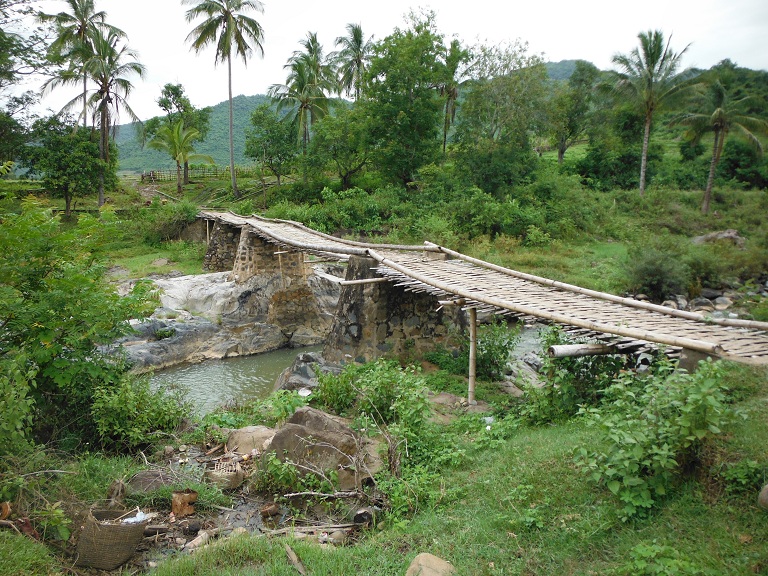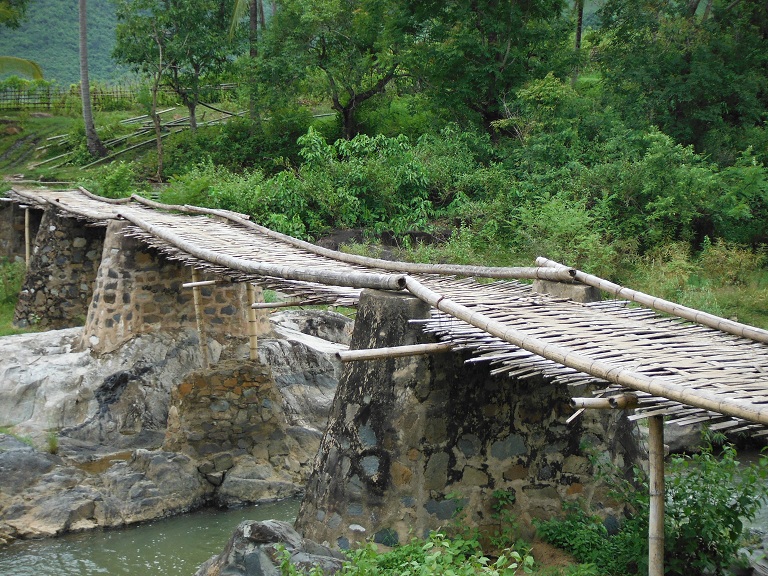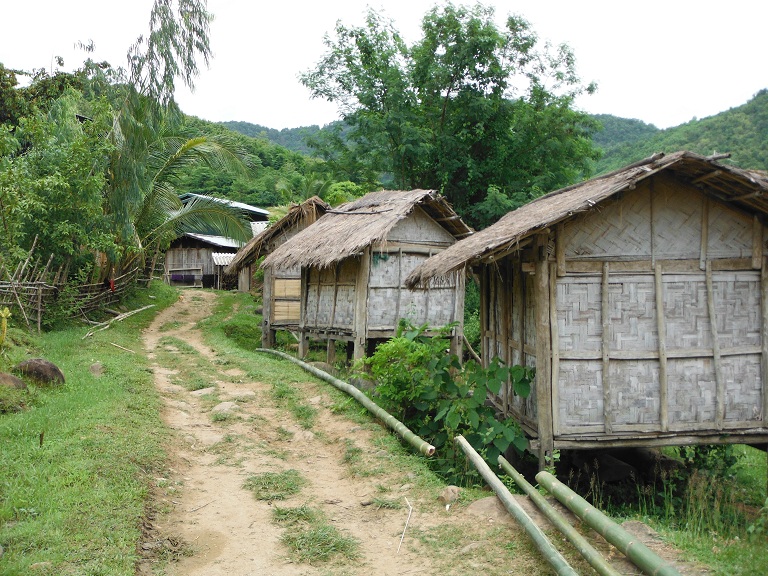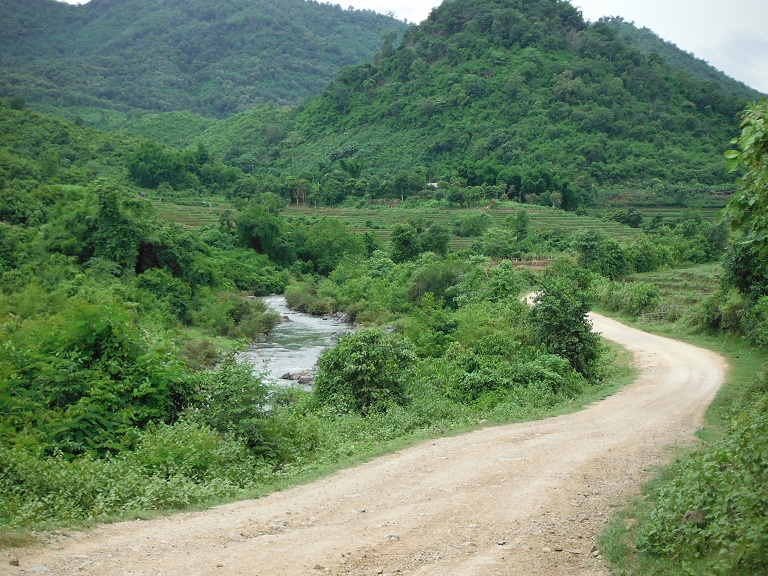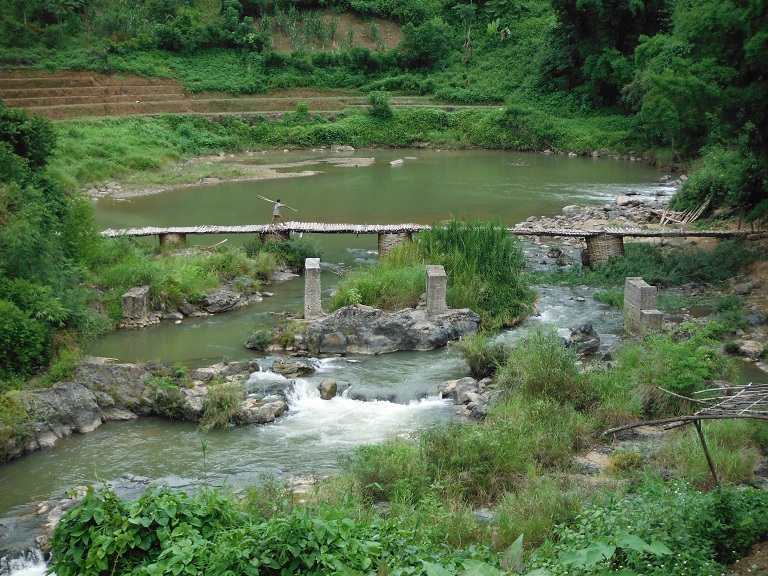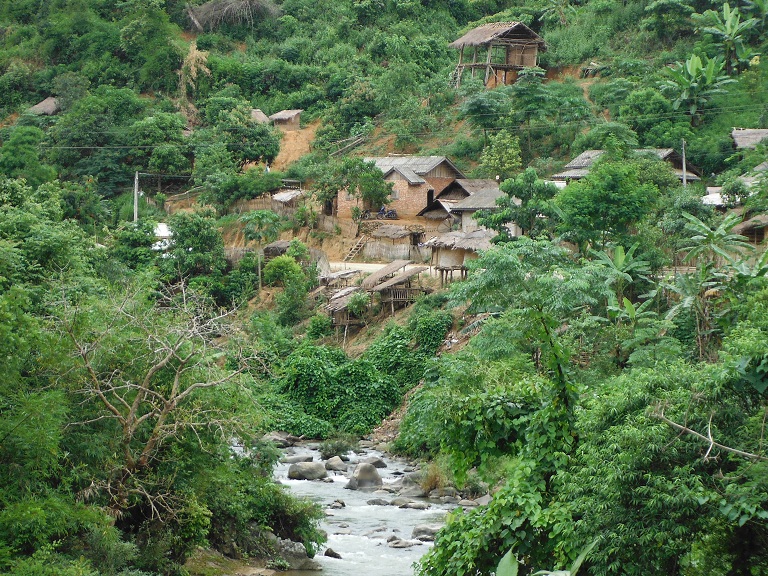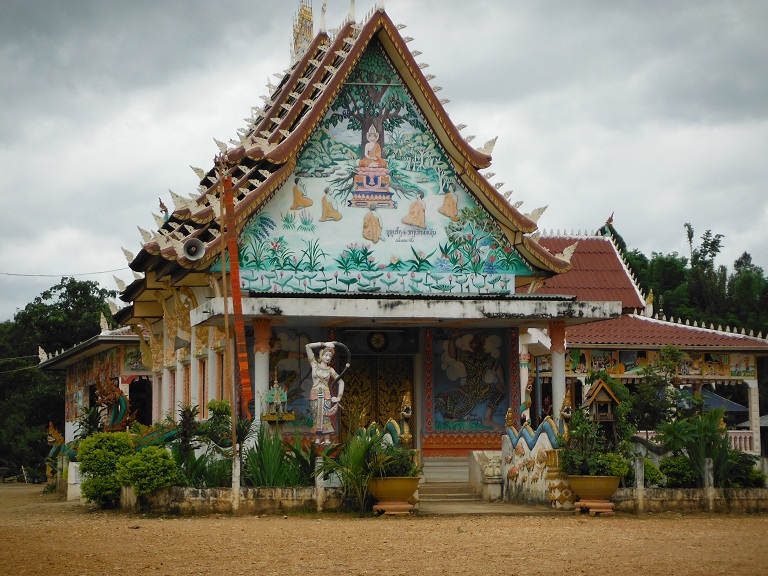 Back in Xam Neua.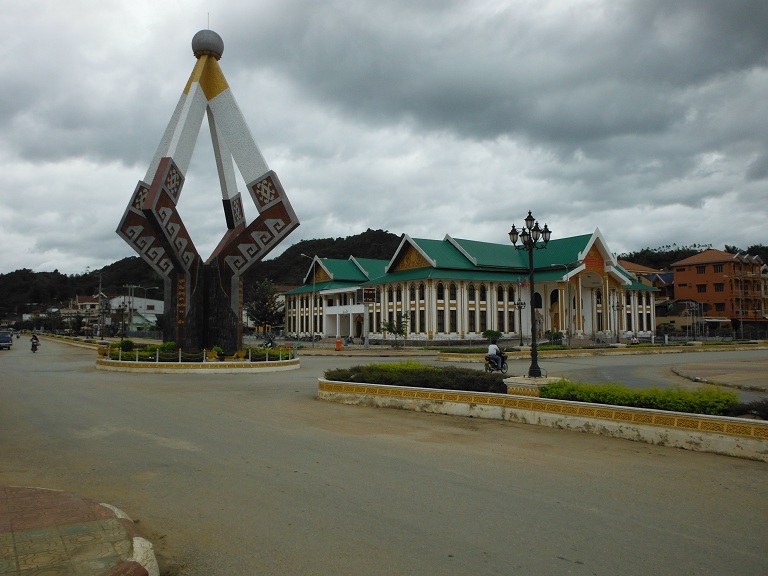 Looking down upon the thriving town of Xam Neua.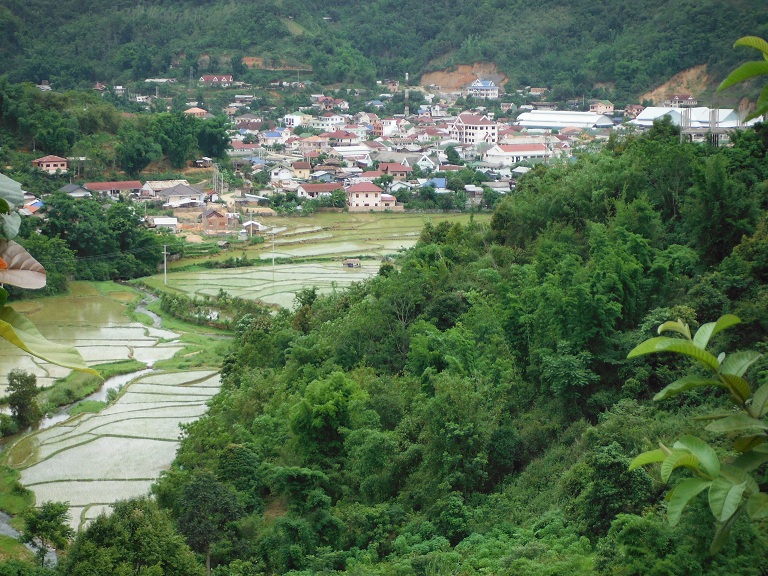 This is a great part of Laos. But you need to get a little wet to see it at its best.
Moto-Rex
Last edited: