Just back in Khon Kaen after a trip up to Chiang Mai, 5 days out and about and back to Khon Kaen, on Brian's 2008 Blue R1, which has very low mileage.
Previously having ridden the bike for a couple of day rides, I had concluded that it was good for a day blast, but not for long distance or around town.
Now I have used the bike constantly for 6 days, covered 1700km wet and dry and run it around busy Chiang Mai streets I have a very different perspective.
The bike is for sale, as described by Brian here:
2006-fz1-2008-r1-and-2005-dzr-400sm-for-sale-t7710.html
Pictures taken here now I am back and have washed the bike, show it is still virtually showroom condition.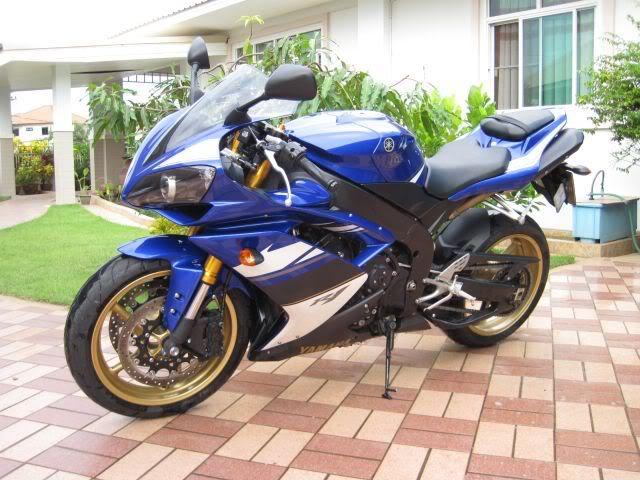 My 20L Kriega tailpack attached easily to the very small pillion seat, and I used a tank bag, the large flat tank area allows easy fitting of a magnetic bag, 2 coats of polish before fixing, as Brian does not like tank bags. A bag used here should not be too tall or it will prevent you getting your head down at higher speeds.
I left KK on dry roads at 6.00am with overcast skies, only to run into heavy rain after 20km, I did not stop as it looked long lasting, and found the bike very stable and was able to proceed along the dual carriageway confidently at a good speed. The windscreen offers little protection, but the fairing protects the lower half of the body quite well. The rain dried up after 40km and the rest of the trip was dry. As I waited at the lights in Chumpae, a positive side of the rather warm engine emerged, as I started steaming and drying up. As I approached the higher ground of Nam Nao, it was quite cool at this time of day and my legs were eagerly embracing the bike and enjoying the warmth. As I started climbing the easy approach with gentle long sweeping bends to the higher ground, the bike eagerly roared up the hills, the standard exhaust note is quite sexy at higher revs, but not too noisy. I was travelling at least 25km faster than I normally would without really noticing. Up and over, I found that 140 to 150kph was a relatively relaxed pace, still sitting quite well up, at that speed the wind balanced the body weight and virtually no weight on the wrists. Also some weight taken on the feet most of the time, helping to balance the harder than used to suspension, against some road surfaces. The bike definately transmits more to the body than bigger heavier plusher bikes, but I found I could absorb a lot of this with the legs. A lot of my journey to CM was about finding the best way to sit on the bike, on the different types of road and at different speeds.
Overtaking is an absolute breeze, by the time you have thought about it and your brain has given the go ahead, you are nearly past , its that quick, and believe it or not I rarely dropped down below 4th gear, usually one gear to 5th. The bike is not one of those revvy buzzy bikes that you must drop down several gears to do anything, it will easy pull from 130 to 160 in 5th gear in the blink of an eye.
I was not sure of the bikes fuel range, it has no gauge, only a warning light when low, so I filled up during the rain, before Chumpae, not being willing to run out on the barren top of Nam Nao. My experience was that the light comes on just before, or 20km after 200km, depending how hard you are pushing, and you have at least 40km on the orange light. So range around 230 to 250km.
I tried some higher speed runs on the long quiet dual carriageway, to Uttaradit, I will not quote the highest speed I got to, it was over 200kph, but over 190kph, I could not hold my head still. The bike was absolutely rock solid at these speeds, but I was not, with the tank bag, I could not lay my head on the tank, and even before I get so far down, I am looking over the top of my glasses, and do not see too clearly. not a good recipe for safe onward travel. The bike does not show any unpleasant vibration at these speeds and there is still a quarter of the rev range to go. Not my territory.
Later experience had me ocassionally travelling at 190kph on the boring straight bits, but for me this is not a bike for very high speed travel, too much wind buffetting on the unprotected upper half of the body. i was stupid enough to open my jacket zip just a few inches on slower road before this. It is a good quality Richa jacket. As the air was travelling through my jacket at around 200kph, and had nowhere to go, it ripped an escape hole, under both shoulders, tearing the seams open.
That brings me to the heat of the bike. Wearing good jeans and boots etc, it is not really an issue while travelling, this was a cooler day, but during the rest of my trip, I cannot say it was ever that bad. Don't ride the bike with flip flops and shorts though.
As I got to know the bike better I enjoyed it more. It got me to Chiang Mai, in 6 hours with 3 stops, 4o minutes or so quicker than I have done it before and it did so with no feeling of being pushed, it was easy.
I had absolutely no back discomfort, my wrists were aching from time to time, but only when riding, the seat was comfortable for me, but i was enjoying moving around a lot on the bike, hugging the tank, and sometimes weight on the legs. I was no hotter than I had been on my other bikes, Arriving in CM, nothing was really hurting or aching, I could have gone a lot further.
The bike is a very good looking bike and gets a lot of admiring glances, people look up when you accelerate away, it is not noisy, it is powerful, it feels good to be seen with it.
i used the bike for transport around the town and found it coped very well with the moat type of start, stop, accelerate, find the gap, brake type of traffic. I enjoyed riding it around CM, yes sometimes a bit hot, slim and easy to get through traffic lines to the front. Never took a pillion on it, and would not want too, one negative point I suppose. It is light and easy to manhandle around carparks etc.
It does have a long turning circle and sharp U turns take a bit of technique to get used to, but once there, it is easy enough.
At traffic lights it burbles away, and it does need good throttle control to pull away smoothly, too little it stalls, too much you are in danger of lifting the front wheel.
I made the mistake of pulling alongside a noisy Honda Shadow, it pulled away on Green and I stalled. I could not hear my engine, the Shadow masked it completey.
Got used to pulling away smoothly quite quickly, you cannot race off as there is often one last car or bike, jumping the red. I also got used to sitting on the bike and distributing my weight so that I was not getting too hot, or hurting my wrists, it quite quickly became part of me and I felt at home with it.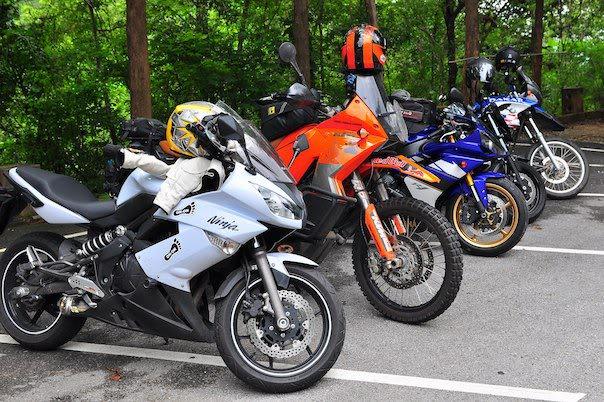 Trip to a waterfall as pic shows, Riding in a group he bike proved quite rideable at sub 100kph, and no you do not have to stay in 1st gear, it is steady in 6th at 3700rpm and will pull away without dropping down. Heavy rain on the way back to CM, again great grip, stable, cut through standing water no problem, lower half not too wet, and top half not too bad as I kept moving at good speed again.
I really looked forward to the journey back, blessed by coolish dry weather, it was a blast, under 6 hours, absolutely no incidents, or near misses, the bike was a pleasure and this time not even any wrist ache.
Stopped for noodles just past Chat Trakan, opposite Eng Doi that David recommends, This noodle shop newish, clean and 20baht with free water.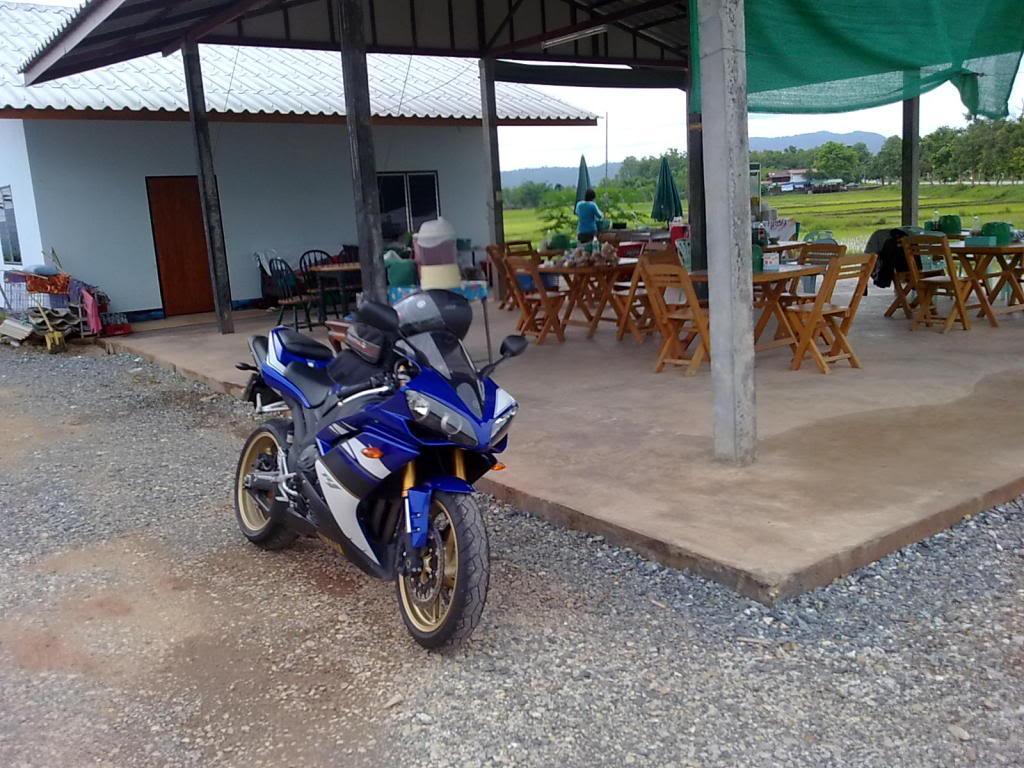 So I was very impressed with the R1, I would have no hesitation in taking it on long trips again, and now enjoy it in the town. However reality sets in, and after washing and drying it is sitting covered up waiting for a lucky buyer.
Back onto the FZ1 in KK, it felt stiff, upright, and clumsy, but I will soon get used to that, and then back onto the BMW, what will that tractor feel like??