A couple of attempts to get to Doi Mae Salong
After 2 previous visits to Chiang Mai, renting motor bikes was looking forward to this trip with my own bike, (even if it is pink, and I bought it up on my trailer..). Since having the head bearings replaced, on the bike, a while ago, have always had trouble with the head bearings working loose, so this time before leaving Phuket, I removed the triple clamp, cleaned it up thoroughly, and used a liberally amount of 'Loctite' on the thread, hoping this will cure the problem..
By the time we had triailered the bike, about 1,500 miles to Chiang Mai, (via Isan), the head bearings had worked loose again. So whilst in Cnx, rode to see Snail, and ask his advice. When we stripped the forks down again, noticed that the balls had started to disintegrate, and there were small metal filings all over the place. So a new set of Genuine Honda Balls were installed, and we hoped this would solve the problem. (Seems the mechanic I had previously been too had used aftermarket balls).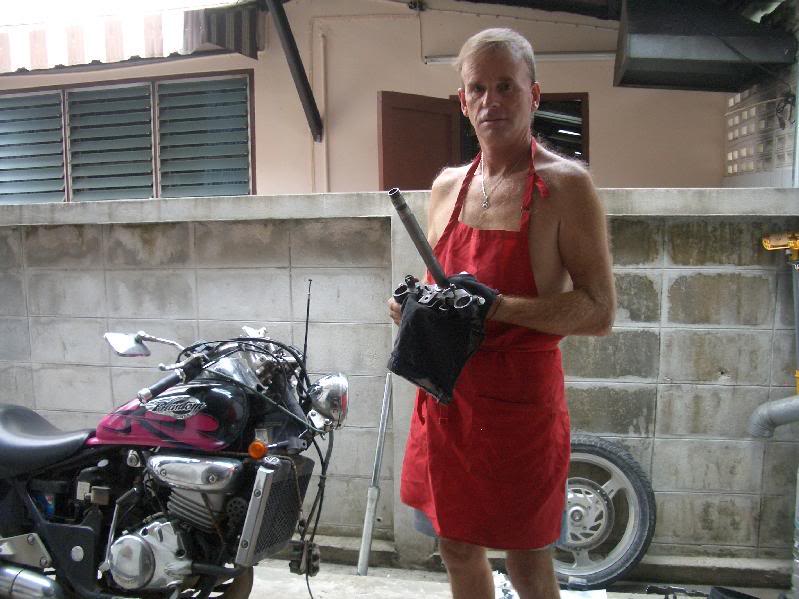 Now.... where does this bit go......
So, when all fixed, we loaded up the Phantom and set off for Fang. We got as far as Chiang Dao and the bike started to splutter a lot. Checked the plug and there wasn't a spark at all. Sat for a while wondering what to do, and thought I would give the bike a kick (start that is), and to my amazement the bike started, so we limped back into Chiang Dao, and passing Kurt and Mon's restaurant, Elle noticed Mon walking across the road. So we pulled into their guesthouse, and had a quick word with Kurt. They had just returned from their diving trip, and were leaving for Canada in a couple of days. Kurt showed me his new Harley all wrapped up, along with his Steed.
Kurt mentioned there was a mechanic, next door, so pushed the bike there, and after a bit of prodding about the mechanic told me it was the CDI unit that was faulty. He said we should be able to get back to Chiang Mai, when the engine starts spluttering, just pull over and let it cool down for a while. So we said our good byes to Kurt and Mon, and headed back to Cnx.. We managed to get as far as Mae Rim, before the engine started to cut out again, so pulled into a gas stations and waited for 30 minutes for CDI to cool down. When time was up, we were able to get back to Cnx in 1 go, and drove straight back into the local Honda workshop. (They have got to know us now, we have been in twice before, in the last wek, to get work done on the bike). The shop confirmed it was the CDI and would take 4 days to get a new one up from Bangkok. So it was off to see the lovely Mrs. Mechanic, and rent a Honda Dream, again from her. We had hired same same bike on our 2 previous visits there, last Dec, and Jan.
Whilst on the Dream, we did some local sightseeing, (Tesco Lotus 3 times), visited the zoo to see the panda's (that's good for brownie points) etc etc. On one of the many nights in The Kafe, David Unk suggested instead of going all the way up to Fang before turning off to Doi Mai Salong, once you have gone through Chiang Dao, turn left on the 1178. This is a much more scenic ride to Doi MS.
So when bike finally repaired, we were off again, this time bike running perfect, steering nice and tight (no loose balls…). We went through Chiang Dao, left on 1178, as far as Pha Dang, then turn right on the wibbly wobbly road. Now so far the road had been okay, but once we did the right had turn, the road got a lot narrower, and steeper. The road surface, still sealed, but it was raining constantly, and lots of leaves on the road. By now the head bearings had worked loose, AGAIN, so was trying to use the front brake as little as possible, which made for an interesting ride. On one very steep hill we only got half way up, left it too late before I changed down into first, and couldn't go on any more. I stopped, had the front brake hard on, and to my amazement the bike started to roll backwards, with the front wheel locked. So here we were, 2 up on Miss Pinky, going backwards down the hill. I was paddling with my feet, keeping the bike upright, then my el cheepo plastic shoes came off, so now paddling backwards in my bare feet. I turned the handlebars to full lock, and front wheel still locked solid, we finally came to rest at the side of the road, luckily still upright. Elle got off the bike, walked back up the hill to get my shoes, which were sitting in the middle of the road, walked back down to me, gave me my shoes, then she walked back up the hill. I rode down the hill a bit, turned round and rode up without a problem. Once I had collected Elle at the top, (not literally), I made sure I put he bike in first gear, in plenty of time, and we got up all the other hills without incidence.
Suzuki Luke and Big & Tall had done the same ride shortly before us and B&T has already posted his report. We stayed at the Shinsane Guesthouse at Doi Mae Salong. A real friendly place, internet 10 baht an hour, the owner even has Vista running on his pc, but everything on pc in Chinese.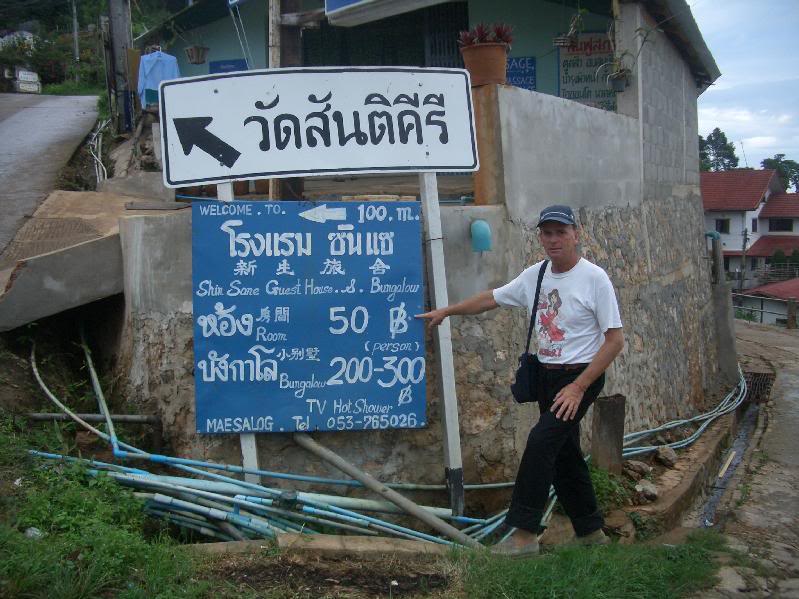 Howz this for a cheap room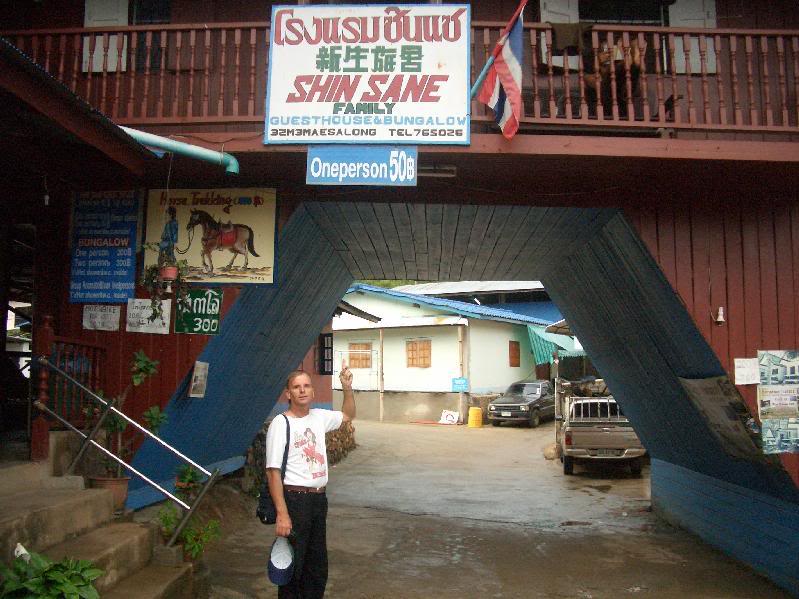 This is what I call value for money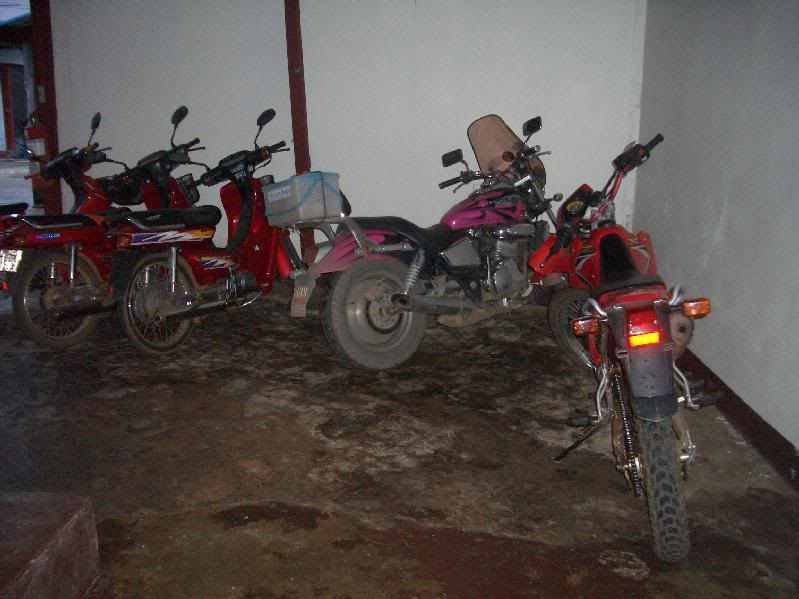 And Miss Pinky can be parked under cover
If ever you visit Doi MS, read up about it beforehand. Quite an amazing place, its all Chinese refugees, and no one speaks Thai there, quite an unreal place.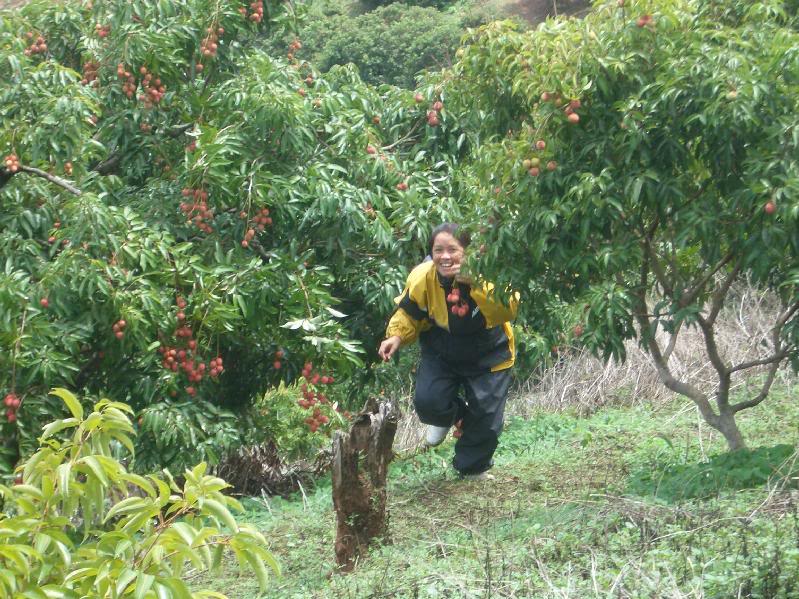 Having a Thai girlfriend has its advantages, can be
very cheap to feed, especially when passing orchards.
After 1 night there, it was an easy ride down the hill, (on the decent main road now), to Chiang Rai.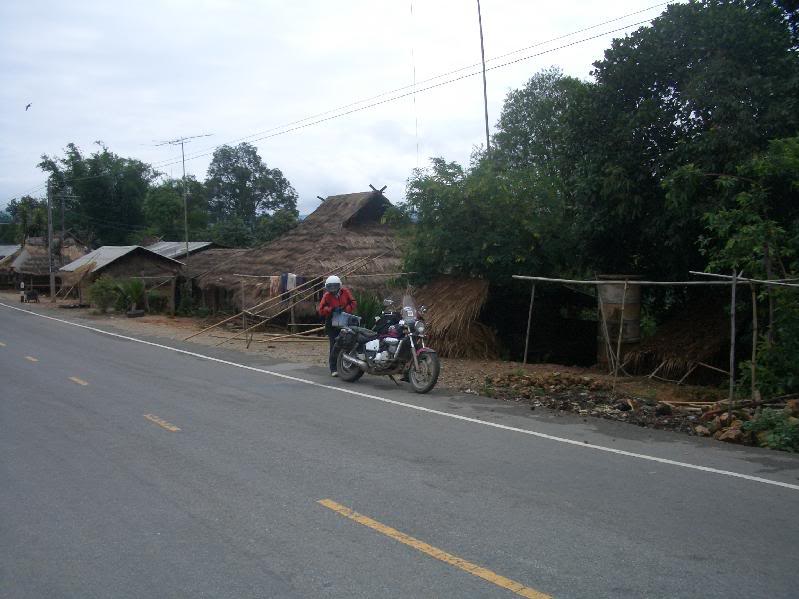 Typical Thai village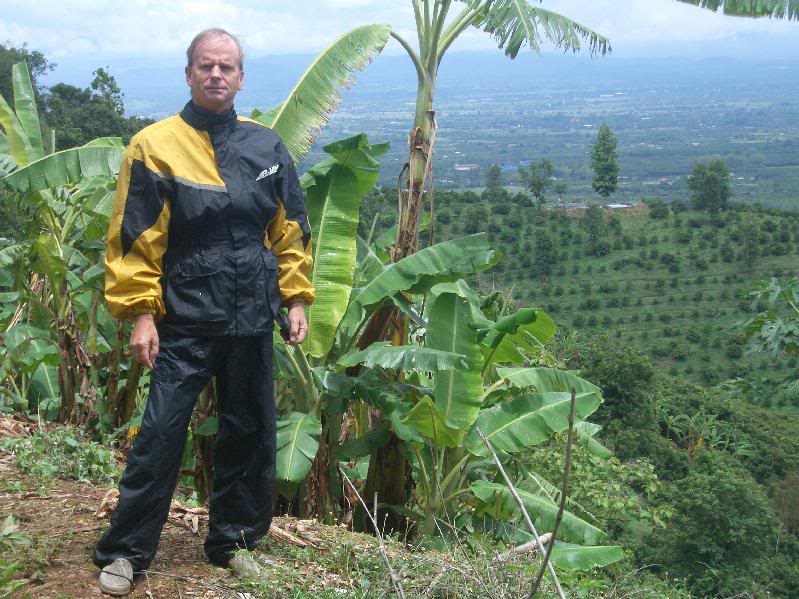 That's Fang, way down there
Whilst in CR, we had a meal for 10 baht, (any 1 meat dish and rice – 2 meat dish and rice 20 baht). Bought another bike, this time a Honda Degree XL 250, and then spent the evening looking around Chiang Rai. (Wonder what the code is for Chiang Rai). The next morning on the way back to Chiang Mai, we stopped off Pa Sak, to have a look at the all white temple. After seeing so many temples here in Thailand, all gold in colour, it was strange to see one all white.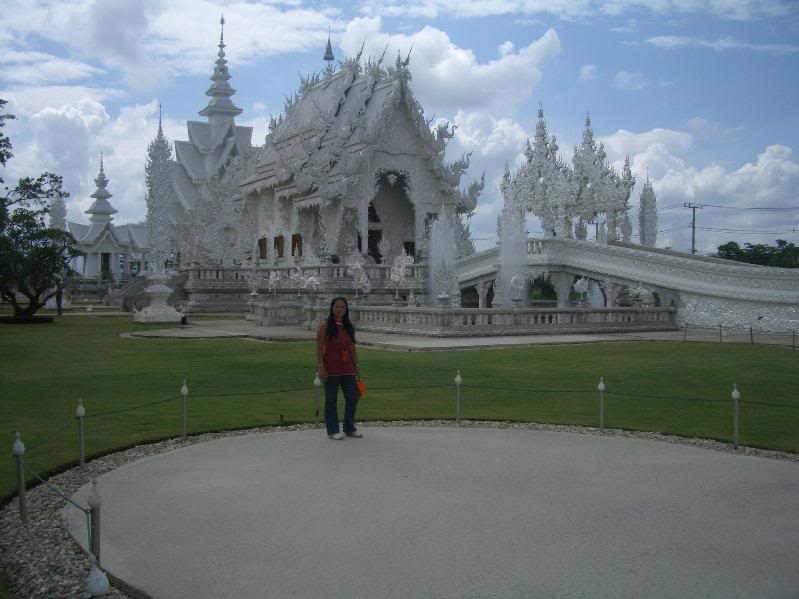 Whiter than White Temple
So when finally getting back to Cnx, called into Joe's and we had another go at tightening my head bearings up again, this time we replaced the cups as well, and so far seems to have done the trick.
Am slowly ticking off the various rides/routes listed in David's book, cant wait to get back up there again. (Next time will have to see how many bikes I can fit on the trailer…)