Well after many false starts I finally made it to CM last week and wanted to share my experiences.
I had stumbled across this website and forum while preparing for my second, ill fated, mountain bike tour in Thailand and Cambodia. After deciding that I was too old for cycle touring, I thought that motorcycle touring would be a good second option. I have no real motor cycle experience, having ridden Honda Waves in Phuket and Pattaya before, and an XR250 around a mates paddock a couple of times. I was very nervous about my abilities.
I had planned a group tour with mates for November of this year, but the imminent birth of my second child put a stop to that. Instead I decided to spend a couple of days 'testing the water' before returning at a later date with some friends for some more adventurous routes.
The Flight - BKK-CNX.
I bought a return ticket from Thai Air Asia for $3000THB including everything.
The Digs -
I booked three nights at the Royal Princess which was a good location I think, but probably a bit pricey at 2000THB/night. For a longer stay I think I would downgrade. The hotel was nice, the rooms nice, and the staff very very nice (of course). The guests were surprisingly about 80% Arabs.
The Bike –
The are bike places everywhere in CM, literally everywhere… I had tossed around the idea of getting a Honda Wave, since I have very very limited riding experience (I have ridden a geared bike twice in a mates paddock), but thought that something a bit bigger would be more comfortable and working less at speed. I chose to get an XR250 from Mr Mechanic but can't say I was overly impressed.
The XR250 –
The bike was quite uncomfortable over long distances, more than about 1 hour in the saddle as a stretch was hard work, and although I am sure the bike would be fast enough, the wind buffering over 90km/h was probably worse than on a Wave. I chose the XR250 because I thought that the high ridding position would make it easier to see, especially around town, and it probably did. I have never ridden a road bike so I couldn't compare it to anything else. The bike also had no mirrors, which made it quite difficult to ride in traffic. I guess this is normal for a dirt bike, but something to consider when choosing a bike. I would probably choose a different type of bike if I wasn't going to do any off-road work. The XR250 was 700THB/day +100THB for insurance.
My XR250 -
The bike was very well worn to say the least. The indicator warning light didn't work, the engine made some seriously bad noises (maybe piston slap) under load, the clutch was out of adjustment when I picked the bike up, and although it seemed to hold up OK, I think wasn't really working properly. If I dropped the bike into first with the clutch in and no brake, it would start moving forward immediately and quite fast, it was impossible to find neutral with the engine warm, no mater how careful. I told the staff at Mr Mechanic when I returned the bike, and was told, "Is Normal, No Problem". A couple of members here told me that Joe's Bike Team is a good place, and I think I will try them instead next time. It seems that the "Lonely Planet" Brigade is becoming more the target market for Mr Mechanic.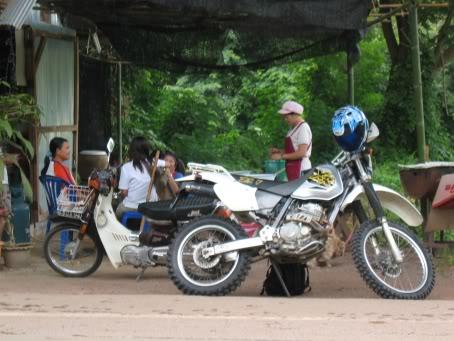 Other Info –
I was lucky enough to meet up with a few forum members at 'Kafe' on the Monday night. Terrific people, easy to chat to, and I can not thank BobS enough for taking the time to help me out with answers to stupid questions and guidance where needed without a complaint.
I asked Mr Mechanic if they had a smaller helmet than the one I was given, but the answer was no. I could have bought one from home, but didn't think it was worth it for a couple of days. I thought about just risking it with the oversized ice-cream tub that came with the bike, but when I was told the price of local helmets decided my wife would think it a worthwhile investment.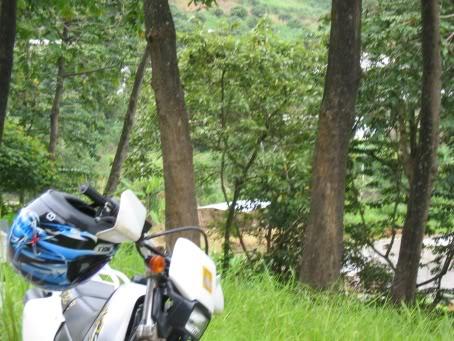 Since I was so nervous on the bike around town I was always lost, unable to take any bearings due to complete focus on the traffic, but managed to find a place BobS recommended to but a Helmet. I bought a good looking full face Index helmet that fit for THB800. In line with the saying "If you've got a 20 dollar head…" this was probably overcapitalised, but at least it looked good.
I didn't manage to find the place BobS recommended to but wet weather gear, which I would regret on Day 2. I should also have bought gloves and a better map than the 1:450,000 (PN) map.
Day 1 – Chiang Mai, (108) (1269) Samoeng, (1096) MaeSa, Mae Rim, Mae Sa, Mae Rim (not a typo) (107) Chiang Mai.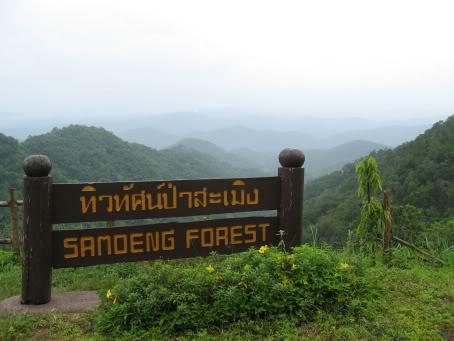 I woke up early, but by the time I managed to find the helmet shop, and then work my way out of town by the longest route possible it was actually about 10am before I was seriously on my was along the 108 out of Chiang Mai. I am not sure if I took the wrong turn to Samoeng. It was signposted for Samoeng, but was actually the 121. Eventually it joined to the 1269 and I was on the loop.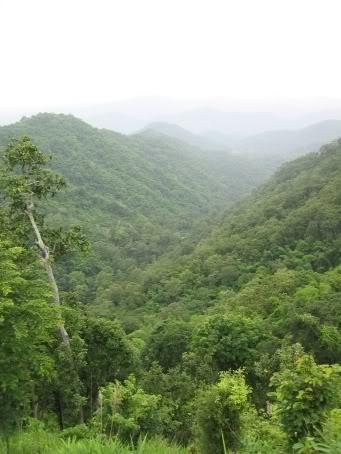 With the indicator light not working, I knew right from when I picked up the bike that I would end up riding the first 10km of the loop with the blinker flashing like a complete amateur... I was right...
What can I say; the roads are great, the scenery beautiful, and the people lovely when I stopped for "nam plao nung khuad".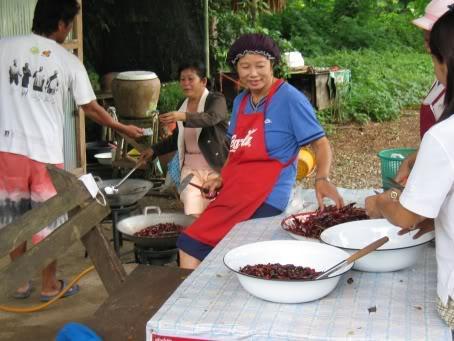 Along the 1269 the whole way were a crew promoting the new Suzuki bike... one bike in the back of a ute with PA, signage and flags, and a crew of 6 bikes ridding around it, stopping and handing out T-Shirts and promotion leaflets. We would leapfrog each other the whole way top Samoeng as I stopped to indulge the senses, and they would pass at full volume.
I rode down into Samoeng in search of gas. I couldn't see any place in the main town, but found that if you turn right at the T intersection when you come into town, and follow it about 1Km out of town there is a PPT. THB190 of fuel suggests that it was good that I stopped. (The bike only has a reserve switch, no gauge).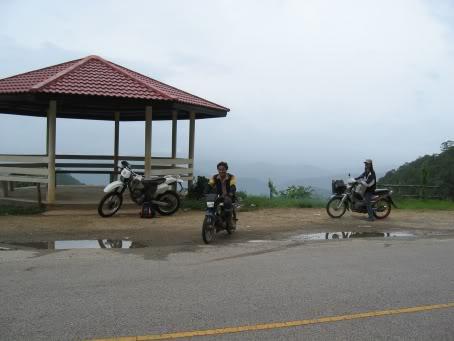 Up and out of Samoeng to the intersection with the 1096. All clearly signposted and extremely beautiful.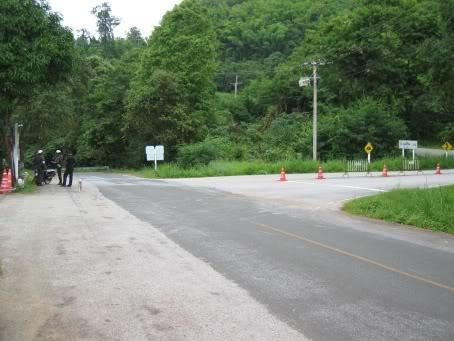 I think I saw only one other vehicle the whole length of the 1269 to Samoeng, and along the 1096 as far as the town when you come out of the mountains only a few. I stopped at Country House for lunch about 12.30pm. After lunch I had a look through the Mae Rim Waterfalls National Park, which was nice enough, and then rode out to the Intersection of the 107.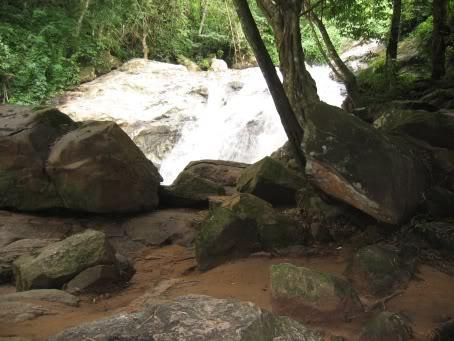 As suggested by BobS, instead of dealing with the traffic on the 107, I did a U-Turn and headed back to Samoeng. I got as far as the bottom of the mountains when the weather turned nasty, and decided that as a motorcycling novice, without wet weather gear, and starting to get a bit late in the afternoon, I would turn around again, and deal with the 107.
BobS is right, the 107 is a pain in the @rse. Straight, heavily trafficked, lots of cars turning across your nose to park, or reversing out in front of you, pushing you into the traffic. Nothing that caused any great alarm, just interferes with the flow and the enjoyment.
Where the 107 meets the 11 (Super Highway) road works prevent a straight crossing, so you need to turn left, U-Turn and then Turn Right into the 107 again. Easy enough if you are prepared for it, not if you are not and can't be shagged to stop and get out the map again.
The Samoeng loop truly is spectacular, the roads are magnificent, the scenery indescribable, and the feeling of being free from 'the tourist scene' wonderfully fulfilling.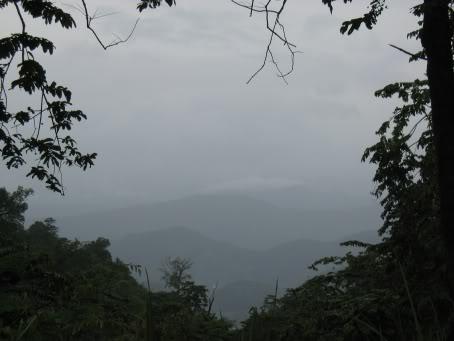 I arrived back in CM about 4 in the afternoon, enough time to find somewhere to eat, then somewhere to drink, then somewhere to drink, then somewhere to drink, then somewhere to drink, then somewhere to… I think you get the picture.
Day 2 – Chiang Mai (106)(11)(1001) Phrao (1150)(1346)(107) Chiang Mai
I actually made sure I took it pretty easy on the beer, on Tuesday night, so despite not returning to my room until 2 was able to rise at 8 and be eating breakfast (and drinking coffee) at 8:30.
BobS had given me directions out of town that was so idiot proof, they were actually Daewoo proof. The run out of town to the 11 was so smooth I had to keep stopping to check I was still going the right way. The 106 meets the 11 at a T junction, there is a little tunnel under the 11, and then you can stay on the service road until you reach the 1001, so easy, even I could do it. I did.
The 1001 is a pretty boring, mostly straight, mostly non-descript transport from A-B kinda road for the first 40km. After that it is mostly less straight, but still rarely very exciting most of the way to Phrao, a few bends here and there, some nice green areas, but still just a transport road.
At the T intersection as you come into Phrao, you need to do a left right left to get to the PTT. Good clean hawng nam here as well.
Following the road 1150 heading west here, not far along you will come to the junction for the 1346. I rode along the 1150 for a long way before going back to the 1346. Both of these roads are sensational, and I couldn't decide which one I liked more, so I did a big chunk of both.
Unfortunately, it was about here that it started pouring with rain. As detailed earlier, I have almost no experience riding motorbikes, so as soon as the road was wet, I took things very very slowly. It was a little embarrassing to catch up to an old lady on a step through, putting along and then have her overtake and ride away from me at the first winding downhill, but it was important that I make it home in one piece... a mans gotta know his limitations...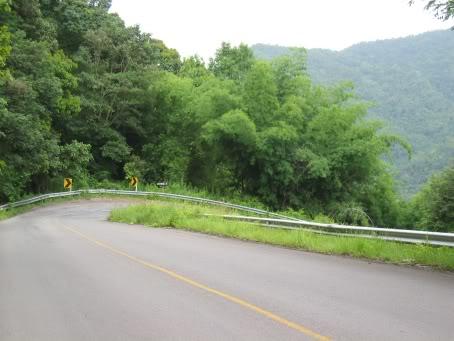 The road after Phrao winds its ways up and down mountains, through steep limestone outcrops, and past gloriously green fields. This was the sort of scenery that I love so much in Thailand. I don't think I saw any other vehicles on the road, other than the afore mentioned speedy old lady. I was so caught up in the moment that I forgot to stop for any pictures until I hit the 107.
The 107 this far up is completely different to the 107 south of Mae Rim. It does carry a fair amount of traffic compared to the back roads, but it is still a gloriously winding and scenic piece of blacktop. There was quite a lot of long sections of road works, the rough change from blacktop to dirt could and did sneak up on you quite quickly. The resulting red mud that covered the bike and my jeans would make me look much more adventurous when I later stopped for gas at the PTT.
Compared to the 107 south of Mae Rim, this section was often able to afford me long breaks without another vehicle on the road, and the road follows along the side of a fast flowing river which is very nice.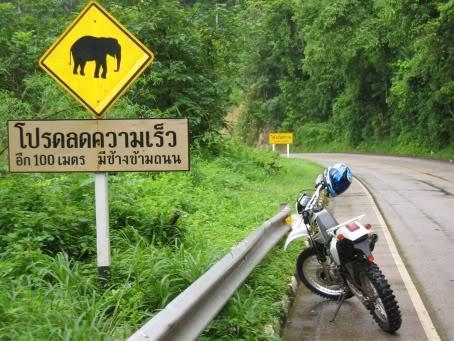 I stopped for fuel and a coffee just North of Mae Rim. I was a bit confused because the attendant didn't really know if my bike needed gas or gas-ohol... I guess straight gas although I don't know what the result of using gas-ohol would have been.
My intention was to turn off the 107 at Mae Rim and do the Samoeng loop again, coming into Chiang Mai from the south, but by now it was getting towards 4pm, raining quite hard, my lack of wet weather gear had left me soaked and freezing, the weather was closing in even more to the west, (where the hills between me and Samoeng are) so I decided another blast down the dreaded 107 into Chiang Mai was called for.
I was much braver this time on the 107, mainly staying in the fast or car lane and holding a speed at least as fast as the cars and trucks. It wasn't as bad as the day before, since I wasn't dodging cars pulling onto and off the road.
I hit Chiang Mai in the late afternoon and returned the bike to Mr Mechanic. It was actually a bit of an anti-climax, just riding up to the shop, picking up my passport, telling the problems I had experienced with the bike (no problem, is normal) and leaving. I wanted to herald to the world my adventures as a non-rider, but instead I headed to the pool bars to drink and be merry... my own private celebration...
I am sitting here, thinking about the poor fools who gather in their hundreds at the Park near my House each weekend to have a blast along the 30km, police infested, Volvo driving picnickers infested, traffic infested road through the Royal National Park. These guys with their $30,000.00 Ducati's must surely dream about the roads around Chiang Mai, yet not even realise just how accessible they are... even as a non-ridder, I can see that they must be the absolute ant's pants for ridders. Anyone who has the opportunity to experience them is truly blessed. I hope I will be back again soon.
Lastly, and again, a big thanks and g'day to BobS for all his help before and during my trip. A great guy, a beautiful wife, and a fountain of helpful knowledge.
Cheers,
Daewoo
By the way, this report was a pretty rushed and concise report. If you have time to spare, please have a look at my cycling Thailand journal at
http://www.darryleaston.crazyguyonabike.com