The opening of the Triumph Dealership had many excited at the prospect of a celebration with birds, bikes & beer.
One in particular was very happy with what was in the store for him.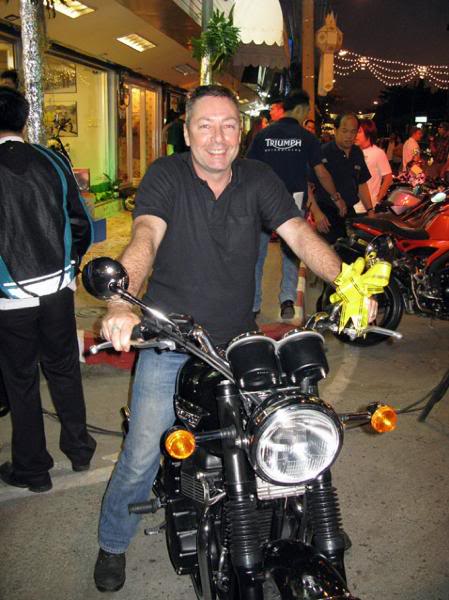 Khun Dom the MD of BritBikes & Khun Nareerat did Triumph proud and put together a very good bash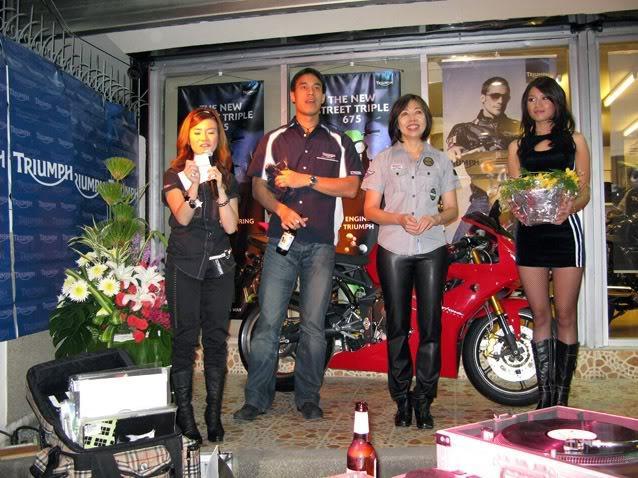 I had made it just in time fighting my way up Route 1,
past the possies of
apehangers
hogging the fast lane,
chugging along on their Harleys at 70kph with attendant flashing Vigos.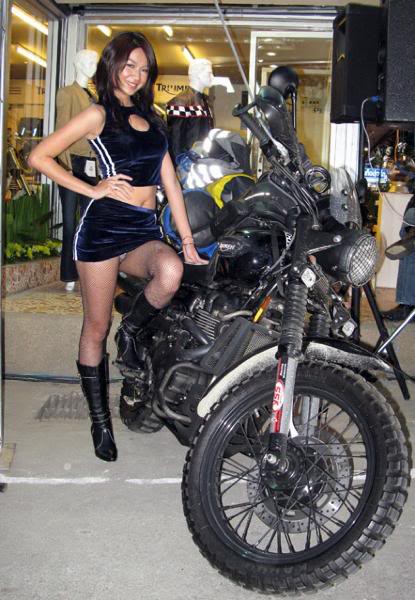 The bugspattered Scrambler was given prime parking space with its own attendant!
On Saturday the Cheshire Cat wanted to take his Bonnie out.
A number of us joined him on a run to Charin Resort on the 118.
We met at the PTT station just outside the ringroads and headed north.
RobertH had his mate Frankie over from Hong Kong so the KTM DeathStar And Africa Twin led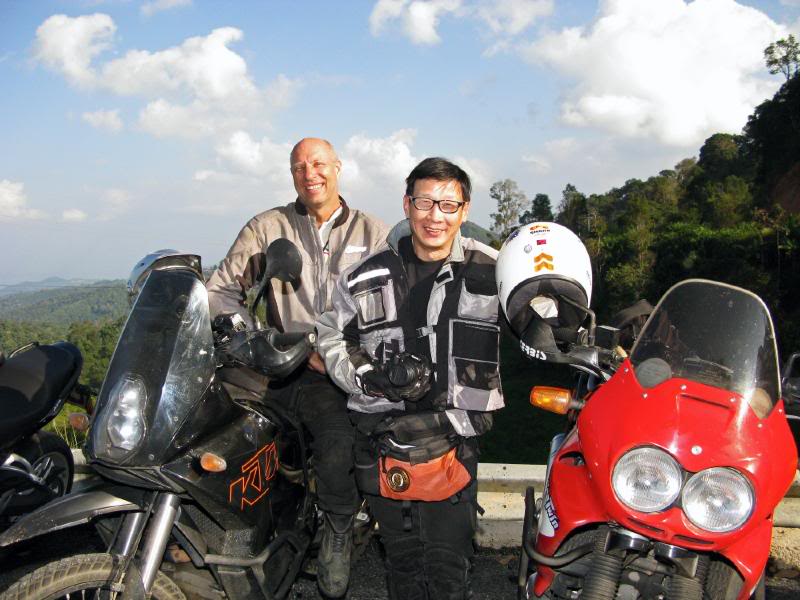 with Silverhawk on his DR 650.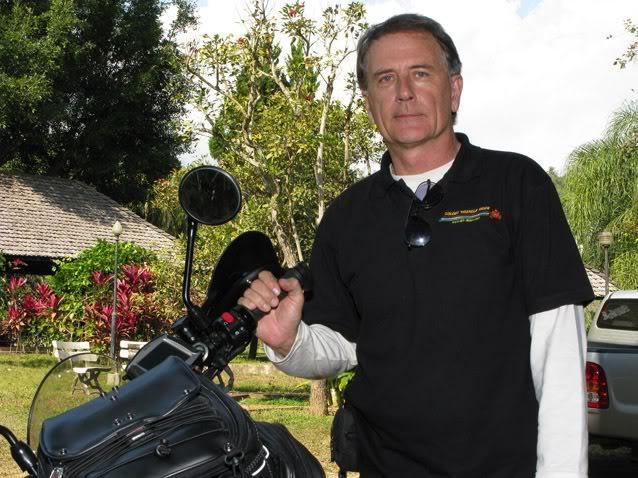 Ian Bungy had brought along Tim on his exceedingly tricked out CB1300.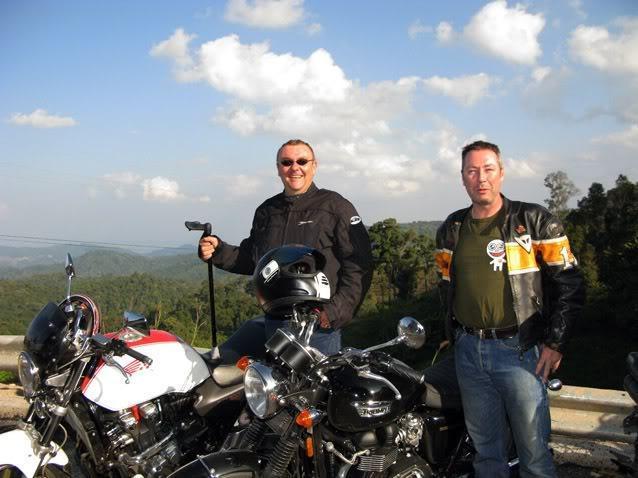 With Marcus on his new XR 250 Jeff and myself bringing up the rear.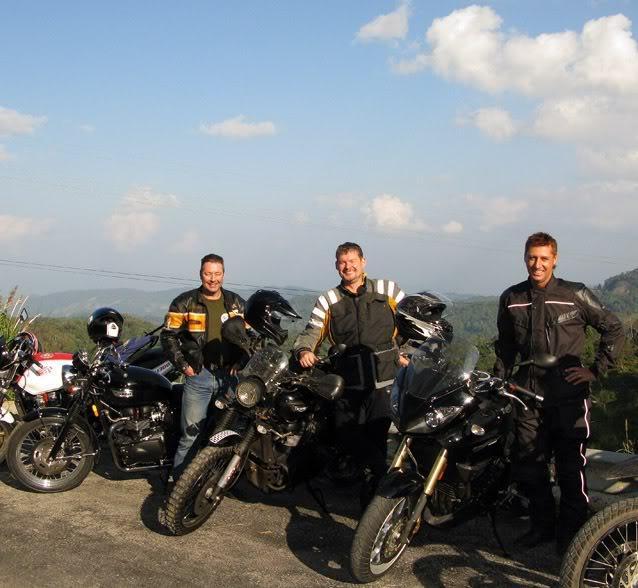 Traffic was the endless crocodile Toyota chains of Vigos & Fortunas with the odd chugging HGV slowing everybody down.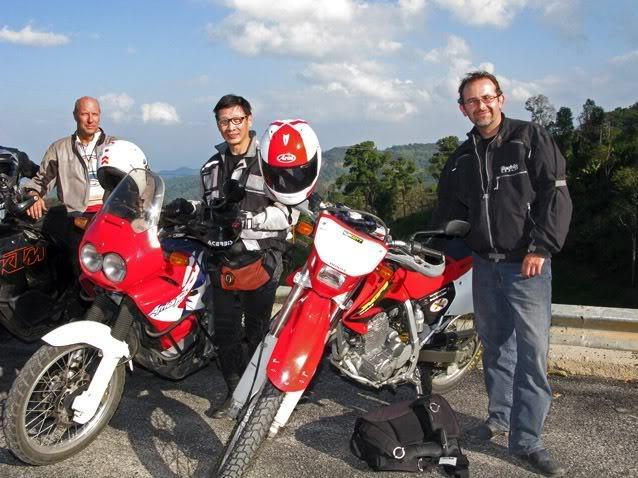 Marcus Rung the neck out of his XR ably keeping up with the fast pace set by RobertH.
In just over two hours we got to Charin Resort in time for late-elevenses for those on the pie or an early lunch for the rest.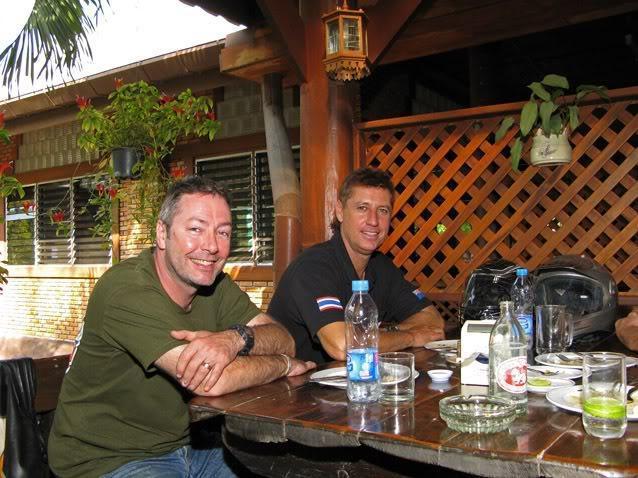 The evergrinning Jeff & hiss fellow Triumph rider Ian.
Marcus Silverhawk & Tim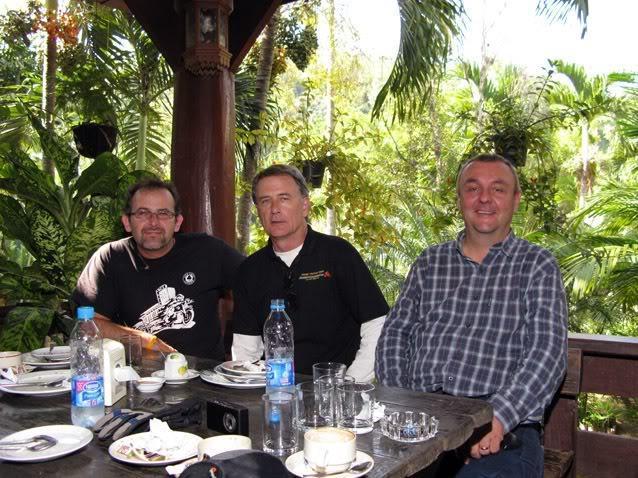 RobertH & Franki bonding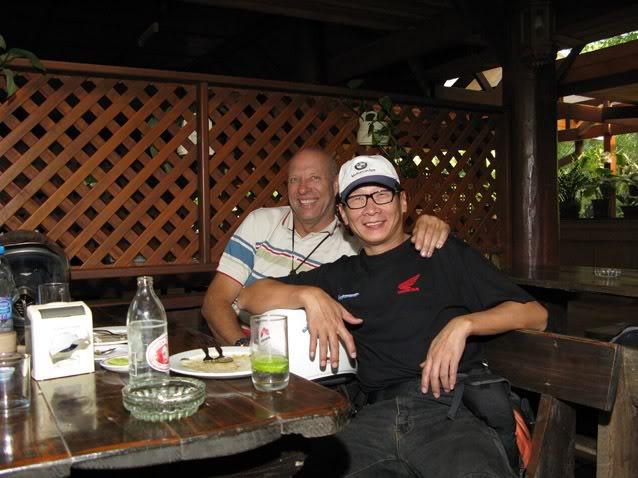 Silvehawk left us to head north to meet up with the Guv'nor - who was last seen having breakfast at the Bierstube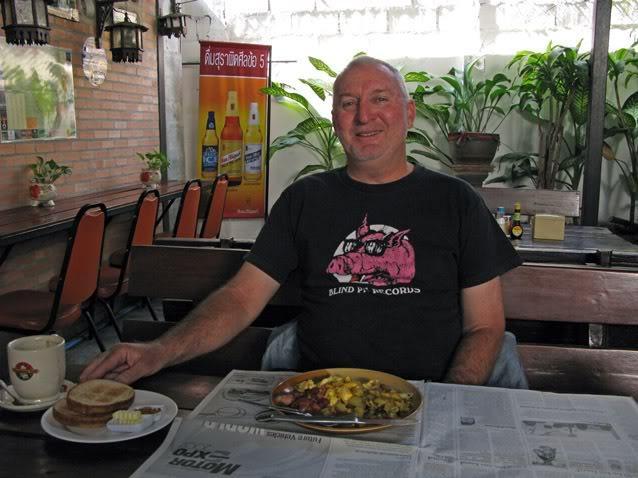 On our return we turned off at Wiang Pa Pao to Phrao and headed home on the stunning 1001.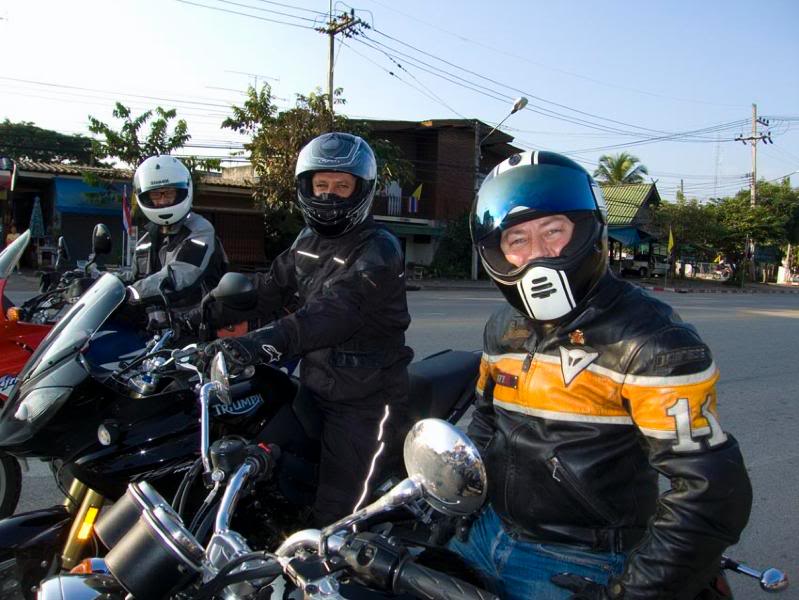 The road was patchy in parts and excellent in others.
As we filled up we saw a Thruxton roar passed - it was one of the BritBikes guys. We soon caught him up on the mountainous road as he struggled to manouvre the race replica complete with clip-ons around the twisties.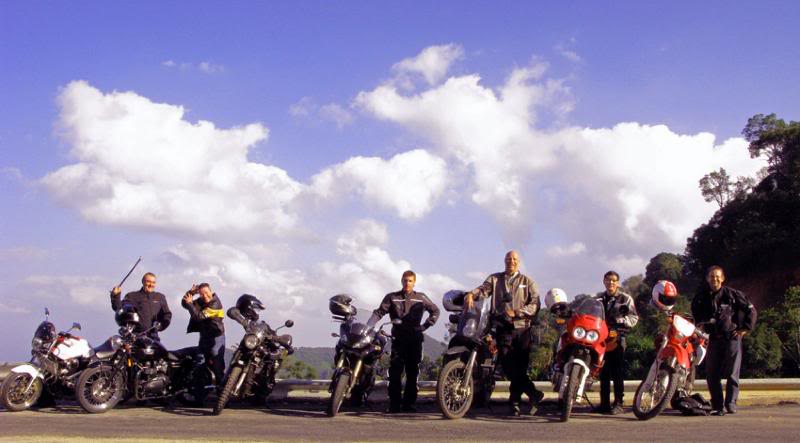 We stopped for a group shot as the sun was in its "golden hour".
As we rounded the corner we came upon the BritBikes crew with a MultiStrada rider down with a busted fairing & clocks.
He seemed shocked and with a bruised leg.
Despite the damage the Duke was rideable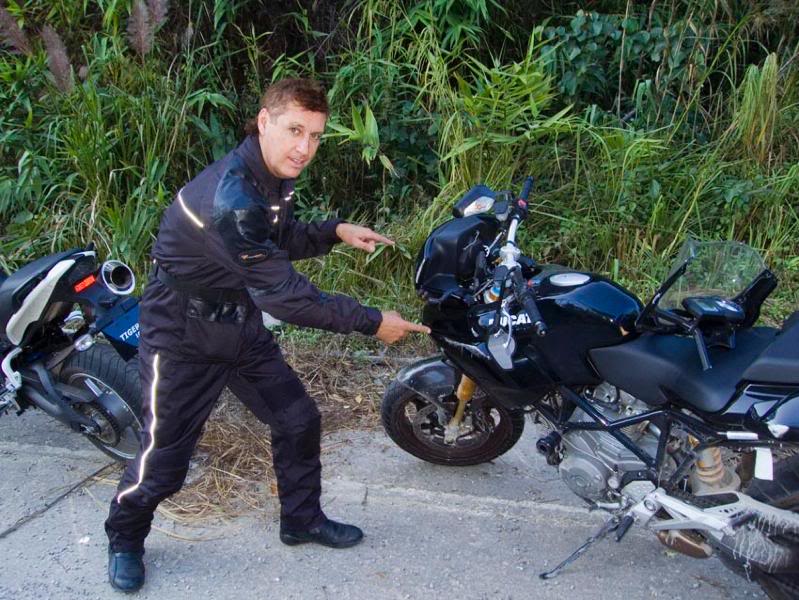 But Ian, who had nearly bought one, was quick to point out its unforgiving suspension entirely unsuited for the twisty mountain roads.
Nearer to home Pikey & I swapped British iron.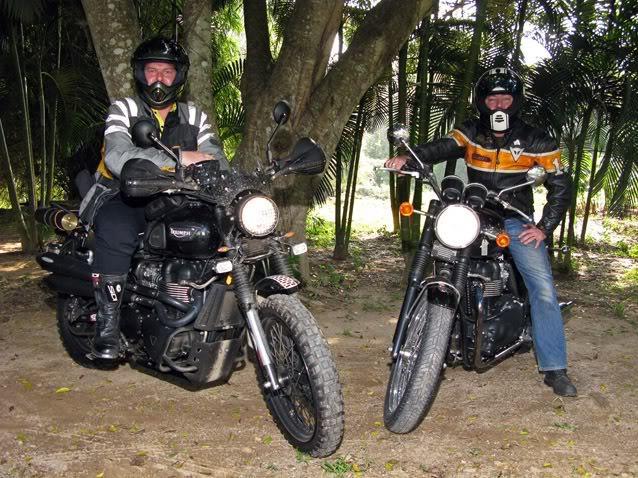 The Bonnie was extremely comfortable and was great low down and mid-range.
Also it was noticeably quieter. A really really nice ride.
But the day belonged to Pikey and his Mum's Bonnie!