A wild few days in the jungle in the Cardamom Mountains. The trail through to Chi Phat from the area of the new dam is also quite a good trail.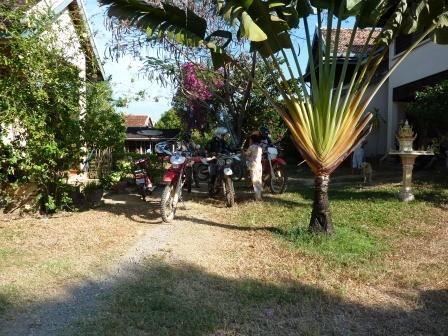 Here we are staged for takeoff from Philippe's villa in Kampot.
City Of Ghosts: a couple of friends and I rode up to the old casino during Chinese New Year celebration. Soon there will be a new casino next to the ghostly presence of an era gone by.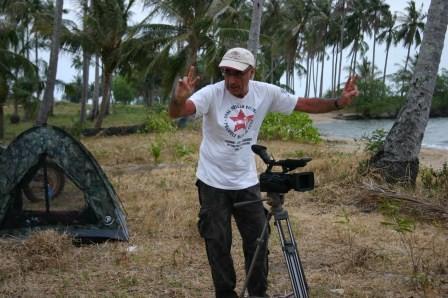 Alain our film maker signals rolling cameras boys.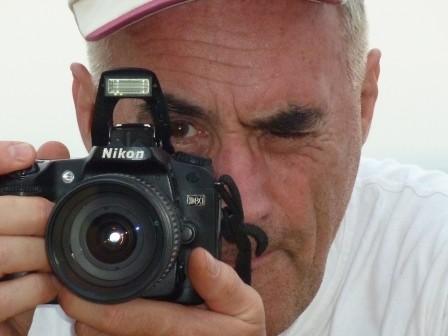 Alain in focus.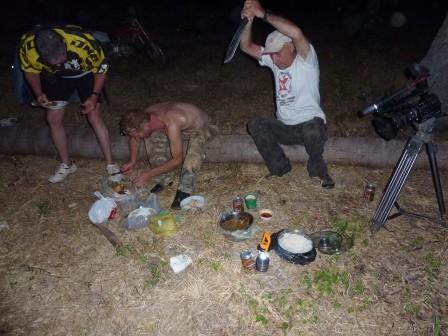 Alain attacking Paul with a machette. Later he tried to attack me in my tent and wrongly accused me of snoring. The shooting started when he awoke me from a deep sleep. French and Belgian people just have no sense of humor about snoring!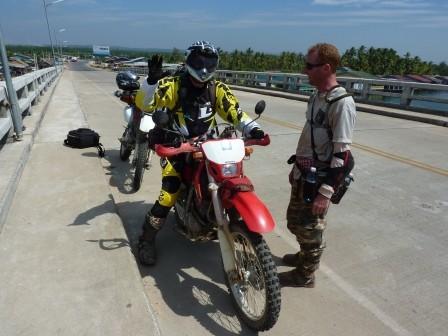 The yellow suited monsters have arrived from Japan.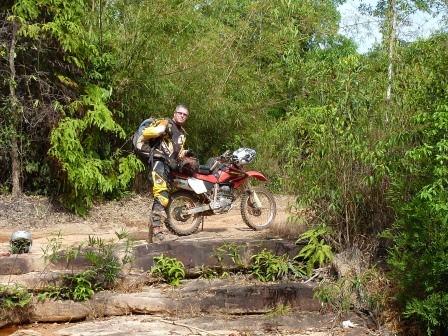 Dave of the jungle.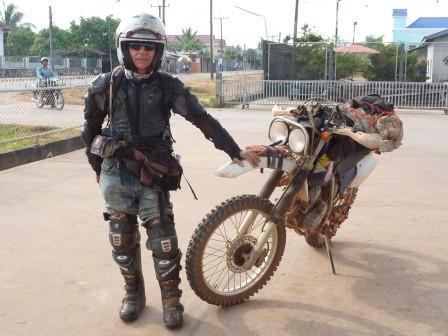 Philippe trying to keep from falling over in his new body armor.
Our guest house with crocodile on the menu.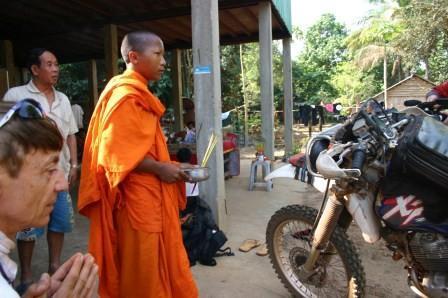 A monk blessing our motorbikes. Unfortunately, the blessing did not work and I got my third flat tire that same day. Philippe says I just drive too damn fast and my tires heat up and explode. Here we see Philippe praying he can tolerate me one more day!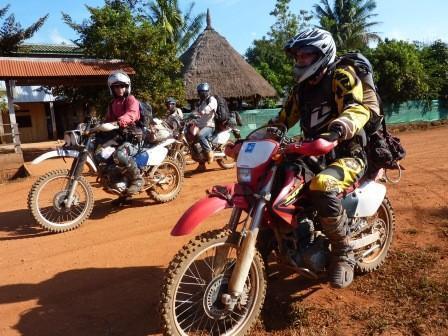 Dave looking for the guest house.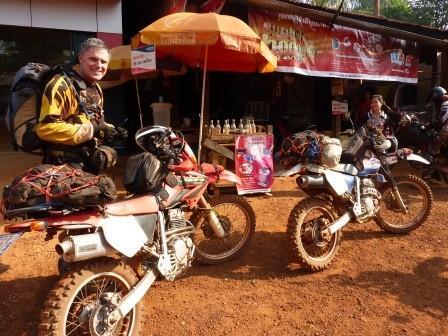 Looks to me like it is about beer time. I am thinking those bottles of petrol are looking like a cold Anchor.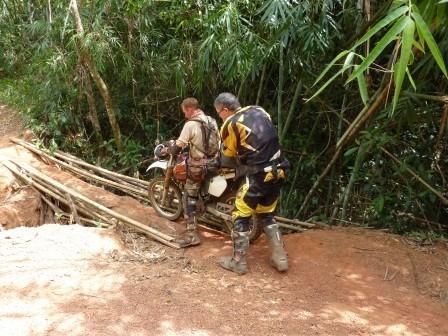 Dave trying to push Paul off of the one log bridge.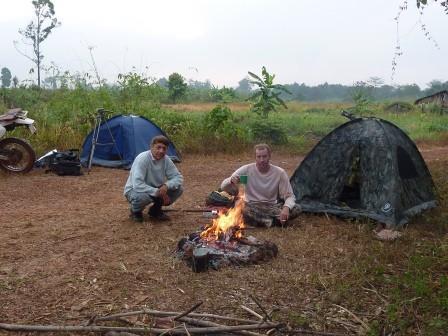 Paul our official fire starter. Later his tent went up in flames.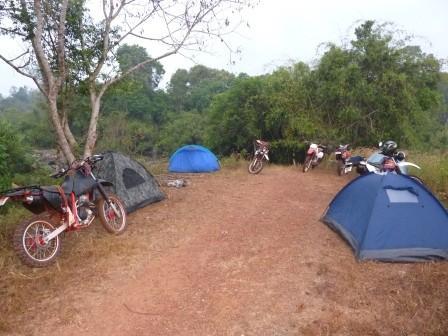 Our camp in the jungle.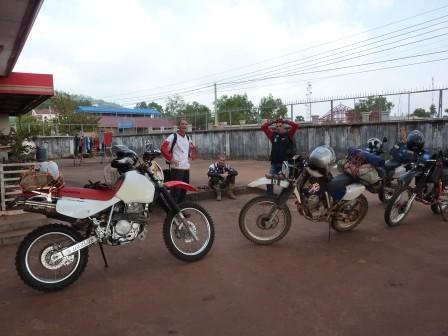 Denis, Paul and Alain await release from the police station.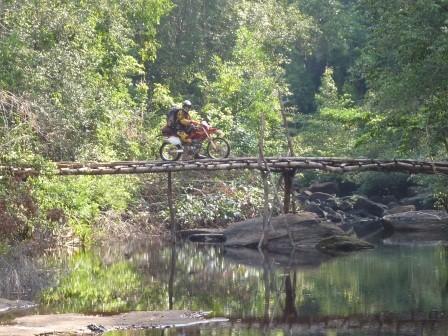 Dave on the bridge to the Apocalypse.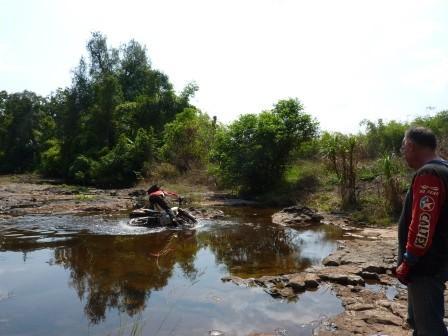 Paul gives his bike a bath.
Denis throws a little water for a full bike baptism.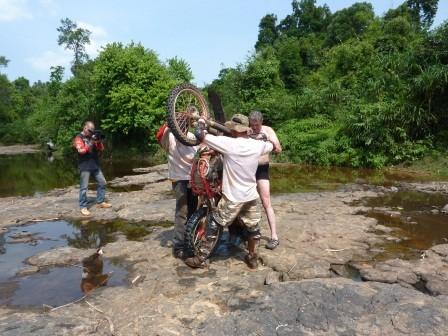 Alain filming the dewatering of Paul's bike. We finally had to compression start that one thanks to a tow rope and Denis' XL 650.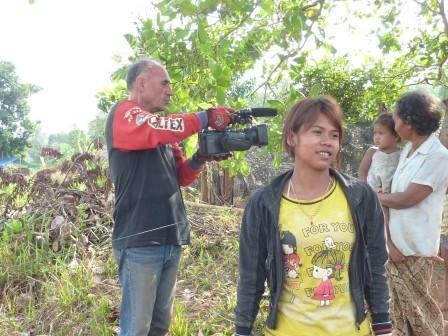 For You Darling is starting to look pretty good after several days in the jungle.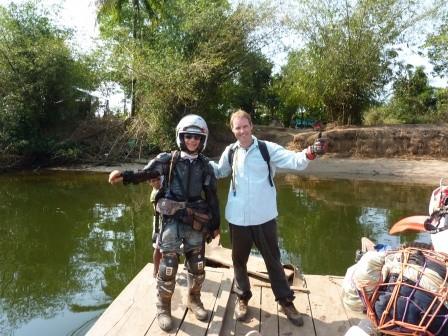 Philippe and Denis trying to keep from falling off the ferry.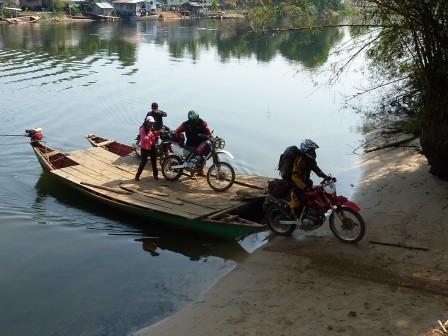 Dave not waiting for the landing ramp.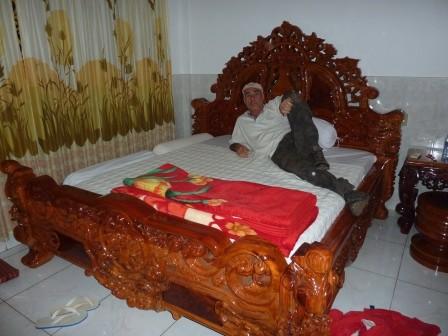 An entire forest went into the making of this bed.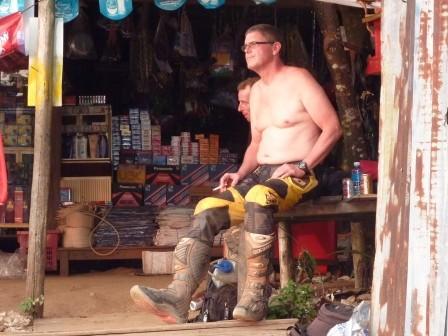 Dave and Paul enjoying beer time.
Dave and Paul work on the final insulting flat tire on the way back home to Kampot.