Excerpt
: It was only a short ride, but the quest for the Henri Mouhot's tomb ushered me a couple of times to Luang Prabang's outskirts and enticed me to read books, about the Mekong exploration, written more than a hundred years ago.
A Mekong Promenade
4. In memoriam of some Mekong explorers
First
(1st) part: The Isan Rim (
A Mekong Promenade - The Isan Rim
)
Second
(2nd) part: South Laos (
A Mekong Promenade Part 2 – South Laos
)
Third
(3rd) part: Vientiane to Luang Prabang (
A Mekong Promenade, Part 3 – Vientiane to Luang Prabang
)
Fourth
(4th) part: In memoriam of some Mekong explorers (
A Mekong Promenade - part 4: In memoriam of some Mekong explorers
)
Fifth
(5th) part: Xayaboury, Laos west of the Mekong (
A Mekong Promenade - Part 5: Xayaboury, Laos west of the Mekong
)
Fifth B
(5B) part: Pak Lai stopover (
A Mekong Promenade - Part 5b: Pak Lai stopover
)
Sixth
(6th) part: Chiang Khong (
A Mekong Promenade - Part 6 : Chiang Khong
)
Seventh
(7th) part: Along the Golden Triangle (
A Mekong Promenade - Part 7: Along the Golden Triangle
)
Eighth (8th) part: Cruising down the Mekong river (To be published next)
1. Preamble
"To write of the Mekong explorers, and of Garnier's fatal search for another way into China, is not to celebrate their imperial values. In the long course of Indochinese history they played their small part in the tragedy of French advance and withdrawal, when the flame of the colonial spirit passed to other hands."
(Milton Osborne, in "River Road to China" [5])
Mapping the Big River was an arduous endeavor, only recently completed with the pinpointing of the Lancang's source by a Sino-Japanese research team [10]. The recognition tribulations were shared by several explorers, with the riparian populations' help. Since Marco Polo's time, knowledge about crossing the 'Turbulent Water' existed and missionaries or adventurers had rambled along some of its shores, without, however, providing an overview of its curse.
The lion's share of the Mekong exploration's burden was taken by French pioneers, people with a colossal energy and a tremendous motivation, but hardly remembered now-a-days. This is how Milton Osborne [5] explicates this paradox:
"Perhaps it should not be too surprising that Garnier, Lagrée, and the others are unremembered. Their lives and deaths were linked with Asia, and Asia has always occupied a more ambivalent place than Africa in the European mind. Then, too, they were French. Their achievements and failures have remained, essentially, the preserve of French writers addressing a French audience."
Incidentally, the main actors of the Mekong exploration can be traced to a single spot: Henri Mouhot's tomb. As travel serendipity brought me to that place, I include a short recollection and homage to these tenacious men into my "Mekong Ballade" report. From the Angkor temple to the Chinese Yunnan, they have acquainted the Western World with antic civilizations, little known kingdoms or principalities and dramatic landscapes.
Many explorers paid for their 'madness about the river' with their life. They are often blamed for paving the way to the French colonial adventure and for redrawing local borders; but this was the enthrallment of the time, a shadowed chapter of human history.
2. Ban Phanom
As I rambled along the Nam Khan River, five kilometers outside Luang Prabang, I did not expect to be enticed in an intriguing endeavor, on the heels of extraordinary Frenchmen; my aim was only to visit Ban Phanom, a small Tai Lue settlement.
Guidebooks often portray this weavers village as over commercialized; an unjustified connotation. In fact, local residents produce and sell their own handicrafts, perpetuating a valuable tradition, to the community's benefit. A decent-sized cooperative shop, along the road, caters for tourist, while the village itself is a quiet neighborhood, with a few looms and gentle people working on them.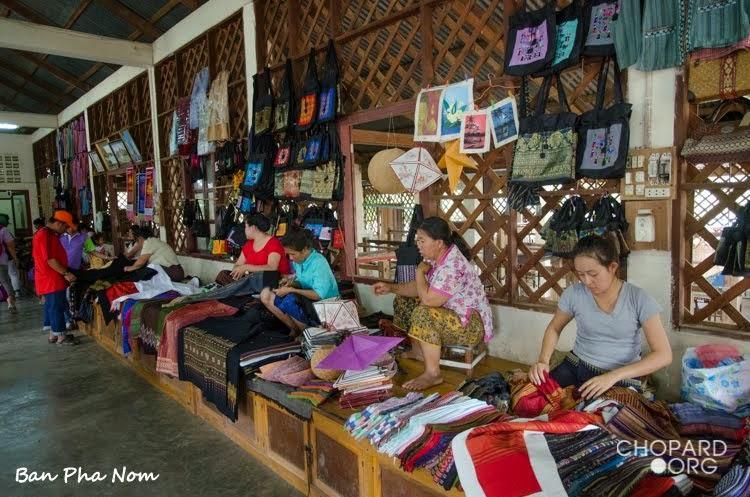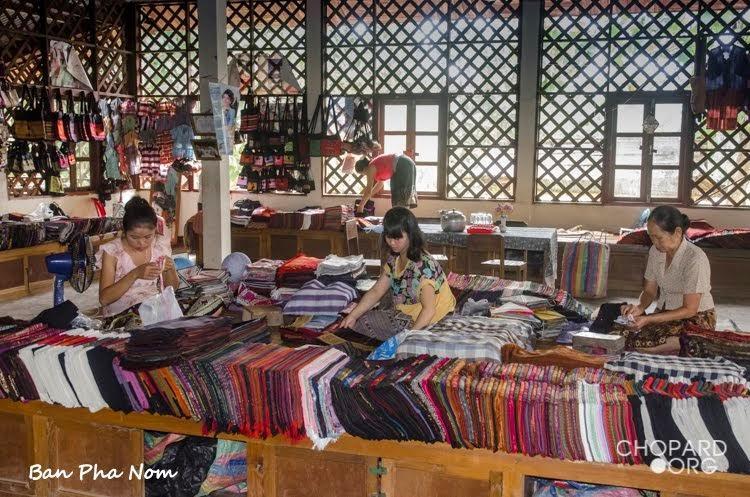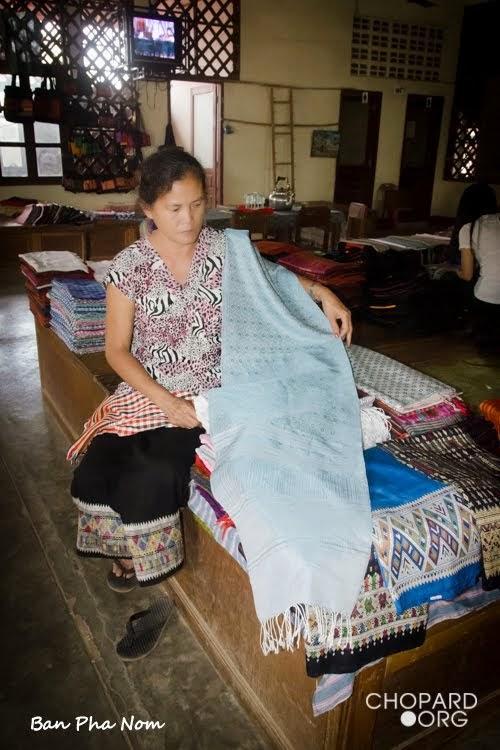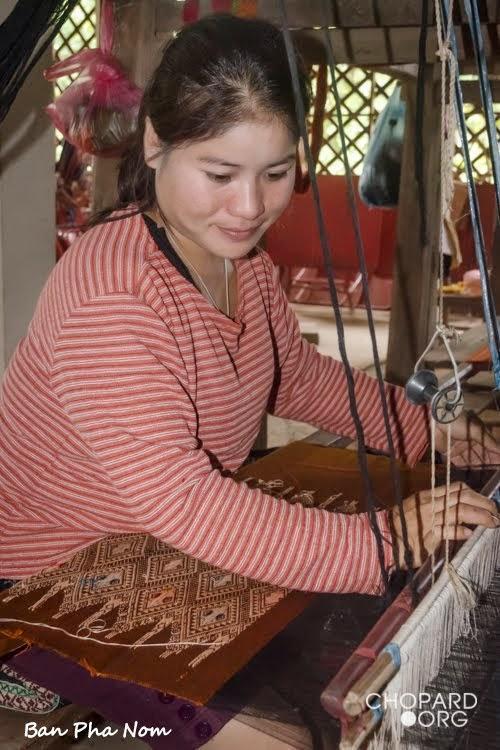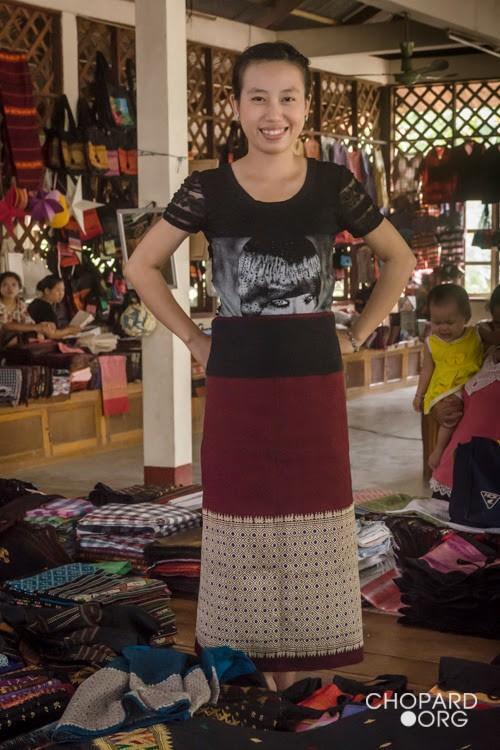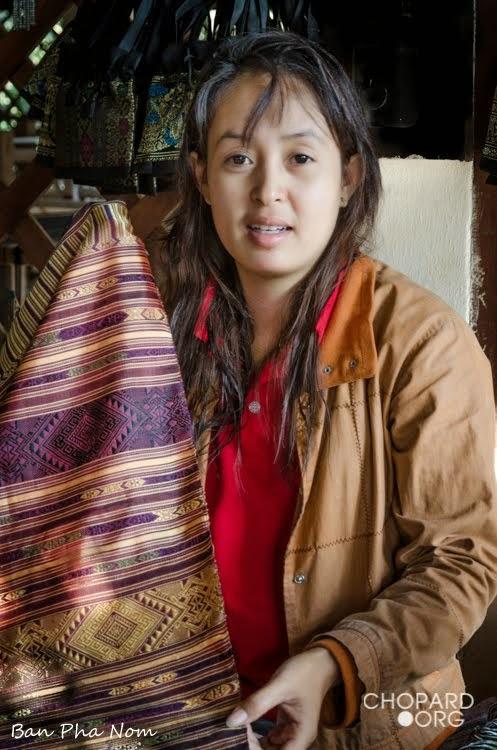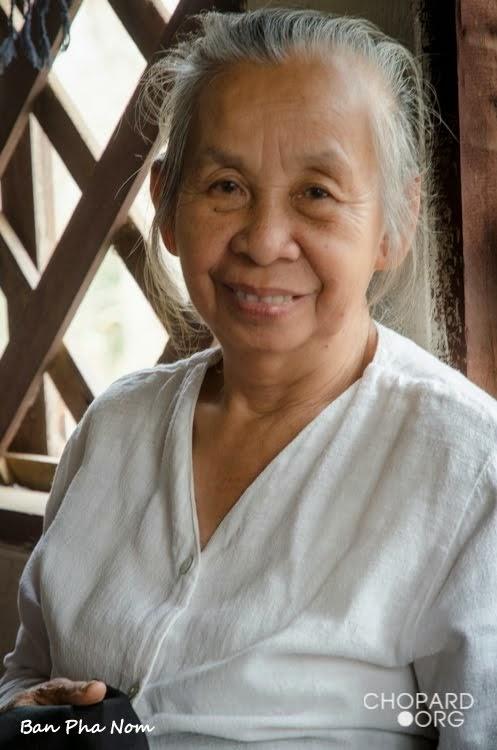 Usually, "tuck-tuck" driven visitors just call at the main shop, without taking time to stroll through the dwelling, and unaware of its interesting history. During royal times, Ban Phanom supplied weavings to the Monarch and entertained the Palace with gracious dancers. Its denizens, of Lue ethnicity, had been resettled, from Luang Namta, by the king who appreciated their artistic skills. After the revolution, the town and its crafts fell into oblivion, till recent tourism developments provided an opportunity to revive the ancient traditions.
(See, for instance, 'Stalking the Elephant King', Christopher Kremmer [9])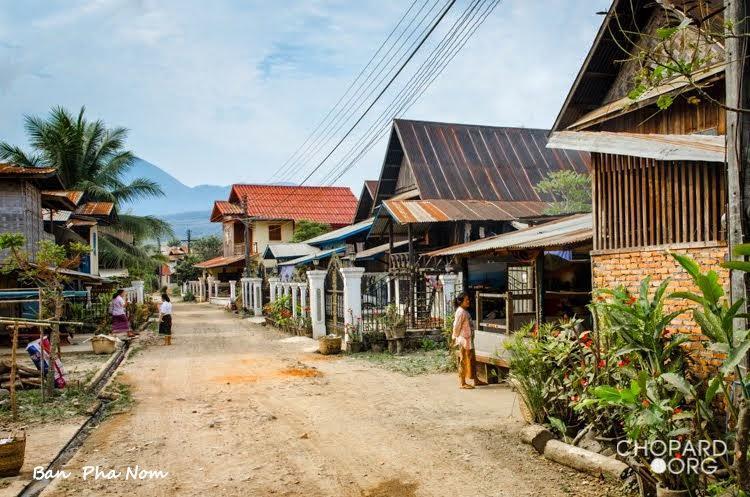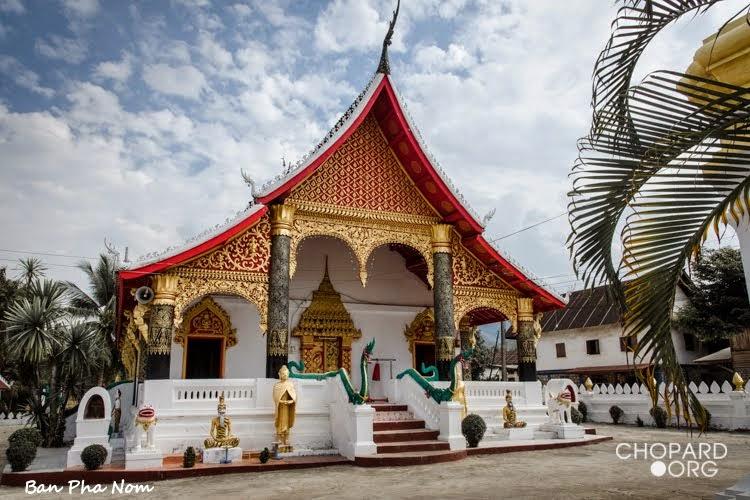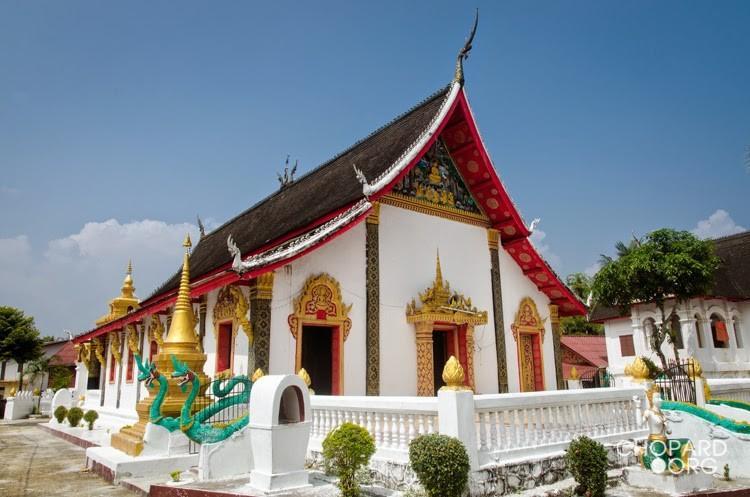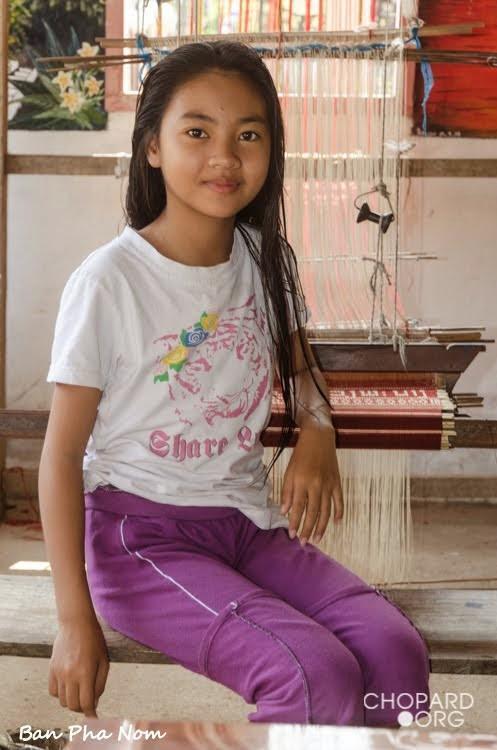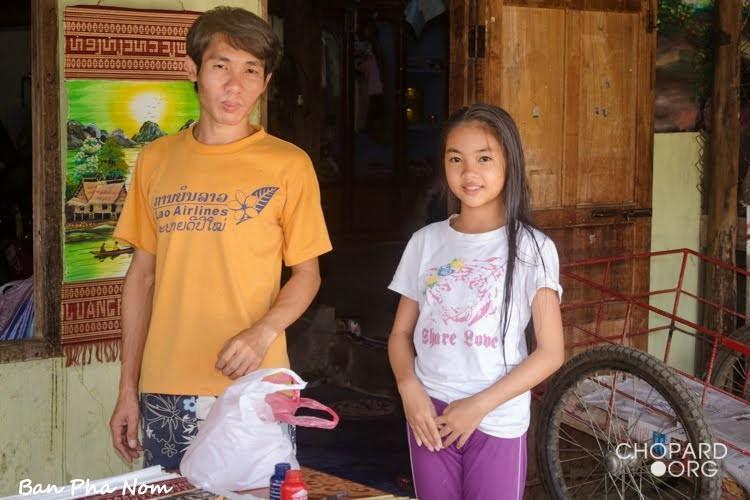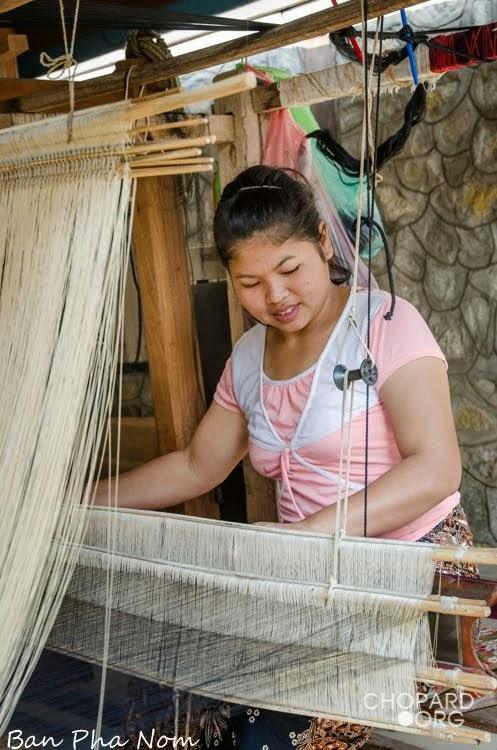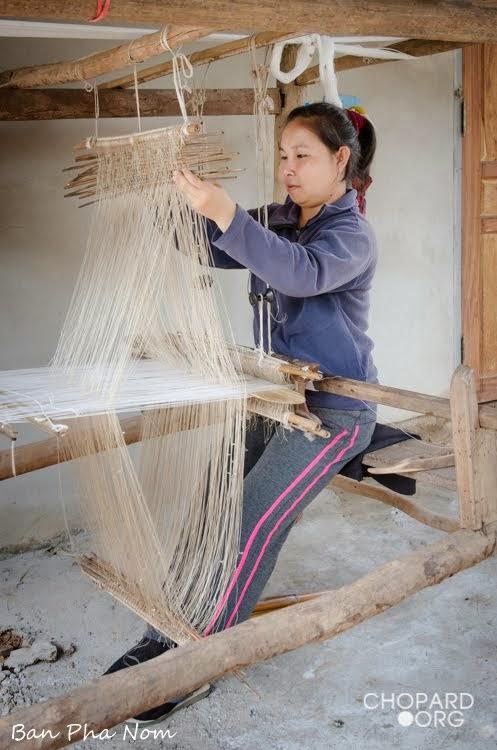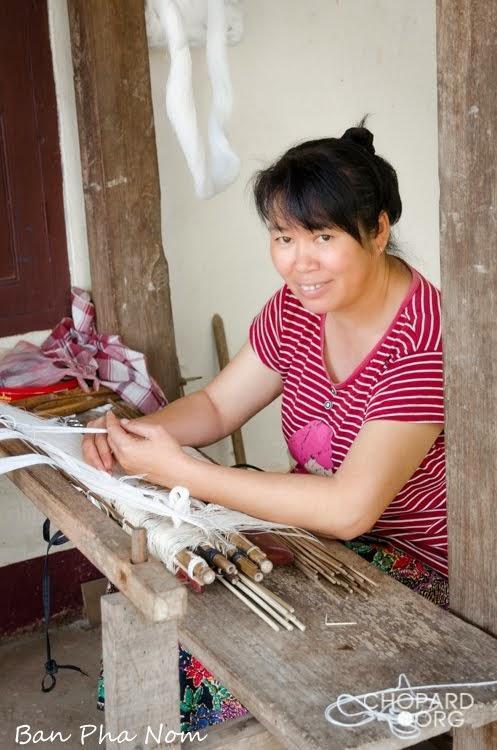 The gentle Lue people deserve more than a short comment; in other stories, I will describe my encounters with Ban Phanom's denizens, and my visits to various weaver villages.
An illustration, published in Henri Mouhot's diary [1], portrays Lao women as they appeared to Westerners at the time of the Mekong exploration, in the mid 19th century: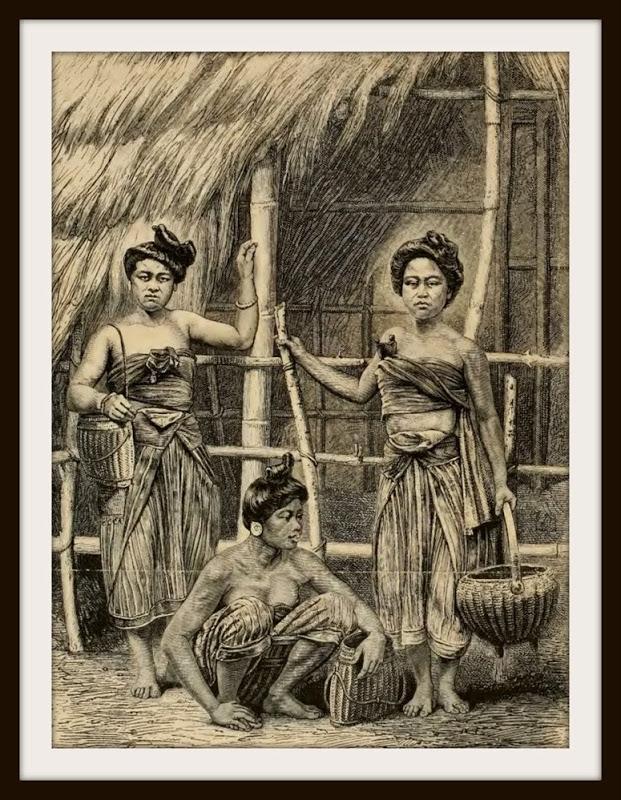 While touring Bahn Phanom, I spotted a worn out signboard pointing to 'Henri Mouhot'. This name was not totally unfamiliar to me; I had probably read about his nearby tomb in a guidebook. Expecting a usual tourist memorial, I decided to have a look at it.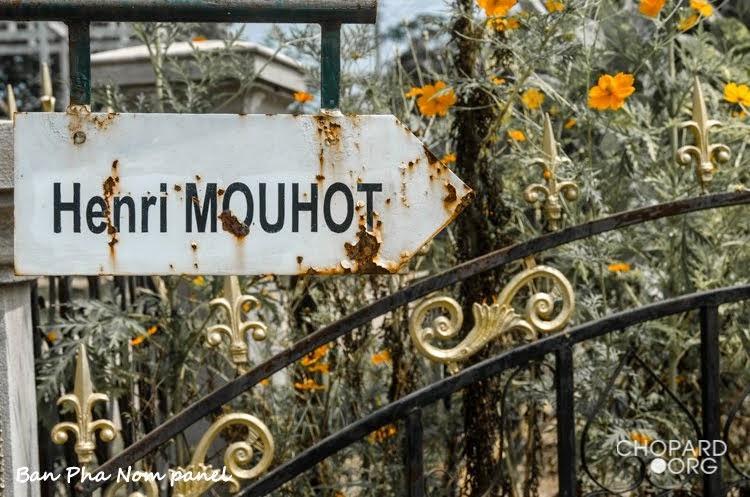 Just after the village, the road is heavily under construction; a bypass for Route 13 is built from the airport to circumvent Luang Prabang's center. This implies the building of a bridge spanning the Nam Khan and harsh cuts through red earth hills.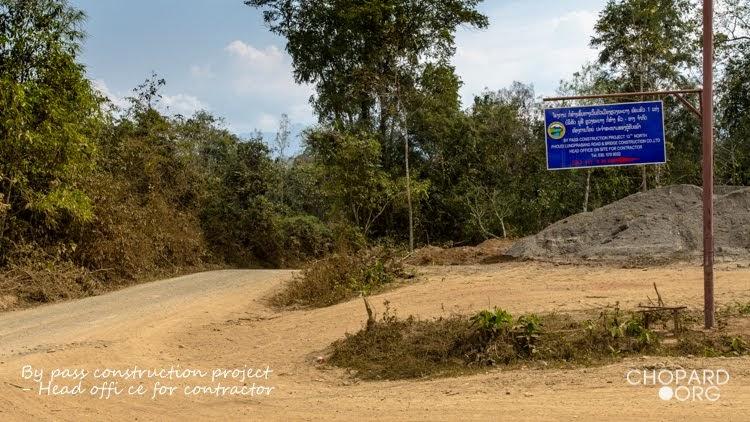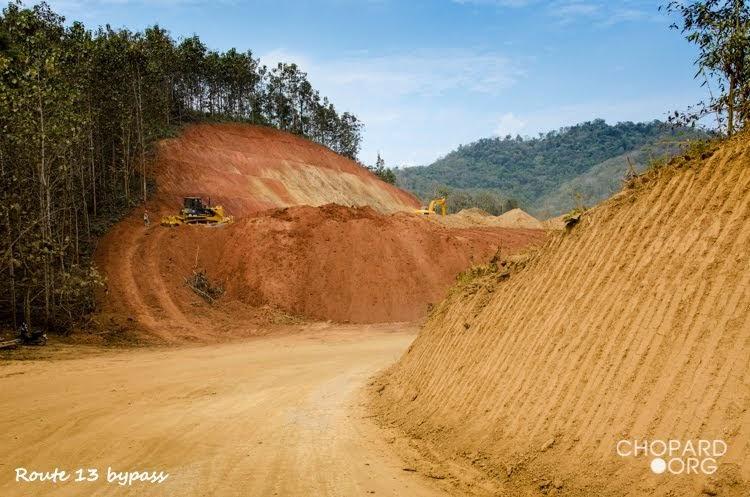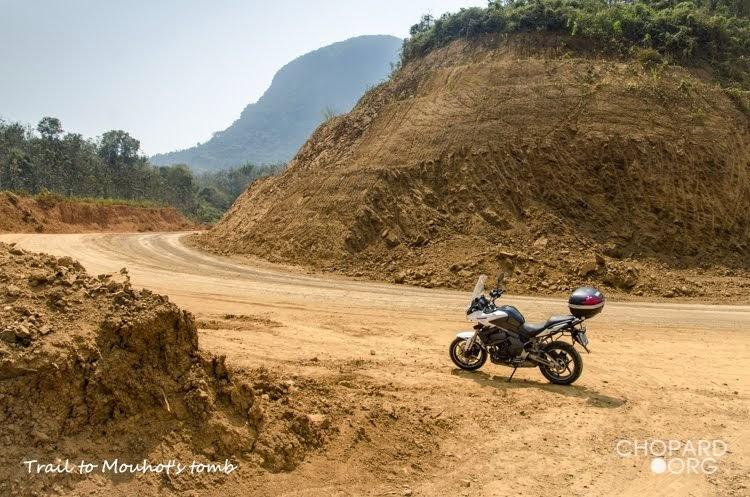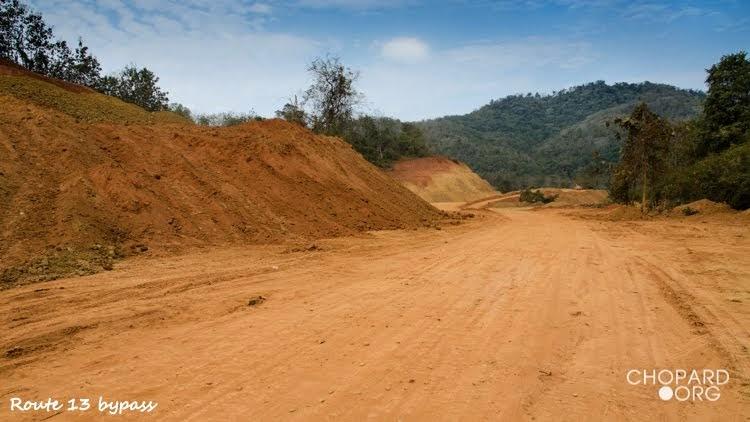 The sandy trails made me swallow my share of dust, till I eventually reached Ban Prik Noi, another Lue settlement. I had, however, missed any other references to the French explorer's name.
Chatting with the locals, enjoying their grilled salai (barbecued river weeds pancakes) and visiting the hamlet's neighborhood was again a rewarding human experience. I put my quest for Mouhot's grave aside and returned happily to Luang Prabang, taking with me some dried weeds, as a gift to whoever would enjoy them.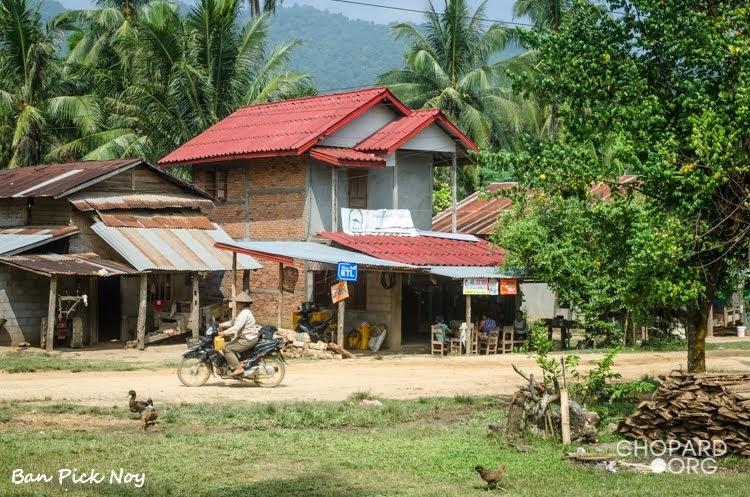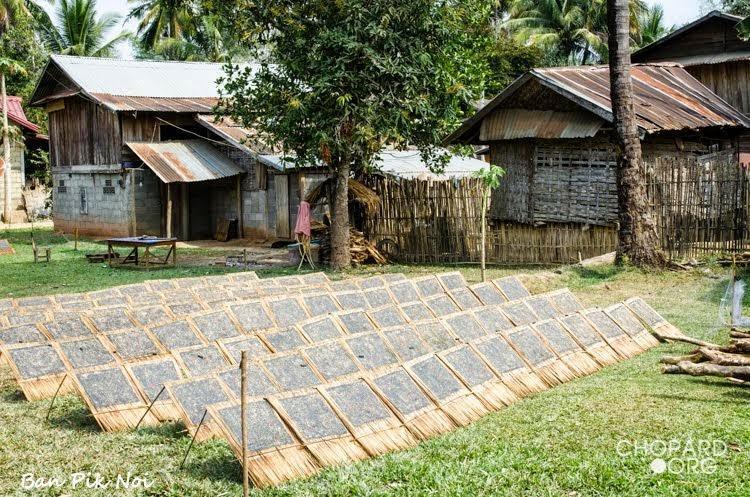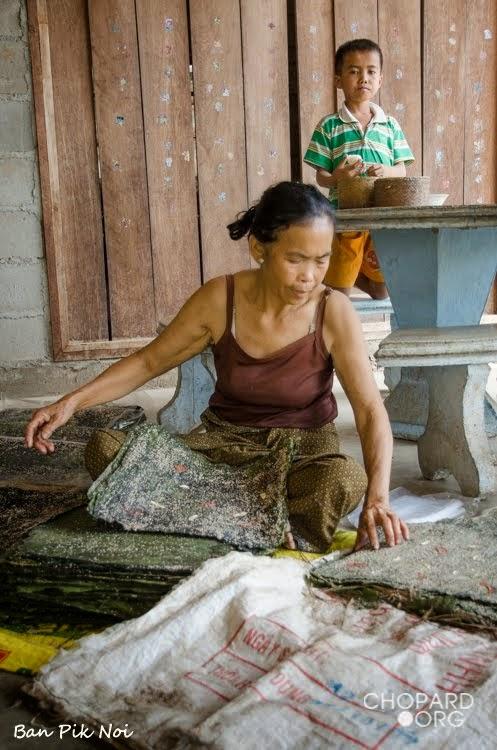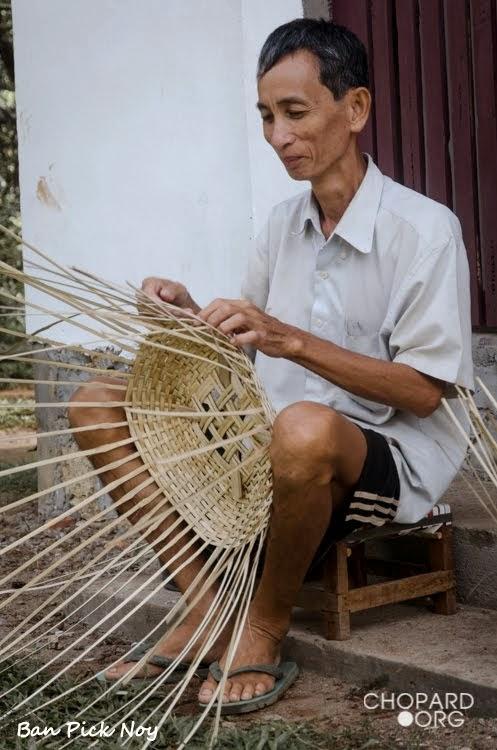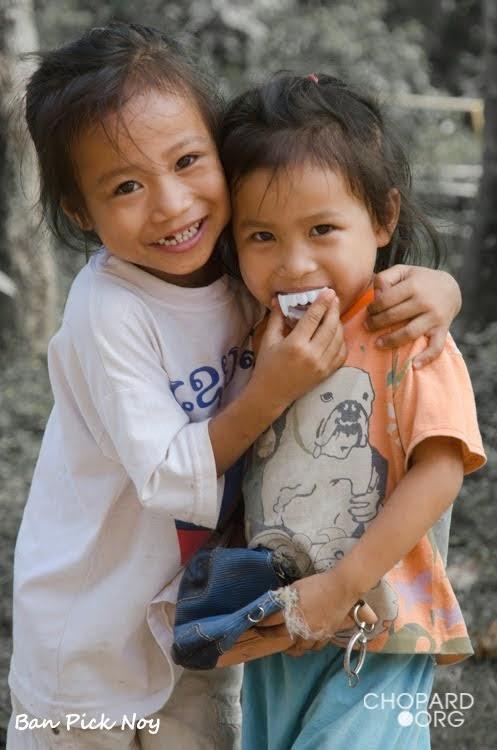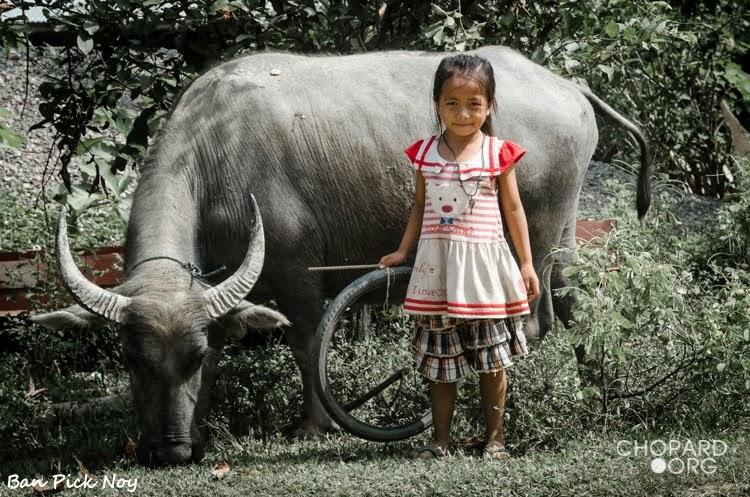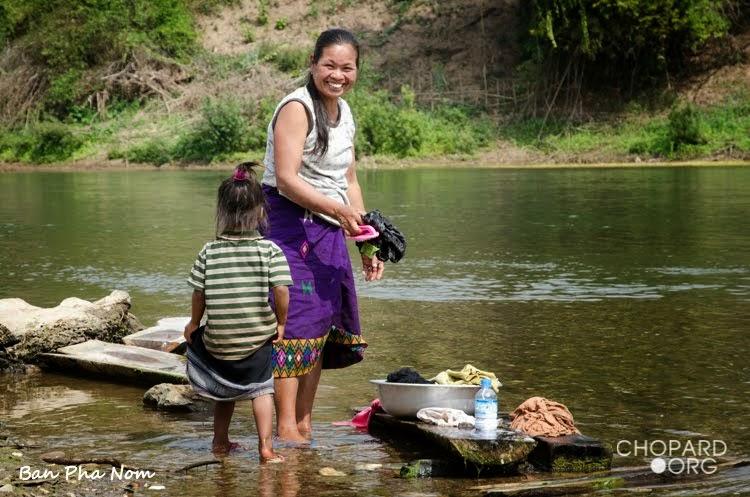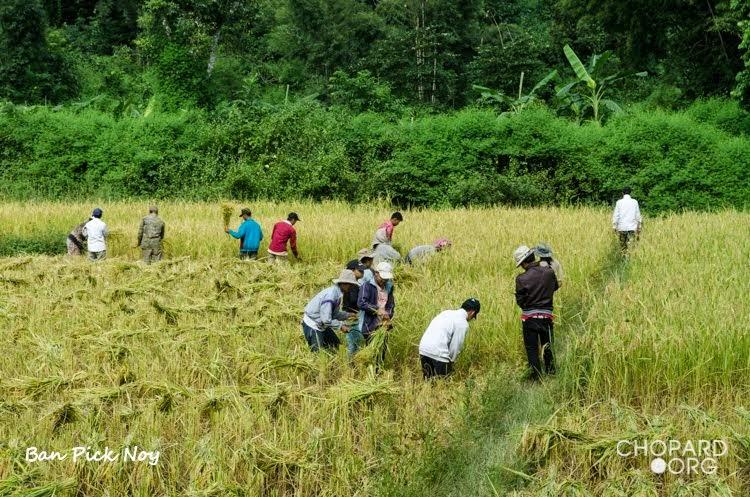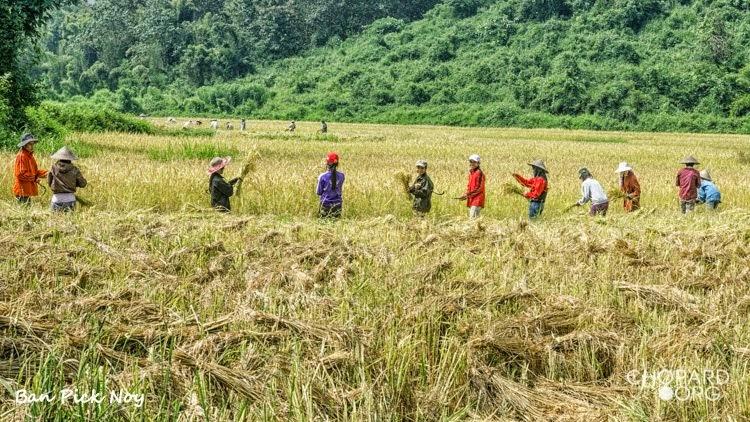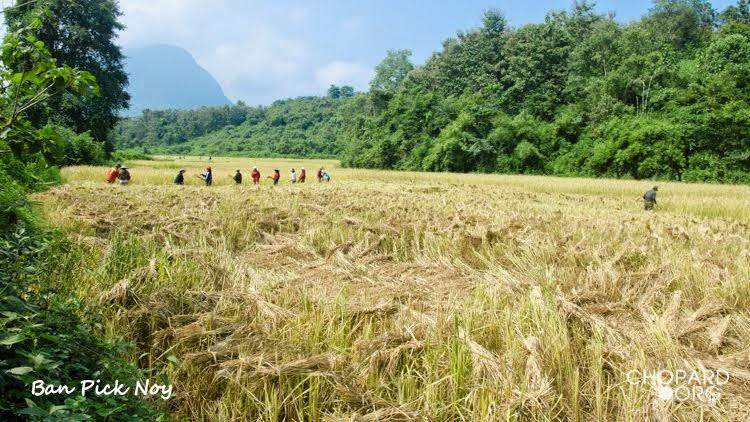 3. Henri Mouhot's tomb
Eight months later, I sojourned again in Luang Prabang, a stopover during my Mekong ballade. In the meantime, I read some books about the Big Rivers' exploration, and, among others, Henri Mouhot's own diary [1]. With a better preparation, I was enticed to renew my quest for the French explorer's tomb.
After Ban Phanom, the trail was still a dusty desolation and my dogged rambling, back and forth, harvested more red dirt than usable information. Infrequent encounters, fuzzy indications; Mouhot's tomb appeared more and more to be an unlikely tourist spot.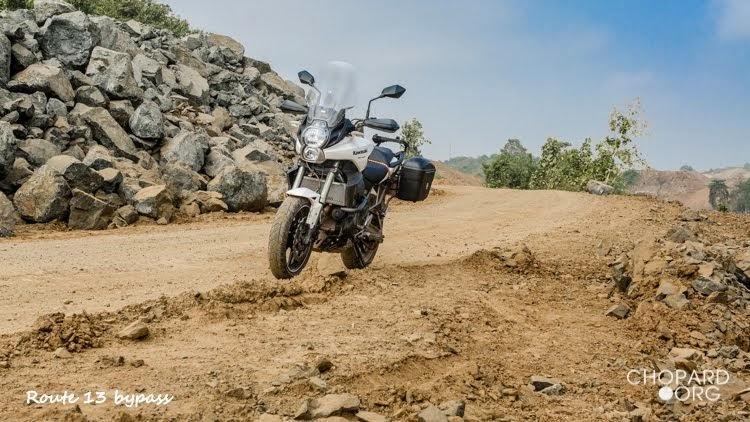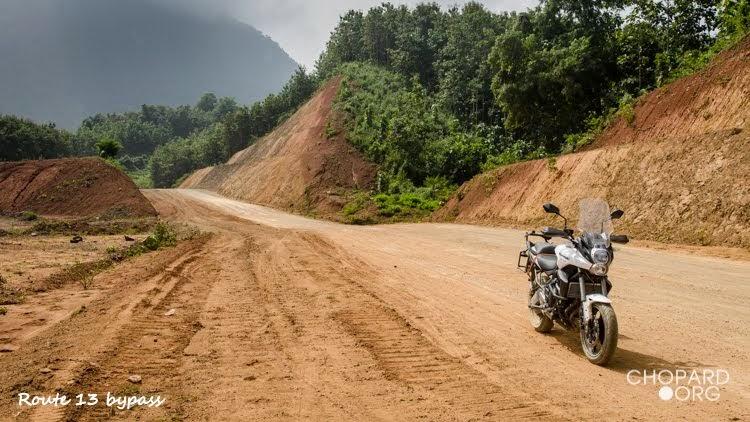 Unsure about what to expect, I eventually localized a narrow foot-way, without any signboard, leading down, to the river and to a squandered picnic place. While following a stony rim path for some distance, I did not see any tomb. The abandoned neighborhood was an improbable place to host the memorial of an important man, and, again, I gave up my quest for Mouhot's grave, wondering if it still existed.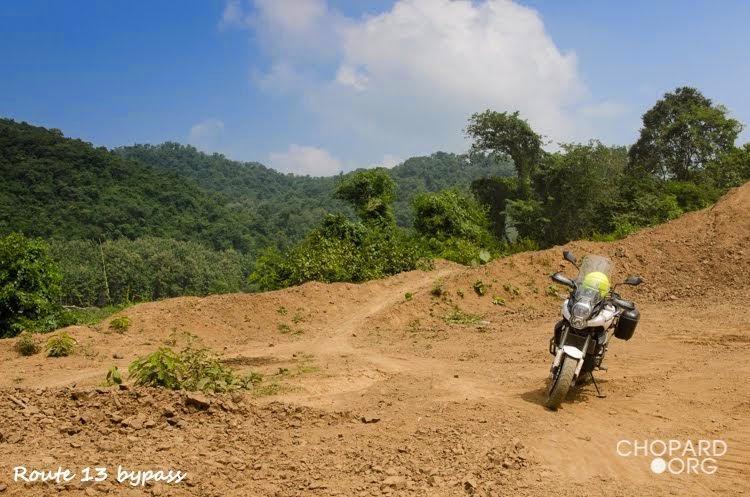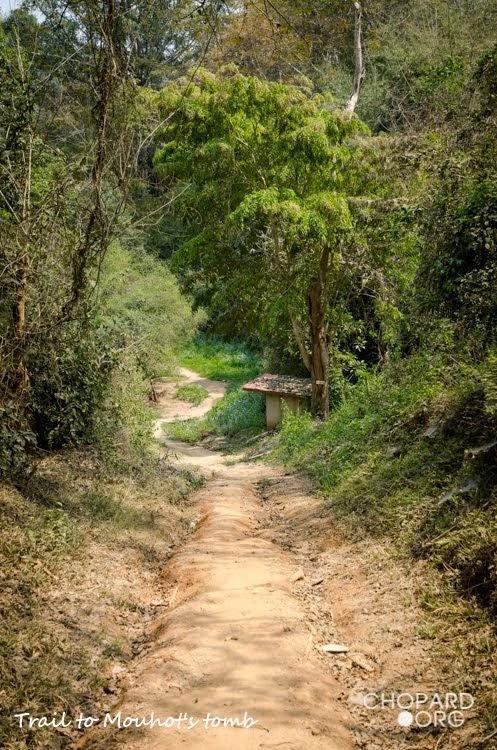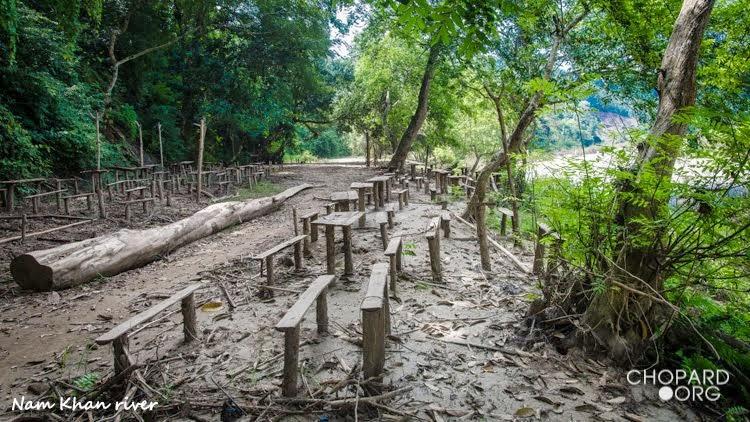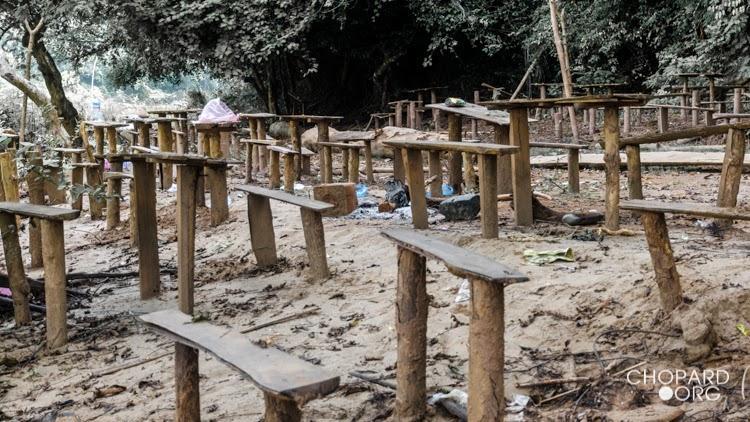 Back to Luang Prabang, I showed my pictures to a local guide who recognized the place; I had missed the tomb by fifty meters!
Early in the next morning, I rushed through the red dust again, walked down to the river and, eventually, stumbled on a disorganized glade. It features a grayish tomb, some signboards, an elephant sculpture and Mouhot's somber statue (at least this is what I thought) watching over the place.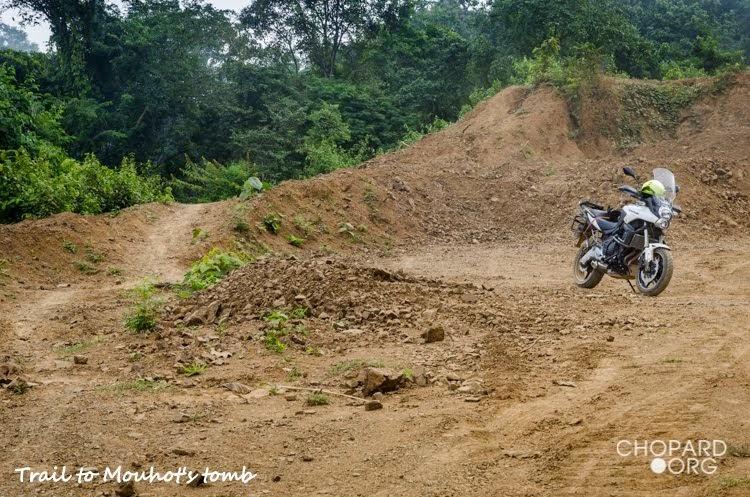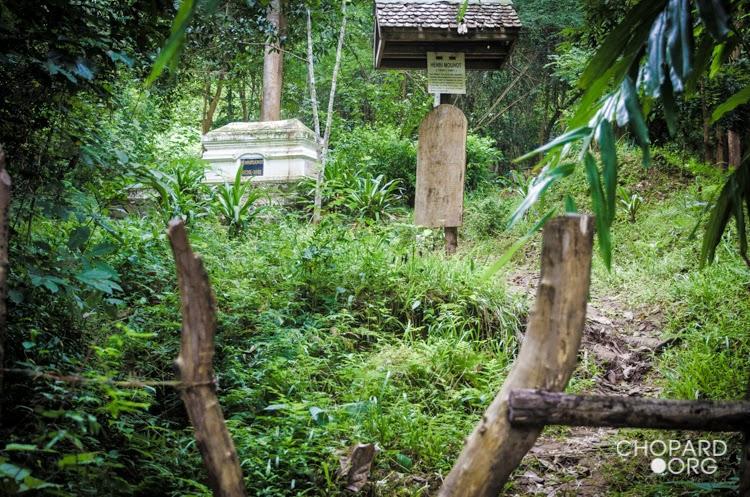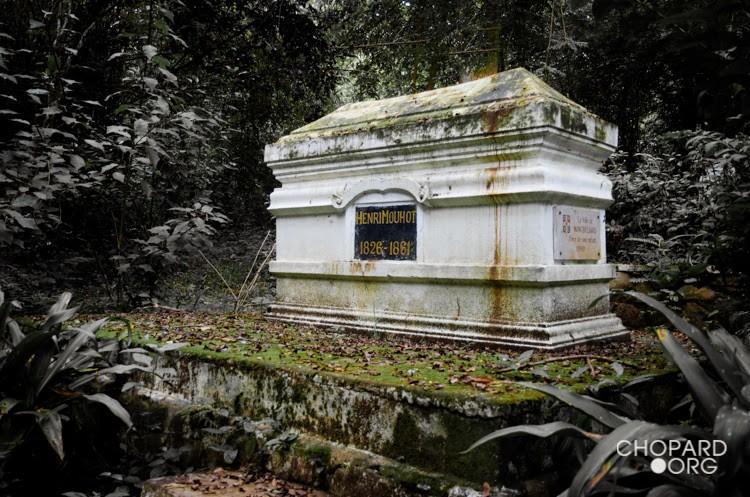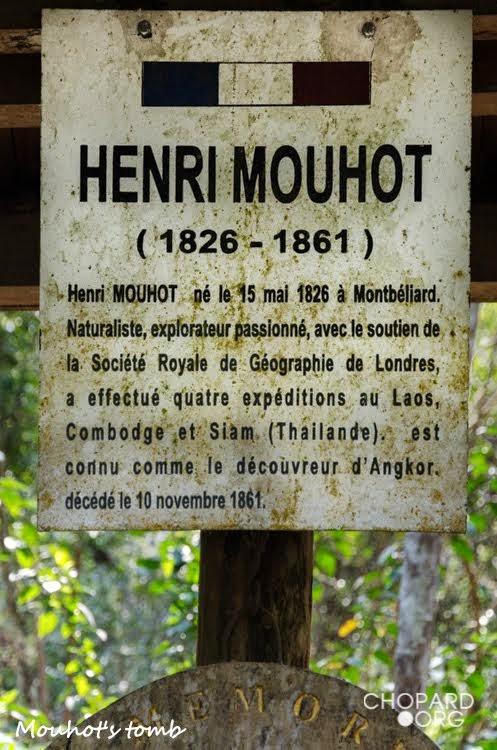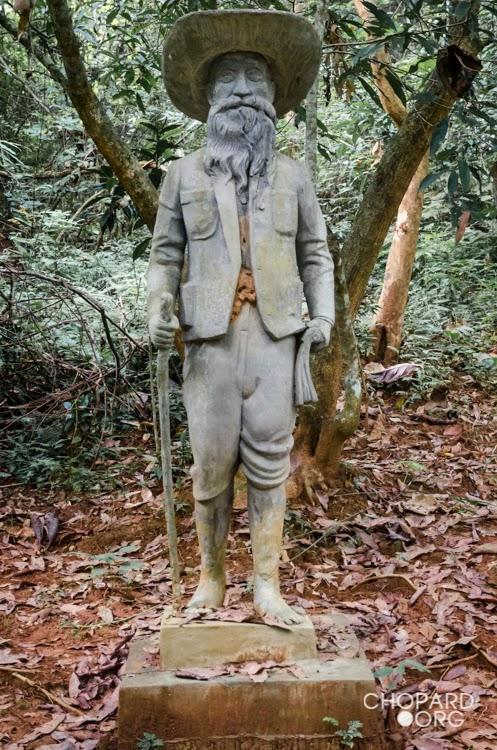 Contend about my encounter I posted pictures on a social network, where a friend [15] quickly answered that it was definitely Mouhot's tomb…but not his statue; the portrayed personage should actually be August Pavie.
I could hardly believe this statement, as I remembered the information published in Lonely Planet [11]:
"…His heavily bearded statue at the site looks altogether more cheerful and in the drier months the riverside 'beach' beneath becomes a popular picnic and swimming spot"
In addition, I wondered why Pavie would stand guard over Mouhot's grave. To clarify the question, I visited the Luang Prabang's tourist office where I got an elusive answer: there is no Mouhot's statue near his tomb. This left me with an uneasy feeling and confirmed my friend's enigmatic information, hence without further details.
A drawing of Henri Mouhot done by H. Rousseau from a photograph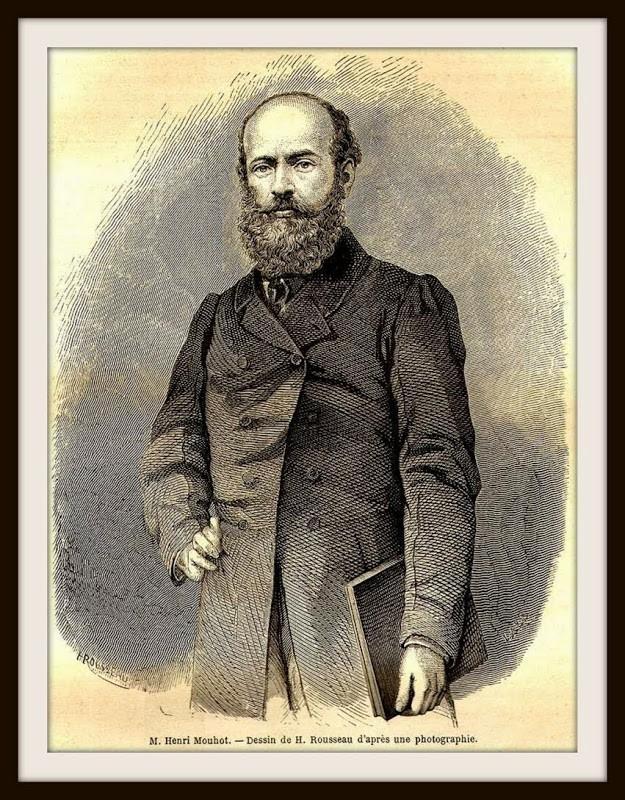 Henri Mouhot, a French naturalist, born in Montbéliard in 1826, was the first explorer to travel and describe itineraries in North-East Thailand, West Cambodia and central Laos. In his posthumously published journal [1] he precisely describes Angkhor Vat and, although he did not rediscover this temple, he is credited for highlighting its splendors to the Western world.
Traveling from Thailand, Mouhot reached Luang Prabang on July 25th 1861. He sojourned in the region for a while, walking along the Nam Khan in search of a link to Vietnam (Annam).
Struck by a tropical fever, he passed away, in October, while resting along the river. He was buried near Ban Pha Nom, at the site where his tomb was later erected.
Over the years, his burial place has been visited and described by various travelers. For instanced by A Raquez, in: "Around Laos in 1900, a Photographer's Adventures" [8]:
"… The village of Baan Penom, whose inhabitants have been exempted from corvée for 5'000 years in exchange for guarding and maintaining the tomb… It is a picturesque, but difficult road, almost always following the Nam Khan. … There are a few stones here, a rudimentary staircase allows us to climb the bank. There is a bamboo palisade and, under a straw hut, a simple sarcophagus made of plastered bricks painted white with lime. On one side the new layer of white has spared an old inscription in blue whitewash "H.Mouhot" and an illegible date. "
An old drawing of Mouhot's first tomb.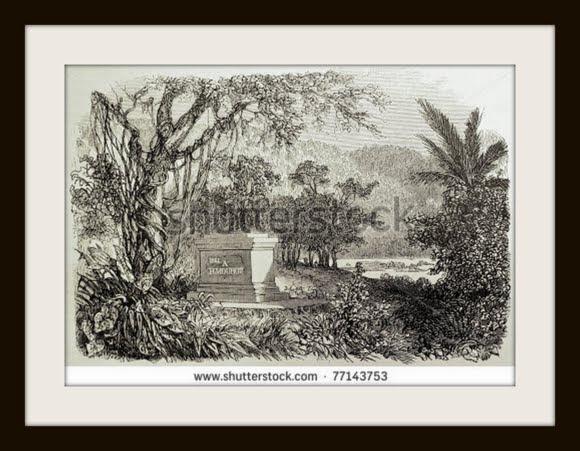 Mouhot's memorial had various fortunes. His first tomb, erected by the Mekong Exploration Commission was washed away by a flood and rebuilt by Pavie. After the revolution, it fell into a dark jungle oblivion, till 1990, when, with Laos' opening to tourism, a group of Montbéliard denizens cleared again the burial place and affixed a commemorative plaque to the monument.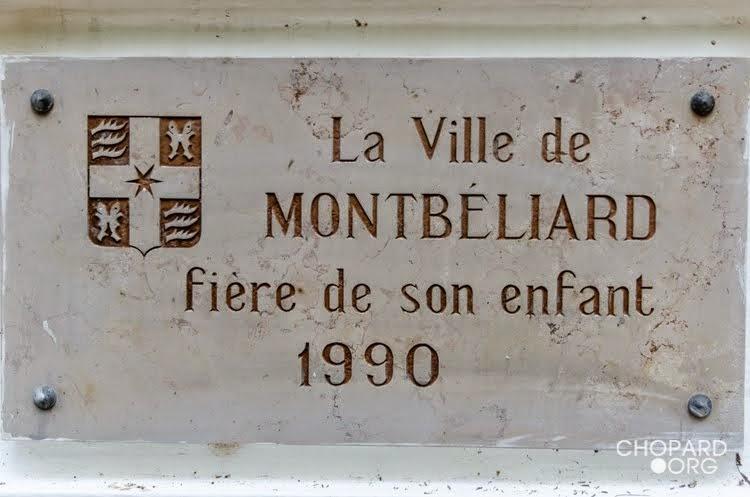 The solitary traveler was not alone during his peregrination. In addition to his faithful Siamese servers, he took with him, from Europe, his pet dog Tine –Tine. This is what Mouhot wrote in his diary:
"Ingrate that I am, I have never yet spoken to you of this little companion who is so faithful and so attached to me, of this pretty and charming King Charles which I have taken with me and with whom all the Siamese, particularly those without children, are quite smitten, … . I fear this poor dog may come to a sad end; that he may be crushed beneath the feet of an elephant or make a mouthful for some tiger!" [1]
King Charles and Blenheim Spaniels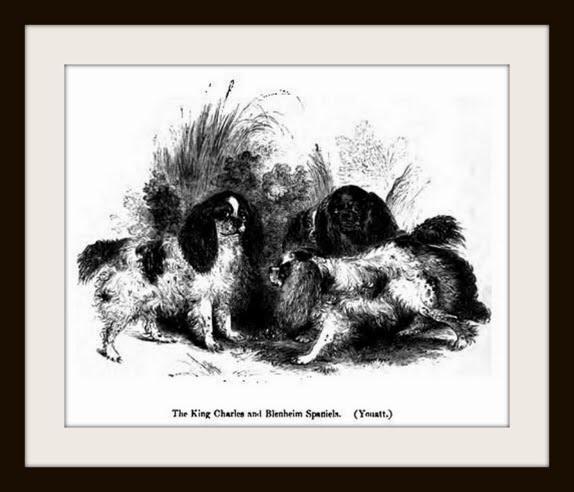 The small dog, however, survived his master and, six years later, when the Mekong Expedition explorers reached Luang Prabang they found Tine-Tine well integrated in a local family, but no longer welcoming European adventurers.
It is amazing that heavily loaded travelers still find a space to trail a 'man's best friend' in their luggage. In addition to Mouhot, two members of the Mekong Commission were also accompanied by their dogs. Francis Garnier, the Second-in-command owned a pointer dog named 'Dragon', who eventually committed suicide, and Dr. Joubert had a whippet dog called 'Fox'.
4. The Mekong Exploration Commission
After reading more history books [see 'bibliography'], I joined a GT-Rider Mekong cruise, and, four months later, I was back to Luang Prabang. Better informed, for this call, I proceeded with a thorough visit to Mouhot's tomb.
Nothing had changed on the dusty road's level, the construction was still ongoing with yet no asphalt covering anywhere. As I walked down the narrow trail to the river, I spotted, for the first time, a signboard pointing slightly uphill, toward a forest footpath. In my former rush, I had probably overseen this alternative link, a romantic promenade through the forest leading above the tomb's glade.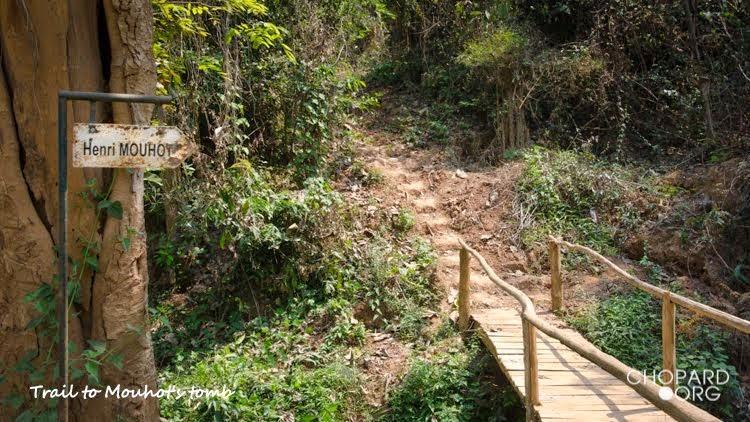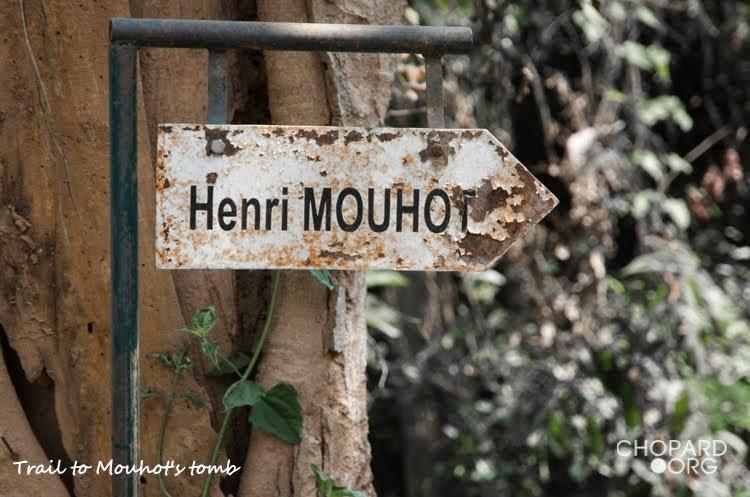 Seen from the top, the site's overview seemed brighter, not only for the different perspective, but also because it had been cleaned and the tomb had been re-painted. Nature, however, has been already challenging the maintenance efforts and the place felt as abandoned as during my former visit.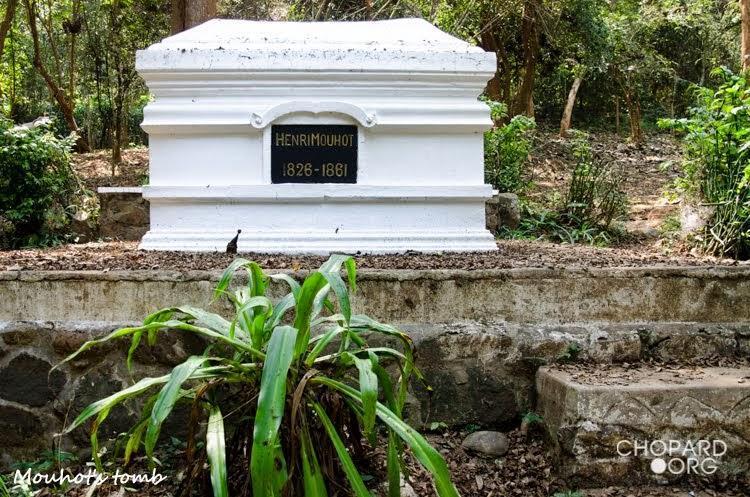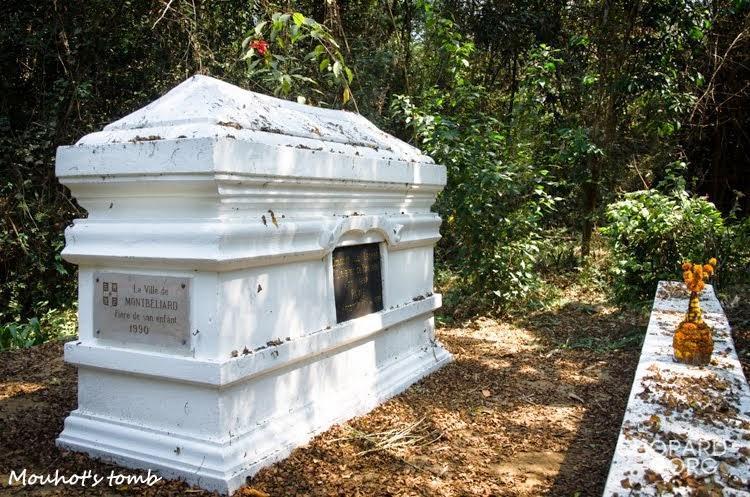 In addition to the latest plaque, affixed by Montbéliard's denizens, an inscription recalls that Lagrée had the monument erected in 1867 and that it was rebuilt by Pavie in 1887.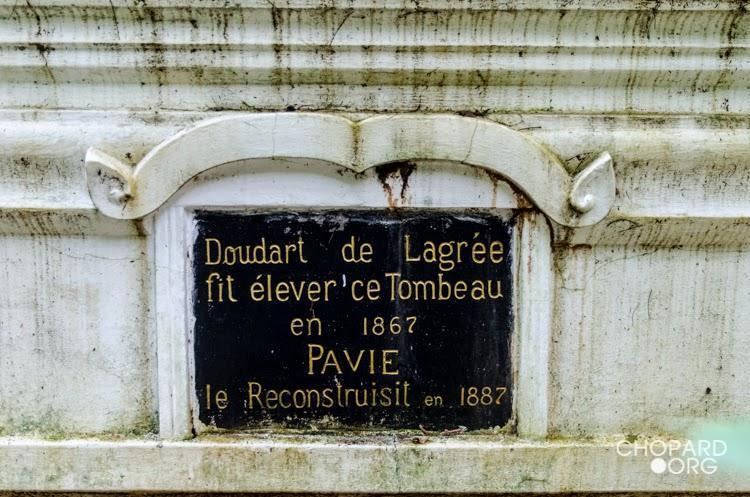 This is how Louis de Carné, a member of the Mekong Exploration Commission, describes the tomb's erection (in: 'Travels on the Mekong, Cambodia, Laos and Yunnan')[2] :
"It was on the banks of the Nam-Kan, not far from the village of Ban Napao, that the king of Luang-Prabang caused the body of M. Mouhot, who had come there six years before, and had died of fever, to be buried. This traveler had made himself beloved by the natives, who still hold his memory in respect; and the king himself paid a last homage to it, by furnishing, at his own cost, the material for a modest monument, which we raised over the tomb of our brave countryman.
Admiral de la Grandière had specially charged M. Lagrée with this sad duty. He felt that France, summoned to resume in Indo-China the place she had lost in India, owed recognition and regret to the hardy explorer, to whom she had granted neither help nor encouragement when they could have been of use."
Engraved on a washed out wooden board, written in faded gold letters, an "In Memoriam" listing recalls famous explorers' names: Mouhot, Lagrée, Garnier, Pavie and, amazingly, Guy de Larigaudie, a scout adventurer who, in 1937, was the first to rally Paris to Saigon by car.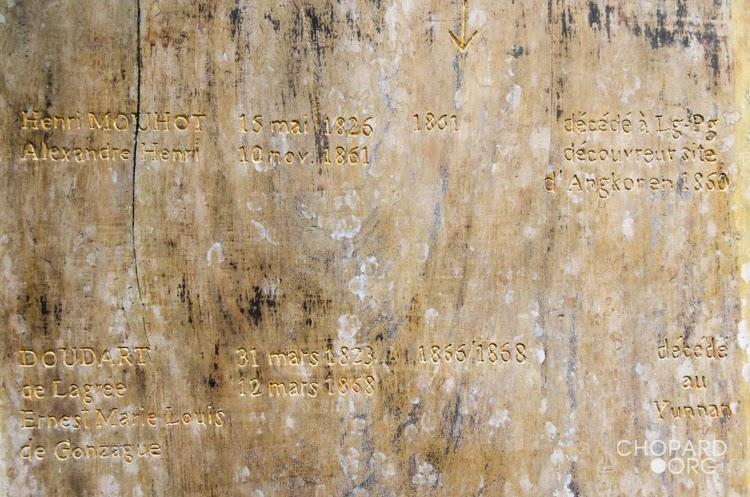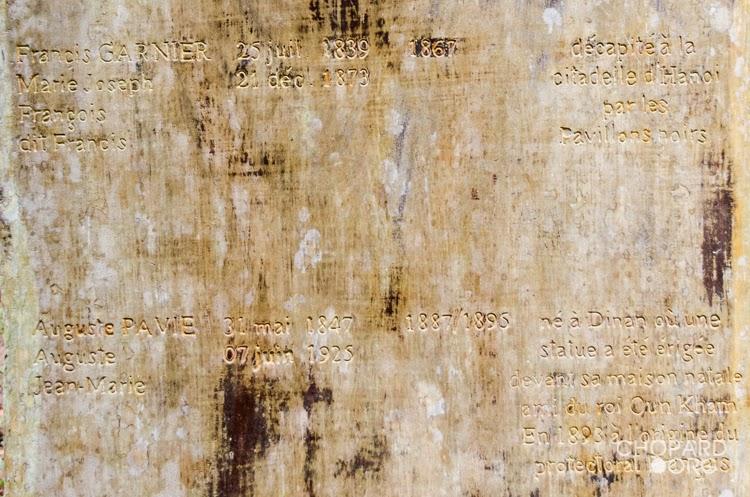 After a Mouhot's short upriver trip, the first important endeavor to assess the Mekong's navigability was undertaken by the French Exploration Commission, starting in 1866. By accepting this courageous challenge, most explorers ruined their health, for the disappointing evidence that this waterway was too wild and rocky, filled with rapids, sandbars and impressive waterfalls, to ever become a commercial link between Chinese Yunnan and its Vietnamese delta.
Mekong expedition group picture (from Voyage d'exploration en Indo-Chine [3]
Drawing from E. Bayard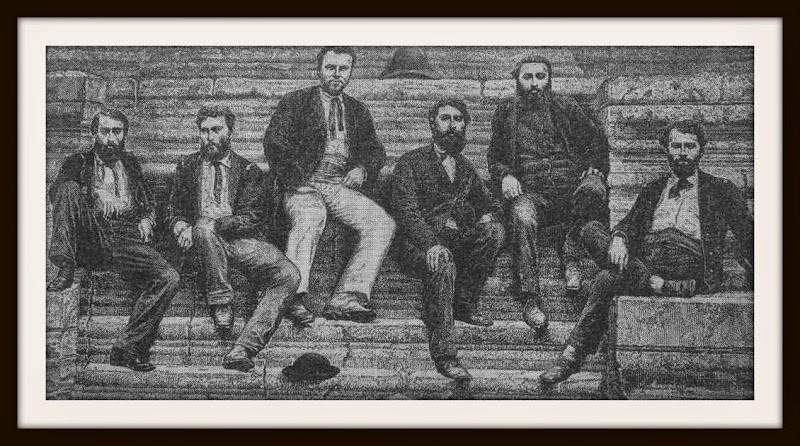 The picture, taken in Angkor at the trip's beginning, shows the six members of the Commission, from the left:
- Francis Garnier: second-in-command, he eventually led the expedition to China and back to Saigon after the death of the Commandant. Some years later he was beheaded by Black Flags mercenaries in a controversial action in Tonkin. He wrote the official Commission's publication.
- Louis Delaporte: was a talented Commission's artist. He published many drawings and, in a later mission, went back to Angkor Vat for a conservation study.
- Dr. Joubert: geologist and the expedition's doctor went into private practice.
- Dr. Thorel: finished his live in Paris.
- Louis de Carné was the youngest member of the expedition. He passed away shortly after returning to France, hit by a grave dysentery. His posthumous publication was arranged by his father.
- Ernest Doudart de Lagrée: Commandant of the expedition suffered from a liver disease and passed away in Yunnan. Following his wishes, all his travel notes were destroyed after his death, so that there is no publication under his name.
5. The enigmatic Pavie statue
A mysterious visitor, at this burial site, is Pavie's statue, often mistaken for a Mouhot's representation. A closer view, however, reveals attributes pertaining to the "barefoot explorer", like the lack of shoes and his distinctive wide-brimmed hat.
During my first visit, wasps' clay nests 'adorned' his jacket; these decorations had now been cleaned and the portrait seemed neater.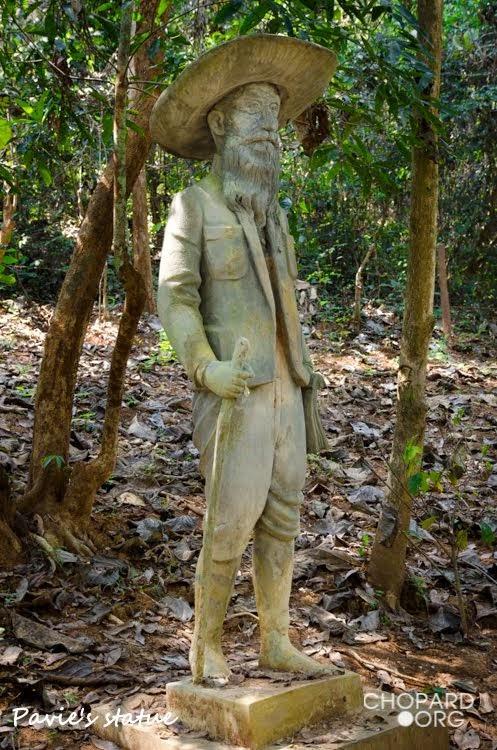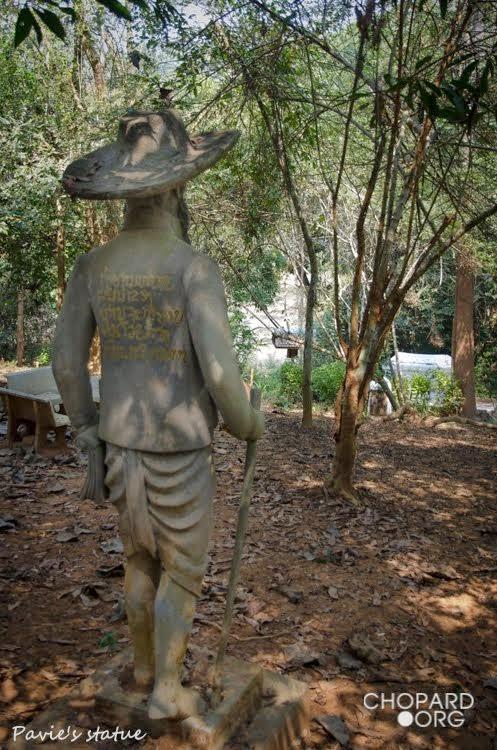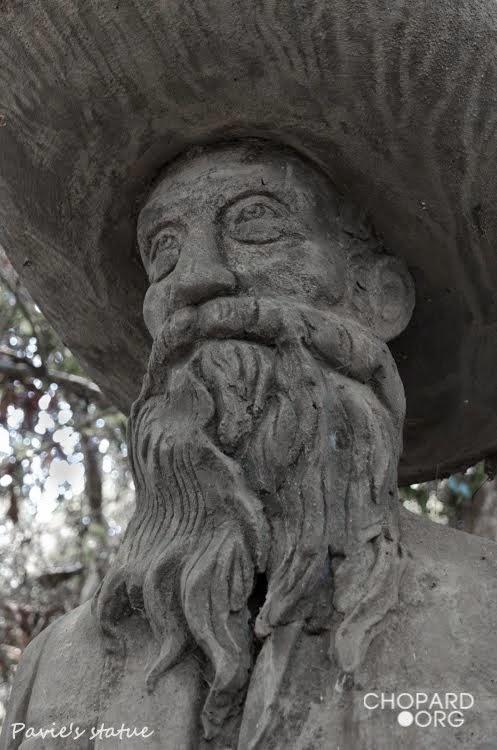 Unfortunately, nonsense graffiti, in French and Lao languages, were added to the statue's back and on a book in its hand.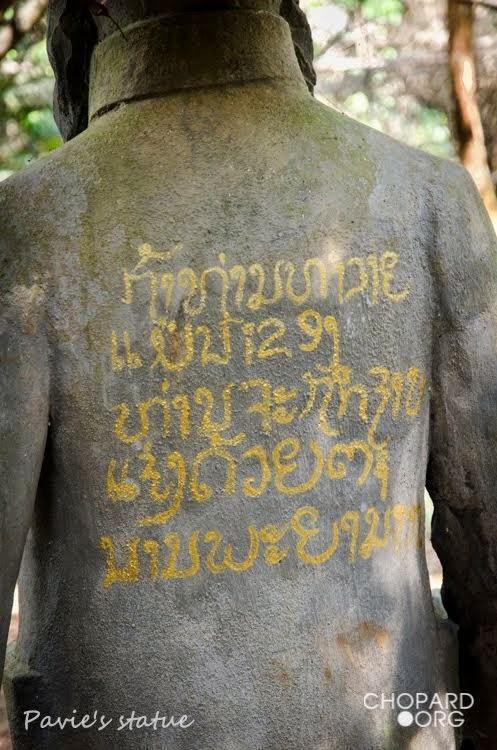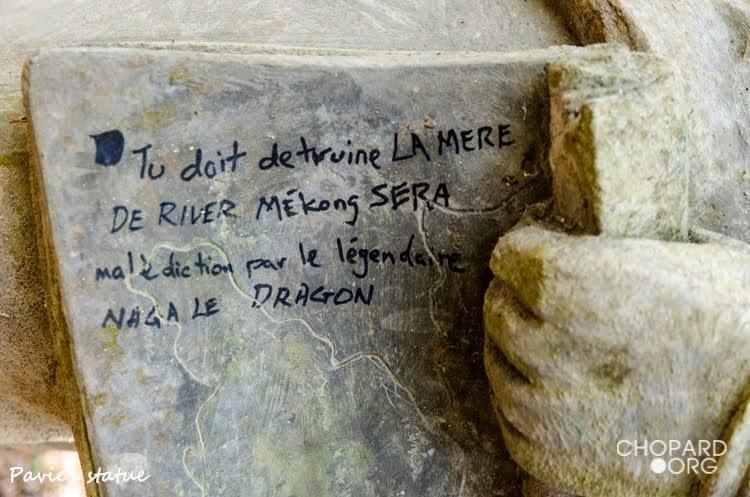 Astonishingly, the Pavie statue is made out of concrete, a rather cheap material if France wanted to honor its Laos' Governor-General, the explorer who conducted mapping missions all around the Indochinese Peninsula, the smart diplomat who stripped Thailand of provinces east and even west of the Mekong, and retrieved Muang Sing from British assimilation to Burma.
Pavie drew the borders of modern Laos, probably not enough reason, for that country's government, to celebrate colonial values by erecting him an effigy, even only in cement. Without further information, at that time, I remained puzzled about this odd presence.
Other 'decorative' elements amazed me; a debonair elephant picture and a milestone with the inscriptions 'KM zero' and 'lak soun', recently repainted in white, and wearing a wooden board with the inscription "in memoriam".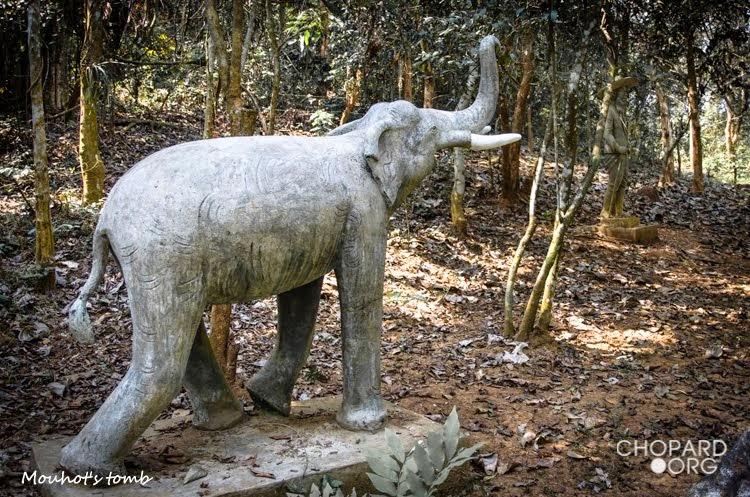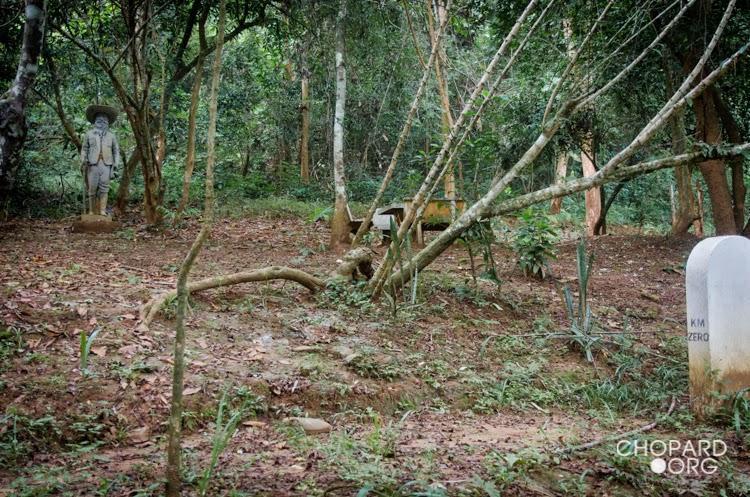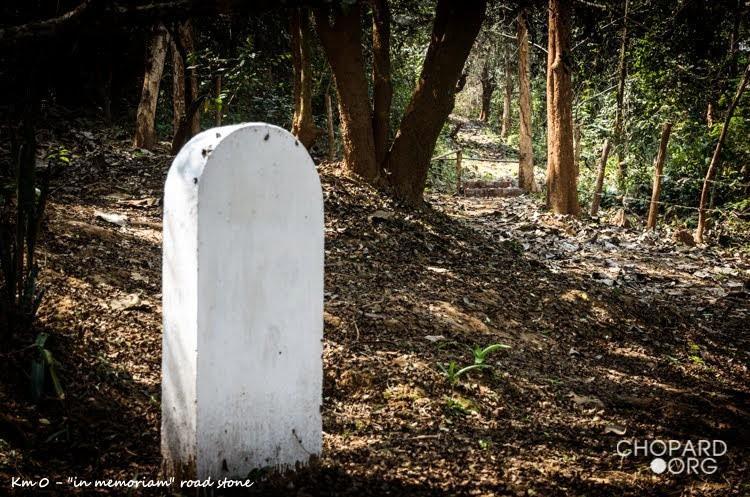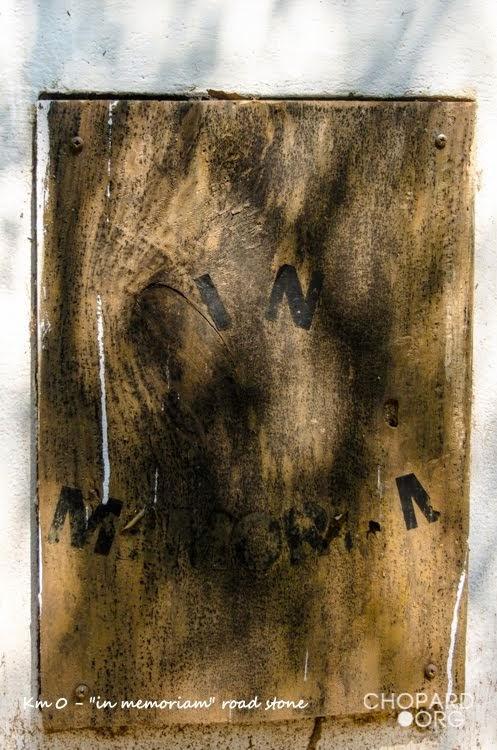 Some times later, from my home, I searched the Internet for a clue about the 'mysterious visitor' and learned that two Pavie bronze statues, sculpted in 1933, existed in Laos. The first one adorned a square in Vientiane and was "hidden", after the revolution, in the French Embassy's garden, where it is still standing. The second one had been erected in Luang Prabang, at Phousi hill's base, on a place dedicated to the barefoot explorer. When Laos was recognized as an independent country, in 1955, Pavie's statue was moved inside the French military mission residence. Then, shortly before the Royal city's Phatet Lao occupation, the image mysteriously vanished.
A French hotelier, living in Luang Prabang, recently shed some light on the strange image disappearance. Back in 1975, the atmosphere became tense and mobs threatened colonial symbols. In a manuscript letter, the French Military Attaché, informed his superiors, that, as requested, he had disposed of the embarrassing statue. This was deemed necessary to keep the situation quiet and protect its countrymen from retaliation.
I suppose, that Pavie was invited to explore the 'Naga Land' and drown somewhere in the Mekong. Later on, and in order to keep the "barefoot explorer's" memory alive in Luang Prabang, the French hotelier erected a ferro-concrete reproduction of the statue in his garden. In 2008 he transferred the image to Mouhot tomb's site … where it stands today.
(Reference to the comprehensive story, in French, see end-note [12])
Before leaving the memorial site, I rested under a large banyan tree, reflecting on Henri Mouhot's last moments; lonesome, far away from his home country, suffering from a debilitating tropical fever, but not yet really conscious of its imminent end.
On August 1861, he wrote: "Nam Kane. A splendid night; the moon shines with extraordinary brilliancy, silvering the surface of this lovely river … in my little cottage all is calm and tranquil; the view from my window is charming, but I cannot appreciate or enjoy it. I am sad and anxious; I long for my native land, for a little life; to be always alone weighs on my spirits.
His last journal entry was on August 29th, when he scribbled his now famous sentence:
"Have pity on me, oh my God …!"
He expired on 10 November 1861.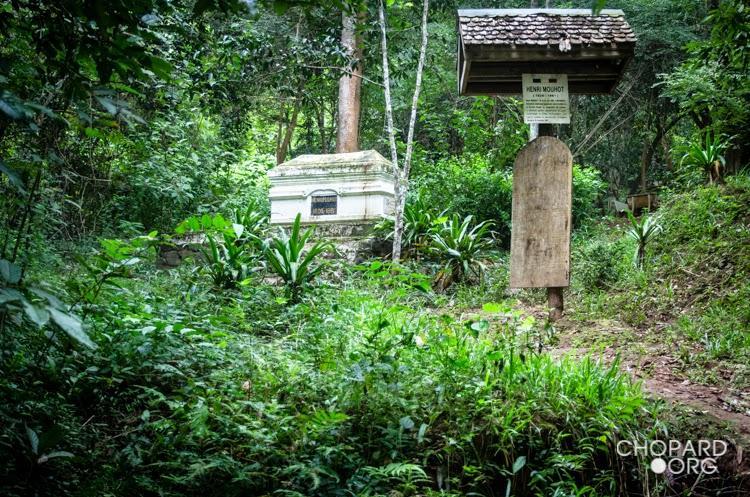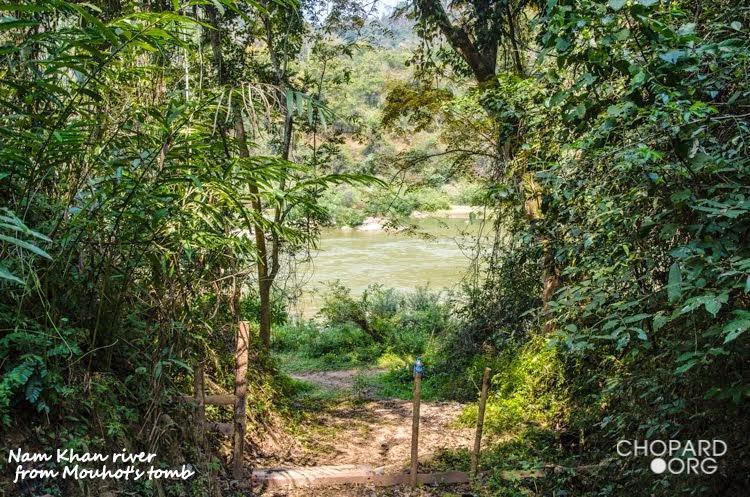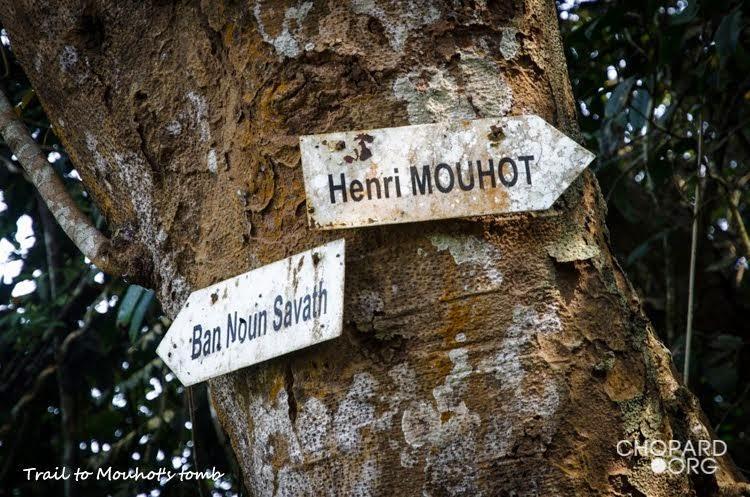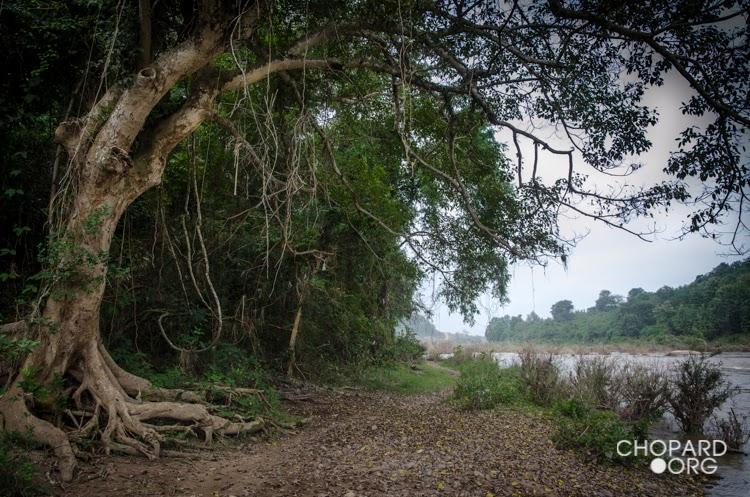 Even if Mouhot's efforts were hardly recognized in France, he is not totally forgotten there. Montbéliard, his native city, keeps his memory alive, and together with festivities to commemorate the 150th anniversary of his passing, a postage stamp has been edited in 2011.
While writing this story, I stumbled on an Internet movie clip showing a cleaning action on the Mouhots burial site, by employees of a Lung Prabang hotel. It was done on June 5, 2013, In support of the World Environment Day [13].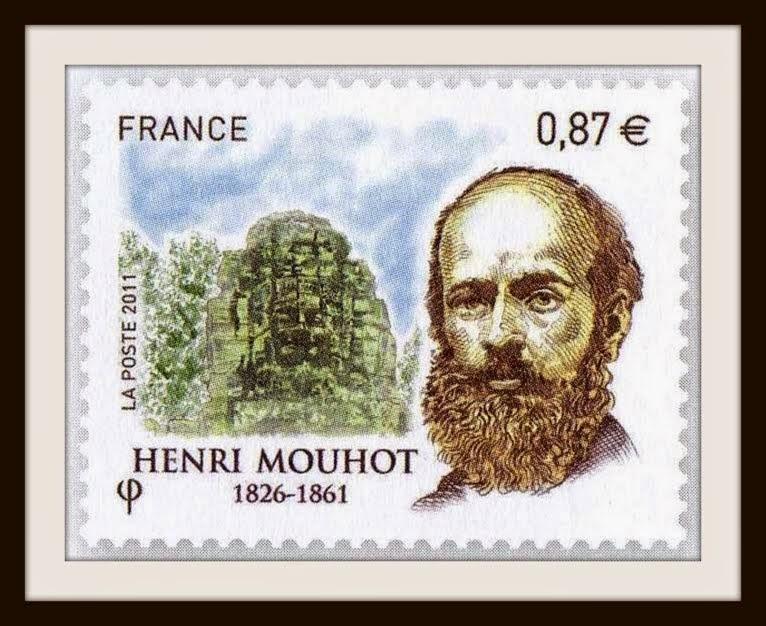 As I drove back through the road's dusty building site, I wondered about the shrine's future, hence about the Mekong pioneers memory. Luang Prabang's architectural legacy is protected by its UNESCO World Heritage status, which encompasses the stones, not the architects.
After healing the colonial and war wounds, will time again hide Mouhot's tomb in the jungle or will the new highway drive more visitors to the site? The answer might be: "who cares"?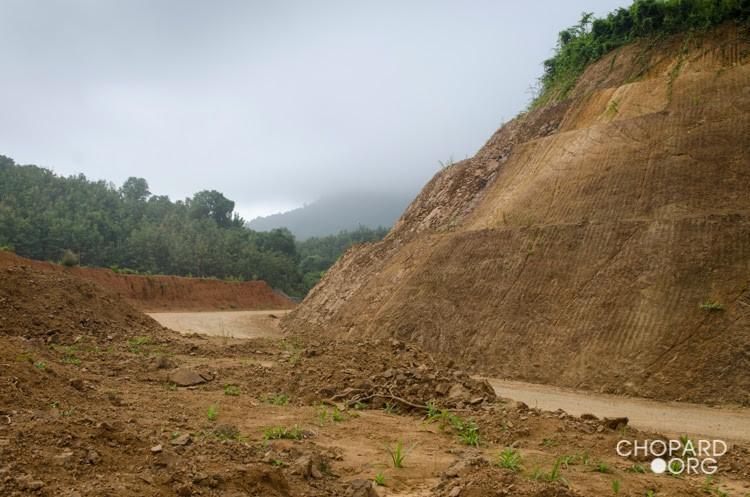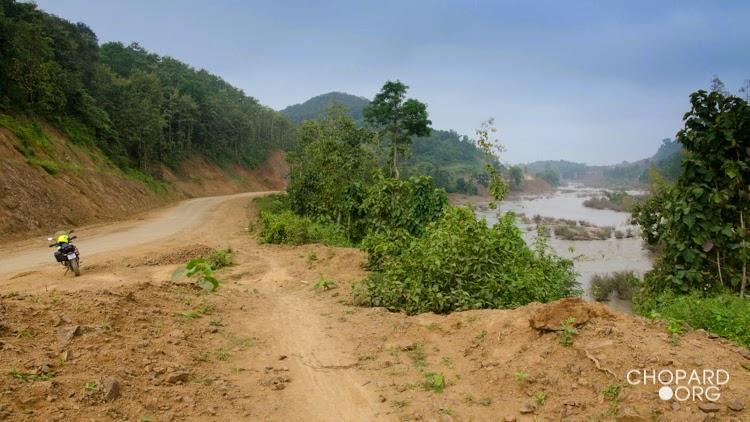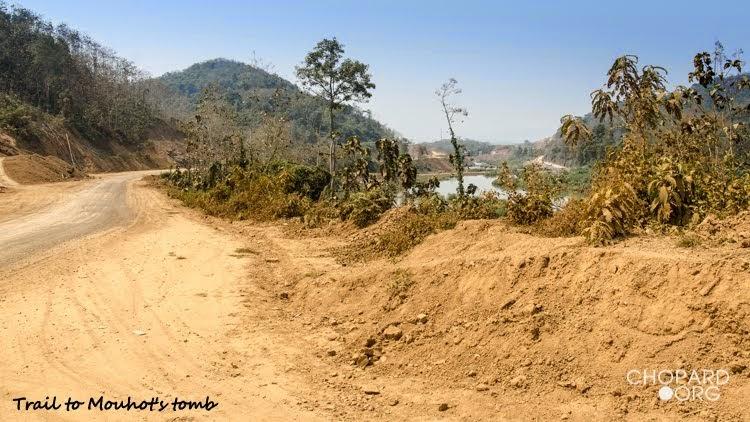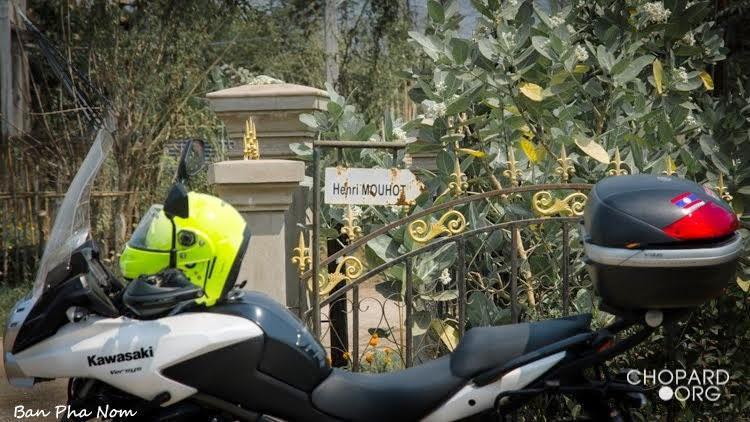 The Nam Kahn has not yet changed a lot since Mouhot's time, some small boats, placid fishermen half immersed in the water, time-honored hamlets and a quiet valley reaching east, as far as Vieng Thong and to the Nam Et and Phou Loei protected area, where the rivers has its source. Route 13 bypass is now spanning its waters and a first dam is under construction, a short distance upriver, in Luang Prabang province; one of the "63 proposed dams on Laotian Mekong tributaries"[14].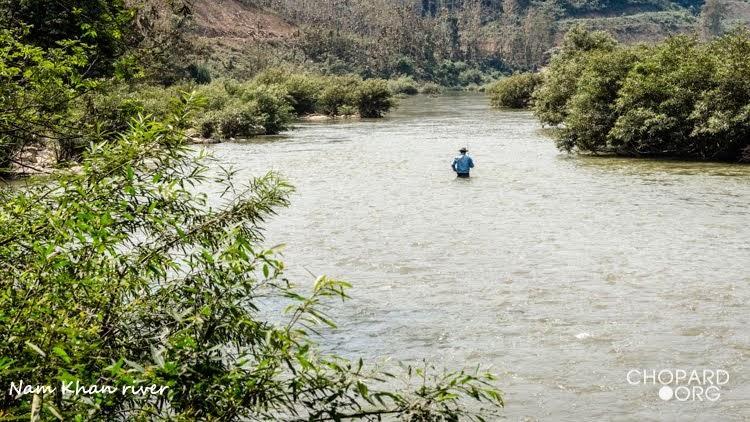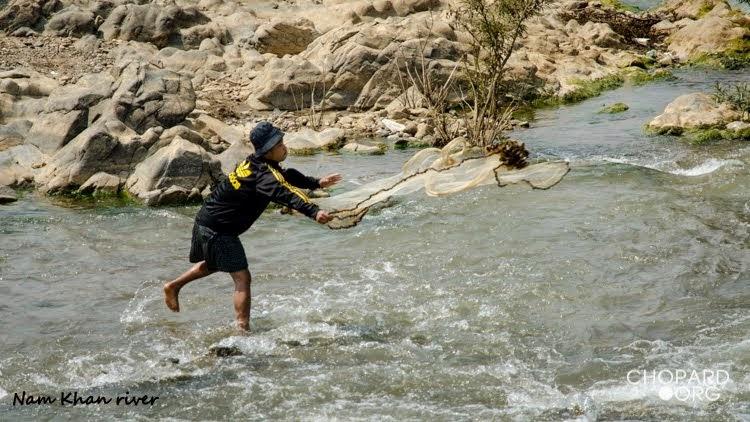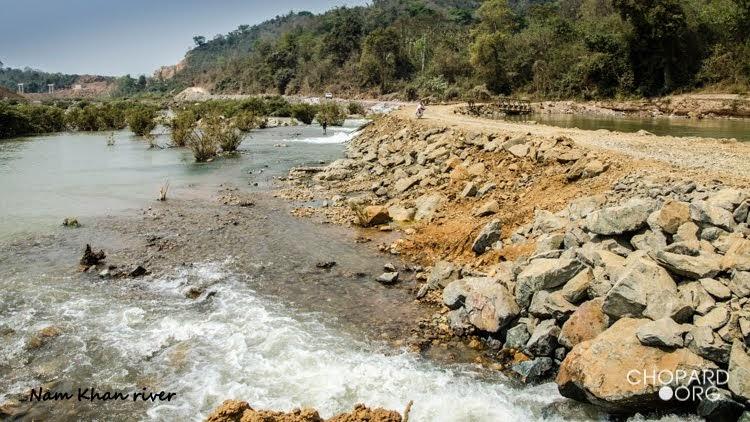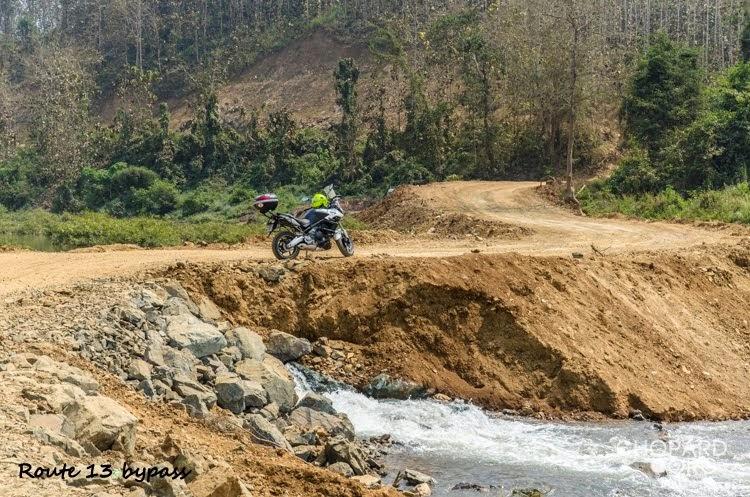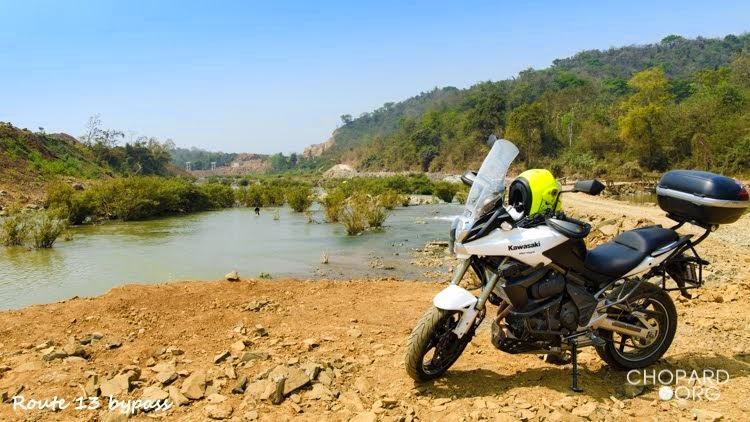 Back in Luang Prabang, my quest for a slice of the Mekong's history came to an end. Despite the red earth swallowing and the stony road hurdles, I fully enjoyed my short drives, chats with hospitable locals and solitary reflection. As for my bike, she deserved a shower to erase the trails dusty souvenirs and to be fit for another pleasing drive.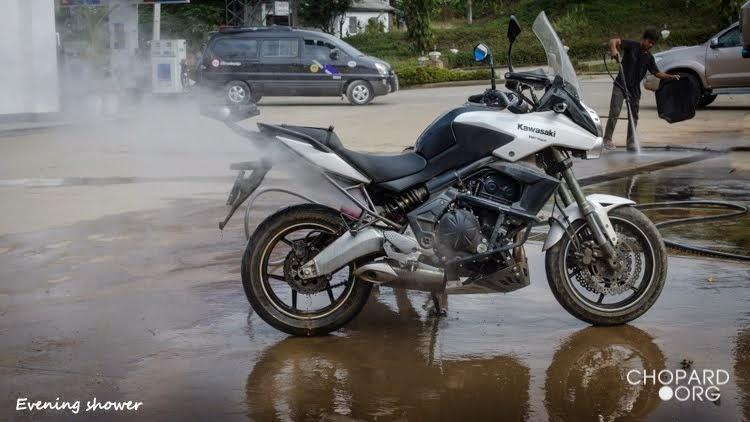 Bibliography
A series of publications from the Mekong explorers, in French or English translation, are available as modern editions or as public domain e-books. They make entertaining readings about South-East Asia's history, but have to be placed in the time's contemptuous background, when Europeans viewed the rest of the World as, at best, underdeveloped and Christianity was the only possible faith.
[1] The first book is Mouhot's posthumous edited diary, available in French or English translation, as a public domain e-book (Google books online).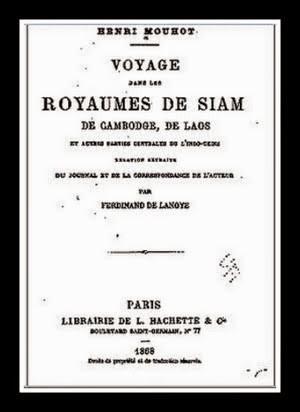 Voyage dans les Royaumes de Siam, de Cambodge, de Laos
Henri Mouhot
Travels in the central parts of Indochina (Siam), Cambodia, and Laos, during the years 1858, 1859, and 1860
Henri Mouhot, Charles Mouhot
Murray publisher, 1864
In two volumes
Google books, public domain E-Book
Two of the members of the Mekong Exploration Commission wrote a comprehensive relation of their journey. Douard de Lagree, the commandant of the mission, had apparently requested that his notes should be destroyed after his death. Delaporte, the group's artist published many illustrations, some of them are published in the other members' books.
[2] Travels on the Mekong, Cambodia, Laos and Yunnan
Louis de Carné
Member of the Mekong Exploration Commission
White Lotus, Bangkok 1995
Travels in Indochina and The Chinese Empire
Louis de Carné
London, Chapman and Hall, 1872
Translated from French
Google books, public domain E-Book
[3] Voyage d'exploration de l'Indo-Chine
Francis Garnier
Edition Olizane, 2009
Voyage d'exploration en Indo-Chine : effectue pendant les annees 1866, 1867 et 1868, v.1
Garnier, Francis
Paris Hachette
Google books, public domain E-Book
Another book, written by Pavie, describes his travels in Indo-China :
[4] Mission Pavie, Indo-Chine 1879-1895
Auguste Pavie
Publisher E. Lerooux, 1911
Google books, public domain E-Book
The "Mekong Commission's" adventures are also related by modern authors', for instance:
[5] River Road to China
The Mekong River Expedition 1866-1873
Milton Osborne
[6] The Mekong. Turbulent past, uncertain future
Milton Osborne
Allen&Unwin 2000, revised edition 2006
[7] Mad about the Mekong
Exploration and Empire in South East Asia
John Keay
HarperCollins E-Books
For this 4th 'Mekong Ballade 'chapter I have also made reference to:
[8] Around Laos in 1900, A Photographer's Adventures
A. Raquez
White Lotus 1995
[9] 'Stalking the Elephant King'
Christopher Kremmer
Allen & Unwin 1997 - page 19
Internet pages accessed:
Henri Mouhot - Wikipedia, the free encyclopedia
Visiting the grave of Henri Mouhot, outside Luang Prabang in Laos » Old World Wandering
Louis Delaporte - Wikipedia, the free encyclopedia
Auguste Pavie - Wikipedia, the free encyclopedia
http://en.wikipedia.org/wiki/Ernest_Doudart_de_Lagrée
Mekong - Wikipedia, the free encyclopedia
Mekong - Wikipedia, the free encyclopedia
Mekong River | The Water Page
http://www.mongabay.com/fish/data/ecosystems/Mekong River.htm
CABINET // Marking Territory
Photography credits
: in addition to my own pictures, I have used public domain illustrations, mostly extracted from public domain books (In most cases, this means that they were first published prior to January 1, 1923)
Notes:
[10] The geographic source of the Mekong River (Langcang Jiang) was officially recognized by the Commission for Integrated Survey of Natural Resources of the Chinese Academy of Sciences in October 1999, at the foot of the glacier that discharges into Lasagongma Creek. The above geographic source had already been first discovered and reached by a Japan-China joint party on the 12th September 1994.
The Source of the Mekong River in China
[11] Lonely Planet, Laos travel guide, 7th Edition, Dec 2010.
Lonely Planet, however, is not the only publication to make the Pavie-Mouhot statue confusion, as seen in the following example from the distinguished "Royal Society for Asian Affairs"
http://www.rsaa.org.uk/photo/show/statue-of-henri-mouhot-1826-1861-discoverer-of-angkor-wat-a
[12]
Laos – L'histoire mouvementée des statues Pavie au Laos « Asie Du Sud-Est « Le Souvenir Francais de Chine
[13]
[14]
Big money, big dams: large-scale Chinese investment in Laos | East Asia Forum
[15] Thank you Peter (Ticino)
Last edited by a moderator: