Excerpt
: The infamous "Golden Triangle", a neighborhood filled with armed bandits and drug dealers; this is for sure a baloney in the 21th century, at least for the Sop Ruak apex. Arriving from Chiang Khong I fulfilled my Mekong Promenade's last loop in this touristic, but globally compelling, region.
A Mekong Promenade
Part 7 – Along the "Golden Triangle"
First
(1st) part: The Isan Rim (
A Mekong Promenade - The Isan Rim
)
Second
(2nd) part: South Laos (
A Mekong Promenade Part 2 – South Laos
)
Third
(3rd) part: Vientiane to Luang Prabang (
A Mekong Promenade, Part 3 – Vientiane to Luang Prabang
)
Fourth
(4th) part: In memoriam of some Mekong explorers (
A Mekong Promenade - part 4: In memoriam of some Mekong explorers
)
Fifth
(5th) part: Xayaboury, Laos west of the Mekong (
A Mekong Promenade - Part 5: Xayaboury, Laos west of the Mekong
)
Fifth B
(5B) part: Pak Lai stopover (
A Mekong Promenade - Part 5b: Pak Lai stopover
)
Sixth
(6th) part: Chiang Khong (
A Mekong Promenade - Part 6 : Chiang Khong
)
Seventh
(7th) part: Along the Golden Triangle (
A Mekong Promenade - Part 7: Along the Golden Triangle
)
Eighth (8th) part: Cruising down the Mekong river (To be published next)

Preamble
My actual "Mekong Promenade", a three weeks and 4'700 kilometers journey, was completed in October 2012. I divided my write-up about it in eight chapters, who took a long time to be indited. This is the last part, and before drafting it, I had several additional opportunities to visit the "Golden Triangle" again. When relevant, I have updated information and added missing pieces.
My first encounter with the "Great River", and my first stopover in Sop Ruak, was in March 1989, when I cruised up in a small boat, from Chiang Saen, on a package tour. Impressions collected during my visit, like the high limestone rim, on the Lao side, and the view toward the sand bank through wooden and concrete arches, at a not yet crowded view point, always remained in my mind. Illustrations from this period, a quarter of century back in time, also helped to keep up my memories.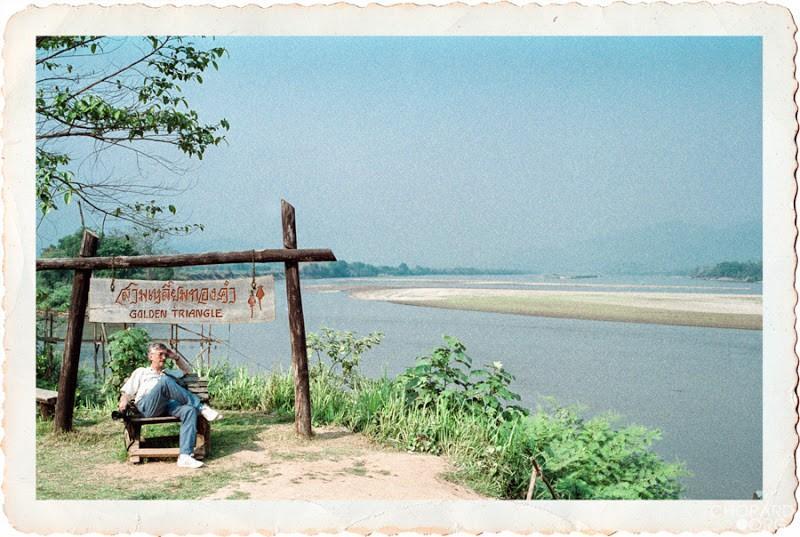 1. Sop Ruak
In order to complete my Mekong ramble, I had to drive a last stretch north, to Sop Ruak, an apex nicknamed the 'Golden Triangle'. Leaving Chiang Khong on Route 1129, I stopped at the city's outskirts to visit 'the Chinese Nationalist cemetery'. It is an interesting singularity, a decaying monument to a page of history linked to a specific immigration group: the Kuomintang 93rd Division soldiers. For Mekong travelers, it is a compelling awareness as these people were instrumental in shaping the "Golden Triangle"; they battled against the communist insurgency and also played a major role in the region's opium and heroin traffic. Currently, this graveyard is mostly closed to visitors, with its doors opening, from time to time, particularly on April 4th, the Chinese "Tomb Sweeping Day".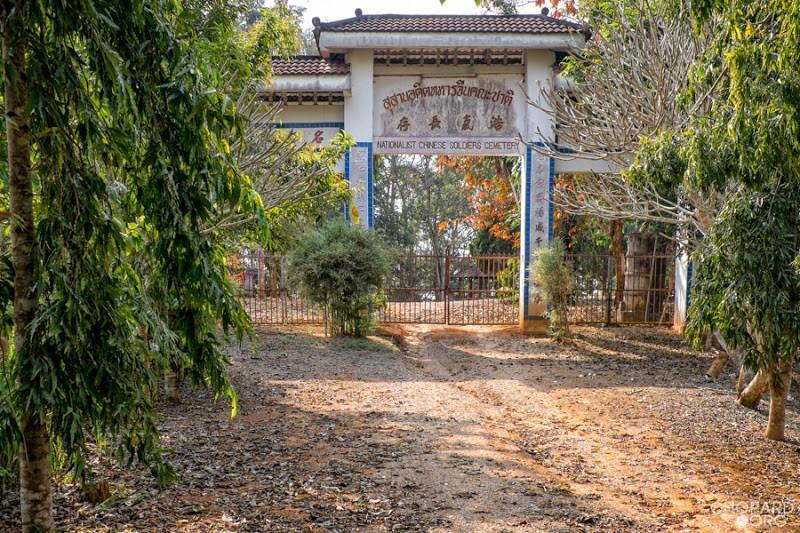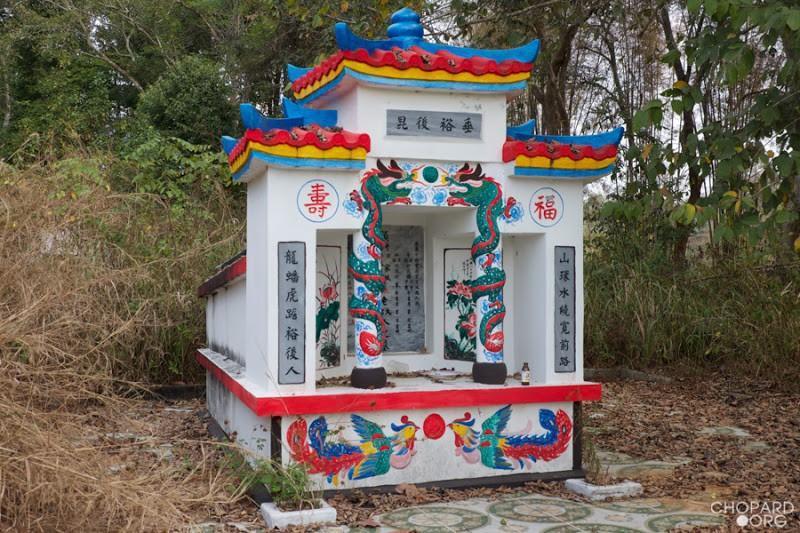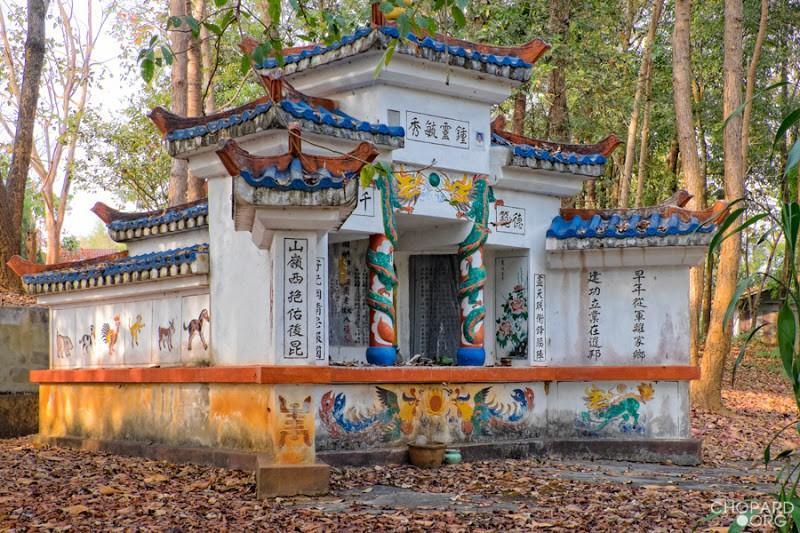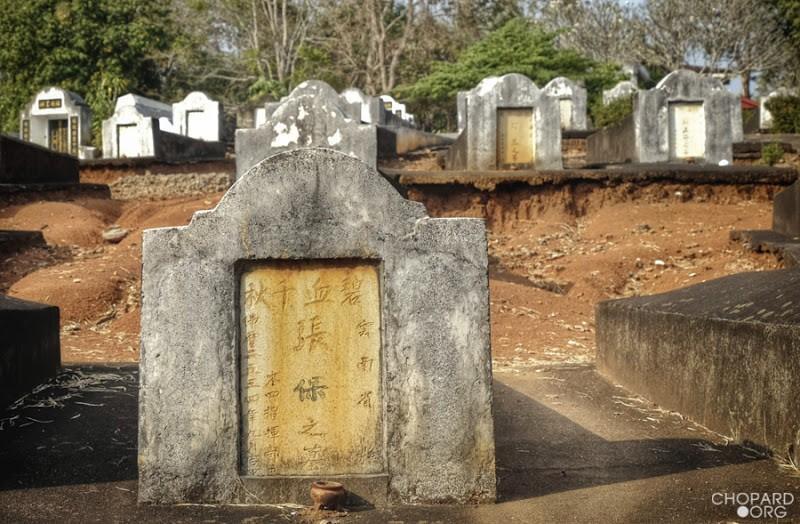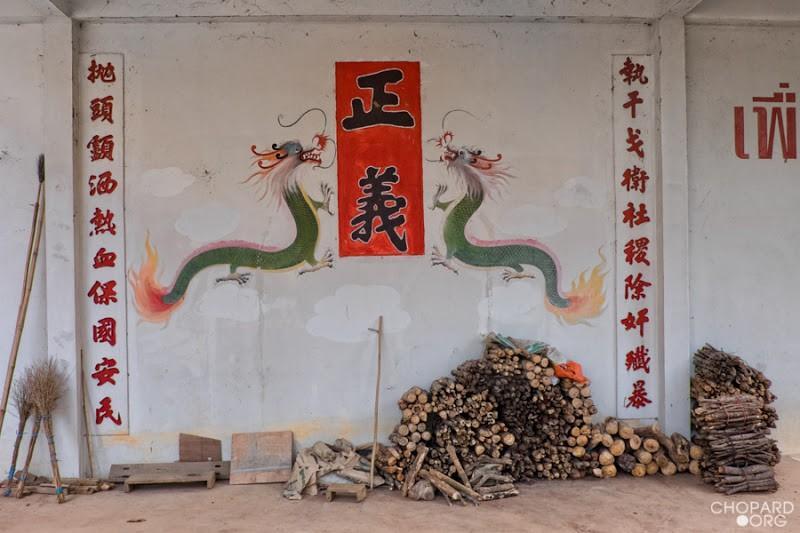 A hundred meters further up, a new "Wonder of the Buddhist World" is under construction. A large head, installed at the road's level, is beckoning passerby to "Phu Savan" temple's construction site. It will crown a huge Buddha image, under construction on the compound's hill. The "trick", to upheave the heavy block to its final position, on the statue's torso, is in the aggregation of seven, two meter high slices, to be moved separately. The construction's progress is slow, as another ten million baths have to be funded before its completion, probably in 2017. It is, however, already worth to stop at the temple who affords a nice view over the city and displays various images from the Buddhist pantheon, including a baby Siddhartha in its characteristic Lumbini finger raising position.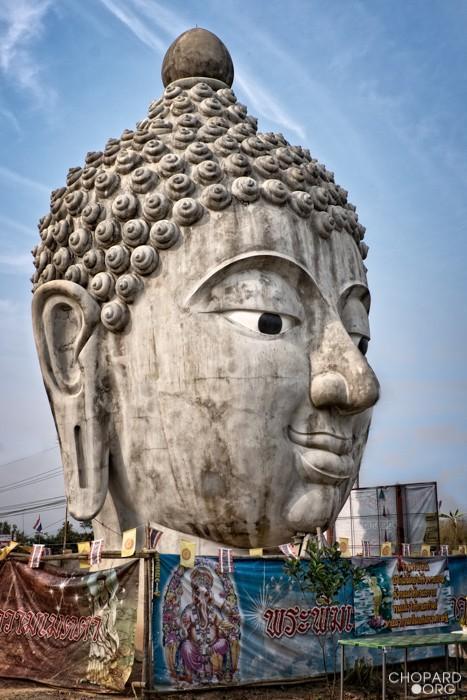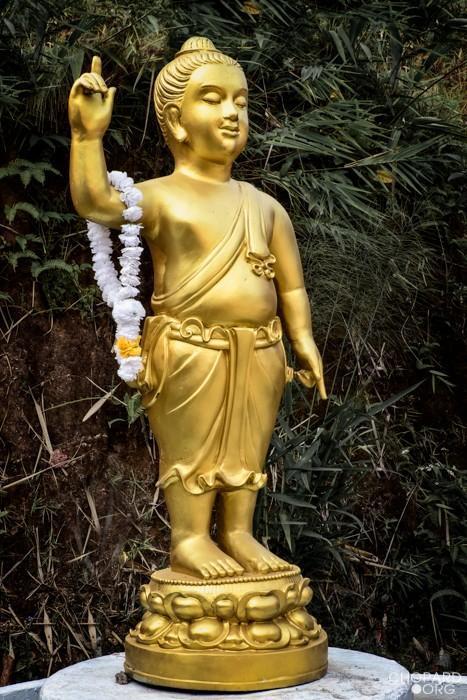 After this second stop, I rushed to my day's destination, crossing up the hill, through Kiu Khan, and keeping the trail near to the Mekong (Route 4007) open for my return journey.For several years this itinerary was under construction and renovation; it is now totally in "racing track" conditions.
The pictures shows a stretch of todays Route 1129 and, to compare, the Saeo intersection, two years ago: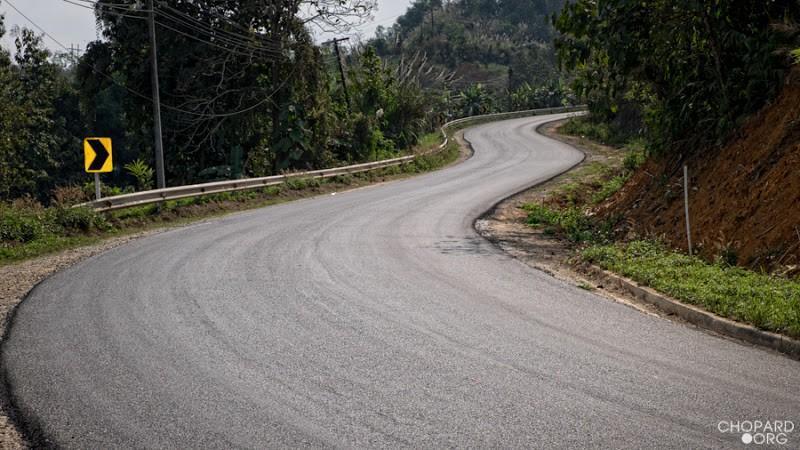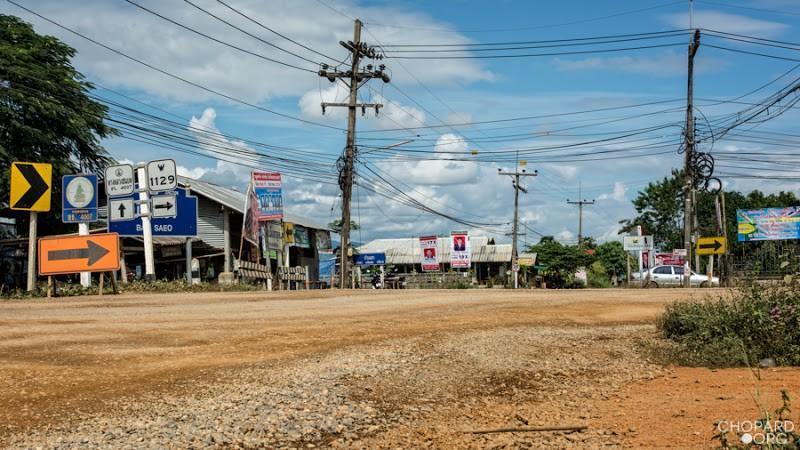 For touristic purposes, the "Golden Triangle" trademark was affixed to a yellow sandbank, in Sop Ruak, at the Mekong and Ruak rivers' confluence, a point where Myanmar
(the former Burma), Laos and Thailand meet in a cuneate way.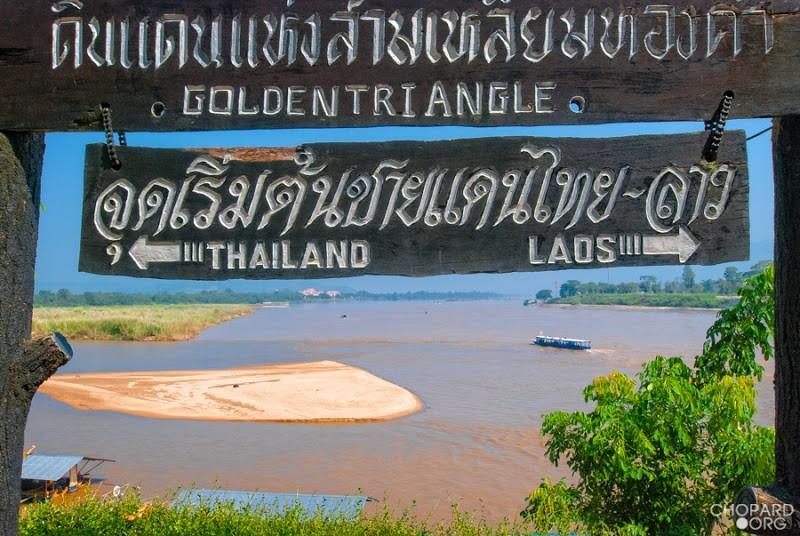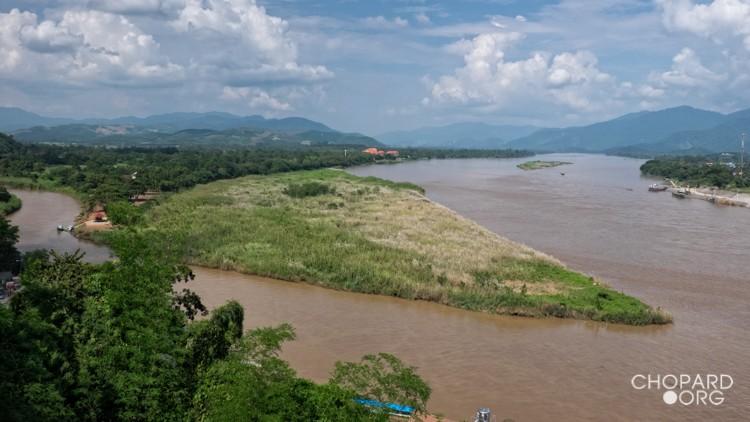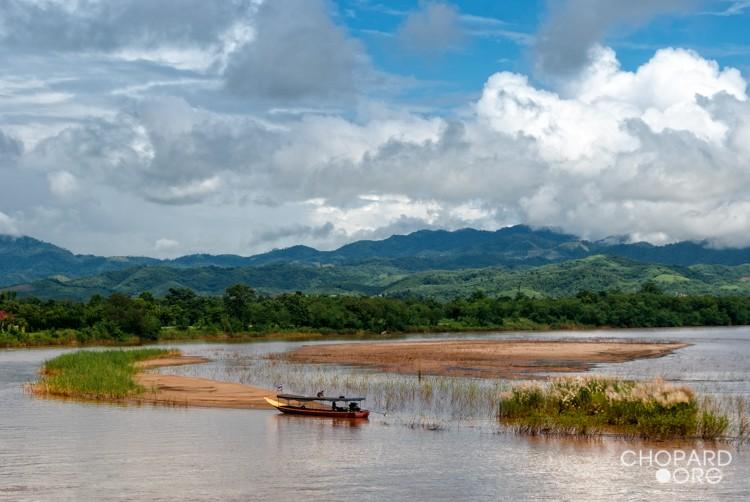 The region's denomination origin, however, is not clear and could date back to ancient times, when caravans transported all sort of valuable goods through this area. It covers a vast territory, from the Burmese hinterland, to North Laos and to Thai mountain ridges rolling down to the Mekong. During the Indochinese wars, and till the mid-nineties, it earned the infamous reputation for being the world's largest opium supplier [1 and 2].
A lawless fame and some romanced opium tales provided the foul-smelling appeal to build up a touristic attraction on the Mekong's Thai rim. My first visit to this place was in March 1989, the year when the Berlin wall was opened and shortly after the whole communist world became more transparent and accessible; still, poking over the "Bamboo wall" was enticing in itself, as described by Milton Osborne in his book "Mekong" [3]:
"In the mid 1980s it was possible to stand and look across the Mekong to the Lao side of the river from locations such as Chiang Saen and Chiang Khong and see absolutely no sign of human activity. Fearful of foreign interference, the secretive Lao authorities have simply moved the population of river towns such as Huay Xai to interior locations, leaving only empty buildings to be observed from the opposite bank of the river"

The shape of the sand bank at the three countries' border limit, varies from season to season and from year to year.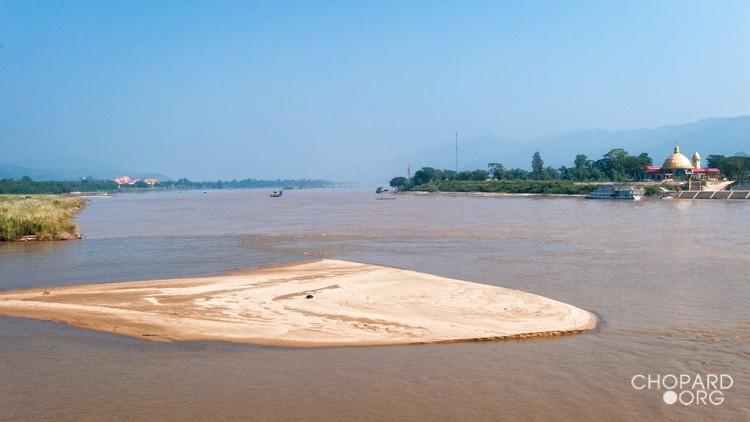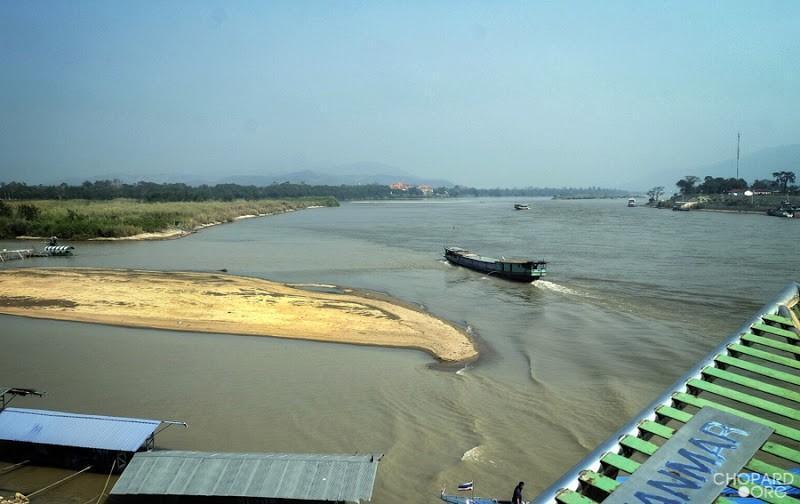 As the opium captivation faded out, probably because most traffic had shifted to Afganistan and, maybe, through a promotional effort to downplay it, another tourist trap was setup: a mini Disneyland, featuring the Buddhist pantheon and well-stocked with souvenirs. It provides an alternative to the Lao slot machines, installed in the other rim's casinos. Here, however, the gains are not paid out cash, but accumulated as merits for the next life.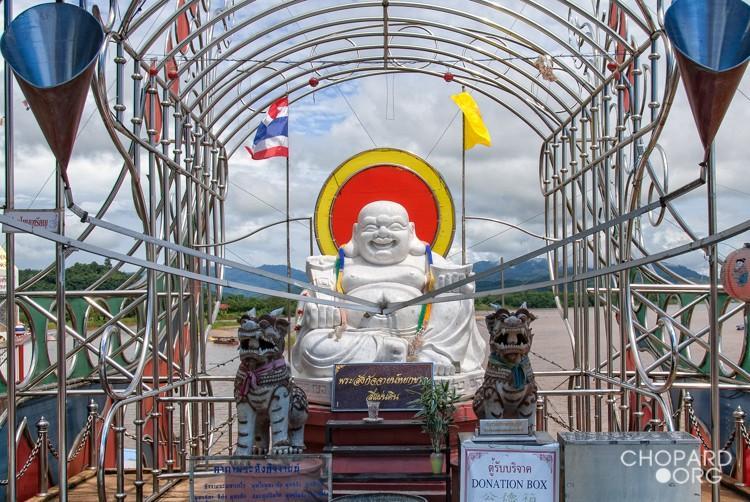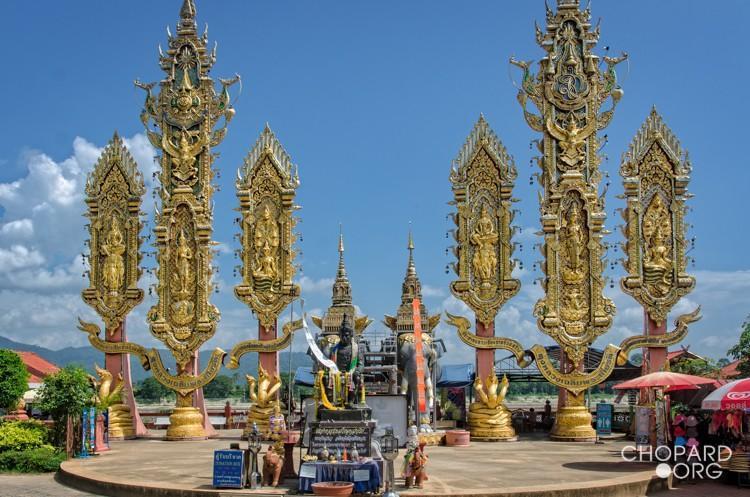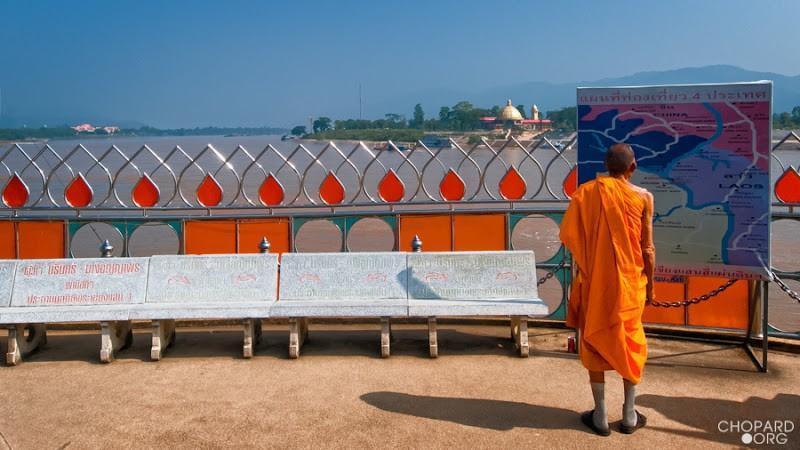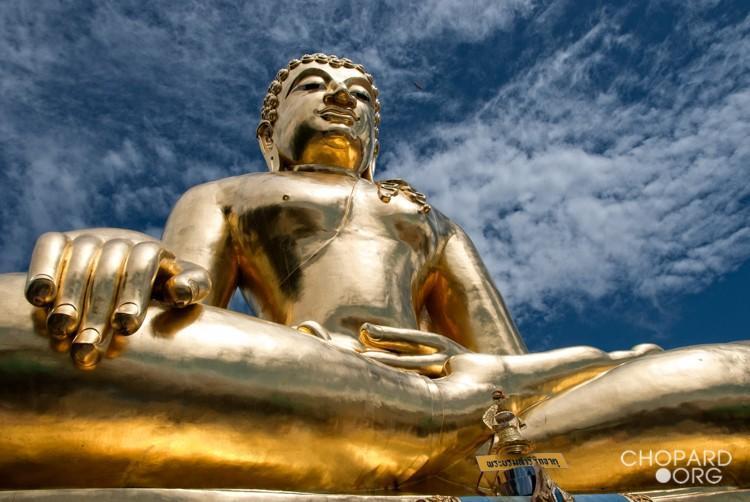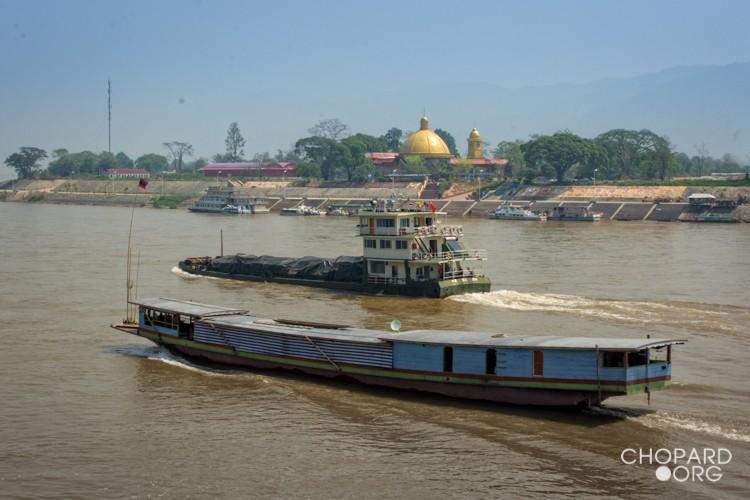 On the Mekong's rim, the mythological Naga snake is ubiquitous, decorating temple roofs and stairs, guarding spiritual places and invited to most popular festivities.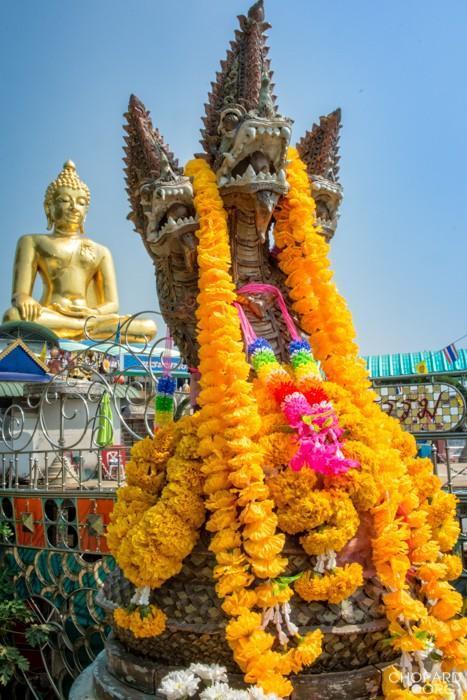 My impression is that poppy related illustrations are outdated. In the past, they decorated every signboard, while, nowadays, they seem to fade out. The former small
opium museum still exists, with few things to show; it still displays Khun Sa's portraiture with the legend "Opium king or freedom fighter?"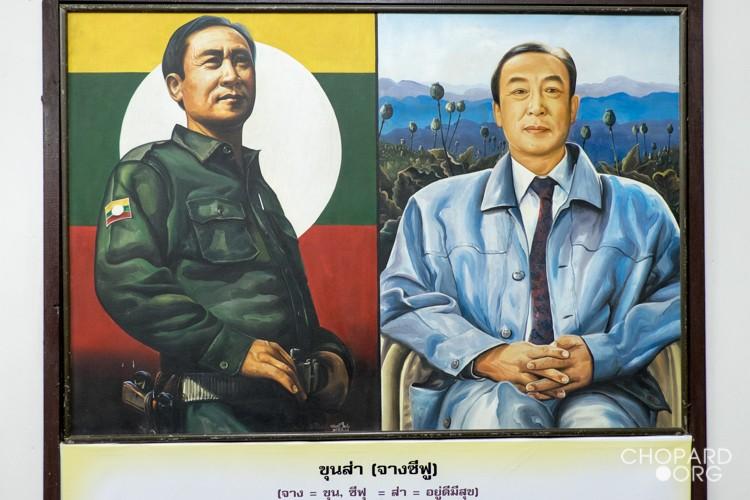 Khun Sa has his own museum in Thoed Thai, where, despite his passing, in October 2007, his memories are still alive in the population.
A Khun Sa's statue in his former headquarer in Thoed Thai, nowadays a museum: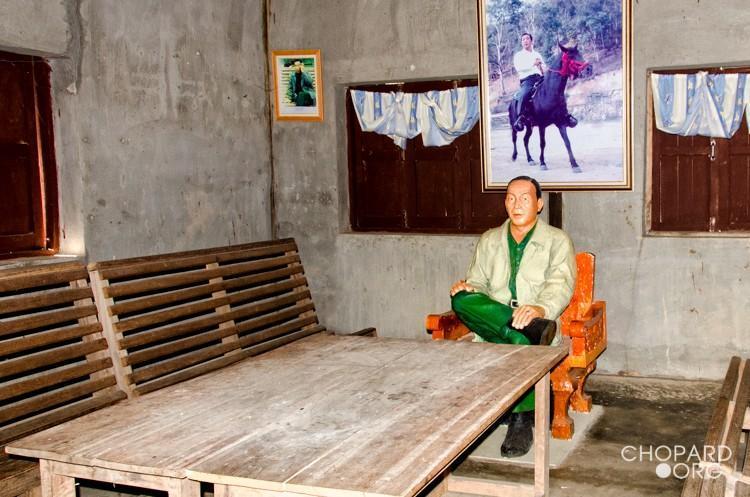 Note
: about Khun Sa [4], see also my recent write-up for Thoed Thai (as well as several informative Gt-Rider's forum reports):
https://www.gt-rider.com/thailand-m...hai-the-yellow-flowers-and-2014-Shan-New-Year
The "Hall of Opium Golden Triangle Park and Musuem" is a large, well documented and instructive showcase of the history, traffic and ravages of opium and heroin. Unfortunately, but this is understandable in such a well setup, multimedia assisted, display, it is not allowed to take pictures inside the building.
Khun Sa has passed away and the former Kuomintang soldiers are busy harvesting tea in Doi Mae Salong, but the "Golden Triangle" is still not liberated from all narcotraffic plague. The eradication went well on the Thai side, but under cover traffic of amphetamines, notably in the Burmese jungle, is still flourishing, and even opium production is dangerously on the rise [4].
A Mekong pirate act, leading to the massacre of eight Chinese sailors, in October 2011, was a crime too much. China, eager to defend its citizens and commercial interests along the Mekong, handled with determination. Naw Kham, the attack's mastermind, was tracked, captured and publicly executed in Kunming, with three accomplices, in March 2013. This was a strong warning to the remaining bandits, many from the desbanded Khun Sa army, still operating from Burma.
My two first landings in Sop Ruak, about twenty five years ago, were from a small boat. Cruises were organized from Chiang Saen, up the Mekong river, but, I could not recall their exact itinerary. My most lively souvenirs were huge limestone walls, with small carved stairs and people bathing, washing cloth or collecting water. As I had recorded these scenes on slides, it was easy to remember them, and I was eager to find their location.
Pictures from March 1989: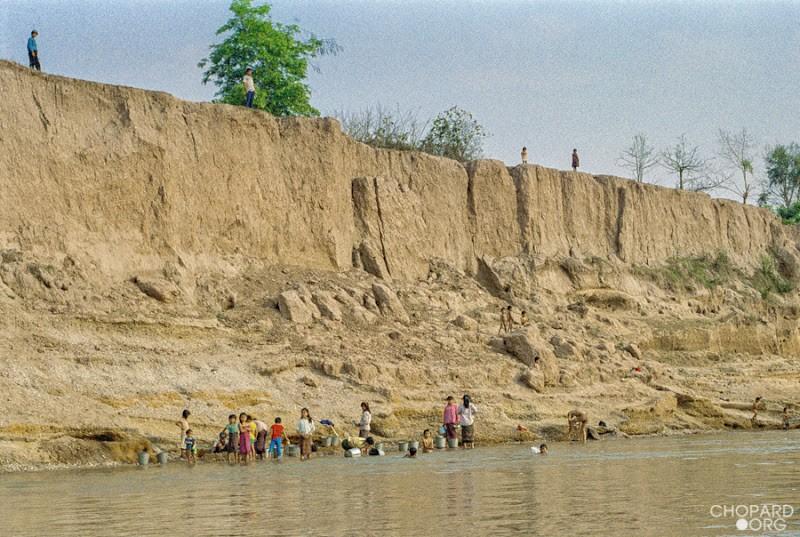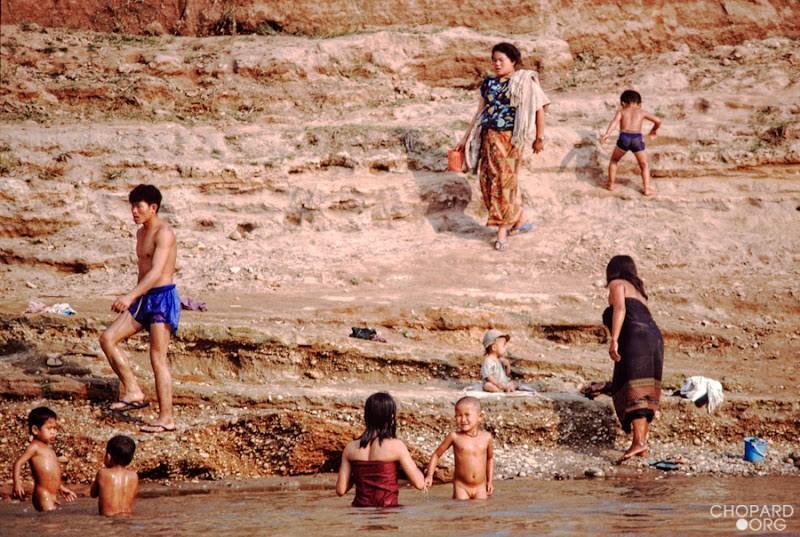 All along the way, from Chaing Saen to Sop Ruak, I had observed the Lao rim, without spotting the high sand walls; I reckoned that they might be located further upriver. To confirm this, I boarded a small pirogue in Sop Ruak and asked the boatman to cruise north. It was one year after a deadly pirate act, and going upriver still seemed too risky to him; after a short sailing, he tacked back, letting me admire the Kings Roman Casinos and the Golden Buddha from the water level perspective.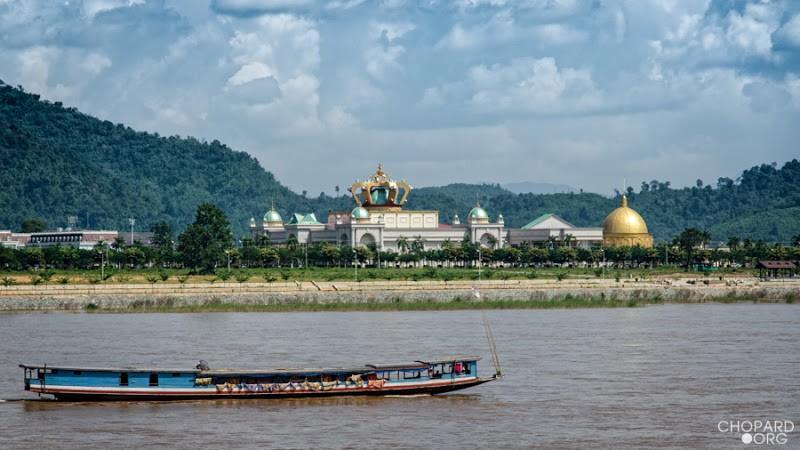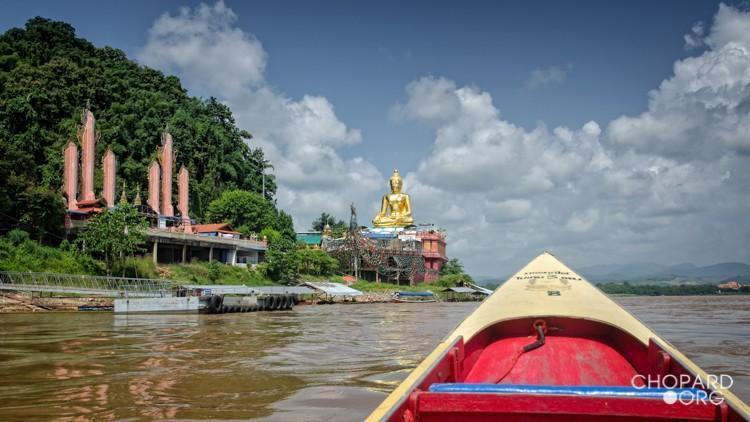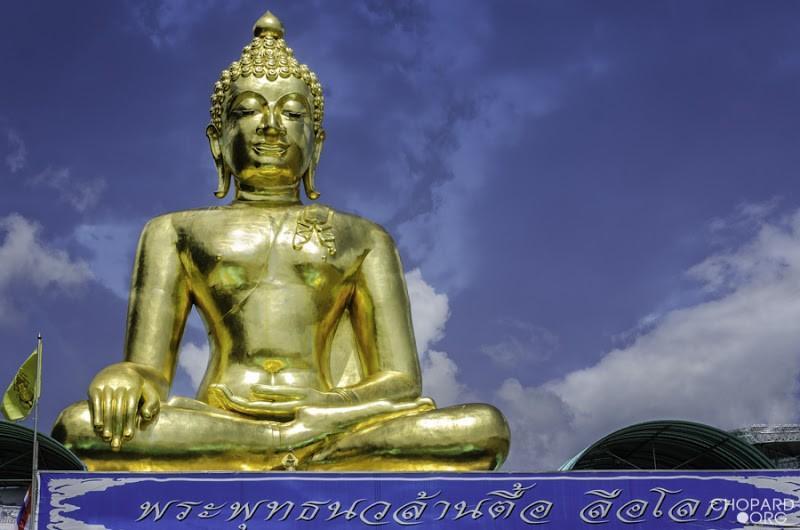 At first, I thought that the steep sand-wall might have been at the casino's place, where the river's rim is now domesticated with stone walls.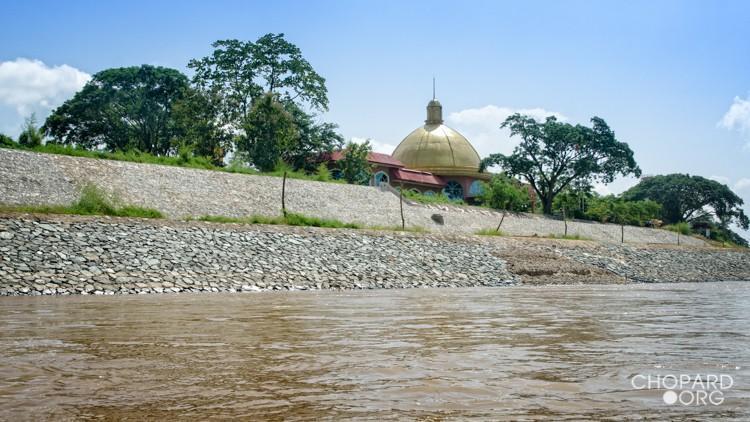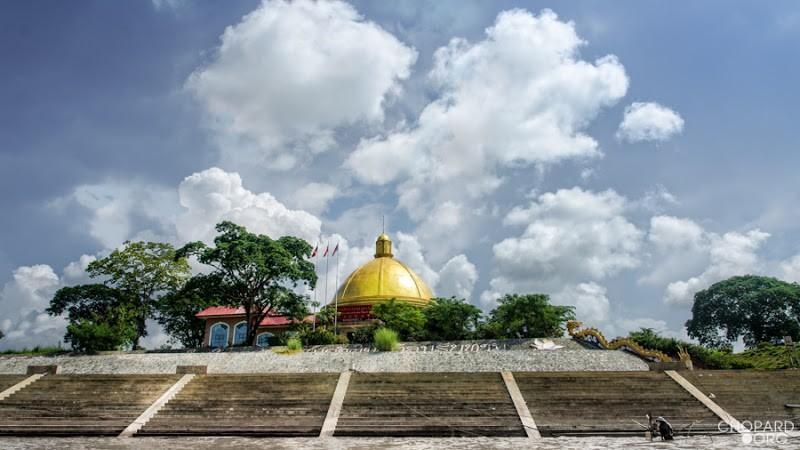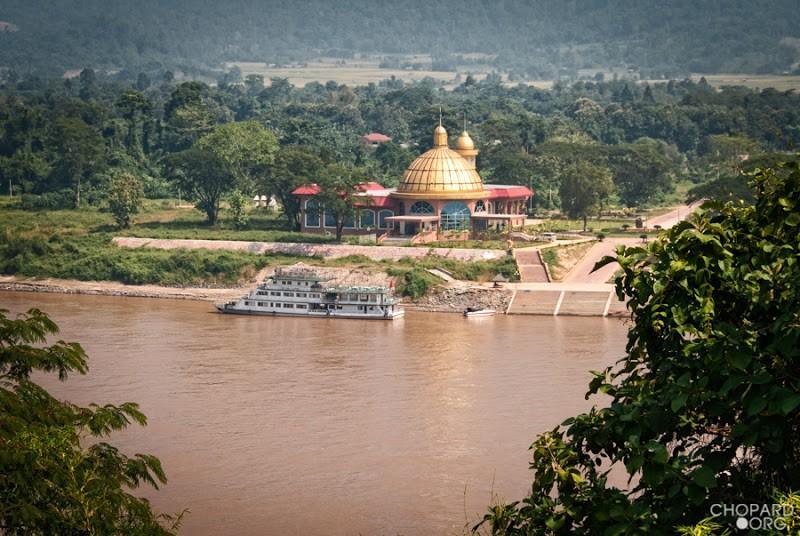 Later on, as I visited the "Golden Triangle" again, I took old pictures with me and showed them to locals. They recognized the place wich is situated further downriver, just before Chiang Saen, in Ton Phueng village. Nowadays, this segment of the Lao rim is also more tamed, without yet being totally walled.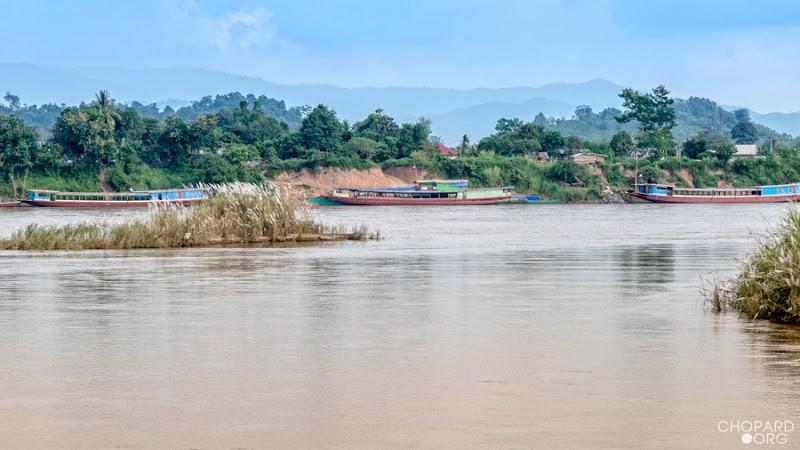 For another river perspective, I once boarded the free shuttle boat linking Sop Ruak to the "Kings Roman" world. After passing Thai immigration and checking out of the country, I took a craft bound for the smaller casino, just on the other rim. On both sides, official crossing check point are now set up and, to enter Laos, a visa (30-42 dollars) is required. A couple of nationalities, however, including Swiss like me, Russians, Luxembourg, Japanese, Koreans and ASEAN nationals are exempted from this paiement. For the return to Thailand, I had a multiple entry autorisation, but I am not sure what the regulation would be for others travelers.
People not inclined to gambling, might find nothing interesting on the Lao side. After a short walk along the river's rim and the observation of ladies trying their luck with a catch in the brownish waters, I returned to the peer. Everything, in the free and enjoyable cruise back is advertised in Chinese language, with a matching music from the Celestial Empire.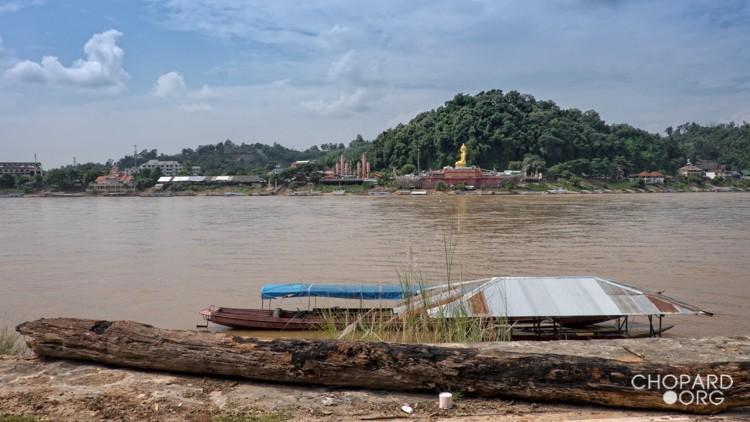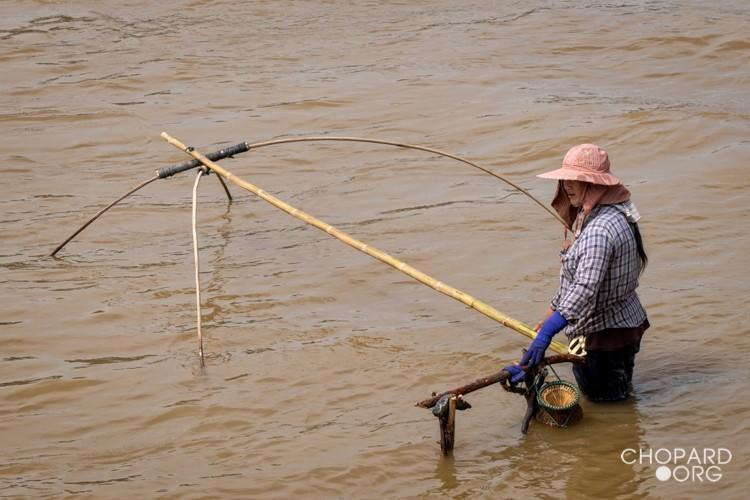 I had satisfied my curiosity by crossing to an area which, in 1967, was the battleground of a major opium war between Khun Sa's troops and Kuomintang soldiers. No landmark, probably, reminds about this gloomy "Golden Triangle" narcotic saga's infamous episode.
2 Chiang Saen
Down from Sop Ruak, the important historic city of Chiang Saen is often overseen and forgotten. Few remnants give evidences of the mystical Yonok's splendors; a kingdom contemporary with Angkor and, finally occupied by the Khmer. This region, where, later on, king Mengrai was born, is the cradle of the whole Lanna civilization.
"It is known that the Chiang Saen of the 14th century had eight watchtowers and eleven gates, that it was one of the best-planned cities of all time in almost any part of the world, and that it was at the same time a center of Buddhist thought, and a city that existed with the constant expectation of invasion at any moment."
(citation from:"Yonok, the birthplace of Lanna [5])
For an significant overview, it is worth to visit Chiang Saen's National Museum which provides archaeological artifacts, whose highlight is the famous "Kirimukha", a Kala face stucco from an old Lanna temple. The museum is also rich in ethnographic information about the dwellers of the northern region.
Kirimukha :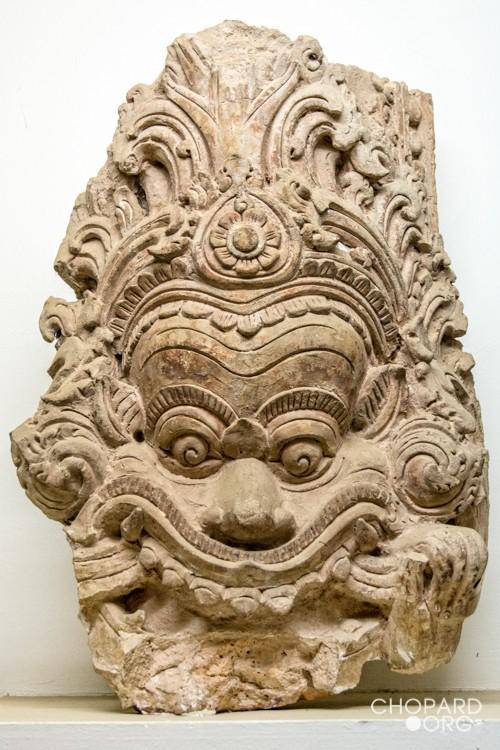 Wat Chedi Luang, a sister of Chiangmai's famous temple is located next door, on the same coumpound. The 14th-15th century building was largely in ruin with only a tall chedi, covered with vegetation, pointing out of brick crumbles. During my latest visits, however, part of the surroundings were closed to the public for thourough restauration.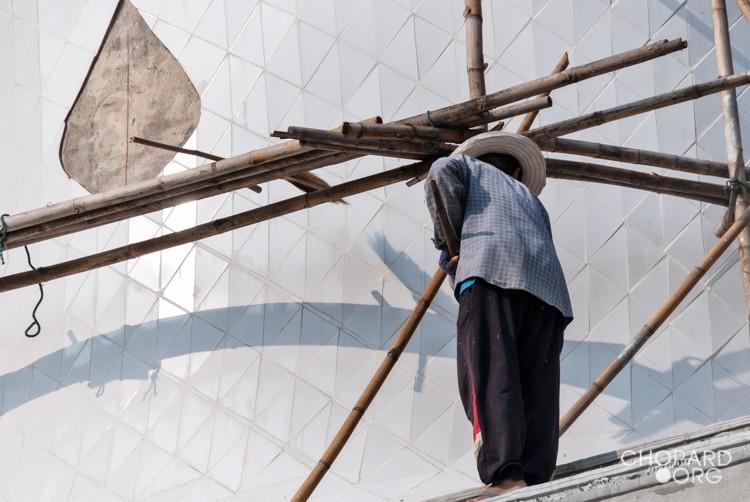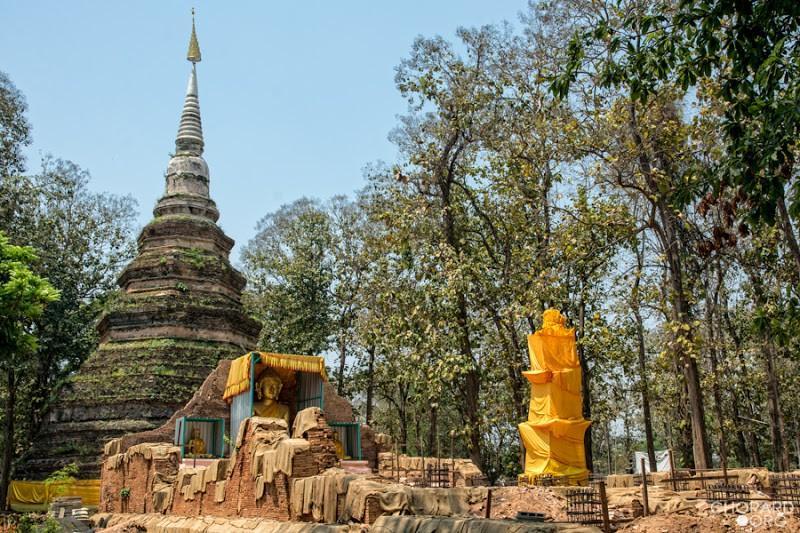 Other interesting remains of king Phya Saen's city, are temples, protection walls and moat vestiges. One of my favorite visit is to Wat Chom Kiti, an historic temple hosting a Buddha relic enshrined in a stupa. Its hillside location affords a georgeous view over the Mekong river.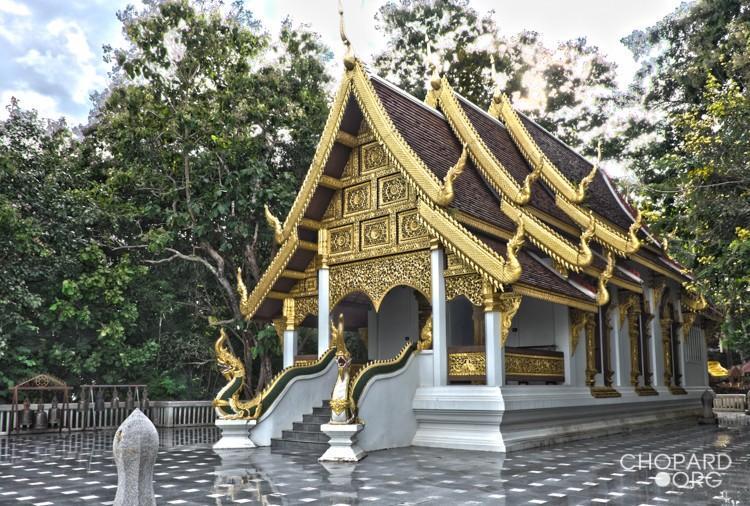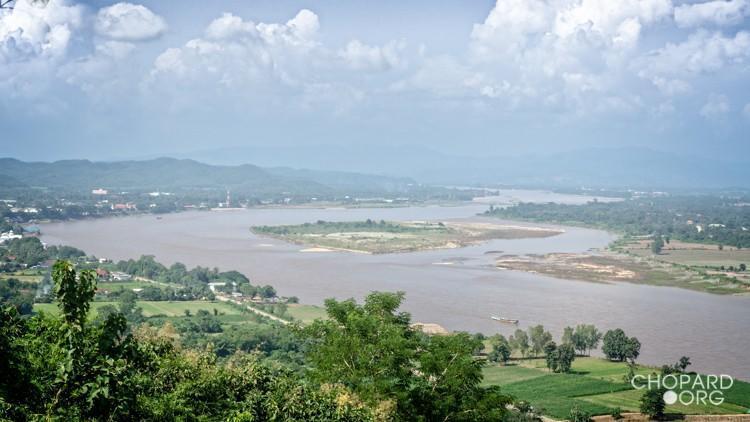 Nowadays, Chiang Saen has an intensive commercial maritime activity. On maps, its harbor is located on the Lancang, the «Turbulent River", as it is called in Chinese; the main cruising link is, of course, with Yunnan. Finally, Francis Garnier's and the Mekong Exploration Commission's dream of a trading waterway to China is a reality. Enlarged through rock blasting, the river channels see more and more large ships replacing modest rice barges. The French colonial administration, however, did probably not anticipate the heavy down-flow of cheap goods and vegetables inundating Indochinese and Thai markets; for the best interest of the Middle Empire.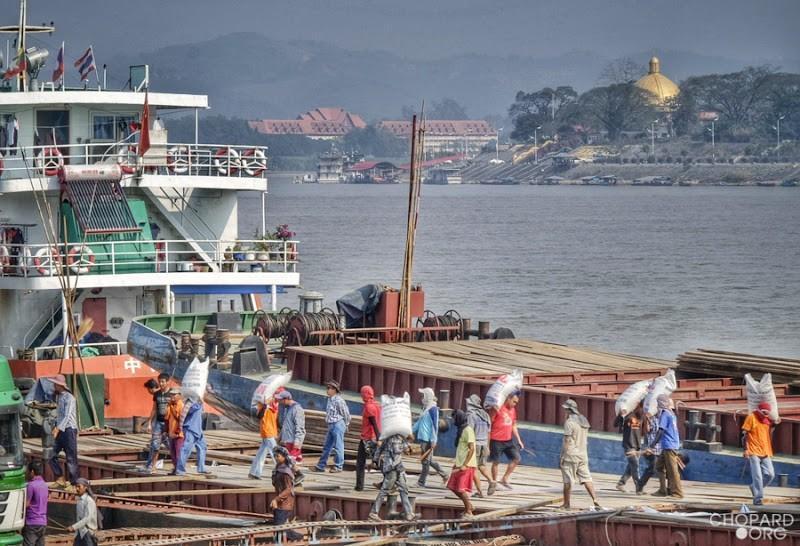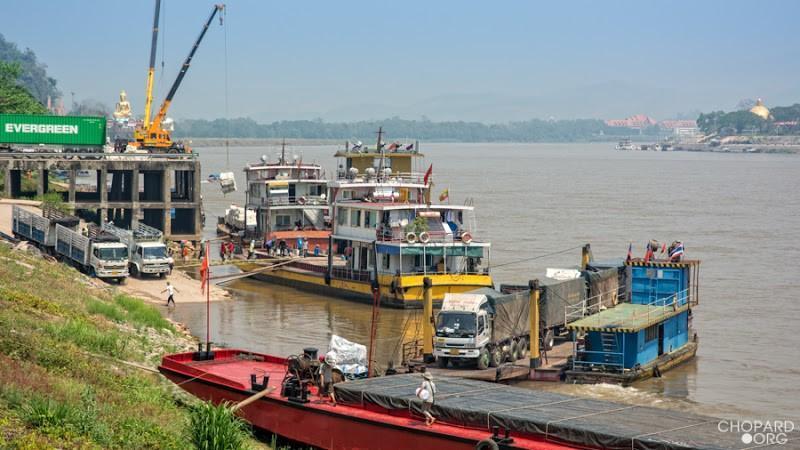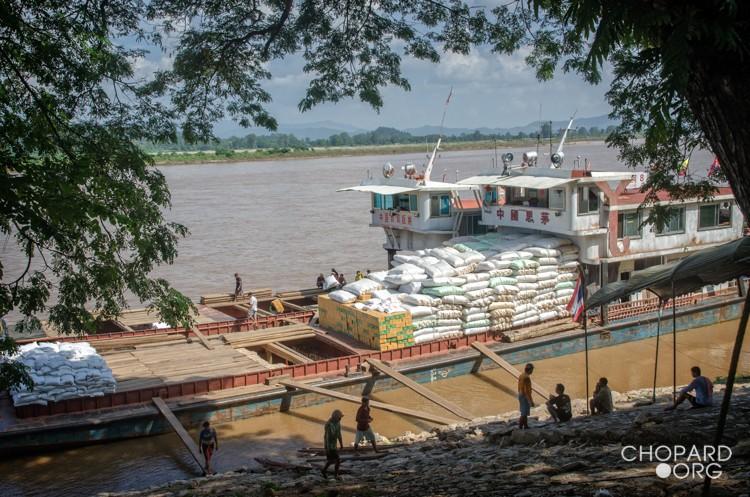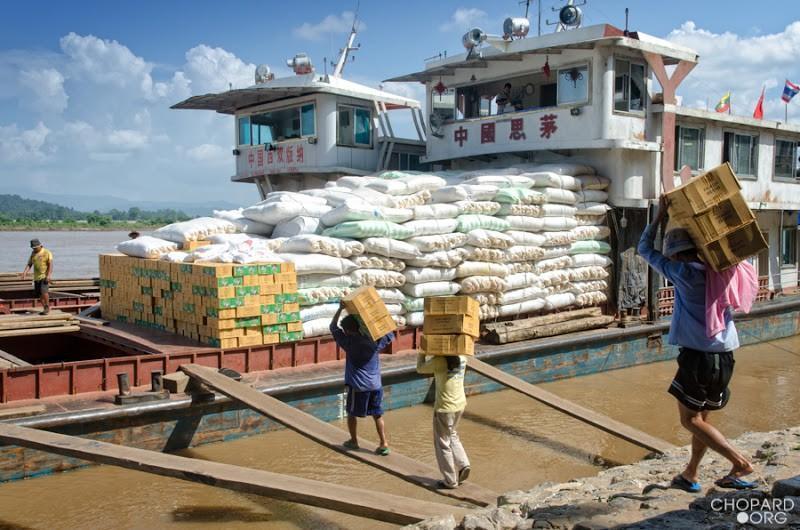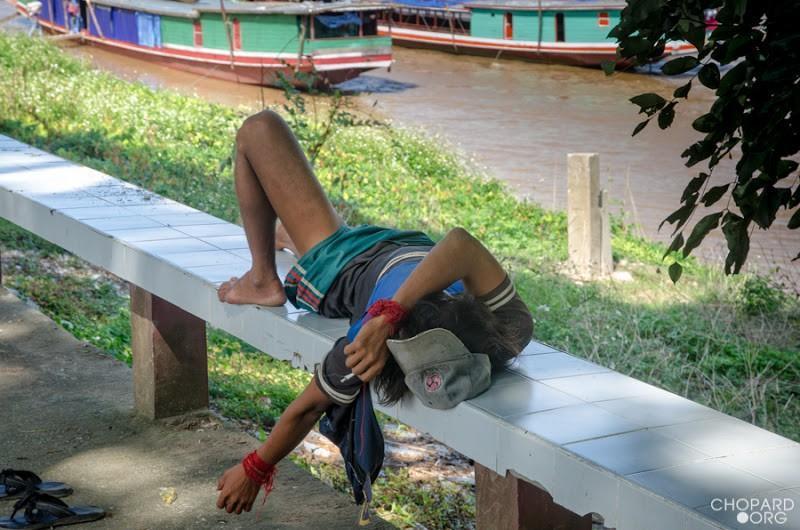 Increased fluvial transport, including noxious goods like fuel, is also an environmental hazard. From afar, I witnessed the black mushroom cloud of a burning tanker; it was a gloomy sight.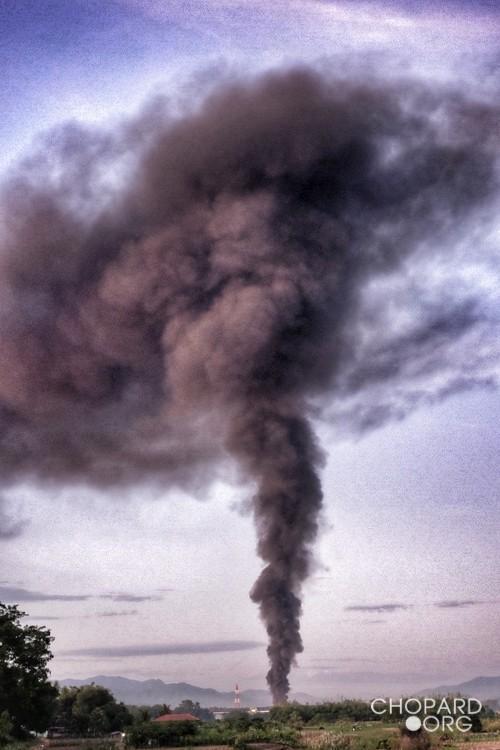 3 Back along the Mekong rim
While driving back toward Chiang Khong, I stopped, just south of Chiang Saen, at the "108 Buddhas Temple" (Phra Tat Hua Kwan, in Ban Saeo). This place always reminds me Henri Mouhot, the French Mekong explorer's comment, in 1860, about Mount Phrabat:
"As for the temple itself, there is nothing remarkable about it; it is like most of the pagodas in Siam—on the one hand unfinished, and on the other in a state of dilapidation; "
[6]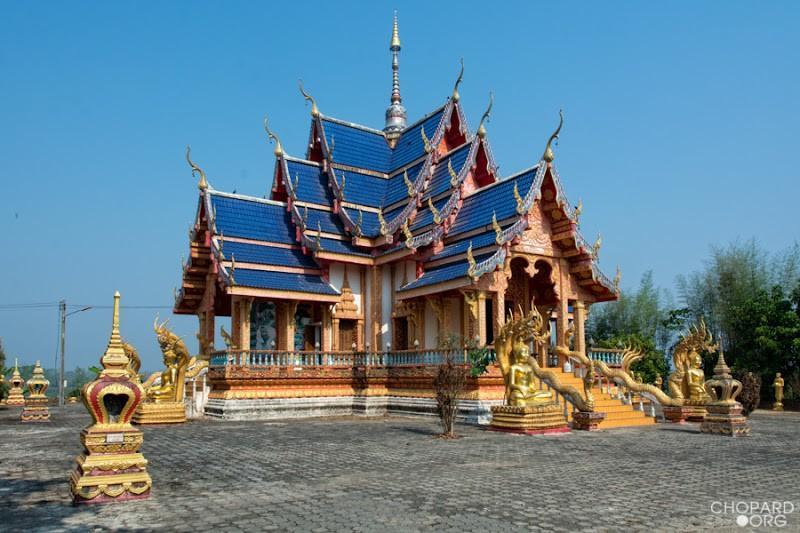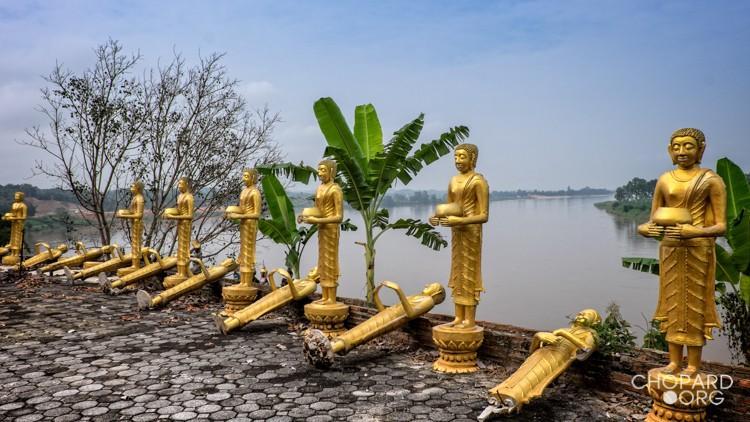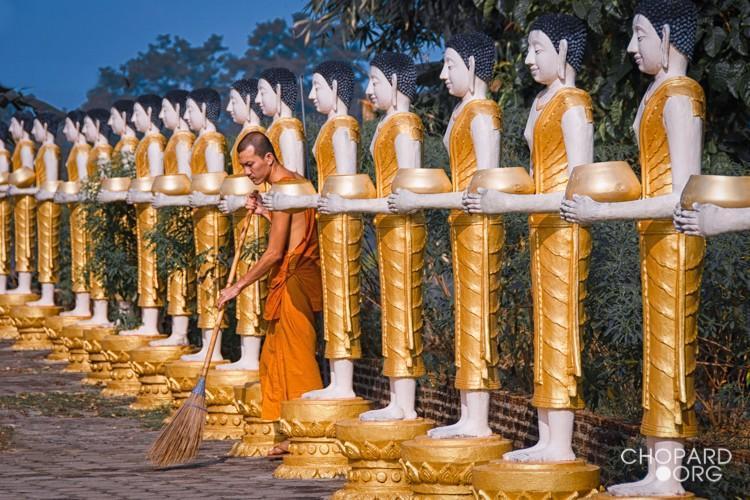 In addition to unfinished constructions and already deteriorating parts, the temple was plagued by the heavy 2014 earthquake. Many images lost their arms loaded by metallic alms bowls, standing like Milo island statues.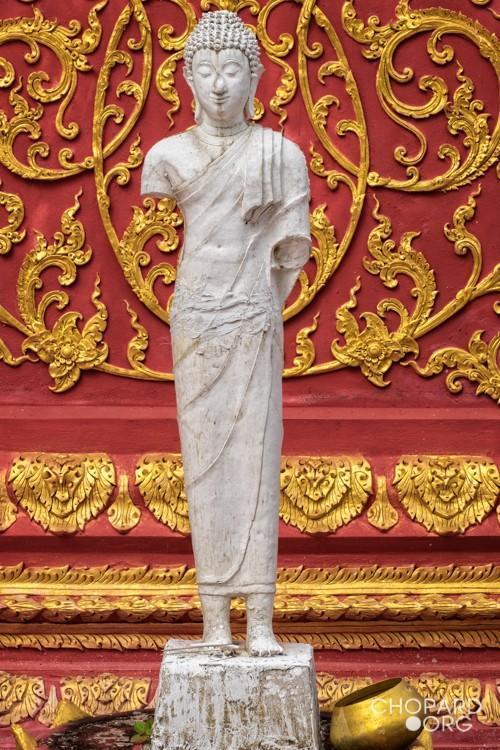 The Golden Triangle's strategic position has made it a crossroad for caravans of merchandises and people migrations. Lawa were long time settler in the area, the Tai Yuan (Northern Thai) have chosen to build up kingdoms there, Burmese have occupied the place and wars have pushed hilltribes, Chinese and Khmuic people over borders. Many of these ethnic groups still have their own settlements and maintain their traditions.
The Lue people (Tai Lue) have migrated along different Routes, sometimes attracted by opportunities, sometimes displaced. Originally from Yunnan (they call it Sipsong Panna) they still had their own Principality, in Muang Sing, before colonial France attached them to Laos. Haad Bai, a village of this ethnic group, is located along Route 4007, following the Mekong rim. This community keeps weaving skills alive, and many houses still feature wooden looms. A small center, producing and selling fabrics can also be visited.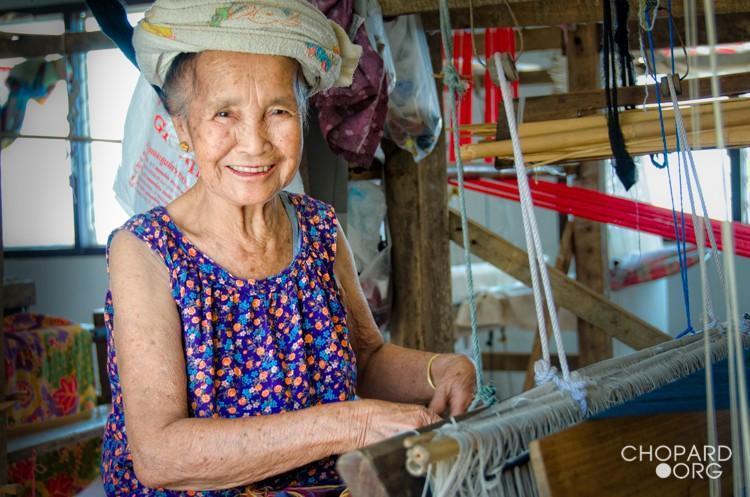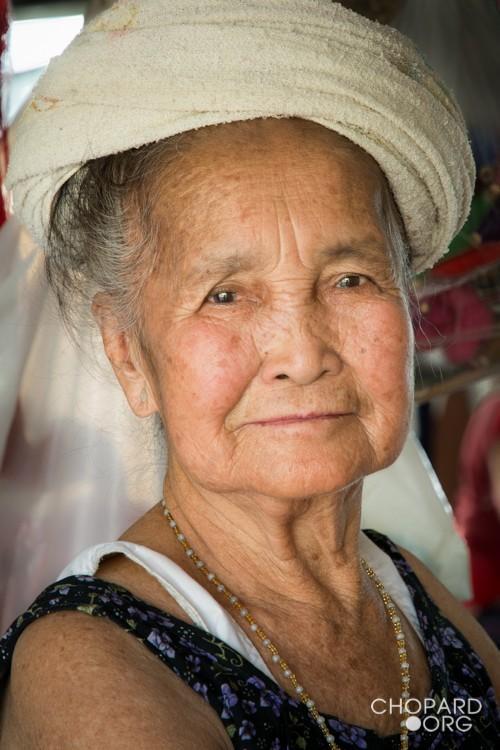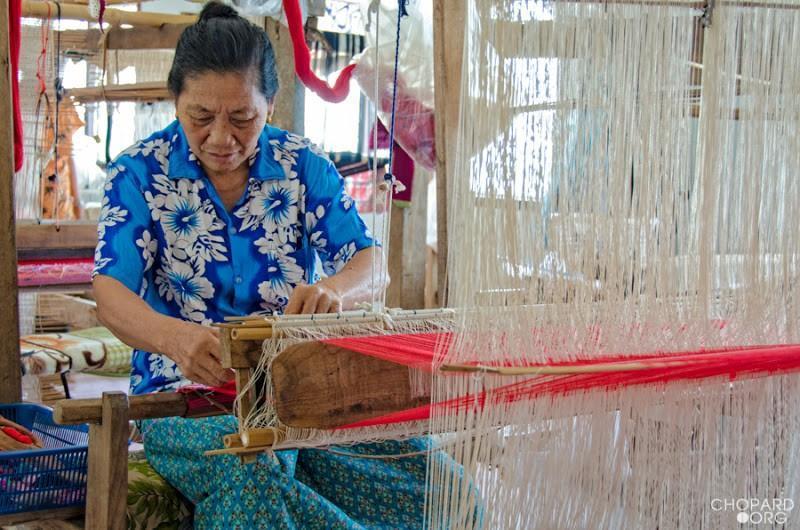 Tai Lue are Buddhist and celebrate the events linked to their faith. For instance, at the end of the lent period (Ok Phansa), in October/November, a colorful traditional festival assembles the village on the temple compound.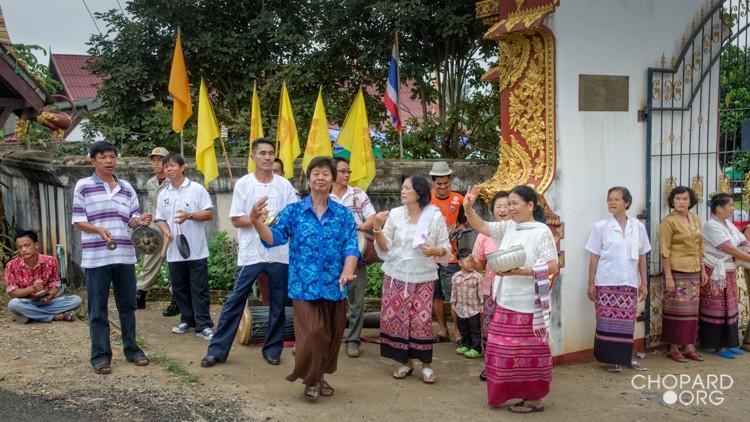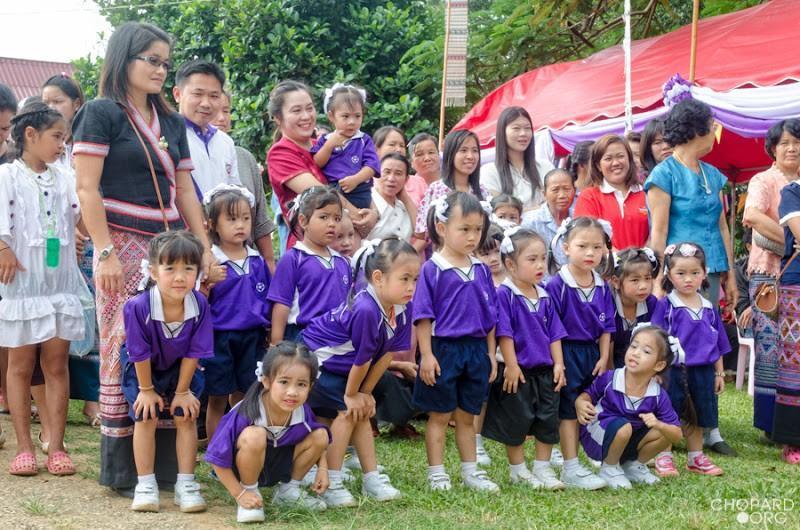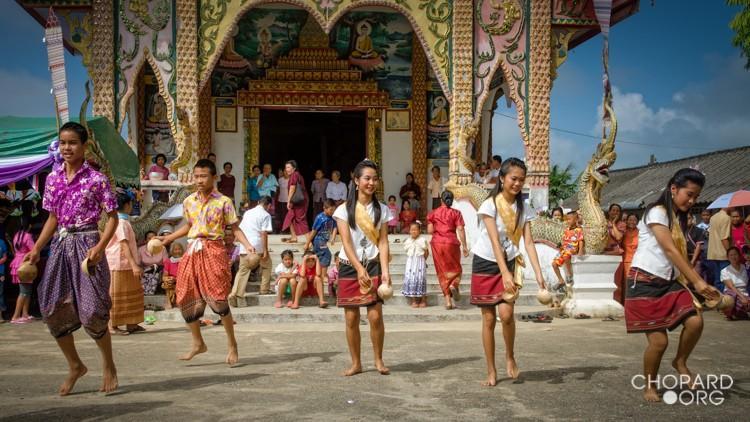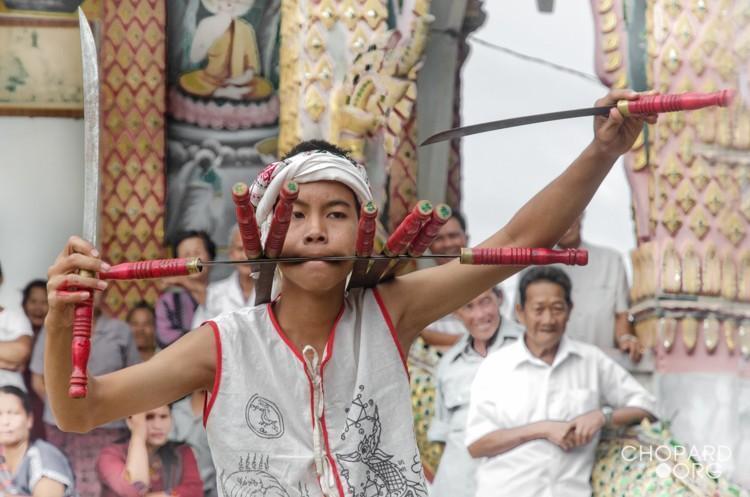 After Haad Bai, I followed a narrow country dirt road to Don Tee. The last strech of this trail features a frail bamboo bridge that I did not entrust to support the combined wait of my mount an me; looping back to Route 4007 was a safer choice.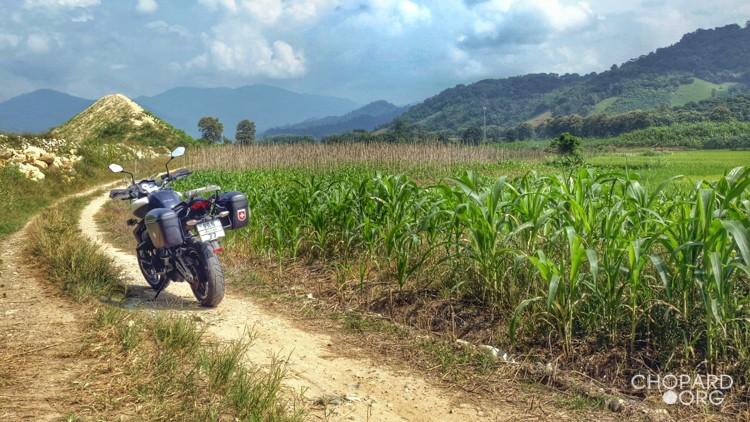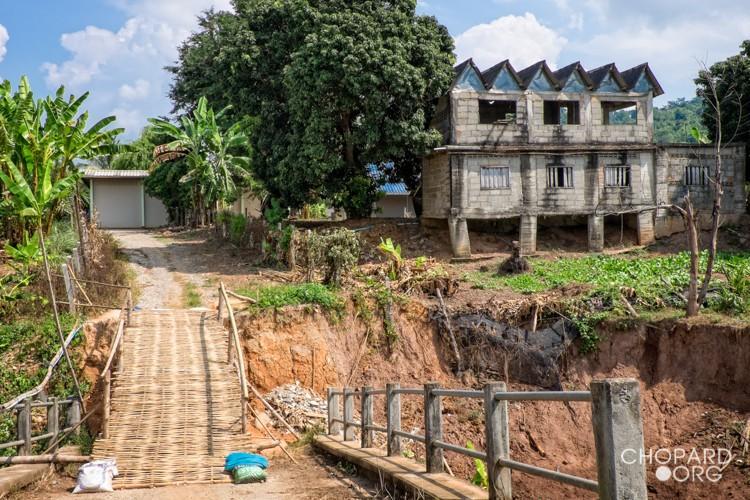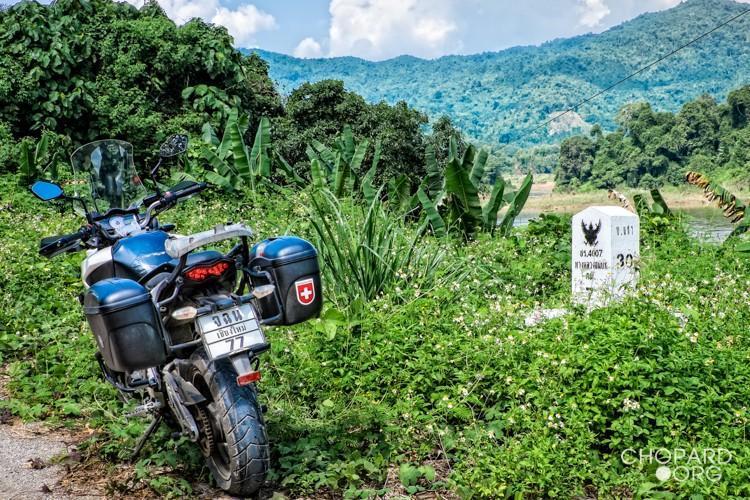 After unsuccessful attempts by French explorers, and later on, by the colonial administration, to dominate the « Great River », she was left alone, nearly forgotten from the outside world, for decades. In the twenty first century, with the riparian countries' economic development, covetousness arose again. China has already began or completed five dams, tributaries are walled in Laos and Thailand and projects are on paper or under construction, in the middle and lower river stretches, for a (provisory) total of nineteen hydro-power barrages. Transforming the « Mother Water Khong » in a gigantic escalator, to quench the energy thirst of developing economies, raises human and ecological concerns. Some organisation, like the « Peace Walk for the Mekong River » draw awareness through publications and demonstrations; probably an unequal fight [7] [8].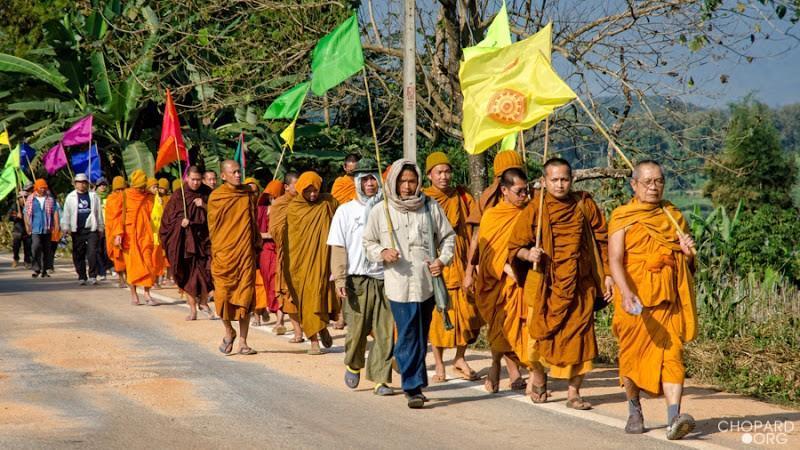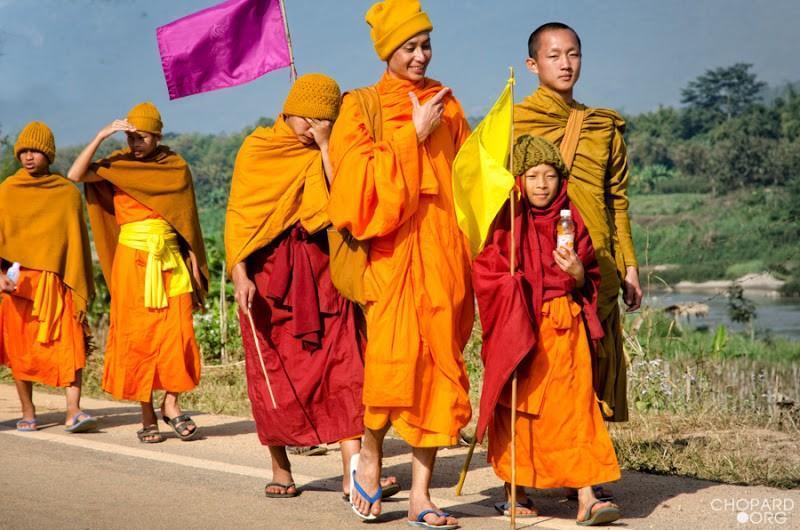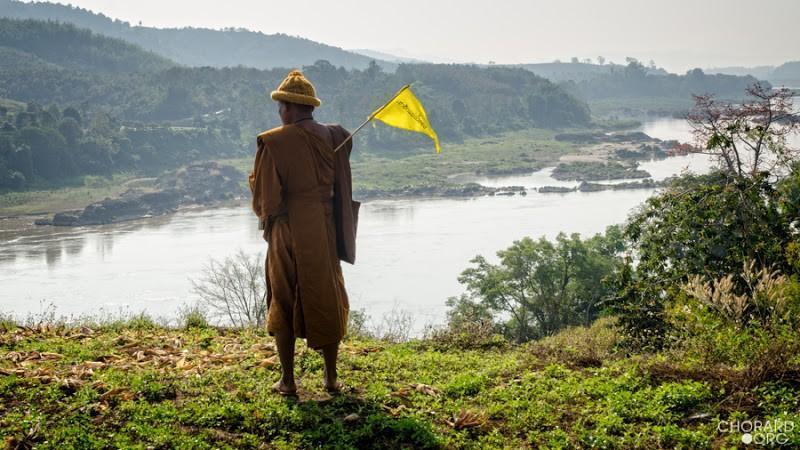 Back on Route 1129, for the last span of my itinerary, I spotted a mountain rice field (dry rice). Ethnic Tai people are not found of cultivating this staple and I expected to see hilltribe dwellers in the neighborhood. In a small temporary shack, I met a Khmu family, people from an ethnic group that I often meet in Laos. I had never seen them in Thailand, but they have two villages along this Route, in Huai Yen and Huai Kok. As they told me, they had migrated from Luang Namtha.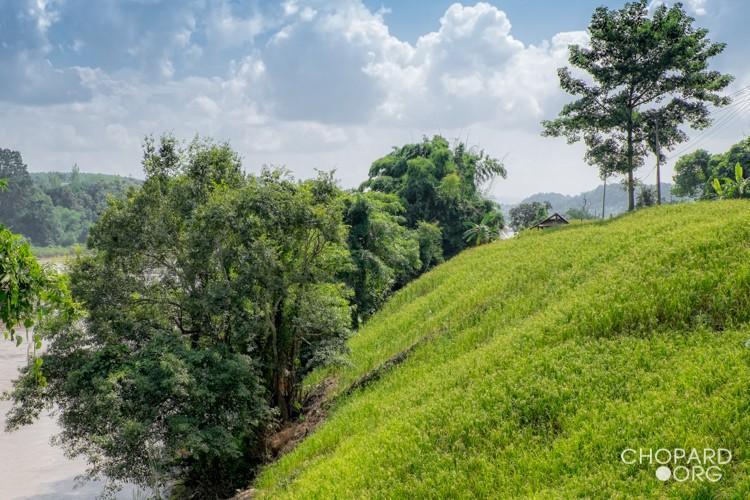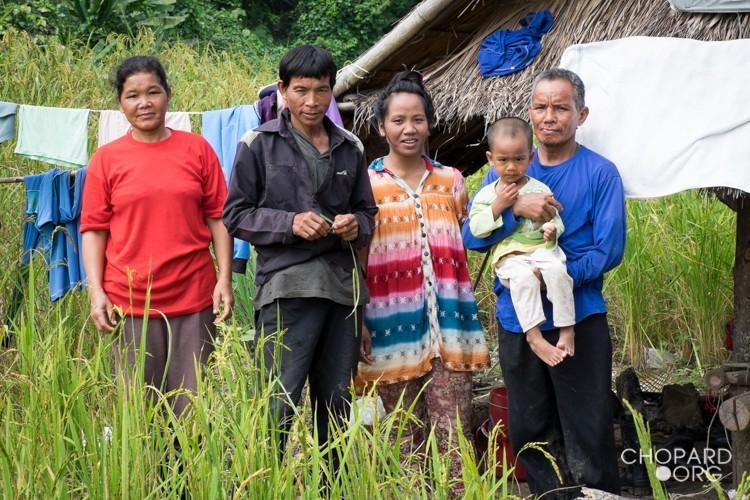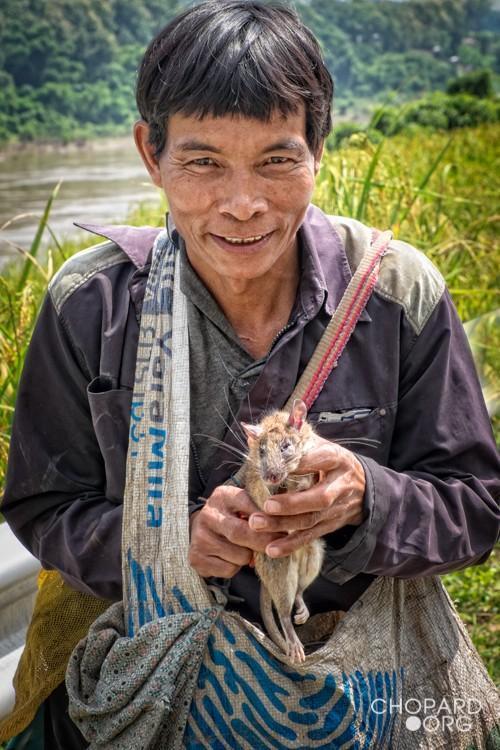 The "Rocky River" has not always been amicable to the Lao royal family. She helped August Pavie to save king Oun Kham's from Haw bandits, but took revenge on King Sisavang Vong by drowning fourteen of his children in a naufrage. Another mishap hit the last Lan Xiang king, Chao Anouvong, who lost his daughter in stony waters, just opposite the Khmu ricefield. A shrine to this princess can be visited along Route 3B (North), a paved link between Huai Xai and the Special Economic Zone hosting the Kings Roman Casinos.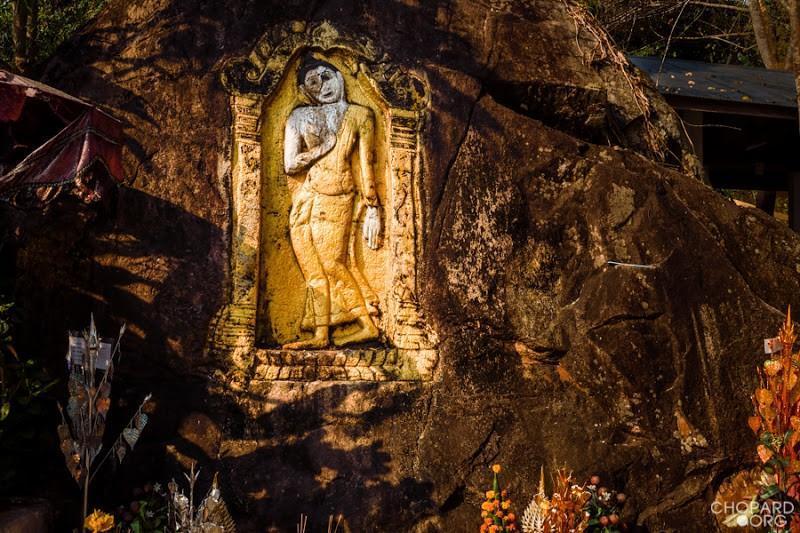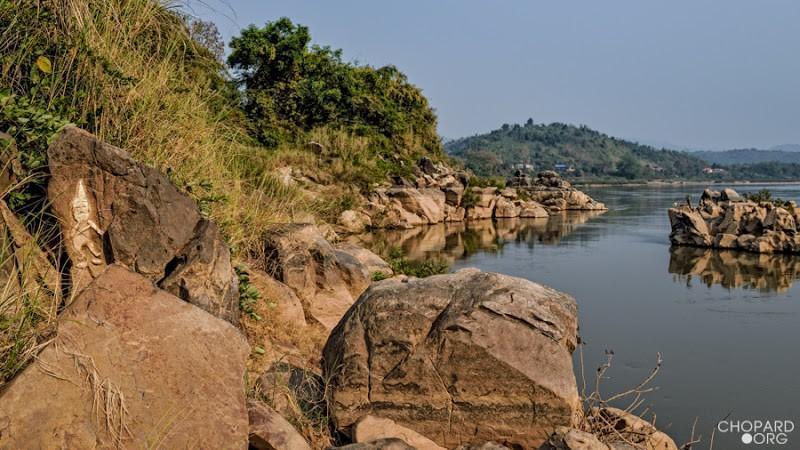 To complete my "promenade" along the Mekong, I could add this left rim Route 3B to the paved itinerary. For the time being, however, I only drove to the "Princess Shrine" and to a next village, Bahn Nam Keung.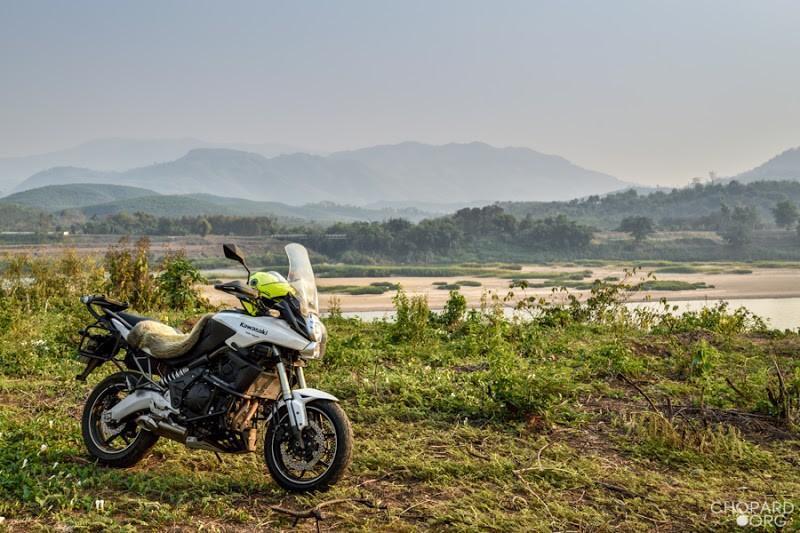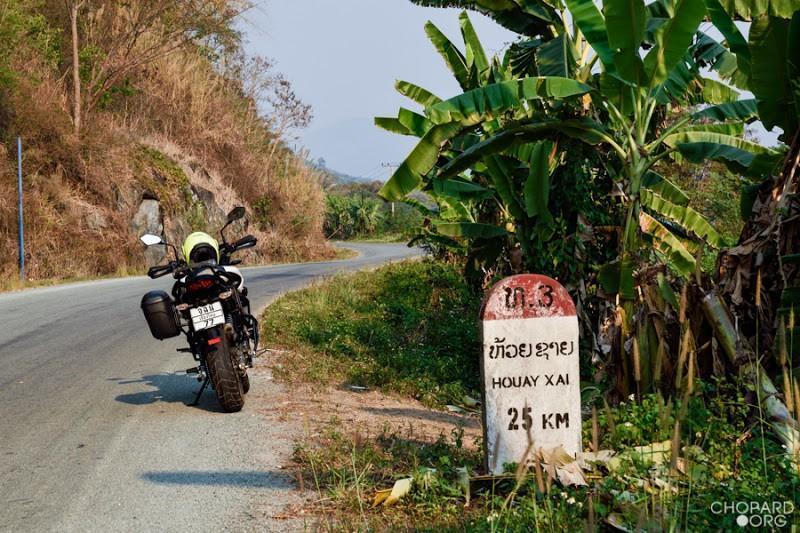 During more than four thousand kilometers, I had few opportunities to cruise near enough to the river to enjoy its permanent sight; paved roads are often built far from the water edge. The sixty kilometers scenic trail, from Sop Ruak to Chang Khong, is one of the few exceptions, making the Lanna strech a lovable ride. Several rest-places, for instance "Huai Sai Man View Point", are setup to safely enjoy the panorama and take pictures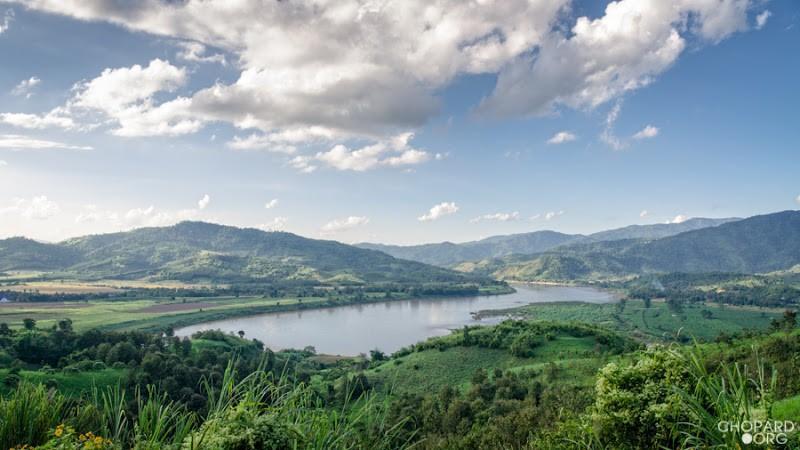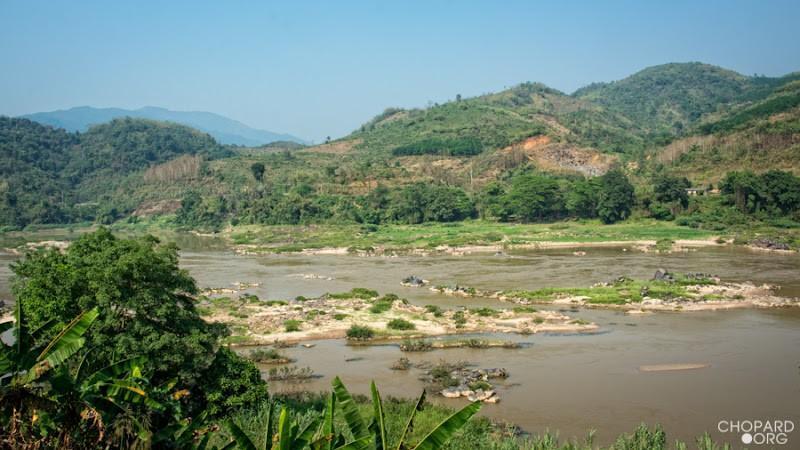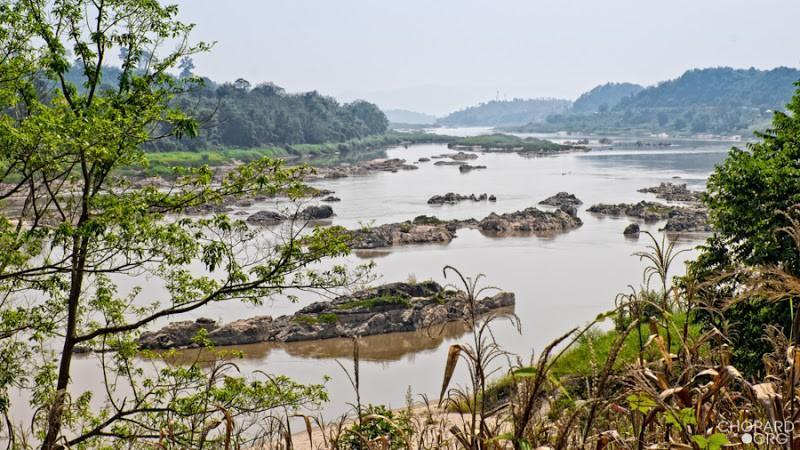 "Naka's Kiosken", a coffee balcony with a georgious view, provides a delightful stopover, just before driving back to Chiang Khong.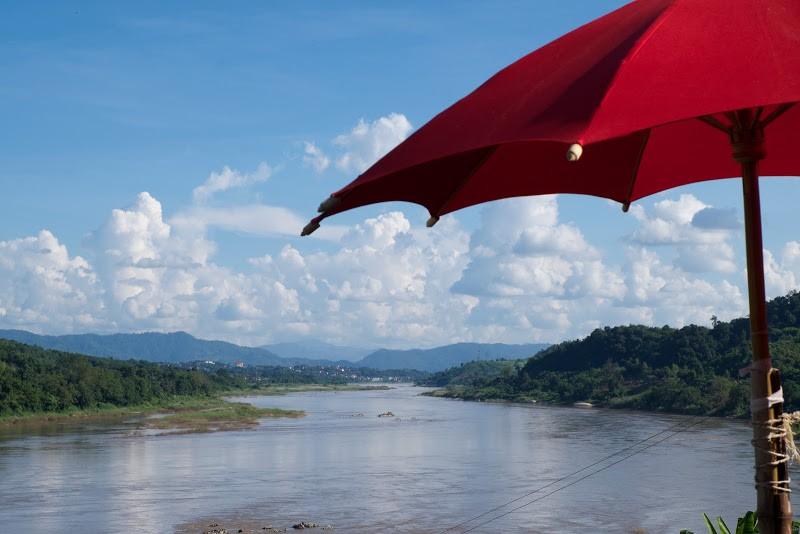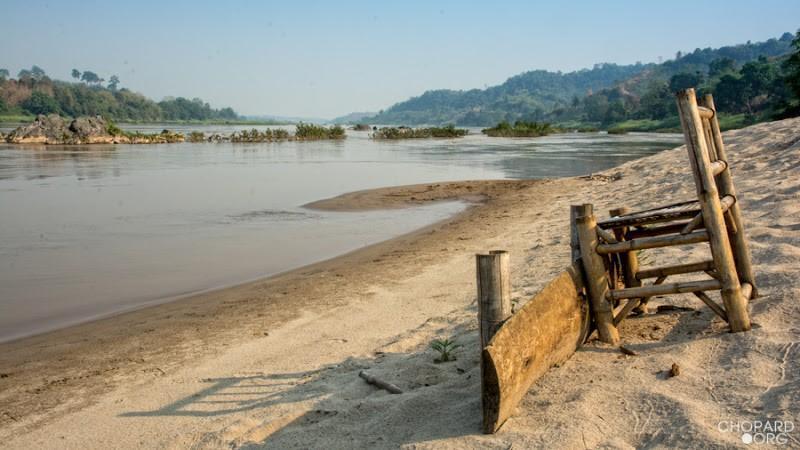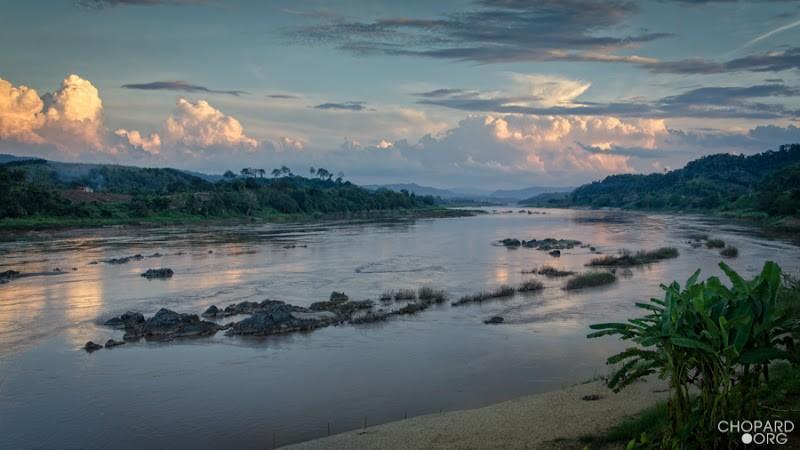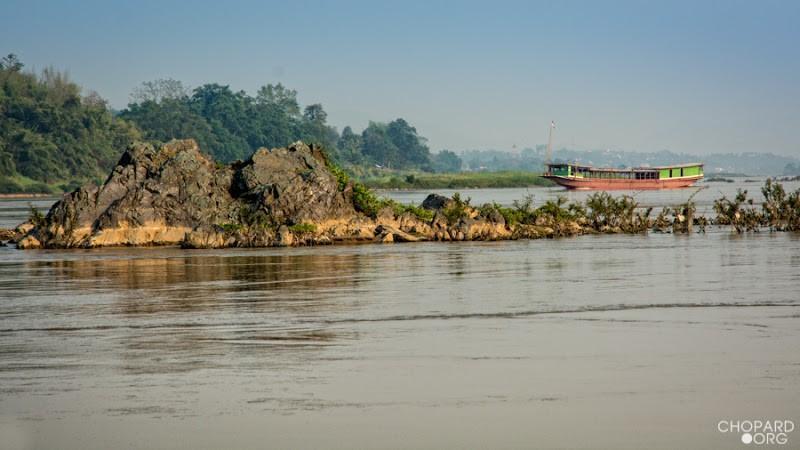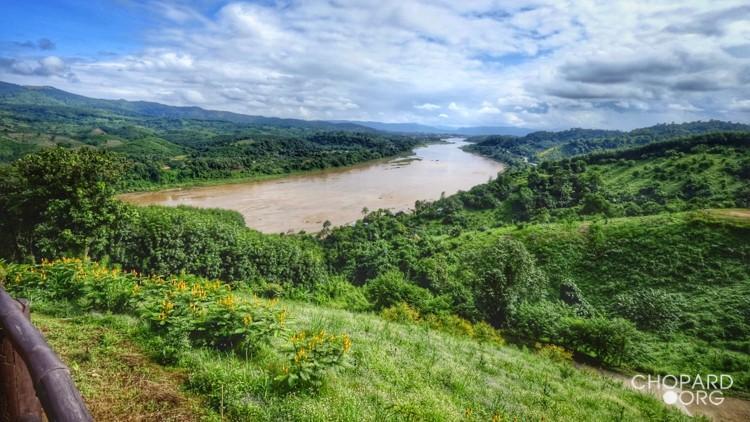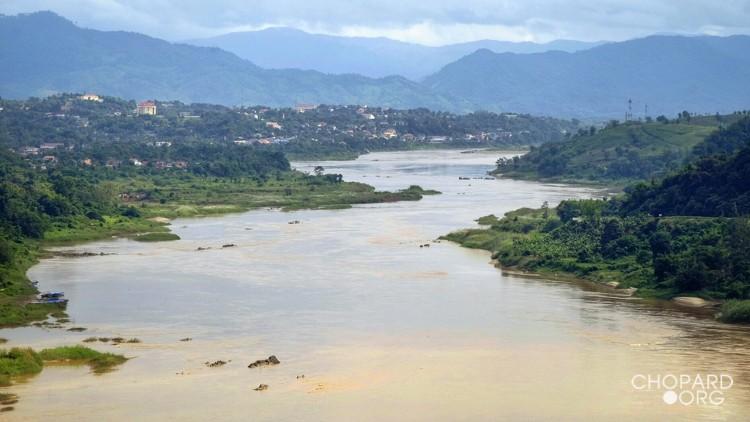 Dirt bikers might enjoy a newly cut trail, starting just after Huai Meng (another Lue village). They might close the loop along the Mekong rim, passing through cultivation and ending, covered with dust, at the old ferry pier.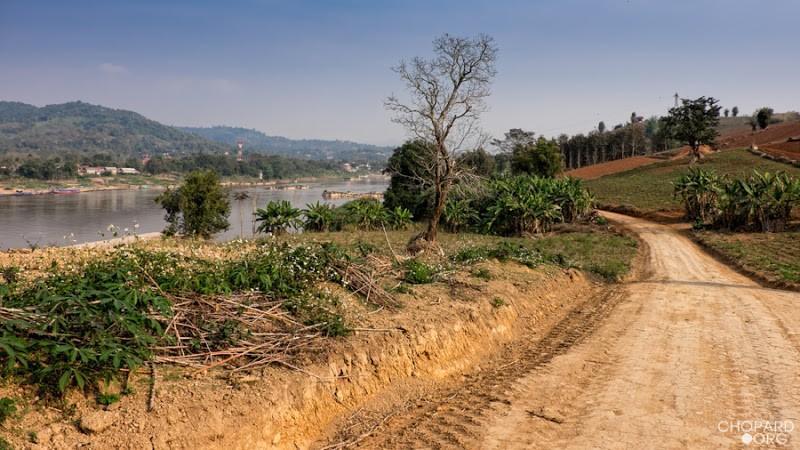 The paved itinerary follows the main Route, up and downhill, with, at the day's end a backdrop colored in warm hues with gorgeous sunsets.
At the end of this last loop, my odometer already showed a distance of 4400 kilometers.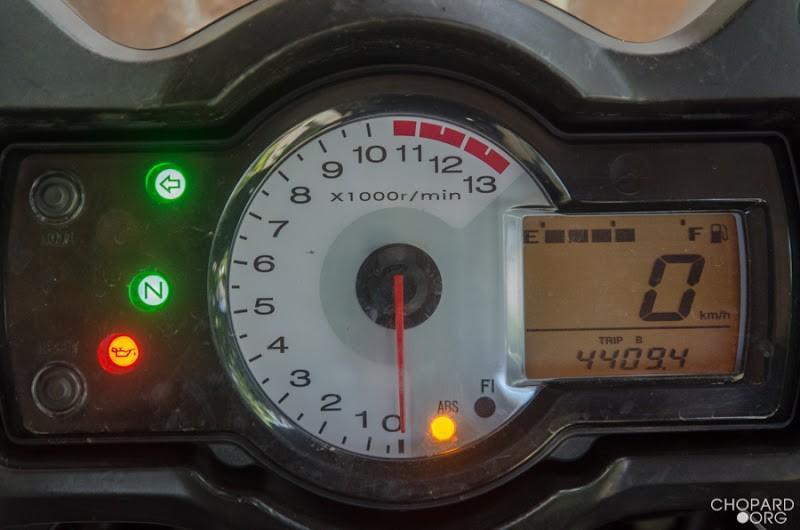 To achieve my "Mekong Promenade", I had to drive another 300 kilometers, back to Chiangmai. The total journey added 4700 kilometers to my bike and three enjoyable weeks to my life.
This, however, was not a farewell to the "Great River". I had just arrived home when I learned about my friend David Unkovitch's project to organize "bike on boat"
cruises. Other opportunities to explore my favorite river – and to write about it – were just at the doorstep.
Notes:
[1] Golden Triangle opium production, see for instance:
Opium Boom in Golden Triangle
The Southeast Asia Opium Survey Survey by the United Nations Office on Drugs and Crime (UNODC) shows a "relentlessly upward" year-on-year increase in poppy cultivation from the low point in 2006.
Opium Production in Golden Triangle Rising Rapidly
(accessed March 2015)
[2] The Politics of Heroin
CIA Complicity in the Global Drug Trade
Alfred W. McCoy, Revised Edition 2003
Covering information, including the Golden Triangle region, till 2002
"… sobering evidence of Southeast Asia's rising importance in the international heroin trade. In addition to growing more than a thousand tons of raw opium annually
(about 70 percent of the world's total illicit opium supply), Southeast Asia's Golden Triangle had, by 1971, become a mass producer of high-grade no.4 heroin for the American market."
[3] Mekong
Milton Osborne
Allen & Unwin
Revised 2006 edition
Crows Nest, Australia
[4] Khun Sa, see for instance:
Khun Sa - Wikipedia, the free encyclopedia
(accessed March 2015)
[5] Yonok and Chiang Saen, see for instance:
YONOK...The Birthplace of Lanna
in Welcome to Chiangmai and Chiangrai
(accessed March 2015)
[6] Henri Mouhot
Travels in the Central Parts of Indo-China (Siam), Cambodia and Laos
London, John Murray, Albemarle Strees, 1864
eBook: The Project Gutenberg EBook of Travels in the Central Parts of Indo-China (Siam), Cambodia, and Laos (Vol. 1 of 2), by Henri Mouhot
"Quand au temple lui-même, il n'a rien d'admirable, car il et comme presque toutes les pagodes du Siam: inachevé d'un côté, et dégradé de l'autre. »
Henri Mouhot,1860
[7]
http://www.savethemekong.org/issue_detail.php?sid=21
"Peace Walk for the Mekong River"
11-19 February 2012 "Saving the Soul of the Mekong
Facebook page : ธรรมยาตราเพื่อแม่น้ำโขง ครั้งที่ ๒
[8] Mekong dams, see for instance:
Life on Mekong Faces Threats As Major Dams Begin to Rise by Joshua Zaffos: Yale Environment 360
accessed March 2015
Vintage pictures from March 1989: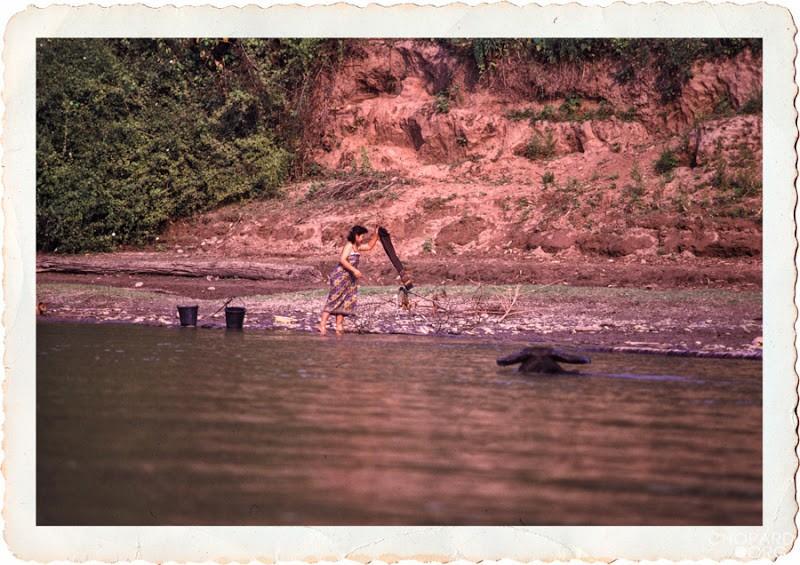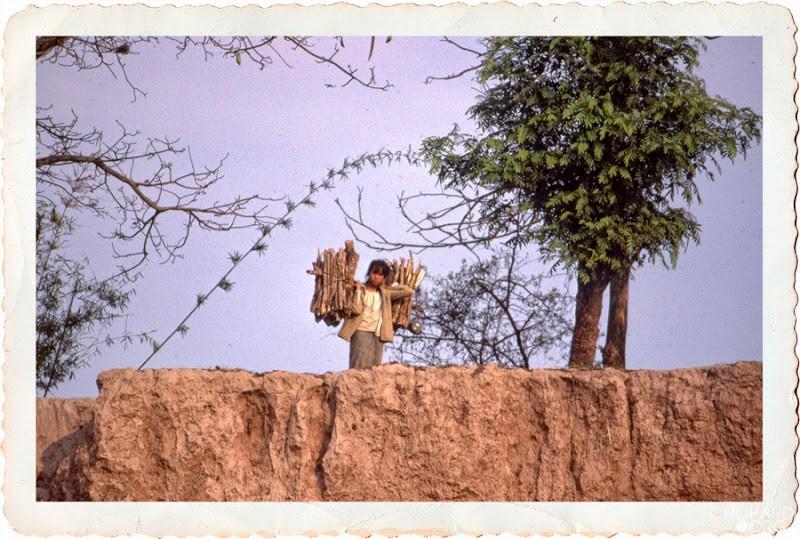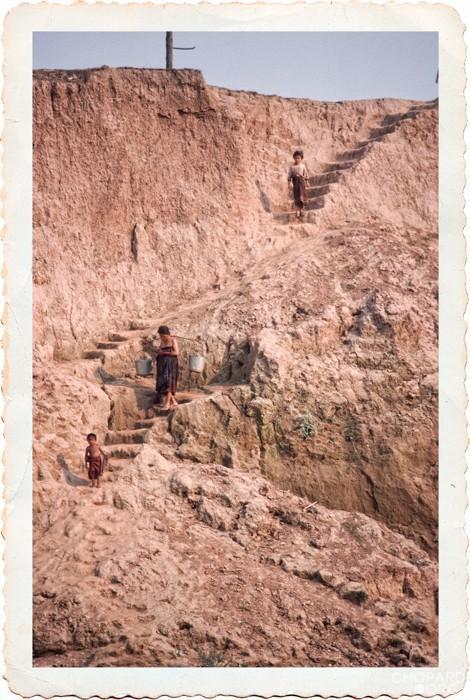 Showcase poppies in the Golden Triangle March 1979: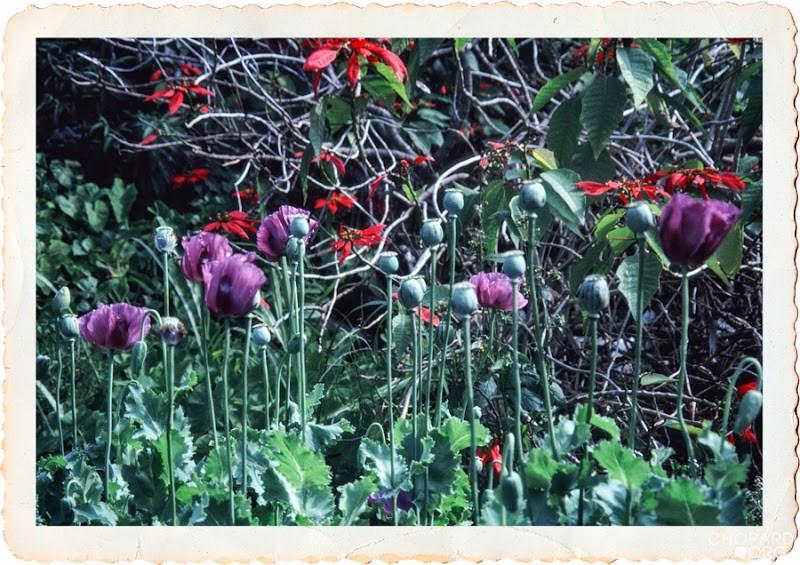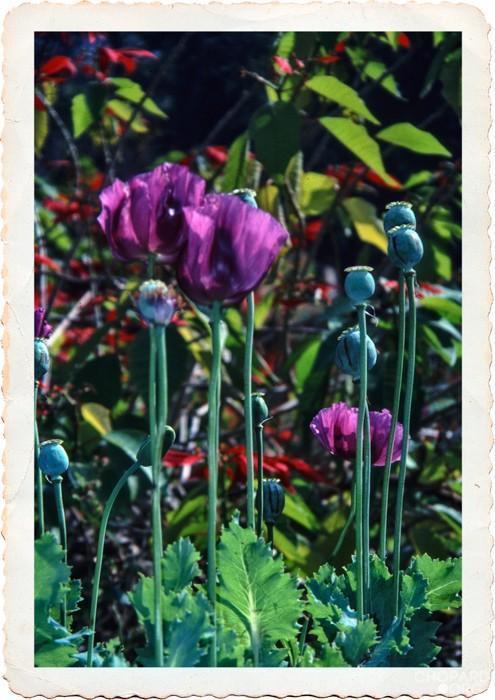 Last edited by a moderator: