Excerpt
: Riding north, on Route 13, my third 'Mekong Promenade' segment brought me from Vientiane, the modern Laos' capital, through the splashing Viang Vieng and to the royal Luang Prabang. Halfway through this trip my odometer showed 3'000 kilometers, two third of my total journey.
A Mekong Promenade
Part 3 – Vientiane to Luang Prabang
First
(1st) part: The Isan Rim (
A Mekong Promenade - The Isan Rim
)
Second
(2nd) part: South Laos (
A Mekong Promenade Part 2 – South Laos
)
Third
(3rd) part: Vientiane to Luang Prabang (
A Mekong Promenade, Part 3 – Vientiane to Luang Prabang
)
Fourth
(4th) part: In memoriam of some Mekong explorers (
A Mekong Promenade - part 4: In memoriam of some Mekong explorers
)
Fifth
(5th) part: Xayaboury, Laos west of the Mekong (
A Mekong Promenade - Part 5: Xayaboury, Laos west of the Mekong
)
Fifth B
(5B) part: Pak Lai stopover (
A Mekong Promenade - Part 5b: Pak Lai stopover
)
Sixth
(6th) part: Chiang Khong (
A Mekong Promenade - Part 6 : Chiang Khong
)
Seventh
(7th) part: Along the Golden Triangle (
A Mekong Promenade - Part 7: Along the Golden Triangle
)
Eighth (8th) part: Cruising down the Mekong river (To be published next)
1. Vientiane
A stamp in my passport dates my first Laos' sojourn to July 1991, when I spent a couple of days in Vientiane. During my second trip, in 1997, I crossed back to Thailand over the newly inaugurated 'Friendship Bridge' to Nong Khai. My third call was on a bike, several years later, in May 2010, a short stopover, as I rapidly toured the main landmarks, for a first glimpse into the Moon City's [1] ongoing changes. Now, for my fourth visit, I had scheduled to ramble around the capital for a full day.
An Easy Road to Laos - 4. Back to Nong Khai
Vientiane's development is substantial, but not 'amazing' when compared to other Asian metropolises. I found the city still laid back but less sleepy in the evenings, with its major changes on the Mekong's waterfront and in the bustling center streets.
Before joining my local friends for dinner, I greeted the recently inaugurated Chao Anouvong's statue, along the new Fa Ngum Mekong promenade. The fierce fighter, a Lao national independence hero, turns his back to the presidential palace and stretches his hand toward his former enemies, maybe toward Khun Ying Mo's monument [2], the tricky Korat lady who played havoc with his soldiers. On the Thai shores the monarch is regarded as a renegade, a rebel to Bangkok's suzerainty, a vassal who deserved the fate of a second Vientiane's obliteration and an humiliating pillory. Seen from opposite rims, the flow of history often takes different shades; the consequence, however, is irrefutable: it was Lane Xang kingdom's doom.
The upgraded walkway, along the Mekong river, is a popular place to admire spectacular sunsets over Si Chiangmai. The former muddy rim, planted with untidy vegetation, is replaced by concrete and stone block walls; I hardly recognized the places that I had photographed in the past.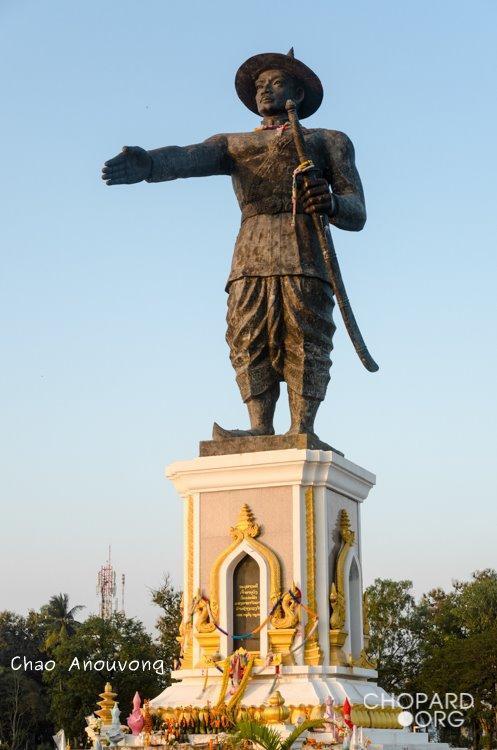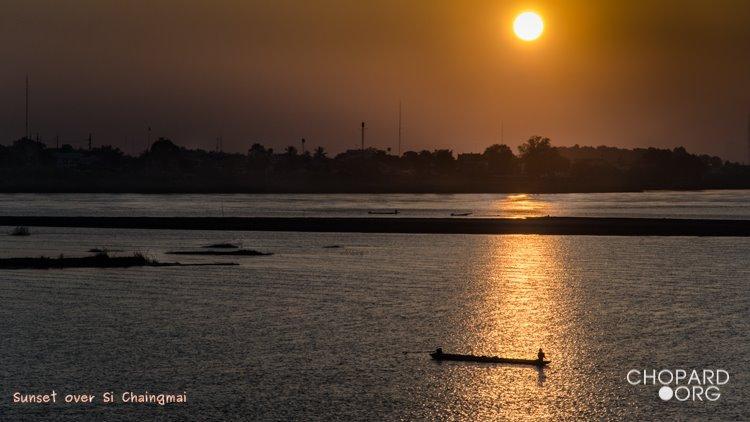 My abode during this trip was "Lao Heritage Guesthouse". This charming and nostalgic dwelling is owned by a couple of friends. In the evening, they brought me to a yummy Lao restaurant, a place centrally located but still aside of the main touristic trails.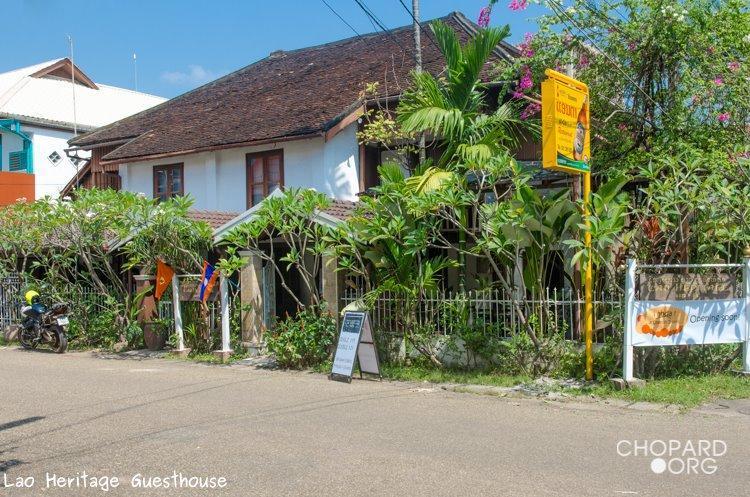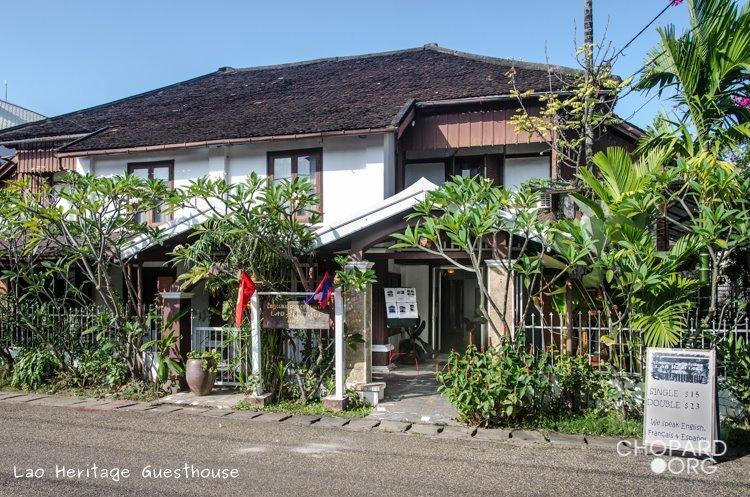 Vientiane's "Arc de Triomphe", Lane Xang avenue's crown, is a convenient starting point for a ramble around the city's major points of interest. I dropped by early, to enjoy the morning light and to avoid some traffic jams; this modern civilization's plague has already badly hit Laos' capital. A booming demography, growing economic wealth and narrow roads, combined with hectic and inappropriate driving habits, hamper half of the country's registered vehicles' flow [3].
With concrete apparently donated by the Americans to build a new airport, the royalist government erected a French style monument celebrating the ousting of their colonial tutors and honoring World War's II human sacrifices. The bulky "Victory Gate's" main interests are its similarities with the Paris' "Monument aux Morts" and a vantage point for photography.
'Pratuxai' is a strange architectural mix, using a French memorial blueprint redecorated with Asian motives from the Hindu pantheon as well as scenes from the Ramayana. During my first visit, in July 1991, the building and its environment were greyish; a face lifting, some greenery and a Chinese sponsored musical fountain have now modernized the monument.
picture from 1991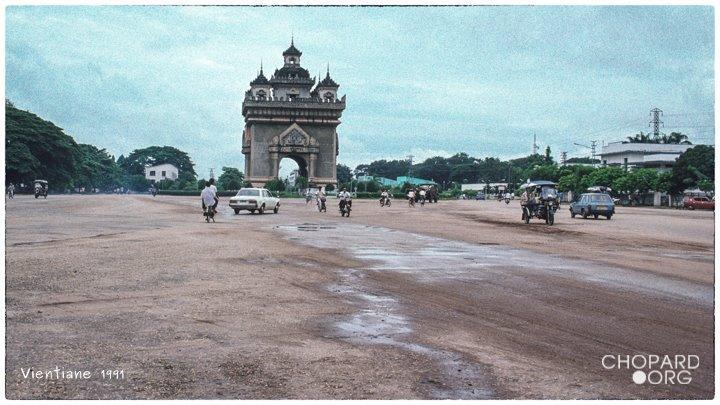 picture from 1991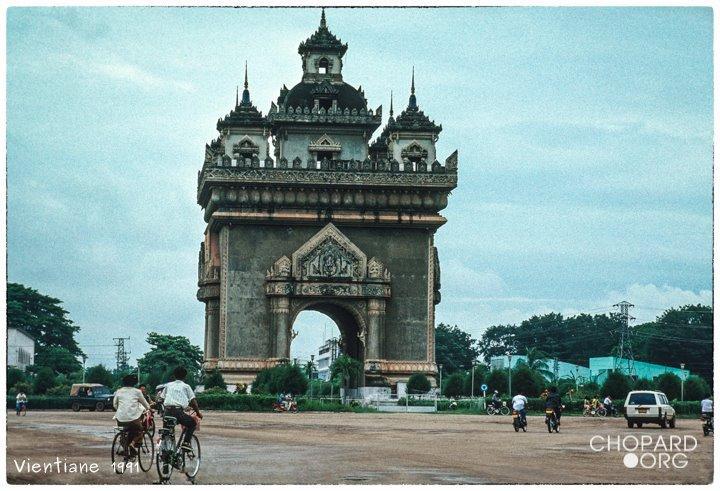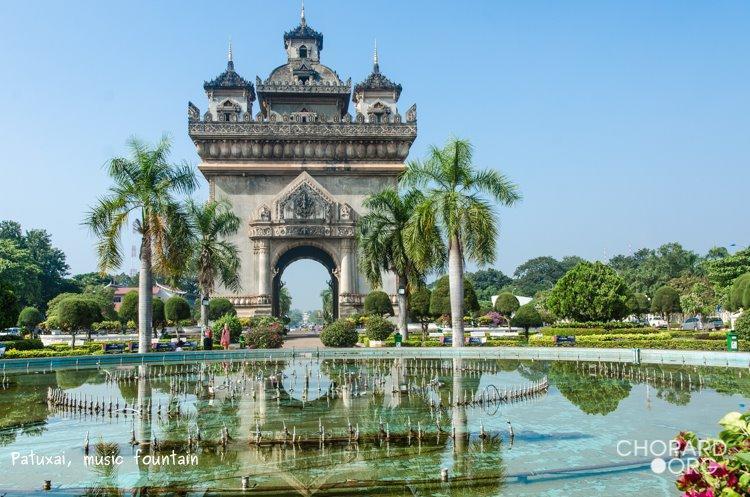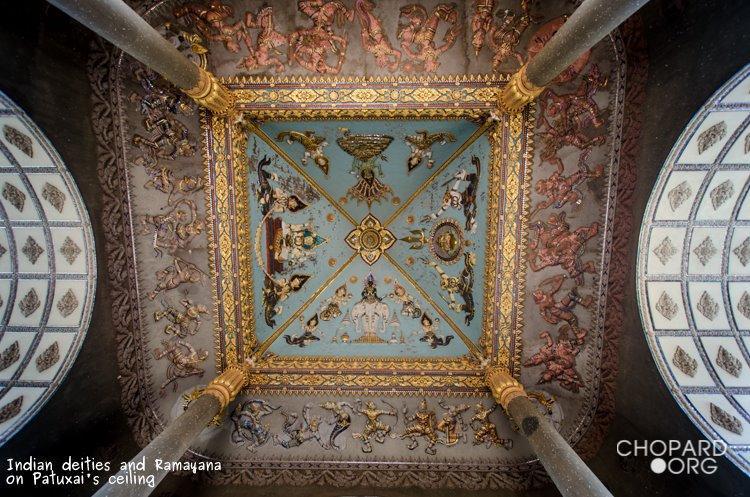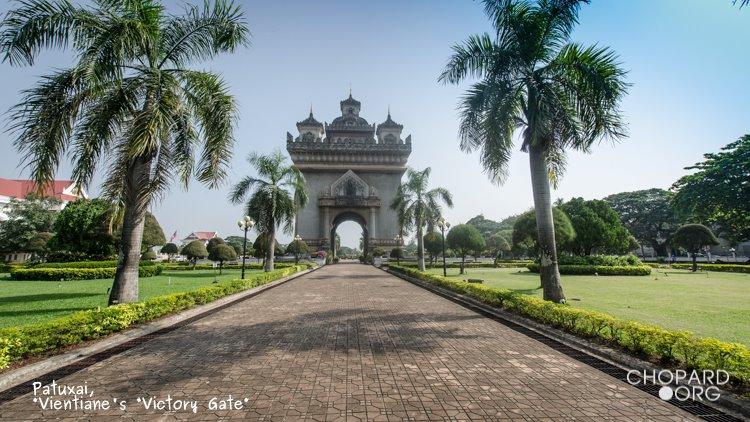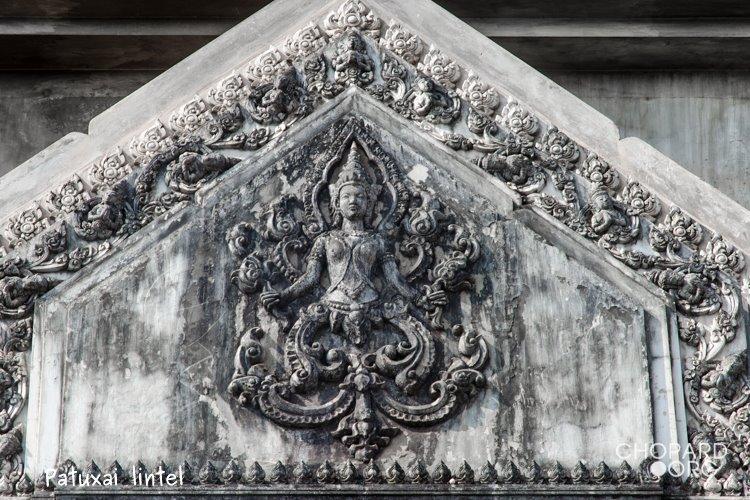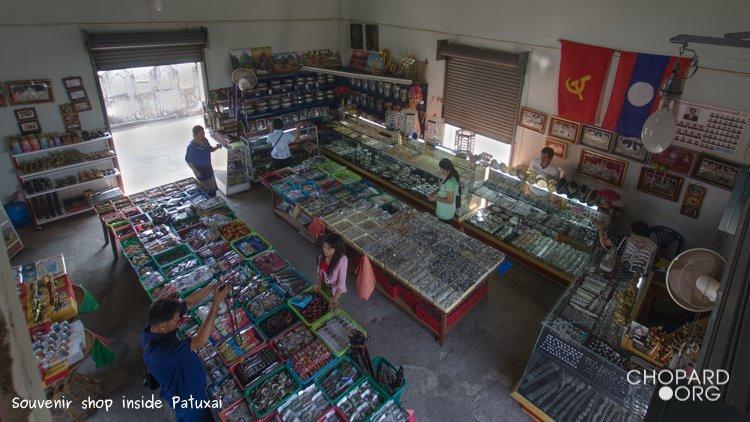 As a law prohibits higher buildings, 'Pratu Xai' should remain Vientiane's tallest monument and aford, from its top, an unhindered panorama. The view is guided down the former 'Avenue de France', not quite the 'Champs Elysée', but still a sizable link toward the presidential palace, the ancient French governor's residence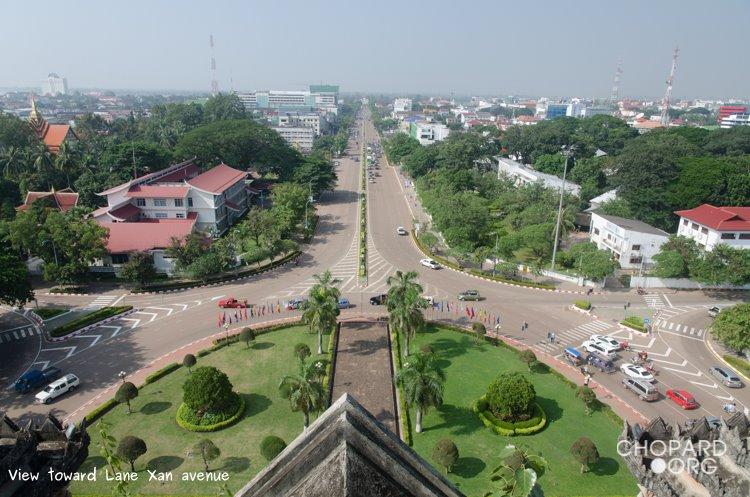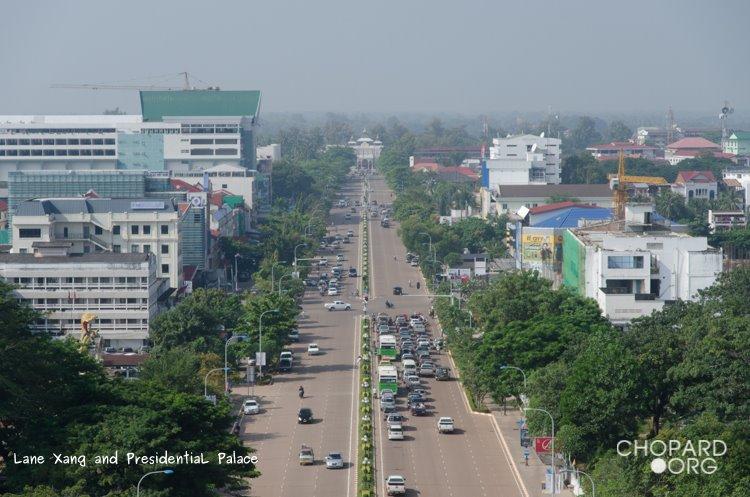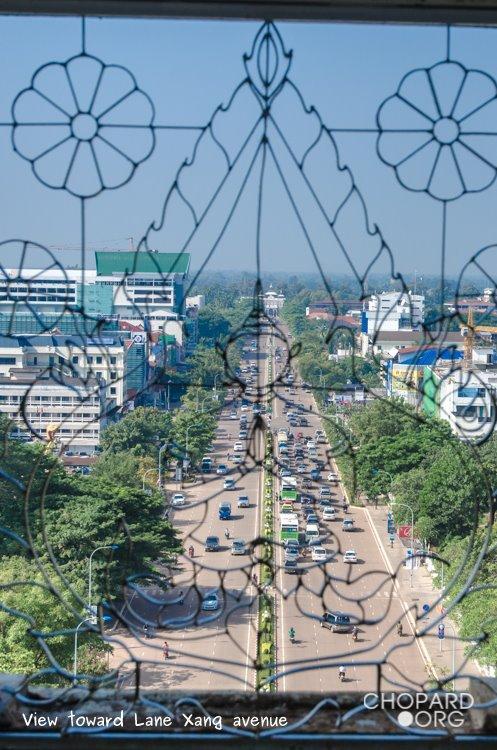 Farther north, at Vientiane's periphery, the majestic 'Pha That Luang' is also worth a visit. It is believed to enshrine a Buddha's breastbone and, in addition to being the most sacred religious edifice, remains a national unity's symbol, even in the modern Lao society.
Built in its existing form under King Saysetthathirath, in the mid sixteen century, the stupa's fate closely followed Vientiane's hectic destruction history. It was plundered and dismantled by Hawks, Burmese and Siamese armies and always rebuilt during more peaceful periods. The last renovation, undertaken by the French administration around 1900, also suffered heavy damages during the Franco-Thai war, in 1941.
picture from 1991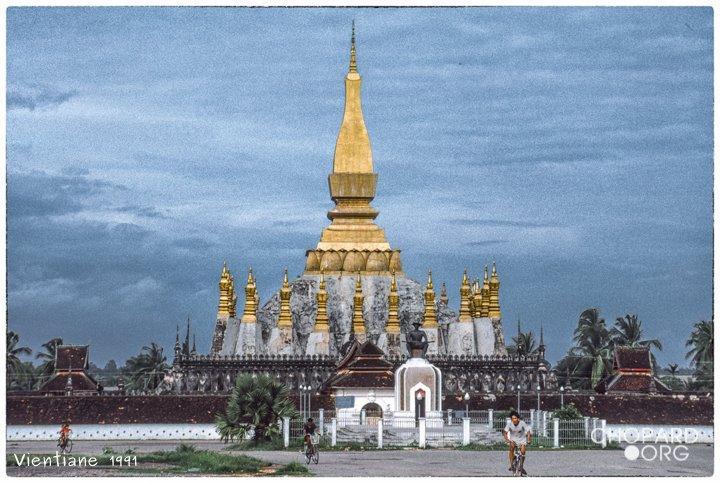 picture from 1991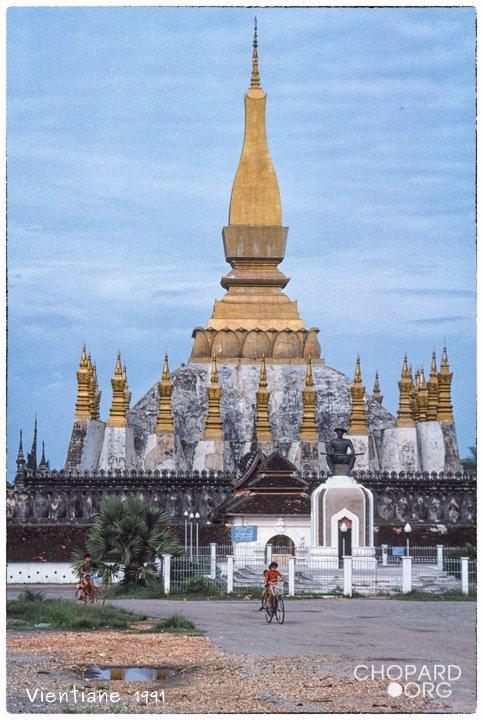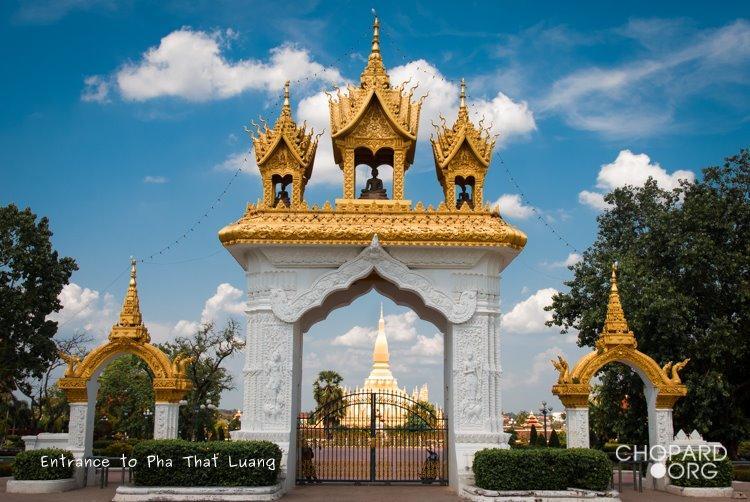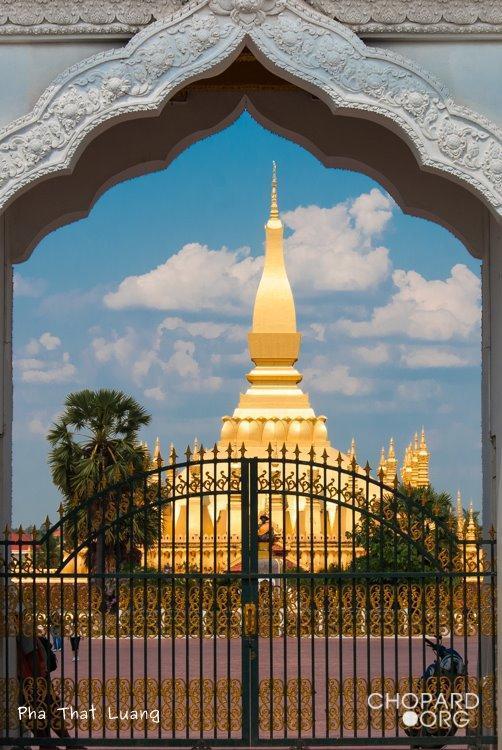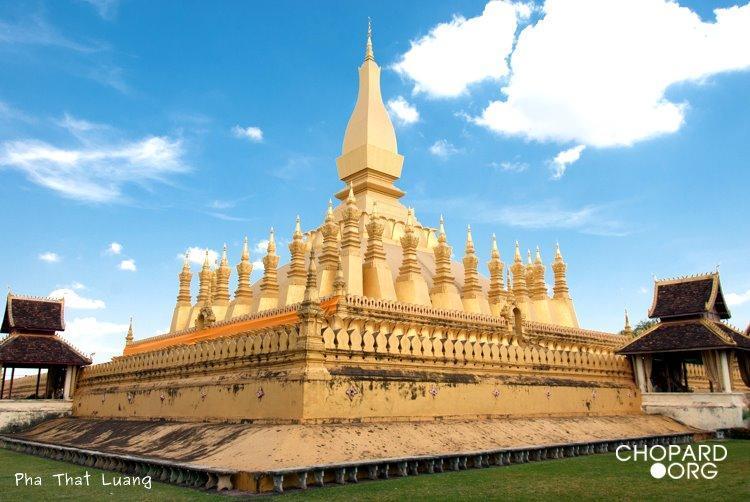 King Saysetthathirath, Chiangmai's former ruler, has his own stupa and statue in front of That Luang. When he left Lanna, to succeed his father in Lan Xang, he brought with him the priceless 'Phra Kaeo', the Emerald Buddha. He is remembered as a great leader and succeeded, for a while, to unite Lanna and Lan Xang kingdoms.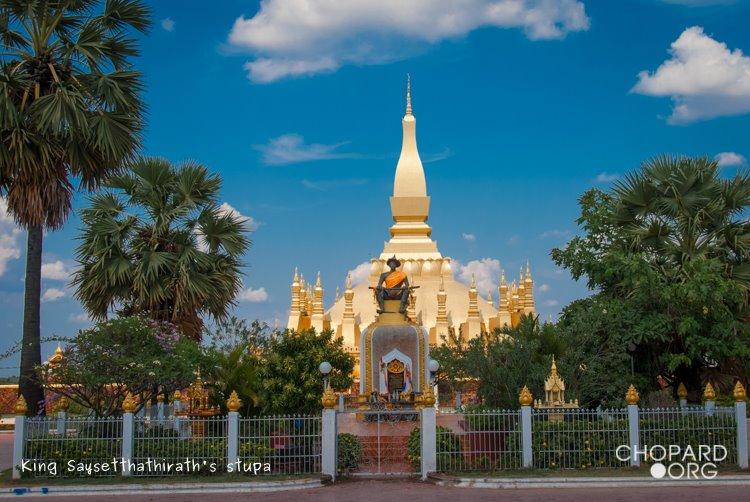 Despite the traffic's hectic and cumbersome one-way stretches, it is convenient to stroll around Vientiane on two wheels. The distances between interesting points are short and it is not necessary to follow a precise itinerary.
Another King Saysetthathirath's construction is the Phra Kaeo temple, set up to enshrine the Emerald Buddha. Like most other Vientiane's sacked edifices, it is now just a replica, rebuild on the same site. The precious jadeite statue was taken to Bangkok, in 1779, by the future Rama I, and the empty place became the Hophakaew museum.
From its pedestal in Bankok's Grand Palace, the Emerald Buddha can look back to an adventurous life [4]. Legend traces the statue's origin to India, than Sri Lanka (Ceylon) and finally to Khmer Cambodia, as a vessel transporting the image to Burma was led astray by a storm. When the Siamese invaded Angkor they transported the statue to Ayutthaya and Chiangrai.
The image's style, however, points to a Lanna origin, the region where it was rediscovered, and, its only peregrination might have been to Chiangmai, Vientiane and finally Bangkok.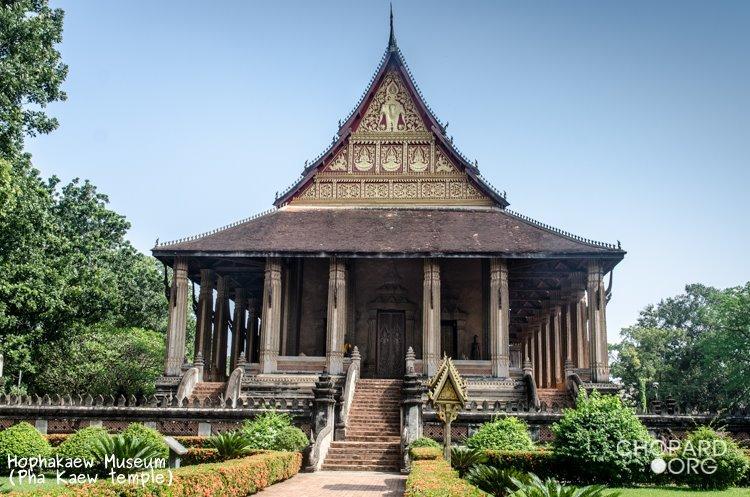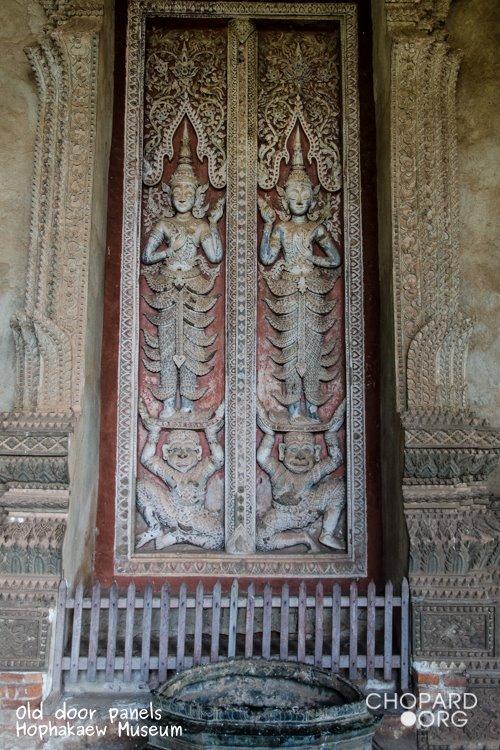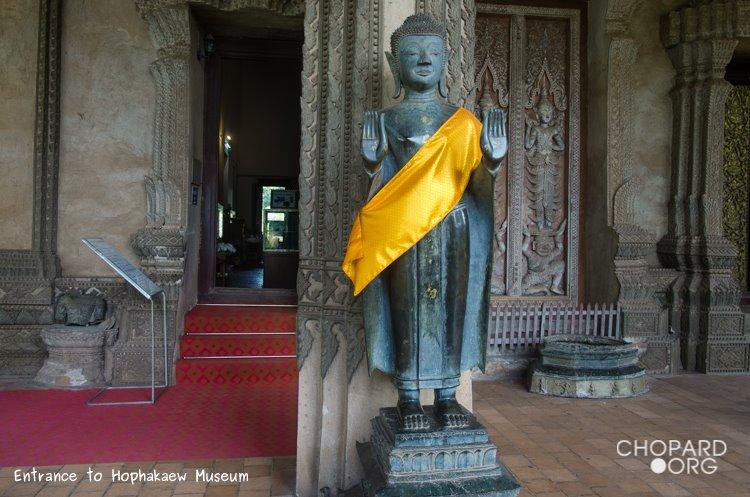 That Dam (the Black Stupa) is another historic building in central Vientiane; it is believed to be a seven-headed Naga's abode. This venerable shrine has not changed a lot over the years and wild greenery still encroaches on a dilapidated stucco.
The sanctuary's environment, however, got a face lifting, a paved road, new constructions, including a bookshop, and a new painting for the vanguard Ekalath hotel.
picture from 1991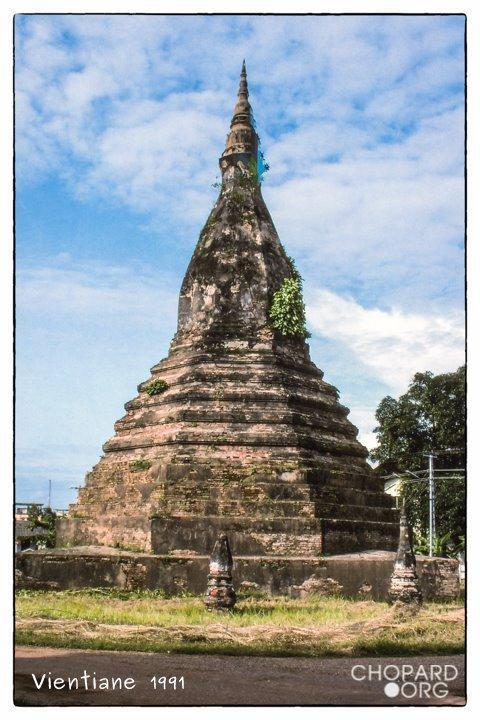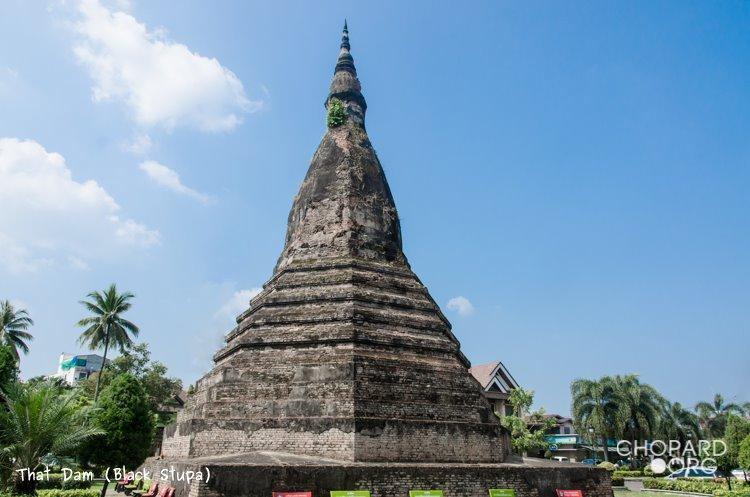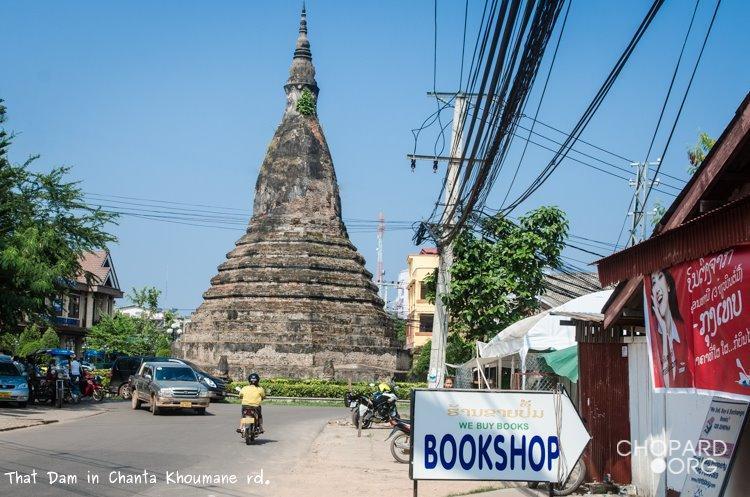 picture from 1991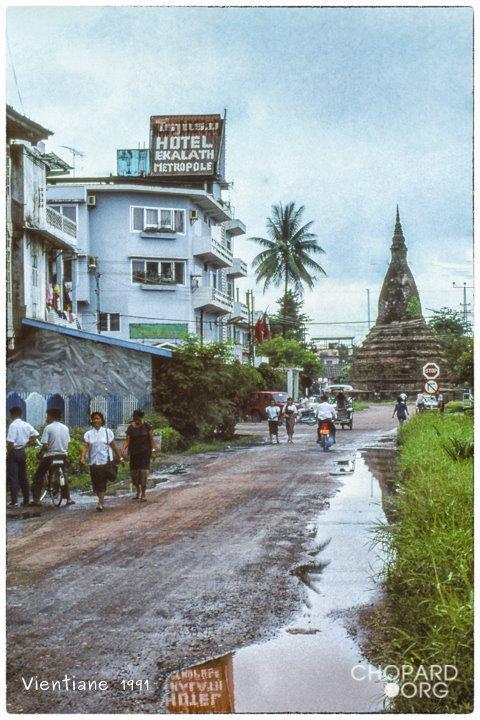 picture from 1991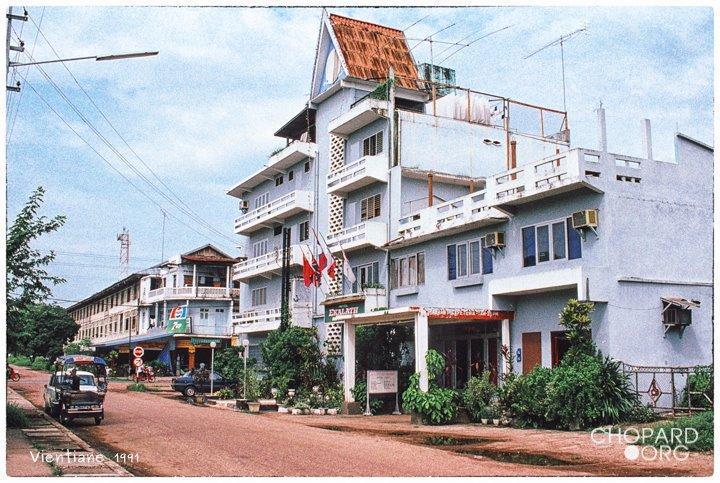 picture from 1991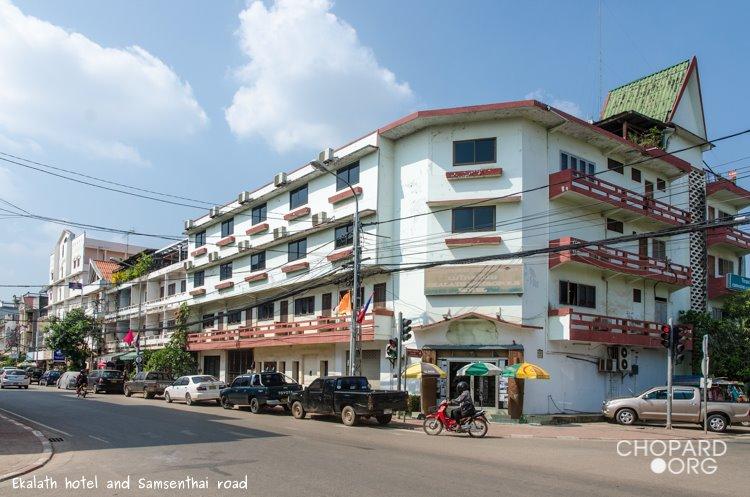 'Lao National Culture Hall' is an impressive colonnaded box, a gift from China to host intermittent public venues. It faces the more modestly dimensioned Lao National Museum, the former French governor's abode, now showcasing the nation's struggle for independence. It hosts some interesting artifacts, but, as often in such institutions, taking pictures is forbidden.
In the museum's garden, I took solace in portraying two stone jars. Far from their sisters' cluster in Houaphan, they look greyish and orphan; it may, however, just be a personal impression, as I remembered their original site's magic.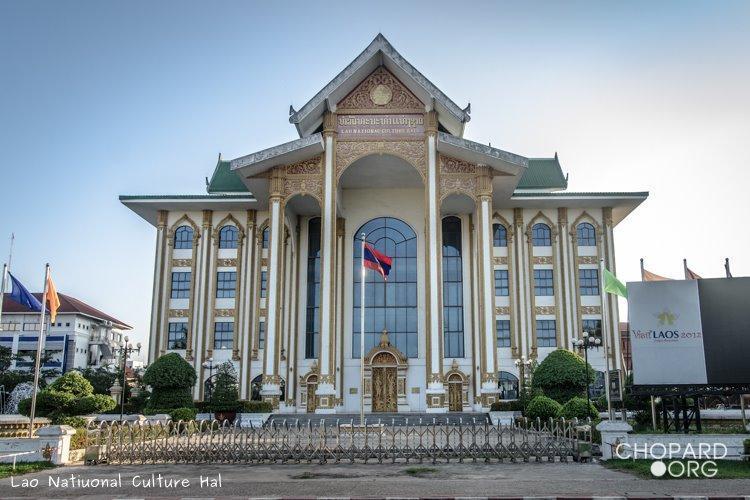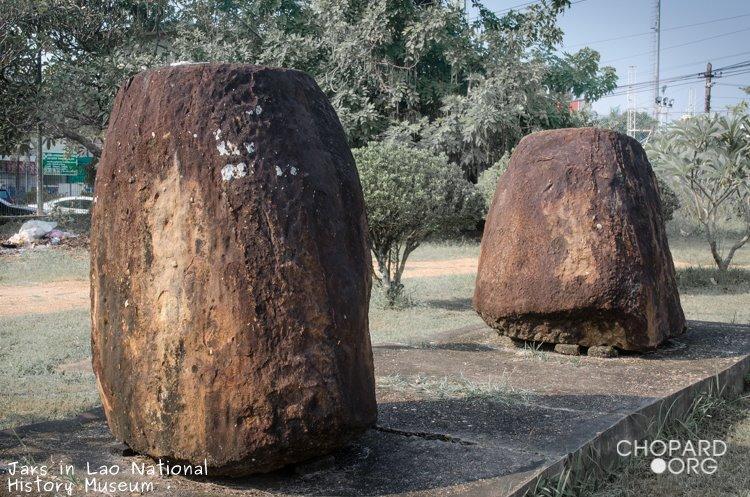 The Mekong being my lead during this trip, it was time to ramble again along the river's rim. My first stop was at the Lan Xan hotel, my dwelling during my first visits. It is no longer the only upmarket place in town and the ongoing building's renovation is a welcomed refreshment.
I had a faded recollection of a former restaurant, just across the hotel. The place served delicacies like iguana and turtle meat that I enjoyed before patronizing 'Anou Cabaret', one of the few watering holes in town.
picture from 1991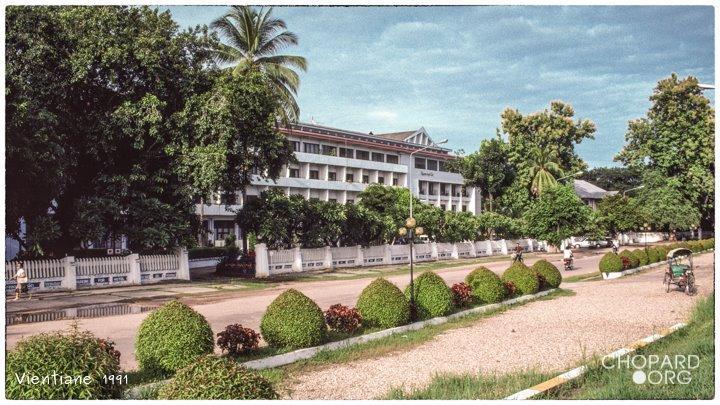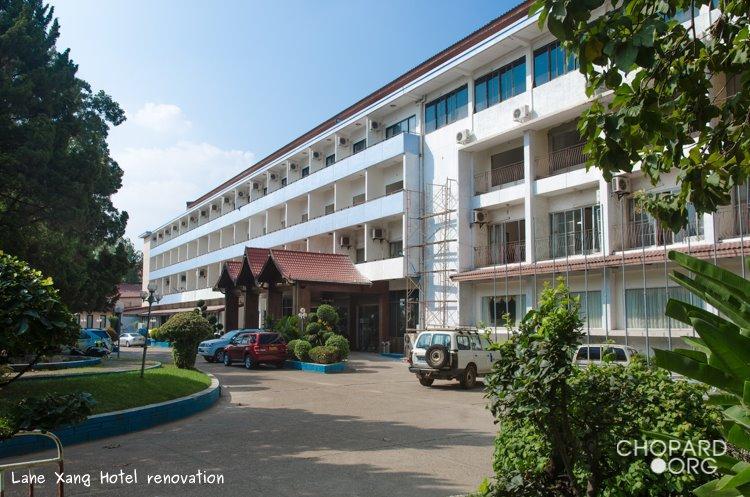 picture from 1991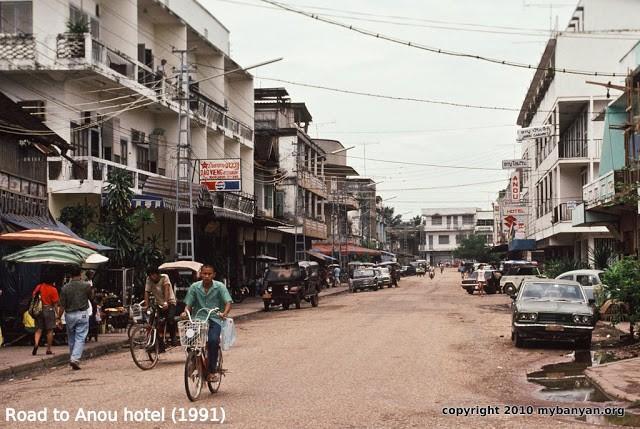 picture from 1991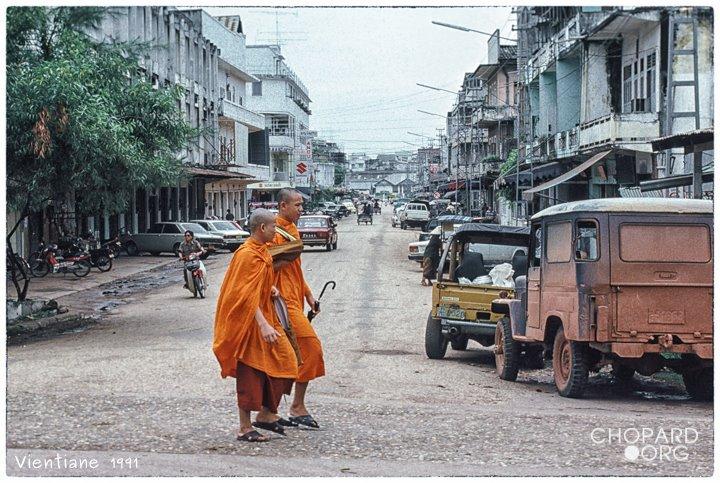 Farther down the Mekong, fifty de luxe villas were built to host the governments' heads during the upcoming (November 2012) ASEM meeting. Nearby, the fourteen stories Don Chan Palace hotel, is Vientiane's impossible to miss landmarks. While traveling down the opposite shore, in Si Chiangmai, I had already wondered about this shiny box's purpose. The construction, erected in 2004 to host an ASEAN conference, was able to exceed the seven story limit regulation ('Pratu Xai's' height) by pretending to be located outside the city, on Don Chan island [5].
Strait up along the Mekong, as far as the view reaches, the river's rim is a long concrete, stone and dust ribbon; gone are the marshes, reeds and vegetable gardens from the past. While time might eventually add some greenery to the waterfront, Vientiane already parades, showing a bland, modern and a tidy face to the World.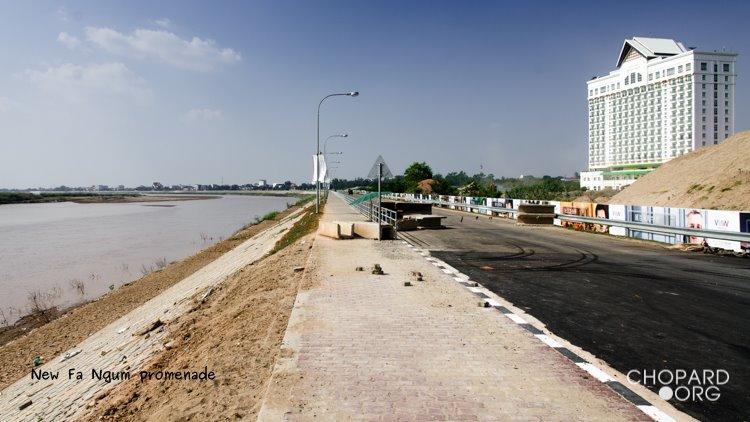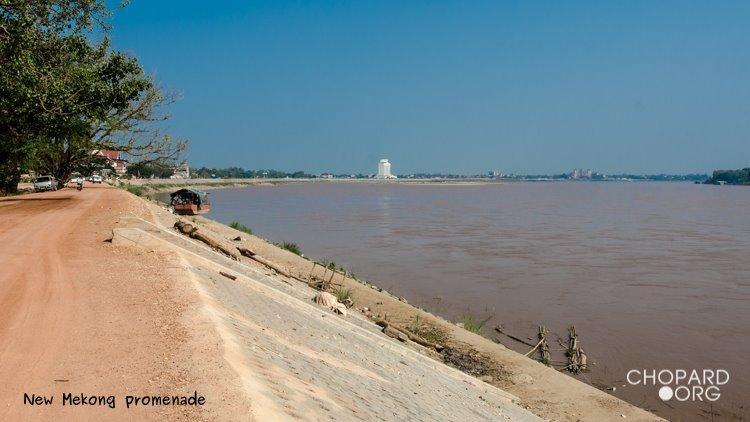 picture from 1991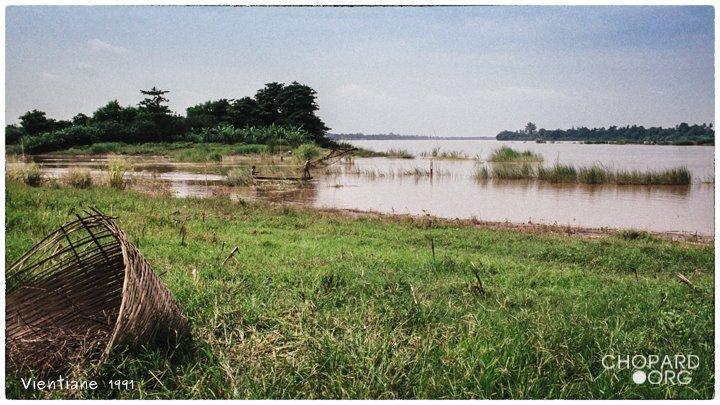 picture from 1991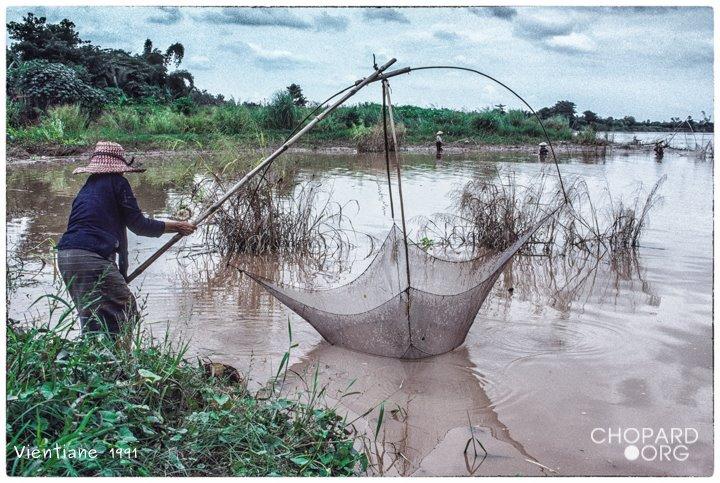 picture from 1991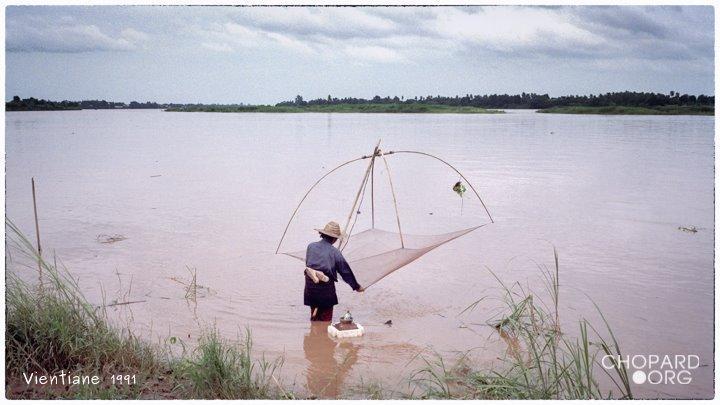 Remembering my pictures and with some nostalgia, I tried to localize neighborhoods visited during my former trips. Some places still seem forgotten by Vientiane's construction boom; however, I only recognized a few spots.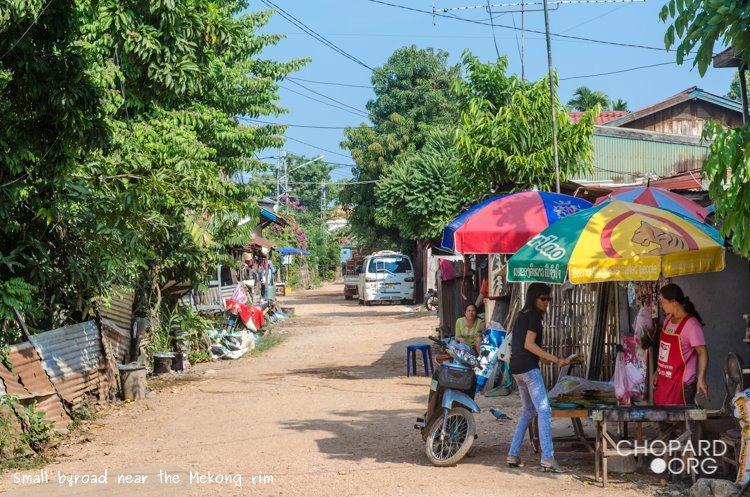 picture from 1991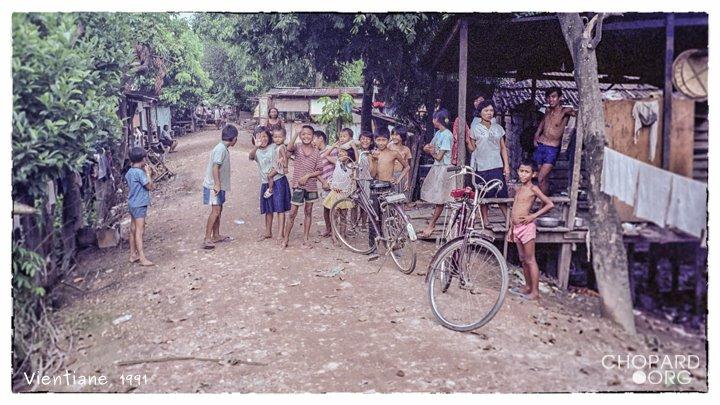 picture from 1991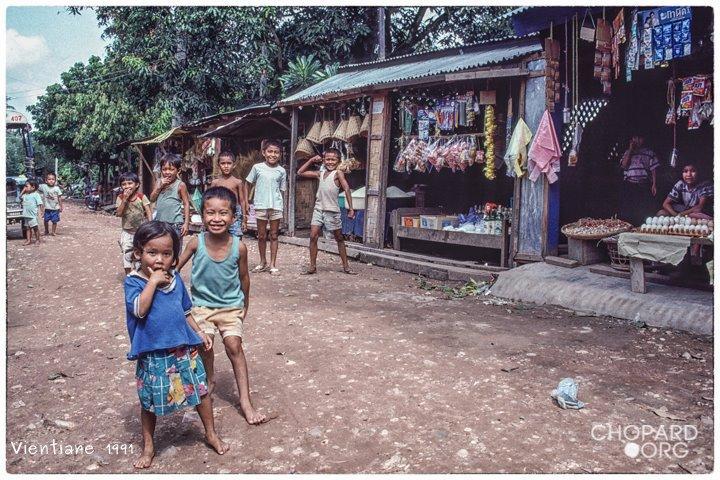 picture from 1991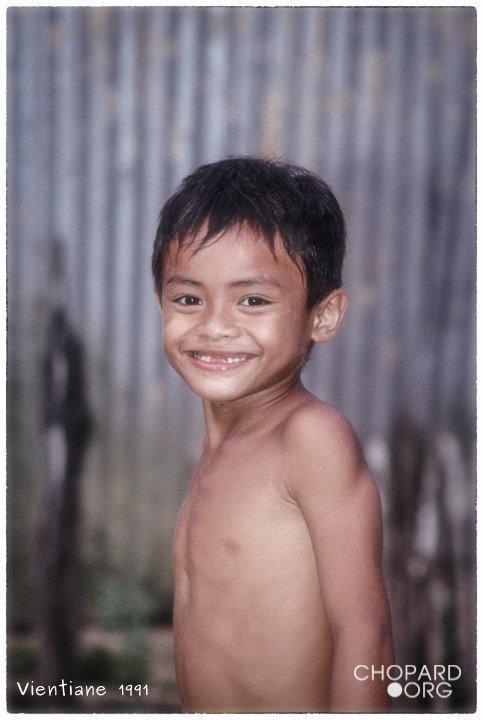 picture from 1991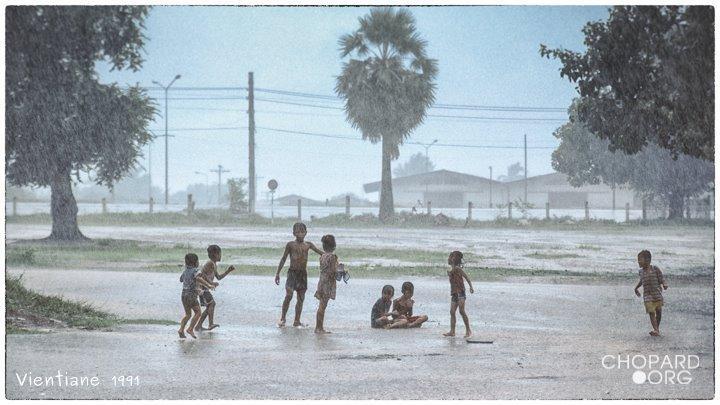 picture from 1991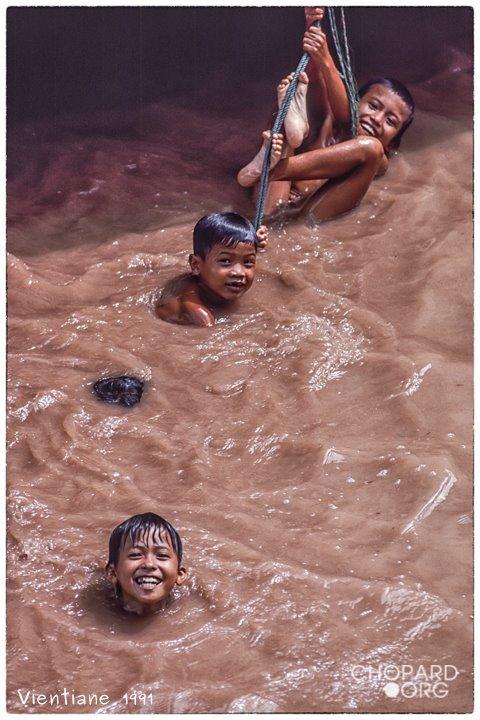 picture from 1991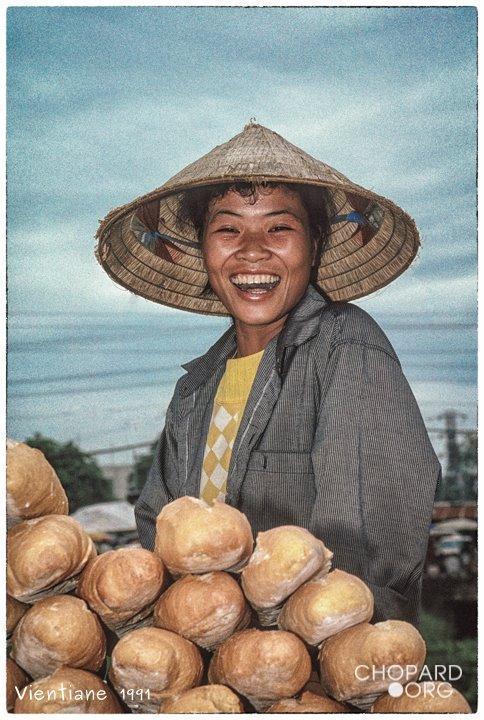 The time when "Anou Cabaret" appeared to be Vientiane's only evening distraction, is long gone. Around the center and down to the Mekong, the city is bustling. The fountain square (Nam Phou), already popular during the French era, was recently renovated to a central highlight, with evening music and fashionable restaurants.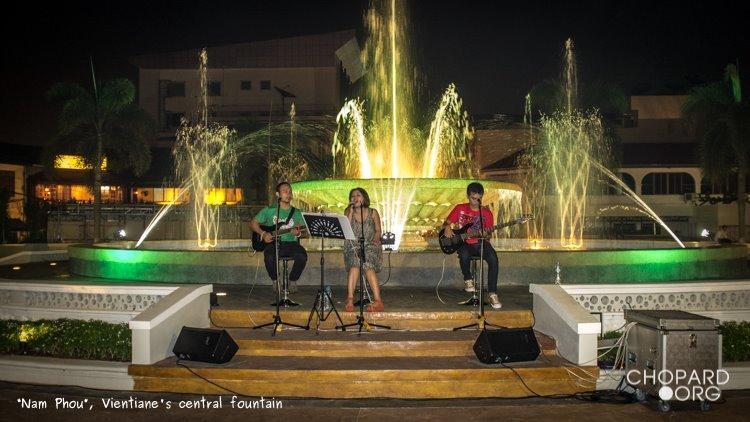 For dinner and music, I patronized Kopchaideu, an amazing observation deck. Deluxe cars or bikes are no longer a rarity in Laos and I spotted, for instance, a Harley without number plates, a curiosity in a country where big bikes can not yet be owned. In addition to several Bentleys, the talk of the town is a '888' numbered black Ferrari, another expensive toy.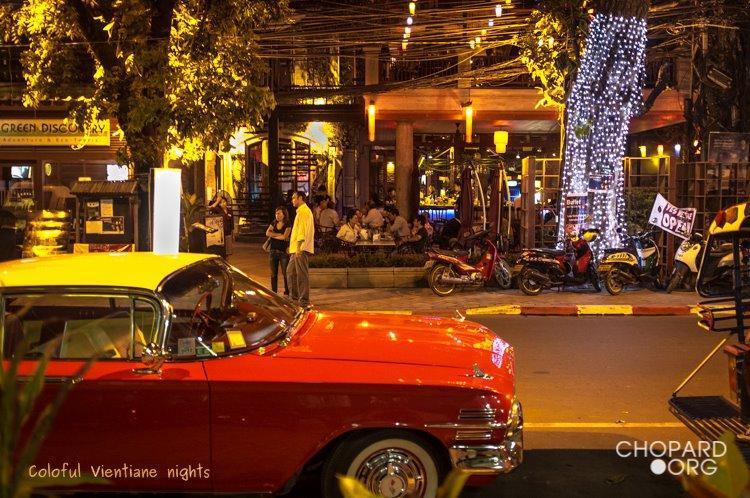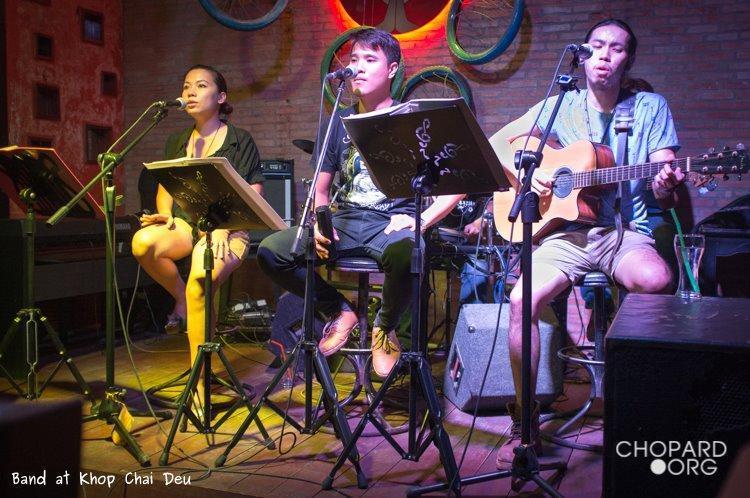 As my guesthouse was near to the center, the walk back home allowed me to observe more nightlife and I smiled at the panel 'Rue Setthathirath', a subtle French legacy linked to a great monarch's name. The small by-streets are truly cosmopolitan and the air is filled with the international kitchen's smell, mixing pizza, French fries and curry odors.
Along the way some short skirted amazons, riding their Hondas, happily offered massage services while a low tuned drag-star asserted: "I go with you"; nothing to worry about, and I safely reached my shack after a peaceful and interesting stroll.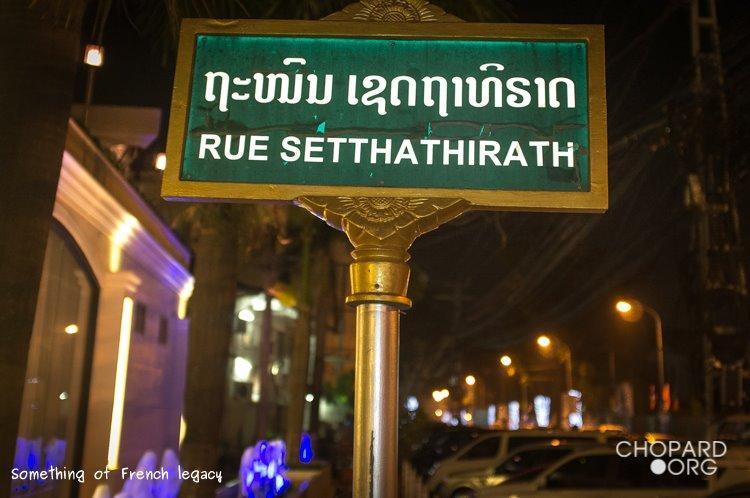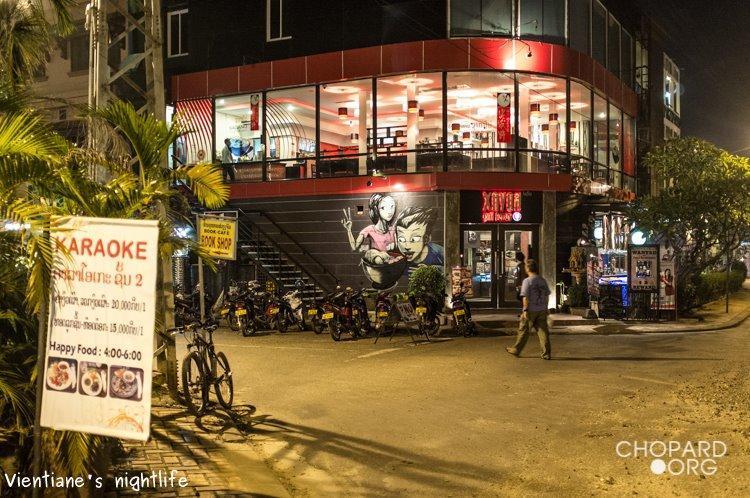 2. Vang Vieng
Vang Vieng, a couple of hours ride on Route 13, was my day's destination. Driving straight outside the city, I did not bid farewell to the Big River which, since Pakxan, takes a west-east direction. In ancient times this puzzled the French Mekong explorers aiming toward the North. Nowadays, we have precise (
GT-Rider
) maps and I knew that I would meet the river again, just two days later.
The stretch between Vientiane and Luang Prabang avoids the rocky Mekong's narrow gorges and cuts its way through the Nam Ngum basin, an important tributary to the Big River. Another itinerary, on Route 10, leads to the Nam Ngum dam, along the artificial lake's shores and, finally, to Route 13 after Thalat. I had driven along this path during another trip. (
https://www.gt-rider.com/thailand-m...3925-An-Easy-Road-to-Laos-4-Back-to-Nong-Khai
)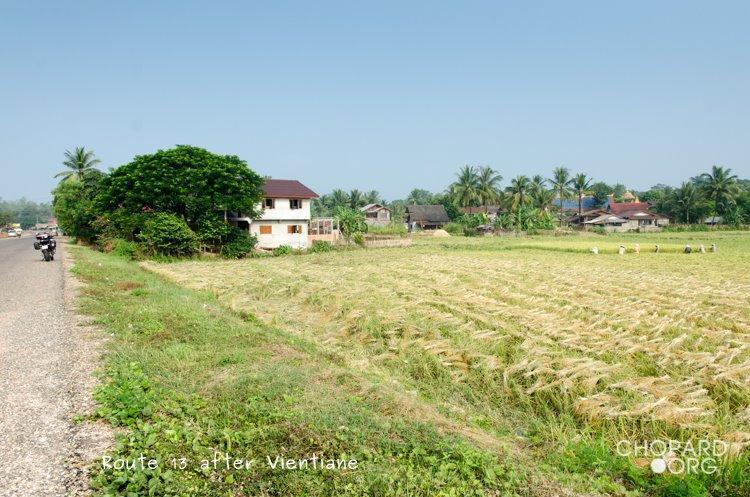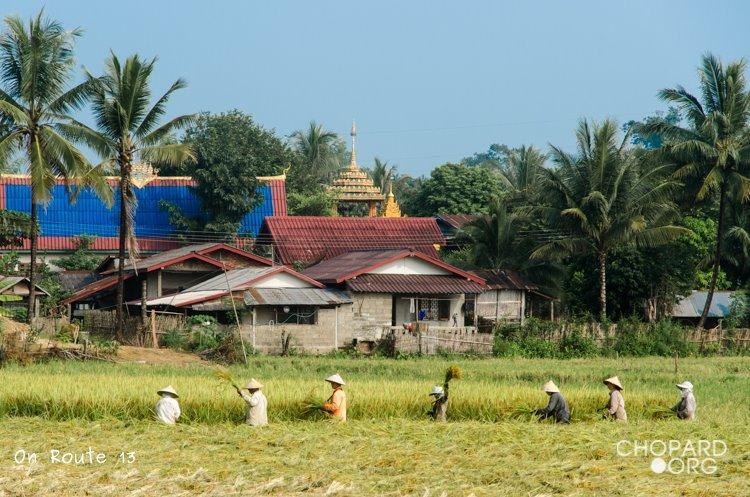 In Hin Hoeup, a side road lured me along the Lik river, toward Feuang. As the region becomes more mountainous and less suitable for wet-rice cultivation, it also adds ethnic richness. Until now, I had driven through the Mekong's plain, mostly inhabited by lowland Lao ("Lao Loum"), of the Tai speaking family; in the hills, however, the landscapes and the people gain in diversity.
The Lao official classification subdivides the local population into strata, according to their usual living altitude. The mountain sides are "Lao Theung's" (mid-slope people) dwellings, whose main ethnicity is the Khmu (Khamu or Kammu). They are the country's indigenous inhabitants and belong to a Mon-Khmer family. Concentrated in the North, they amount to about thirty percent of the population and, during former trips, I had several opportunities to meet these gentle people, in remote villages, along the northern roads.
My short side trip to Feuang brought me through several Khmu hamlets where I enjoyed small talks while taking pictures. I also met some jobless youngster; they had been employed in the Viang Vieng's tubing business, recently closed down for safety reasons.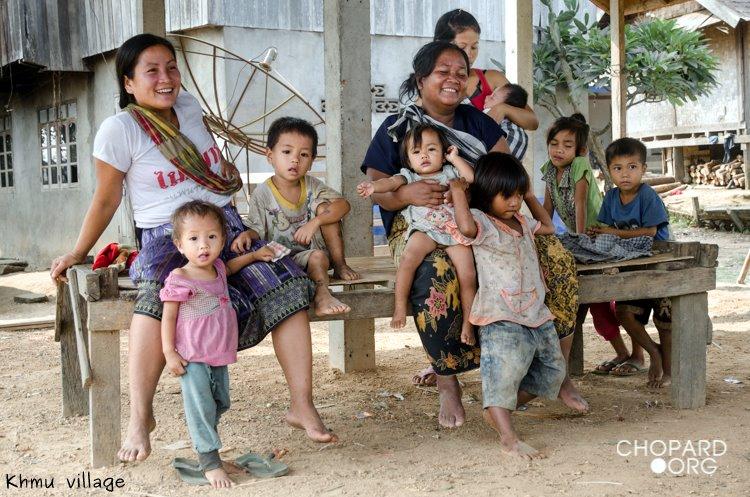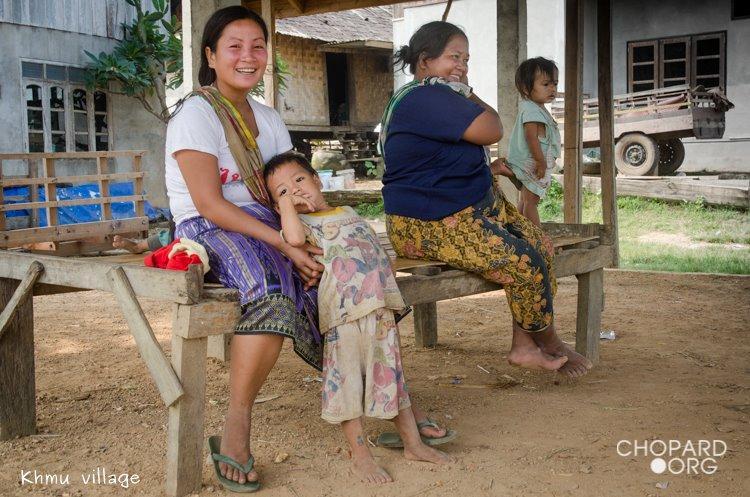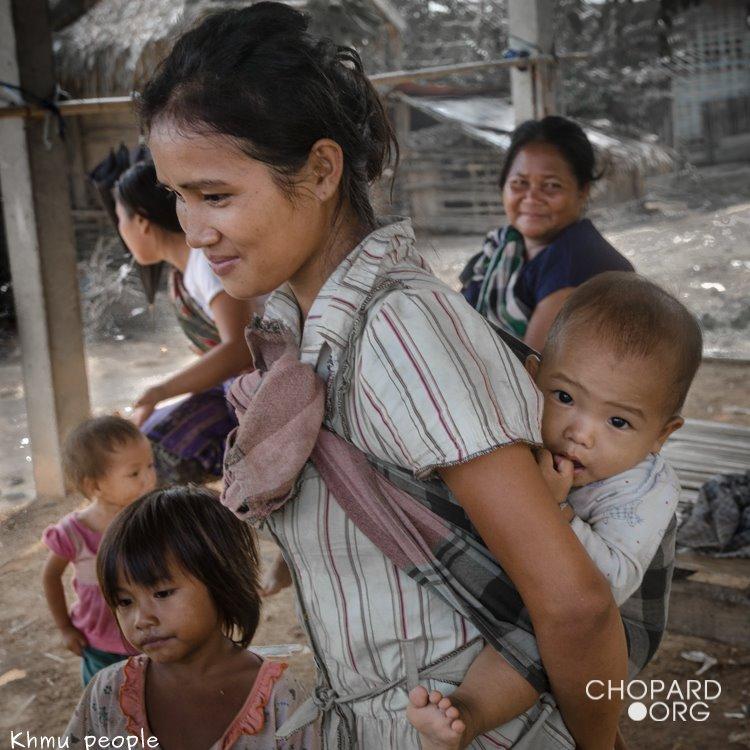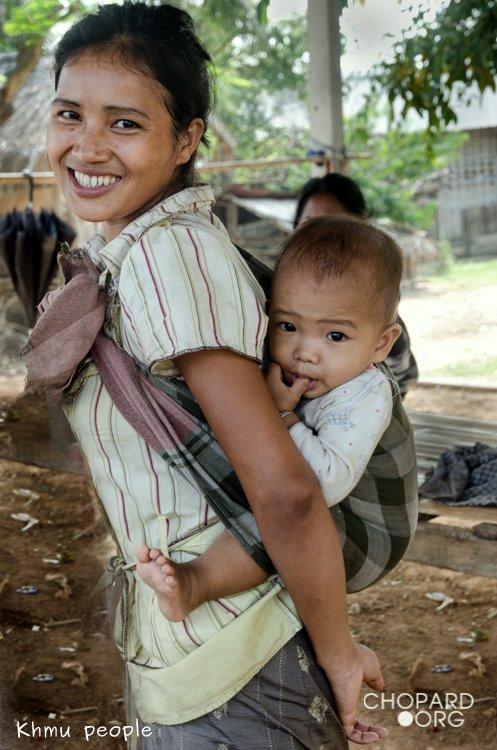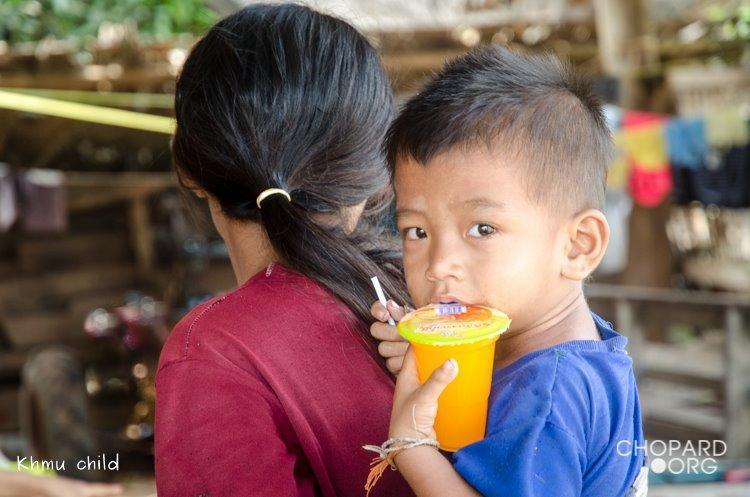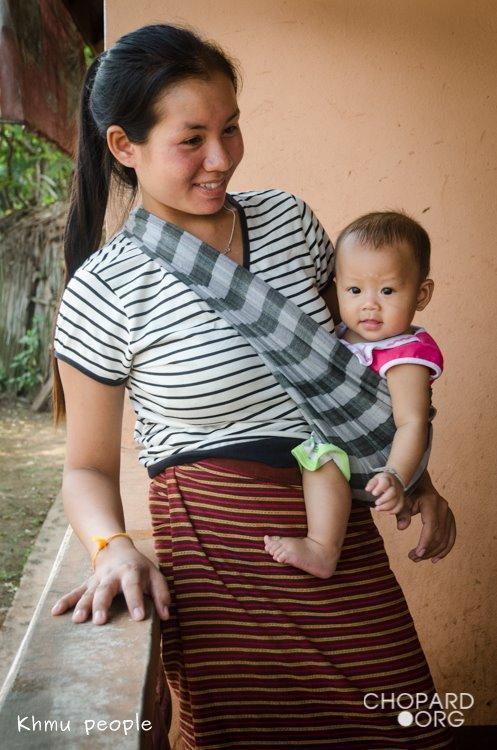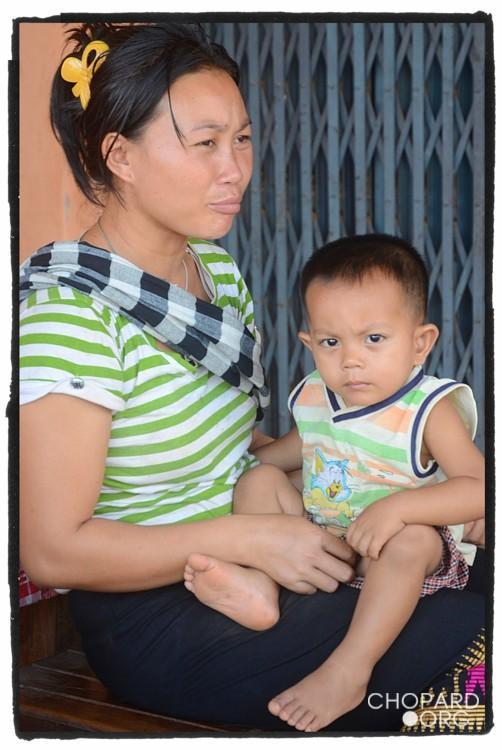 Back to Hin Hoeup intersection, I crossed the Lik river on the old bridge which affords a backward look into ancient Route 13. This place is a black spot in the Hmong's 1975th defeat history, with a yet to be clarified incident resulting in a civilian massacre [6]
To cope with the increased traffic, a new bridge and a ringroad were built, in 2009, with the Japanese government's funding.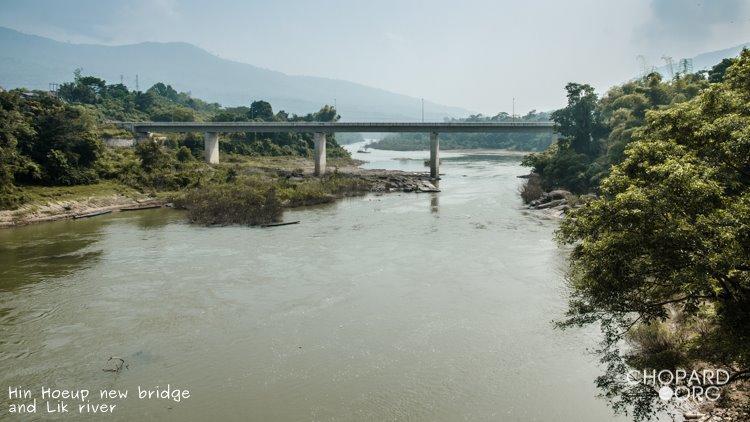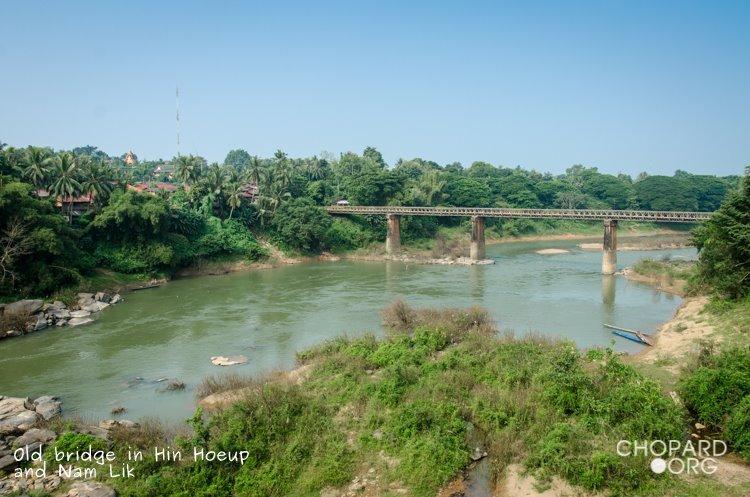 Eighty kilometers before Vang Vieng, and persisting for about the same distance after that city, the road's surface becomes worn out and partly dilapidated. It's not as bad as farther north, in Pak Mong, but some stretches are considerably crumbled.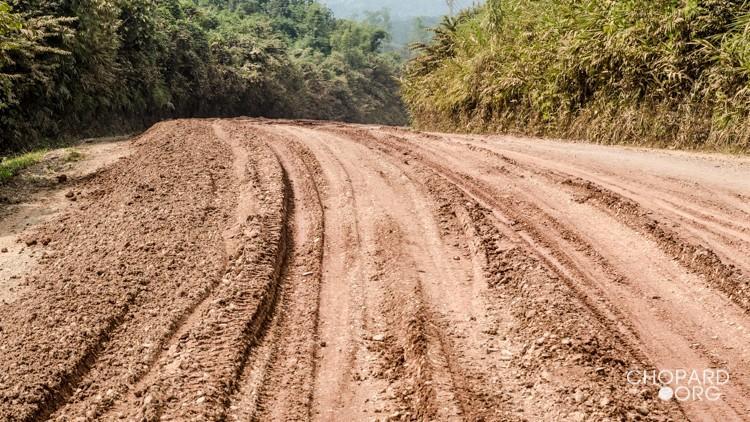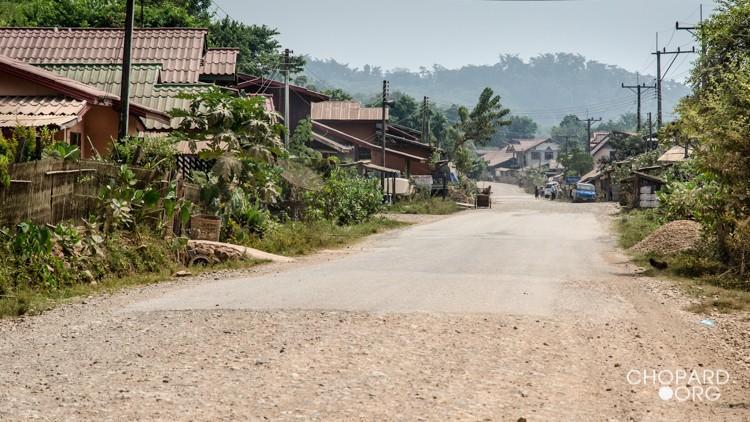 Tha Heua is Nam Ngeun Dam lake's northern point, a small village with constructions on stilts over the water.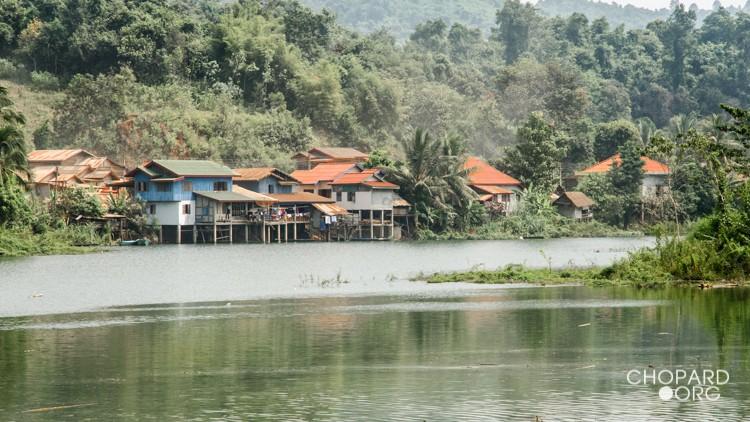 It was lunch time and I blended into students' crowds pedaling back from school. To reduce the sand storm along this deteriorated trail, big lorries sprayed the surface with water. Bikes and pedestrian were not spared a shower; nothing fancy as it just makes the dust more sticky.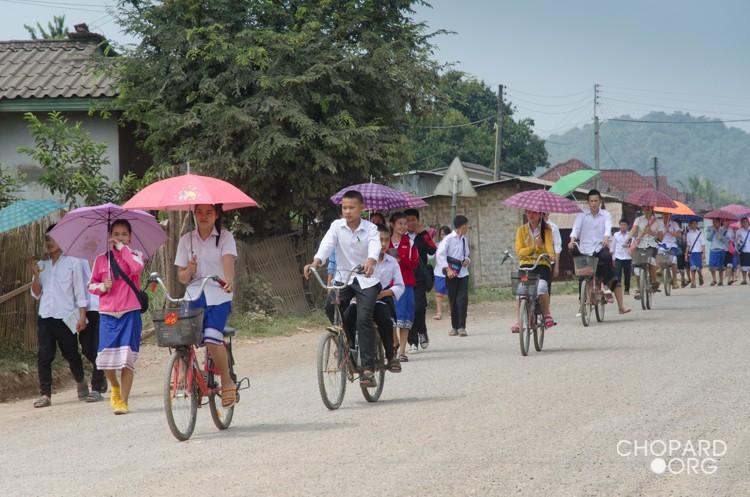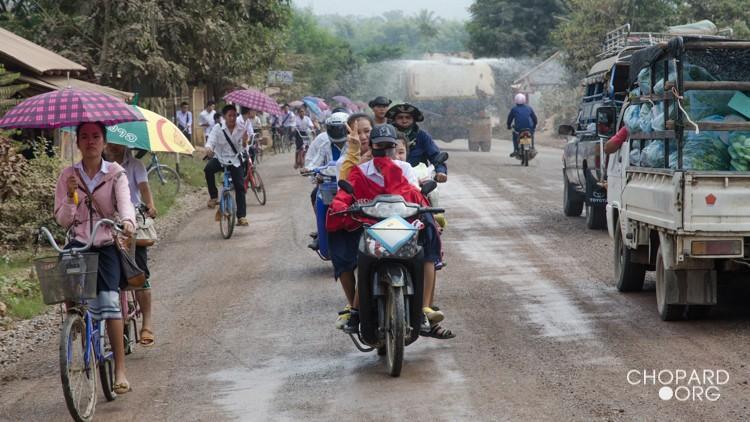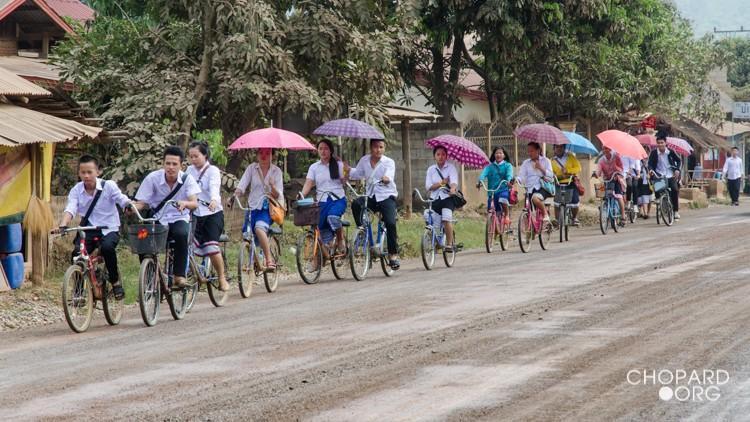 I chose "Villa Vang Vieng Riverside" (40 USD with ABF), as my residence for that day. Is is slightly more costly than my former abode in that city, but well worth the difference. Rooms are comfortable, wifi is available and a swimming pool invites to a dip.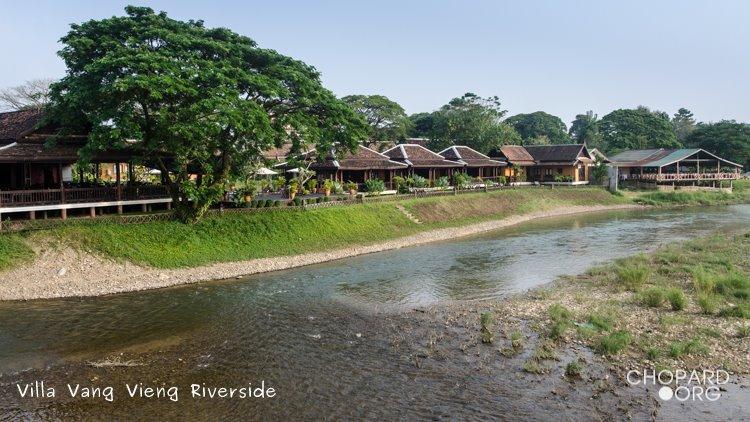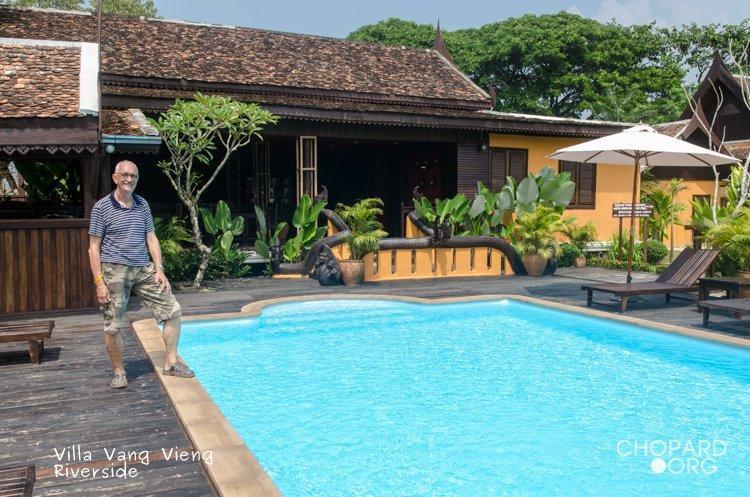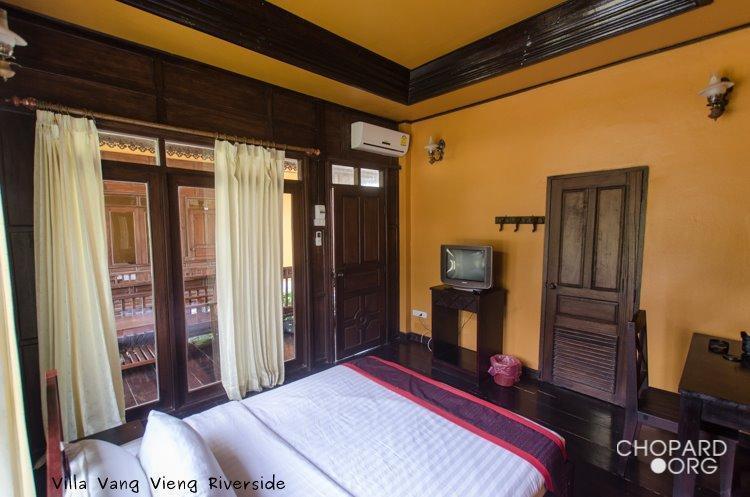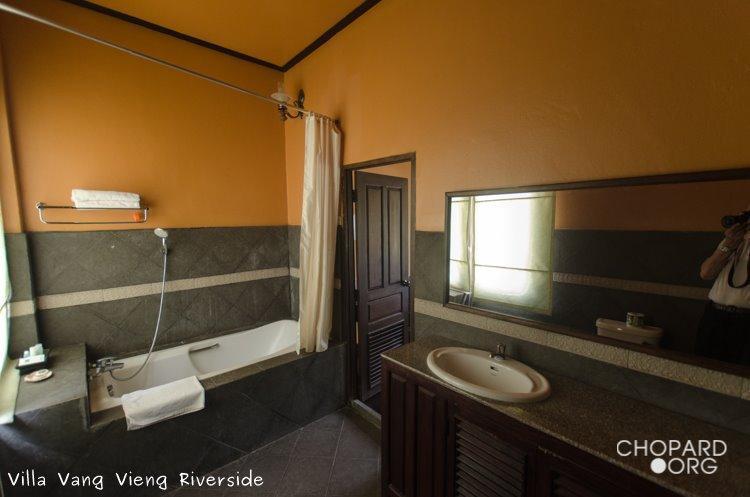 In the afternoon I strolled along the city's roads and, again, crossed the usual student groups heading back home. After a deficit due to wars and emigration, Laos demography rapidly caught up, raising the population to six point six million inhabitants (2013 est. [7]). With twenty years as a median age, the country has also Asia's youngest population [8].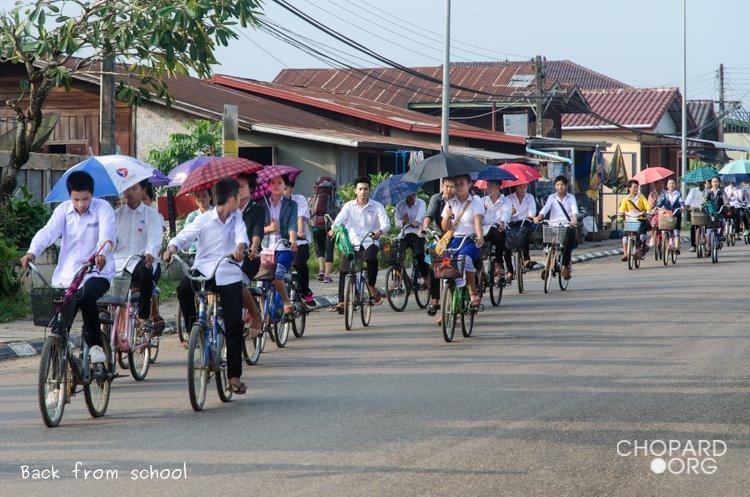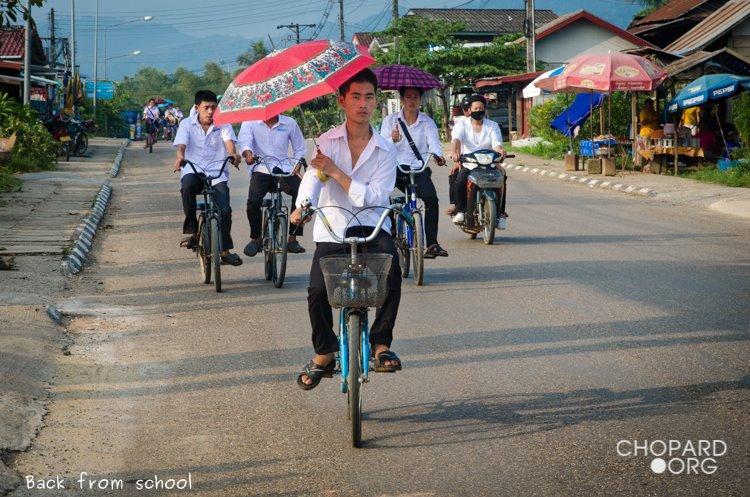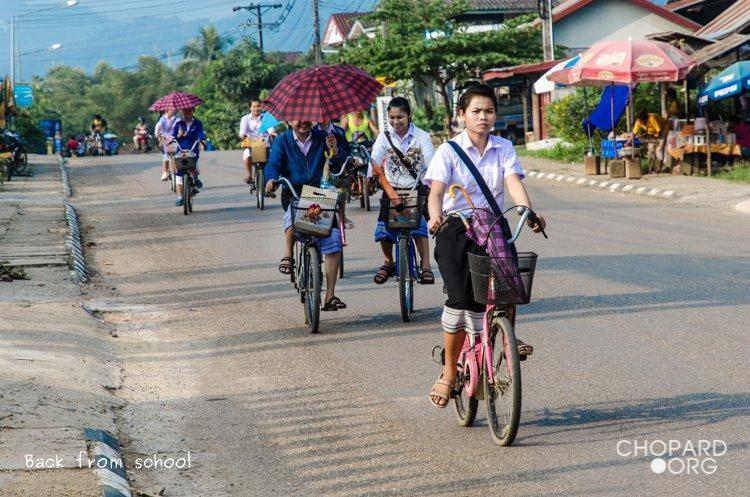 Located on the Nam Xong's rim, just next to a bridge, "Villa Vang Vieng Riverside" is a favorable observation desk to appreciate the twilight's changing hues playing against a stunning limestone mountain backdrop.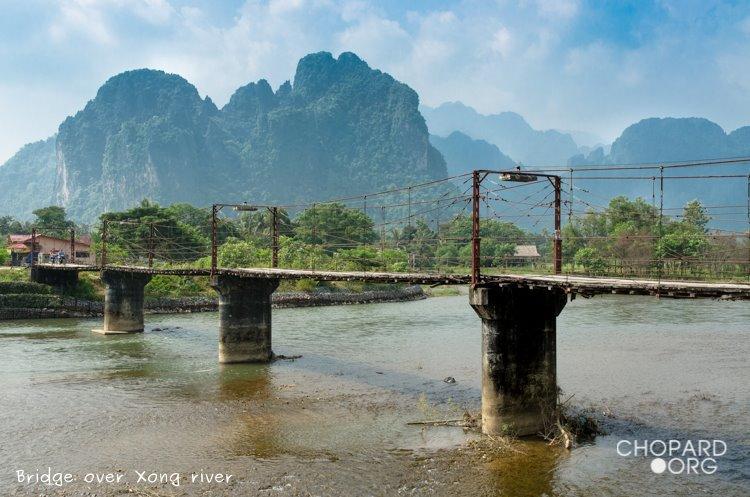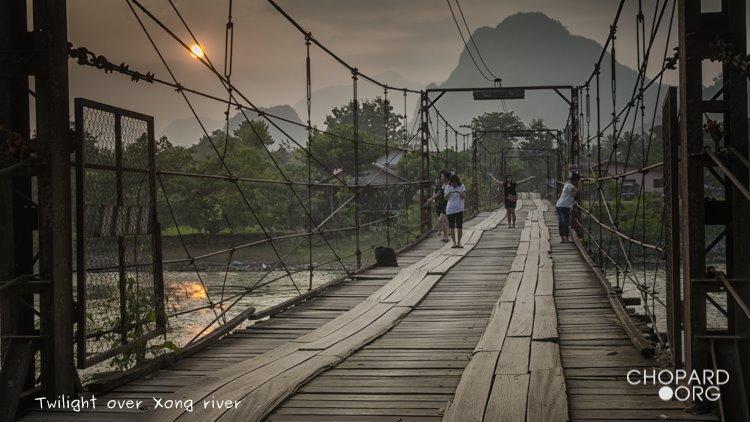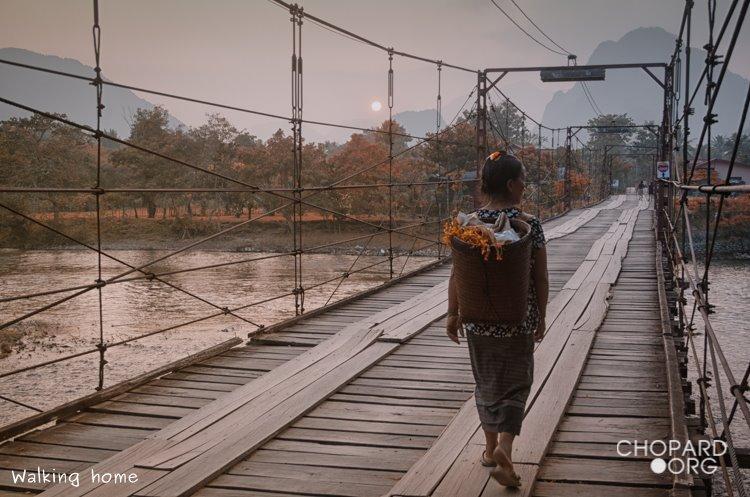 In the evening, the town was quiet and tourists seemed to behave more adequately than during my last visit. After a recent government crackdown, most riverside bars, specialized in tubing and "energizing" drinks, were dismantled; this effectively annihilated the backpacker party scene. Despite the high season's start, occupation rates remained exceptionally low [11].
As Brett Dakin brought out (in: 'Another Quiet American' [12]): "The (
Lonely Planet
) writers had, with the stroke of a pen, put an entire village on the map... it was converted overnight into a backpacker mecca … soon enough, the food wasn't the only thing that was cheap. Curiosity fueled an explosion in the town's tourism industry".
The craze of gliding down a river, often in an intoxicated state, caused a number of casualties, unbearable for Laos' tourism promotion. Vang Vieng is now bound to develop safer attractions, improve its image and seduced a different clientele.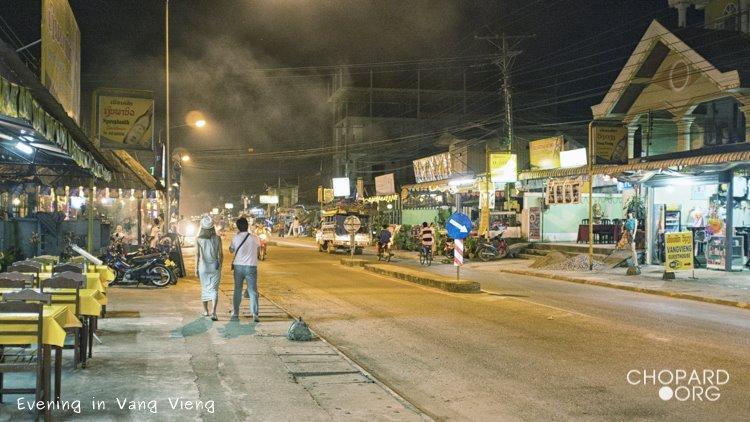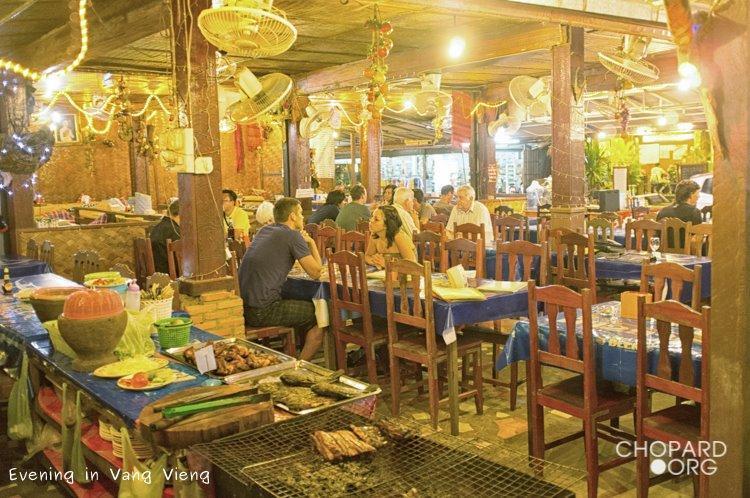 Good morning Nam Xong river, it's time for me to move on!
Route 13 cuts through magnificent mountain panoramas, unfortunately, and for about eighty kilometers, the road's pavement is again heavily worn out.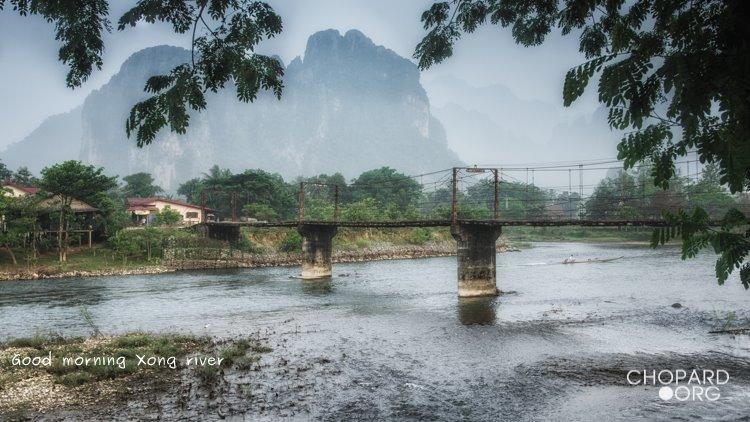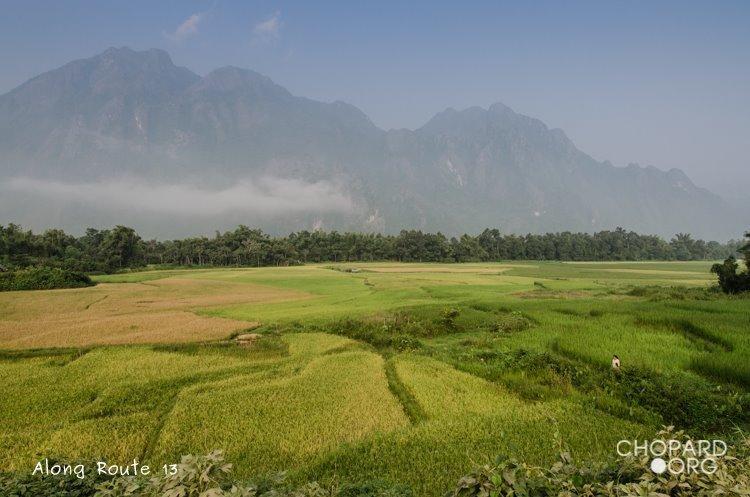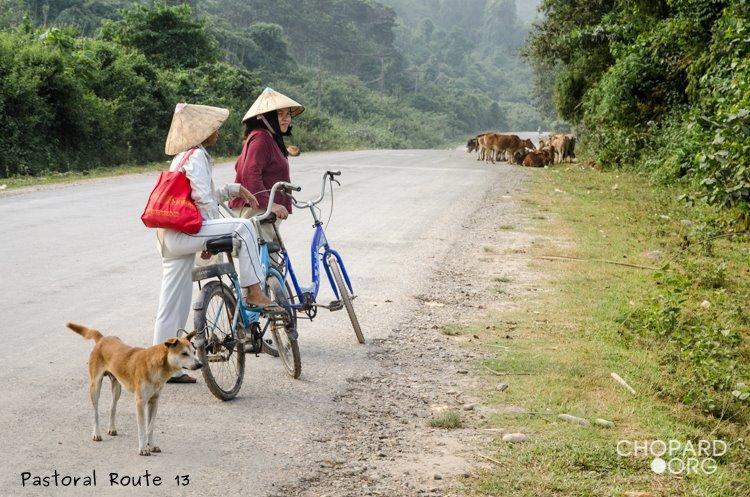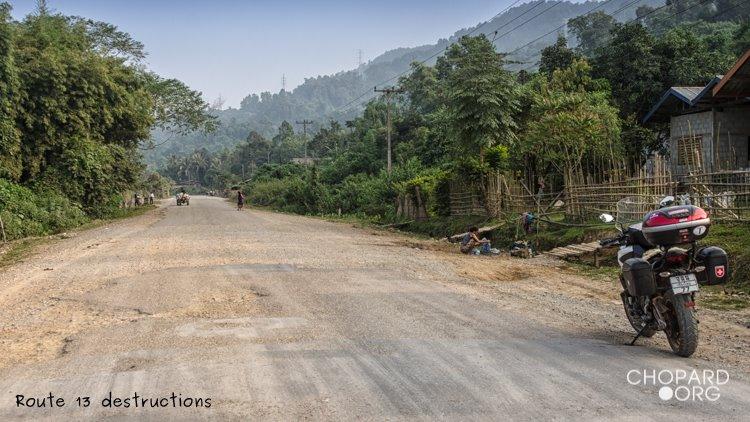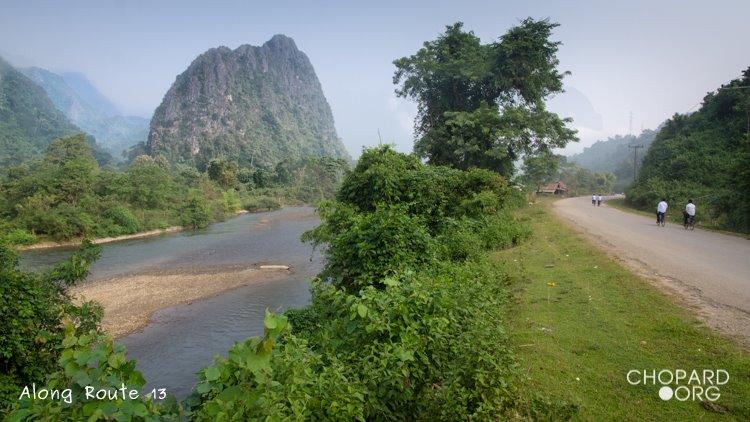 After crossing a bridge, in Pa Thang, Route 13 bids farewell to the Nam Xong and continues along a most dreaded stretch. For years the region was plagued by bandit attacks with a most publicized case, involving the death of foreigners, in 2003 and a shooting in 2007. Travel guides warned about this itinerary and embassies prohibited their personal to journeying on this path [13]. Hmong rebels, were blamed for the incidents, while other presumptions point toward provocations or sheer economic banditism.
While traveling on Route 13, since 2010, I have never heard about any incident nor did I get any warning. The region seems safe, as everywhere in Laos, with, all along the way, friendly and smiling people and a gorgeous landscape.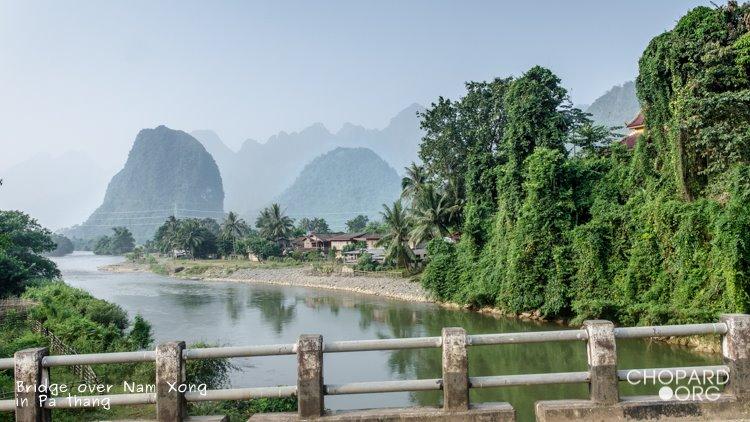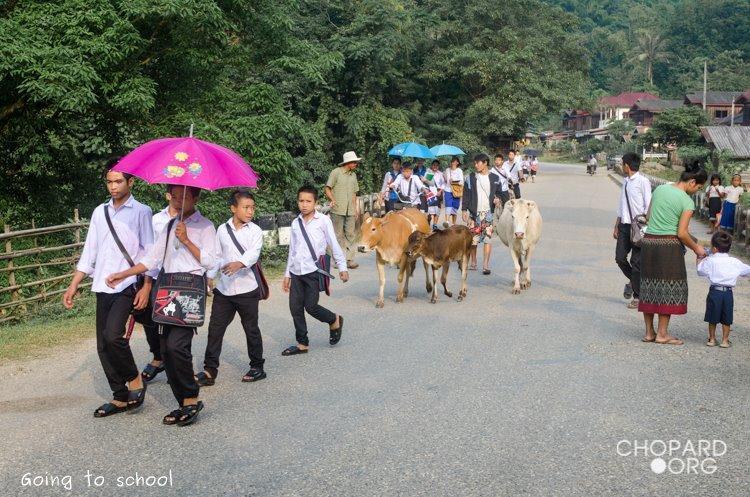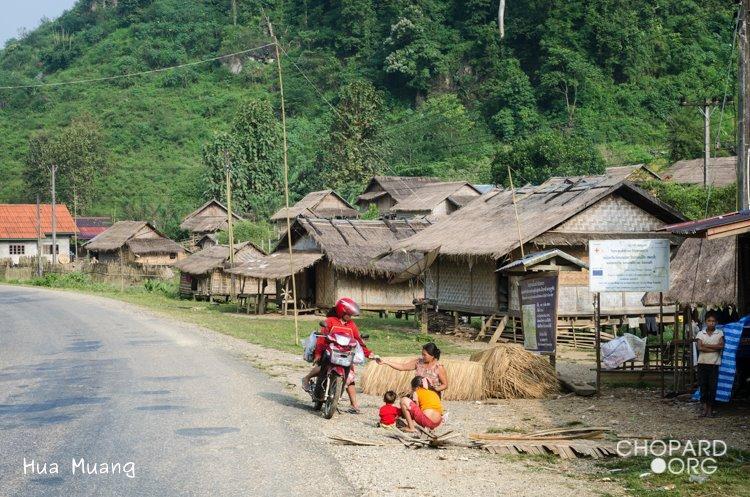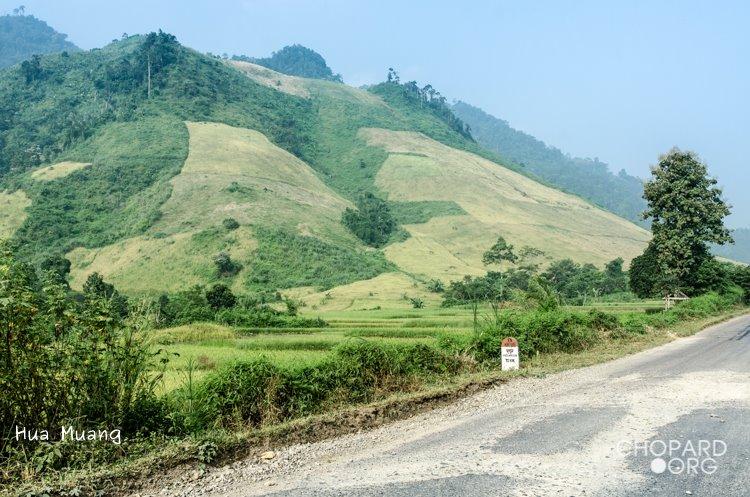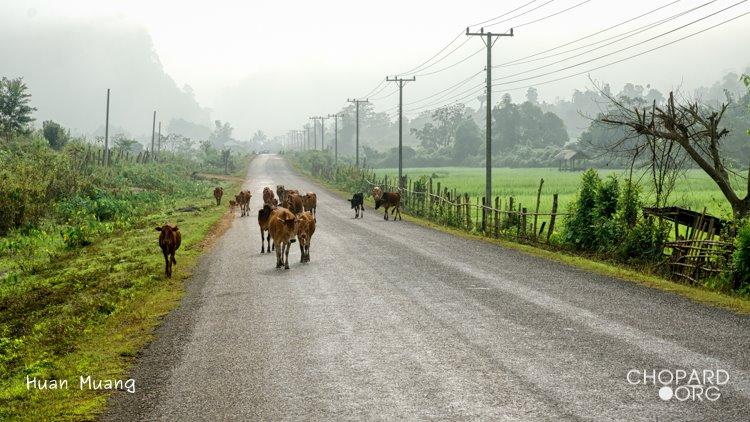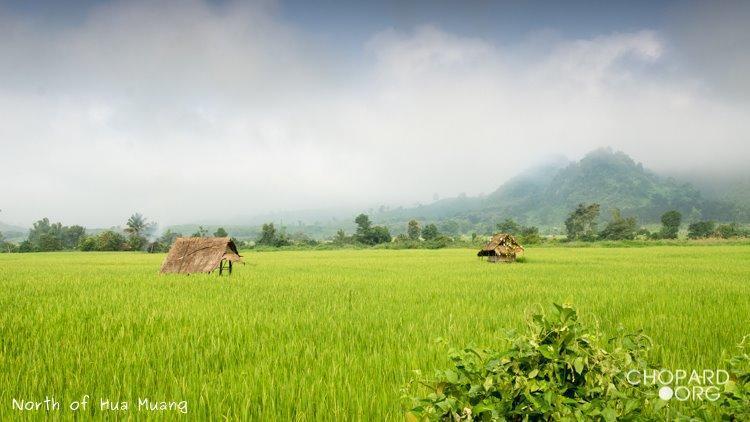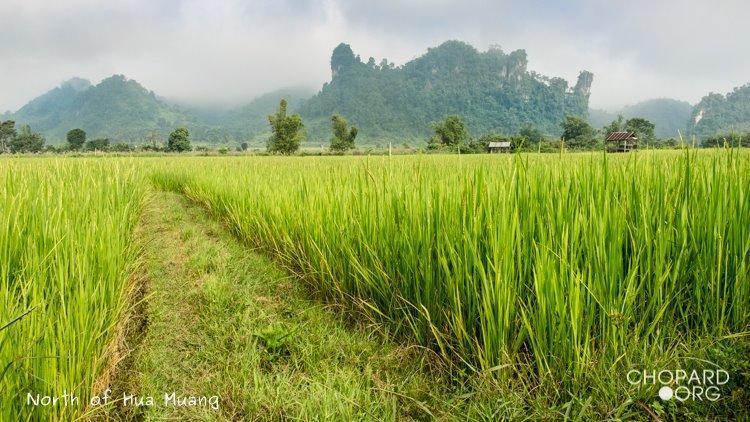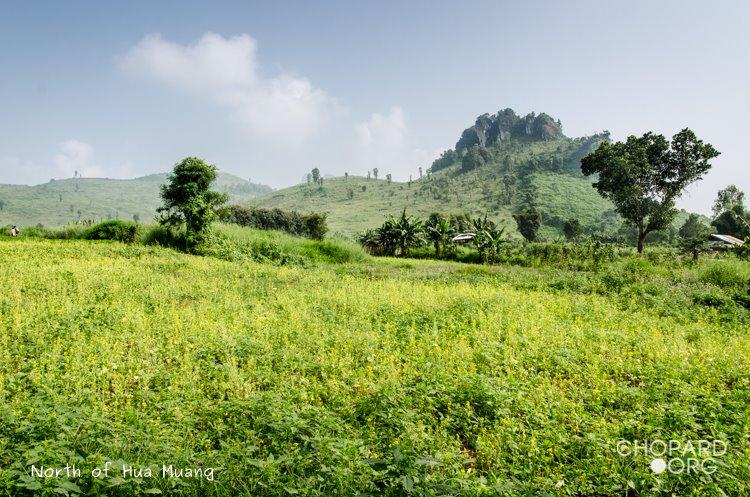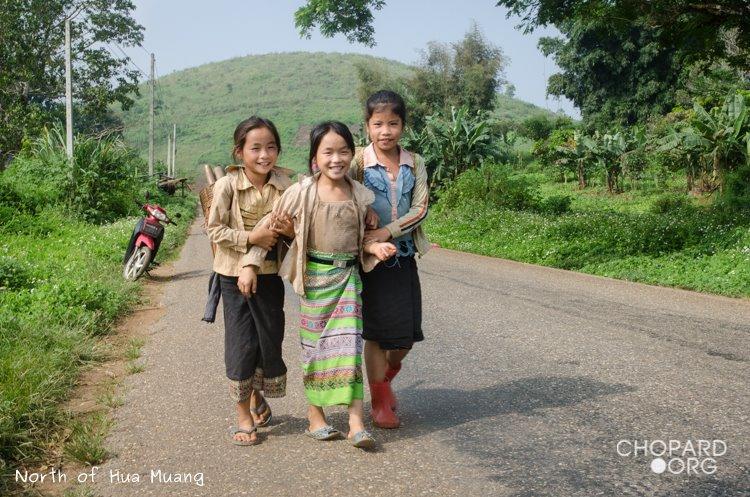 Shortly after Hua Muang, my odometer indicated three thousand kilometers, the total distance since my departure from Chiangmai; I had already completed two third of my 'promenade'.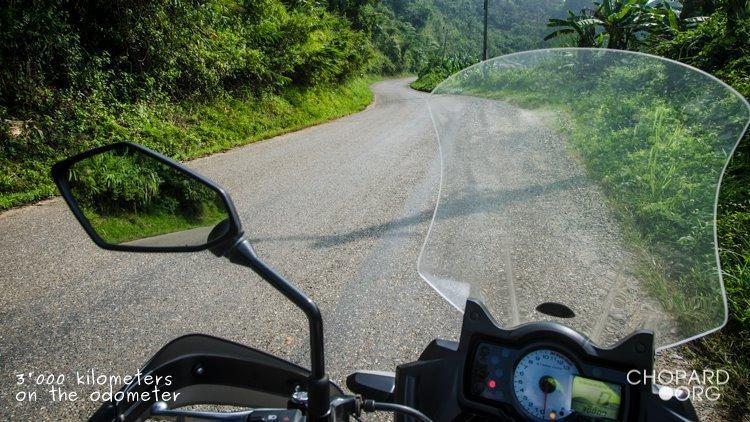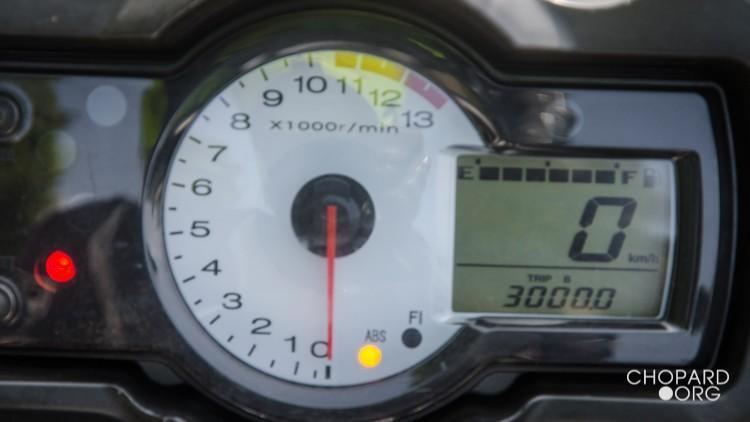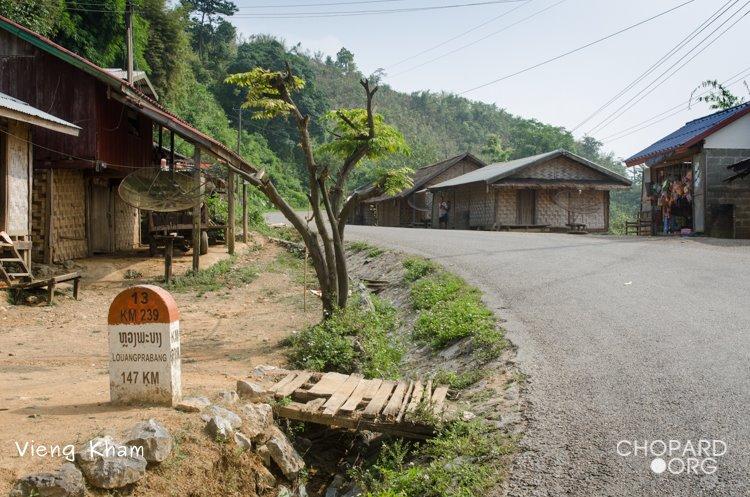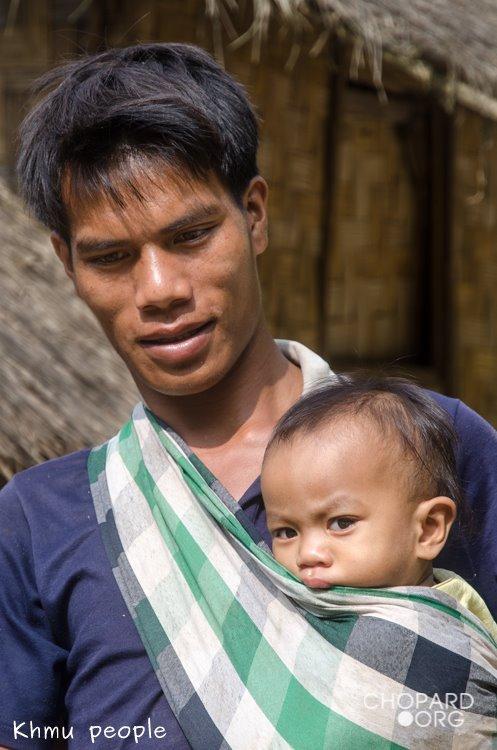 The Phou Khoun's view point is a highlight along this itinerary. The road climbs along dark karst formations to a vantage point overlooking the Nam Lik valley. The landscape is unique, it features a panorama of jagged rocks draped in light clouds and cut out against an azure backdrop.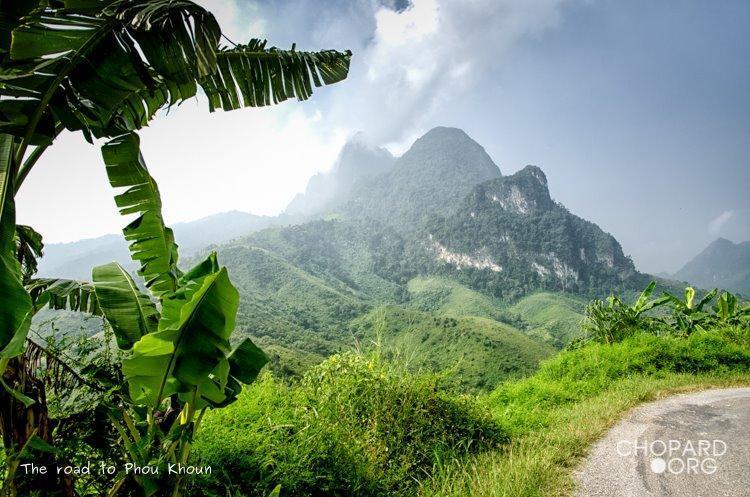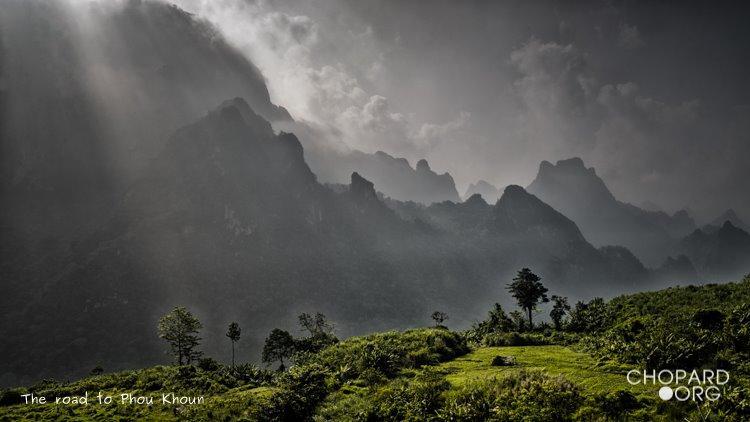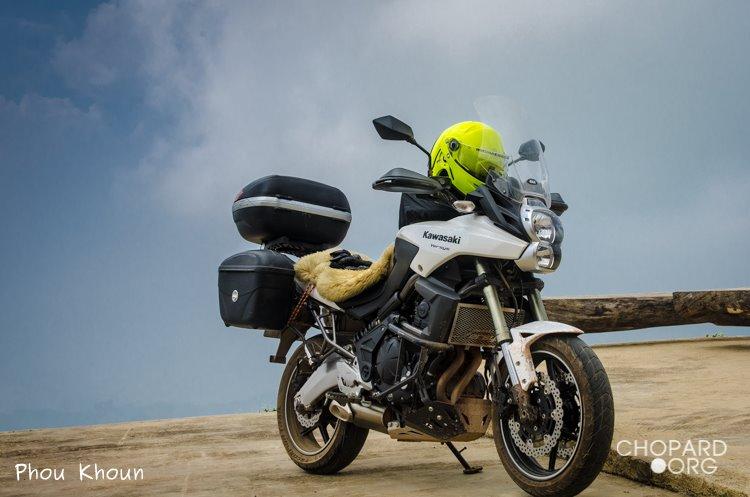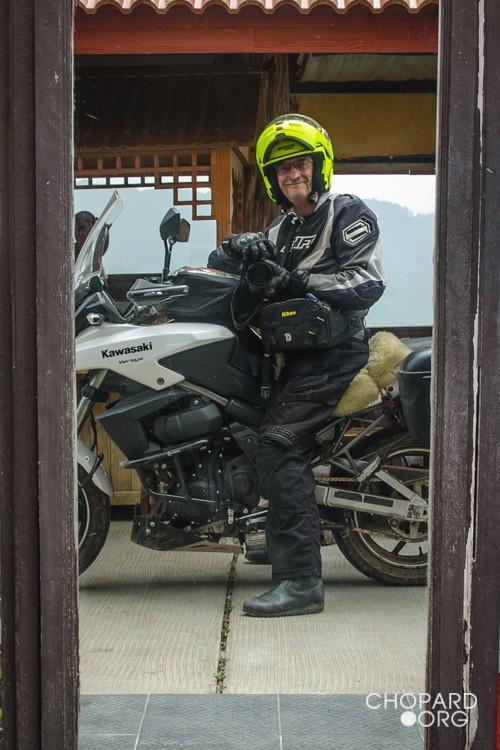 The next village, is Phou Khoun, at the intersection with Route 7 from Phonsavan. Each time I drive through this region I remember the disastrous 1975 battles, when the Hmong's armies were defeated by North Vietnamese and Pathet Lao forces. The leftists' victory took down the last lock and cleared the hindrance on the road to the capital. For the losers the plight began, some were airlifted to America, some walked to Thailand, others were just left behind [10]
(See my former call in Phou Khoun : https://www.gt-rider.com/thailand-m...ortheast-Laos-3-Epilogue-(Sam-Nuea-Phonsavan)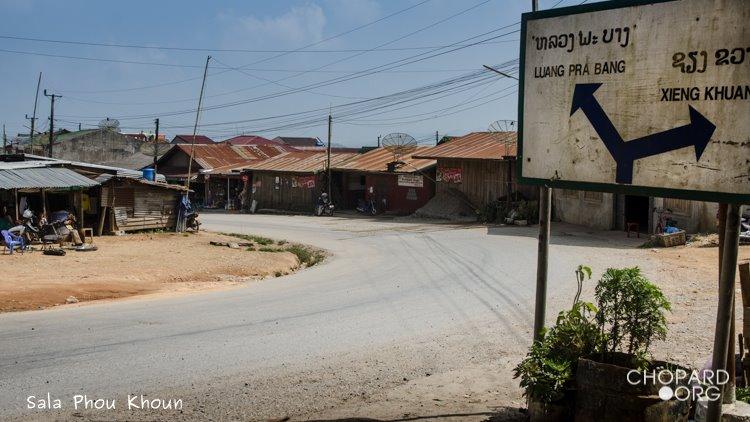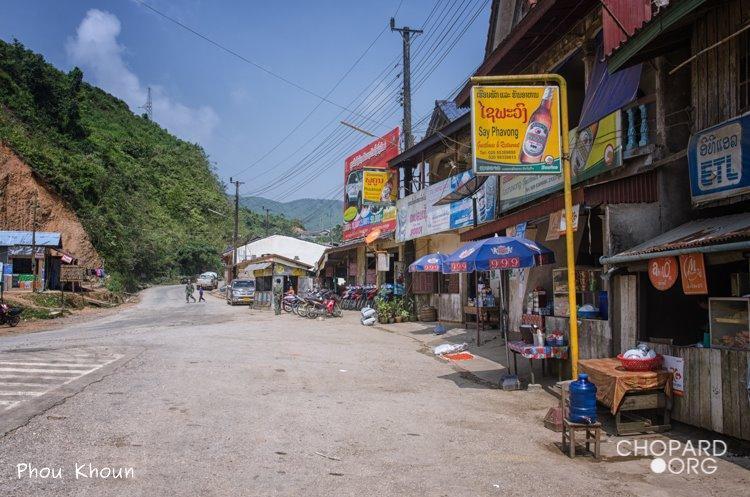 Pho Kham, Kiu Kacham, along mountain slopes, Route 13 meanders through villages, worth to dawdle and observe the peoples life.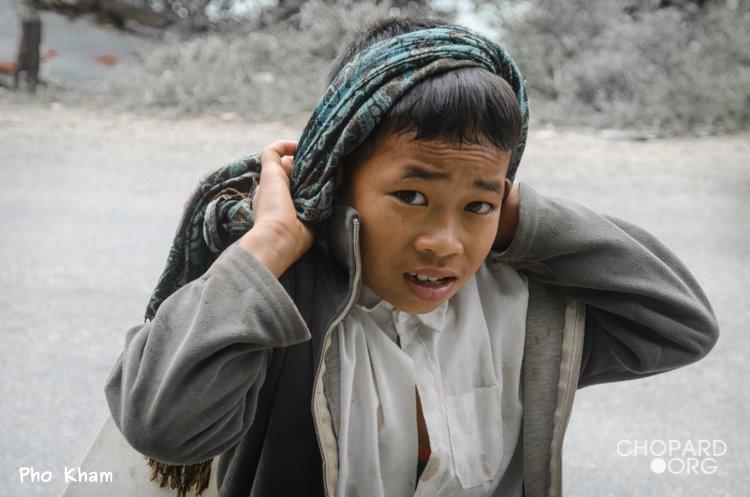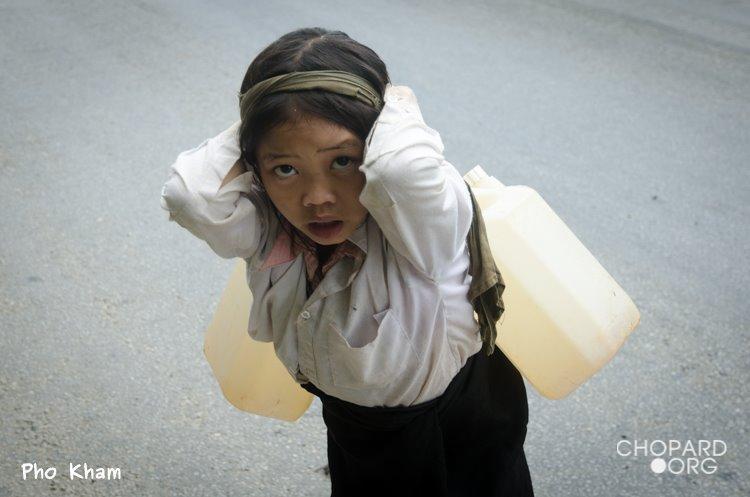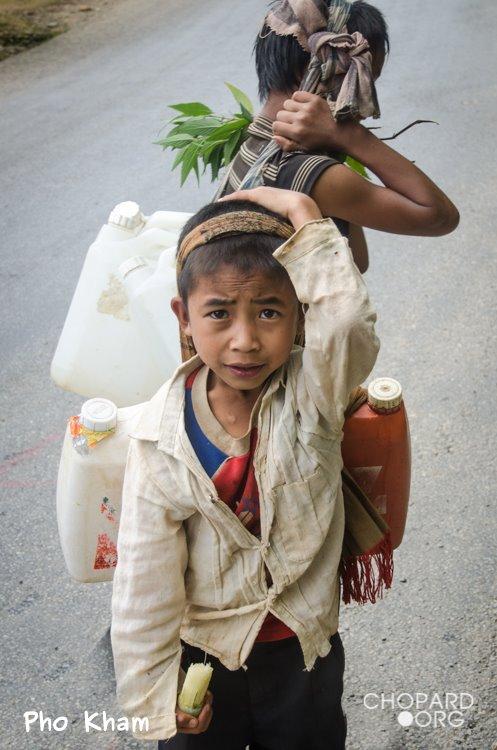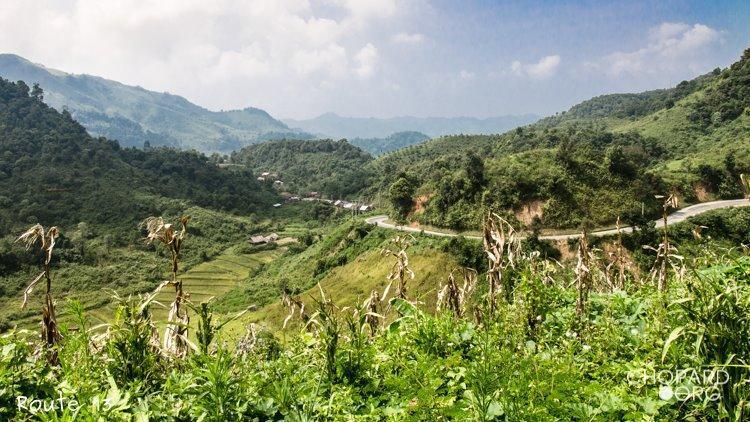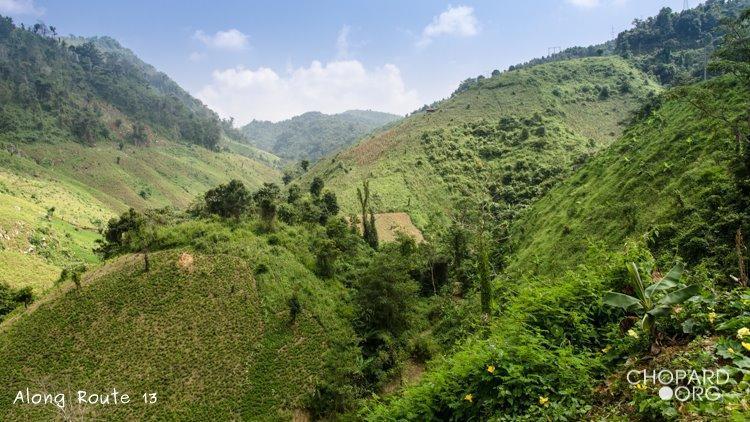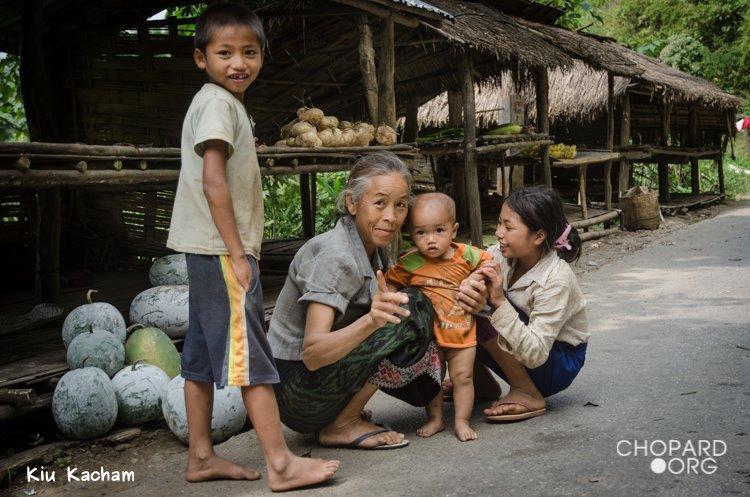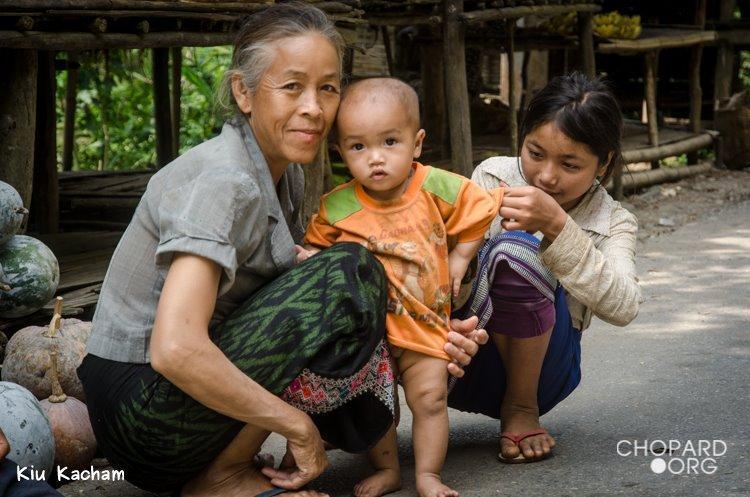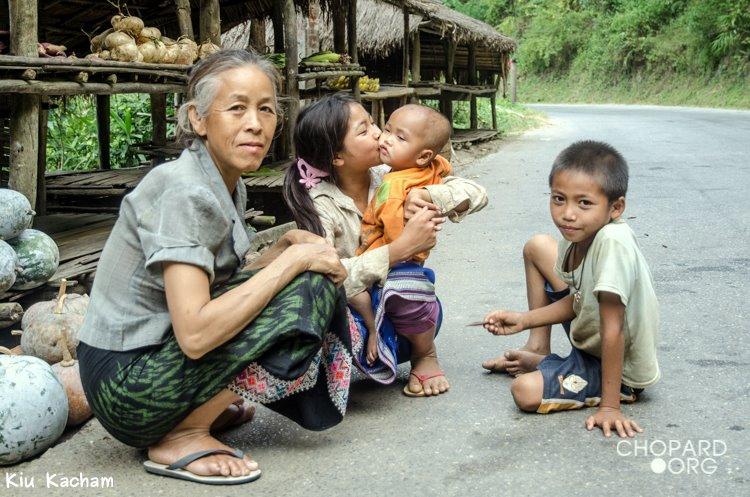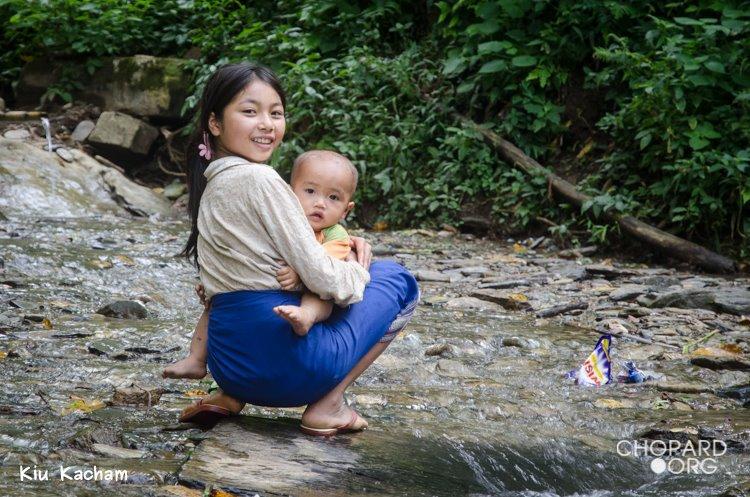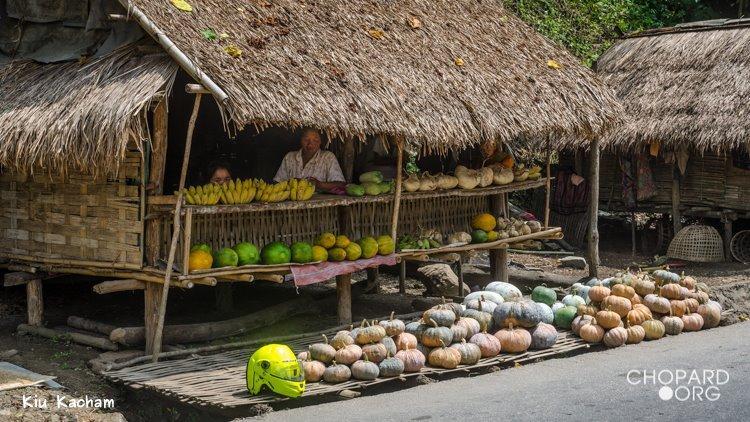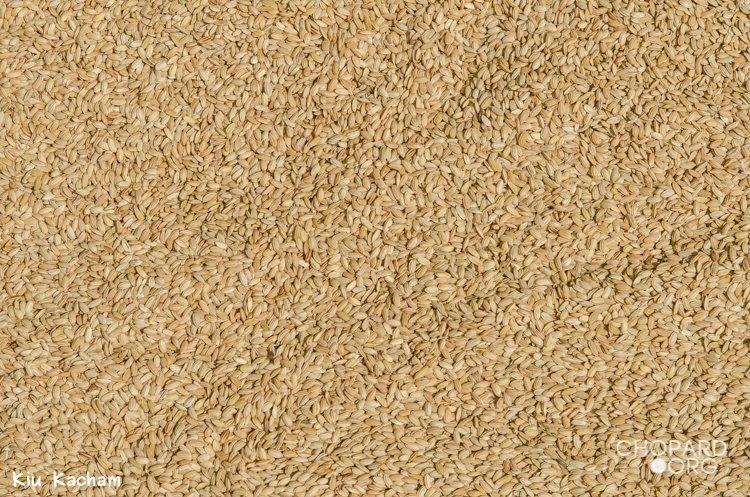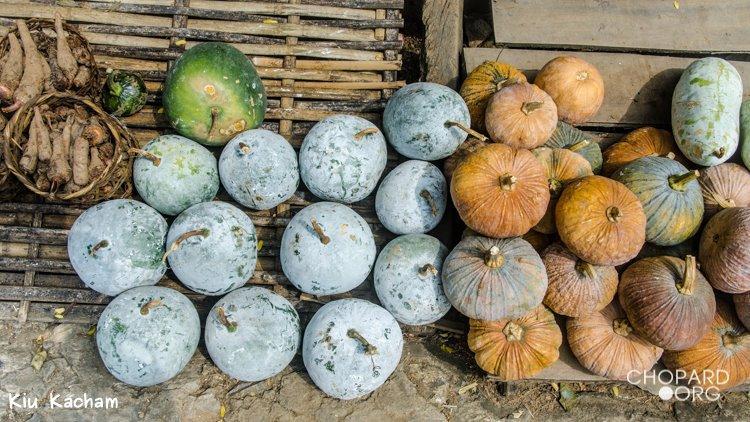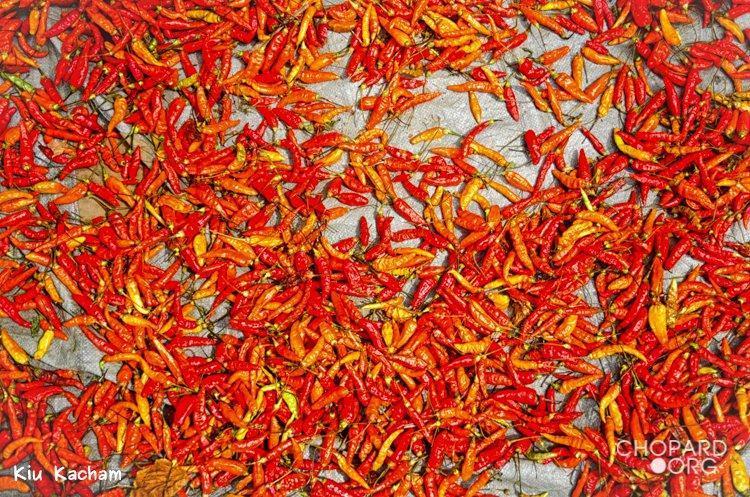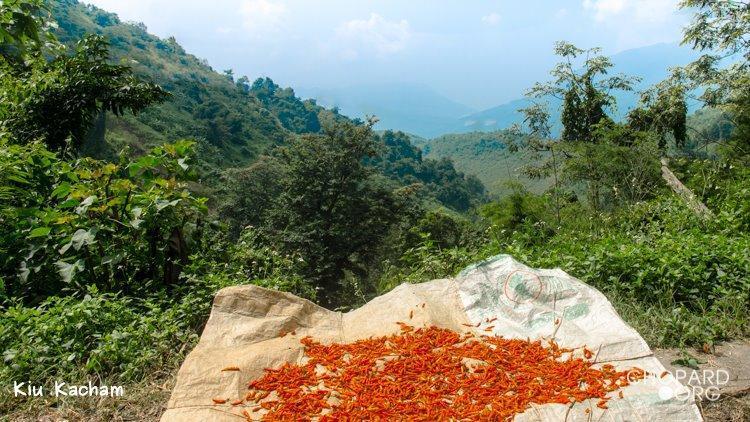 After Xiang Ngeun, the view broadens toward the Nam Khan river valley, a Mekong tributary leading the way for the last kilometers to Luang Prabang.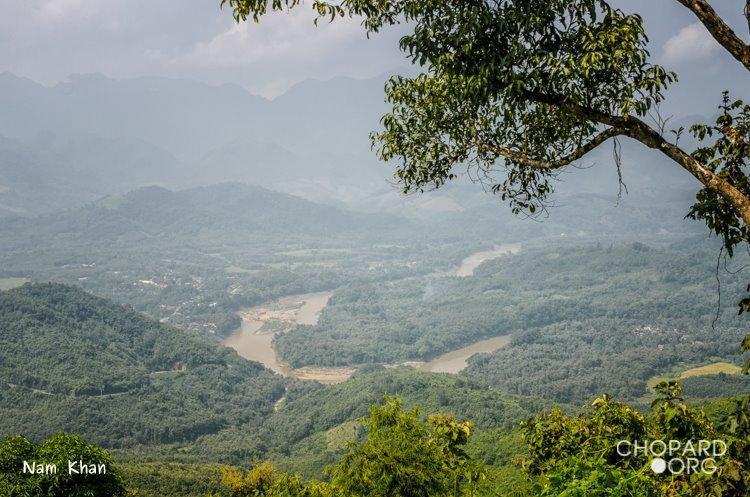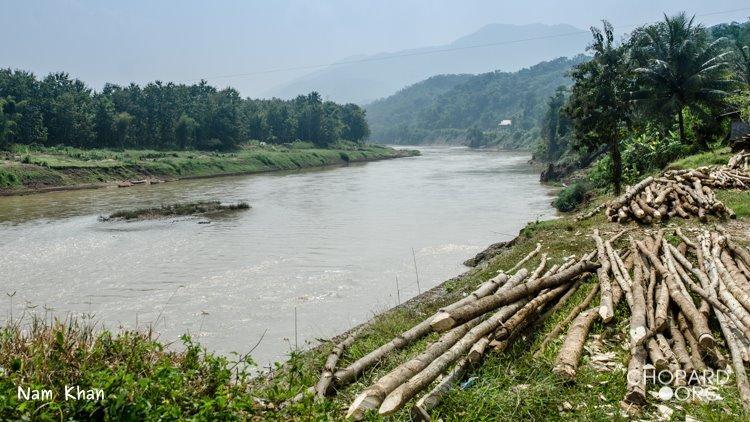 From Vientiane to the royal city the distance covered is less than four hundred kilometers, with Vang Vieng almost in the middle. At first, I intended to drive this stretch in one day, but, fortunately, I followed David's advise to take my time. Average speeds on Lao roads (even on colonial Route 13, the country's main communication spine) are lower than on most Thai tracks. Part of the slow down's reasons are up and down hill meanders, narrow lanes, irregular and worn out surfaces and some lorry convoys. In addition, however, the itinerary is punctuated with interesting hamlets and cuts through enthralling panoramas worth to be kept in the 'memory box'.
3. Luang Prabang
After several sojourns in the royal city, I am still captivated by its charm and can easily endorse Mervyn Brown's [14] appreciation:
"This was my first visit to Luang Prabang, which must be one of the most beautiful, exotic and peaceful places in the world, the nearest thing to Shangri-La that I can imagine"
.
As I did during my former trips, I used again Oudomsouk as my abode. When places are suitable, I like to dwell in known territories, following my gregarious inclinations. This guesthouse is well located, near to Joma bakery and to the "kilometer zero" marker; actually an advertisement for a skin care clinic.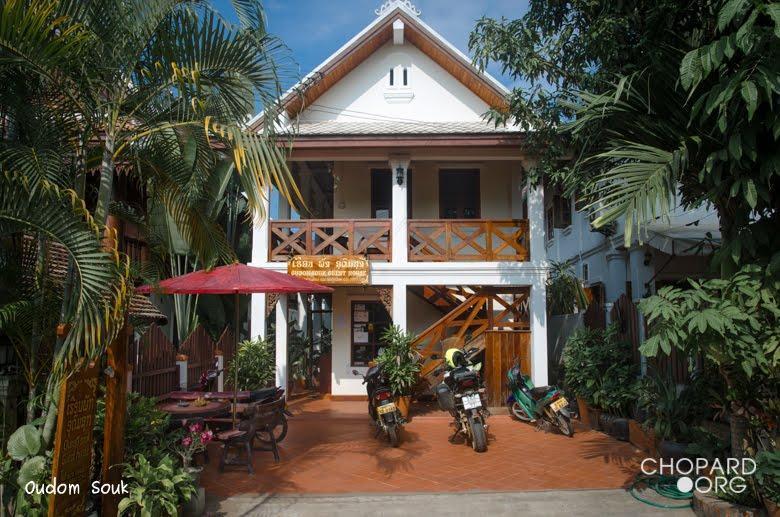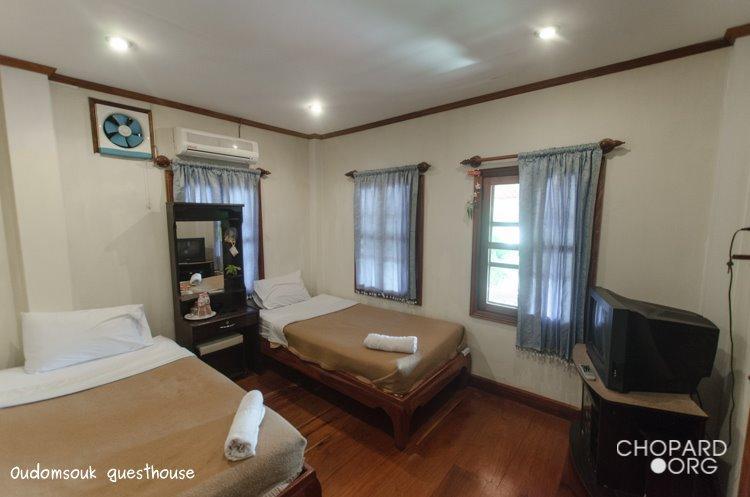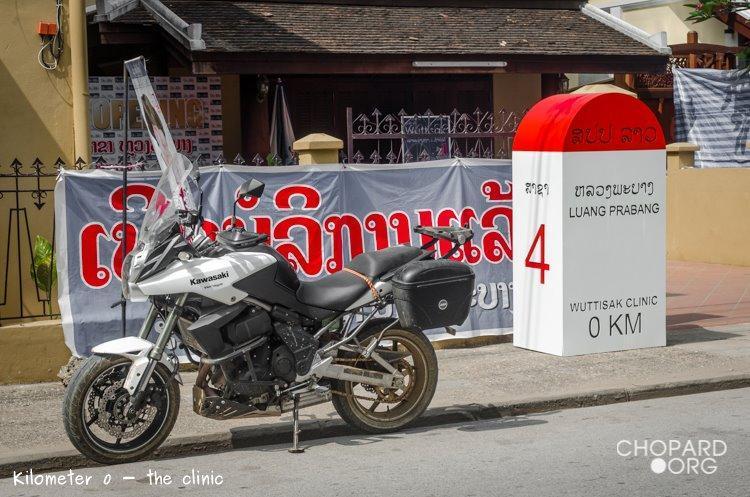 The ancient royal capital, is Laos' cultural apex, a highlight of my Mekong river promenade. In 1995 it became a UNESCO world heritage site and, despite the modern life's impels, efforts are undertaken to protect its identity. Temples, royal abodes and colonial buildings are well preserved although the city was sacked many times, like Vientiane. Luang Prabang's historic and cultural richness commands a longer depiction than my short description in this trip report; I will provide more stories about this town in later on.
Morning almsgiving (Tak Bat) is a Theravada rite, not unique to Luang Prabang, but with a particular resonance in a city with a lavish temple heritage. Throughout history's vicissitudes, culture and religion played a unifying role in a kingdom orphan of its king. Nowadays, and despite a growing touristic institutionalization, the monks' morning cortege remains profoundly anchored in the local population's hearts.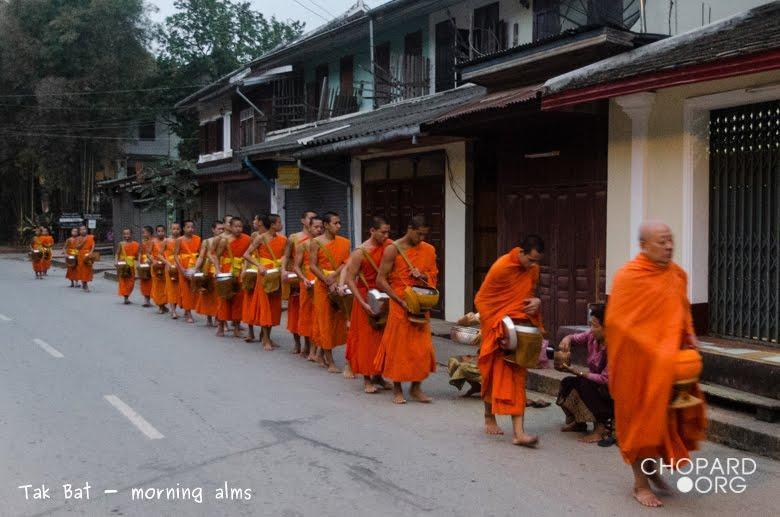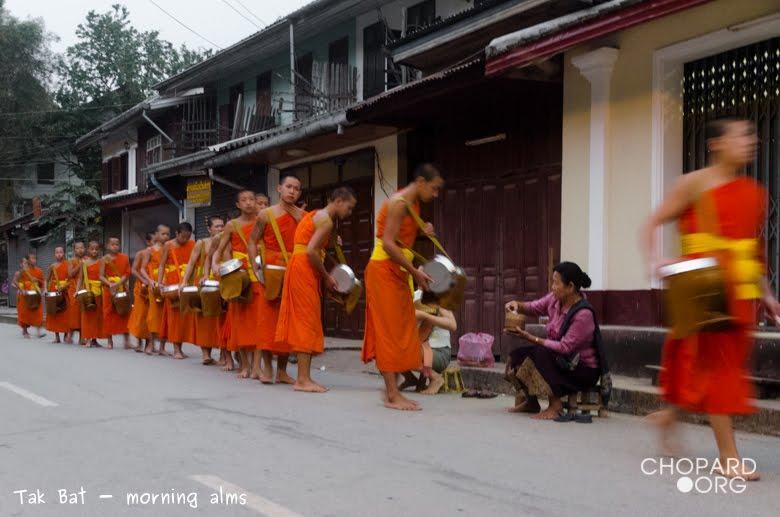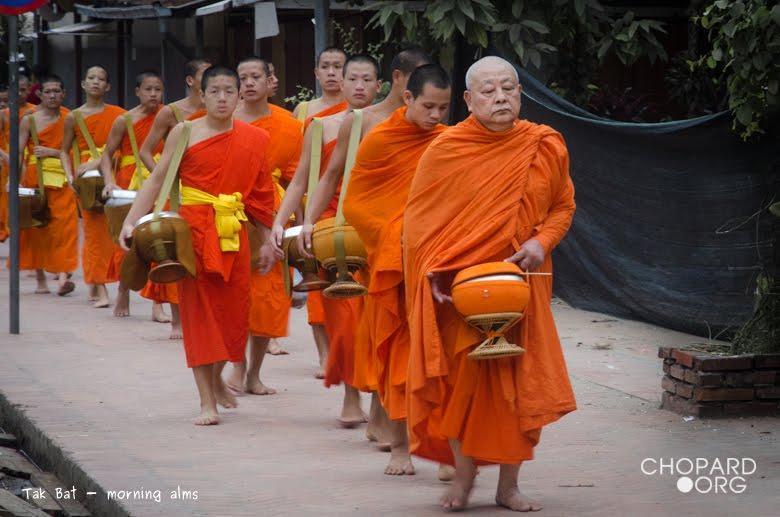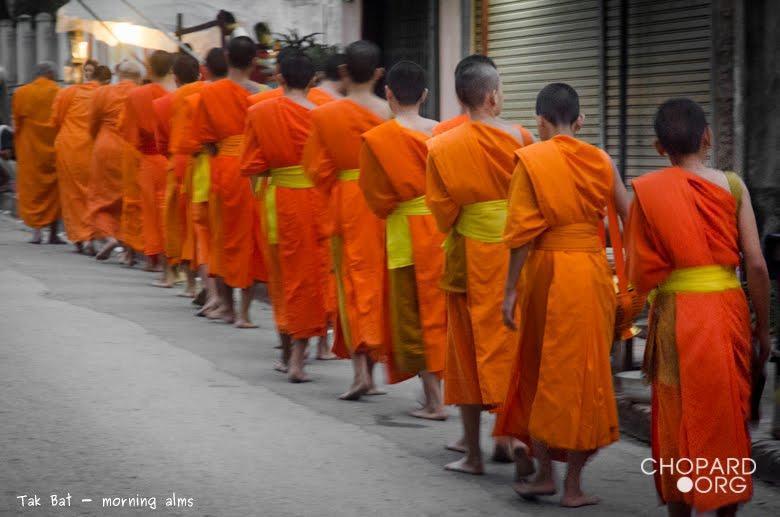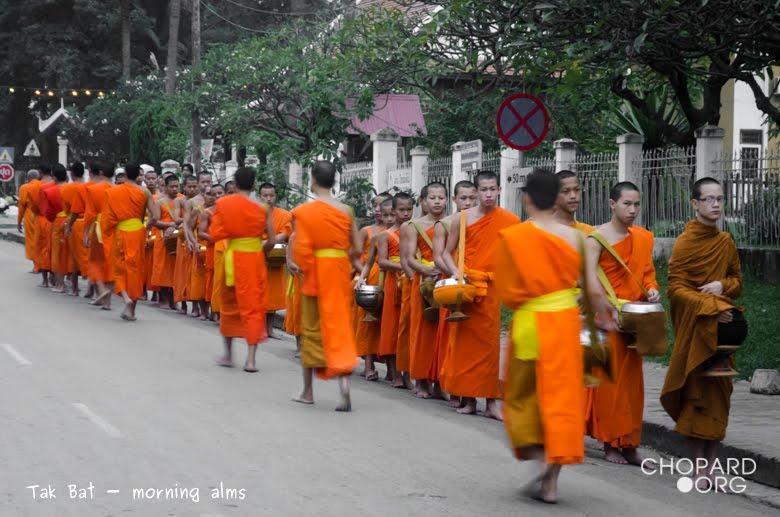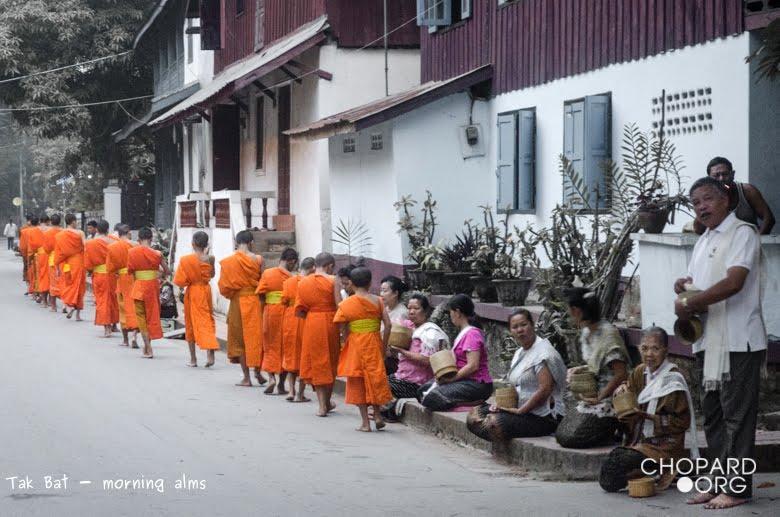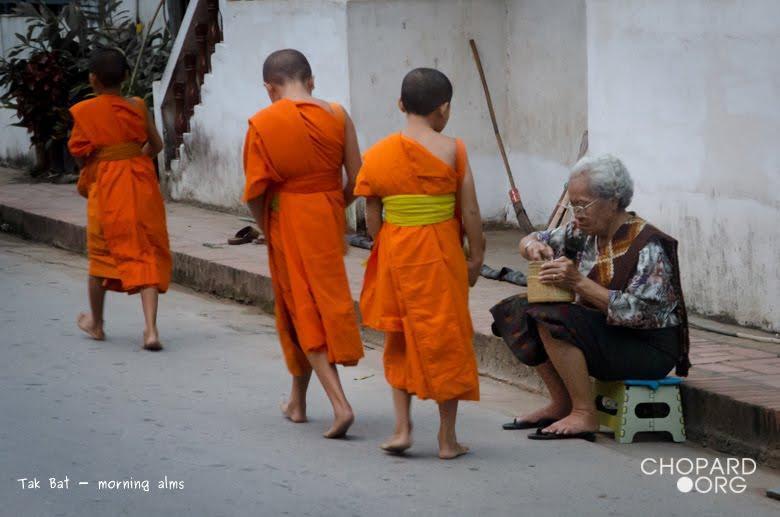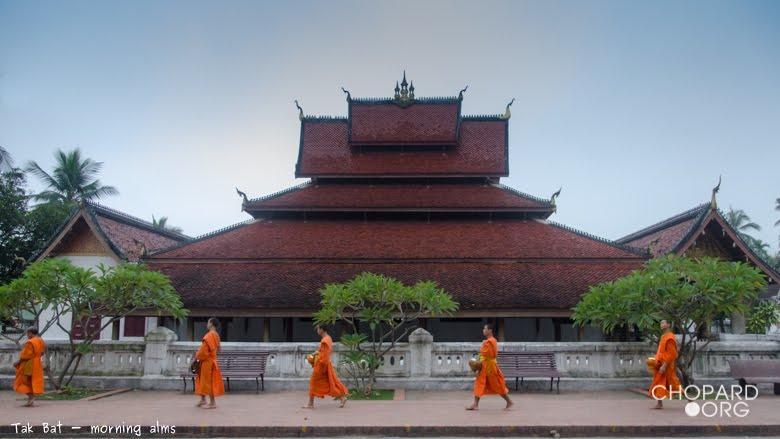 Across the Mekong, the west rim is mountainous and sparsely populated; however, a ferry and a numerous small boats convey people and goods to the Xiang Man village. Despite its reputation as an halcyon place, I did not visit it, but chartered a private boat directly to the hundred arduous stairs leading to Vat Chomphet.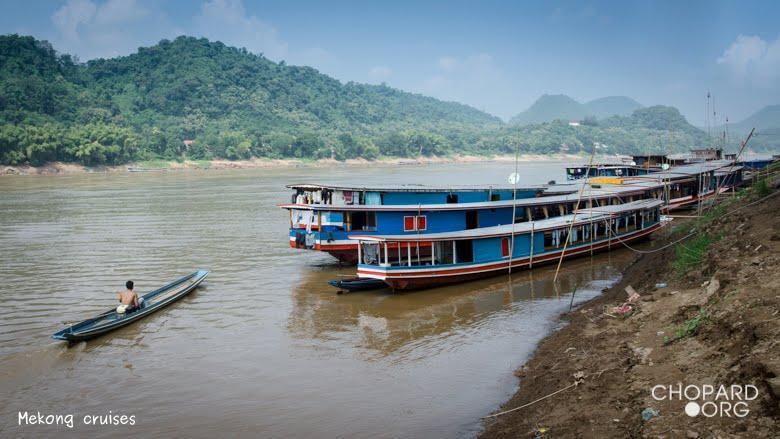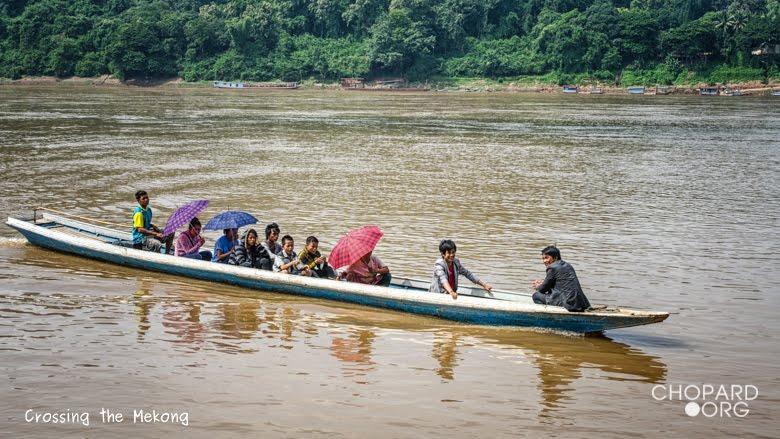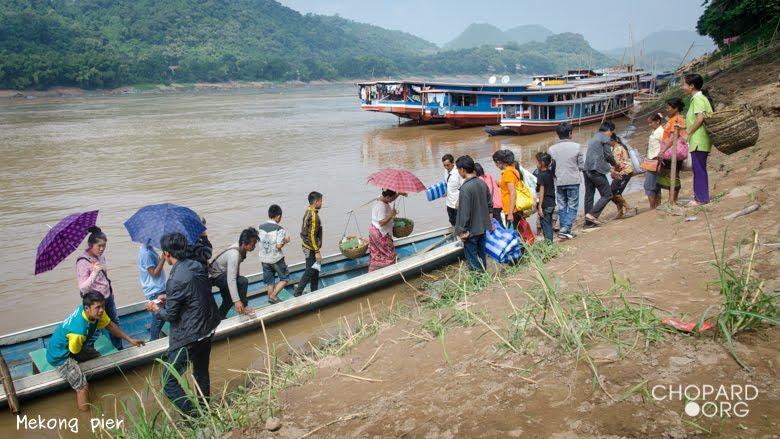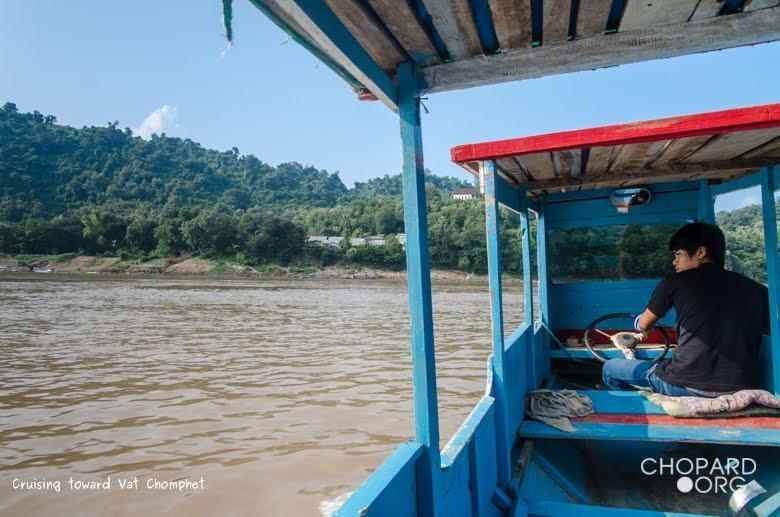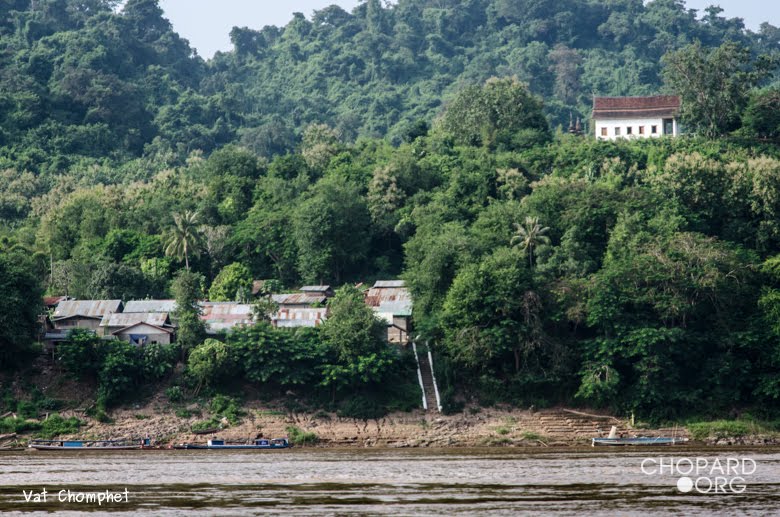 The white temple and the decaying twin stupas' surrounding is a remarkable vantage point to contemplate Luang Prabang's landscape. As described in the "Naga book" [15] It is seen as: " … geomorphologically embodying a Naga with its head folded at the point where the Nam Khan river pours into the mighty Mekong and with its tail at Nam Hop. In between, its stomach lies at Chumkong and Xieng Muan. The Naga's belly is the most favorable place for trade …while those dwelling at the Naga's tail will always be poor."
This reminds me about the importance of the Naga's worship all along the Mekong, but, particularly in the former royal capital. The mythological serpents are known to dwell in these waters and to protect the city. Prohibition and negative connotations have taken their toll on ancient beliefs; the traditional water spirit invocations are now widely omitted.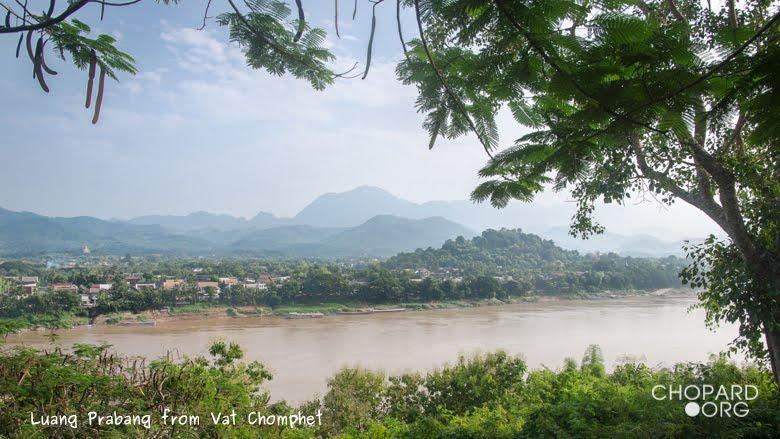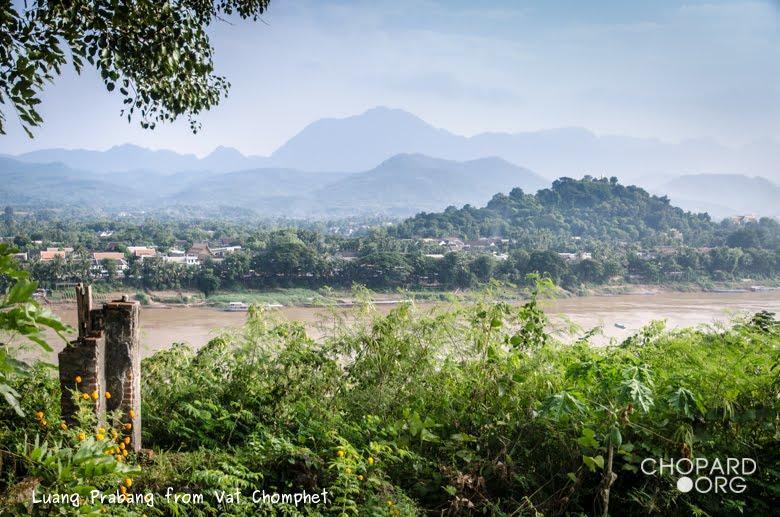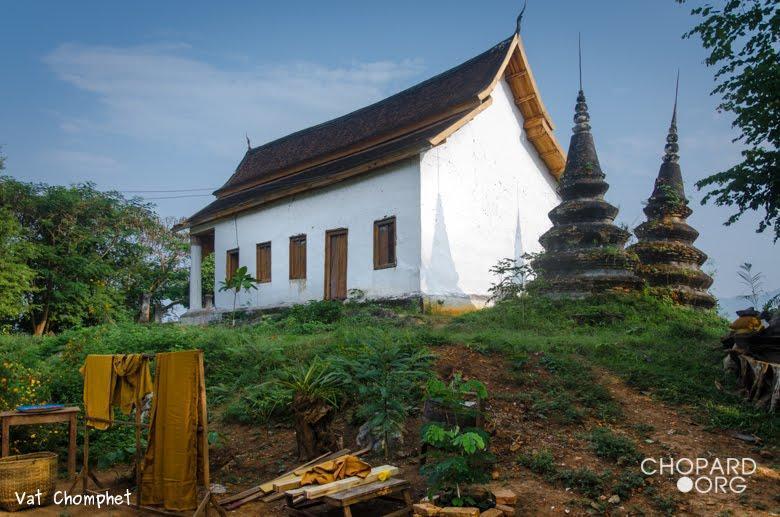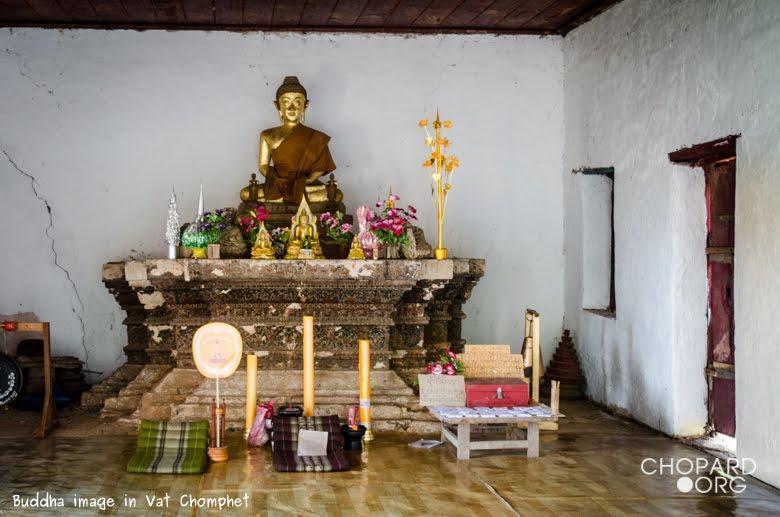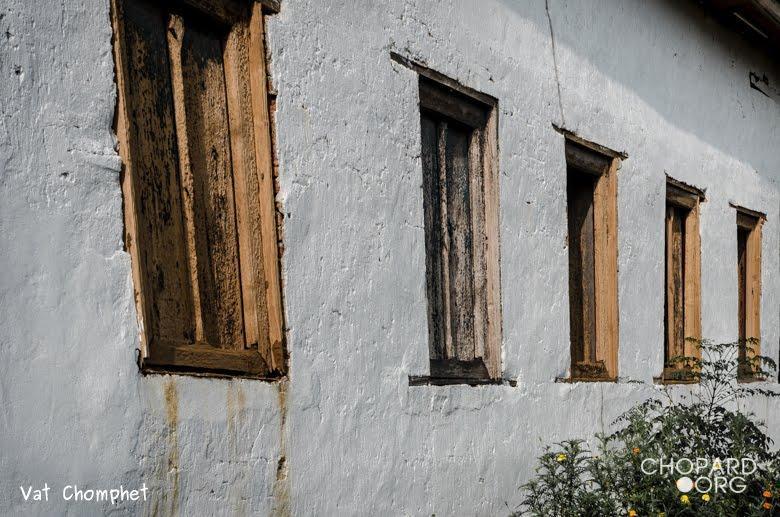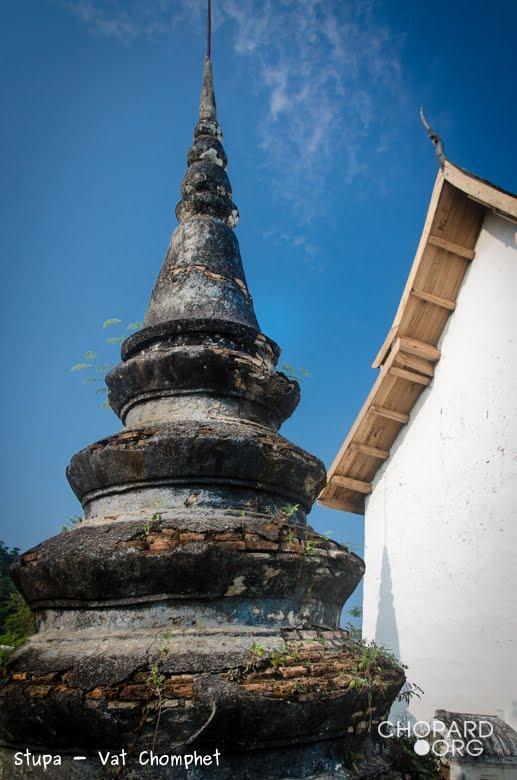 I heard, from a passerby, about another interesting temple and a cave located farther north along the trail. Rushing down the steps, I asked my boatman to sail to the next landing, for another hill escalation, this time to Vat Long Khun. Traditionally, before coronation, the new kings spent some days at this serene spot, meditating over their kingdom's capital.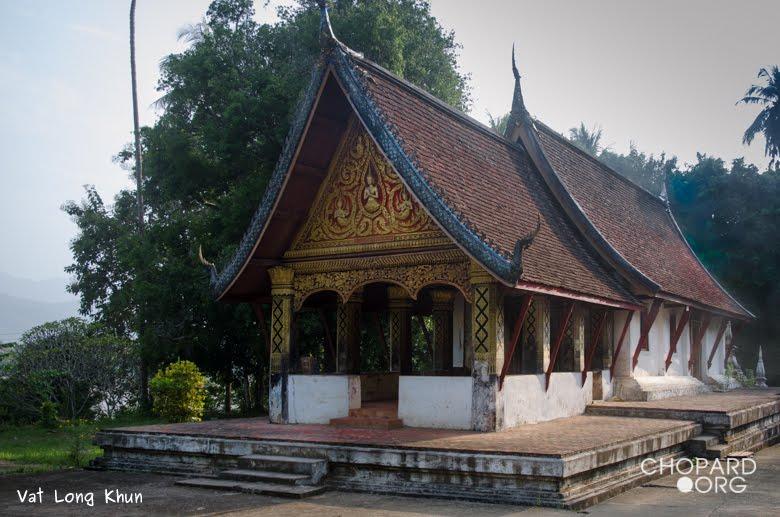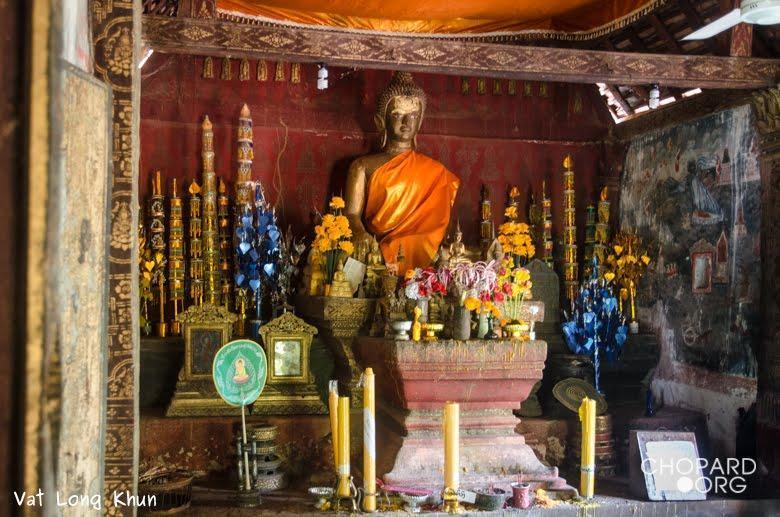 From Vat Long Khun, the Sakkarin cave is reached through a two hundred meters long footpath. The dim hollow is locked behind wooden doors and can only be visited with a guide. At a makeshift ticket booth, local youngsters, with a light and the entrance key, are happily available to play this role.
A tiny young girl showed me the way and illuminated the Buddha images with her torch. She was already marketing minded and asked for a good tip; it was her school day off and she had to buy books the next morning. For a foreigner, the gratuity was only small change and, maybe, would really be used for her education.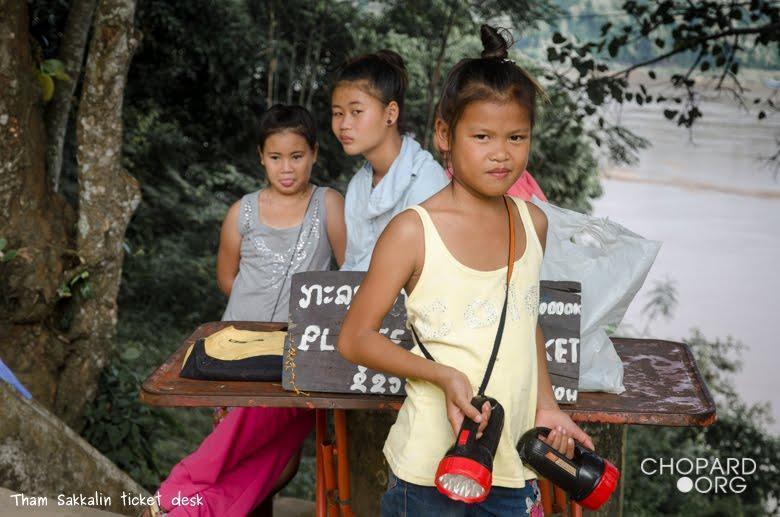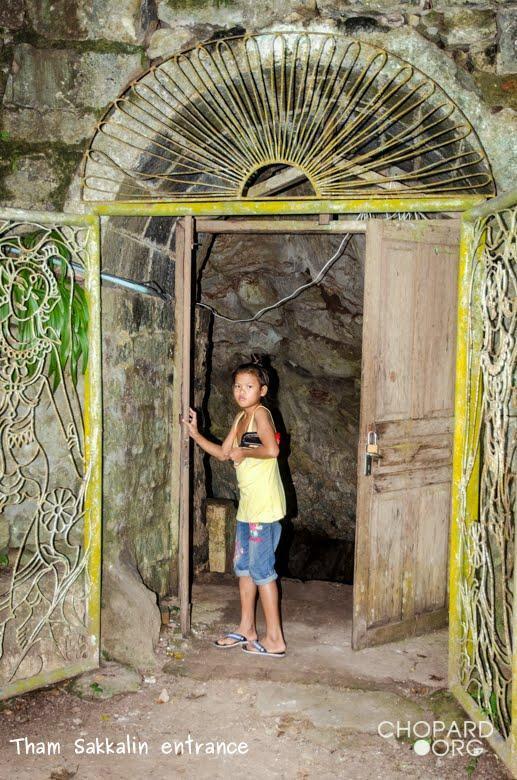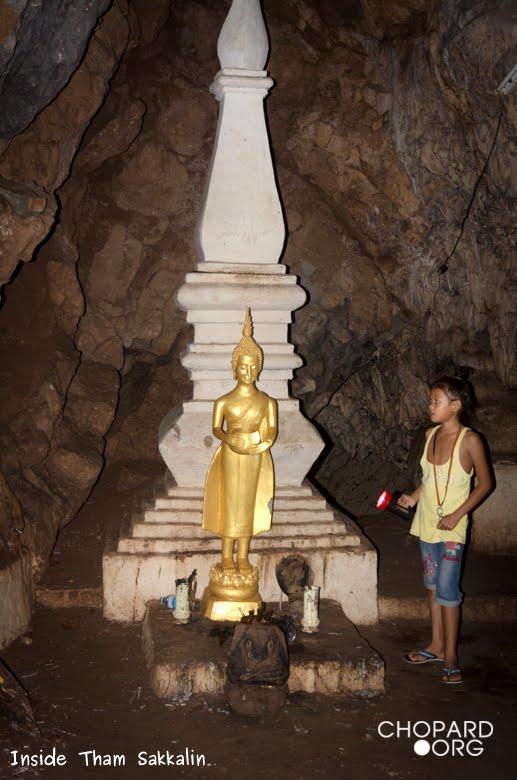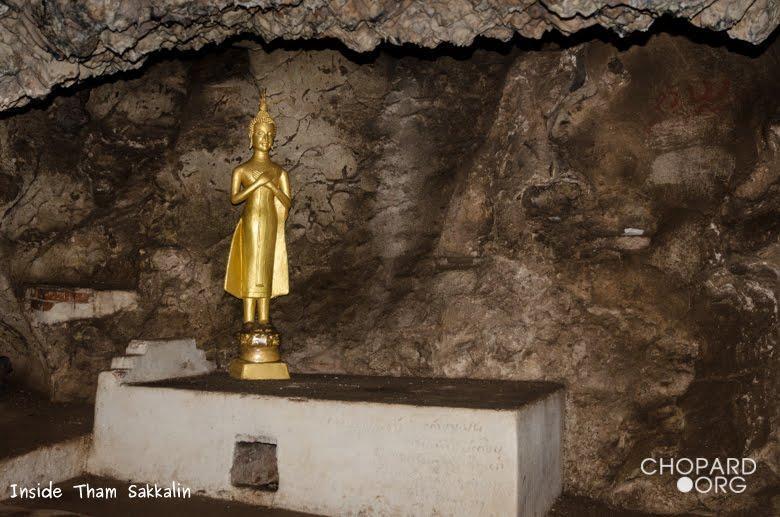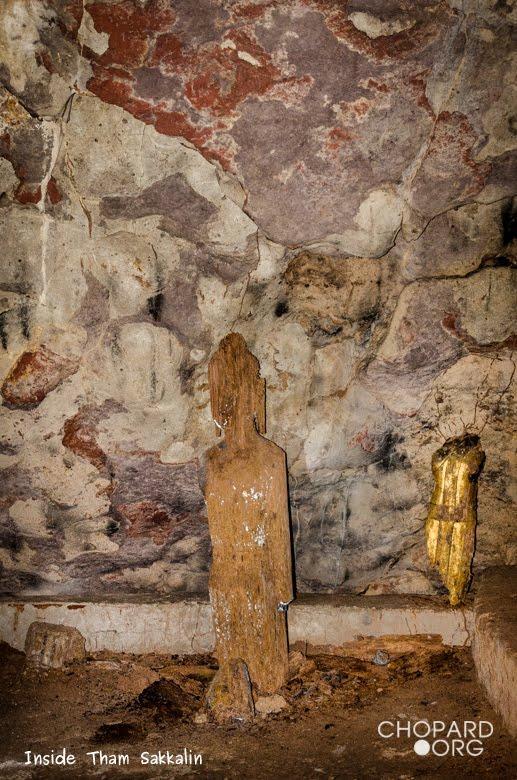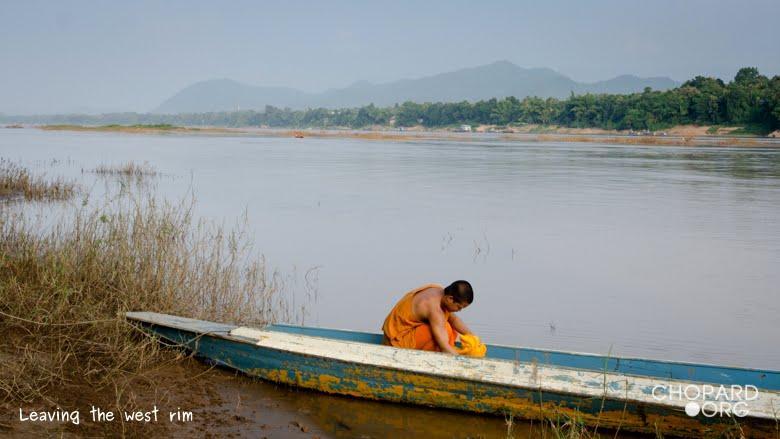 Back to the city I took another climb, this time up to mount Phu Si. The trail begins opposite to the former royal palace, nowadays transformed into a museum. A new temple (Haw Phra Bang) was recently built at the compound's entrance; in the near future it should shelter Lan Xang's palladium, the Phra Bang Buddha image, who gave its name to the city.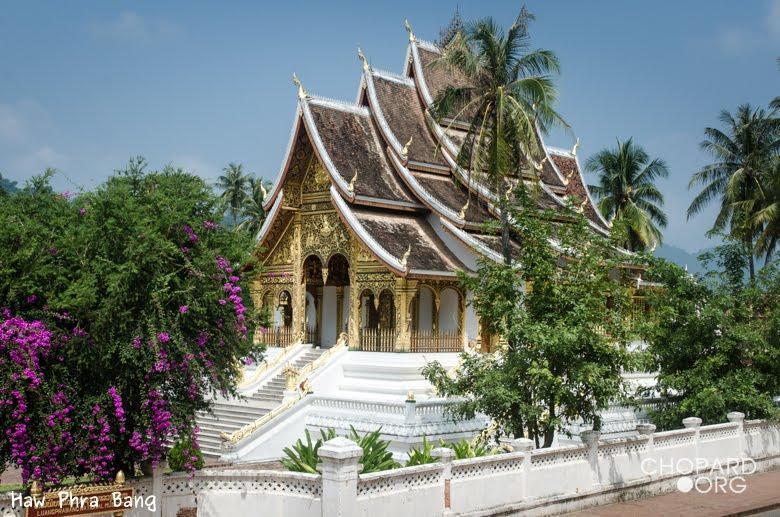 Three hundred twenty-eight gentle stairs (it's written down there), drive pilgrims and tourists to the hill's summit and to Vat That Chomsi. Its gilded stupa is Luang Prabang's beacon, visible from afar, and a useful landmark when rambling around the city.
Despite the temples religious significance, its main attraction is a colorful sunset pageantry. In the late afternoon, a flock of spectators crowd the narrow place, watching an ever changing sunset spectacle. The panoramic view alone is worth the escalation, even during midday.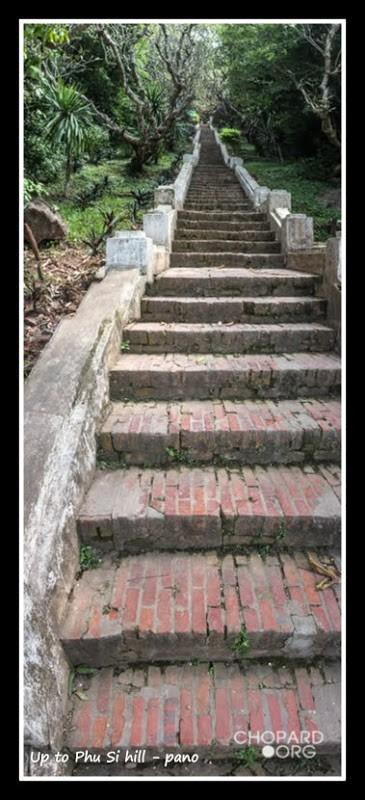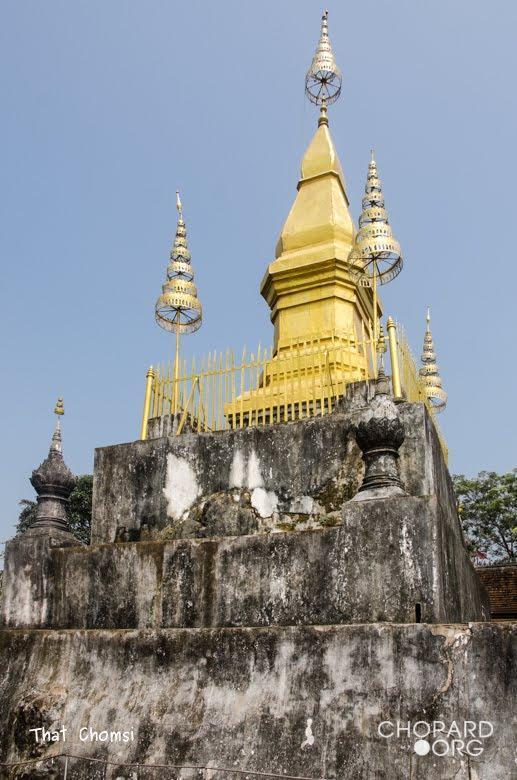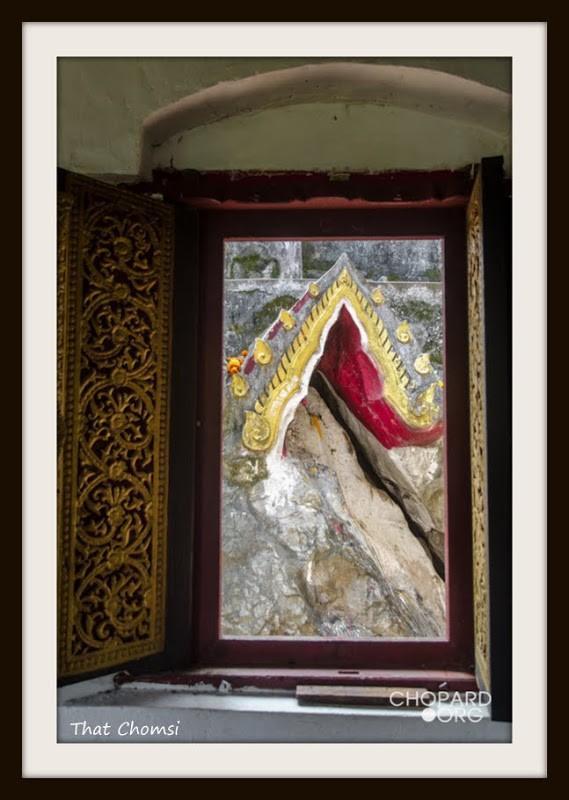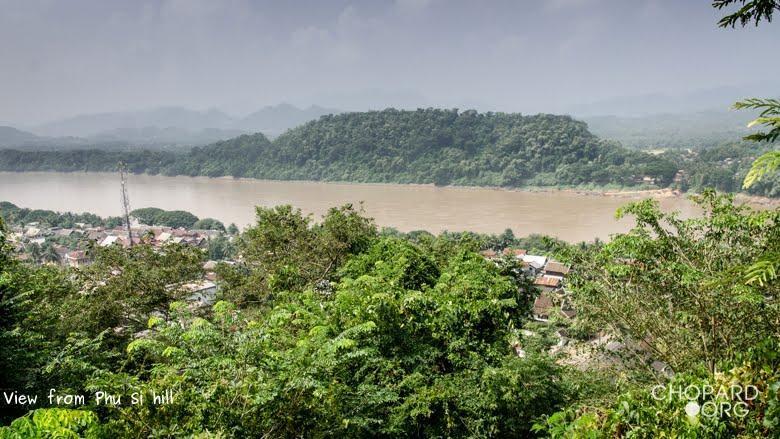 General information and leaflets about Luang Prabang are available at the "Tourist Office", where a
GT-Rider map
is also displayed. The royal city's cultural heritage is broader than lush temples and gracious colonial buildings and encompasses artistic and handicraft traditions; I will describe these aspects later on, in another story. Several projects encourage community based development, like "Ock Pop Tok" which specializes in textile tradition preservation.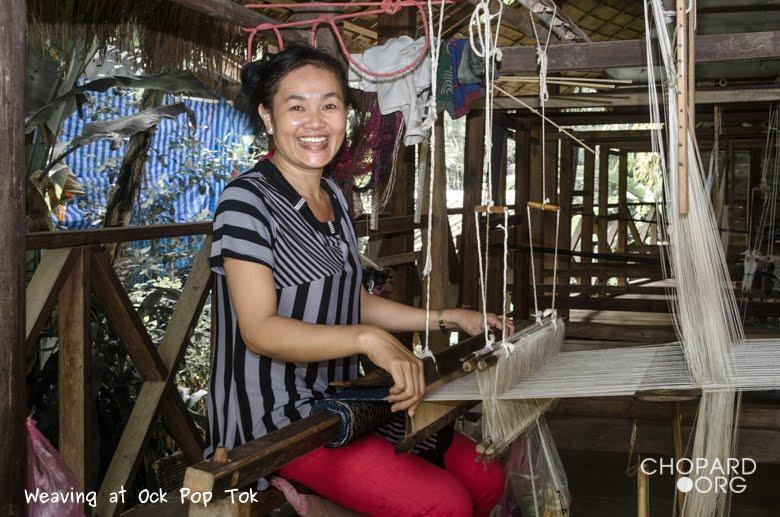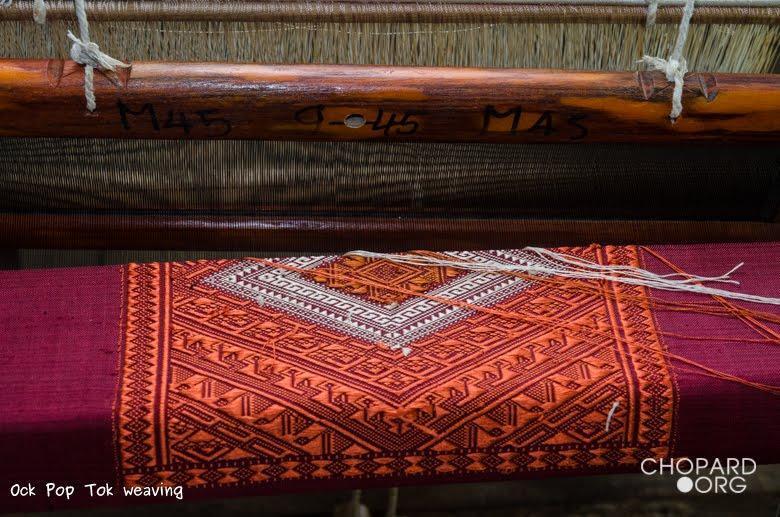 To be closer to the river, I joined a Mekong sunset cruise in the late afternoon. As we were only two passengers, the usual large boat was replaced by a small one and we sailed along the water rim till twilight. Nothing exciting, just a relaxing moment on the water.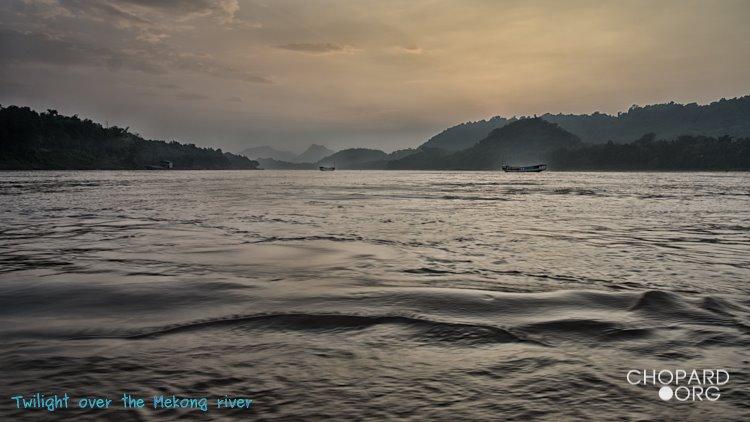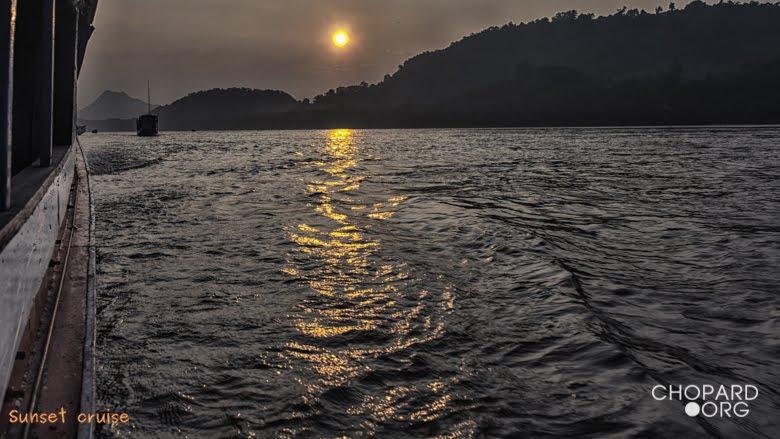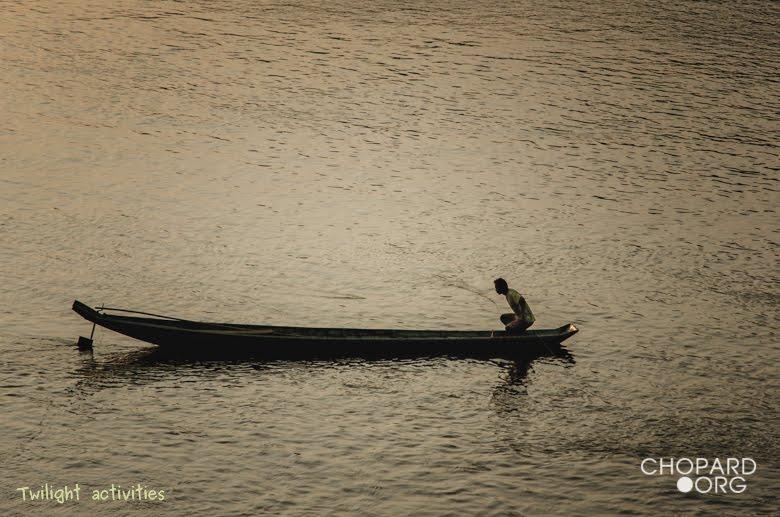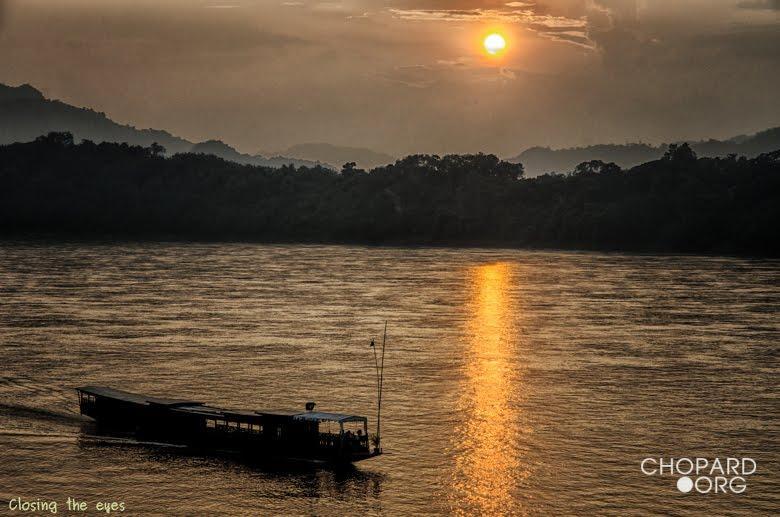 "L'Etranger" is my favorite spot for a relaxed coffee, small bites, and a peek at new and old books. Next to it, the same organization operates the "Hive Bar" a popular watering hole staging an original ethnic catwalk show. A large collection of indigenous cloth, from fifteen different tribes, is presented by young students working part-time to finance their education.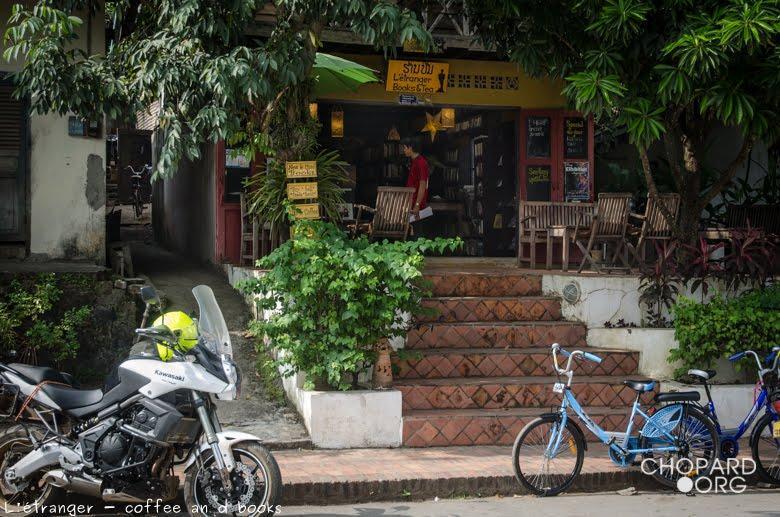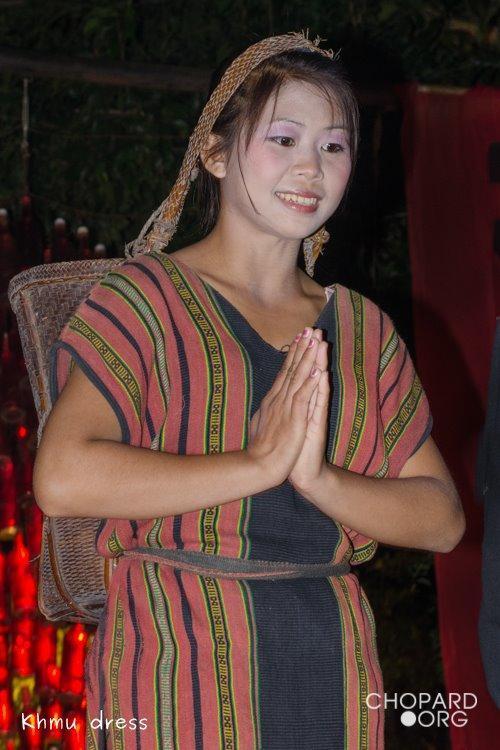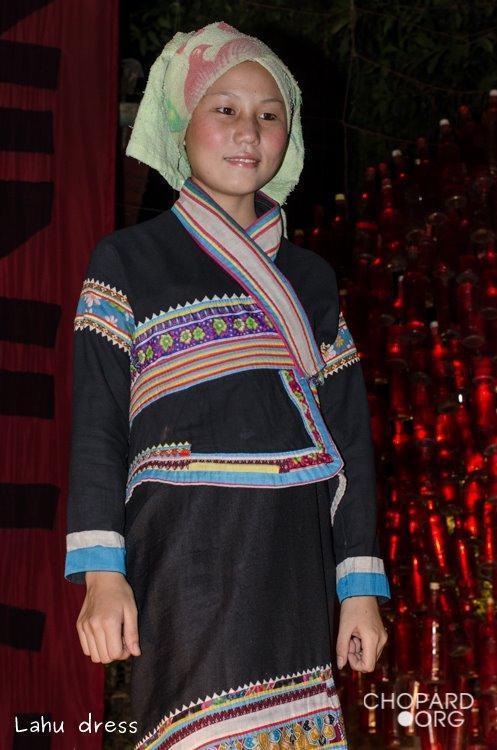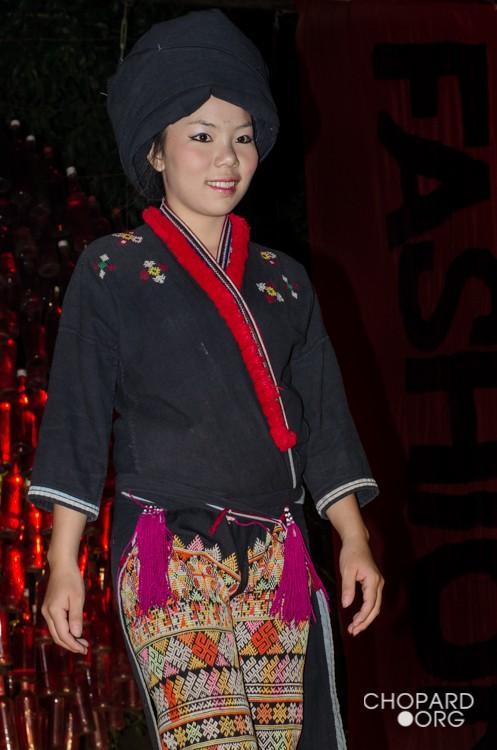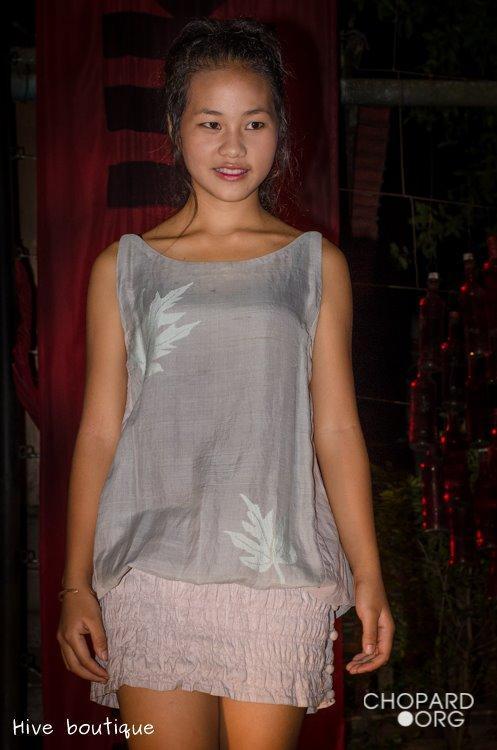 The "Hive Ethnic Show" concludes this third chapter of my "Mekong Promenade". The next story will recollect the French Mekong's explorers, with an homage to Henri Mouhot.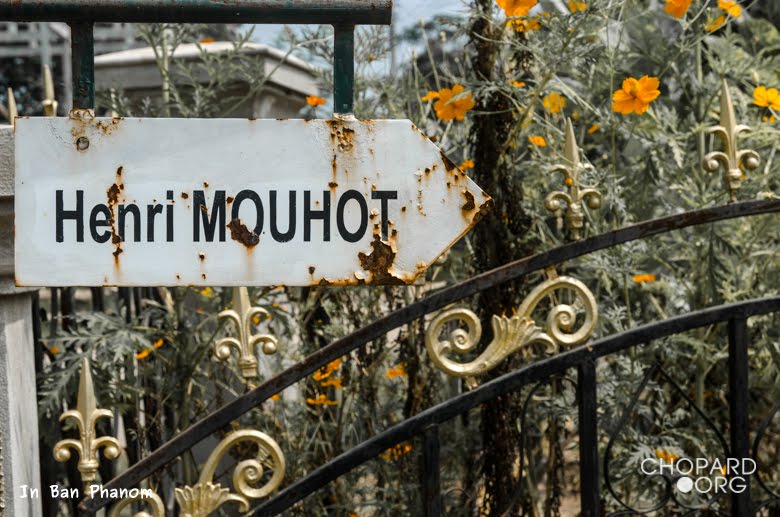 -------------------------------------------------------------------------
Notes:
http://www.laoheritagehotel.com/
Lao Heritage Guesthouse website
[1] Vientiane is a French transliteration of the name Viang Chan. 'Viang' is a city but 'chan' is sometimes translated as 'sandalwood' but, more frequently as 'moon'.
[2] The Korat's legendary 'Lady Mo' is famous for having tricked Chao Anouvong's soldier and played havoc on the invading army:
Thao Suranari - Wikipedia, the free encyclopedia
http://www.thekoratpost.com/ladymo.html
[3]
Road improved, but traffic jam increase !!!
http://jclao.com/road-deaths-dampen-festival-spirit/
Large number of brand new vehicles registered in Vientiane
[4]
Emerald Buddha - Wikipedia, the free encyclopedia
[5]
Don Chan Palace - Wikipedia, the free encyclopedia
[6]Tragic Mountains: The Hmong, the Americans and the Secret Wars for Laos ...
Jane Hamilton-Merritt
[7]
The World Factbook
[8]
Demographics of Laos - Wikipedia, the free encyclopedia
[9]
Party's over for backpacker mecca
[10]
Laos The Communist Seizure of Power - Flags, Maps, Economy, Geography, Climate, Natural Resources, Current Issues, International Agreements, Population, Social Statistics, Political System
[11]
Party's over for backpacker mecca
Tubing in Vang Vieng is Stopped, Laos has Banned it - iBackpacker Travel
[12] Another Quiet American , Brett Dakin
Asia Books, 2003
[13]
http://safety.worldnomads.com/Laos/61828/Bandits-in-Laos
http://www.time.com/time/magazine/article/0,9171,421079,00.html
http://www.apnewsarchive.com/2003/G...el-Region/id-89182ad5c47f93ce80074343984e9a3a
[14] War in Shangri-La, Mervyn Brown
Silkworm Books, 2004 (first edition 2001)
[15] The Enduring Sacred Landscape of the Naga
Mayoury & Pheuiphan Ngaosrivathana
Mekong Press, 2009
Last edited by a moderator: