Excerpt
: After Luang Prabang, a Mekong trip's apex, my journey had not yet reached an end. I had to travel back to Thailand, west of the Mekong, through Xayaboury province.
A Mekong Promenade
Part 5 – Xayaboury, Laos west of the Mekong.
First
(1st) part: The Isan Rim (
A Mekong Promenade - The Isan Rim
)
Second
(2nd) part: South Laos (
A Mekong Promenade Part 2 – South Laos
)
Third
(3rd) part: Vientiane to Luang Prabang (
A Mekong Promenade, Part 3 – Vientiane to Luang Prabang
)
Fourth
(4th) part: In memoriam of some Mekong explorers (
A Mekong Promenade - part 4: In memoriam of some Mekong explorers
)
Fifth
(5th) part: Xayaboury, Laos west of the Mekong (
A Mekong Promenade - Part 5: Xayaboury, Laos west of the Mekong
)
Fifth B
(5B) part: Pak Lai stopover (
A Mekong Promenade - Part 5b: Pak Lai stopover
)
Sixth
(6th) part: Chiang Khong (
A Mekong Promenade - Part 6 : Chiang Khong
)
Seventh
(7th) part: Along the Golden Triangle (
A Mekong Promenade - Part 7: Along the Golden Triangle
)
Eighth (8th) part: Cruising down the Mekong river (To be published next)
1. Overland to Xayaboury
[10]
After my dusty visits to Mouhot's grave [1] and the perspective of spending the next day on a crumbled trail, I skipped my bike's evening shower, but offered fresh oil for her chain. A small roadside shop did this chore for me, and I paid little attention to my mount's sudden hectic mood; an unpardonable mistake, that I would pay for, later during my trip!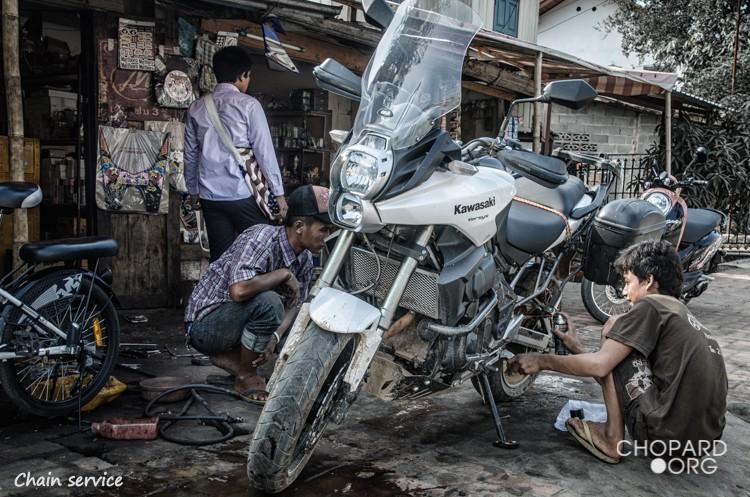 In my last twilight in Luang Prabang, I relaxed along the Big River, bidding farewell to the Mekong; after a short crossing, the next morning, I would only meet it again, a couple of days later, in North Thailand.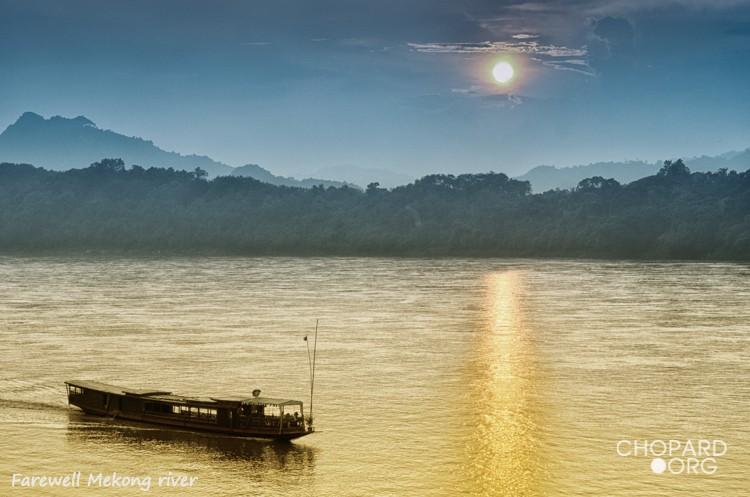 It is worth getting up early in the 'Royal City'. Before six o'clock, the monks leave their temples and walk around the town for morning alms. As I strolled to my favorite breakfast place, 'Joma Backery', a block away from my guesthouse, I got a last glimpse into the colorful religious procession, a serene picture for an 'au revoir'.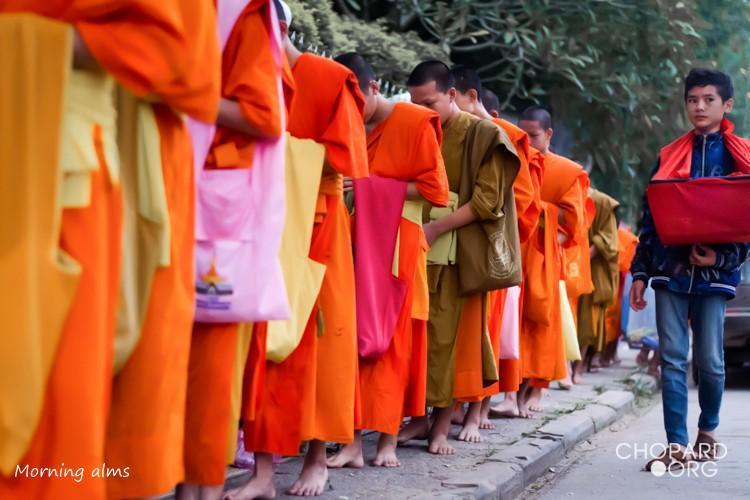 The next stop was for my bike, on Luang Prabang's outskirts. In addition to filling her petrol tank, I had the serviceman checking the air pressure. Another mistake: I did not ask if he had to pump up!
My journey started toward the south, on Route 13 and along the lovely Nam Khan river. In the Winter dawns, fog is hanging around the nearby mountains, usually leaving the road clear.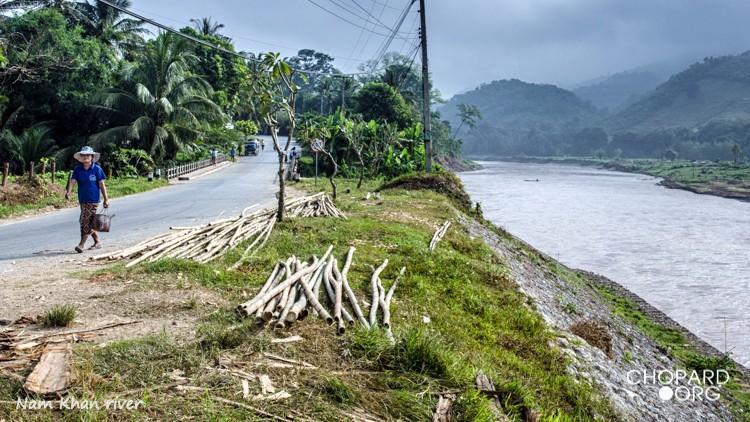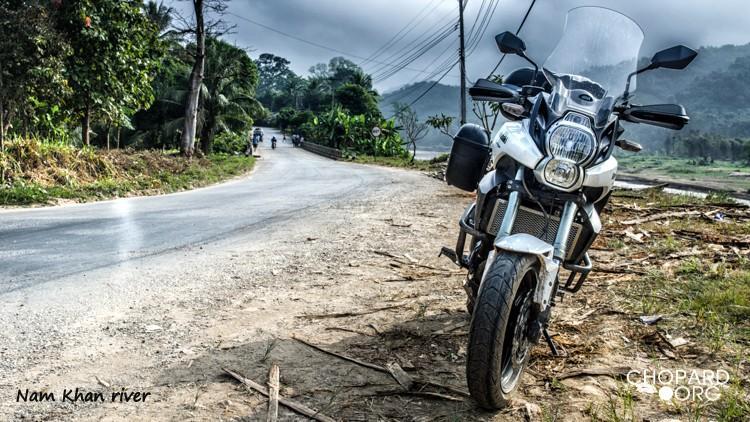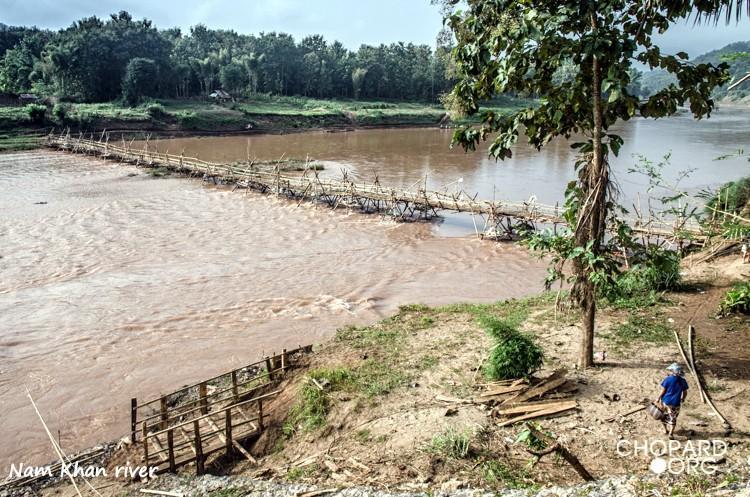 Xiang Ngeun, and the intersection with Route 4, toward Xayaboury [10], is reached after about 30 kilometers. It was the moment, for me, to say a definitive goodbye to Route 13, a long time companion that I would not meet anymore during this promenade. At the same time, I also took a temporary leave from paved surfaces, as the next sector would be mostly stony dirt.
A short clarification: during my trip, in 2012, this road segment was heavily under construction. The latest news is that the Pakkhone-Thadeua Bridge is now open to the public and that the whole stretch should be asphalted before Lao New Year (April 2014) [2].
Once this work is completed, Route 4 will provide an awesome link between Luang Praband and Xayabouri and, further north, to Hongsa and Thailand.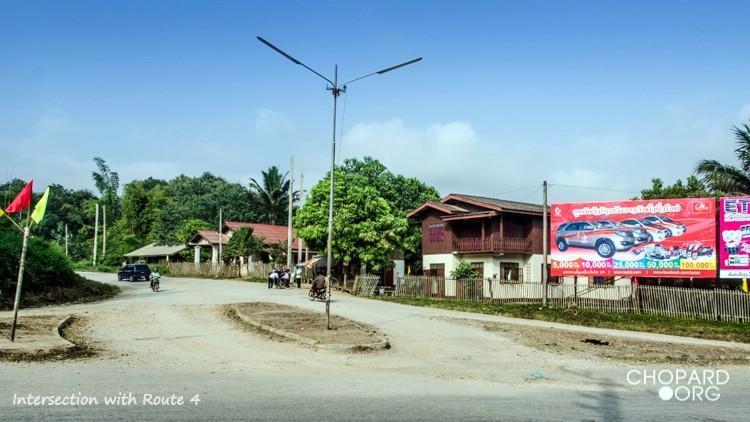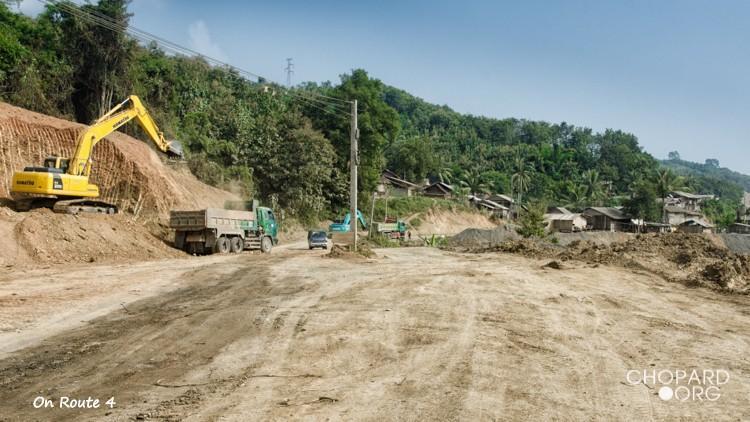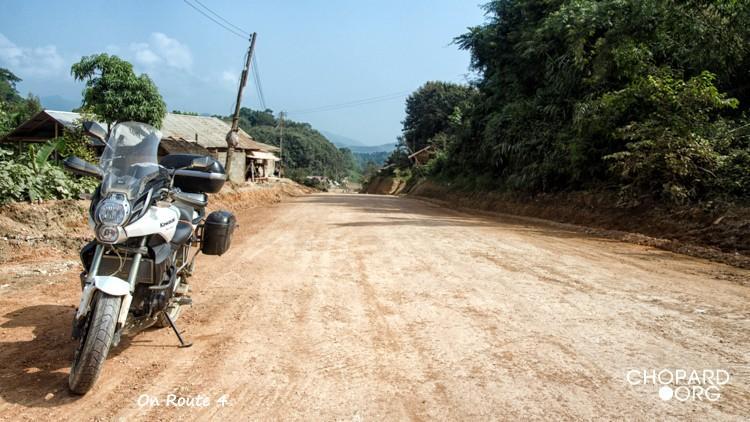 Eventually, I became more attentive to my bike's dancing mood; a behavior not totally to be blamed on the rugged pavement. I had to accept the obviousness of low pressure in my rear wheel! Settlements, along Route 4, are sparse, and, as my driving became more uncomfortable, I longed for the next hamlet with a helpful hand.
After the Kasi road intersection, a tip-off led me to gentle locals owning a hand-pump. They added the missing PSI to my rear tire, while amazed kids stared into my camera.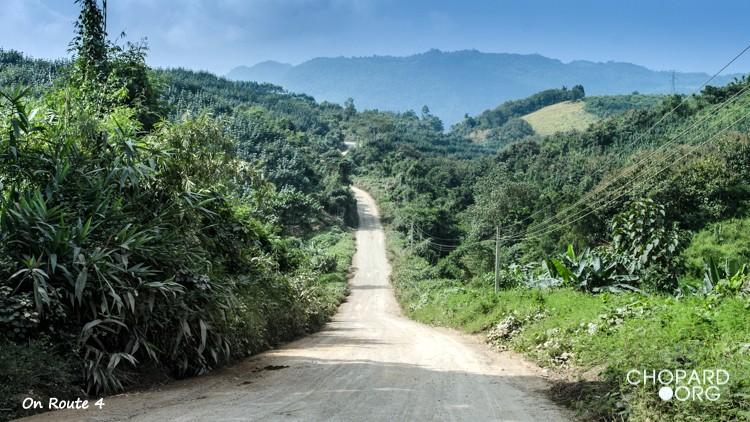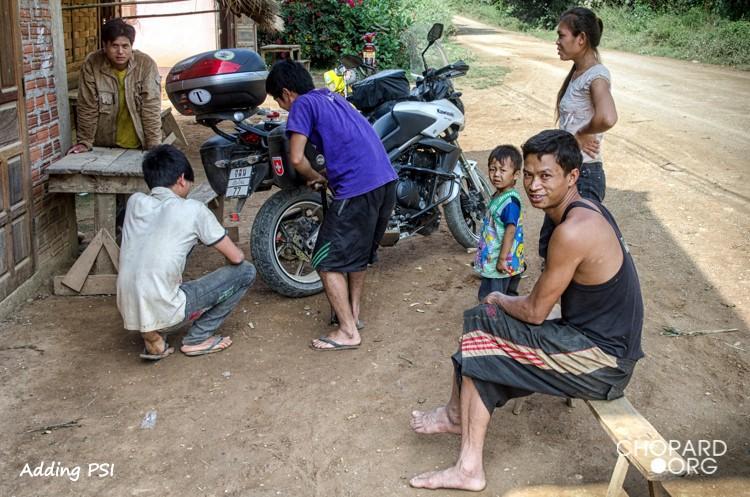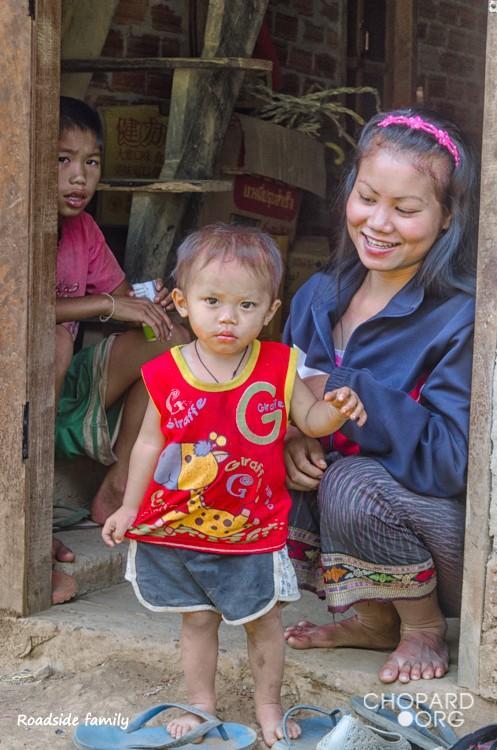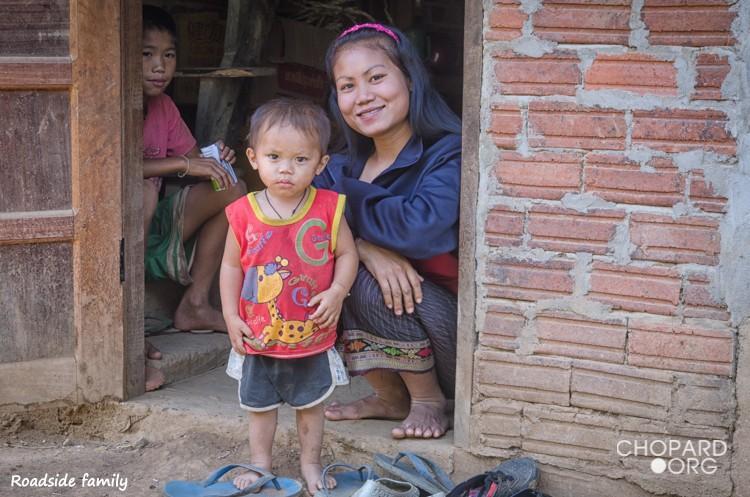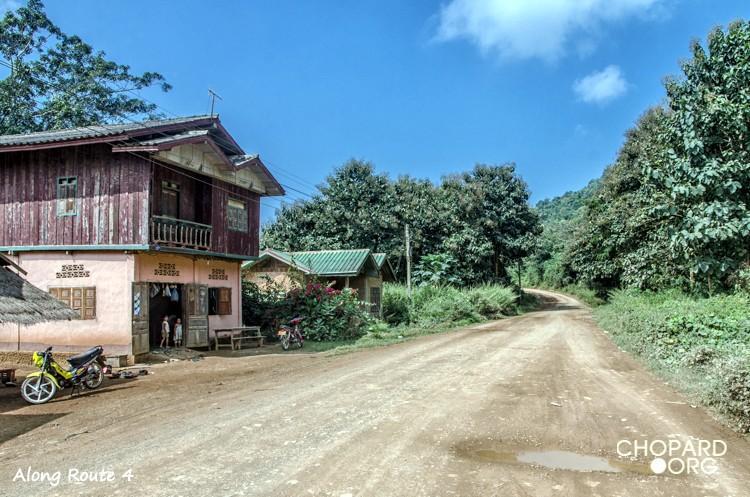 Despite this temporary relief, my contentment was incomplete; focused on the trail's ocher ribbon and anxious about my rear wheel, I did not enough appreciate the landscape's green hills and their charming undulations. Even with an irregular pavement, the drive would have been pleasant, if my attention was not so much fixate on my tire air pressure; in each hamlet, I searched for a mechanic and for a more permanent solution than just pumping up.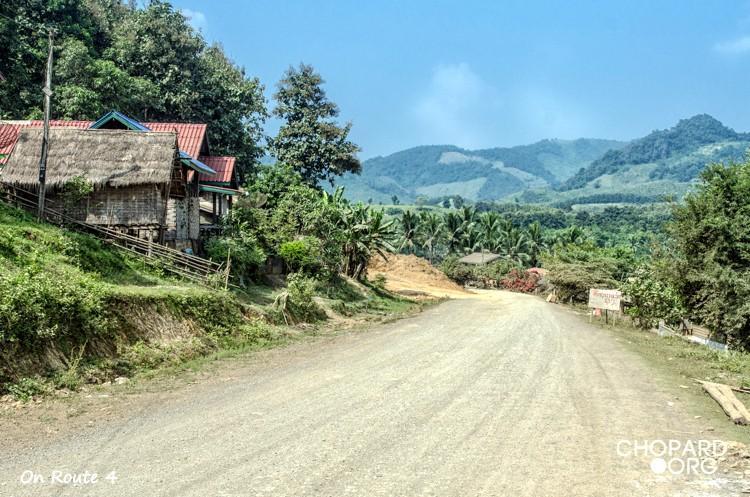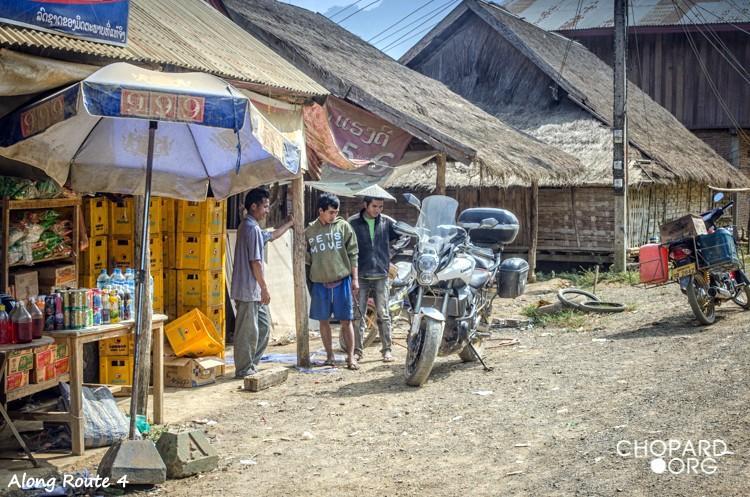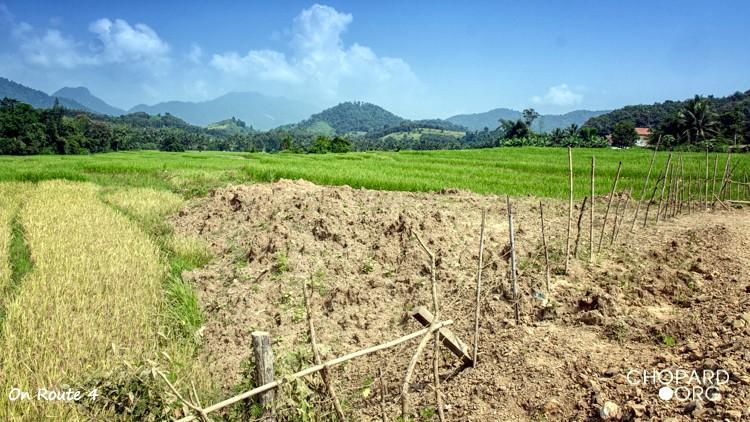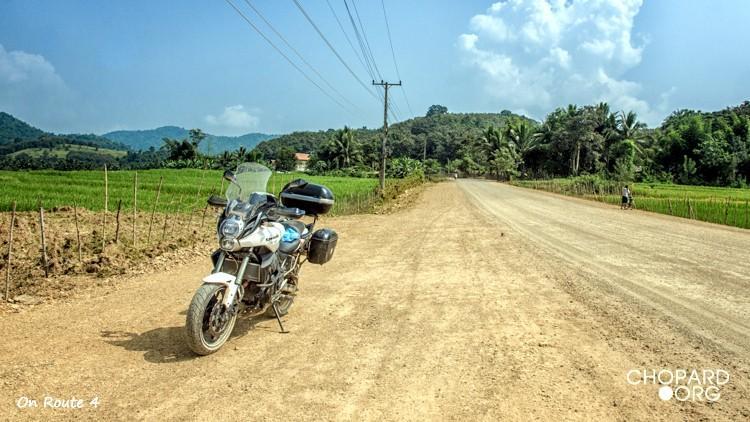 Finally, at Nan's entrance, I spotted a car service station. At first they seemed unable to fix a tubeless tire; but, when I showed my repair kit, they expertly handled the job. They also found the perforating culprit: a small soldering tube. I probably caught it, the evening before, in the motorcycle shop, and, of course, I should have been more attentive to my bike, before hitting the road.
Despite the warning on the pack: "Patched repairs should not be considered permanent", I drove more than two thousand additional kilometers, without further problems.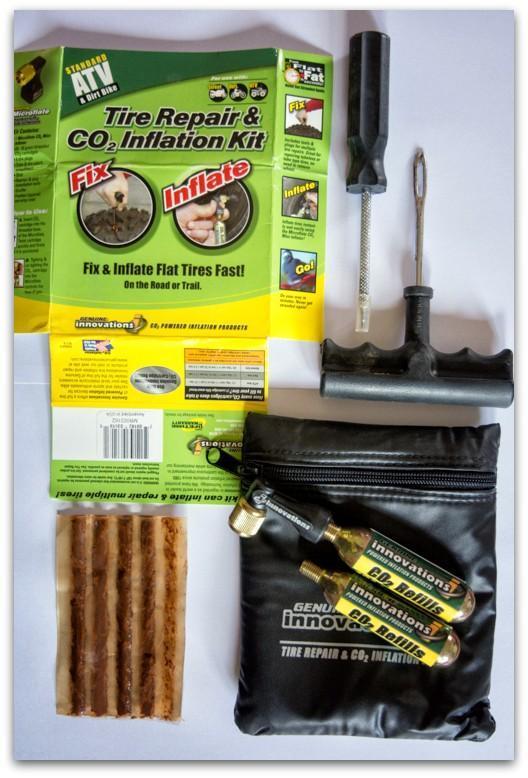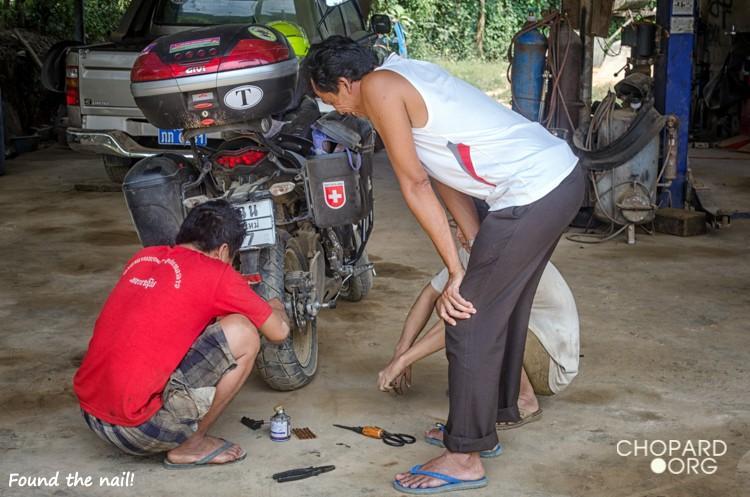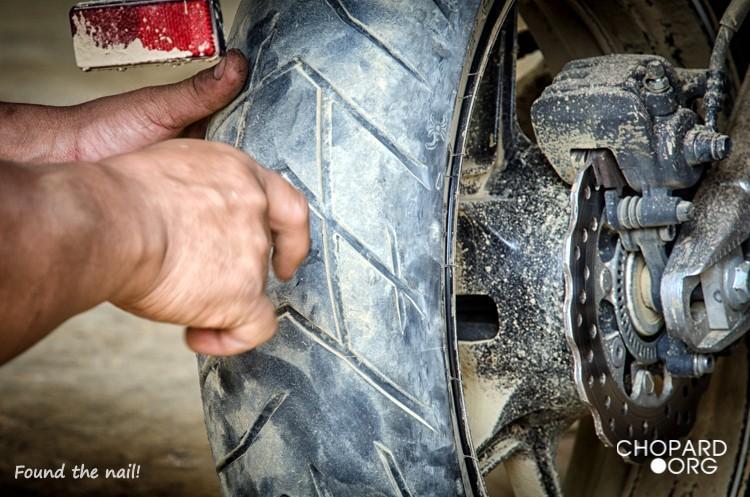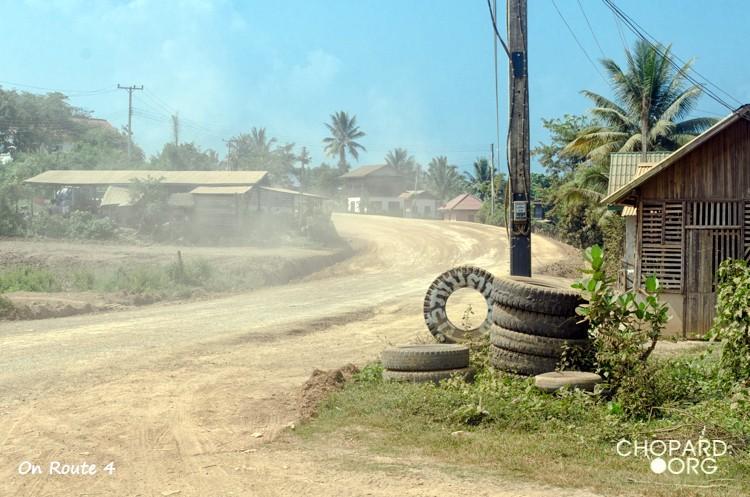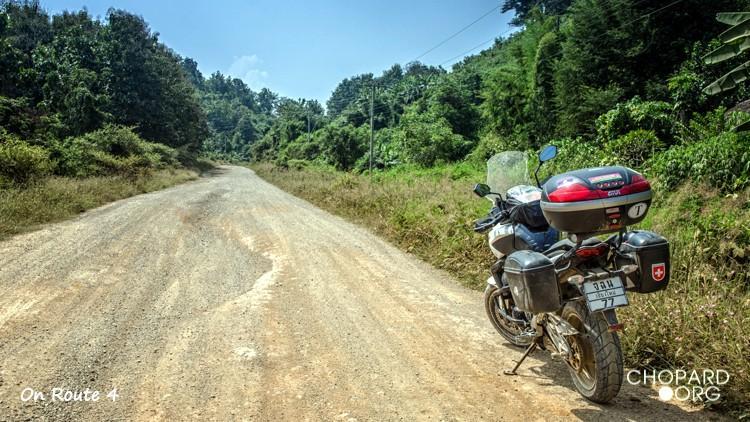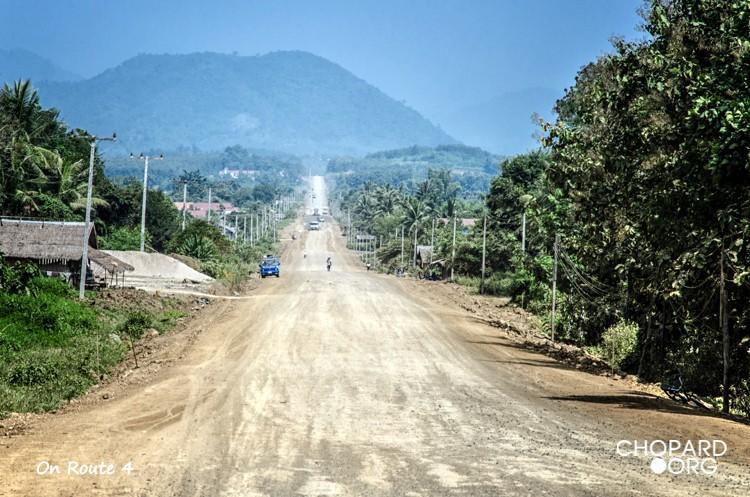 Another straight line, and, suddenly, the trail plunges and the view open toward the Mekong. After 60 kilometers, from the intersection with Roue 13, I already reached Tha Deua, the ferry port to cross the river. This boat traffic, however, will soon give way to a definitive competitor: the new bridge.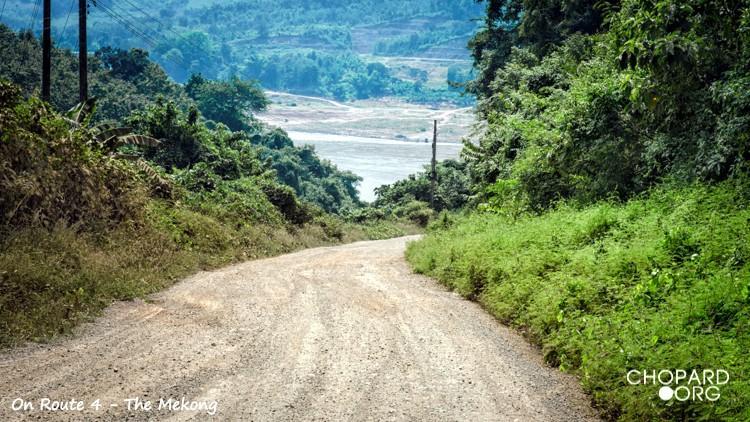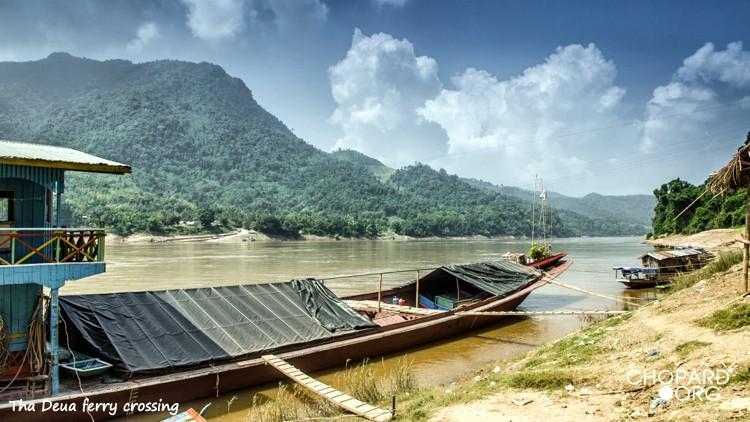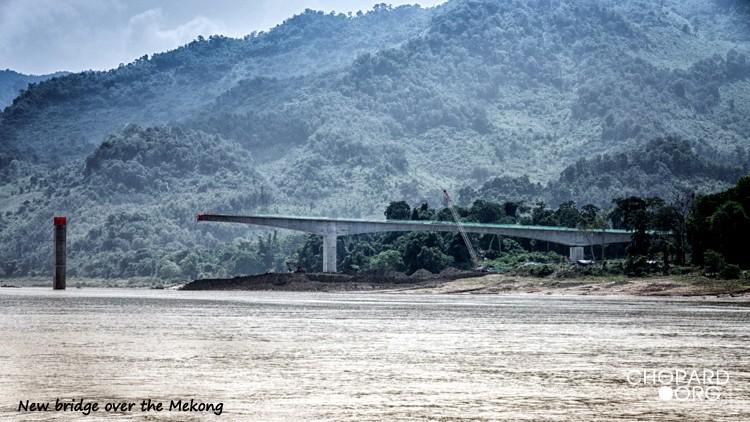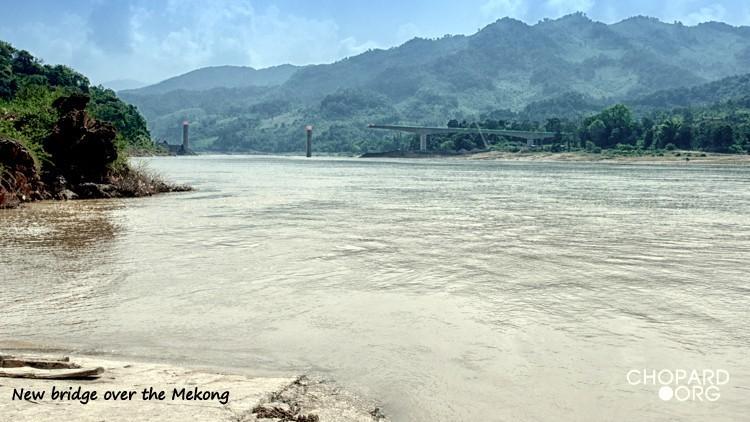 Note: The Pakkhone-Thadeua bridge is now open to the public. It was inaugurated on October 12th, 2013. The ferry boats will be relocated to areas yet without a bridge [2]
Picture from Themiti Yaprasit and Chartchai Moonfoei, published on their Facebook page, on October 14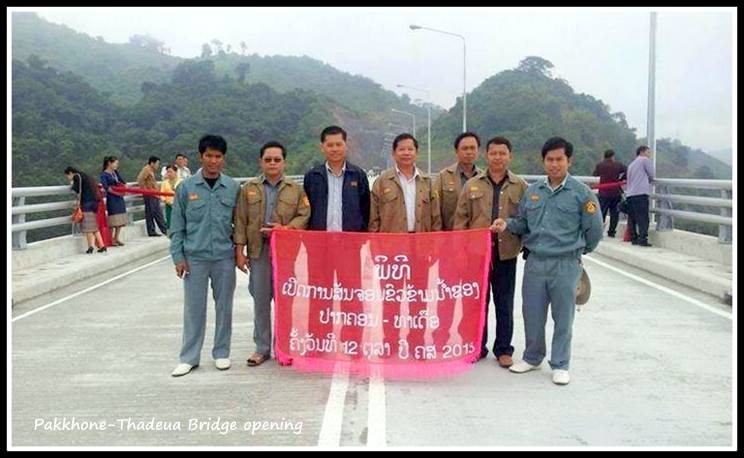 While I cruised over the river, I reflected on borderlines. This was Luang Prabang's province limit, but, nowadays, not Lao's boundary. Even so riverways make convenient nations' demarcations, they are not always logical. Here the same people leave on both Mekong's rims, and, in the past they alternatively, or jointly, pledged allegiance and payed tribute to different kingdoms. Pavie's gun boat diplomacy claimed all eastern bank regions for the French Laos Indochina protectorate; in addition he even imposed a western bank demilitarized zone. After a border dispute, Xayaboury was cut away from Siam, before being added to Thailand anew and, finally, integrated again into Laos [5]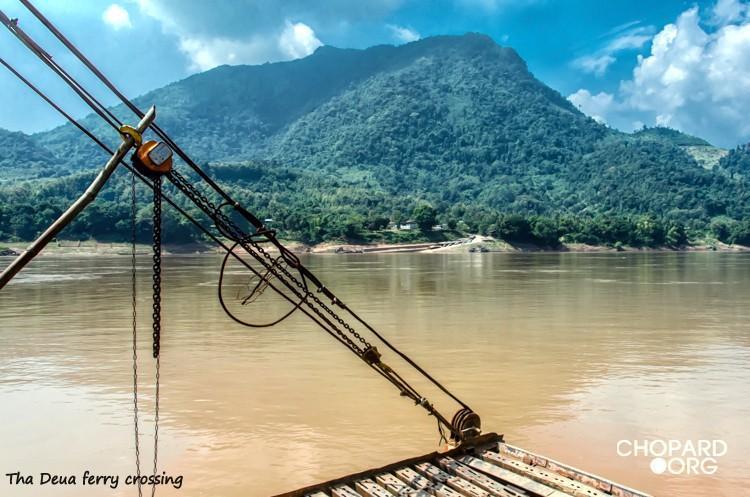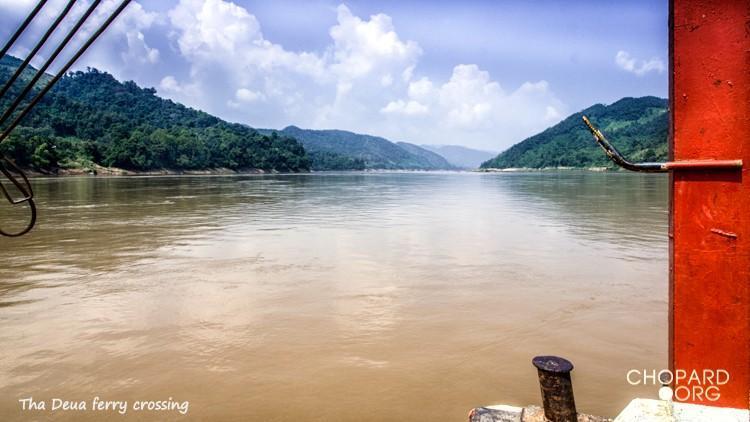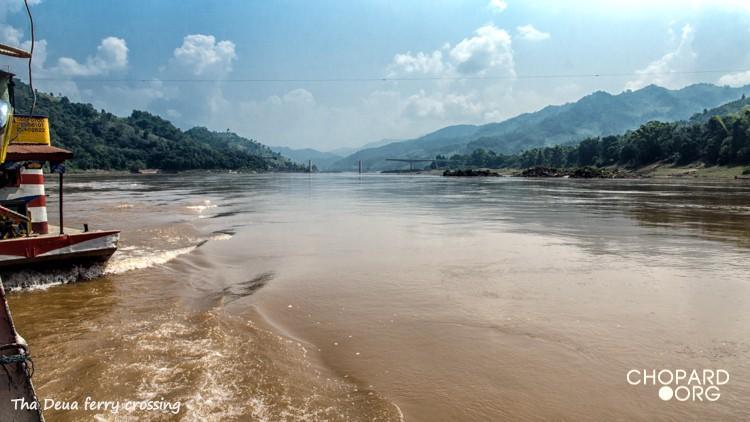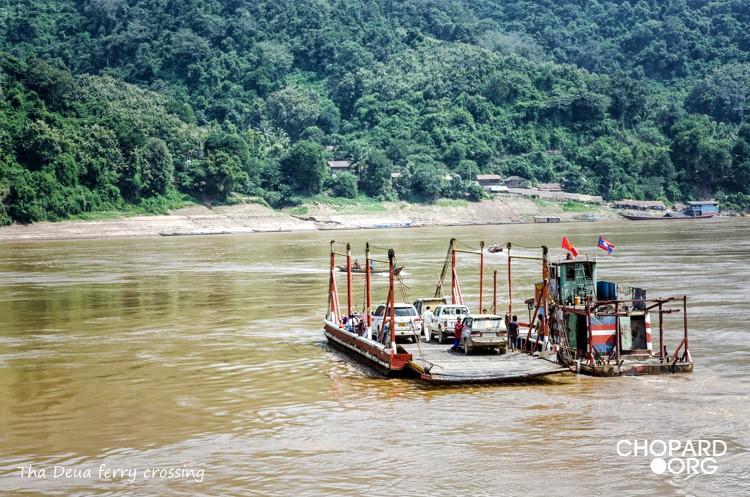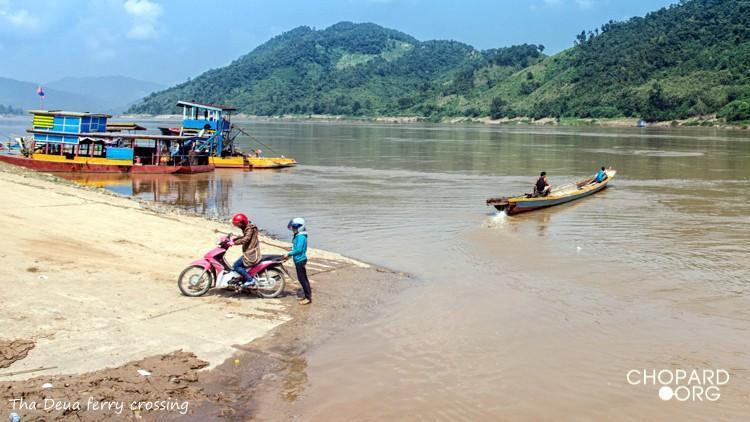 Kids and water play well together and there are few other distractions in this region than joyous and uninhibited friendship.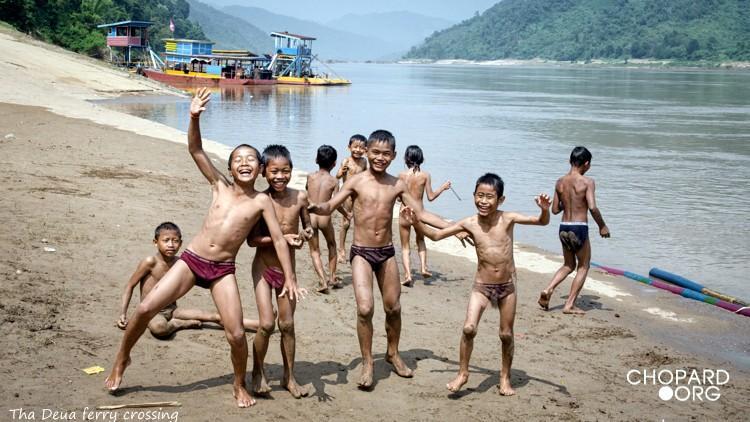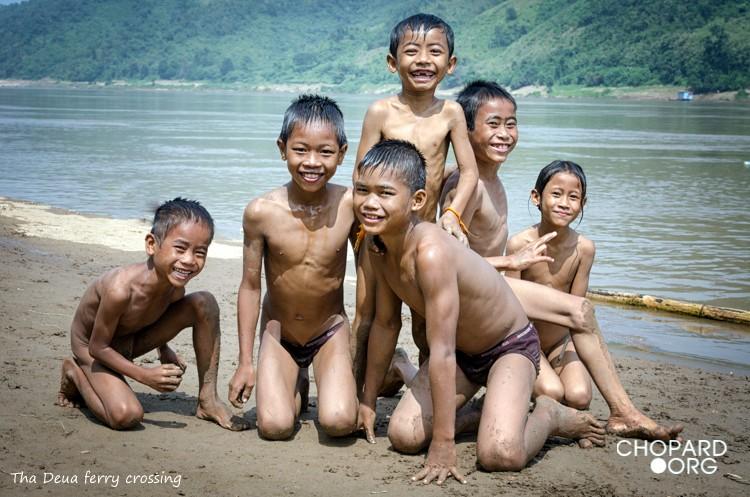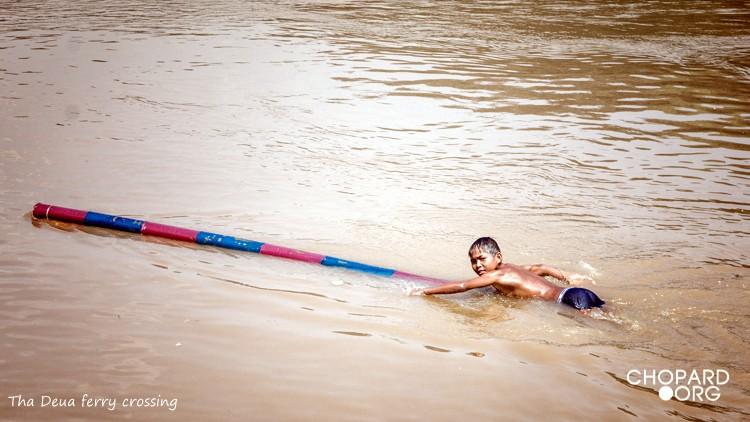 Further upriver, the Xayaboury dam is now under construction [4]. In a concept similar to the ´domino theory´ the international uproar against this barrage was testing Lao's determination to go ahead with this first lower Mekong wall. Objections are now futile, the Big River and its tributaries will soon resemble a gigantic escalator, with a hundred steps [11].
From Pakkhone, on the west bank, the last stretch to Xayaboury town is in better shape, even already partly asphalted.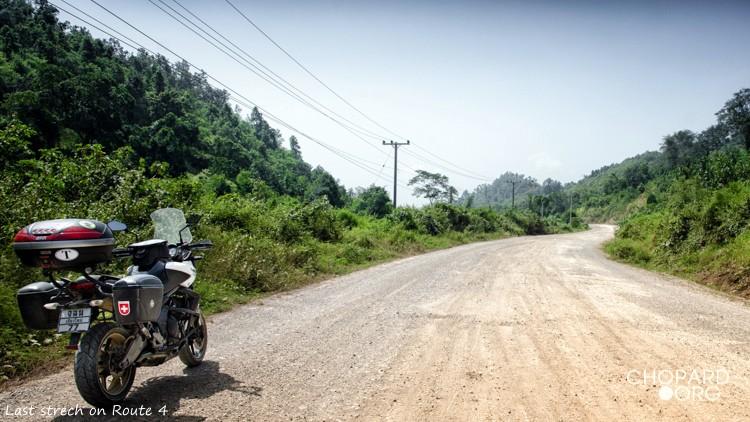 I checked in to Santiphab Guesthouse, an adequate dwelling for bikers.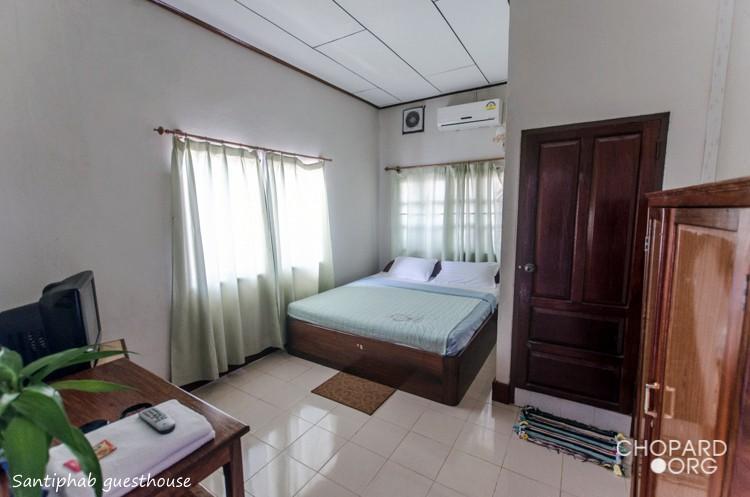 My first chore was to bring my bike to a wash station to clean the dust from the last days. Then, after a short ramble around the neighborhood, it was time to rest and dine in a riverside restaurant, before closing the day.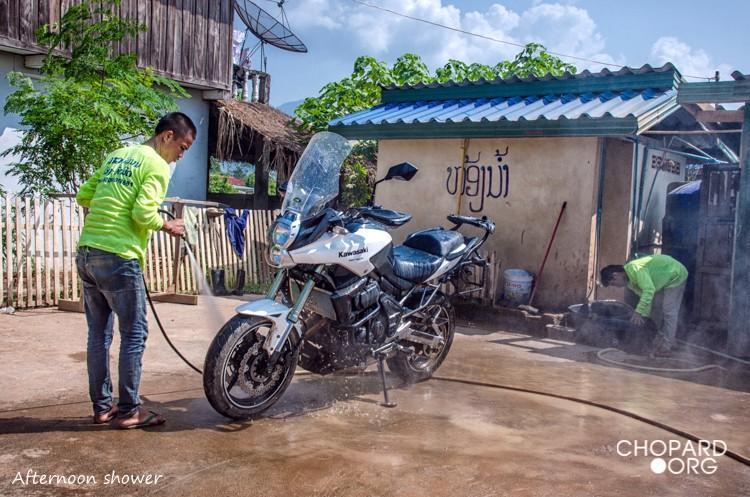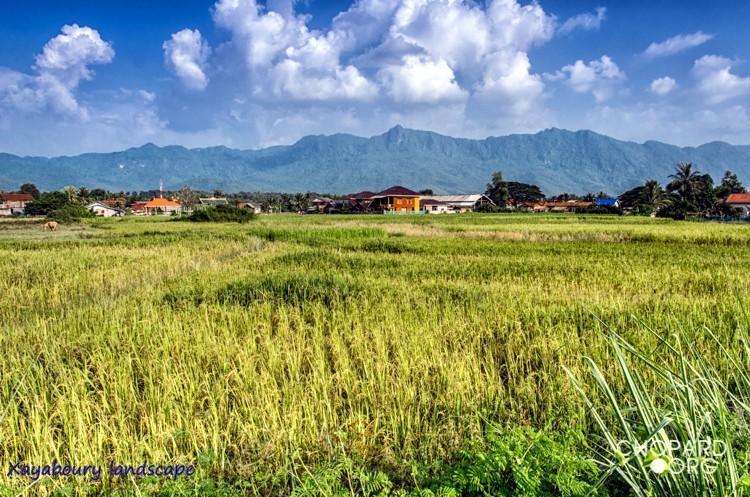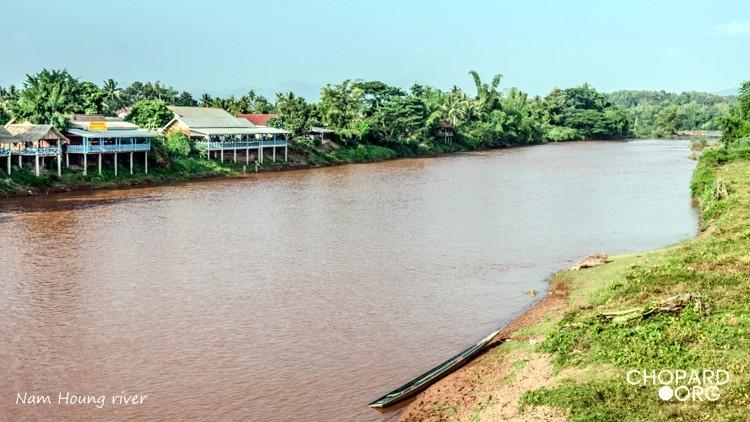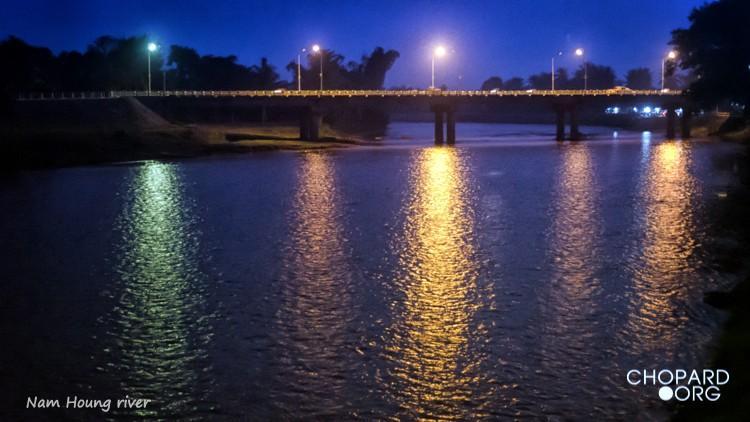 This is how Brett Dakin in "Another Quiet American [6]" describes Sainyabuli [10] (in the year 2000):
"... thought it shared a border with six different Thai provinces, Sainyabuli was considered one of the most remote provinces in Laos.
...
Foreigners weren't exactly encouraged to visit Sainyabuli. That's not to say that visitors were clamoring to get in; Sainyabuli didn't have much to offer the average tourist.
...
The capital of Sainyabuli was a ghost of a town on the bank of a small, tributary of the Mekong. It was home to only one proper restaurant, perhaps two guesthouses, a post office, and a nightclub."
For visitors, Xayaboury assets are probably ecotourism and adventures linked to elephant riding and festivals [3]. The nearby industrial projects will also boost its developments, as will the scheduled news airport. For touring bikers, however, its biggest attraction will soon be a crossroad position at the intersection of four fabulous itineraries. Paved roads and new bridges will link the region to North Thailand, Isan, Vientiane and Luang Prabang [2]
2. Route 4A to the North
After Hongsa, Route 4 continues south, toward Pak Lai and the Thai border in Thali. In Nasak, a branchout and a new bridge over the Mekong, will lead to Vientiane through Route 11. All these stretches are now under construction and will soon provide enjoyable new paved circuits.[2]
My immediate journey's direction was the North, and, at seven o'clock, I hit Route 4A (R10B), driving toward Hongsa. Early hours are precious moments, particularly to observe happy students' crowds heading to school. Most pupils were walking, a frequent transportation means in Lao's remote provinces.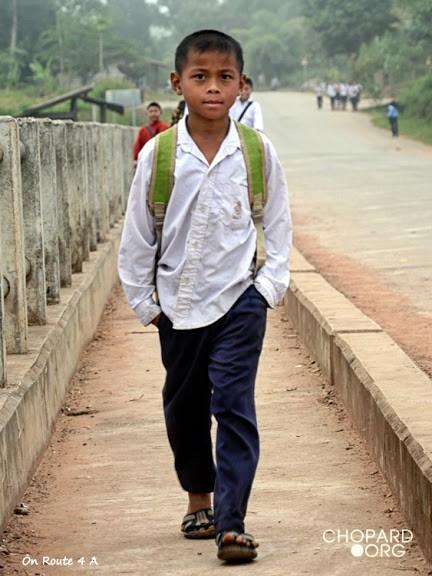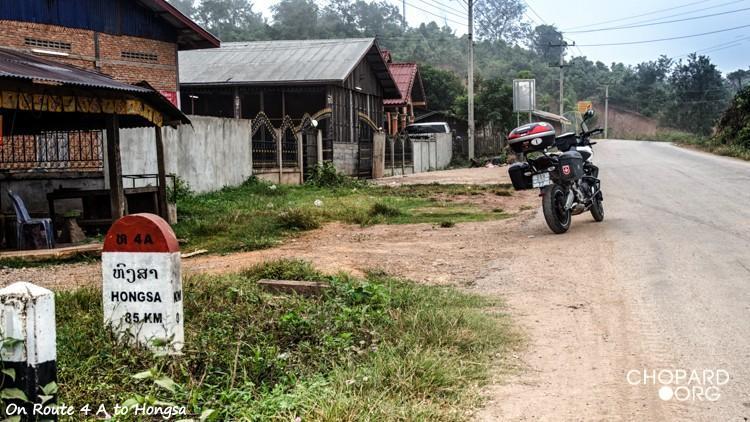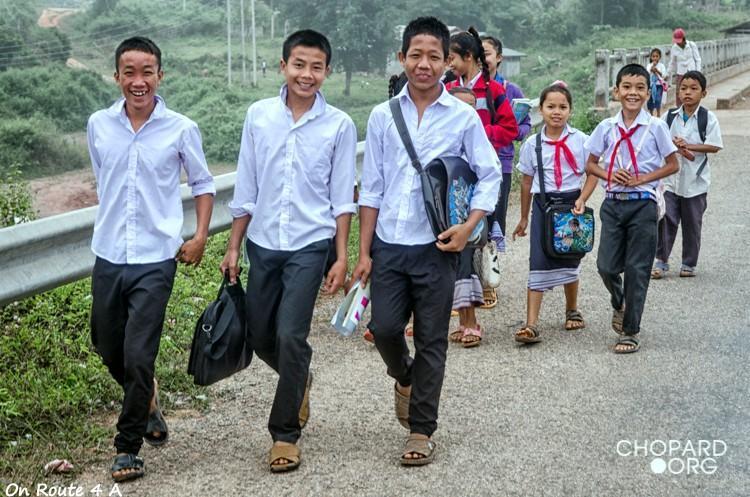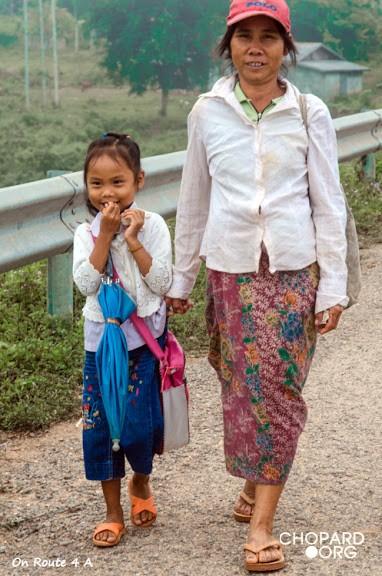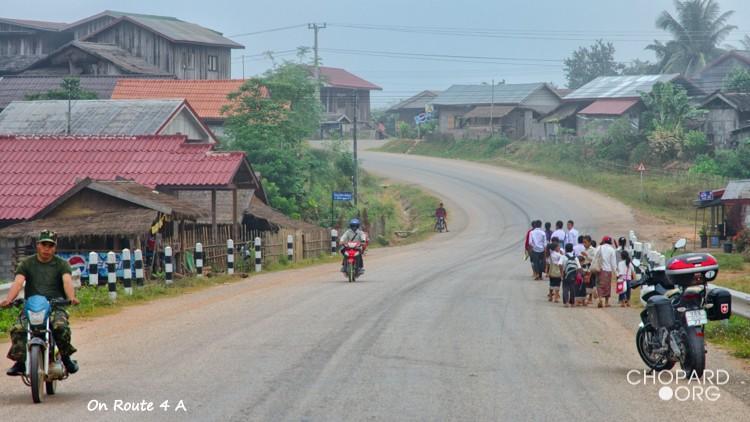 Further down the road, I crossed another joyous group walking to their daily chores. I love these brief, but delightful, encounters; they are more precisely etched in my memory, than in any number of pixels.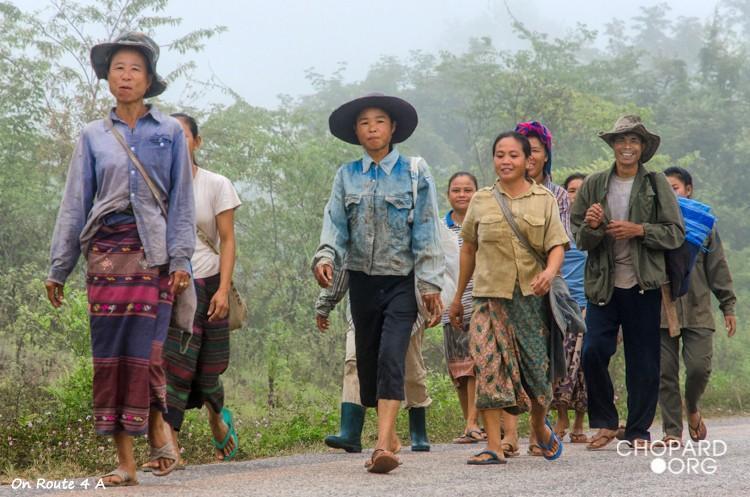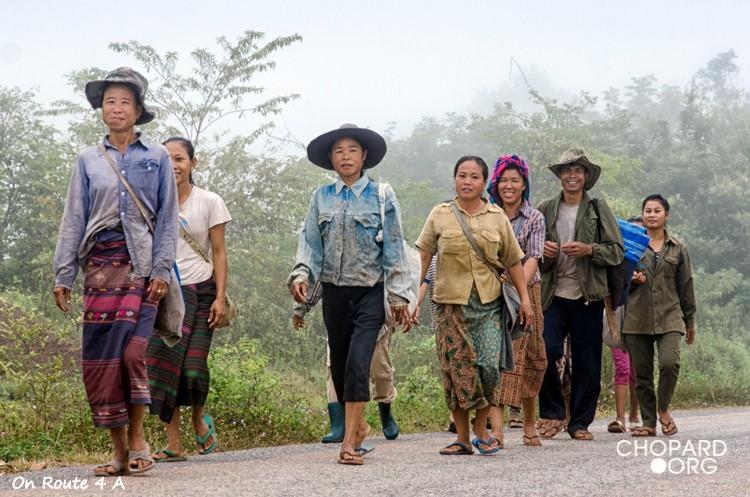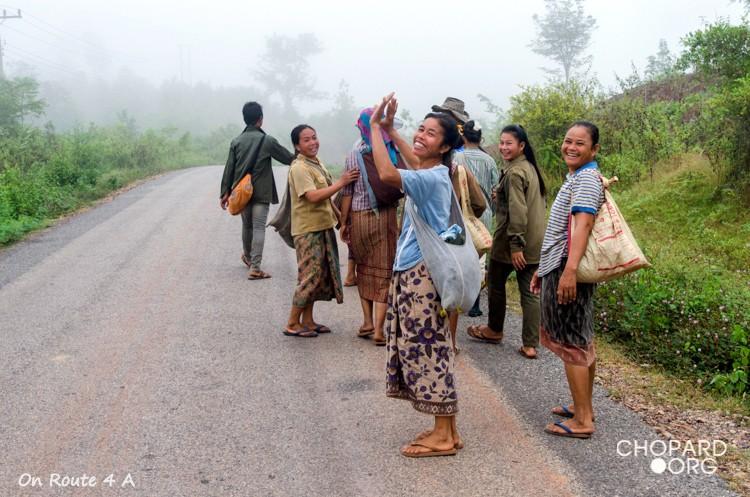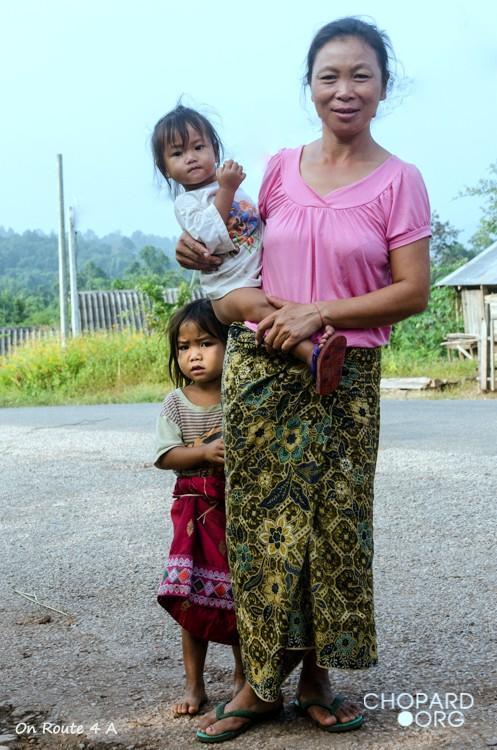 On and on, the pretty road meanders through bucolic hills and valleys. The still low traffic density allows to fully appreciate the green backdrop, punctuated, every now and then, by small hamlets.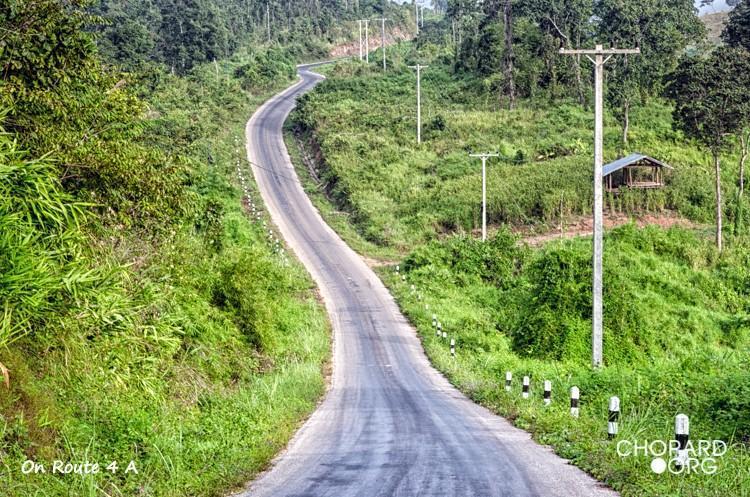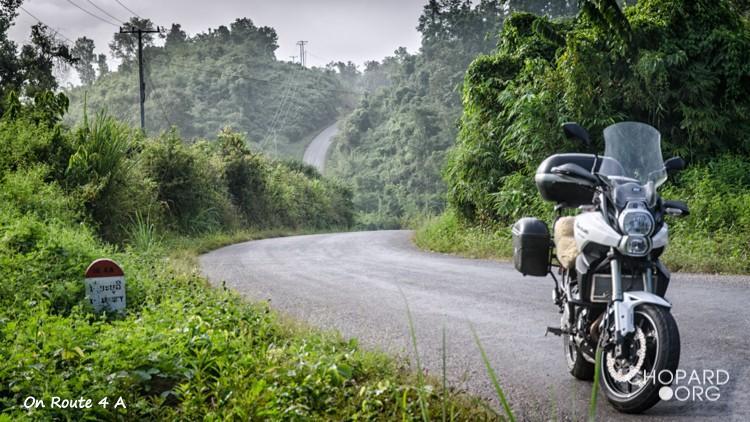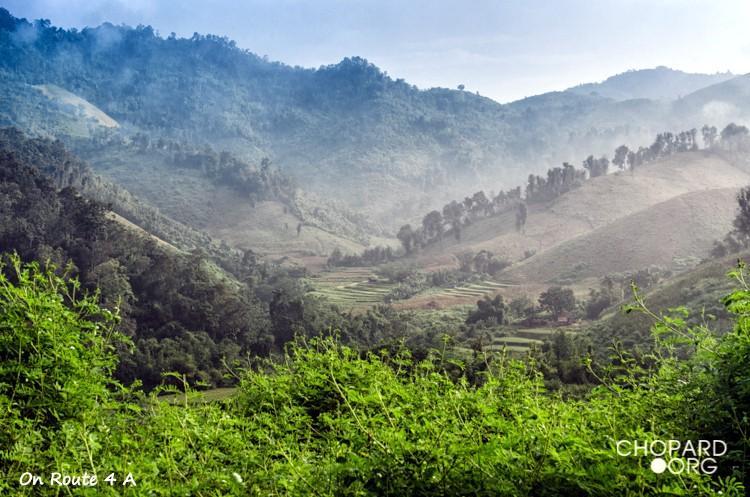 A slow pace drive allows meeting local population and, between friendly encounters, to stop and admire the landscape; it took me five full hours to complete the eighty five kilometer trip.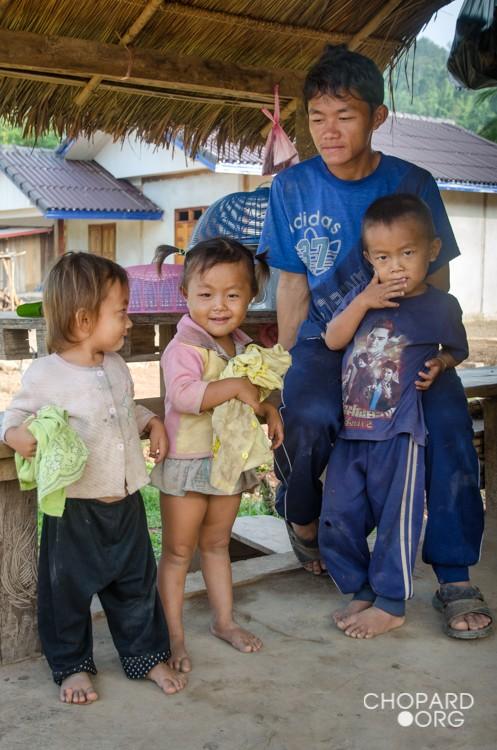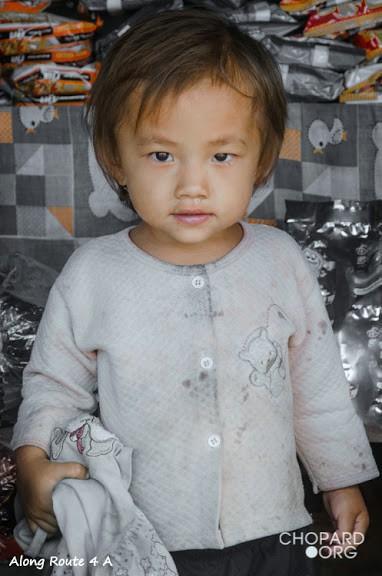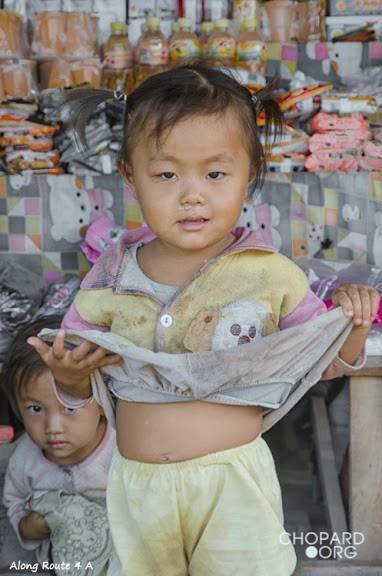 Even a small shack, in a lonely countryside, provides opportunities for meeting locals and to observe their lifestyle. These gentle people are happy to have small talks with foreigners; in border provinces, the Thai language is usually understood everywhere.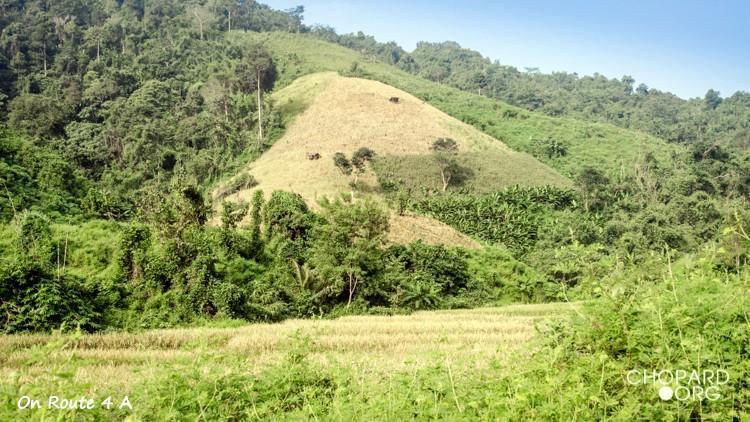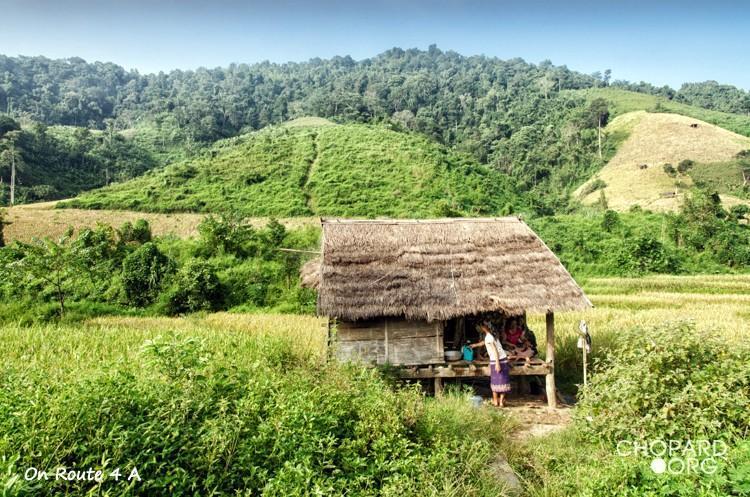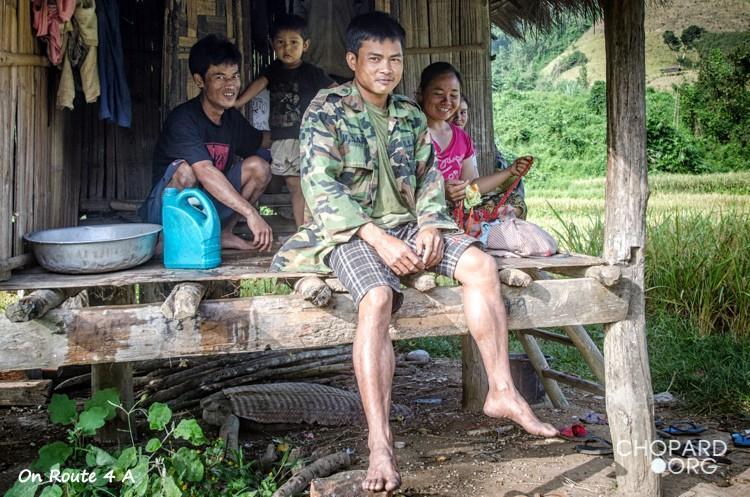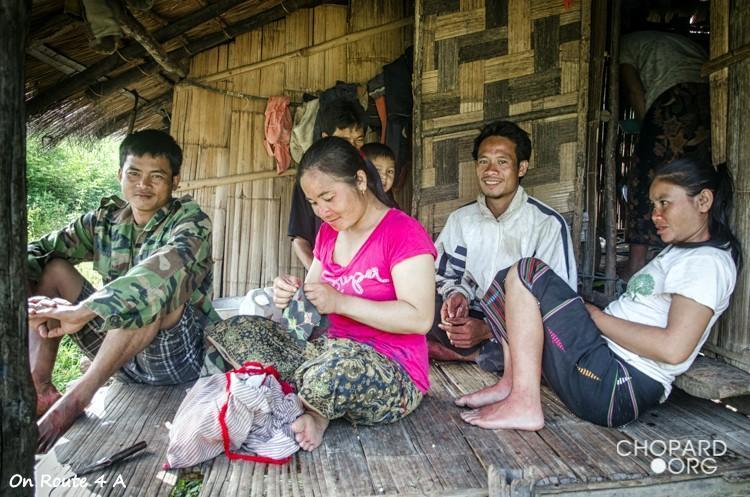 Despite its recent construction, Route 4A shows already some scares. Road's engineering and building materials are often incommensurate with large trucks carrying heavy logs.
As in the other Laos' remote regions, small waterways provide opportunities to generate tiny amounts of electricity in pico hydro power gears.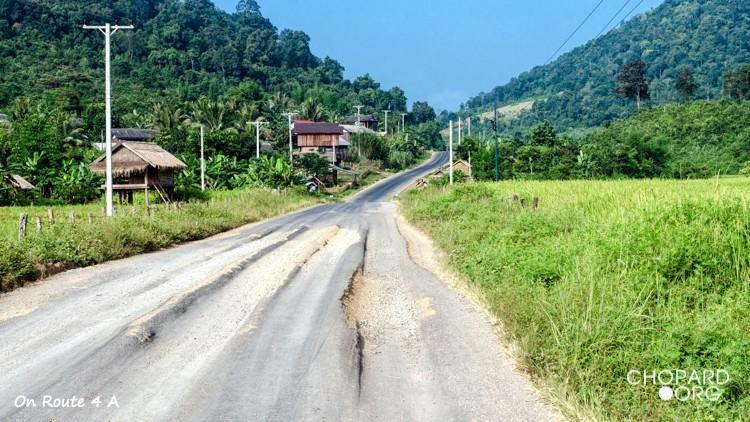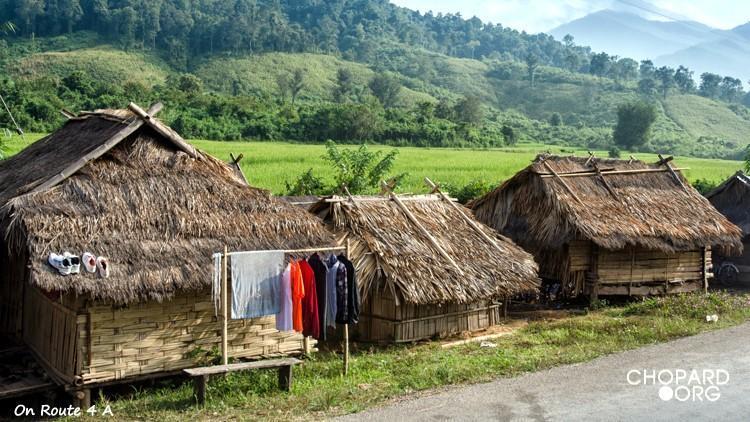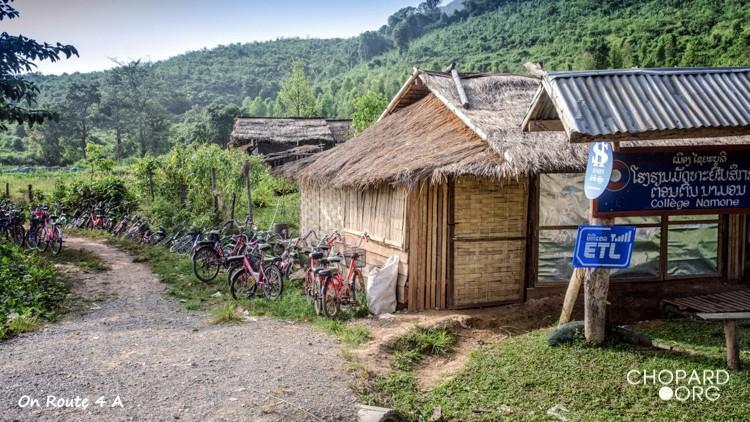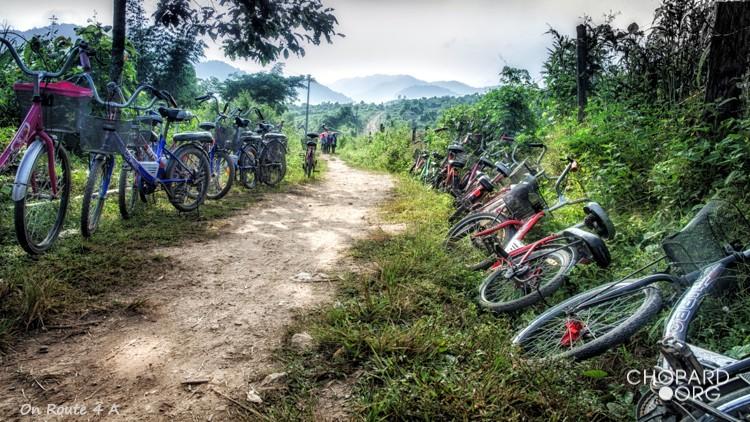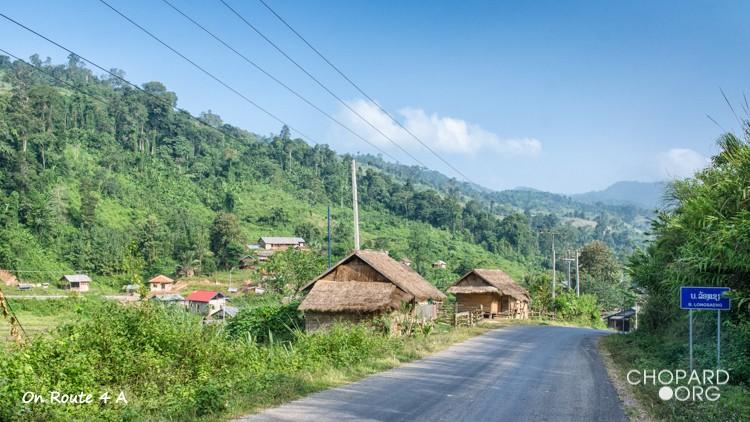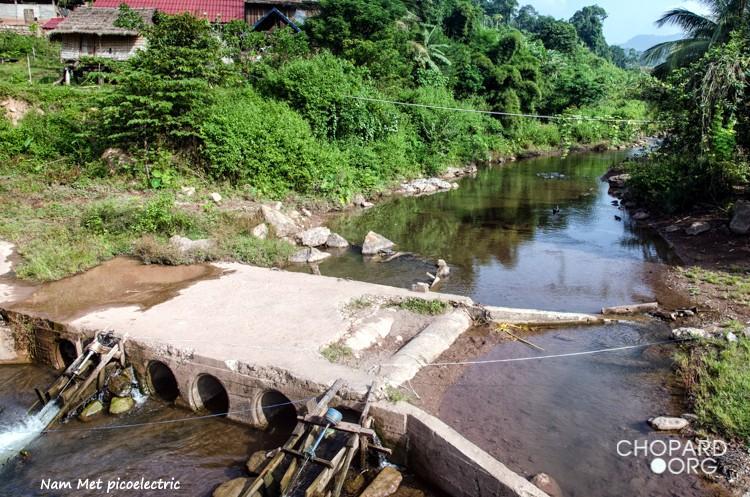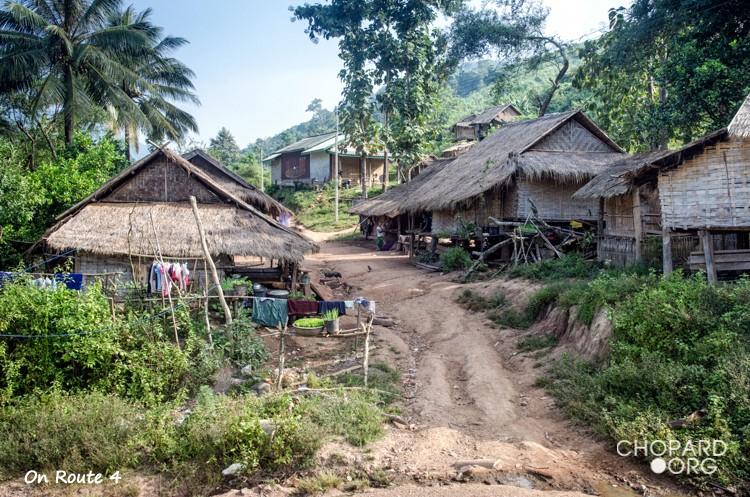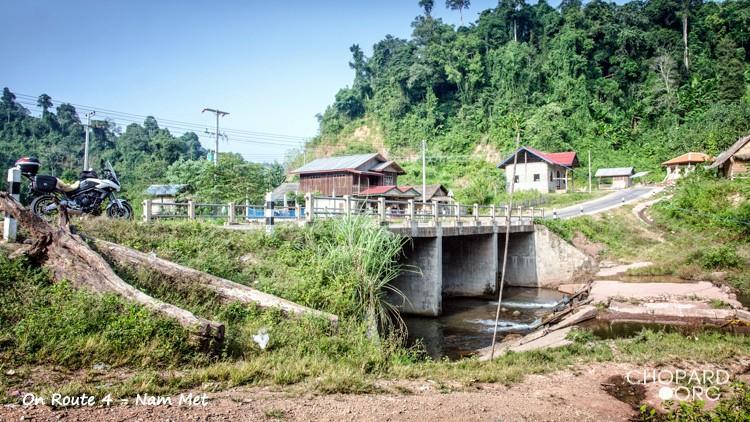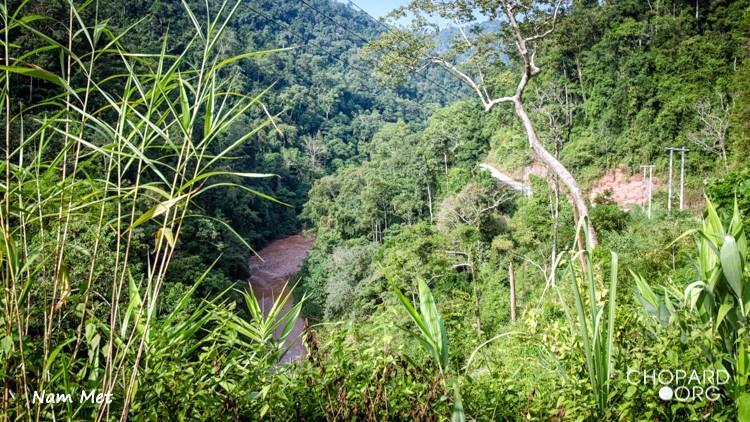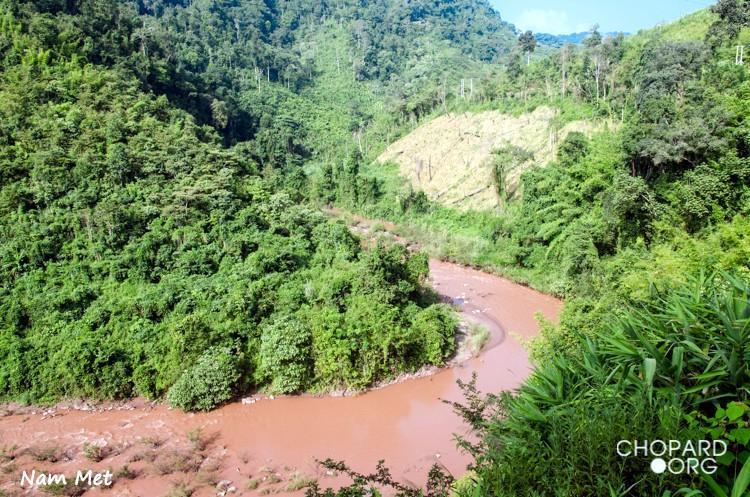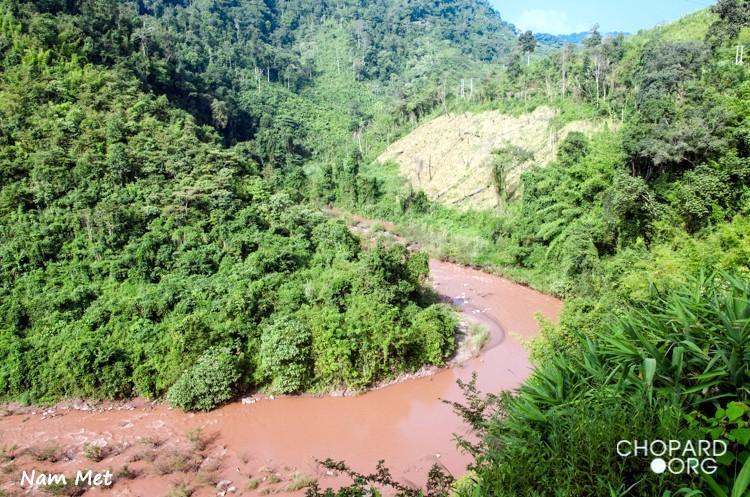 My next stop was in a Khmu dwelling. From its vantage point, I enjoyed a panoramic view over hills rolling far down to the horizon; a yellow earth and green fields' patchwork, cleaned from every forest.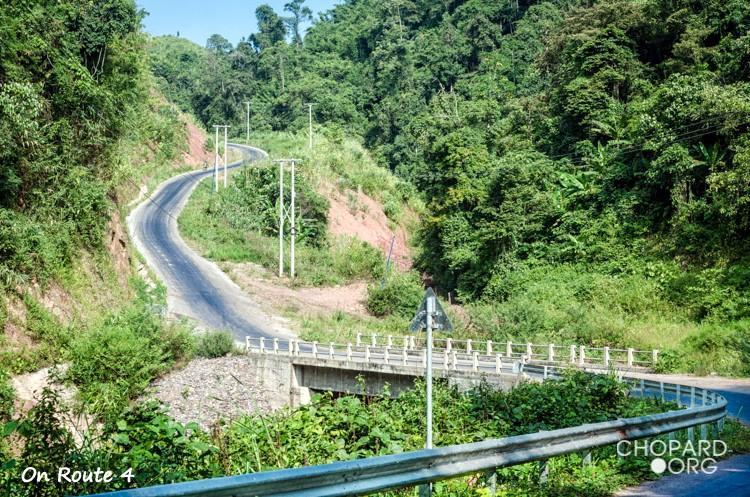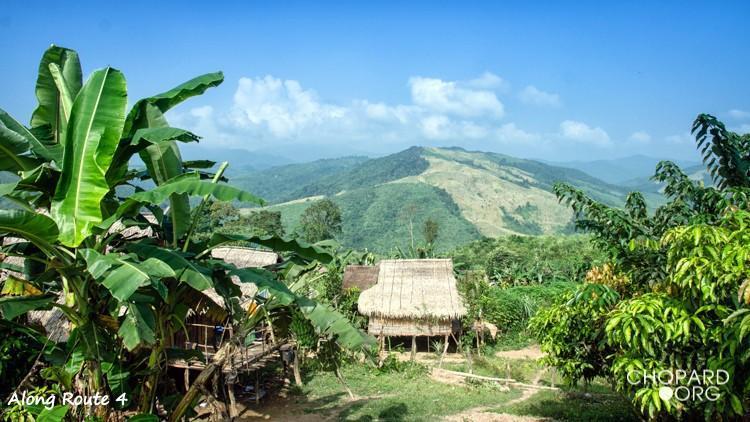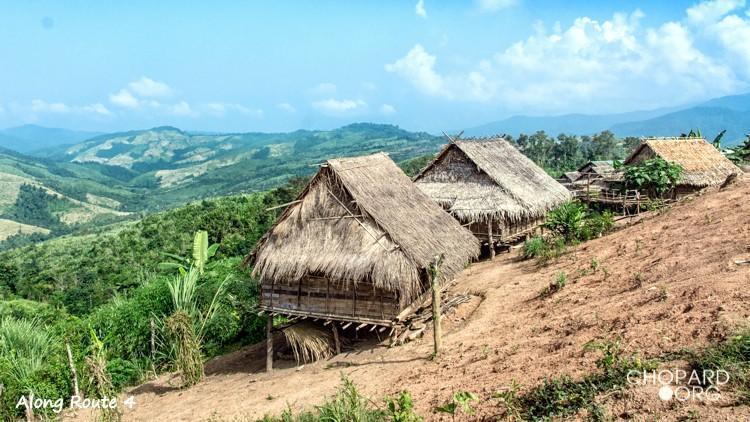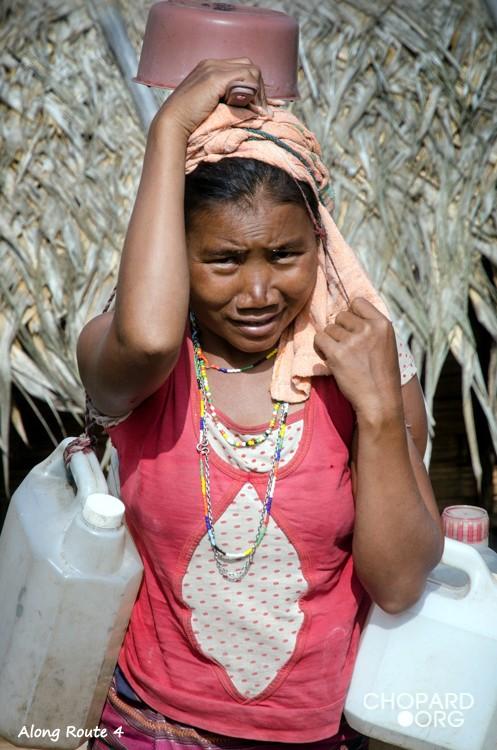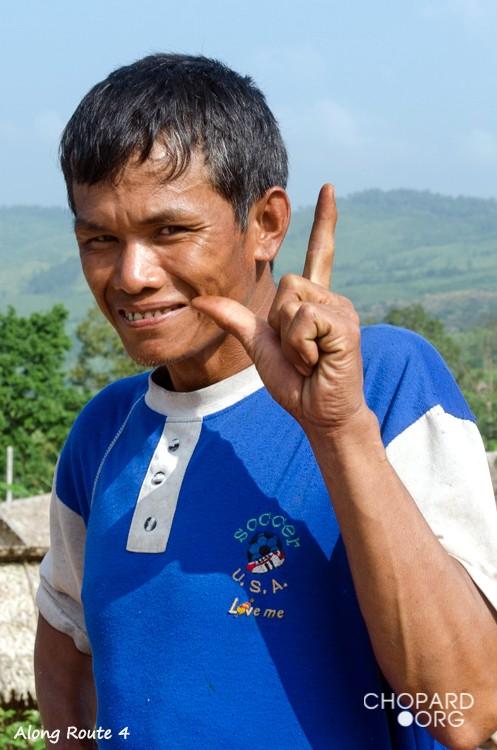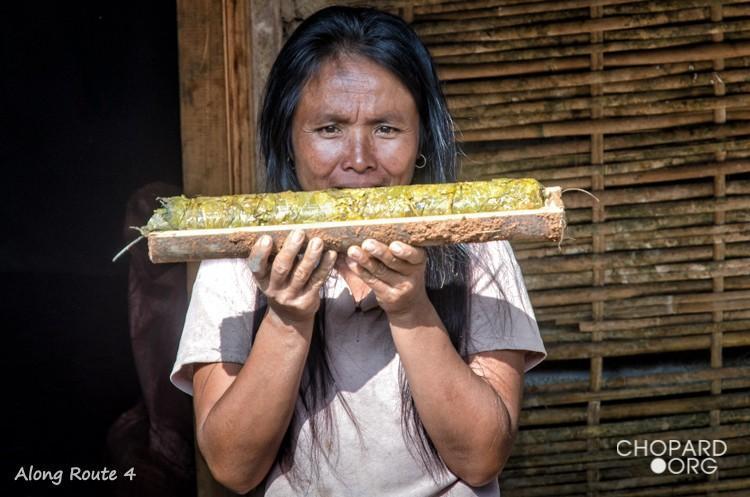 This village, named Phouleng, is proud of its large primary school. Foreigners' visits are no longer something exceptional; however, a Farang poking through the classroom's doors, still generates amazement, shyness and giggles.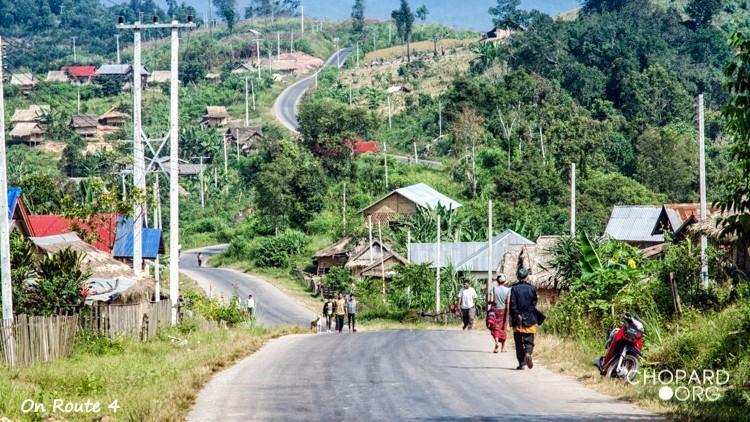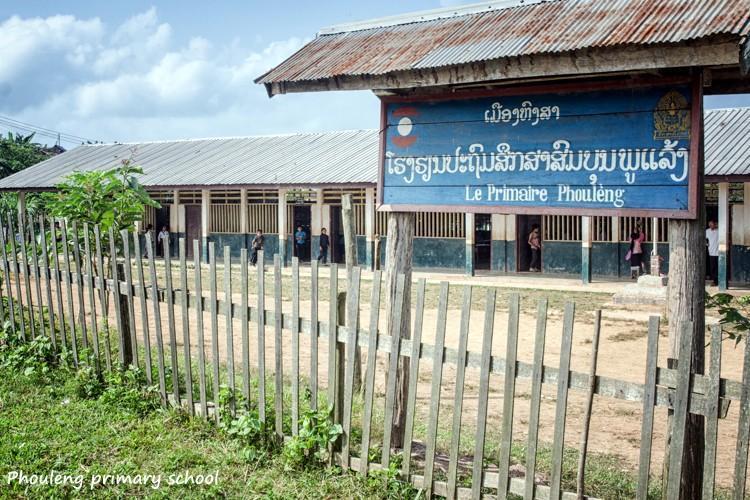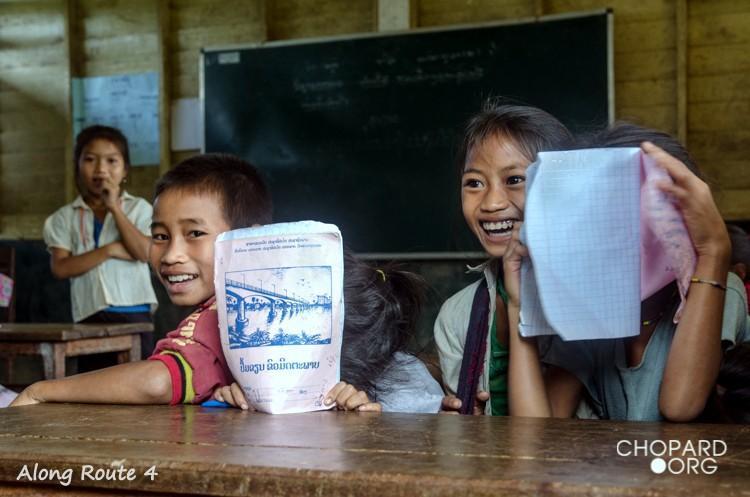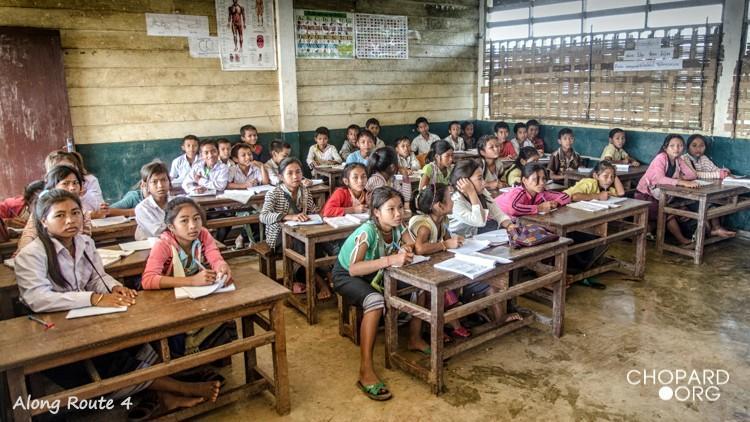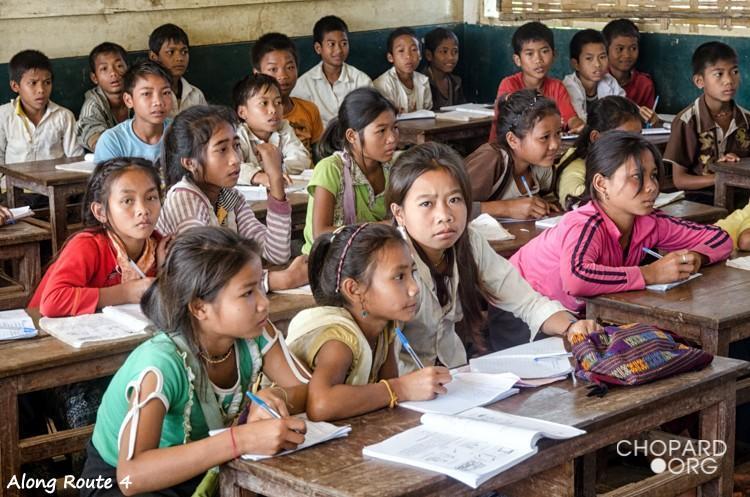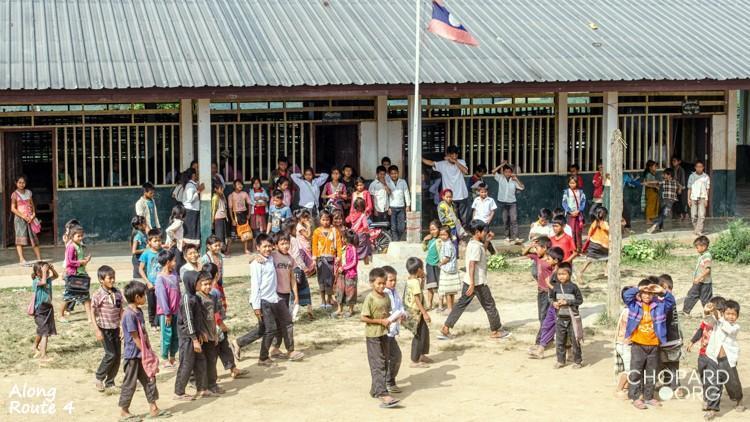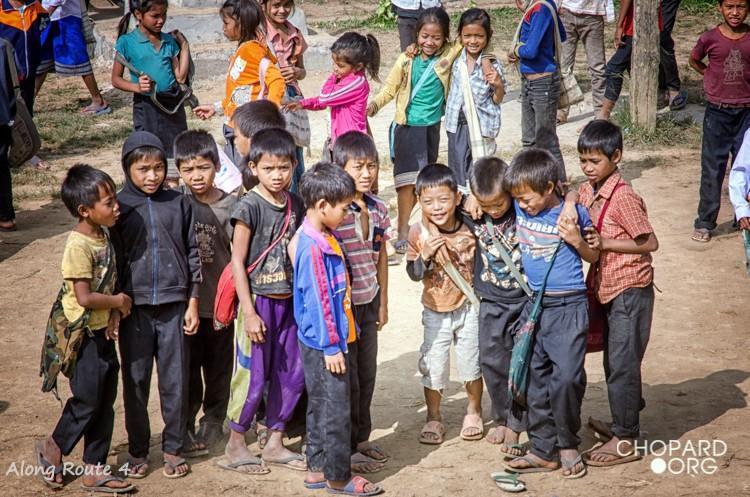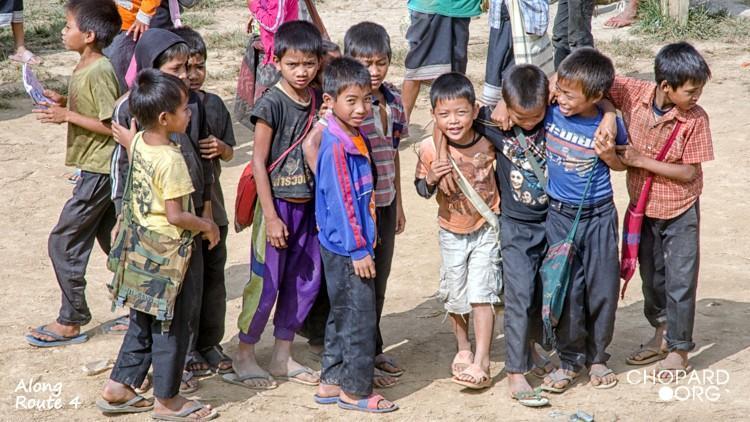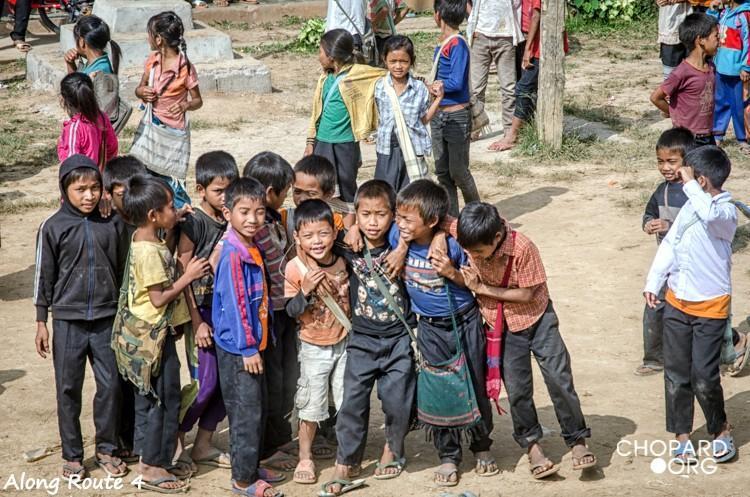 The last stretch, toward Hongsa, passes Na Phoung and the intersection with a shortcut link to Luang Prabang. Nowadays, this itinerary provides enough river crossing and dirt trails to make it practicable only by seasoned off-road drivers.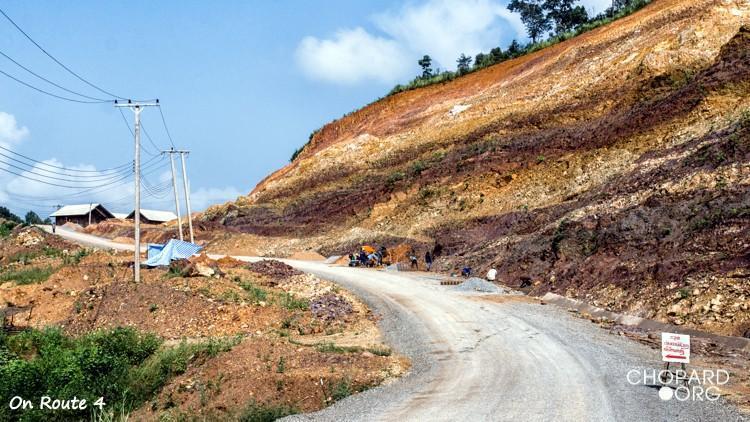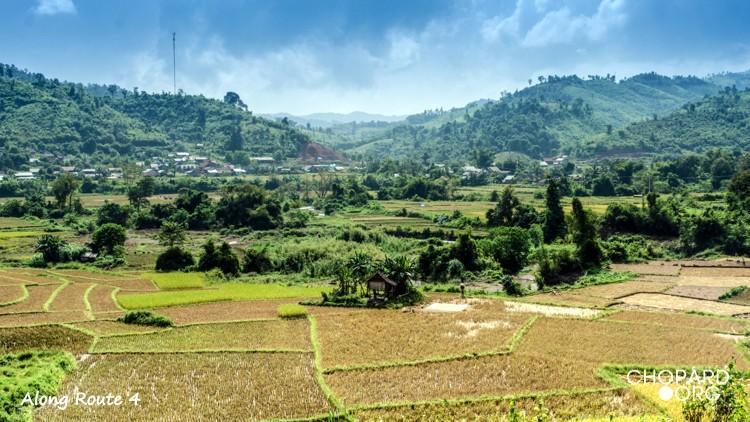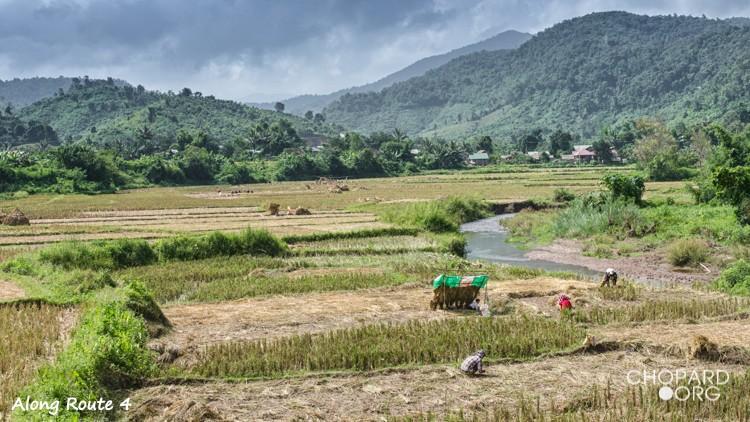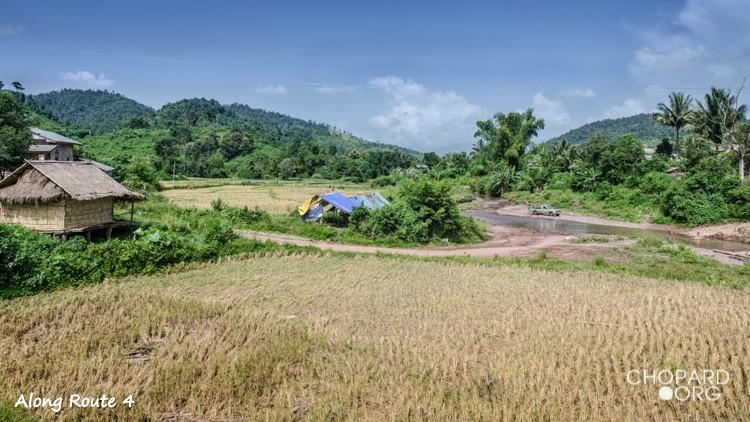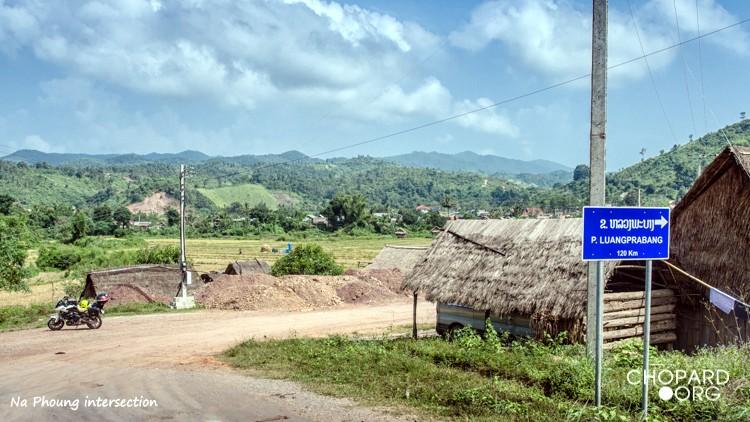 3. Hongsa
In Hongsa, I had a reservation at 'Jumbo Guesthouse' but, as two dwellings wear the same name, I was first directed to the wrong one.
The right place is Monica's abode, a family house opened to guests, where the owner takes personal care of all clients and even prepares the meals.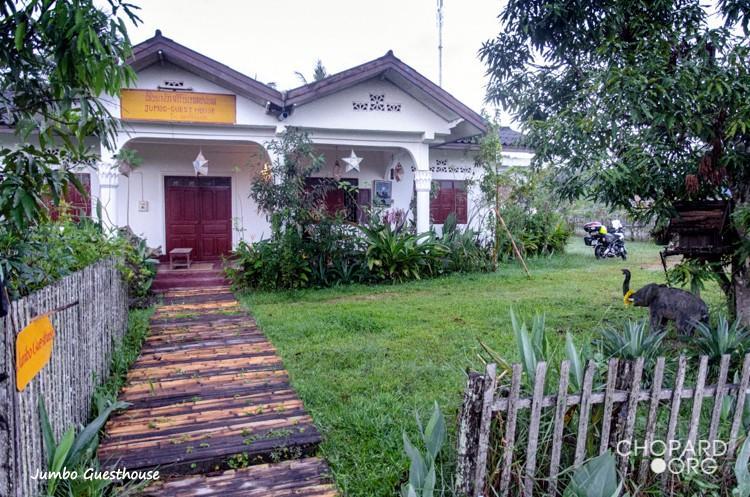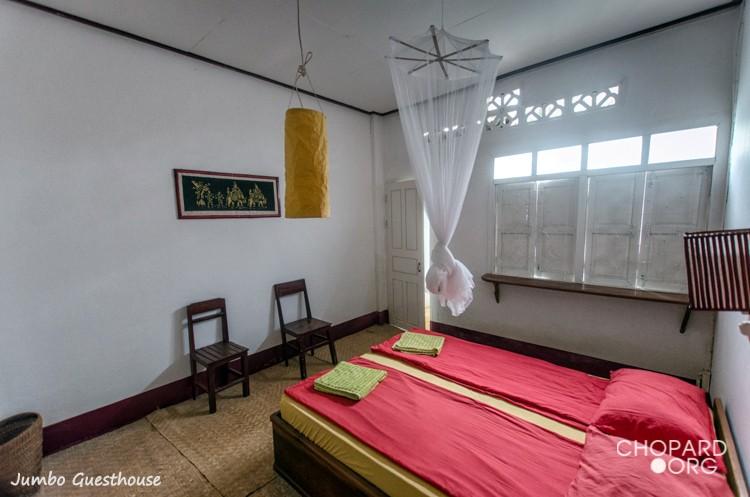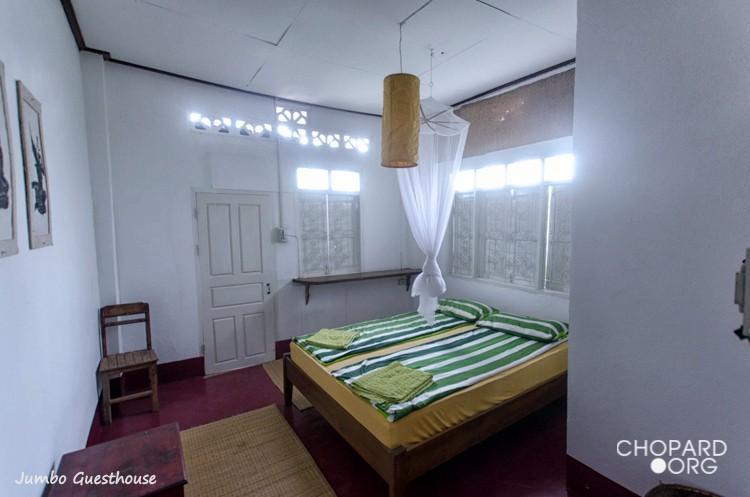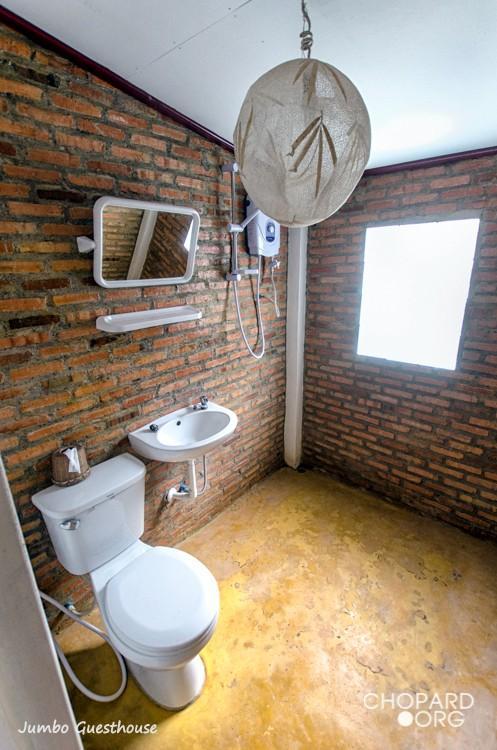 As the sky became menacing, I rushed for a short visit to Ban Viengkheo, a neighboring Tai Lue village. The dramatic black sky provided a picturesque backdrop to the landscape, but, it also trailed an important downpour. This was actually my first close encounter with the cyclone Gaemi, the profound depression who menaced to play havoc on my trip from its beginning, the strong rain that I had escaped, just in time, in the South [2]. It was now passing central Laos, en route for North Thailand.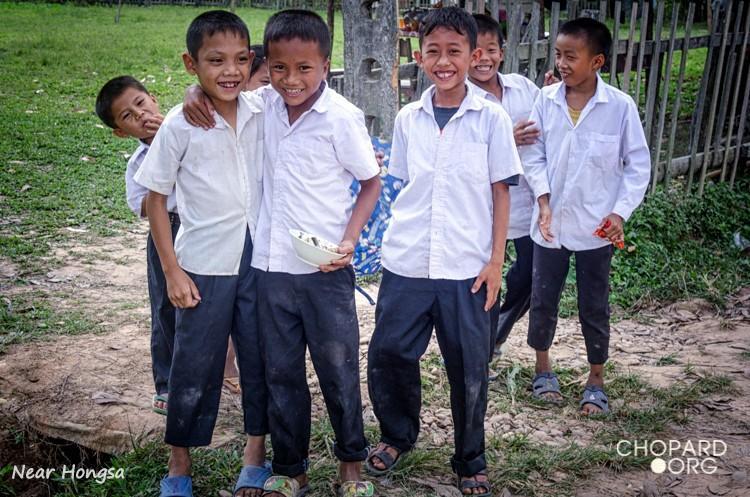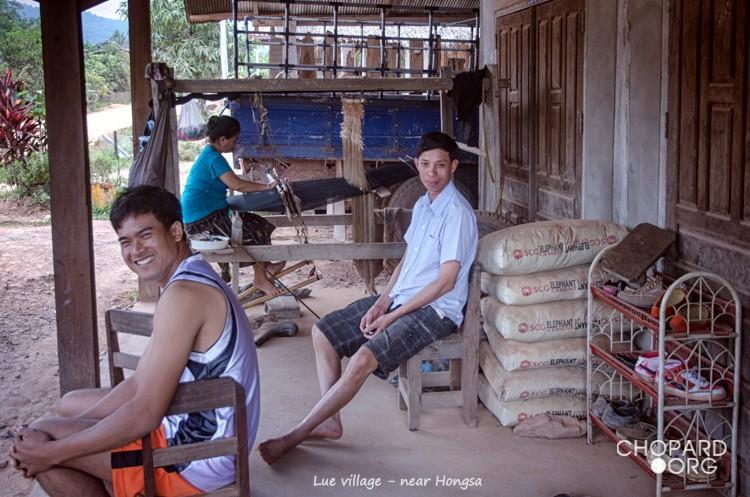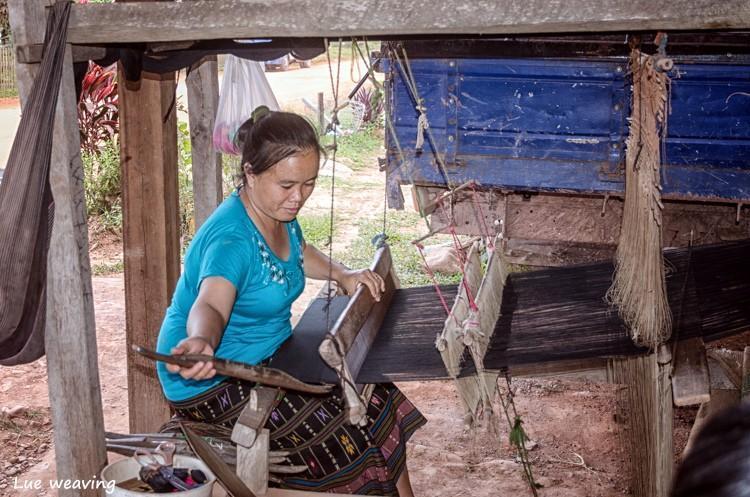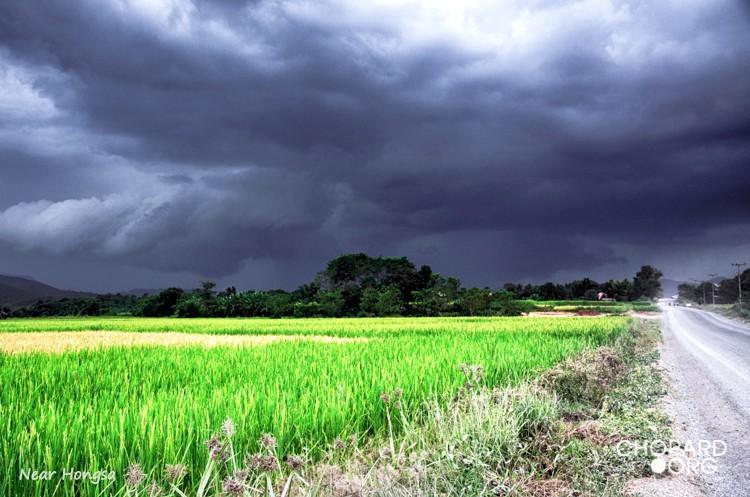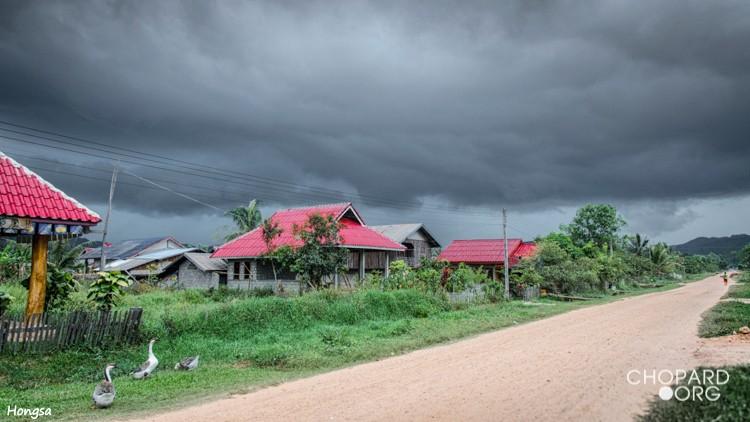 While the heavy cloudburst drummed on the roofs and tree leaves. I enjoyed Monica's dinner and an evening chat, before calling it a day.
An early morning raise allowed me to accompany my host to the nearby market. At six o'clock, the sky was still obscured by clouds, leftover after a rainy night who drenched the earth. Brighter light, however, illuminated the horizon, bringing hope for better times.
Following a well known personality around the stalls, is an edge for taking pictures, even so, the friendly Lao seldom object to being photographed.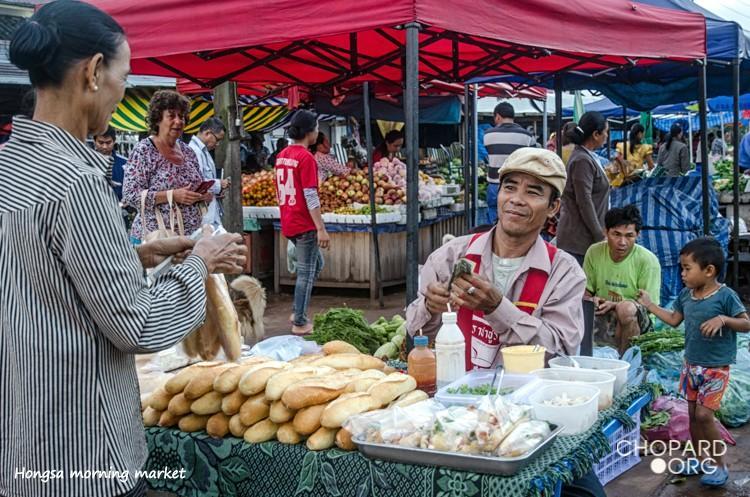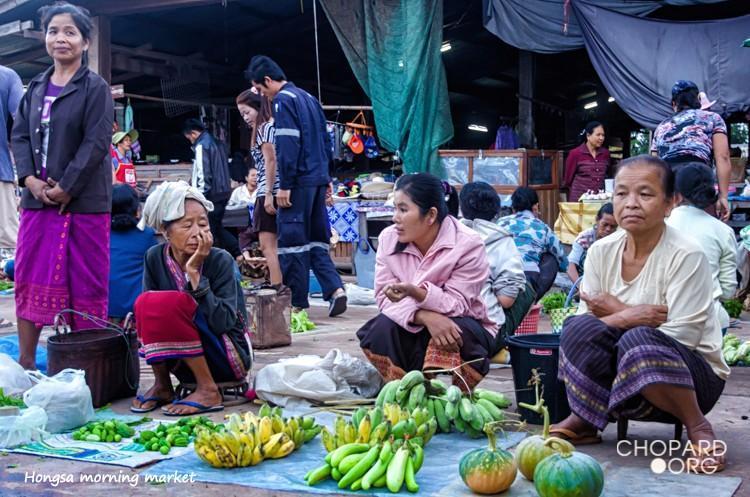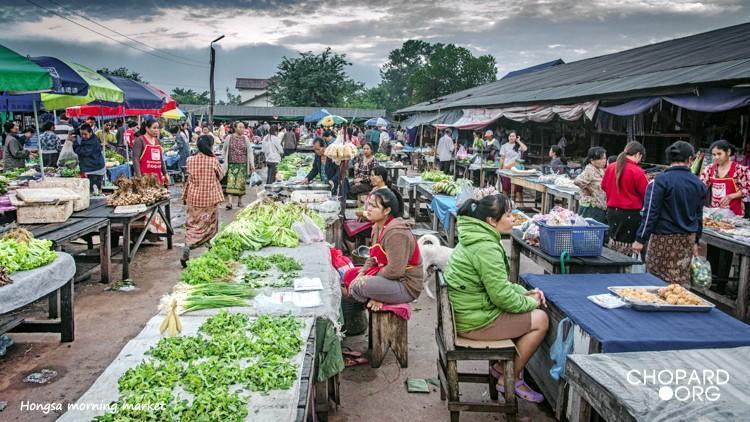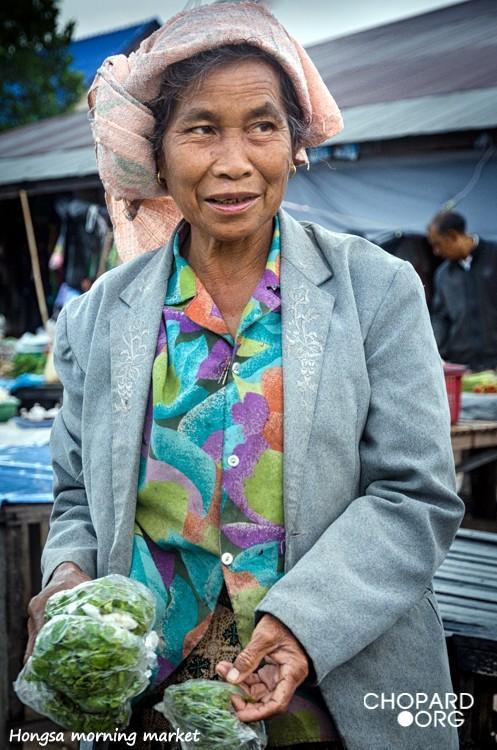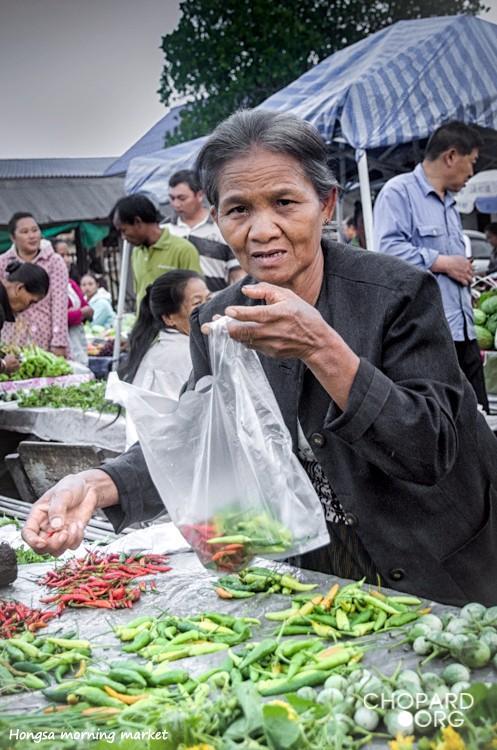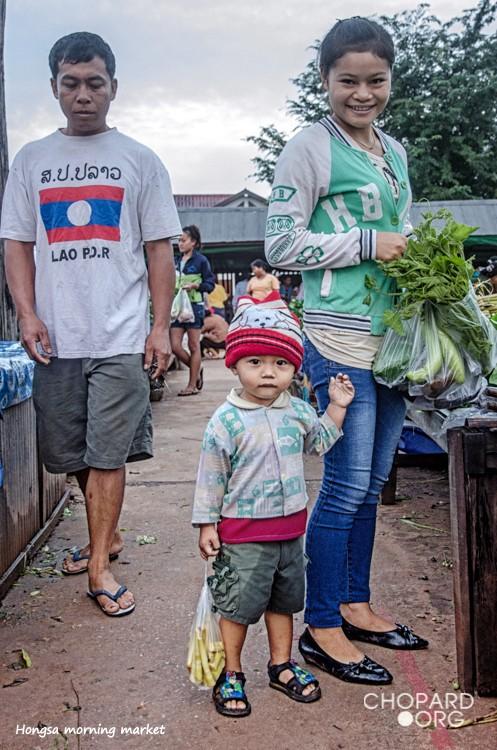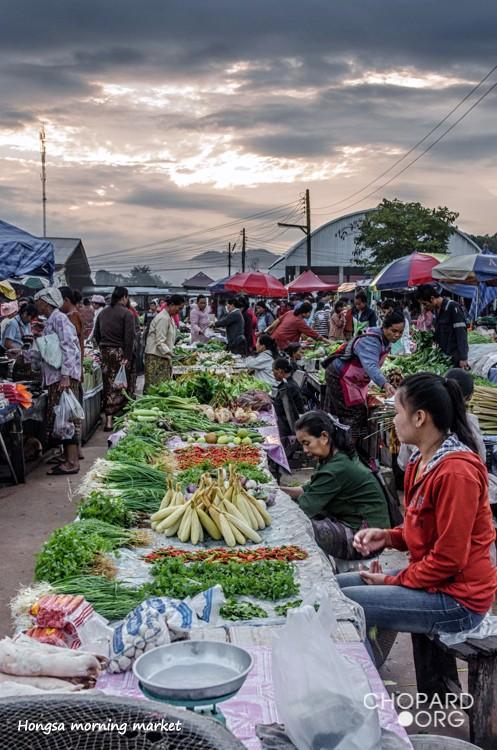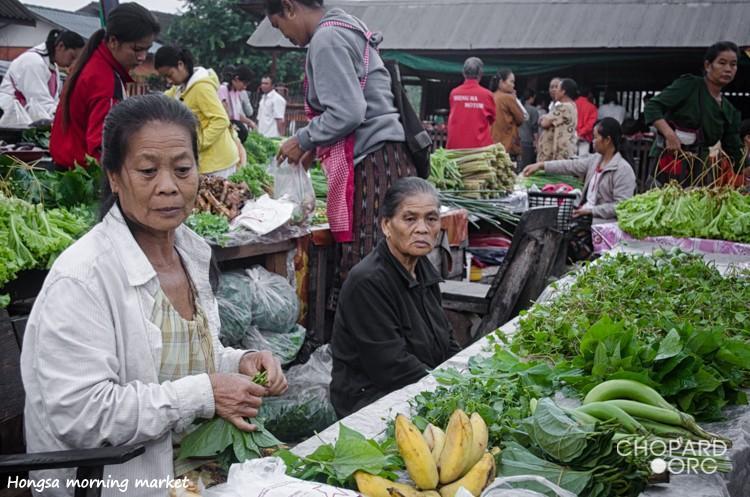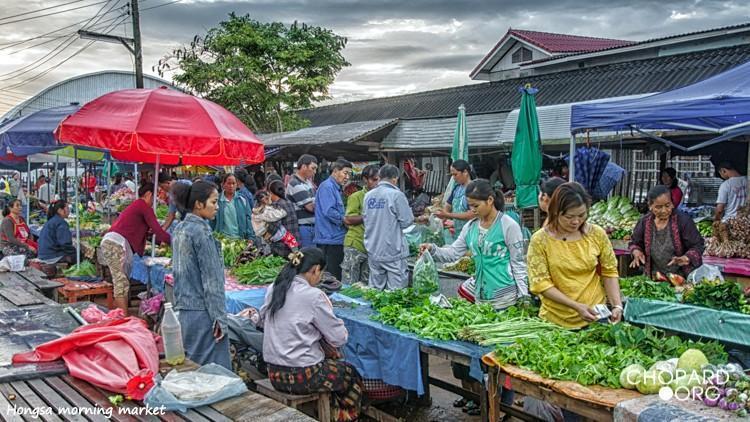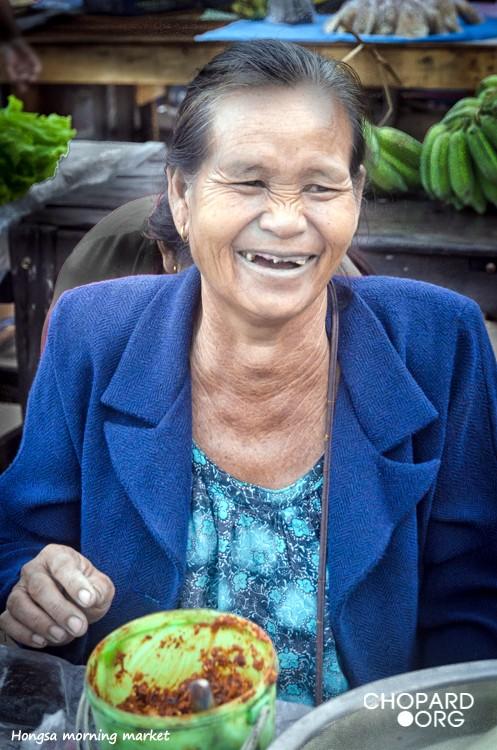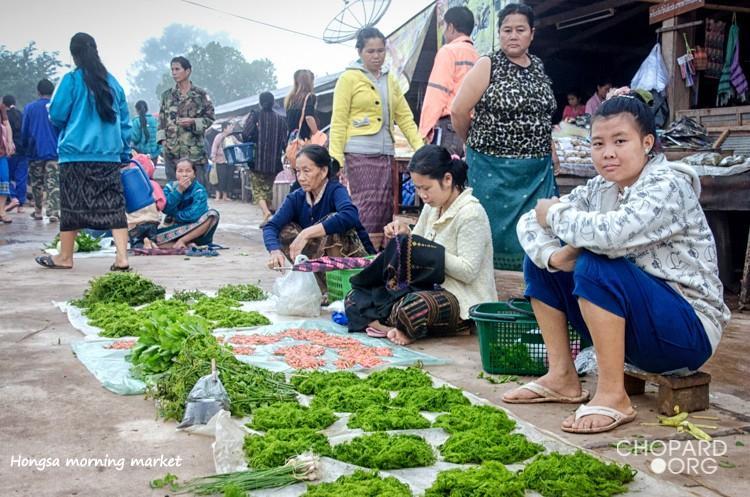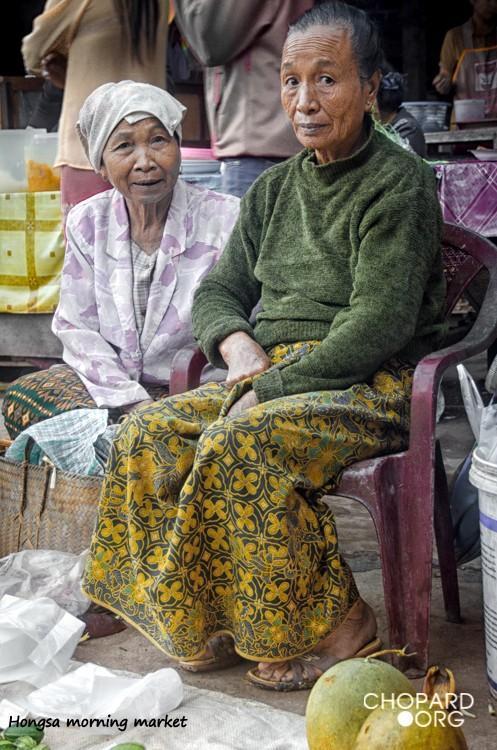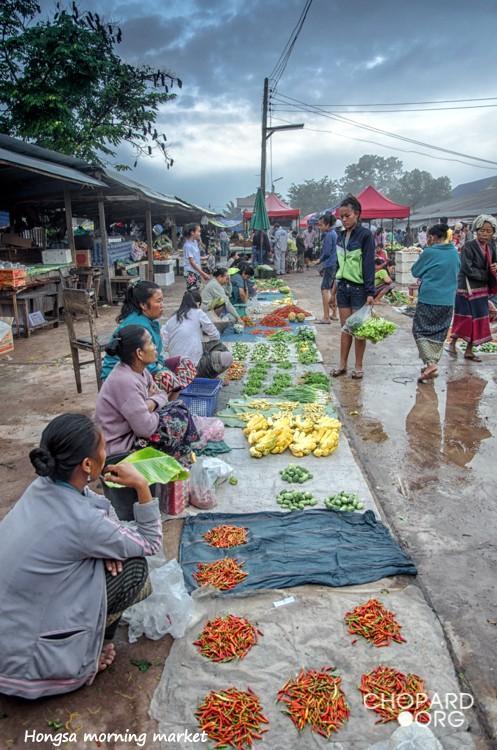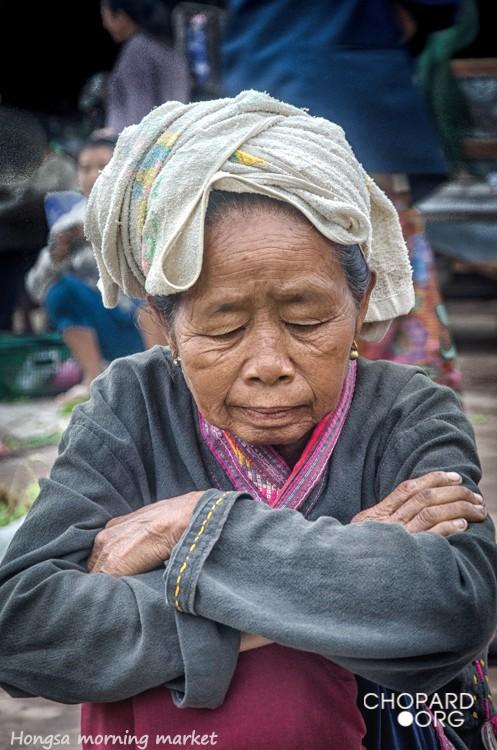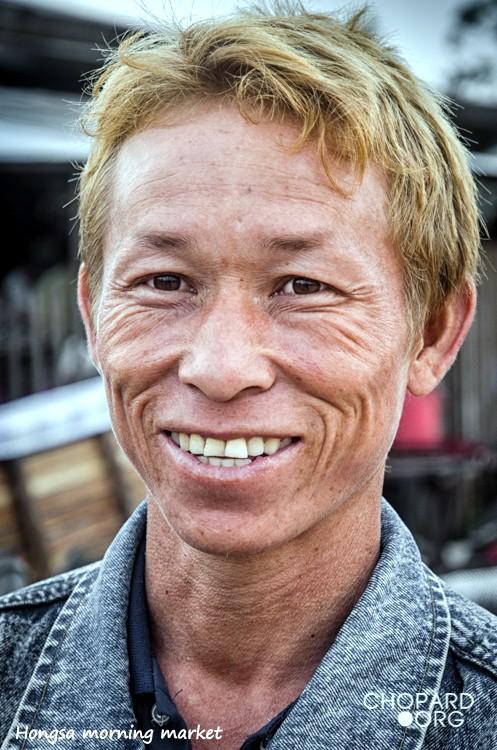 After a delicious breakfast, I bid farewell to Monica and to Jumbo guesthouse. My immediate aim was to cross the Thai border and I took Route 4A again, toward the North.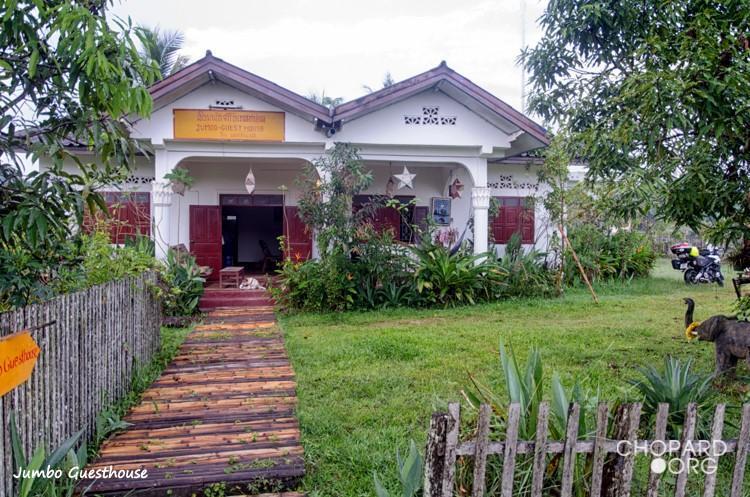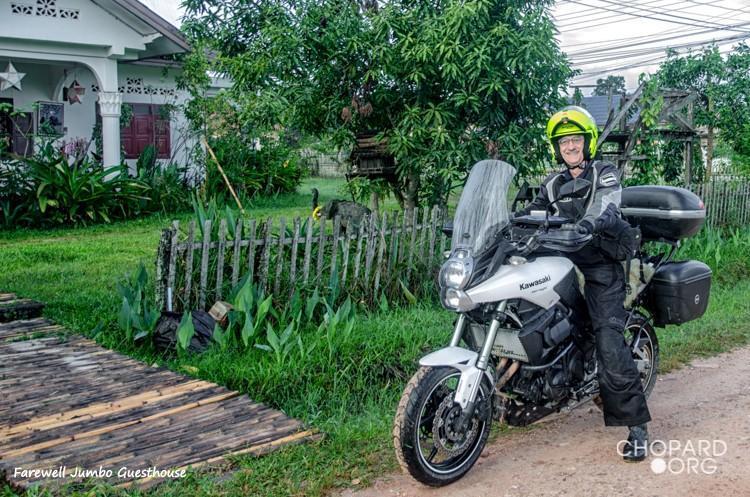 Along the road I spotted a large industrial state, contrasting with the small shacks punctuating the landscape. It is the Hongsa lignite-fired power plant's construction site. Once completed, it will be Lao's largest electricity producer, taking advantage of the region's brown coal availability.
This large endeavor also generates environmental concerns, as opponents point toward population displacements, air pollution from lignite combustion, water consumption and deforestation.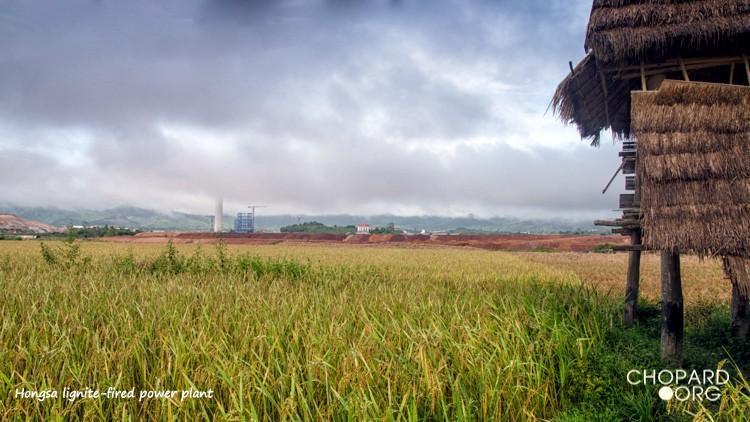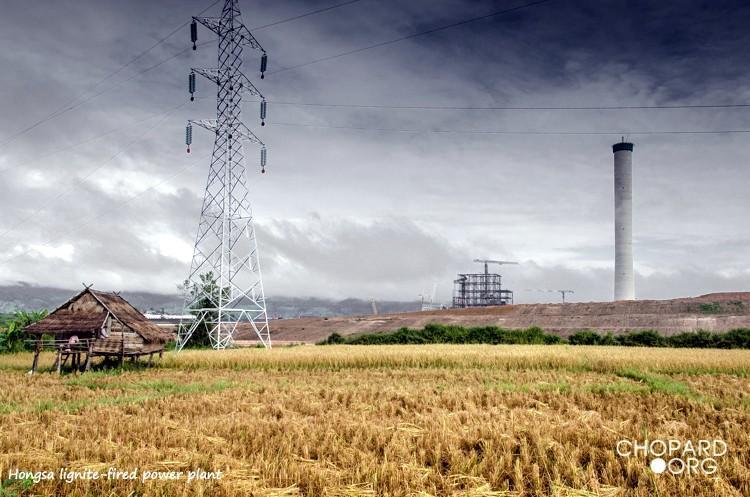 Meeting the Mekong again and spending the night along its rim was my most enticing ambition. Uncertain weather conditions might, however, no play well with this project. In any case, I preferred to rush through my itinerary (the road is in 'racetrack' condition), without stopping. I had already visited Muang Ngeun's neighborhood at various occasions, and crossing the Laos-Thai border was uneventful.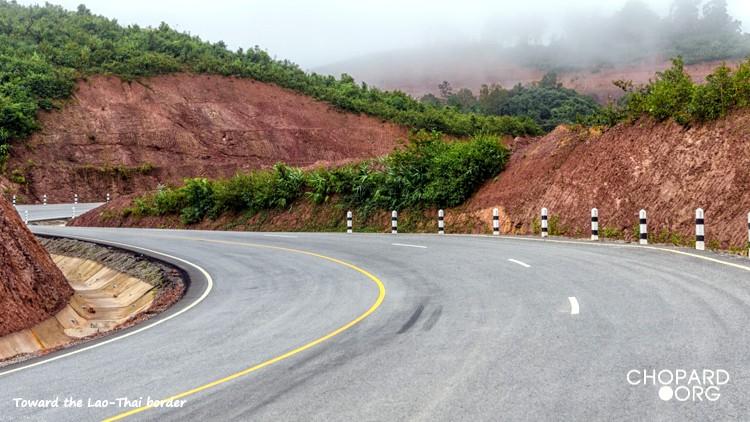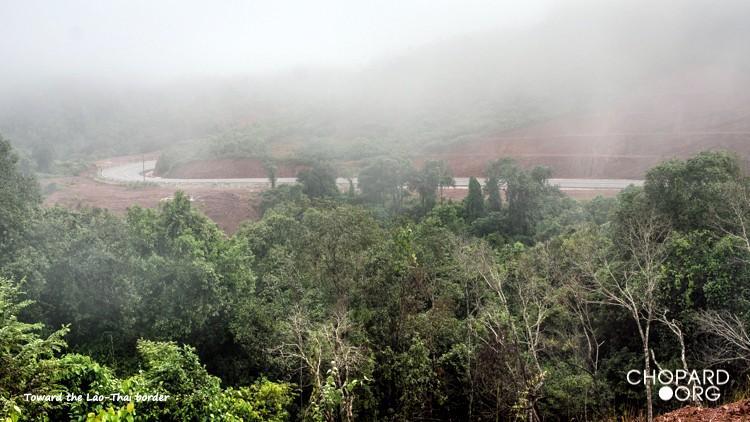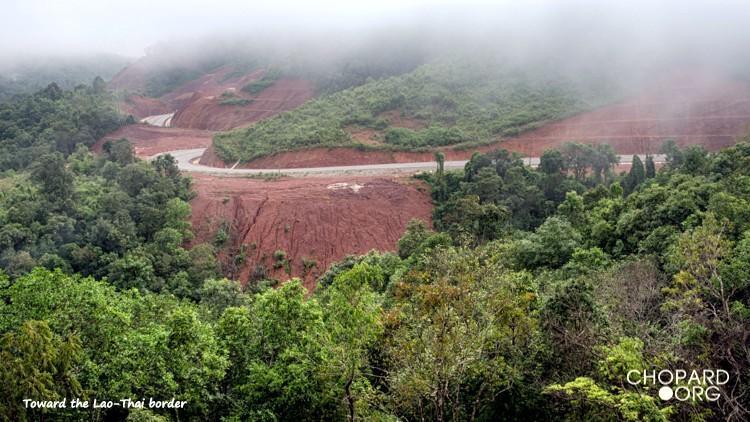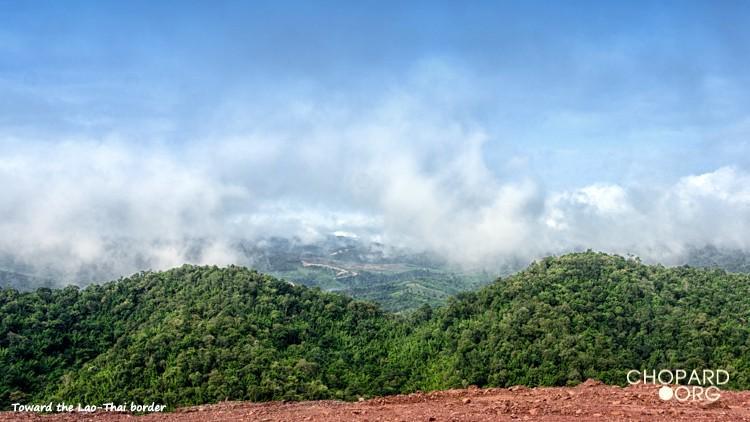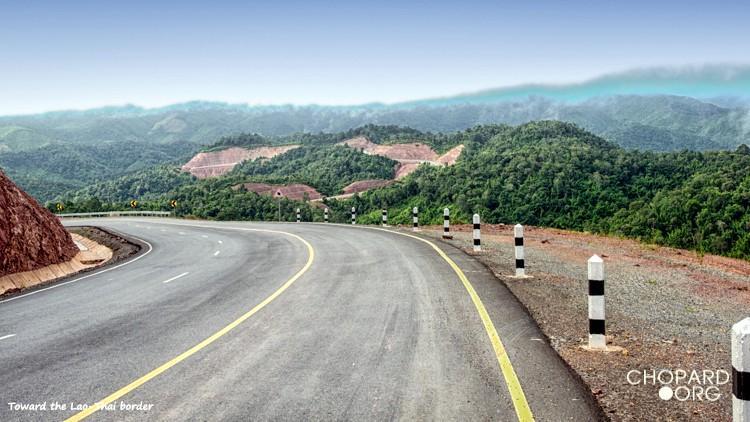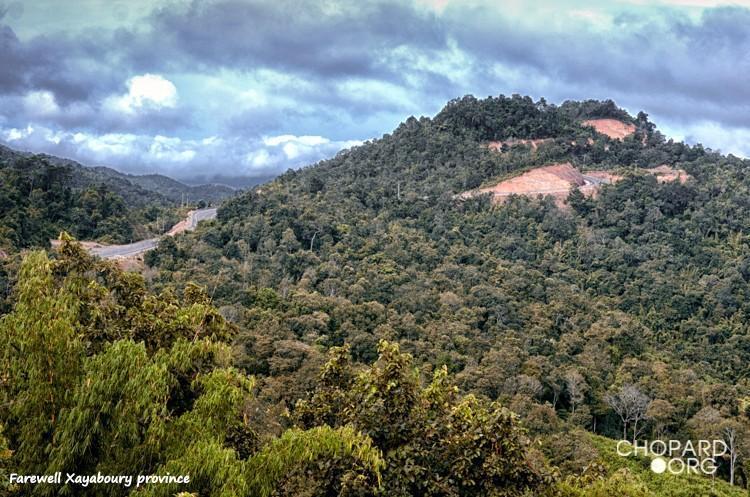 My arrival in Thailand has not yet marked an end to my "Mekong ballade", I will still drive up to the Golden Triangle, and, later on, cruise the Big River, down again to Luang Prabang.
This track map shows my itinerary from Xiang Ngeun (Route 13 intersection) to Muang Ngeun (Thailand border), crossing the Mekong, passing Xayaboury and Hongsa; it features mostly hills, with few large settlements.
Notes:
[1] Fourth part - In memoriam of some Mekong explorers (
https://www.gt-rider.com/thailand-m...e-part-4-In-memoriam-of-some-Mekong-explorers
)
[2]
https://www.gt-rider.com/thailand-m...Ngern-Luang-Prabang-road-soon-to-be-completed
http://www.vientianetimes.org.la/FreeContent/FreeConten_Luang Prabang-Xayaboury.htm
http://www.vientianetimes.org.la/FreeContent/FreeConten_New Mekong.htm
[3]
Sainyabuli Province - Wikipedia, the free encyclopedia
[4]
Xayaburi Dam - Wikipedia, the free encyclopedia
WWF In A Tizzy Over Laos Decision To Construct Xayaburi Dam
[5]
Siam, Cambodia, and Laos 1800-1950 by Sanderson Beck
Military history of Laos - Wikipedia, the free encyclopedia
[6] Another Quiet American
Brett Dakin , Asia Books, Bangkok, 2003
[7] Hongsa lignite coal-fired power plant.
Alstom supplies Hongsa coal-fired power plant in Thailand
Hongsa power station - SourceWatch
http://www.vientianetimes.org.la/FreeContent/FreeConten_Hongsa folk.htm
http://www.rfa.org/english/news/laos/hongsa-05072013175450.html
[8]
http://dawn.com/news/1046935/laos-to-upgrade-xayaboury-airport
[9]Monica Domeij-Gaul:
http://www.lotuselephant.com/Jumbo_Guesthouse,_Hongsa,_Lao_P.D.R./GUESTHOUSE.html
[10] Lao names transliteration are never straightforward, particularly with the French X/S writing influence. The worst case is probably Xayaboury (I use the GT-Rider map spelling) with spellings as different as: Sainyabuli, Sayabouli, Sayabouly, Sayaboury, Xaignabouli, Xaignabouri, Xayaburi, Xayaboury
[11]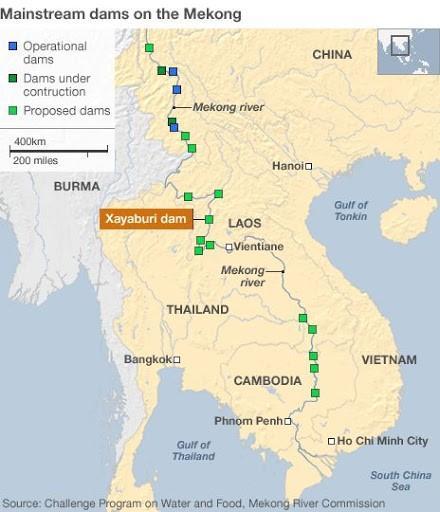 Last edited by a moderator: