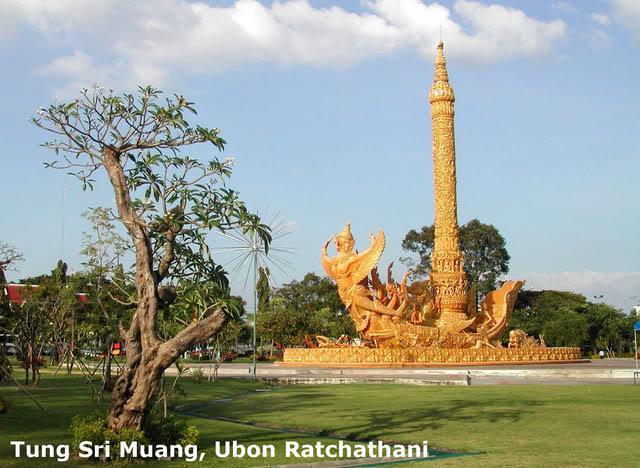 Ubon's main claim to fame is the annual candle festival held in July, and there is a pretty impressive sculpture in Tung Sri Muang Park in the city centre depicting a huge candle unveiled for the King's birthday in 2000. I also found a nearby Aussie bar called Wrong Way Café on Phadang Road which served up some pretty reasonable food. Because I had been here fairly recently, I didn't explore much further, and I was beginning to contemplate if I should give my next planned destination, Amnat Charoen, a miss as I felt it would probably be not too dissimilar to several of the places I had just come from, but without the Mekong. I would decide in the morning.
Mileage: Mukdahan – Ubon Ratchathani: 300km
Friday 7th December 2007: Ubon Ratchathani – Sakhon Nakhon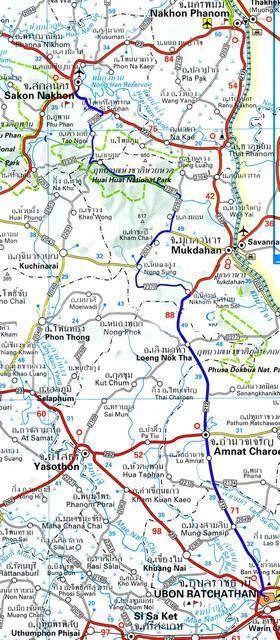 I decided to head up to Sakhon Nakhon, but to pass through Amnat Charoen as a kind of vindication that I would doubtless find another identikit provincial town with not a lot to write home about. The 212 from Ubon was one of the straightest roads I had ever ridden—the only bends coming on sections of contraflows. So, it didn't take long to cover the 70 or so km to Amnat Charoen, which, to my slight disappointment seemed a very nice place indeed—very well kept, unlike a lot of shabby towns you come across when passing through the various provinces.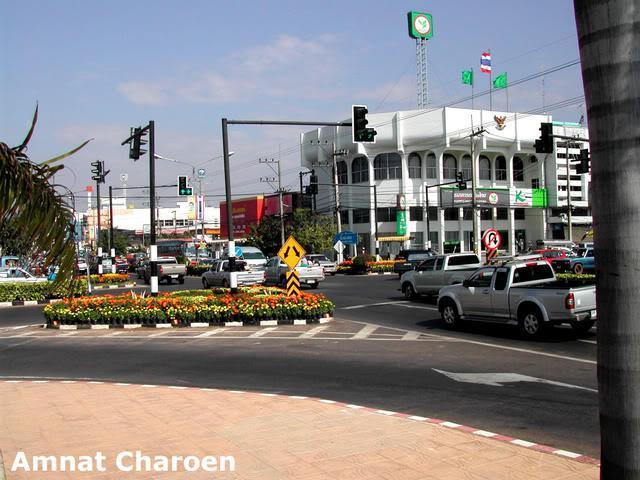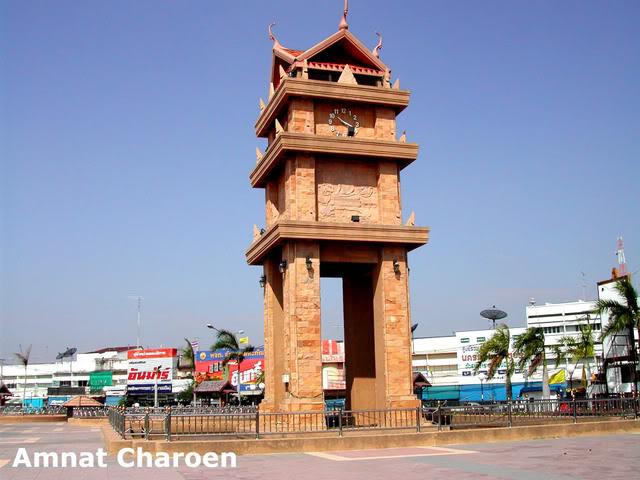 I pulled up at some kind of town square, and I was shortly aware of the nearby presence of a local on a Honda Wave that was obviously playing up as, try as he might, it wouldn't fire up. I offered to give him a push, which he politely declined, and as some kind of justification he pulled out his wallet and revealed a police identification card. I still can't quite work out the point he was making, but I, in turn, politely smiled and headed off. There were plenty of roadworks on the stretch of the 212 between Amnat Charoen and Mukdahan, which slowed my progress somewhat. I didn't really want to go back through Mukdahan, and I was keen to get off the main road, so I took the 2370 at Nikhom Kham Soi to Nong Sung where I picked up the 2042 for a 15km stretch before turning left on to the 2287 which, according to my map, would take me through the Huai Huat National Park where the roads surely must be more fun. And, indeed they were.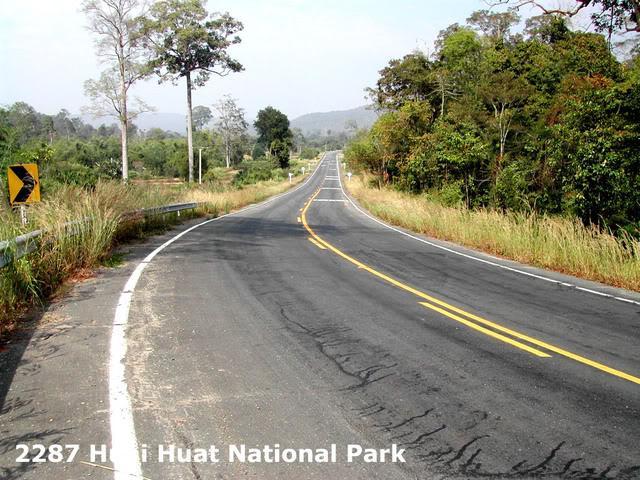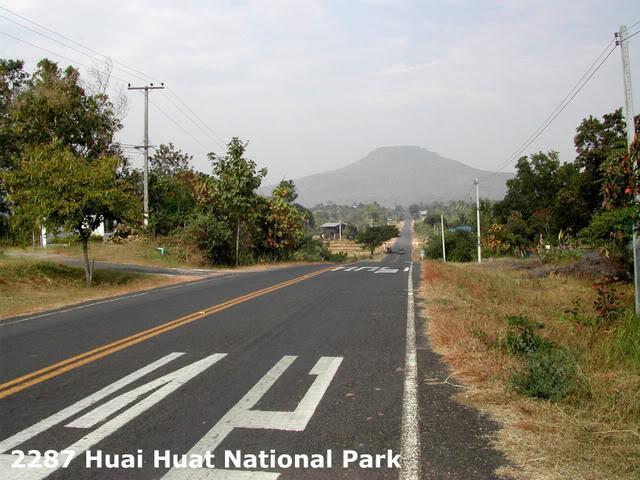 About 30km of good bends and hills before joining the 2358, which subsequently joined the main 223 to Sakhon Nakhon.It was about 1.30pm by the time I landed, and stopping to consult my map, I stumbled across an apartment complex that let rooms on a daily basis—the L.P Mansion.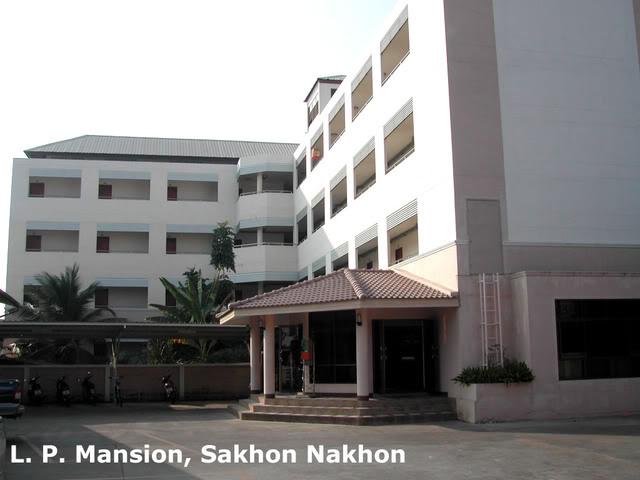 Quite a result—320 baht for a big a/c room just off the main drag (not far from the prison), with good covered parking for bikes. I thought Sakhon Nakhon had a bit about it with a lively market and a few more shops than you would find in other similar sized cities. I made my way on foot a couple of kilometers back along the route I came in to have a look at the Phra Ajarn Mun museum, he being one of Thailand's most famous and venerated monks. It housed his worldly possessions, which, as you can imagine, didn't require too much shelf space. Something a bit different, though.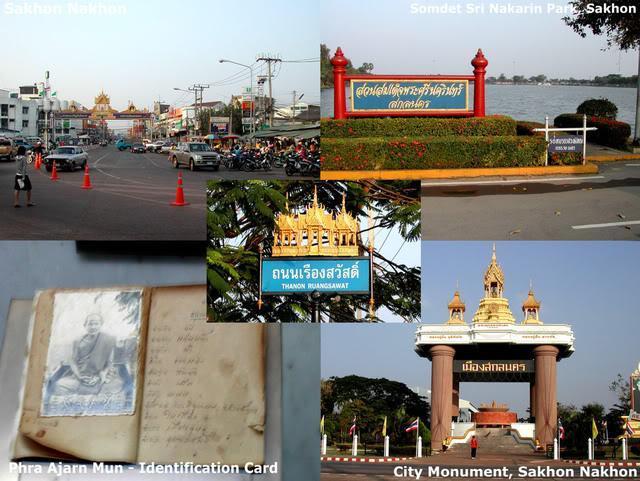 I didn't really expect to find any bars or restaurants catering to westerners in these parts, so I didn't look too hard. Needless to say, I didn't find any, but the Big C complex came to the rescue in the shape of the Pizza Company, which fairly hit the mark after a reasonable day's ride. I was seriously considering cutting the trip short by a day to have a free day back home by heading to Roi Et next for a night and from there back to Bangkok. However, studying the map a little later, Udon Thani jumped out at me. I had not planned to go there at any point, but as the Lonely Planet didn't rate the place, I thought that might be justification enough to take a look. Again, I would decide in the morning.
Mileage: Ubon Ratchathani – Sakhon Nakhon: 315km
Saturday 8th December 2007: Sakhon Nakhon – Udon Thani

With renewed energy, I decided to head across to Udon Thani and set off along the 22 at around 8.30am.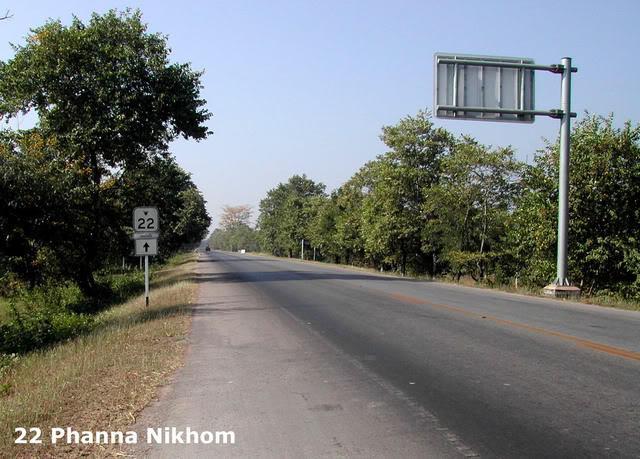 Again, the road was nothing remarkable, and there was a fair bit of road widening going on, nothing that required any contra-flow, but it didn't help. The first town of any size was Sawang Daeng Din, about midway between my departure point and destination. I had a close call passing through the town when I was stuck behind a pick-up, that, I could tell by the driver's behavior, was going to make some kind of maneuver, but I couldn't quite work out what it was going to be. He was going far too slow on a stretch of clear road—was he going to turn right or left, or just go straight on? Finally, he indicated left, so, a little impatiently, I checked behind, dropped a gear and moved out to the right to pass him. I accelerated hard and was about to shift up when two schoolgirls on a Honda Wave, who were in front and to the left of the pick-up, decided they would make the right turn they had obviously been waiting to execute while the dithering driver made his mind up. I had seen them while I was behind the pick-up, but I didn't register the potential hazard; my lack of concentration exacerbated by the frustration caused by the pick-up driver. They cut right across my path and I jammed on the front brake missing them by not very much at all. I was a bit annoyed with them and with myself for not reading the situation correctly. Still, a lesson learned and no harm done, all in a day's riding. I took it a bit easier for the next 10 - 20km and found myself contemplating Thai driving skills. We have all encountered the situation where you are faced with a driver travelling in the opposite direction who believes that pulling out in your path is perfectly acceptable because he is flashing his headlights. You are then forced into the hard shoulder where who knows what you might meet also coming in the opposite direction. I think we all accept this is the way things are done and you have to anticipate and deal with it. That said, my biggest bugbear by far is where the car, lorry, whatever, pulls out of the side road, forcing you into evasive action when the road behind you is completely clear—they just cannot wait. I had no map of Udon Thani, so I trusted a bit to luck and instinct, but I could tell this was a decent-sized city. After a quick recce, I checked into the Ton Koon Hotel, centrally located and not far from lake Nong Prachak—700 baht for a room that would have cost 1,700 in Bangkok. The friendly staff gave me a handful of guides when I asked for a map. I was quite surprised to find one obviously catering for the apparent fair-sized expat community here with a lot of Brit/Aussie bars and restaurants advertised.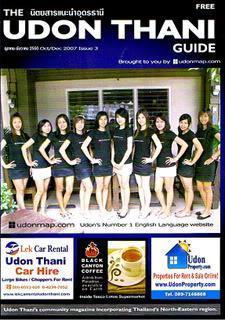 Should be ok for some decent food later on, I thought. I discovered that most of these bars were concentrated in a small area down towards the train station. They were all fairly small places with a handful of customers, not at all dissimilar to watering holes in Pattaya or Phuket, but there were only a handful of them and activity was fairly low-key.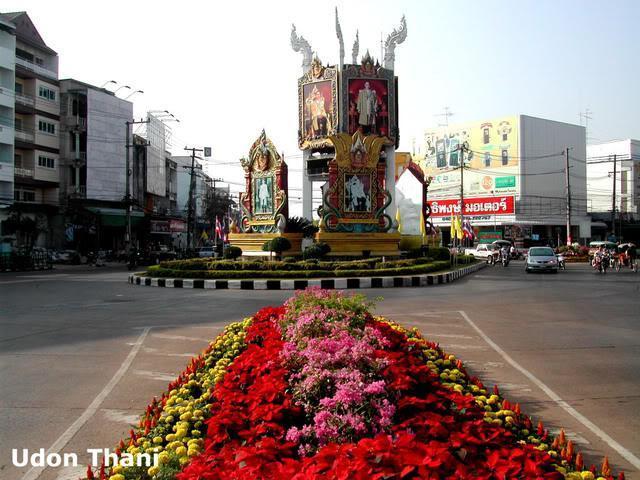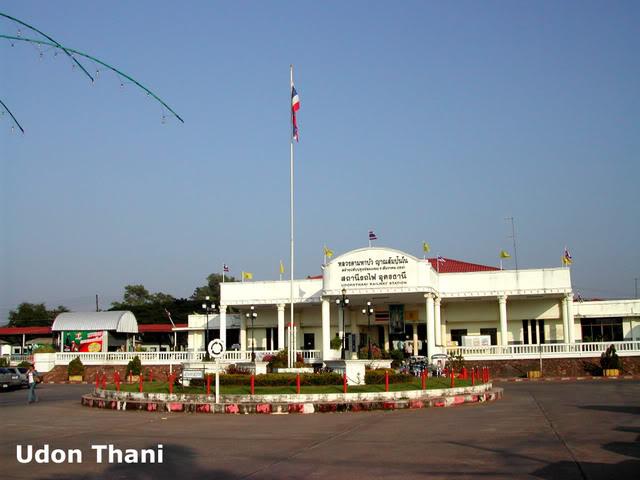 There was some kind of festival going on in a big field called Thungsi Muang, which is also home to the City Pillar Shrine. It was absolutely heaving with food stalls and market stalls selling anything you can think of and, of course, the obligatory huge PA system. This was some major event, but I couldn't work out exactly what it was in aid of. I was very impressed with Udon Thani and really glad I made the effort to come and have a look. So much for the Lonely Planet's description of a 'town looking for an identity'. Say no more.
Mileage: Sakhon Nakhon – Udon Thani: 165km
Sunday 9th December 2007: Udon Thani – Roi Et
100km straight down the 2 towards Khon Kaen followed by a left on the 2039 towards Kranuan. The 2110 then towards Yang Talat, quieter roads, but following the general Isaan characteristics of functional rather than recreational; for roads to be enjoyed, Northern Thailand wins hands down, no doubt. Briefly onto the 213 and then a right onto the 2116 to link up with the 214 all the way into Roi Et. A fact that had not occurred to me until consulting the guide book that shall not be mentioned, is that the name translates as 'one hundred and one'—something to do with an ancient conflict between Thai and Lao armies, apparently. I had been expecting quite good things of this place, and it had remained on my itinerary throughout all the various route changes. However, arriving early on a hot Sunday afternoon, I was greeted by lot of shuttered shops, a few stray dogs and not much in the way of activity. The town was a fair bit smaller than I had envisaged as well, but it was quite well laid out around a central lake, Beung Phlan Chai, and within the boundary of a moat. There was a fairly sparse hotel selection, and, after about half an hour, I found myself back at the first place I had looked at, the Phetcharat Garden Hotel, just outside the moat to the north-east—580 baht.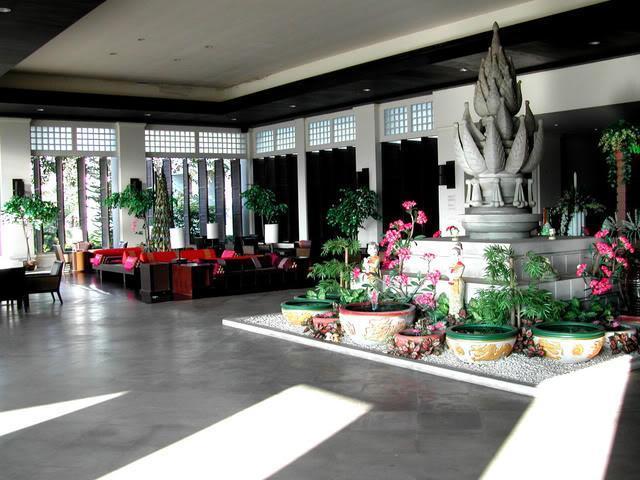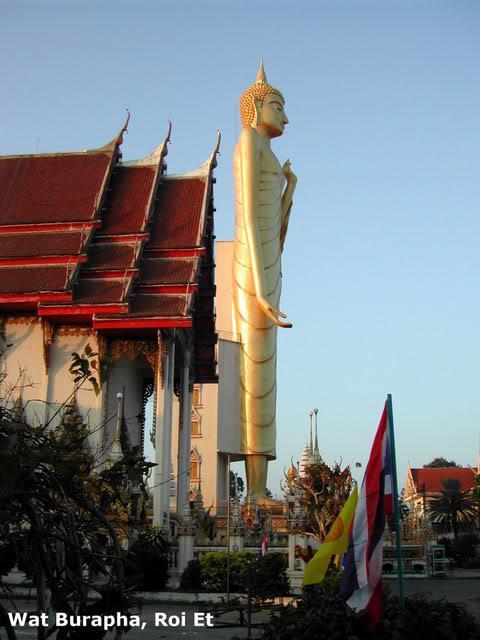 One of the sights of Roi Et can't be missed: a 68-metre high Buddha at Wat Burapha; an easy way to get your bearings and quite something to see close up. There were hardly any visitors, tourists or Thais, and a helpful young monk was happy to show me around. In the late afternoon it seemed like people were starting to wake up and the lake became the focal point for joggers, aerobic dancing females and people with not much in general to do.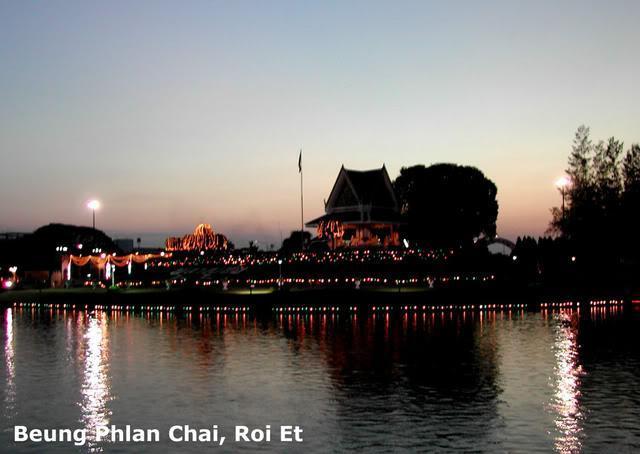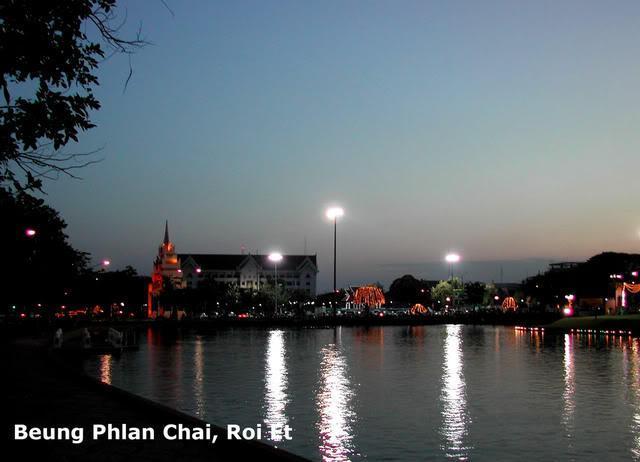 Not a great deal on offer in the way of western food, but I found a French/Thai place (at about '9.30' relative to the lake) with more than passable food at very palatable prices. Aside from Udon Thani, I think Roi Et just about summed up all the places I had visited over the course of the past week in Isaan: no stress, laid back and worth a visit, but not a return visit too quickly.
Mileage: Udon Thani – Roi Et: 236km
Monday 10th December 2007: Roi Et – Bangkok
The final stretch. I decided to set off first thing to arrive in Bangkok by early afternoon and was greeted by a beautiful sunrise at 6.30am.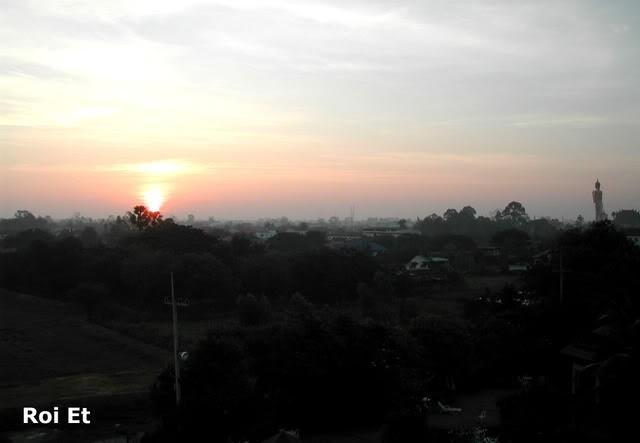 I went down for some breakfast to set me up and found the restaurant almost full. A big group of Thais all in yellow polo shirts had taken over, so I got some coffee and toast and tried to seek refuge in as quite a corner as I could find.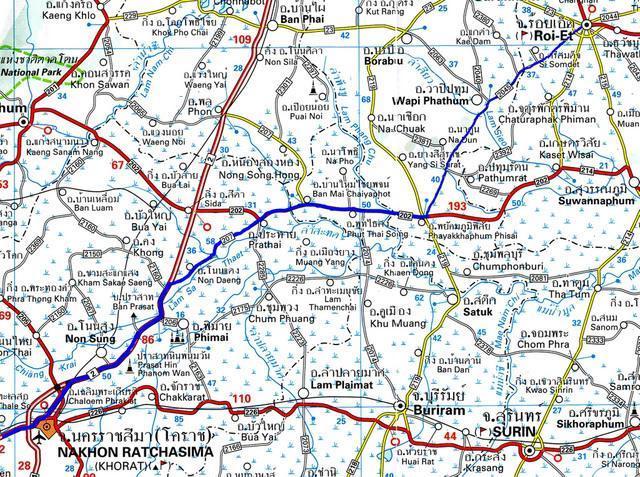 I found the 2045 without any problem (Roi Et is not easy to get lost in) and was soon beginning to make haste on the clear road. A little too much haste as it happened, because when I found a straight downhill stretch and wound the bike up towards 140kmh and 10,000rpm, there was a distinct change of tone from the engine combined with a slight loss in power. Immediately, I sat upright and eased off, which seemed to return the engine to its normal rasp. I pressed on for another 5 km until I came to a junction at the town of Wapi Phathum, where, rather worryingly, the idling engine sounding distinctly ill, but, it was still working. However, it was fairly evident that something was quite wrong. I was pondering the best course of action when my mind was made up on sighting a Honda dealer. I pulled in to what appeared a busy day at the garage, but it clearly doubled as some kind of local rice exchange with farmers' pickups queuing up laden with sacks of rice.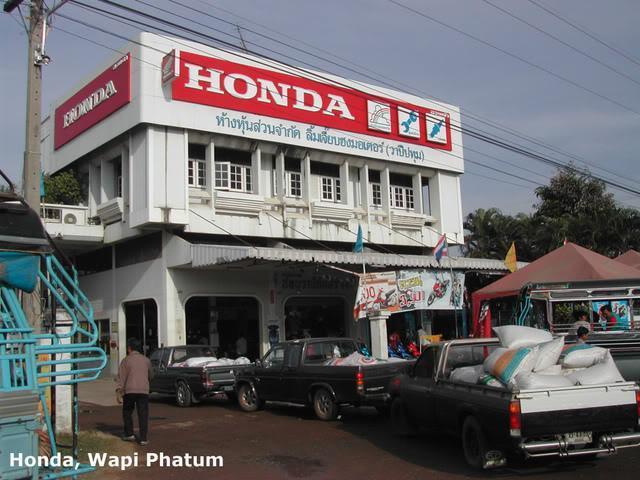 Anyway, I did my best to explain to one of the mechanics the nature of my plight and once he had finished wheeling out the display Waves and Dreams, my bike was on the ramp.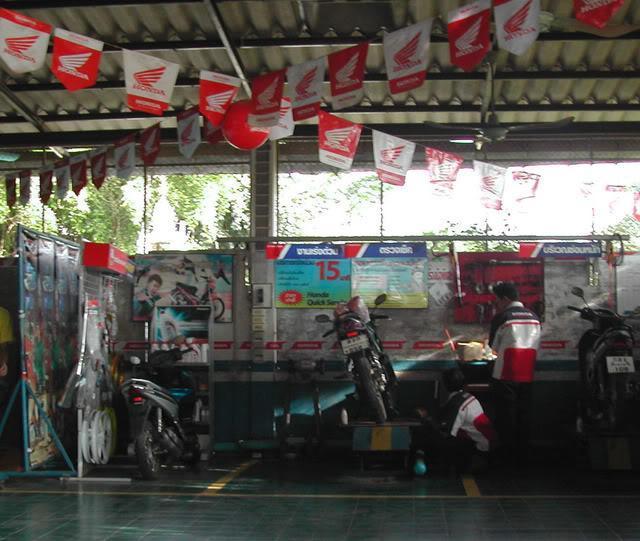 My mind was racing with possible outcomes, mainly around a central theme of not riding the bike back to Bangkok. Hire one of the farmers and his pickup…rent a bike and come back to reclaim my invalid next weekend…get to the nearest train station…? Eventually, one of the lads working on the bike came across and rattled off the diagnosis, which didn't mean a great deal to me until I was taken back to the bike to see the trickle of black sludge in the drip tray that 30 minutes earlier had been bravely attempting to lubricate an engine spinning 166 times-a-second. This was not good. Once again, I sheepishly called my girlfriend to ensure I had the full story about the health of the engine. And the news was better than could have been expected. With an oil change, I should be able to nurse it back to Bangkok, but it would be noisy, or so I was told. That was good enough for me. A quick refuel at the local petrol station (I wanted to stop as few times as possible), and I was under way at a sedate 90kmh and 6,500rpm. Over the course of my week-long trip, I had been passing most other traffic; now everything was going by me. I was counting off the kilometers to each town until Korat, which was about 175km away. Via the 202, 207 and back on the 2, I was in Korat about two-and-a-half hours later. One advantage of having to ride at these reduced speeds was fuel consumption went down by about 75%. I topped up again and carried on along the 2. The longer I went on, the more optimistic I became. I decided against cutting through Khao Yai as not only was it further, it would have meant stressing the engine climbing the hills, but I had been really looking forward to enjoying the bends. There will be another day. Past Pak Chong, Muak Lek and then Saraburi where I joined the 1. About 90km from home now and some 350km on a sick engine already, surely I would make it. At Wang Noi I turned left onto the 352 and was feeling pretty good when the engine suddenly made a loud noise and stopped abruptly, locking the rear wheel up. I thought I was going down, but luckily I had only been doing about 60kmh, so I came to a halt still upright in a fairly short space of time. The gearbox disengaged without a problem, so I was able to wheel the bike along, but there was nothing around, so I really didn't know what I was going to do. A roadside noodle stall came into sight, and there was a pickup parked alongside. This looked promising. But, the pickup promptly pulled away and the noodle seller quickly developed farangaphobia as I approached. She said there was a garage in walking (pushing) distance, and it was a far, far better idea to seek help there than to bother her. So, I shuffled off. I next came across a friendly chap selling water melons, who indicated some kind of enterprise about 30 metres further on. I moved onto what I found was a 'ba-yang' tyre yard.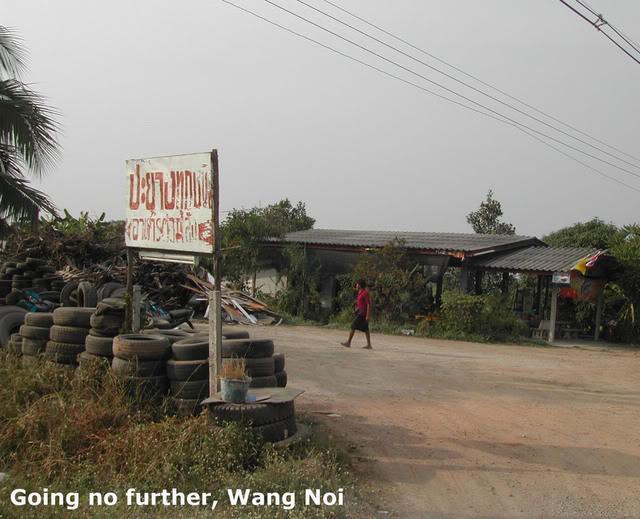 The proprietress, on seeing my plight, tried to be very helpful, I must say, but I didn't hold out much hope. Still, a nice cold drink quickly appeared, and she promptly disappeared in her car to I'm not sure where. When she returned, I found out she had been to see if a neighbor, who owned a suitable vehicle for recovery of motorcycles to Bangkok, was at home. He wasn't. I was about 60km from home, so I asked if it was alright to leave the bike here and recover it as soon as I could, with a view to obtaining some form of transport locally to the nearest taxi. No problem, and I was assured it would even be locked in the shed overnight. The melon seller took me on the back of his Honda Wave to the nearest village where there were 2 or 3 Bangkok meter taxis parked up. He slowed up at the first one, but then moved on when he spotted the driver sharing a bottle of whisky with a drinking buddy at a nearby table. However, the next one came with a really helpful, sober driver, which I saw as quite a result. It turned out that the driver had two jobs, a coach driver in Rayong and a part-time Bangkok taxi driver. Today was his day off. I can't praise him highly enough as I have a very bad opinion of 99% of his colleagues. 500 baht all told (420 on the meter and a generous tip for the tolls on the return trip). He even left his phone number in case I should need directions when I came to recover the bike. A diamond geyser, for sure. I was indoors at 5pm, fairly shattered.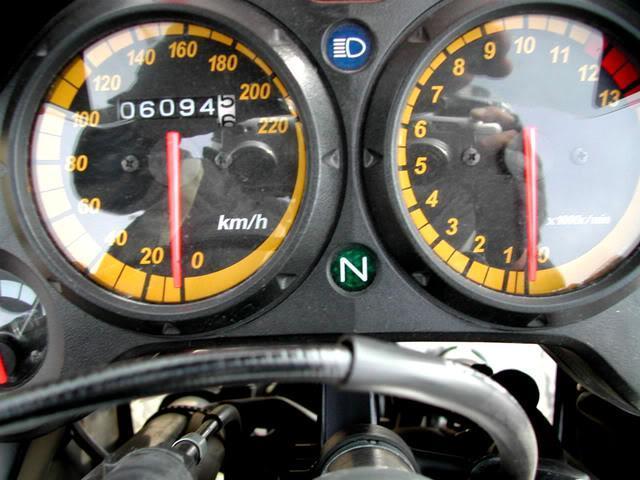 Mileage: Roi Et – Wang Noi: 444km
Total: 2875 km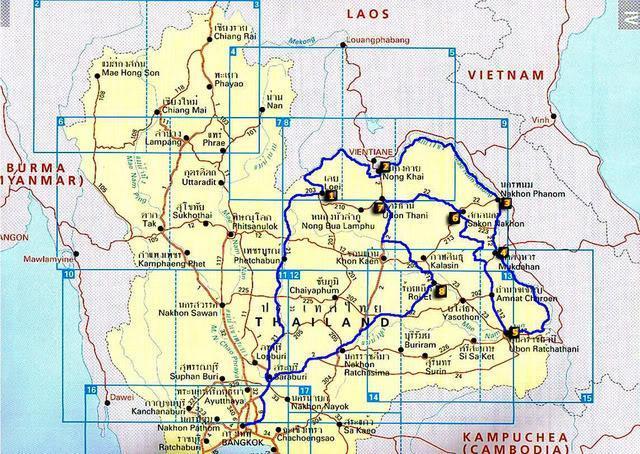 So, an eventful trip all in all. I've certainly learnt a few things, which is what it is all about, I suppose. One thing I now know is that I should check the oil each day, no matter how recently it was changed. Isaan is not really made for motorcycling, that is best left to the North, but it has its own character and is worth taking the time to explore. I will return at some point to these outposts, but I have yet to visit the South, which I should do before the rain comes.