Good Fun!
Yamaha R1, Triumph Tiger, Ducati Monster, Kawasaki Ninja 650R and Kawasaki ER6n.
Rendezvous at the Petronas on Ramkamhaeng-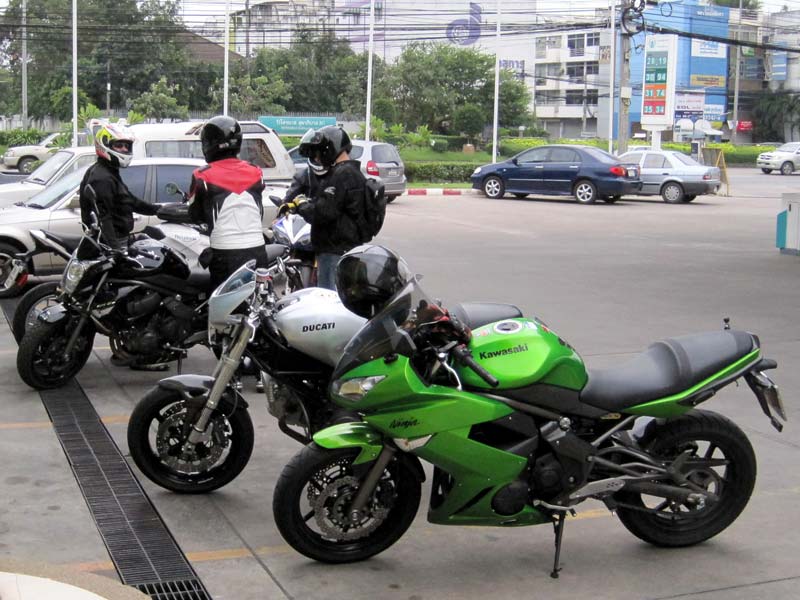 Gas stop just before the south entrance to Khao Yai National Park-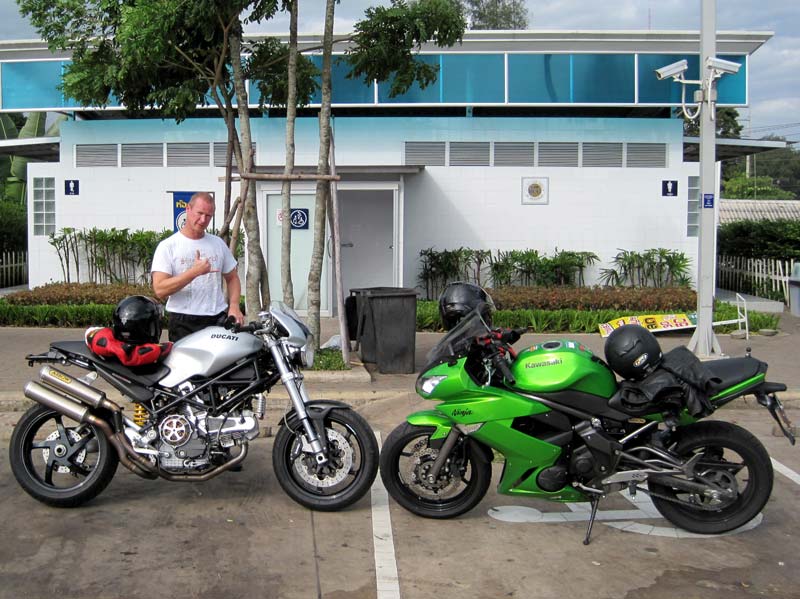 Crazy windstorm blew down tons of trees in the park blocking the road and closing the park, so we headed east on the 33 and north on the 304 to Wang Nam Kiao. As we climbed the mountain the winds dies down and the temperature dropped dramatically. Up at the top there were many Thais dressed in full winter gear!
The road from Wang Nam Kiao to the north gate of Khao Yai National Park never fails to put a big smile on my face.
Stopped at the reservoir to let a couple of laggards catch up-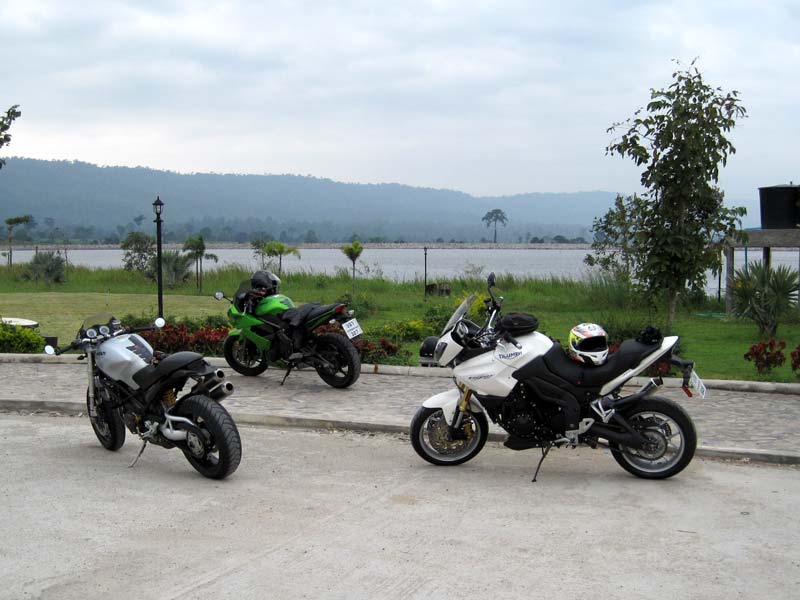 Hmmm... they are taking their time... I'm starting to get a bit concerned... Ah! Here they are! Uh oh- :-X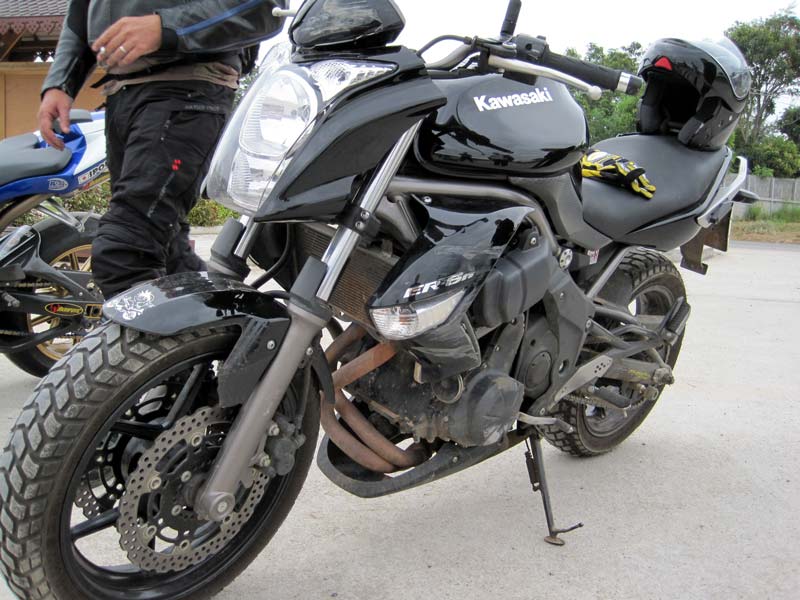 Oh dear, my beloved ER6n is not looking so happy...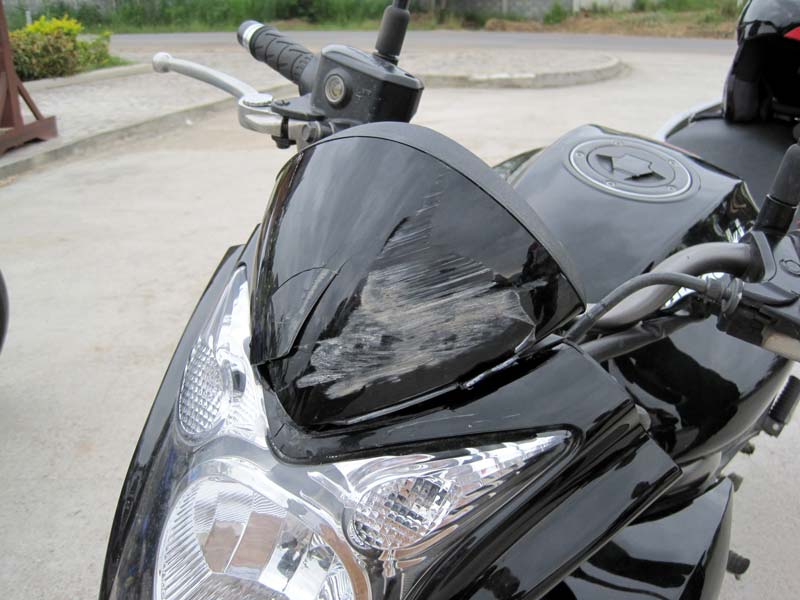 Well, good thing she's not mine anymore! Fortunately the damage is all cosmetic and the new owner will get her patched up at Kawasaki today. I'm guessing it will only set him back a few thousand Baht.
Reached the Thanarat Road (2090) at the North Gate of Khao Yai National Park a little after noon and we were all quite hungry. Had a great meal at a nice road side restaurant- bill for 5 hungry bikers came to a little over 500 Baht!
The National Park was now open so we decided to check it out. Wow- what a mess!!!
Normally it take about 45 minutes to drive through the park. Yesterday it took well over an hour on account of all of the trees that had been blown down and the litter on the road. Pretty impressed how quickly they were able to re-open the road.
Some of the trees were HUGE! and many were still blocking the road forcing us to go around on the soft shoulder which was 'interesting'
I should have taken more pictures, but we wanted to get back to Bangkok before dark! Here's a good one-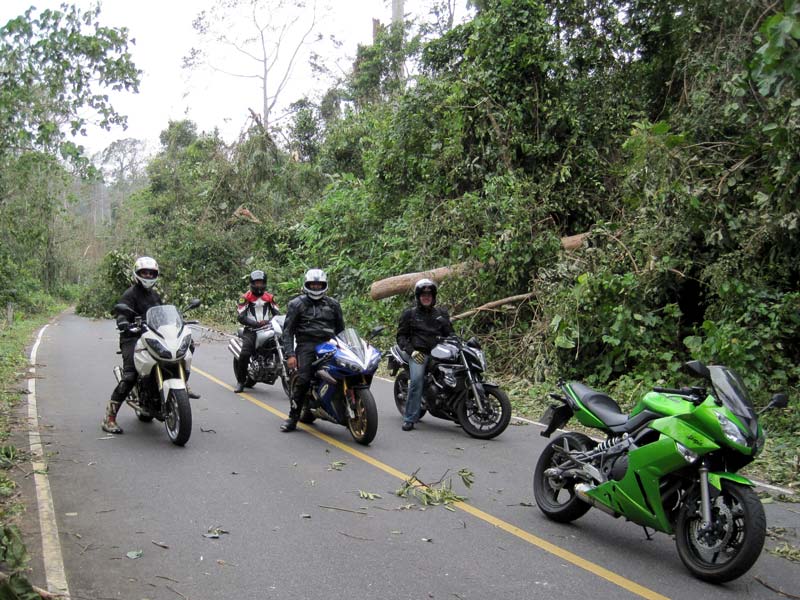 Despite Dr. G assuring us that there was only a 10% chance of rain yesterday it began to mist in the park which then turned into a steady rain as we were heading back into Bangkok. Rather miserable as none of us were prepared for it, but fortunately we all made it back in one piece!
Looking forward to the Bangsaen Bike Rally this weekend!
http://www.bangsaenbikeweek.com/
Hope to see many of you there!
Happy Trails!
Tony