A few weeks ago i sold the KLX250 and got something with hummm well a lot more grunt! a Yamaha WR400f its basically a race enduro bike road legal i said there was no comparision between the KLX250 well there is and i will get to that shortly.
The speedo sh.t its self not that it was up to much anyway so i went and got a Vector Trail Tech All Purpose Speedometer for it.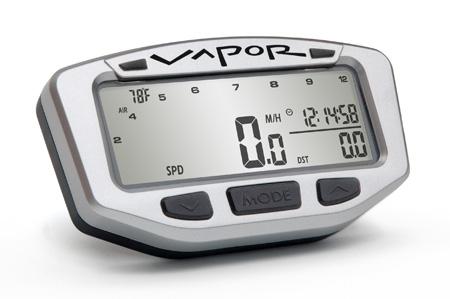 Any ways it was easy to fit and works well with it i got temperature sensor that that fits in to the radiator hose that i have not put in as yet it can be set to whatever temperture before you get a warning, I have looked and looked found all sorts of fixes for over heating but can not seem to find a reference to what is considered to hot for radiator coolant in bikes? I know different bikes run hotter or cooler but any you guys have an idea as to what i could enter as danger point?
Now the comparision between the KLX and the WR400F i would have to say the KLX is a lot easier to ride runs smoother and a lot better stopping and starting in traffic and at lights. The WR400 has a race pumper carburetor which is standard ( pumper) i start it with fule off and give it no throttle as thats what the pumper dos and if i can not kick it in to life in the first of 3 kicks with fule on it floods and pours out the overflow i have it worked out now and most times 2 kicks will start it but you have to be dead top and really kick it.... So i do miss the electric start of the KLX.
The WR400 with the pumper carburetor seems to do it job best when you are giving the bike a fist full of throttle and tends to load to much fule when you are riding at traffic speed 60km in town and then getting stuck at lights one after the other dos not help it still runs okay but you can tell if loading up and as i said is most happy when you just open it its not hard to have the front wheel coming up in 3 gear at 60+km in traffic or 1 or 2 gear for that mater so you have to watch it, But after saying all that riding the WR400 is a rush