Since the last entry of my travels in North Thailand, things have moved at a very slow pace. I rode up to the LAOS border with Simon and Suzy
pic below: Tom (L), Simon (C), Suzy (R)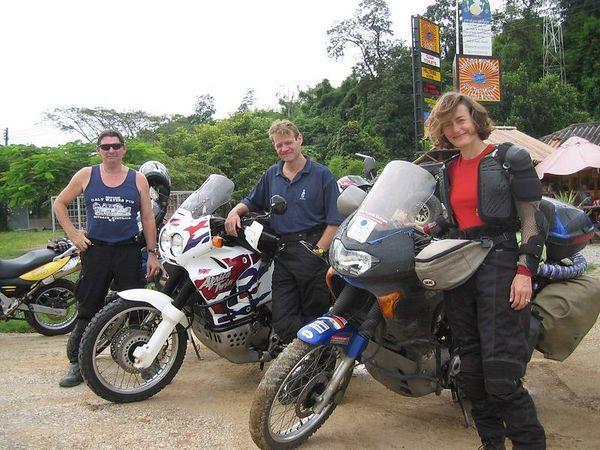 the English couple who I had mentioned earlier (the only people to travel across Burma by motorcycle since the military Junta took over), that was last week, so I have cooled my heels till now.
My lease is up on the apartment I have been in for a month, god that's gone quick.
The trouble with Thailand, it's just too easy and layback, before you know it, you are in a comfortable rut, so out I go.
I meet the intrepid duo of Dave1 and Dave2, who I have spoken of earlier, and this time they are accompanied by Robert (R1) and Joe(J2) as there is already a Joe who rides in Chiang Mai, both ride BMW GS1150's and both are Yanks, so D1 and I are really out numbered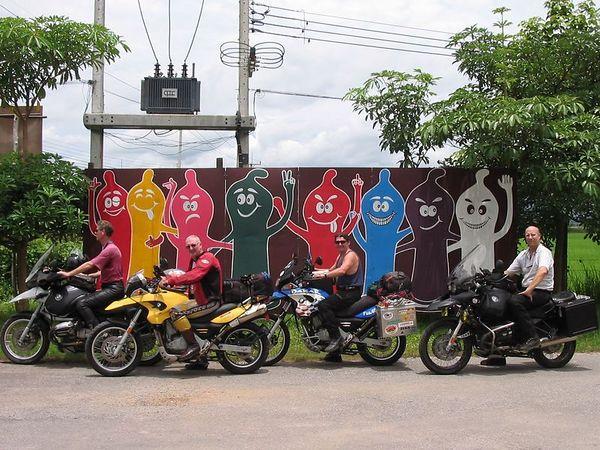 Although Doris is overloaded and underpowered in comparison with my riding companions, we were to take the main highway to Chiang Khong on the LAOS border, for a visa run and see me off on the vehicular ferry to Huay Xai, in LAOS an easy ride of about 350k's. Sounds simple, doesn't it, read on!
RI, who stands at around 6'6" and makes the GS look like a step thru, has just got his bike back together after a major smash, and was looking forward to a shake down ride, and because his bike was off the road for 6 months, it had over stayed its visa. J2 was also doing the ride for his visa responsibilities. About 60k out of Chiang Mai, J2 disappears from our rear view mirrors, we soon get a call on R1's mobile that he has a puncture.
Around we go and back track to find R1 and J2 in a Thai motorcycle shop, madly trying to fix the rear tyre on J2's GS apparently R1 had taken it for a ride during the week, got the puncture, and put a plug in it, obviously it hadn't taken, so with a few dry Aussy remarks and jokes D1, D2 and I left the 2 intrepid Americans and arranged to meet them further up the Highway at a well known eatery, famous for its bakery and fabulous views.
Now R1 has lived in North Thailand for a very long time, so everyone assumed that he new were the pie shop was, nope, as D1 and D2 slowed down to make a right turn into this particular establishment, R1 goes roaring by at a great rate of knots, just enjoying the ride. J2 and I turned up and immediately we all made ourselves comfortable and enjoyed the great coffee and cakes. A half hour went past, no sign of R1, in a typical Aussy way D1 sends him a text message, "help, flat tyre", R1 by now had realized he his missing his riding mates and back tracks, even further than the Pie Shop. Meanwhile we have decided to continue on our way, but not on to Chiang Khong as planned, but a small deviation to the Golden Triangle, Mae Sai to be exact, so J2 could expedite his visa, (remember he lost time with the flat tyre) and D1 took the opportunity to buy cheap DVD copies in Burma.
Now by this time we all expected to hear or see R1, so D1 sends him another text message, something on the lines of "were the f***k are you", the immediate reply was, "you f***kin Aussy's always f***k things up etc etc etc", bloody yanks, got no sense of humour.
Anyway, RI finally arrived at Mae Sae, after doing around an extra 200k's, it was too late to get a visa check, so it was decided to ride to Chiang Khong before night fall.
This stretch of road become the road from hell, it began raining immediately we left Mae Sai, the back road to Chiang Khong is a not all that good in the dry, but add road works, mud, cattle shit and pot holes, it is just plain dangerous on a bike. Everyone complained about front wheel wash out, so our level of concentration was at our highest, D1 nearly had a head on with a van he thought was going in the same direction, in fact it was overtaking another car coming toward him, R1 was nearly totaled when he went wide on a slippy corner and had to run into the grass verge to miss an on coming bus, D2 went down the biggest pot hole of the day and narrowly missed two dogs coupled in a moment of ecstasy.
By the time we all arrived at our guest house for the night, R1 was really shitty, now as we all know some Yanks are great targets for Aussy jokes at a time like this, and tonight was no exception.
After cleaning up we all went down to a little Mexican restaurant, run by a hippy Thai, he runs the place on his own time table, if he thinks there is enough people he simply shuts the place, and then tells all his customers that there will be a long wait for food, because he is tired or something, great food though, and followed by J1's 20 year old Canadian Whiskey the night was sure to hot up.
D1 knew of the local Disco, called Country Mamas or something, another typical bizarre Thai interpretation of a western Bar, it's run by a Transvestite or Katoy, who used to work for D1 in a former life, he or she is quite a bit of work with a great personality and the biggest boob job I have seen for a while, some of the boys back home would pay a lot of money for a girl/boy like that!
Not to be out done on the class of whiskey we were drinking, D1, D2 and I put in 100b each and bought a bottle of cheap scotch, no one new the difference after the first glass. R1 finally mellowed out and it was off to bed for any early start.
The next day R1 and J1 decided to leave for Mae Sai to sort out their visas etc, so the remaining 3 of us made our way down to the ferry landing to find out what time they left for LAOS, one o'clock and 3 o'clock we were told, giving us plenty of time to clear immigration and customs, as my bike was the only one going to LAOS.
On arrival at the ferry landing, we were promptly told by the head ferry person, a big Thai woman, commanding a lot of respect, that there was no vehicular ferry at 3 o'clock, so I had only one choice, wait till tomorrow, or take an open boat, the size of an Aussy surf boat across the swollen Mekong River, with Doris, my bike on board, for 500b.
By now D1 and D2 were in fits of laughter as they watched me and 4 Thai men lift Doris sideways into this tiny boat, we were up to our knees in water, but we finally got Doris on board, lashed down and safely with a young Thai guy sitting on Doris for stability.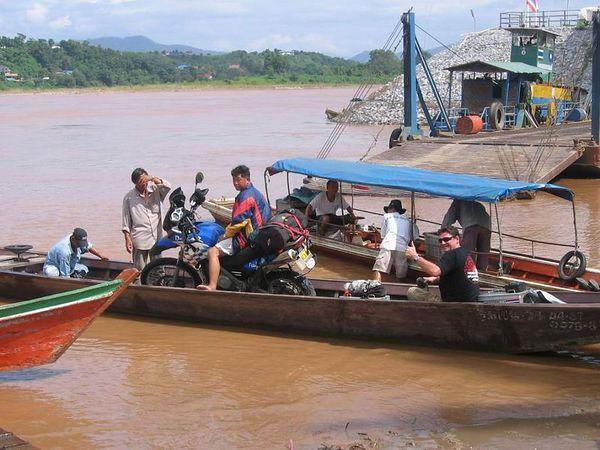 It was a surprisingly safe trip and Doris and I made it to LAOS in one peace.
After finally going through yet another customs post in the small town of Huay Xai, I made my way down to immigration to get my 15 day visa, D1 and D2 were already there, catching a small boat directly from Thailand, as we all filled out the necessary paperwork, the young LAO official, who spoke excellent English, chatted away to us, which at the time kept us amused until he asked us for the1500b visa fee, plus 50b for overtime, he gets that for working after 4.00pm, it was now 4 minutes past, the little bugger conned us into yapping with him until 4.00pm. Bloody commo's!
We booked into yet again a clean guest house, recommended by D1, had a good feed at a restaurant overlooking the Mekong and Thailand, and settled in to see what the morning will bring.
Because we didn't finalize our visa's till after 4.00pm the previous day, D1 went back to Immigration to pick up our passports, meanwhile I took Doris down to were the ferry's land to get here on the boat which we had previously negotiated to take her and I down river to PAK BENG, the price was a bit rich, but all the excuses from the skipper, basically held me to ransom if I want to leave today, as his was the only boat going big enough for Doris, the price was for the entire boat. A big surprise came when about 20 young LAO students turned up and joined me for the trip down to PAK BENG.
After leaving D1 and D2 yet again laughing their heads off, we sailed off south down the mighty Mekong for about 6 hours to PAK BENG. The landing area is no more than a mud flat at the end of a decrepit concrete road, leading to a tiny village, after all the students disembarked, it was Doris's turn, first of all, I had to negotiate with the equivalent to an Aussy painter and docker, after an agreed sum, 6 little Lao guys manhandled Doris out of the boat and over the mud, leaving me to ride her, motocross style across the remaining rocks to what resembled a road. Just as I was putting all my gear back on, a group of concerned, not quite angry Lao guys fronted me, with one of them holding out his hand with a fingernail missing, he apparently tore it off while manhandling my bike. An agreed sum was negotiated, and of he went to the local doctor for treatment.
PAK BENG is one of those small towns you just want to get out of in a hurry, however as it was around 4.00pm and another 3 hour ride to Udom Xai, I decided to stay in yet another guest house recommended by D1, a bunch of friendly young blokes greeted me as I arrived, and after a cold shower, (no hot water here folks) and a feed and massage, it was off to bed. The people who own the guesthouse even let me put Doris in the foyer overnight. That night it fairly pissed down in buckets, not thinking of the consequences of so much rain, I woke up the next morning standing in 2 inches of water, now keep in mind, this is a brand new building, upon investigation, I find there is a 20 meter high excavation behind the building and it basically got washed down with the deluge the night before, a shade of things to come.
After loading up Doris and finishing breakfast of rice and eggs, I headed up a dirt road for about 13k's through small farming villages, full of naked little kids, yelling and screaming at me as I went past. I finally hit the tarred road and thought to myself this should be an easy ride through to Udom Xai, wrong! Total disaster struck, washout after washout for about 50k's until the final icing on the cake (or so I thought) the bridge over the Muang River was washed out just after Muang Beng, about half way to Udom Xai, I had no option to return to Pak Beng and stay another night. Disaster struck about 10k later in the form of a rear tyre puncture, just as I was negotiating a route between 2
straying buffalo; luckily I missed both of them and started to go through the old routine of unloading Doris and replacing tubes etc. Just as I was about to swear and generally wish I was somewhere else, a car pulled up with a friendly guy driving who spoke English, he directed me to the local mechanic, who promptly changed my tube, in his down stairs kitchen, with a mud floor and all the village kids as an audience.
I was back on the road within the hour, when yet again I was faced with another washout, the side of a hill had come down, completely blocking off my escape route back to Pak Beng! The mud across the road was about 2ft deep and full of large rocks and tree branches, each side of the avalanche the traffic was at a standstill, only one thing to do if I didn't want to spend the night sleeping on the mud floor of a Muang village hut, give Doris all she had in first gear and hope to god she didn't let me down and crash down the 30m embankment to the swirling river below. Blasting rocks and debris from her back wheel and with both feet furiously paddling, we bounced our way across, to the amazement of the villagers and myself included.
I finally returned to Pak Beng around 3.00pm and after booking back into the guest house, this time with a first floor room, I will wait till tomorrow and pray for no more rain.
30-08-04
The people around here go to bed late and get up early, after a power failure for around 3 hours and the whole village walking around with candles ( I have my trusty head mounted torch) it was off to bed. Awakened at 6.00am with loud LAO music and screaming kids, I had my cold shower, and ventured off for breakfast, the usual eggs and rice, this place is a stop over for "adventurous backpackers" who use the Lonely Planet as their holy grail, lucky they weren't with me yesterday. They stay overnight and catch the next boat down the Mekong to Luang Prabang, most are in their early twenties and are off to see the world before they stuff their lives up with careers, marriage, kids and the inevitable divorce.
By 10.00am Doris is loaded and ready to go; the nice young chap at the Guest House made a phone call and assured me the river crossing was clear, so off I go. No surprises, YET! Everything was cruising along nicely when just out of Udon Xai; Doris gets the wobbles, another bloody flat rear tyre. I was near a village called Ban Na Houang, were a nice young bloke called Sisavat, give me directions to the local fix it all person, Sisavat spent 3 years as a Buddhist Monk were he learnt English, just a nice guy. After about an hour of being the entertainment for the whole village, it was off again to UBIN XAI, the trouble with radial tyres is you have to make sure that they are sitting evenly on the rim, or they shake the hell out of your bike, at 80k an hour, Doris was self destructing. I finally got to Udon Xai and booked into the Linda Guest House, I even got the local tyre shop to balance my back wheel. Doris is now parked in the tiled foyer of the guest house, waiting for the inevitable dramas to come on our way to LUANG PRABANG.
31-08-04
The main road to Luang Prabang proved how wrong you can be, just under 200k's of undulating hills, plenty of small villages, with naked kids, ducks, pigs and every other type of farmyard animal you can think of, playing on the road. So needless to say my average speed was way down compared with Thailand, the only annoying thing was the way ever second vehicle coming towards me blinked their headlights, its illegal to have your headlights on during the day in LAOS, I guess I'll have to paint my headlight guard black or something.
Made LP in about 4 hours, no dramas at all, except for the idiot trail bike rider who run up the back of me on the bridge approaching LP, he kamikazied my left pannier and fell off.
I then booked into a comfy guest house and have settled in for a few days R & R until the next part of the journey through LAOS.
See
http://www.horizonsunlimited.com/tstories/forde/
for more reports on Doris & I......