Administrator
Staff member
Jan 16, 2003
12,343
2,728
113
67
A short blast & quick overnighter to check out a few places 'n roads.
THE WAY:
Chiang Mai - Chiang Dao - Muang Khong - Chiang Dao (Rim Doi Resort)
Chiang DAo - Arunothai - MUang Nga - Ban Mai Samakkhi - Lin Luang - R3038 - Na Wai - Chiang Dao - Chiang Mai.
DATES: Tues 27 April - Wednesday 28 April.
THE REASON: Time for a ride & visit to Muang Khong.
THE WEATHER: H-O-T
The proposed 11AM getaway finally eventuated at 2.30PM when Alex I rolled out of the X-Centre. The time did not matter as it was only to be leisurely jaunt up & down the road for Alex from Contact Travel to check on the Mae Taeng river level at Muang Khong, his Chiang Dao Pha Daeng camp being built + plus take a look at Muang Nga & Arunothai. Not to mention get some kms up on his new KLX 250.
It had also been a few years since I'd been out to Muang Khong & I was interested in seeing how the concrete road was holding up.
The Chiang Dao Caves / Muang Khong turn off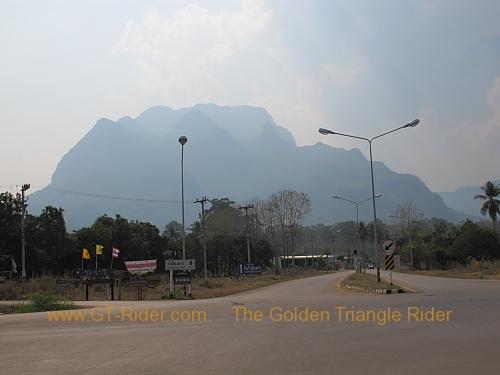 not very inviting, but the Muang Khong road is an absolute beauty, tight narrow twisting & steep.
It also runs through the Chiang Dao Wildlife Sanctuary & some people seem to have trouble with the WS officials at the checkpoint gate as you enter.
Here's the new concrete road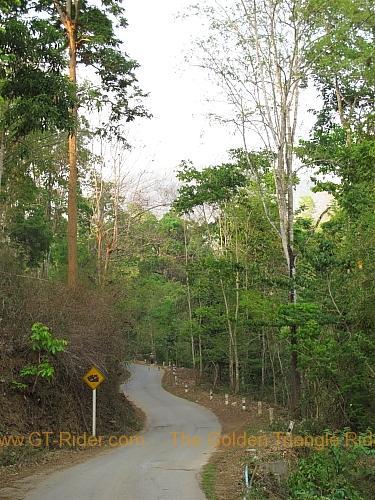 and here's the old one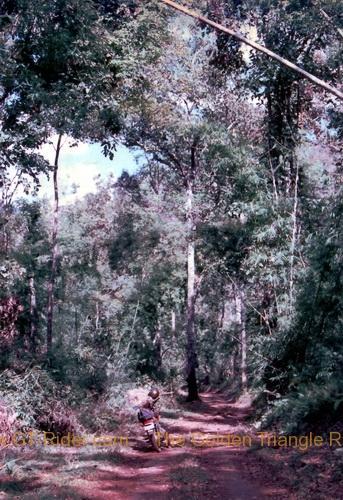 20 odd years ago.
It used to be a tricky steep climb when you first got past the checkpoint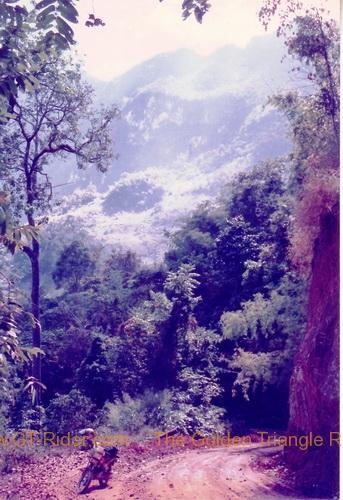 but now it's a breeze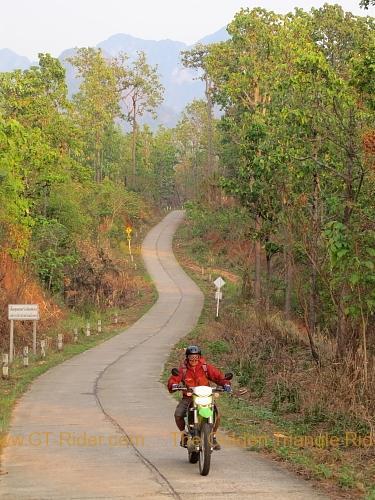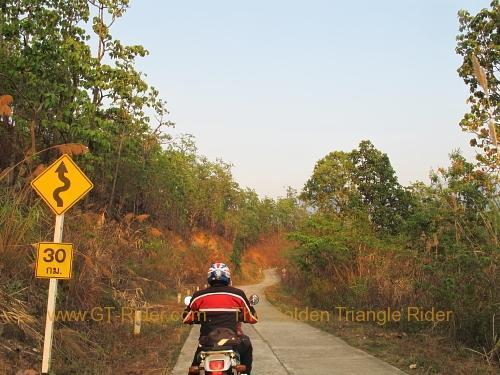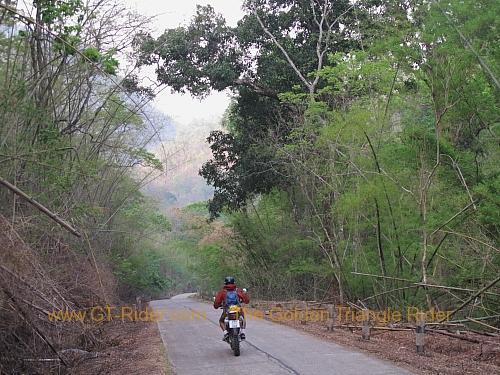 The views up on the ridge line are superb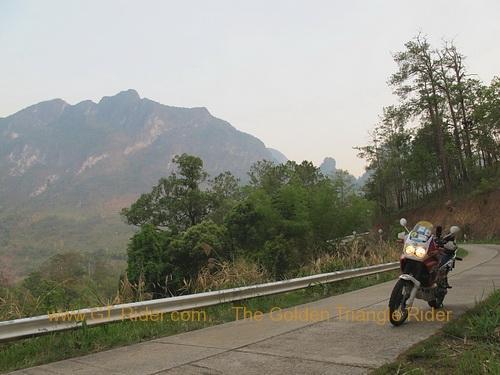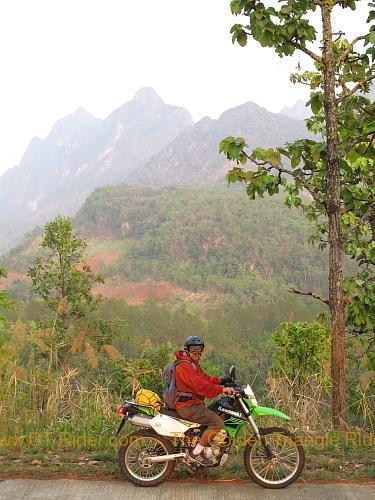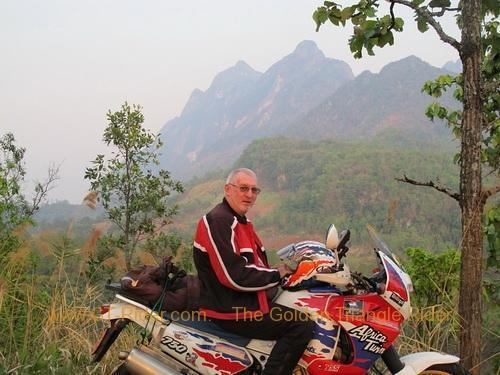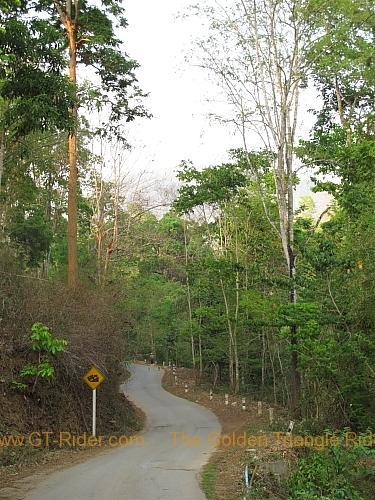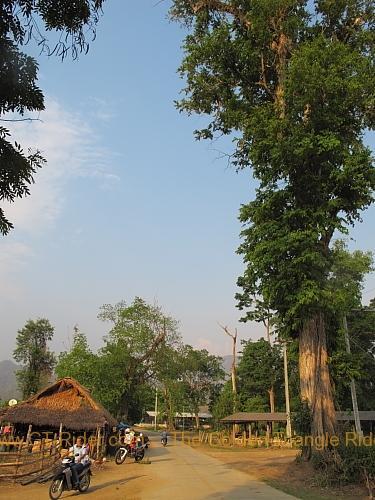 Downtown Muang Khong by the river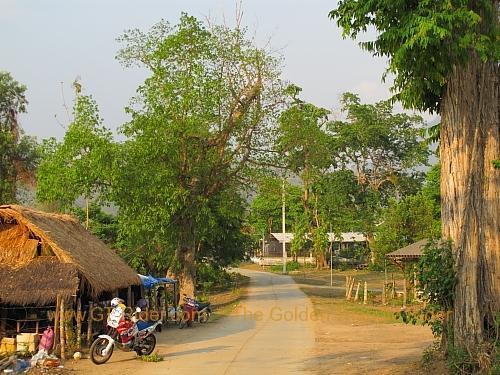 The Mae Taeng river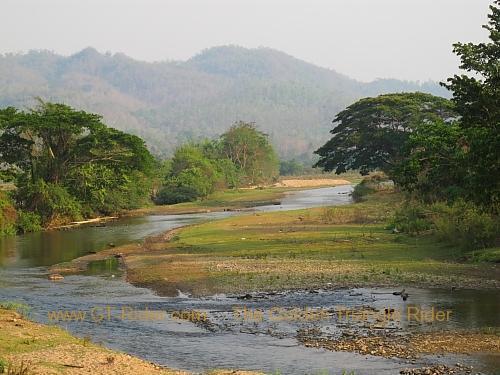 Some kids found some water for a swim
lucky guys being able to cool off in the heat.
There's a new concrete bridge across the river (& it's been there for awhile.)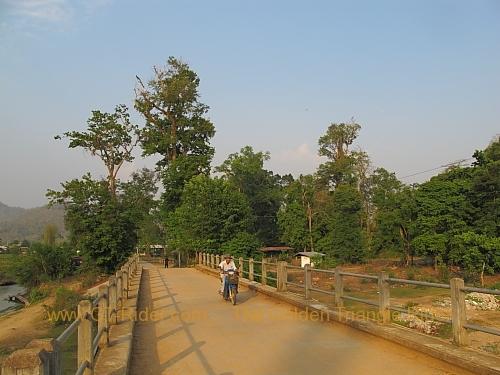 This is what the old one looked like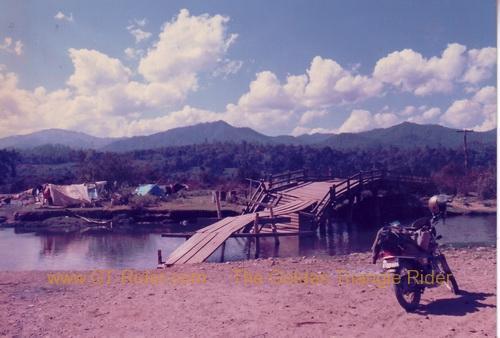 and dodgy it was at times.
By 5.30Pm it was time to pack up & head for "home" & Chiang Dao for the night. We weren't the only ones heading home..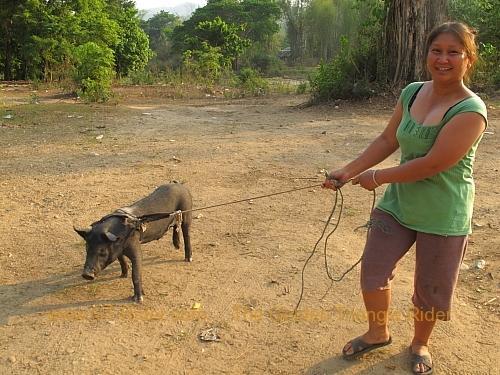 but not everyone wanted to go the right way.
Chiang Dao at sunset from Wat Mae It.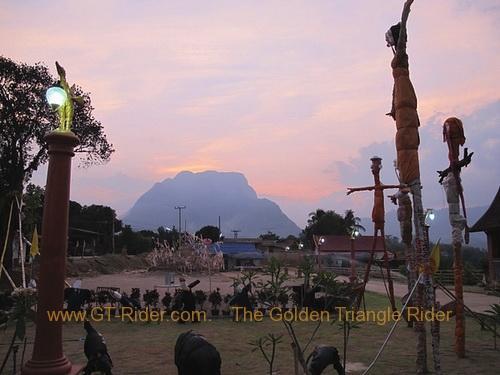 The Rim Doi Resort was our handy place of abode for the night. Excellent food (fish) & Thai salads. And if you're ever in the area check it out.
The next day was simply pottering up R1178..
King Naresuan's Stupa memorial was the first stop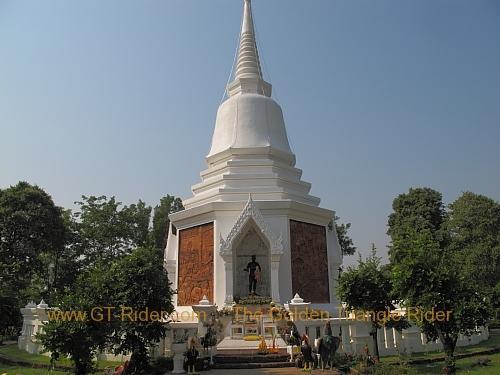 From Wikipedia:
King Naresuan (1555, 25 April - 1605) was the King of Ayutthaya kingdom from 1590 until his death in 1605. Naresuan was one of Siam's most revered monarchs as he was known for his campaigns to free Siam from Burmese tributary. Numerous wars against Burma were fought in his reign and Siam reached greatest territorial extent and influence.
King Naresuan was a great warrior then & perhaps that is the reason his memorial site at Muang Ngai is infested with fighting cock statues.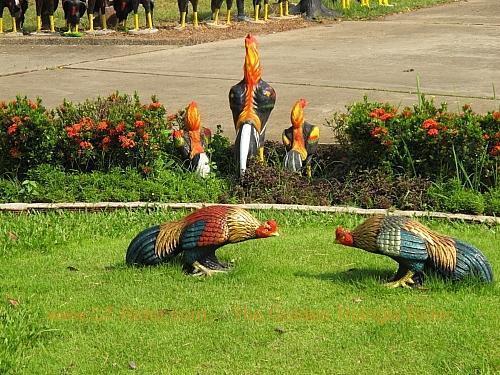 There's a few of them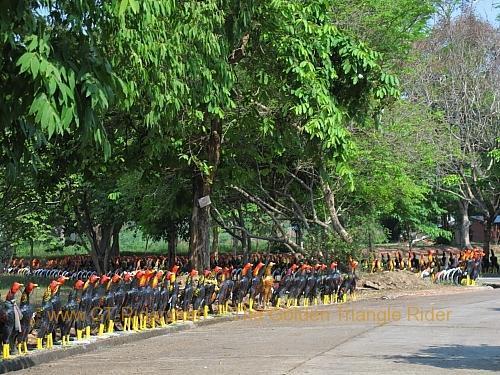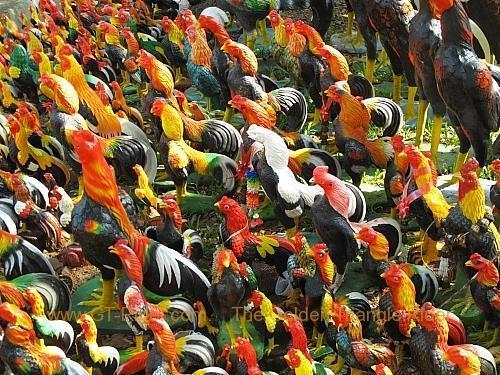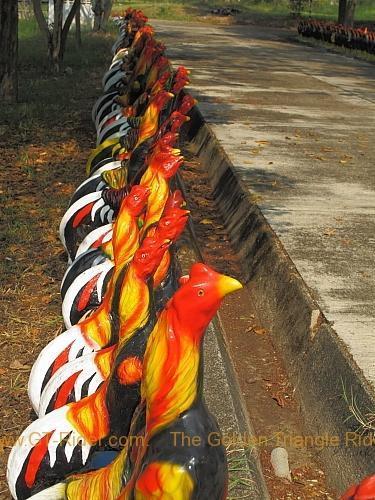 Small and BIG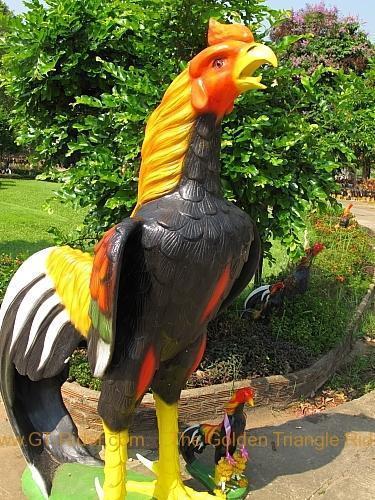 From Muang Ngai it was onward soldiers to Arunothai & Muang Nga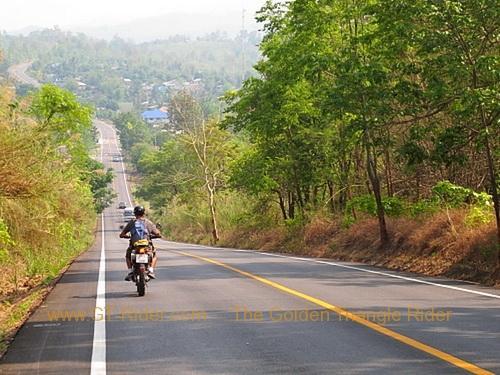 Wat Phrathat Sri Samrak was the next stop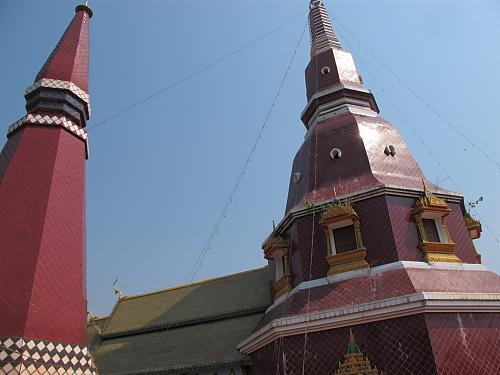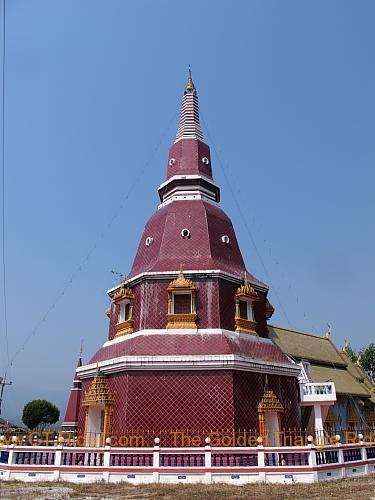 next was the Shan temple of Wat Doi Mon Jing,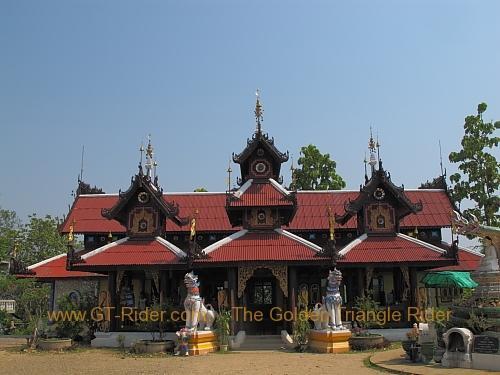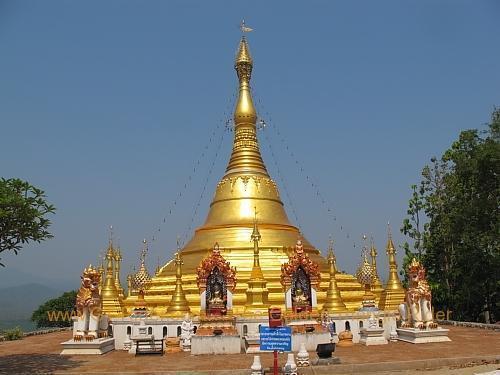 across the valley & perfectly located on a small hill top with fantastic panoramic views.
Wat Phrathat Sri Samrak in the distance
and zoomed in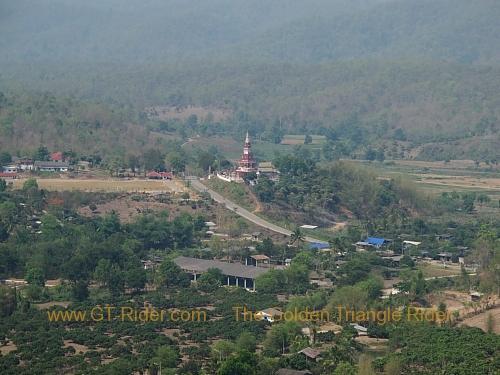 the views from Wat Doi Mon Jing, will be absolutely fantastic after the rainy season, so put it on your list of places to check out.
GPS Waypoint: N19 32.717 E98 58.228; & turn off on R1178: N19 32.685 E98 57.697.
On the GT Rider Golden Triangle guide map it is to the east of R1178, between Huai Tin Tang & Thung Kao Ruang.
Being a Shan - Burmese temple, it does have some more interesting statues & architecture too.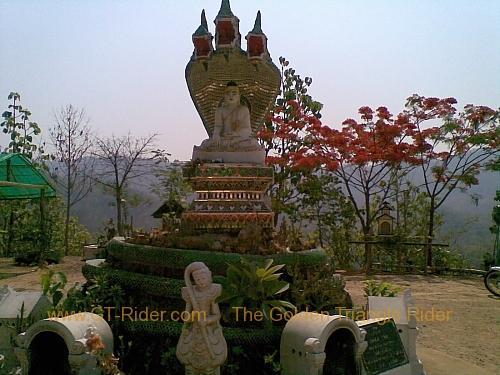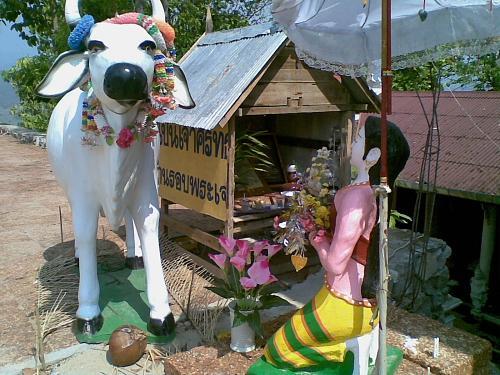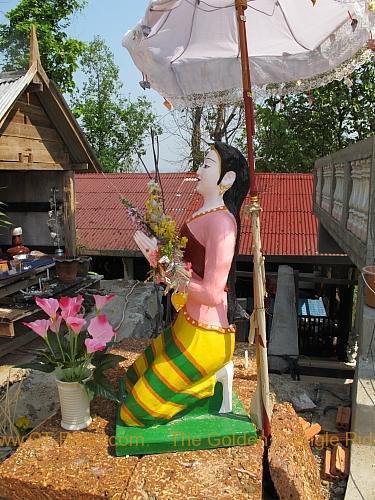 Arunothai it was for lunch then,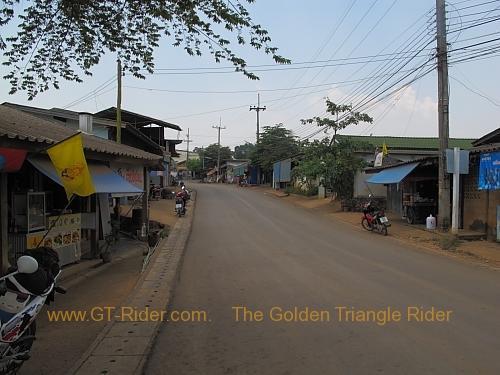 & finding a good clean place in Arunothai is not easy.
The best place I have found so far is Hao Hua.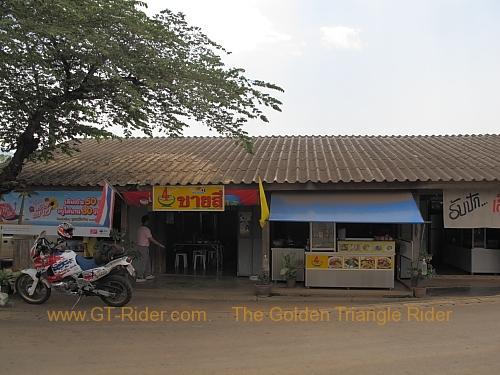 A spotlessly clean shop with delicious kow soi gai. And I had two servings.
It was here that Alex & I had an interesting conversation (comparing notes) about the general border situation with some smart, very polite, "senior" army staff, also dining at the "Hao Hua.
GPS Waypoint for the Hau Hua restaurant: N19 44.389 E98 57.844
It was also time for Alex to top up his KLX 250 in Arunothai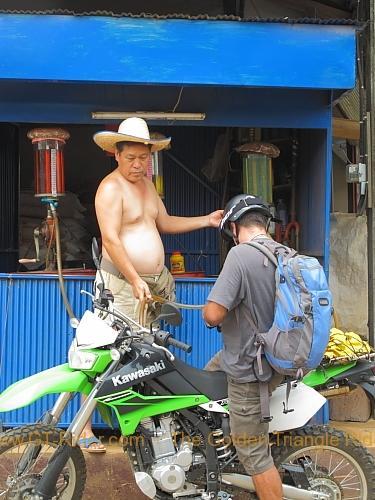 and there was no doubt it was hot work on a H-O-T day.
From Arunothai you need to back track approximately 6 kms to the army checkpoint at Lin Luang. Turn right here & continue on R1178 again to Muang Nga. Muang Nga has several wonderful meditation temple caves for women. Why in Muang Nga I don't know, but it is worth researching..
Wat Anantaram Tam Wua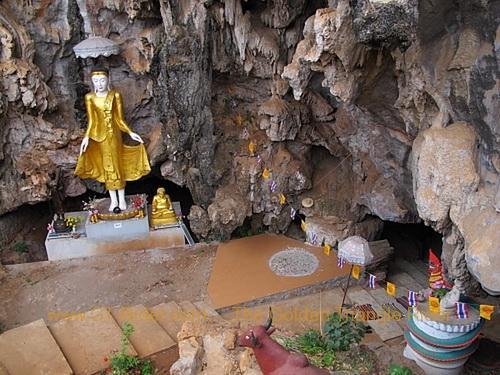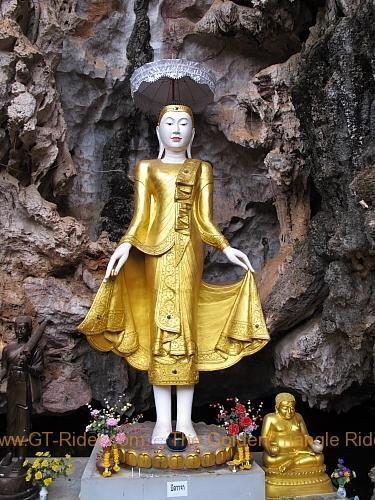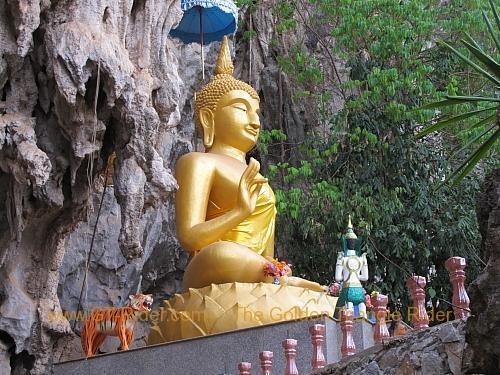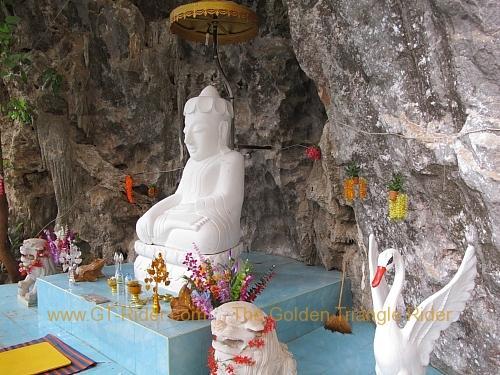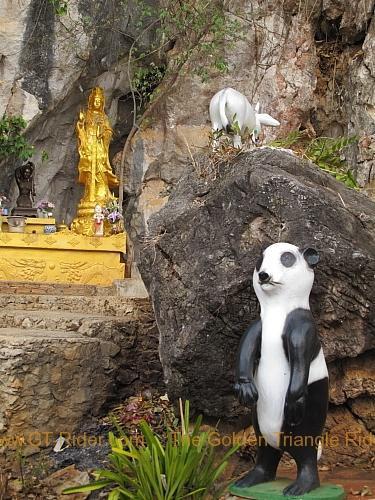 has the abbot or someone been to Australia?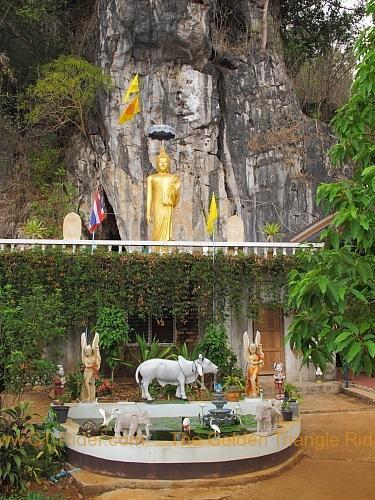 The Muang Nga area must look beautiful after some rain & greenery]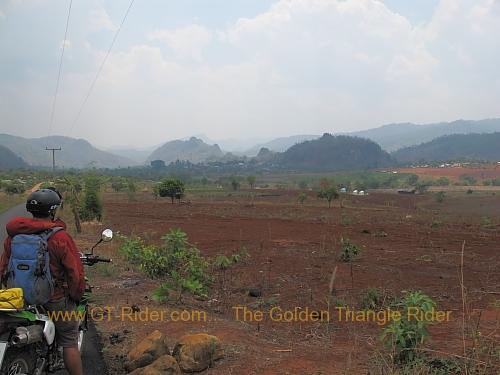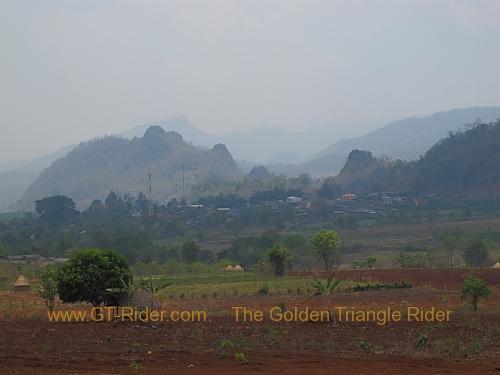 Wat Phuttaraprom Pan Yo by Muang Nga is another meditation temple.
If you back track again to the army checkpoint & Lin Luang you can see a new road, route 3038, that goes north-north-east.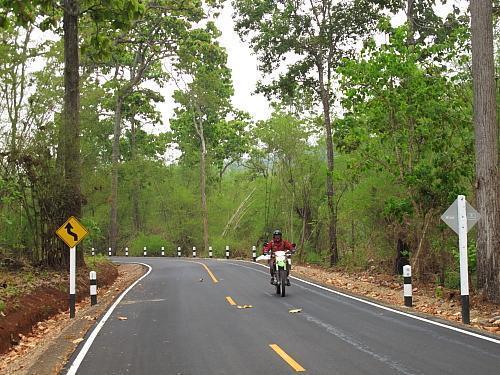 a beautiful surface it winds through some nice forest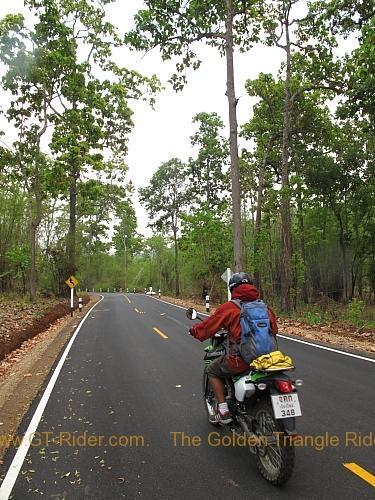 and fields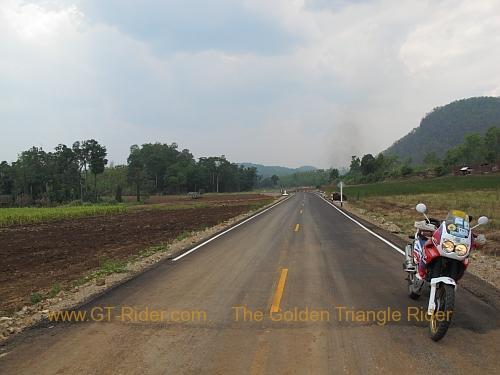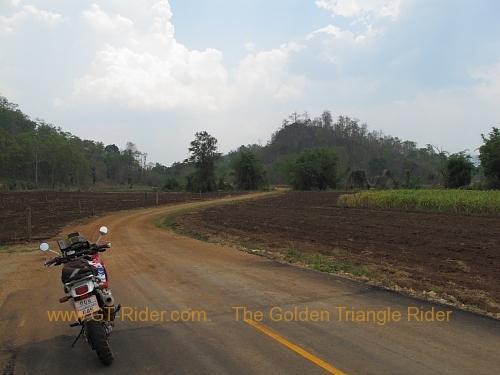 And true to Thai corruption form, the asphalt runs out 500 metres before linking up with the asphalt road R4244 the Lisu Nong Khaem / Pha Bong road from R107 - Lo Pahan. At the T junction we turned right onto R4244 & followed it back to R1178 where it joins up at Lo Pahan.
Muang Khong, Rim Doi Resort, Arunothai, Muang Nga & Lin Luang are all on the GT Rider Golden Triangle map should you want to go for a ride & enjoy some of these attractions.