Administrator
Staff member
Jan 16, 2003
12,241
2,530
113
67
LOEI - UDON THANI. Days 2-3.
Continued from
Chiang Mai - Pakxe southern Laos Return: A Savannakhet Visa Run Part 1
The weather sounded somewhat ominous with loads of warnings about flooding & tropical storm Mangkut, about to wash the countryside away.
I abandoned my idea plan to ride alongside the Khong to Nong Khai then down to Udon, & took the easy way out: Loei - Nong Bua Lamphu - Udon Thani.
I also slept in & did not get away from Loei until 11.30am.
Being a bit of a night owl at home, it takes me a few days to adjust my body clock when I first start on the road - or at least that is my excuse.
One reason why I was slow to get up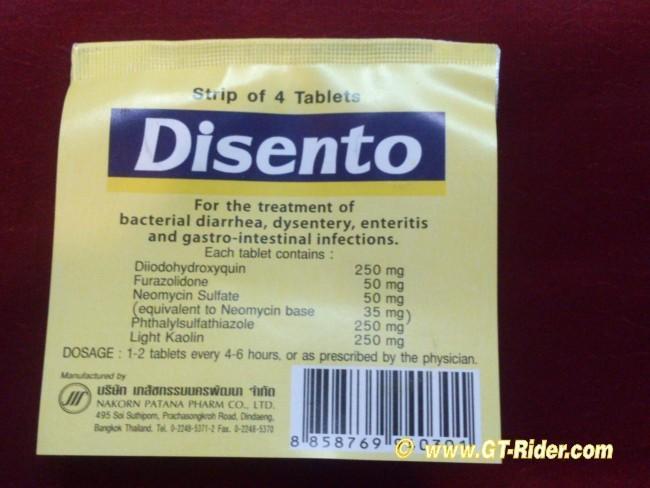 yep feeling a bit gripey from something the night / day before.
A Kings Hotel brekky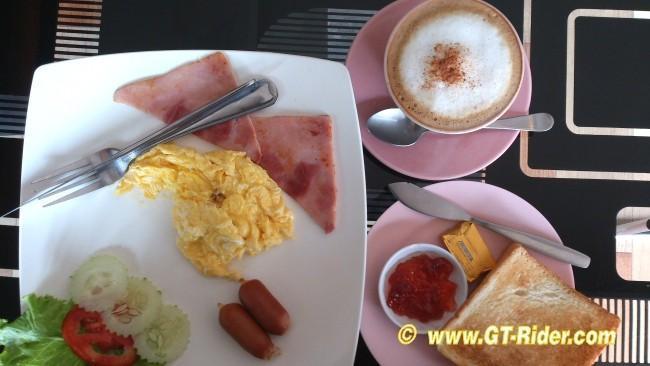 mediocre at best, but the coffee is ok.
Loei - Udon via Nong Bua Lamphu was boring. Heavy overcast.
It was a boring ride, only livened up by meeting a couple of mates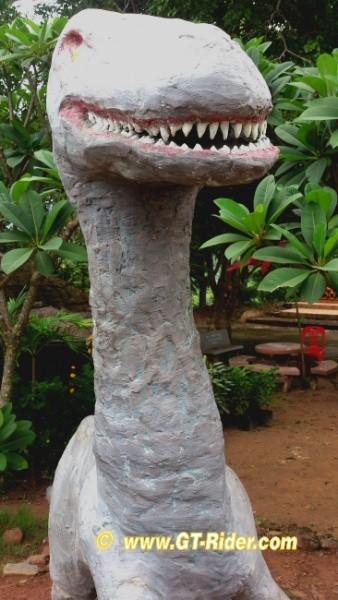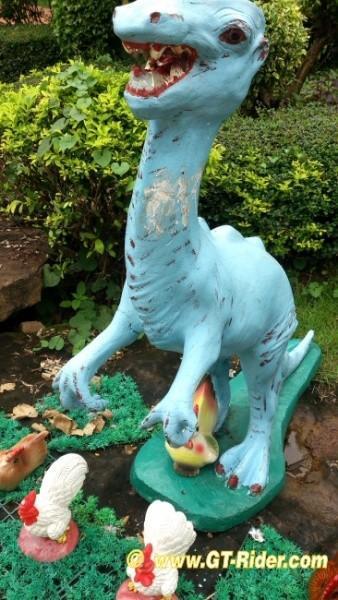 at the Nong Bua Lamphu dinosaur Museum, but sadly on this day the main display was closed up because they were repairing their dinosaur. Shall I return? Probably not.
There is also a shrine to King Naresuan the great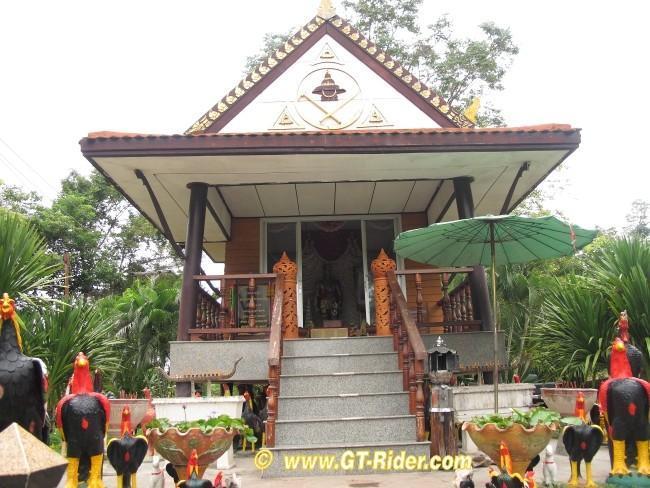 Built to commemorate King Naresuan the Great. who in 1574 led his army en route Nongbua Lampu to Vientiane under orders of the King of Hongsa, the kingdom of Burma which ruled Thailand at that time.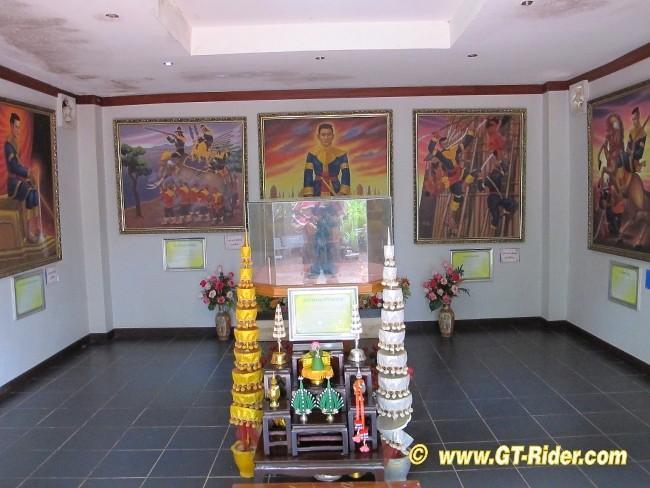 King Naresuan was a great warrior according toThai history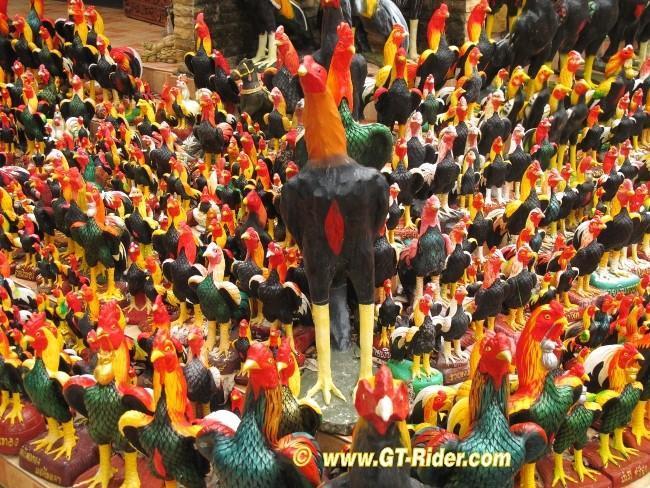 and as with many King Naresuan memorials there is a large collection of fighting cocks.
Onto Udon Thani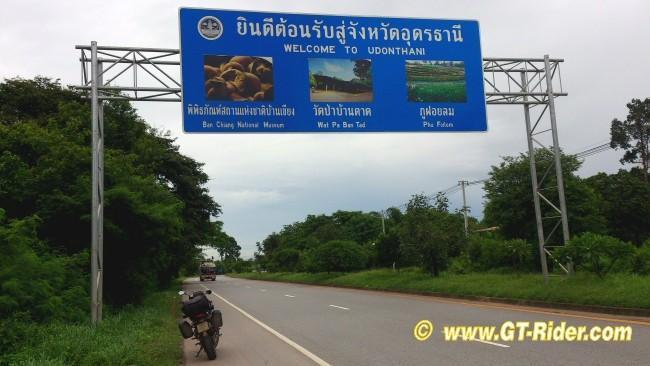 Arrival time in Udon was 2PM.
The place of stay was the old
Charoen Sri Palace
, somewhere I last stayed 18 years ago & it has hardly changed.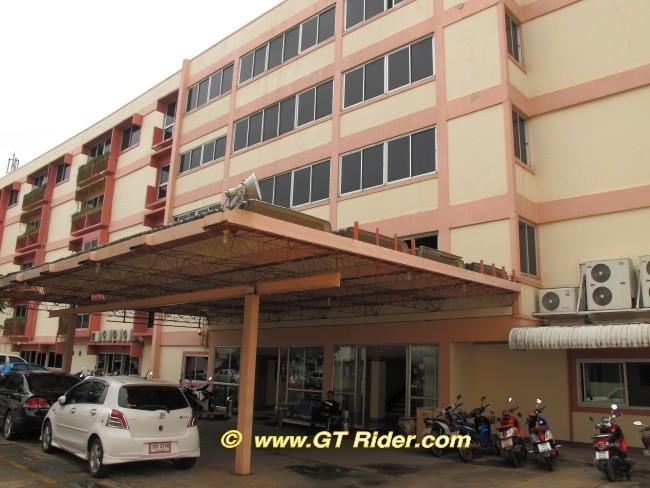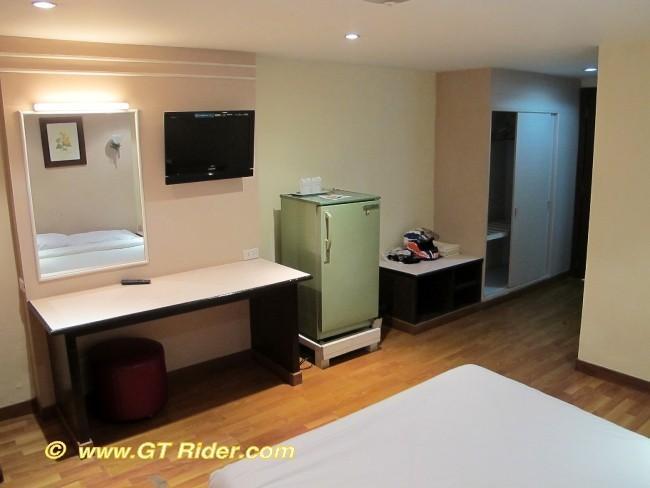 I still like the place: value for money @ 500 baht, plus ground level rooms for easy access. But there is NO restaurant, however there is a 7-11 right next door.
The location is for me also good - near the lake Nong Prajak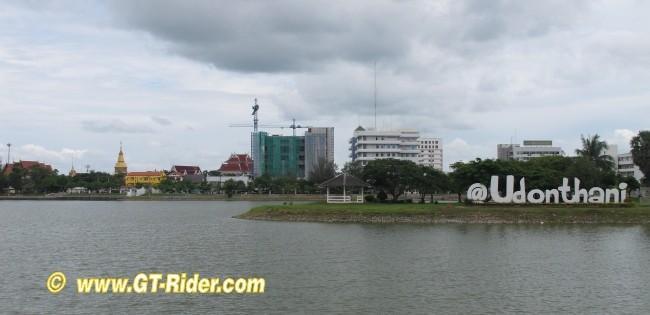 & some nice open-air eating places, plus a few good Thai Pub & Restaurants.
Part of the Udon master plan then was to have a look around town.
And first impression is it is big, spread out, booming & somewhat difficult to navigate if you don't really know your way around town.
I nicknamed it the "Muang Ha Yaek" the city of five-way intersections, & there are a few confusing ones.
UDON THANI CITY ATTRACTIONS
Makkhaeng Camp ruins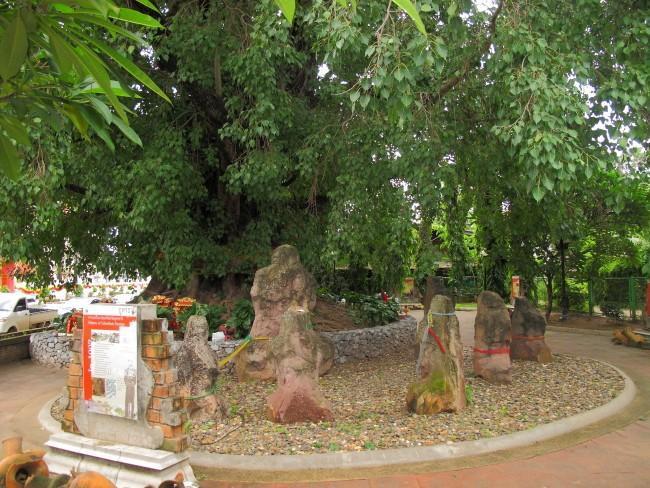 A Makkhaeng Fort History.
During Rattanakosin Period, Udon Thani was involved in the war from 1826-1828 when Prince Anuvong of Laos took rebel troops to beat Nakhon Ratchasima. They fought with the local troops led by Lady Mo (Tao Suranaree), the wife of Nakhon Ratchasrima Governor. Prince Anuvong's troops were beaten and had to move back to Nong Bua Lam Phu where they fought with local troops and Siamese Army and finally lost. At the later period of the reign of King Mongkut, around 1868, there was a rebel of Haw, an ethnic group, in Lao Phuan Region but it was temporarily suppressed by Siamese Army.
In 1885 during the reign of King Rama V, the Haw gathered and built up rebel troops again in Lao Phuan Region on the left side of the Mekong River and the violence was increased. As a result, King Rama V ordered Major General Prince Prachaksinlapakhom, the southern commander, and Muen Waiwornart, the northern commander, to suppress the rebel troops. At that time Udon Thani was not named but it was known as Ban Makkhaeng or Ban Dua Makkhaeng under Nong Khai Province and Lao Phuan Region. Eventually, Prince Prachaksinlapakhom led the troops to beat the rebel troops successfully.
After that Thailand had a dispute with France, Lawsuit R. S.112 (1893), where France wanted to colonize Laos, Cambodia and the Vietnam. To preserve the country, King Rama V, sacrificed the minority part of land on the left bank of the Mekong River to the French. The treaty between the two countries was made with the condition that Siamese troops and fortifications were prohibited within a radius of 25 kilometers of the Mekong River.
The Siamese military base in Nong Khai, the Center of Lao Phuan Region led by Major General Prince Prachaksinlapakhom, was relocated to Ban Dua Makkhaeng (the current site of Udon Thani Province), more than 50 kilometers away from the river. Ban Dua Makkhaeng was considered to be strategically located for a town because of water resources - Nong Naklua ( Nong Prachak Park) & the clean Makkhaeng canal.
Therefore, Major General Prince Prachaksinlapakhom founded the Center of Lao Phuan Region and the military base here. It can be seen that Udon Thani Province accidentally emerged according to international politics rather than the commercial reason, transportation reason, or other reasons like other main cities in the past.
However, the word "Udon" was named in 1807. King Rama V granted the establishment of Udon Thani at Ban Dua Makkhaeng under Udon Thani Region. The establishment ceremony was organized on April 1, 1807 by Praya Srisuriyaraja Waranuwat " Pho Netitho".
The City Pillar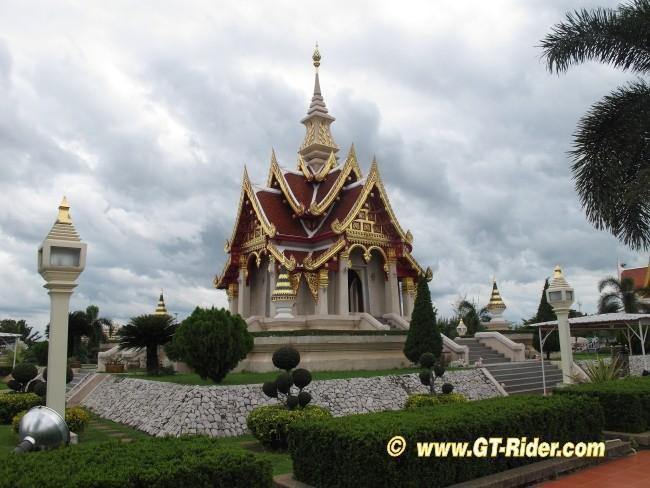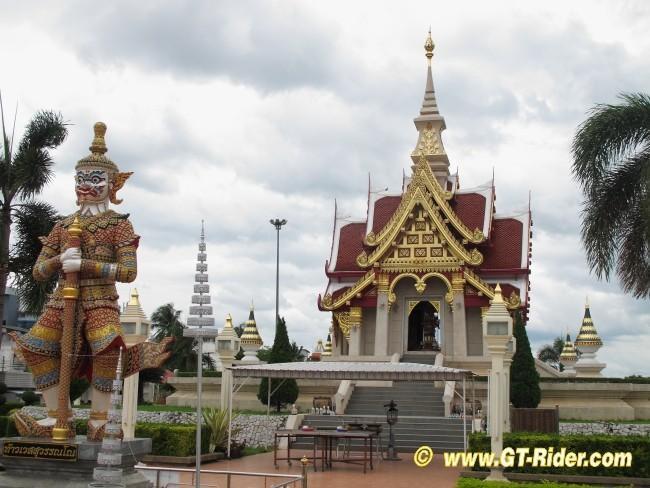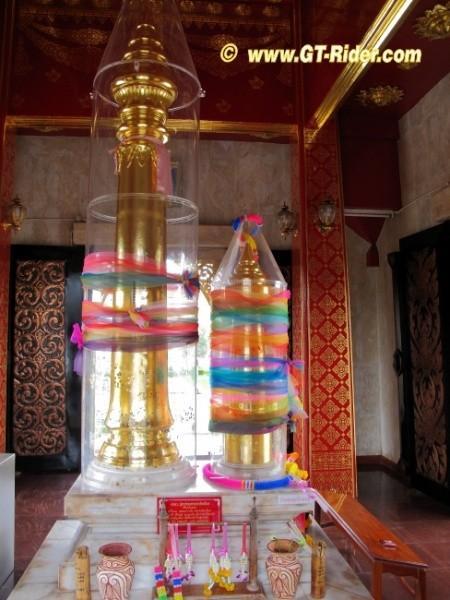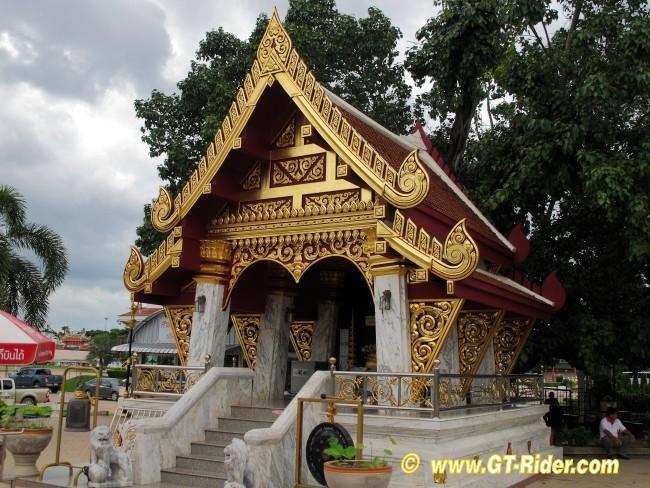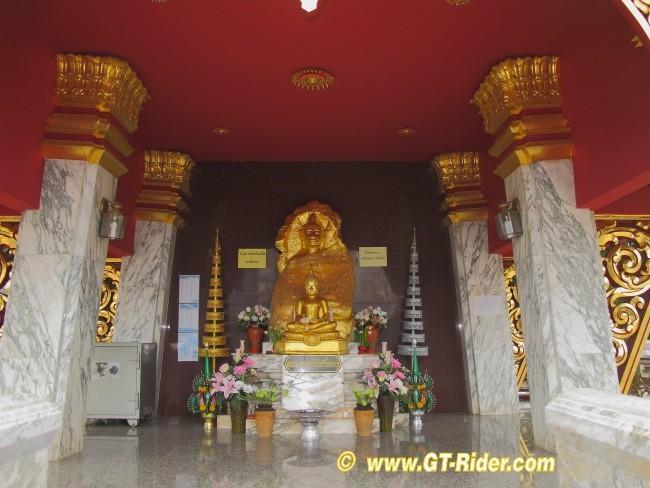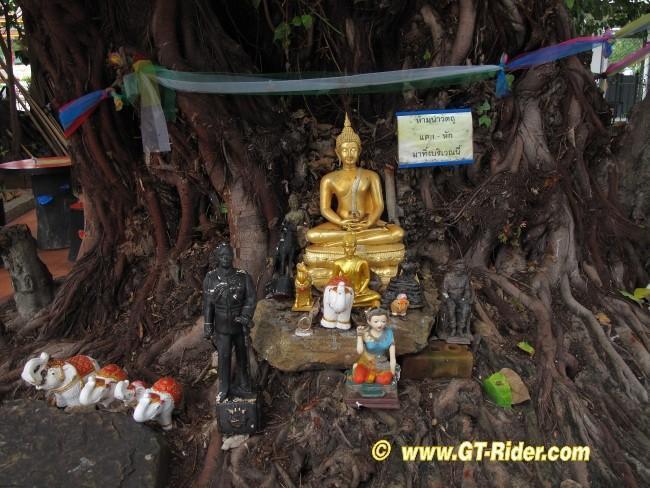 Udon the face of the old & the new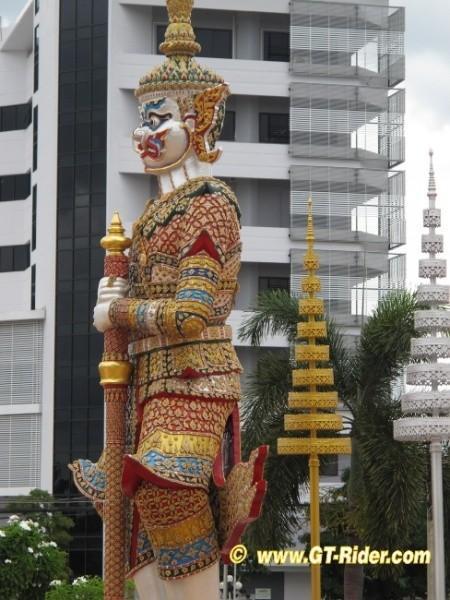 San Chao Pu Ya Chinese shrine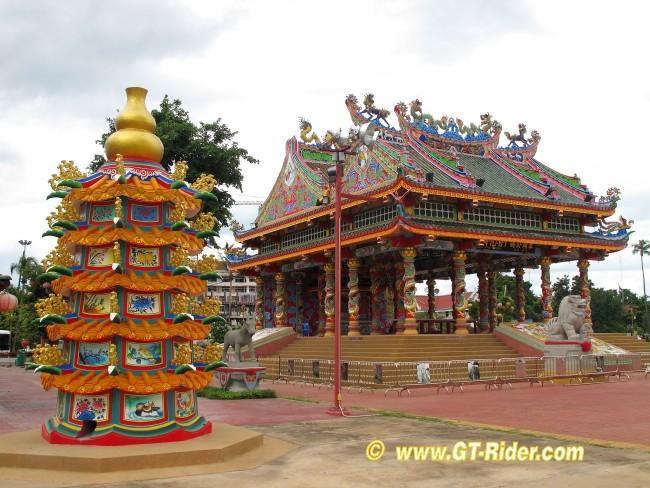 Udon Thani Museum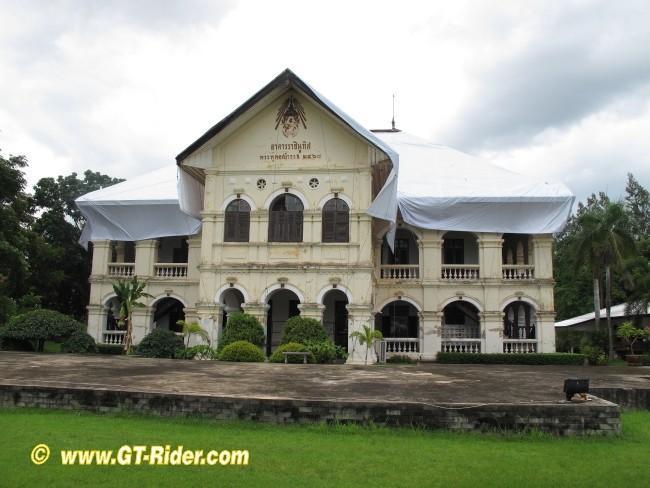 more to come...
& if any of you Udon guys want to add pix of the Udon Thani city attractions please do.
Last edited: