0
Staff member
Subscribed
Jan 16, 2003
14,080
5,079
113
69
After a daunting experience from my recent crash
Time for a quick cuppa on the Khong it's a 16 kms meander upstream to 1 of my favorite coffee shops, Enjoy on the Mekong. Enjoy Coffee has a magical relaxing atmosphere, but it was a boiling hot day when I left Enjoy to gently meander home. An old rustic house with a magnificent tree on the...

www.gt-rider.com
I can confirm I am completely satisfied with & can highly recommend
1. Kasemrad Sriburin Hospital.
With a commitment to providing clients receive quality service and Standards. Treatment at all times With modern medical equipment and medical professionals who care for patients more closely. Make patients feel safe and at ease admitted to the service. Under the motto that maintain close...
www.kasemrad.co.th
2. Orthopedic Doctor - Methawut Thuwapitchayanant.
3. Plastic Surgeon - Weatin Suwansingh.
After the crash I was admitted to the nearest hospital - my local, Chiang Khong; but such was the condition of my leg there was little they could do & operate to fix the nasty compound fracture in my leg, plus the 2 fractures in my arm.
They wisely wanted to transfer me to Chiang Rai for surgery asap. We had a slight disagreement on hospitals & they wanted to transfer me to Overbrook, however I knew the best orthopedic doctor in Chiang Rai was at Sriburin & insisted I go there. I won!
I must admit I had heard a couple of bad stories, the details of which i can't remember now, about Sriburin, but all I knew was I wanted to save leg & the best bone doctor was there.
On arrival in Sriburin I was quickly xrayed & lined up for surgery before I knew it.
No no, I want Dr Narong, which was the name of the DR I could remember. No No, there's no Dr Narong. Ok then find him at another hospital please.
No No there isn't one.
WTF. They wanted me to sign the emergency surgery papers before I even met the Dr.
Sorry NO doctor NO sign.
I was sedated for the night & the next morning the good doctor, but the wrong one I thought, came to visit me before the planned surgery.
His name Methawut Thuwapitchayanant
Orthopedic Center Orthopedics
www.kasemrad.co.th
Dr Methawut's bedside manner was excellent, his communication skills in English were good & he was comfortable speaking English.
He explained the surgery & possible complications with care & answered all my questions.
1. Ajarn Sudhee was his teacher.
2. 5 years at the Airforce hospital in Bangkok.
3. 4 years at Ramathibodi hospital on Sukhumvit.
4. 4 or 5 years at Kasemrad Sriburin.
I was impressed he took the time to answer my questions & explain everything. He wasn't just a business doctor looking to make money.
So I felt comfortable with him, and he got the job!
I was under the knife for 7 hours while he cleaned the huge hole in my leg from the compound fracture & plated the 4 broken bones.
The time I was away from my waiting son in the hospital room was 12 hours, & no one really knew what was going on.
A couple of days later feeling in better condition I was able to operate my phone & dig out my recommended doctors file.
Loh & behold there was the recommended bone doctor for Chiang Rai: Methawut Thuwapitchayanant!!
Jackpot I had the name wrong & got the right one. Brilliant I thought.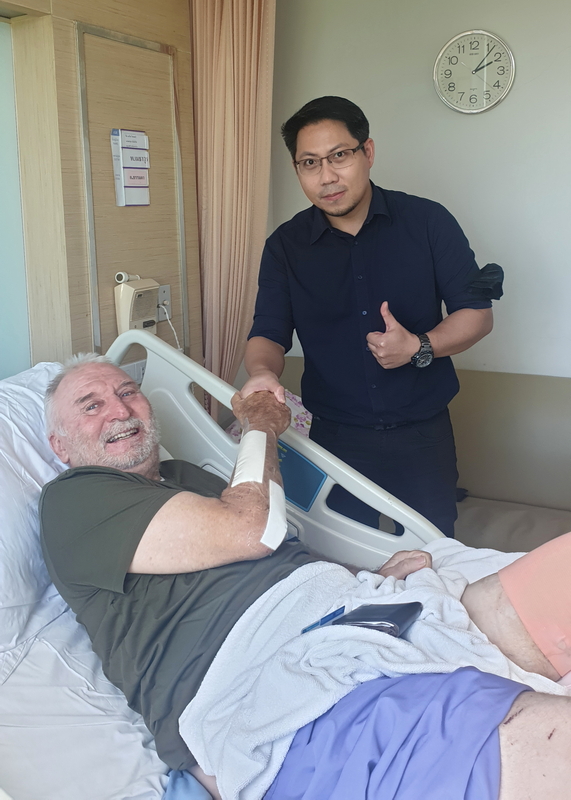 DR Methawut did a brilliant job saving my leg, because at the outset the thought was I would need external fixation for many months, fighting off infection.
However his cleaning job & bone fixation seems to be excellent, provided I don't mess it up in the recovery stage.
Step 2 was the skin graft to cover the hole.
The resident boss plastic surgeon at Kasemrad was DR Weatin Suwansingh
Kasemrad Aesthetic Center Plastic Surgery
www.kasemrad.co.th
and he carried on in the same vein as Dr Methawut.
Excellent communicaton skills, passionate about his work & patients.
Again I was totally at ease, comfortable with him.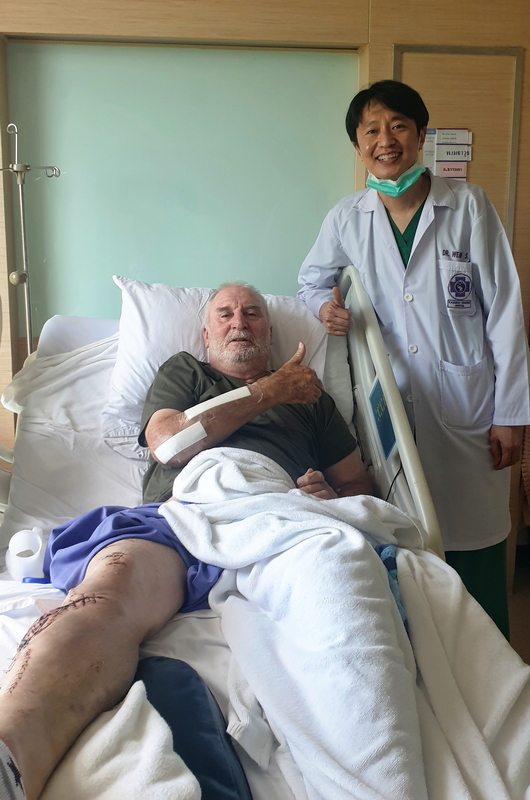 In 2 weeks I had an amazing skin graft recovery!
Pre skin graft, cleaned up ready for a patch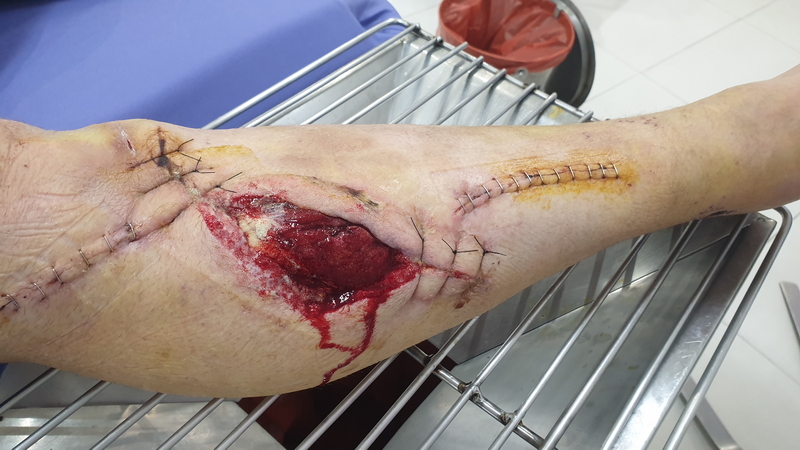 2 weeks later & a magnificent recovery.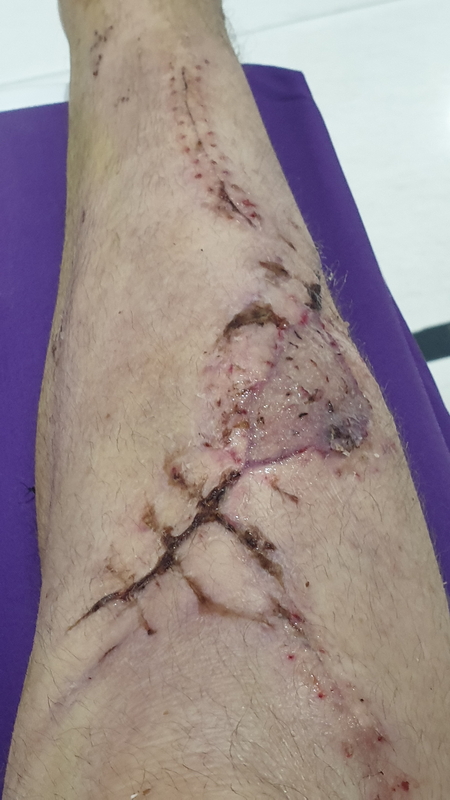 Over the decades here in the North I've been under the knife in Lanna, Ram & Sriphat hospitals in Chiang Mai, but believe me Sriburin is the one I have felt most comfortable in. Great friendly nurse, not fashion dollies, but wonderful women & first class facilities that were not crowded or busy at all.
Cheers everyone. I sincerely hope you don't need their services as I did, but it is good to know where & who to go to.