After a day in Phnom Penh to celebrate New Years and (more importantly) get some repairs done on the bike, I left my wife to go back to work and headed off on the second part of my road trip early(ish) on New Years Day.
Leaving Phnom Penh on Highway 6, the road was rubbish to Skun (roadworks most of the way) and chaos to Kampong Thom. This has got to be one of the worst roads in Cambodia for riding a motorbike. Turning off just north out Kampong Thom though, the road to T'beng Menachey is new and in very good knick with next to no traffic. A great ride through some scenic spots with forest parks providing long stretches with no towns. Getting into T'beng Meanchey (320km from PP) it is a pretty quiet town with a couple of nice guesthouses but not a lot else.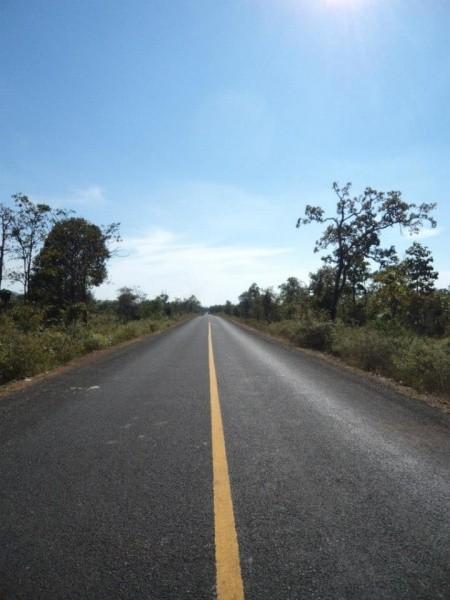 The road from Kampong Thom to T'beng Meanchey.
Up early the next morning I headed on perfect roads to Koh Ker with very precise instructions (down to the nearest 100m and straight off the top of his head) from the guy who owned the guesthouse I had stayed at, who happened to be the retired former director of the roading department for Preah Vihear province. After paying the $10 entry fee to a bunch of guys in police outfits who were sitting under a tree (at least they gave me a ticket!) I headed into the nearly-deserted temple complex. I found this place to be far more appealing than Angkor Wat as, until the last couple of temples, I was the only tourist there, there were no touts except at the main carpark for the biggest temple, and it was an amazing feeling riding right up to the temples on the bike, switching off the engine and hearing nothing but birds. Quite eerie walking around here by yourself, clambering over ancient temples and picturing what they would have been like in their prime: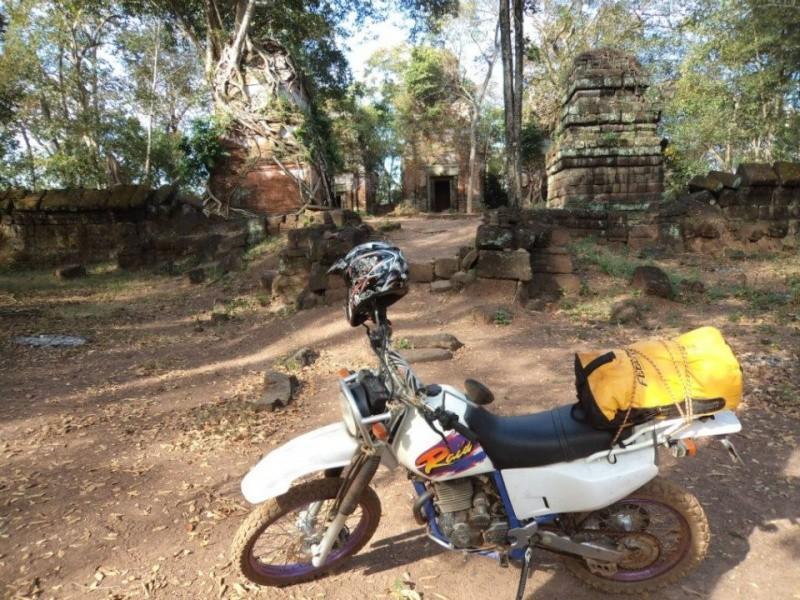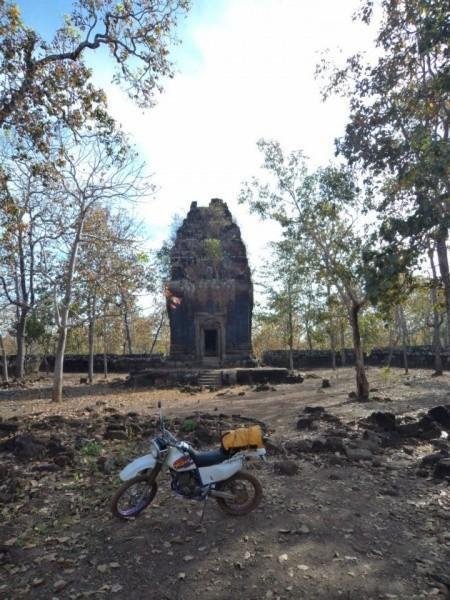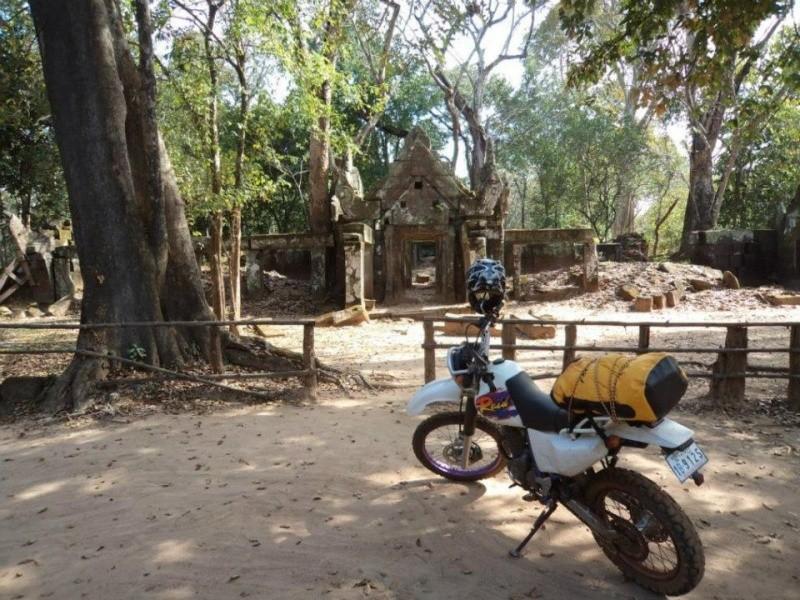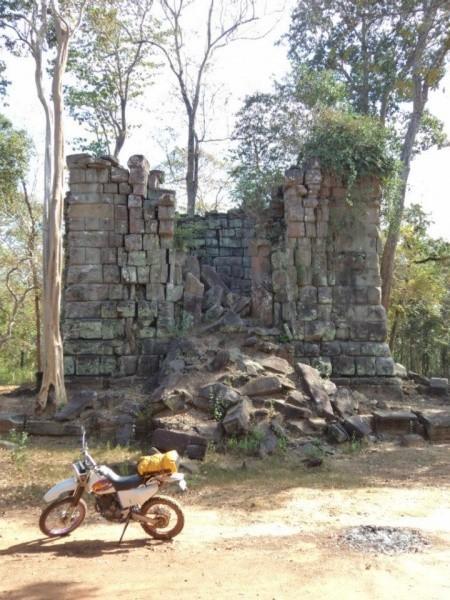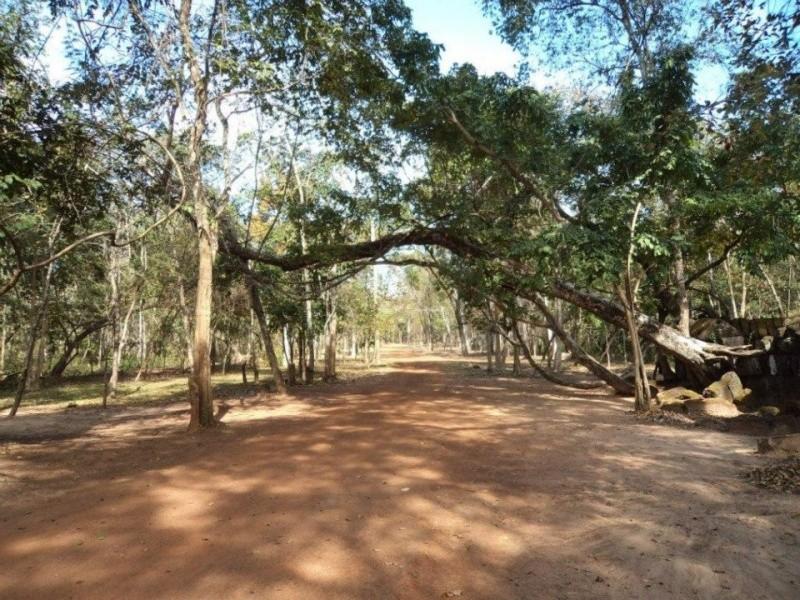 From Koh Ker I headed back out to the Highway and turned left to Preah Vihear temple. Again, good roads all the way. When you get to the bottom of the hill at Preah Vihear, you need to go into the ticket office, where they issue you a ticket to head up the road. While there is no charge, the do require either a Cambodian drivers licence or your passport, so make sure you have this on you. The girl also asked for a donation but then insisted repeatedly that the donations went towards the drawer under her desk and nothing else, so she only got $1 out of me. Heading on up the road, the first half has been redone and is a good road. The second half on the way to the top is the old concrete road and is VERY steep, although no problem getting up it. Lined with bunkers and soldiers families living in shanties and lean-to's, it is a surreal sight heading to this ancient temple and seeing hoards of underpaid police and soldiers offering their services as guides. The temple itself is just amazing, offering 360 degree views for miles around into both Thailand and Cambodia. I parked my bike at the carpark with some policemen who charged me $0.50 upon return and headed for a walk around. Grab a bottle of water on the way up as it is quite a hike but well worth it for the views. You can see the road winding up the hill in one of these pics: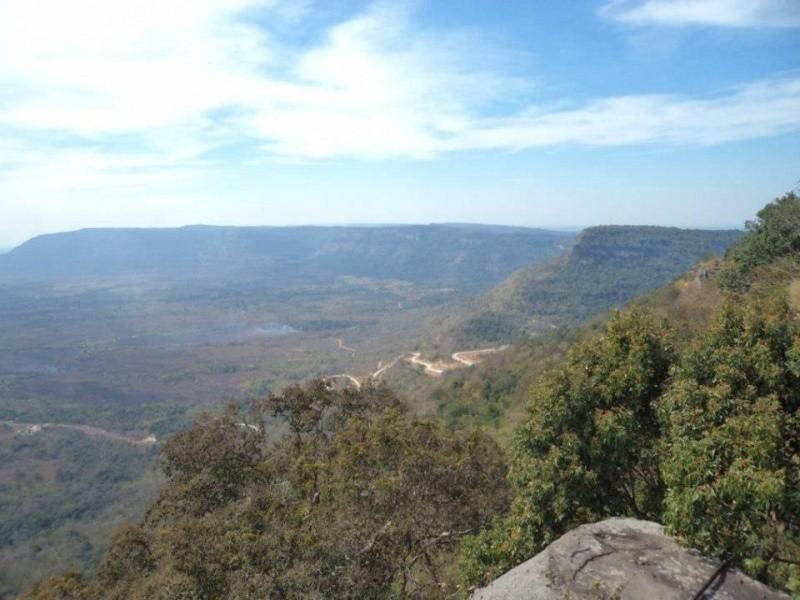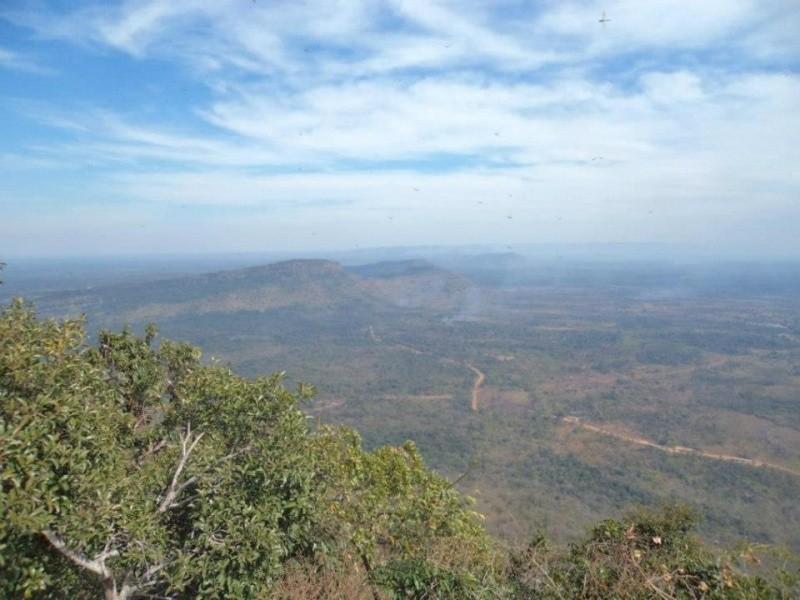 From here I hit the road and headed to Anglong Veng for the night. Good roads all the way and I stayed at the Monorom Hotel which was good value at $8 for a room. A quick ride around town proved pretty uneventful, although the lake in the middle of Anglong Veng is very scenic at sunset and sunrise. I found some great food at a place on the main roundabout in town at a place with a big buddha carved out of a tree root outside.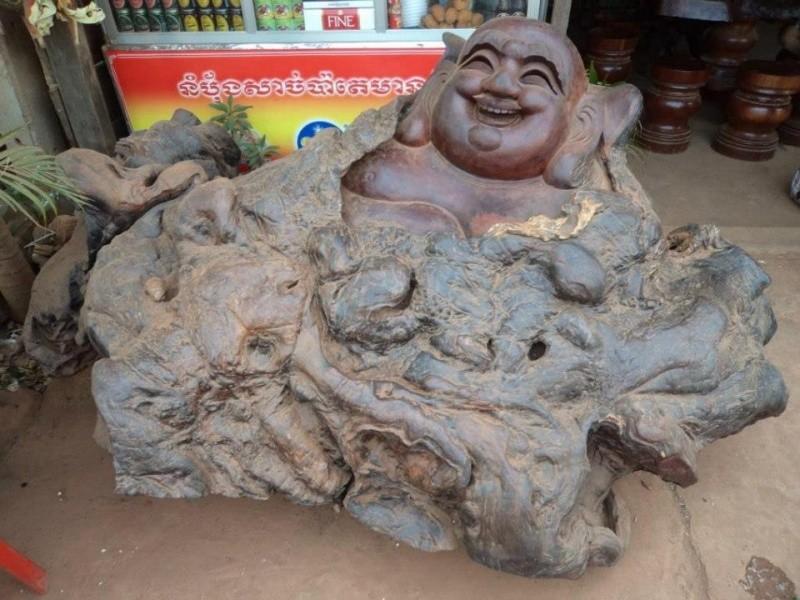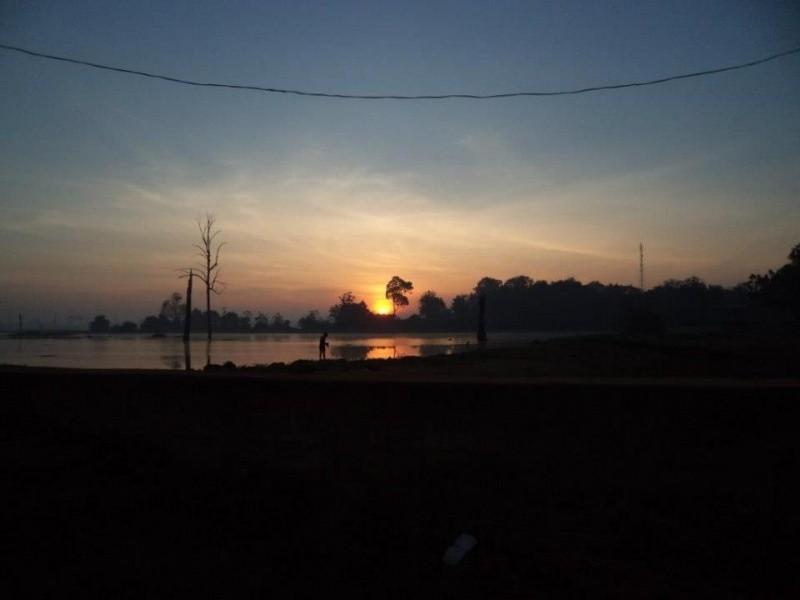 The next day saw me up at sunrise and on the road to the Thai broder about 20km away. This is where Pol Pot was cremated and about 500m before the border you can see the sign pointing you down a side road. Keep following this around and it takes you to where he was sentenced by a kangaroo court: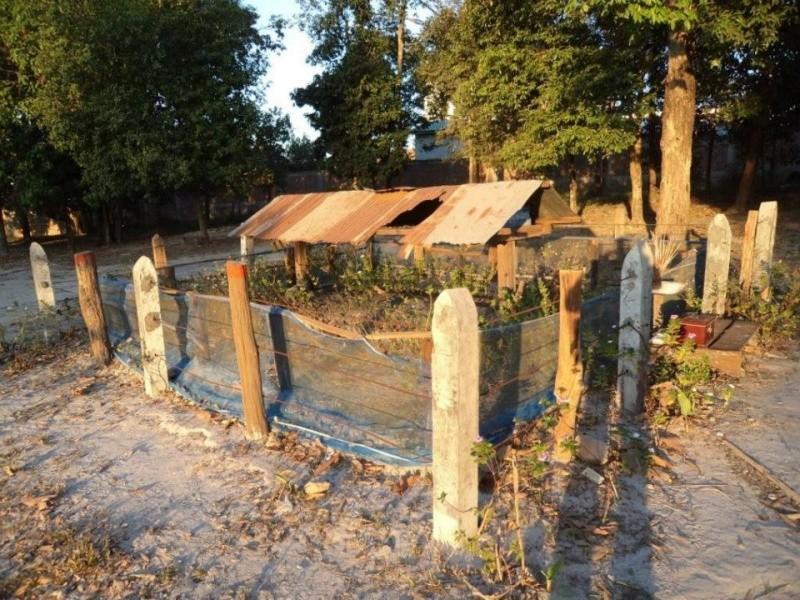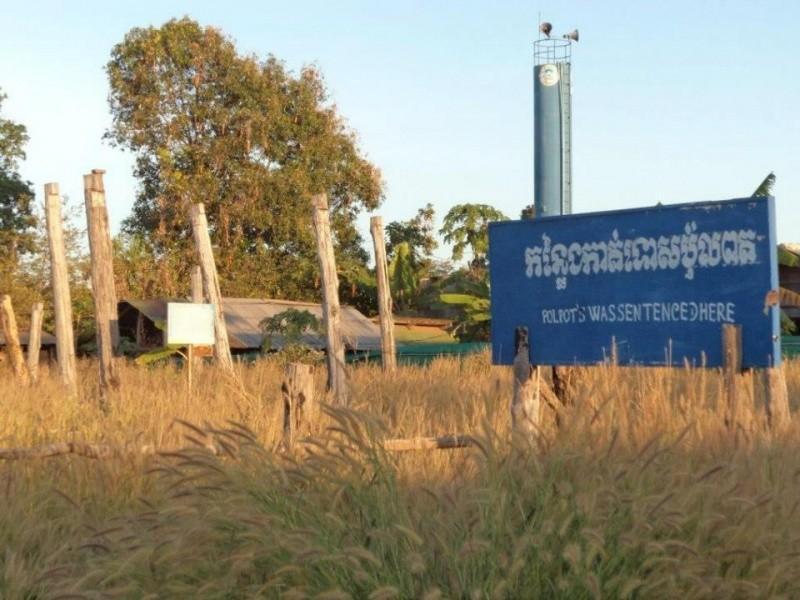 The other reason for coming up here was to see the mountain houses of Ta Mok and Pol Pot. To get to these, you go right up to the broder and turn right along a sandy dirt road. This leads to a T junction about 500m up. Turn left to Thailand or right to get to the houses. Another 500m or so and you turn left again along a sandy road that winds around some houses. Follow this for 5km or so and you get to Ta Mok's house. There is a gusthouse here that I would stay at if I ever returned as it must have the best views from a guesthouse anywhere in the country! I couldn't find Pol Pot's house, although I am assured it is around there somewhere. The road carries on following the border and I followed it for a while but turned back after another 10km past Ta Mok's house. It is a very rough road although there were plenty of brand new Camry's driving up and down it - it'd be interesting to see what they had in the boot!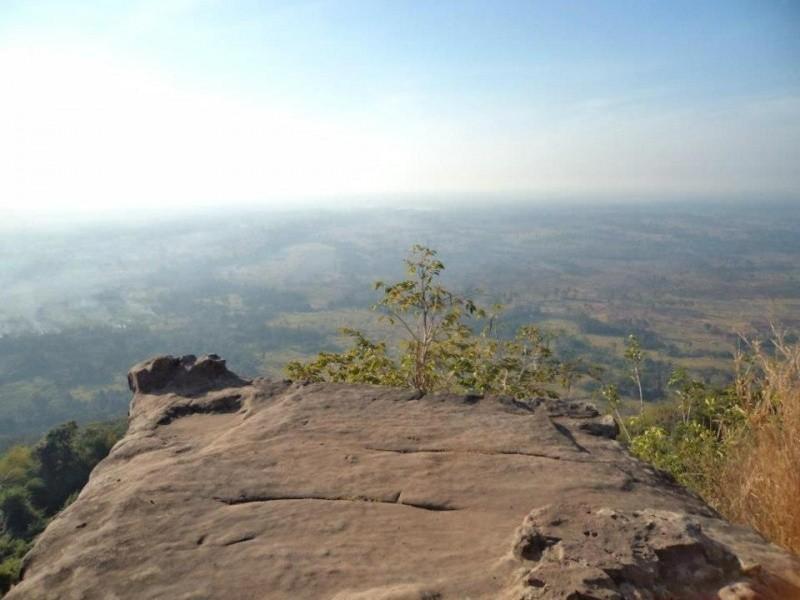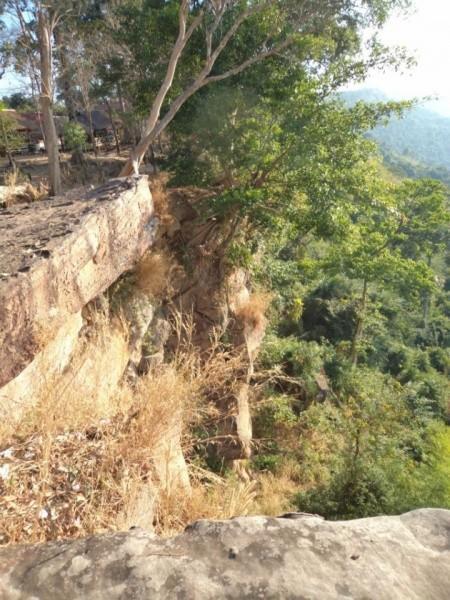 The view from Ta Mok's house.
After checking these places out, I headed back down to Anglong veng and turned west towards Banteay Chhmar about 2km north of the traffic circle in town. The road here was good and Banteay Chhmar, like Koh Ker, is a great place to lose yourself among temples with no crowds. The jungle has really taken over here and there is a lot left to the imagination. They have just started restoring one of the temples and I was lucky enough to climb the scaffolding with one of the team and come face-to-face with a huge bayon-style carving of a head on top of one of the pillars. Very cool! The police caught up with me here and insisted I pay a $5 entry fee. I got the money out and asked for a ticket, to which he replied "We have no tickets, you just pay me". My money went back in my pocket and off I went without much arguement. It is a catch-22. The cops here are notorious for looting the temple sites for profit, so ticket sales could provide an alternative income for them, however if it is unorganised, you can be sure that the pilfering will continue and the ticket money will just go straight into their pockets. Just down the road from Banteay Chhmar is Ta Phrom, a bayon-like temple which, again, you can ride right up to.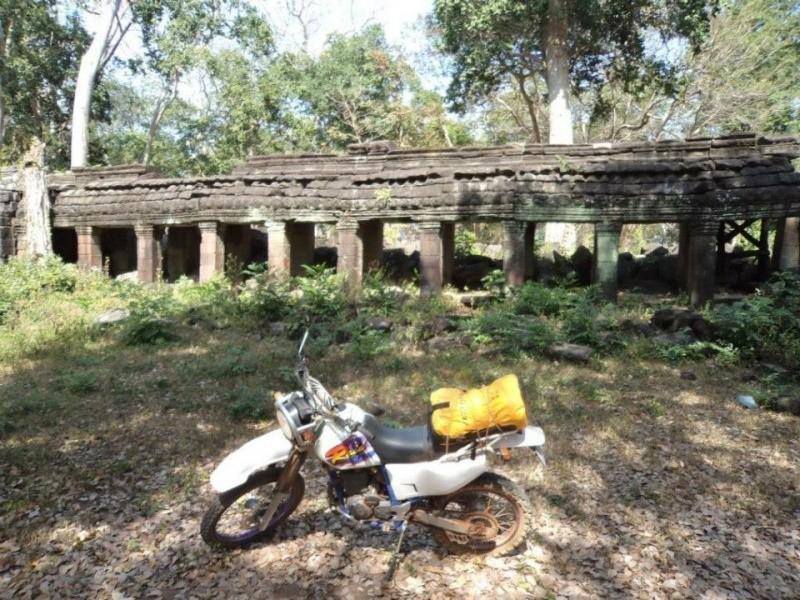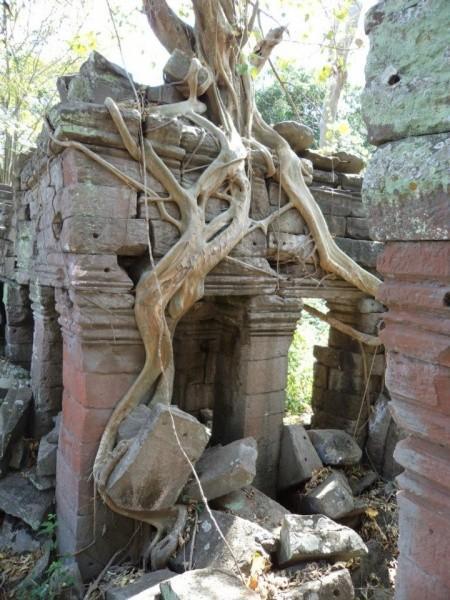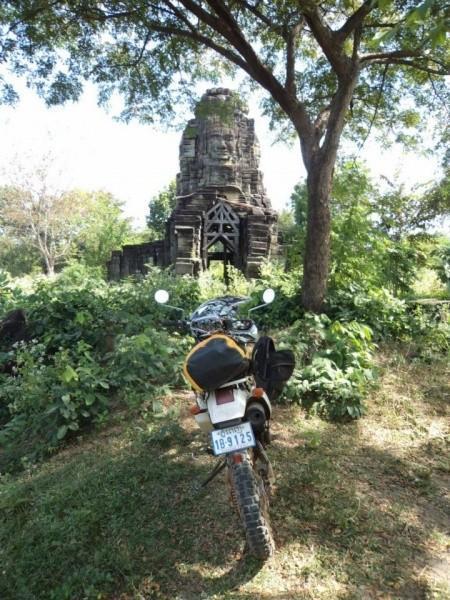 From here I followed the road to Sisophon. The road was absolute rubbish, but only because they are fixing it up. I'm sure soon it will be as good as all the other roads in this area.
From Sisophon the next day I headed to Siem Reap. First stop was at a town that I think is called Chob, around 22km from Sisophon. Here they carve sandstone for export all around Cambodia and overseas. It was quite impressive to walk around the yards where they were carving and see how it is done. Further along the road I turned left at the statue of the woman with a spinning wheel (after overshooting it by 20km) and headed 20km or so along ancient canals into Ang Trapang Thmor Reservoir. This was built in the Angkor era and rebuilt by slave labour by the Khmer Rouge to provide irrigation for the rice paddies in the region. It is now partly a crane conservation area and is bloody enormous! There were indeed hundreds of cranes in the area and masses of other water birds etc. I began to ride around the lake but quit after 40km when the road was turning rough and had left the lakeside. Hard to tell but I think I was still only halfway round the lake at this stage. My camera chose this spot to stop working so I have no pics of the dam, but get up there and have a look, it is amazing! And you can buy deep fried water snakes at the bottom where there is a small market. From here I headed back out to the main highway for a quick blat into Siem Reap to meet some folk who were flying in from out of town. We did Angkor Wat etc (I won't bore you with that as I am definitely not the first person to write about that one, amazing as it is!) and after a couple of days in SR I headed back down to Phnom Penh on Highway 6 which, as I mentioned earlier, is just a chaotic
[email protected]
#tfight of a road best avoided on a bike. Here is Sisophon and Chob: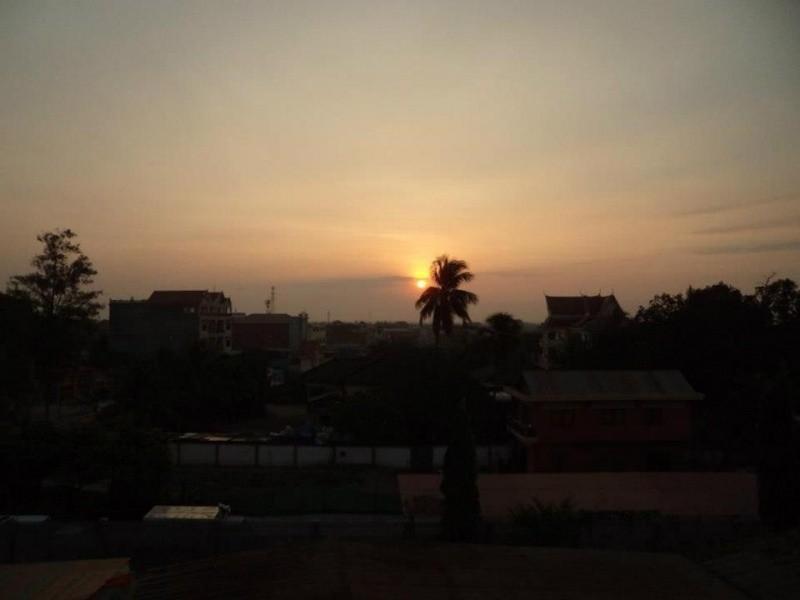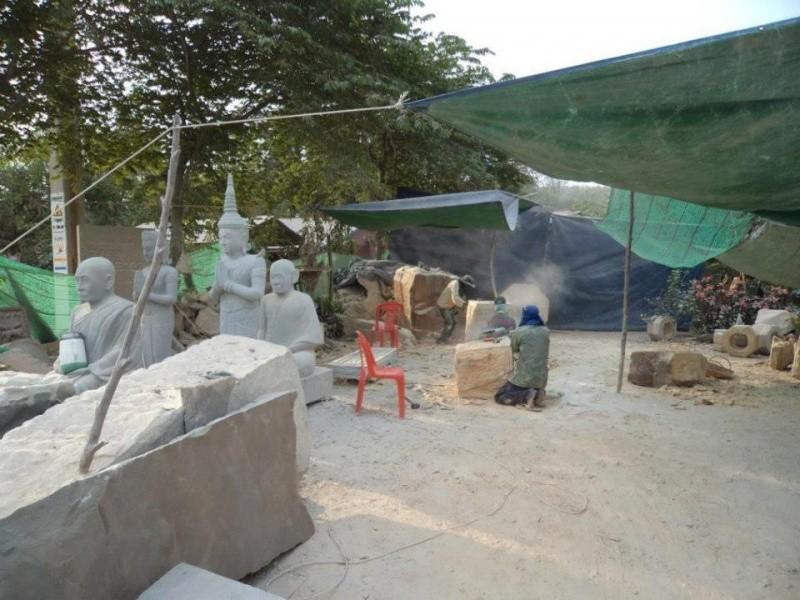 I hope you enjoyed the read - I know I enjoyed the trip!
Thanks