I was lucky enough to get to Thailand for a few weeks this Dec-Jan, spending most of the time with my family down at Saphli in Chumphon. I planned to take off for a 3 day ride further south. I'd mentioned this to Rhodie (an inmate) while I was in Bangkok and he kindly offered me the use of one of his proper bikes. I made excuses about having to hire a car to take the family down to Chumphon and declined the offer. I could have easily returned to Bangkok to collect one of his bikes but was keen to do the trip on my little 110cc Yamaha scooter bike I keep in Thailand. I've had this little bike for about two years and only ever used it to run down to the local market for beers etc. It was time to see just what this thing was capable of.
I had a loose plan to to travel from Saphli (near Tung WuaLaen beach) over to Ranong, then down to Phangna and Krabi and travel back up the eastern side of the peninsular back to Chumphon, trying to keep off the major highways. I was using a Thai road atlas to plan my route which I soon found out omitted quite a number of roads and worse some of the roads marked on the atlas were wrong. Captain Slash (on GT-Rider) has covered most of the roads in the area in road reports on the GT-Rider site – I should have checked them more carefully to plan my route but why plan when you can just get out there and ride.
I packed the bike. Well I threw in a bottle of water and rain jacket in the front basket and tossed a few spare t-shirts in a back pack and set off to Ranong on route 3180 to Chumphon, then the main road south, highway 41 (AH2) until Sawi. I couldn't find any alternate route for this stretch but there must be some roads to the east of the highway.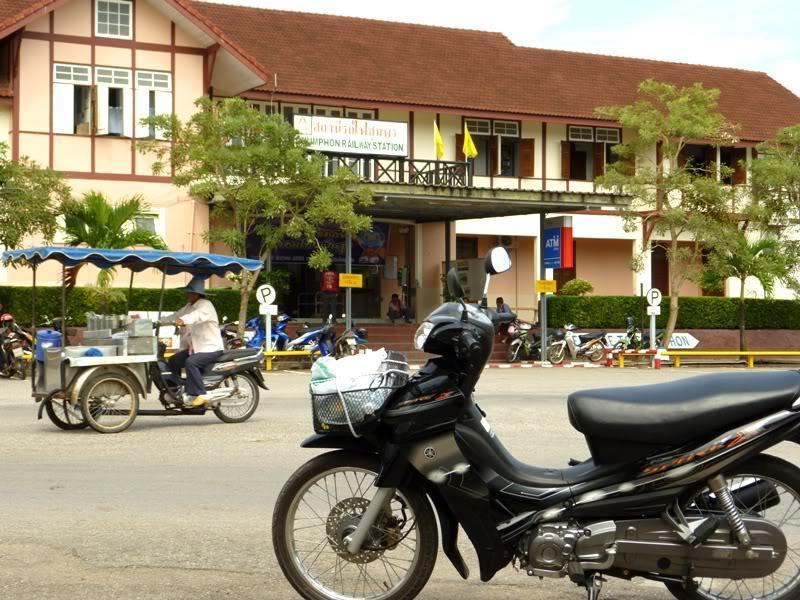 I was relieved to reach the turn off to Ranong onto 4139 (turning into 4091 later on). This was a great secondary road in very good condition. It would be lots of fun on any bike with a bit more power.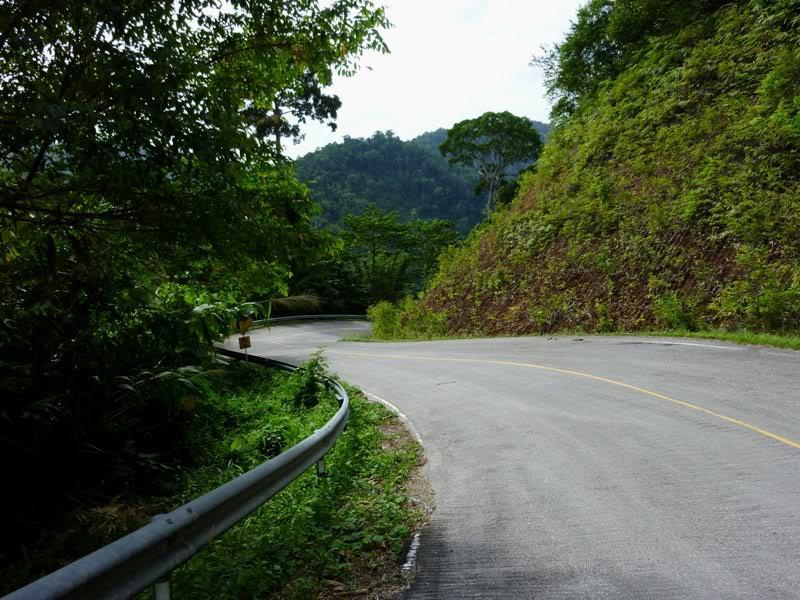 The scenery was pretty spectacular as well. I rounded a bend and had one of those 'what the?' moments.. in front of me was a mountain with a hole through the middle of it. I had never heard of this being in the area so was quite surprised to see it. My photo doesn't do it any justice but you can make out the hole to the right of the S bend sign in the photo below.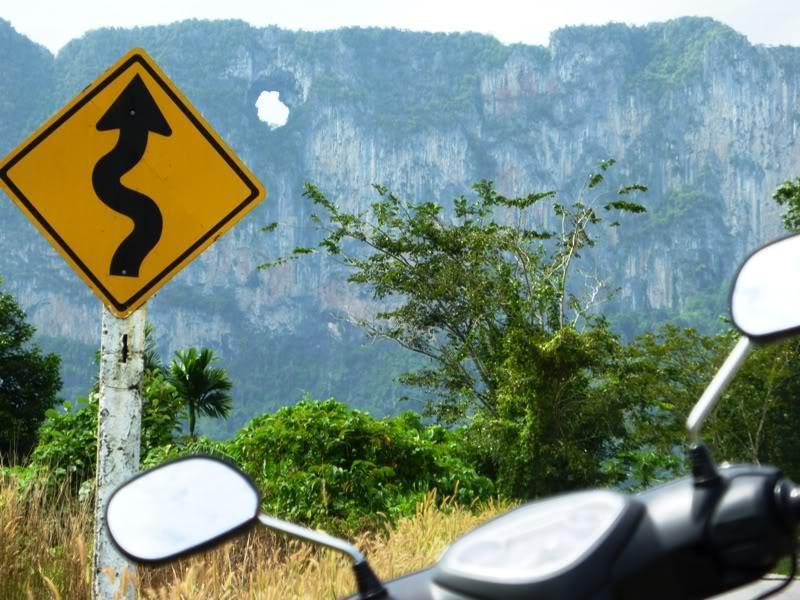 The rest of the ride over to highway 4 and down to Ranong was pretty relaxing. With nice scenery and not much traffic (even on hwy 4).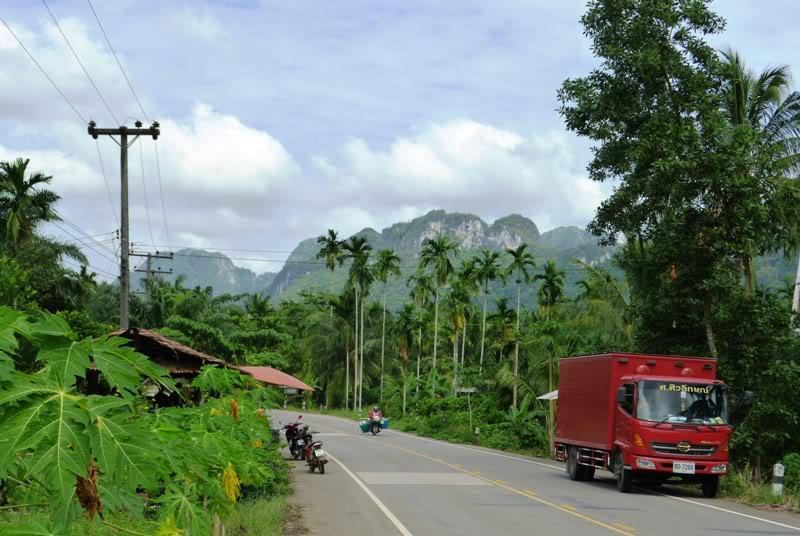 The area is mostly rural – rubber, palm oil and shrimp farms. That's not washing on the line its rubber sheets drying in the sun prior to collection and dispatch to the nearest factory.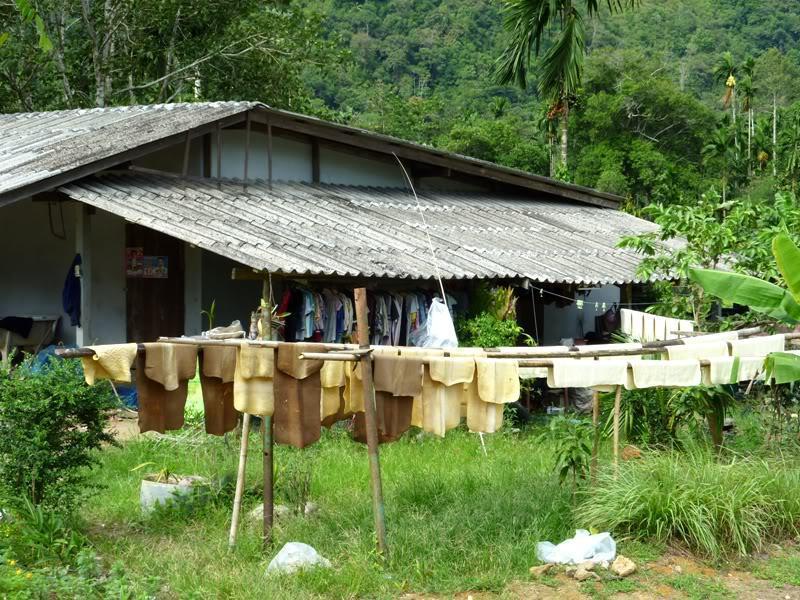 I started this trip just after the local new year's holiday. Thai roads are notorious for accidents during holiday periods, I'd seen a few crashes on my drive up and back to Bangkok and there were still a few wrecks being cleared from highway 4 when I headed out on this trip on the 8th. This is just a sample of an all to common sight caused by inexperienced and poorly trained drivers driving to fast and without any real idea of country driving.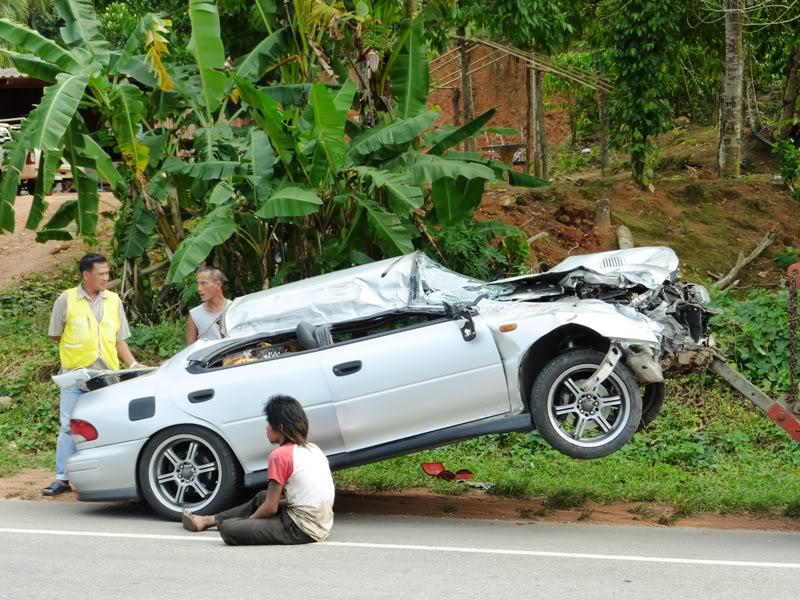 Into Ranong and dropped into the port for a look.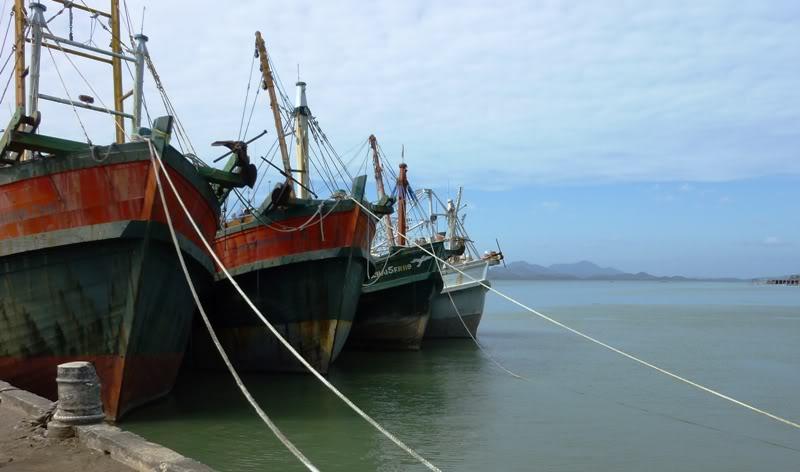 Ranong is a sleepy seaside port city typical of Thailand. It borders with Burma so there's a fair bit of trade going on. The one thing I did notice down this part of Thailand is the increase in the number mosques. There seemed to be one in every village.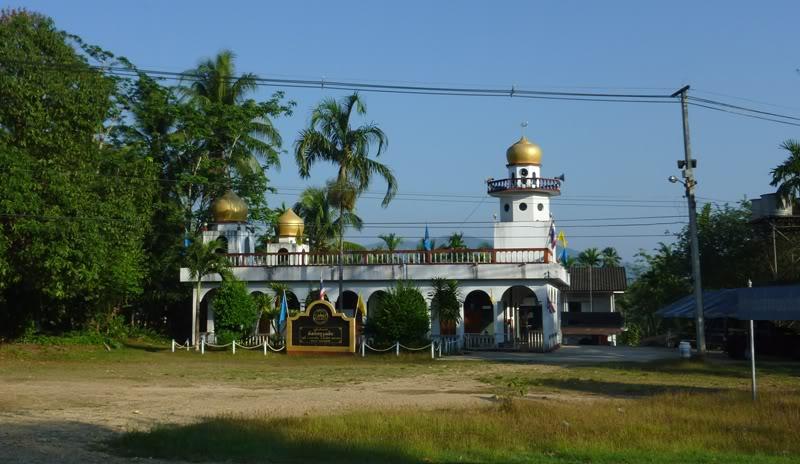 Buddhist temples are usually what you see such as this example near Chaiya.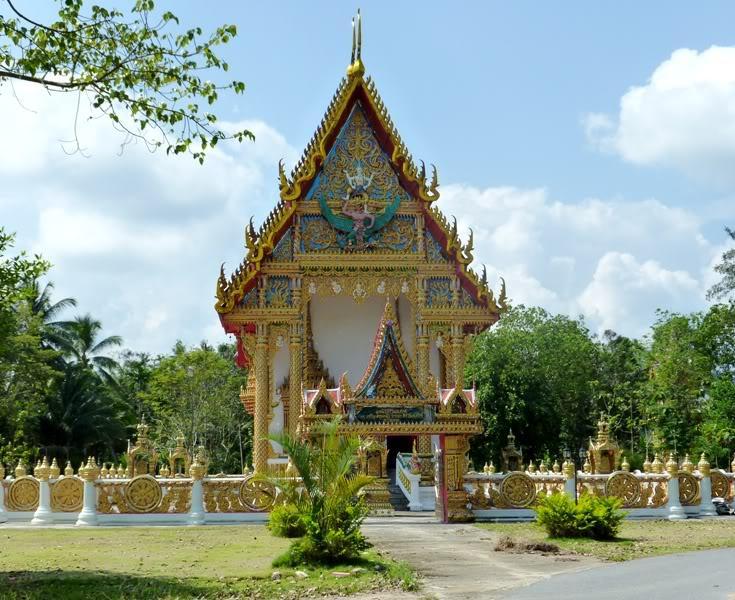 After Ranong I headed south on hwy 4, taking a side trip to check out the beaches facing west. I can't remember the name of this place but it was less than 10km from hwy 4 so shouldn't be to hard to find.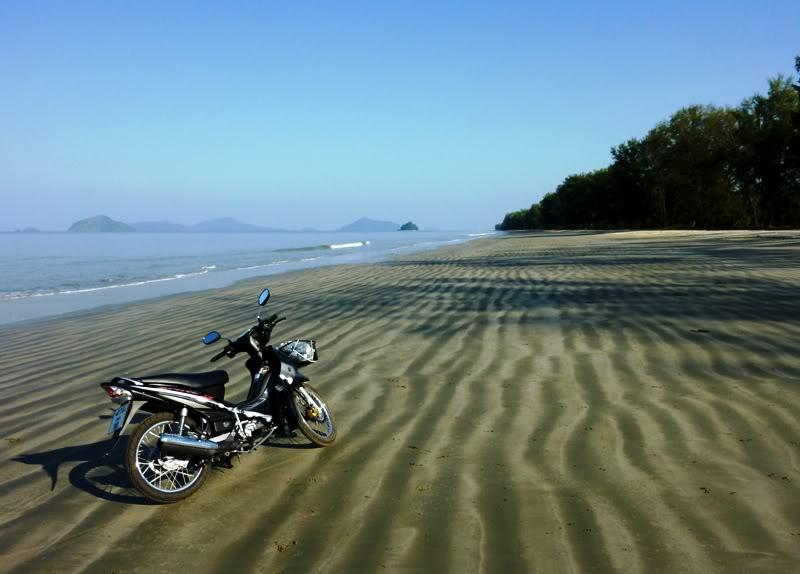 Turning on to 401 for a short stretch then onto 4032 and 4090 down to Phangnga. I wasn't that impressed with Phangnga, it was hot and dusty, so I stopped for a cheap lunch and rode through heading east to Krabi. My map failed me along this stretch which meant I stuck to Highway 4 all the way to Krabi and overnighted at one of the tourist beach areas. It was Children's day holiday so the beach was crowed.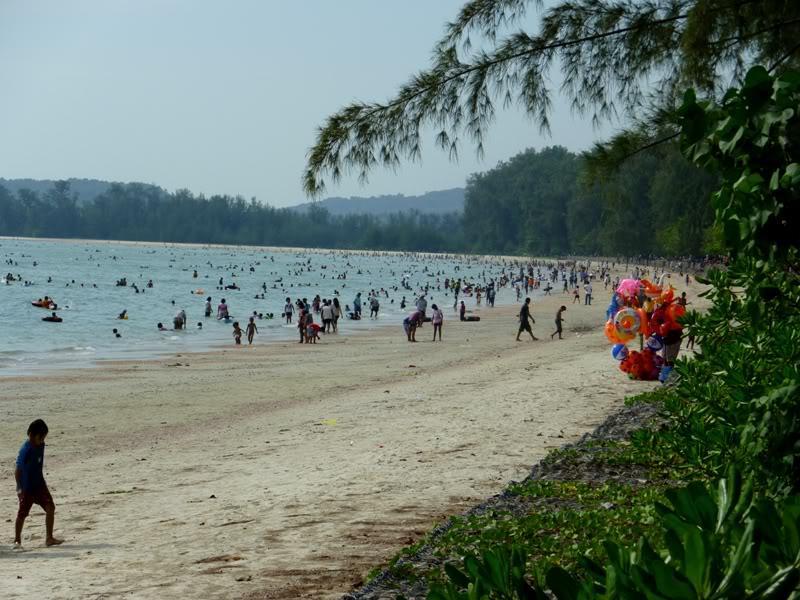 Next morning I headed out to return to Chumphon, stopping to get a bike/beach photo for a set of photos of the Yamaha with beaches facing west, south and east.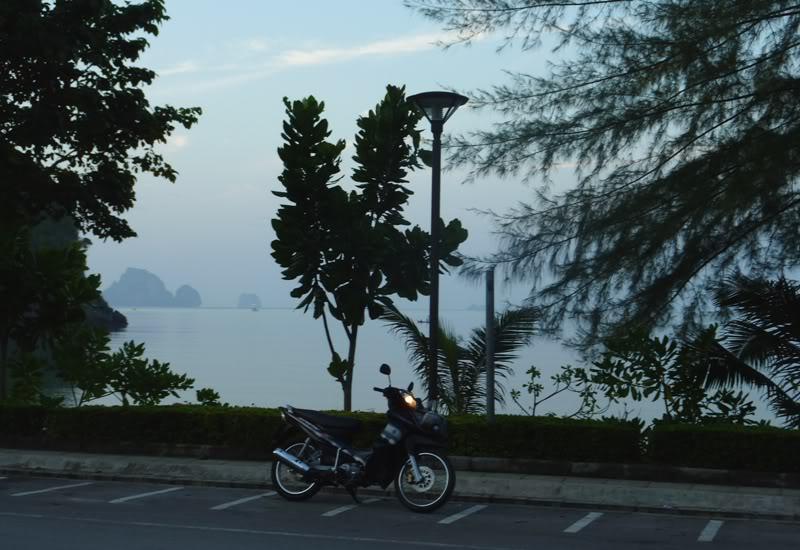 Krabi town seems quite ok and could be a better place to spend a couple of nights with day trips out to the beaches and bays in the area. Its located on a river a little inland from the beaches.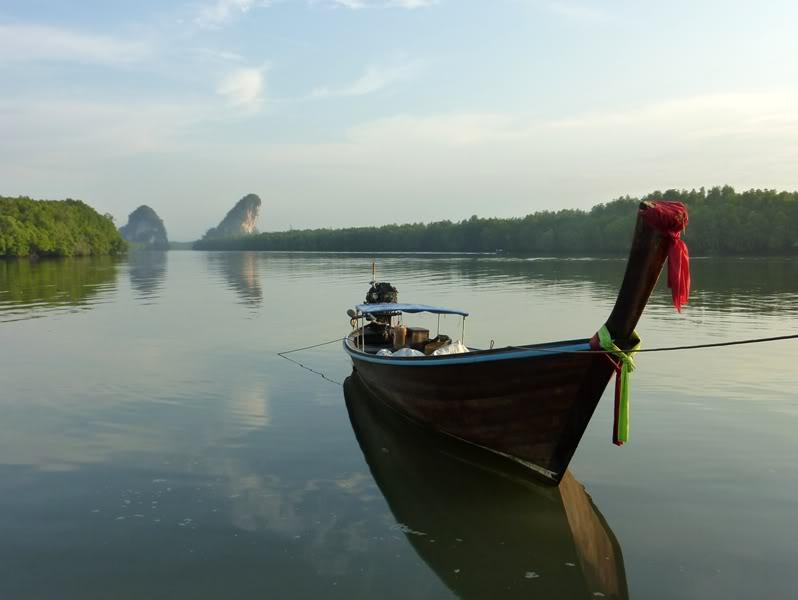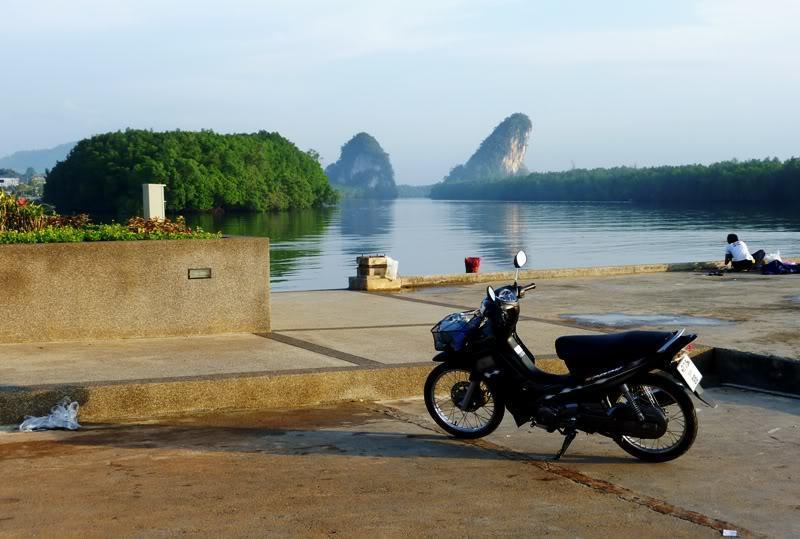 Heading east on highway 4 I was looking for the turn north on 4037 to Chai Buri. I think I turned off on an unnumbered road that was signposted to the general area and eventually linked up with 4037. I continued north on 4009, 4199, 4132 meeting up with highway 41 near Surat Thani. The only good thing about riding small bikes on major highways in Thailand is that they provide a motorcycle lane to the left of the normal traffic lanes. This reduces your chances of being wiped out by someone travelling about twice your speed. Other than that I found I was stopping for rehydration breaks at the ubiquitous PTT/7-11 service centres quite a bit.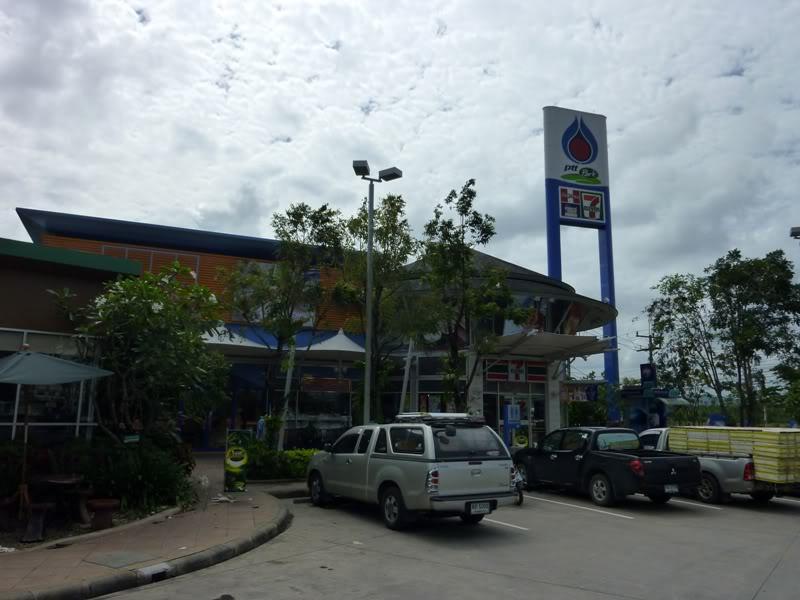 I was pretty keen to get off highway 41 as soon as possible, my map showing that I could ride from Chaiya to Lang Suan on roads to the east of the highway. I couldn't see any other alternatives north or south of these two towns. I managed to find the 4011 turnoff to Chaiya before heading north had a look around the town and discovered a couple of old 10-12th century temple ruins.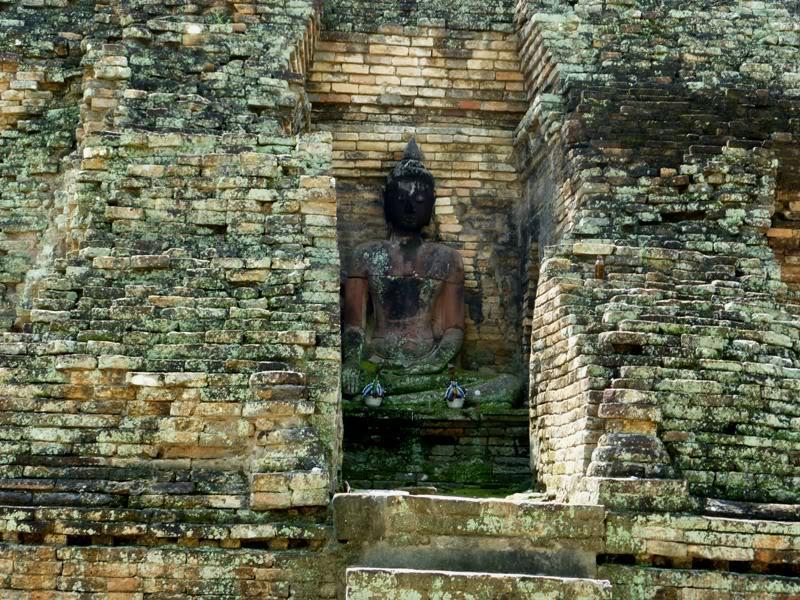 Usually road signs in Thailand are written in both Thai and English so its not to hard to navigate. I've only been in a couple of regions that didn't have English, Areas in Nan in the north was one and the country roads around Chiaya was another. To add more to my navigation dilemma the road numbers didn't match those listed on my map. I decided to head in a general northerly direction figuring if I headed to far west I would meet up with highway 41 again and east would hit the gulf of Thailand so I couldn't go to far wrong. At one point I was stopped at an intersection and decided to turn back to study the previous Thai only road sign to work out which way to go but a luck would have it a woman pulled up and asked me where I was going and pointed me in the right direction. What was more fortuitous was that I could actually understand her Thai and she mine.
It turned out that I was on route 4112 that took me all the way to Lang Suan. From here it was back to highway 41 to Chumphon and the 3180 back to Saphli.
Travelling on these big highways you can sometimes forget what country you're in but when these huge Buddha statues come into view you soon remember you're in Thailand.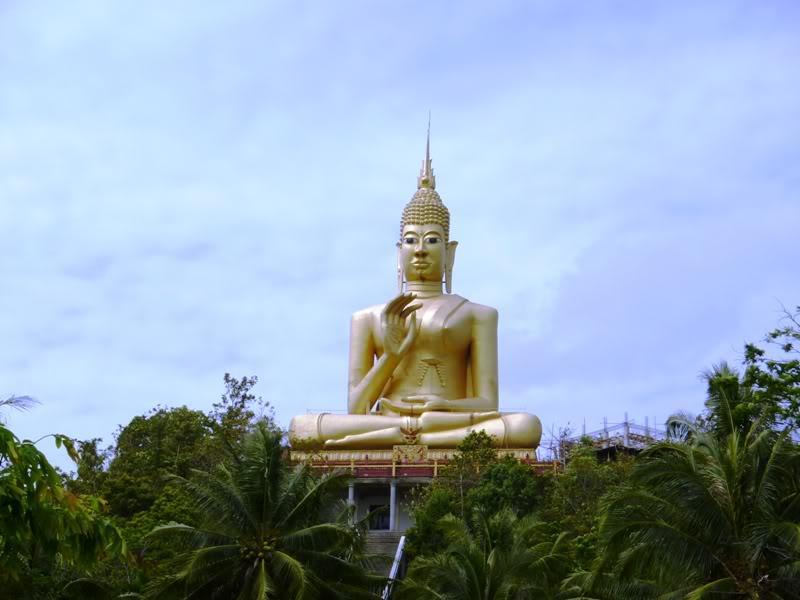 There was only one last thing to do before getting back to where my family were staying and that was to complete the trio of beach photos. So here's the Spark at Tung Wua Laen beach facing east. This is a popular beach for kite surfing and has a couple of nice restaurants.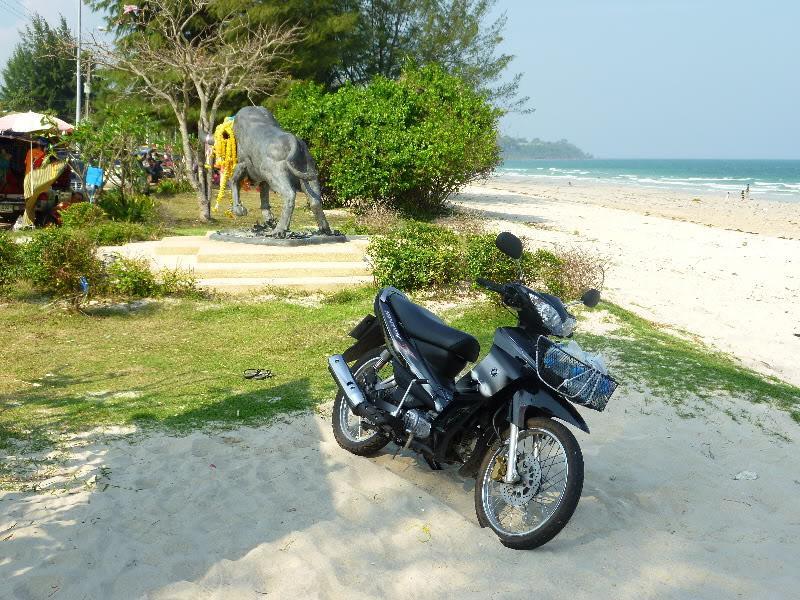 The trip was about 900km which I covered in a leisurely 2 ½ days. The bike ran perfectly the whole time however its standard suspension really wasn't up to the task and in hind sight I probably should have fitted some YSS shocks I had been looking a couple of days before the trip. I think I made the right choice with taking the small bike rather than one of Rhodies. Travelling slower allows you to look at things and not have to concentrate so much on your riding although a big bike capable of keeping up with the highway traffic would be much safer on those roads.
I head home to Canberra shortly. Next year I think I should fit some better shocks, find a better map and maybe ride it up to Chiang Mai.