My frend Sean and I got off to a 9am start on our newish Honda Phantoms for our trip to Nan.Our route today 118-120-1-1021-1251-1091.The 118 was not to busy early but we did see two flipped cars in the ditch, to much speed and some wet corners mabe?
We make the turn onto the 120.This is a nice road that much has been written about lately.Its better than last year now that the road work is finnished.
A little lunch and a gas stop on the hwy.1 The 1091 into Nan is a nice road and you can open up the bike a bit.
We stay at the Eurngkum Guesthouse in Nan.Tel 089-7662849 350 baht.I enjoy this place it 1 year old motel style(great bike parking) with the best hot shower I have had in s.e. asia.Newie is the manager she speeks good english and is helpful,she also has Nan maps.
We go down to the bridge park and have a beer then off to the blue bar(across from the 7-11)for dinner,they have good food and a large menu.
Day 2
1080-1256-1081-1169
Today we try the Doi Phu Kha loop.The 180 is a fast road to Pua here we get on the 1256.The 1256 is a nice road with great views and good corners.I cannot resist this photo,same place as Davids "A motorcycle guide to the golden triangle"[/img]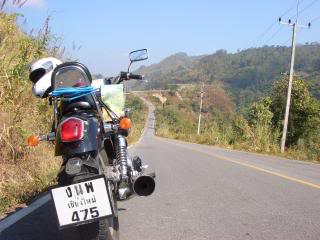 On to the top of 1256 and we start the down hill to Bo Kluea where we stop at the Bo Kluea view resort to have lunch and enjoy the view.After lunch we make the right turn to the 1081 I just love this road the views are fantastic,the photo will not do justice
There still is some road work on the 1081 but is not a problem.Then the 1169 back to Nan.What a great day ride,perfect weather,fantastic views and great roads and no trafic.
I did this loop 3 times last year,it does not get old for me.We go to the night market and have a few beers and dinner.
Day 3
101-1026-1083-1123-1243-1162
Today we try some new roads for me.We take the 101 south to the 1026.The 1026 is a valley road,fast with some good sweepers.
At Na Noi we take the 1083 toward Si Nan national park.[/img]
The 1083 is a decent lonely road,with more cows than cars.We take the 1123 to Ban Bo Bia take a look at the locals only crossing to Lao and have a little lunch.
After lunch we take the 1243 its a twistie road with dirty corners and cow patties mak mak.After about 10k it turns to dirt.
The dirt starts out nice like the photo and gets a little rough and rutted for 16k(the dirt is not on my PN or Globetrotter maps).The 1162 is a nice road back to Nan with good pavement and some more twisties.Tommorow we will head to Phayo.[/img]