I set off with the intention of riding as many new roads to me as I could.
the first day, i set off for khun tan railway station. the rural roads out to here were enjoyable. the 1229 and 1230 i believe are the numbers.
From here on in it was a complete waste of time( note: this is just on my bike and my point of view, others may well enjoy).
I tried to be clever and link khun tan railway station to highway 11 just before the 1023 turnoff using minor rural roads. I failed miserably even with a GPS and map. After ending up on dirt roads around a quarry and then circling some villages aimlessly i give up and return to highway 11. wasted time probably in the region of an hour.
Then I tackle the 1023,1125,1177,101 into Si Satchanalai. Oh dear, I am never out of 5th gear on the low geared DRZ, there is hardly a bend of worthwhile note in this entire section and my mood goes from poor to poorer!
I try and rectify the sinking ship and begin trying to hack across to uttaradit usding some of the farming tracks but afetr a few too many close calls with farmers on the way back home i call it a day and return via 102,1196 and 1046.
the only picture i take on this dire day is this, at sunset on the 1046.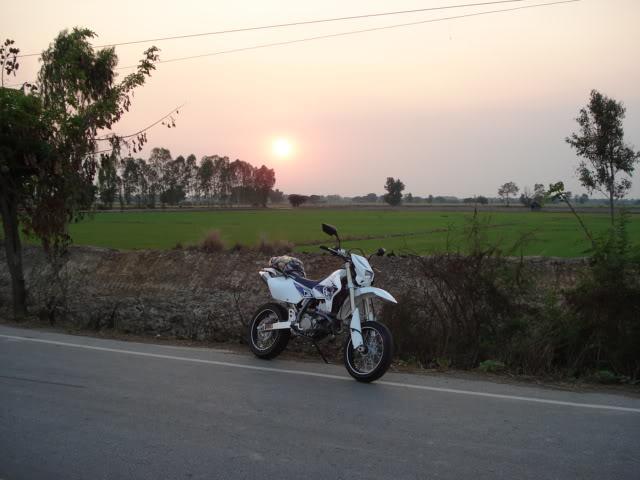 I roll into uttaradit and struggle to find a hotel, i end up at the nigarakom hotel 100metres before tesco lotus, It seems a good deal at 320baht.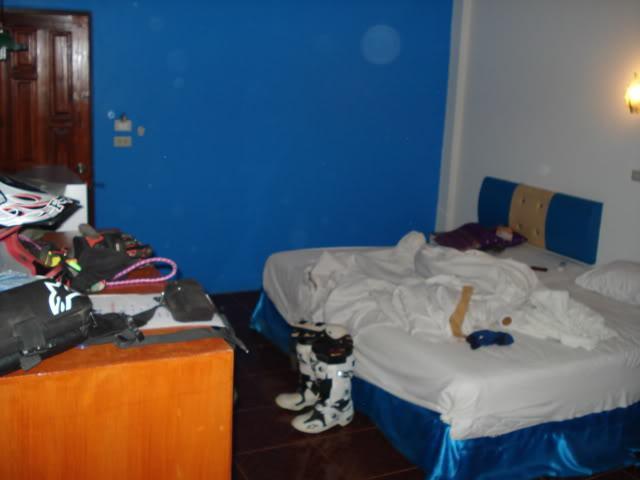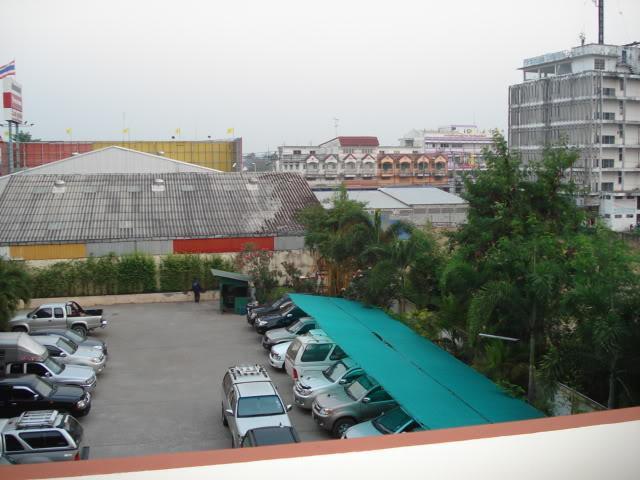 In bed early I rise early at 6 the following morning and set off in the direction of Tha pla in search of the 1341 linking sirikit dam with phrae.
Here I am filling up with gas.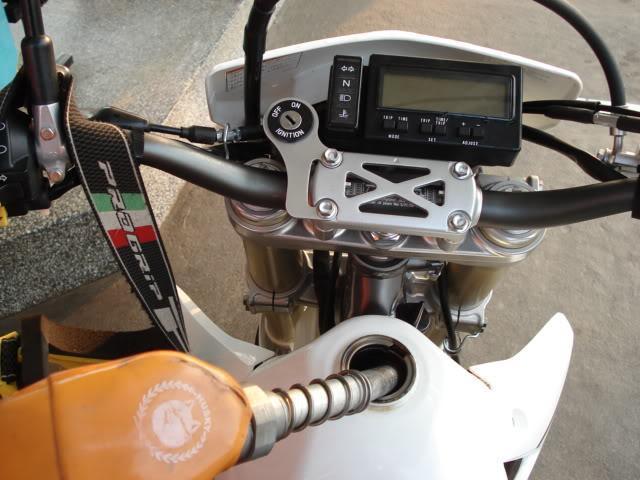 these delinquents are circling the petrol station.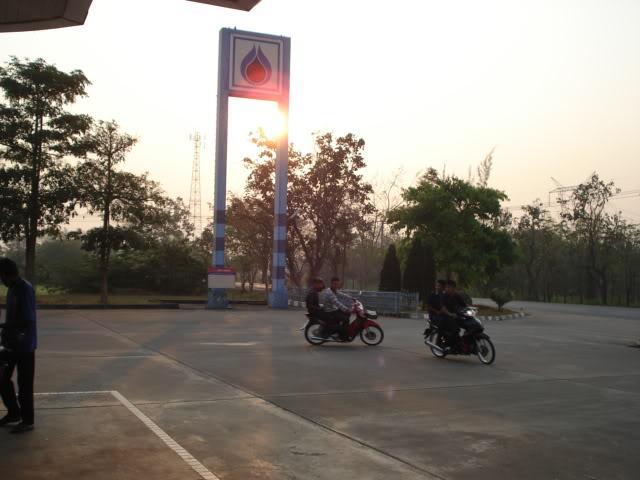 After a medium length stretch I reach Tha pla pretty incident free. The only notable point being a strong smell of mint at the start of the 1163. I narrow it down to A. a mint farm in the area B. wild mint growing in the area C. my colgate 24hr total protection toothpaste really does work and the smell is in fact my own breath circulating in my helmet.
Here i roll up for breakfast, Im not sure how long this section will take so i have a hearty breakfast and move on.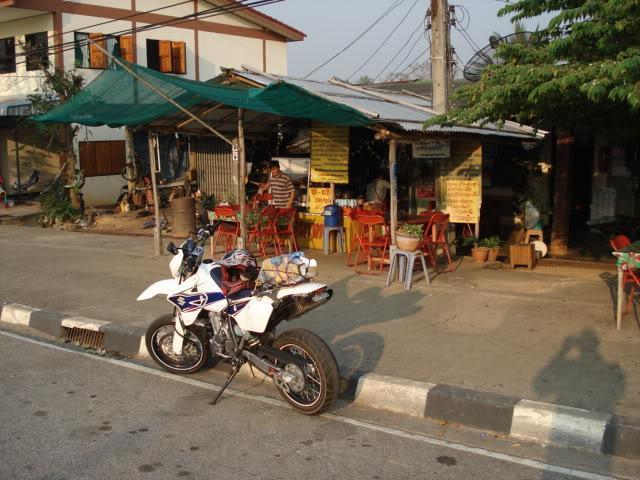 A lovely kai jieow for breakfast.mmm!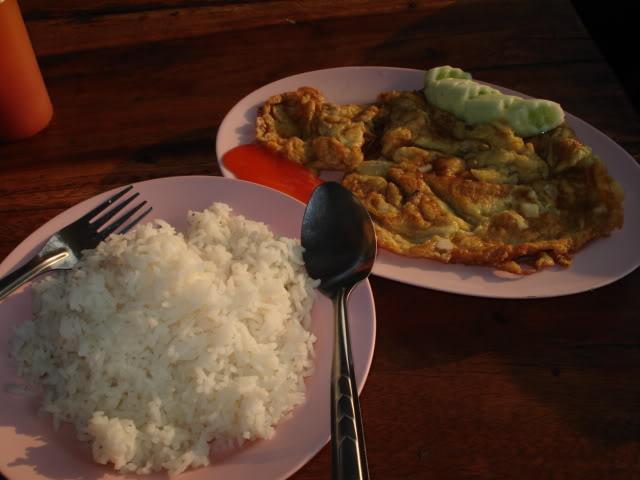 Its 8.50am when i enter the 1341.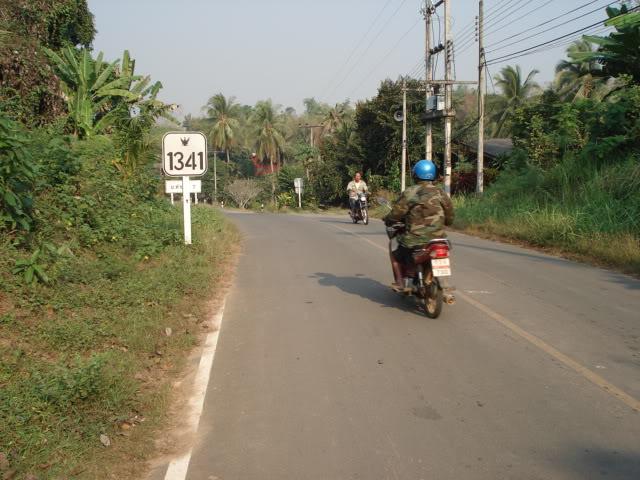 Soon into the 1341 it is very scenic..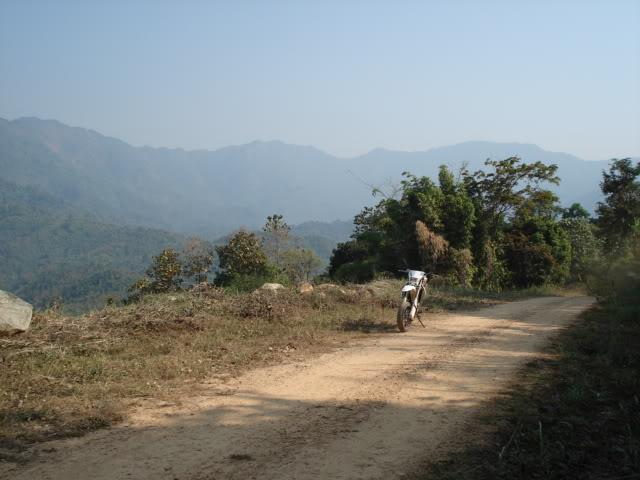 as captain slash has previously posted it is very quiet and scenic out here, my count for the whole road would not be over 10vehicles.
I wonder with myself as i sit admiring the scenery how much has changed here over the past millions of years and whether, once upon a time the great dinosaurs once walked along these very roads...
The off-road section is 39kms long and it mostly double track like this under the cover of the forest trees. It is very green out here and Im suprised as its not what i was expecting at all. I dont see the sirikit dam at any point though, I wonder if its because i simply missed it or because visibility was down due to burning in the area.
some pictures i did manage to take.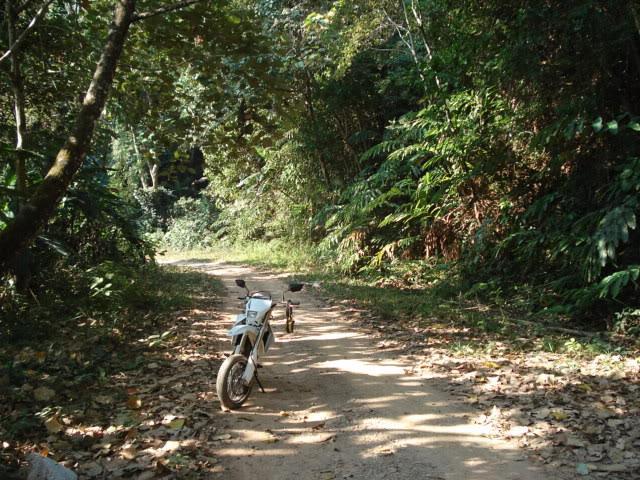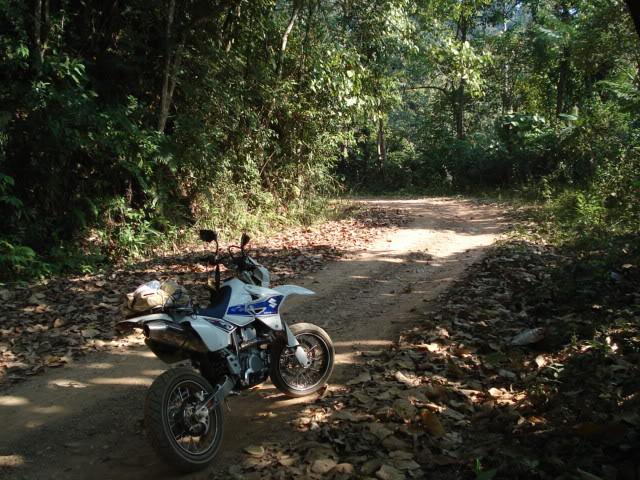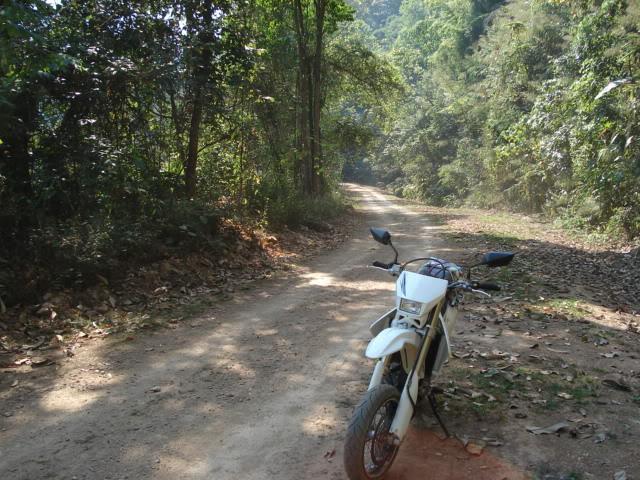 I roll into phrae on the 1022, the burning here in horrendous and its a digusting experience riding down this road. Im not sure whether the burning was just done the previous day or whether burning is particularily prevalent in this area. either way it was rough.
I have lunch in phrae and it tastes great.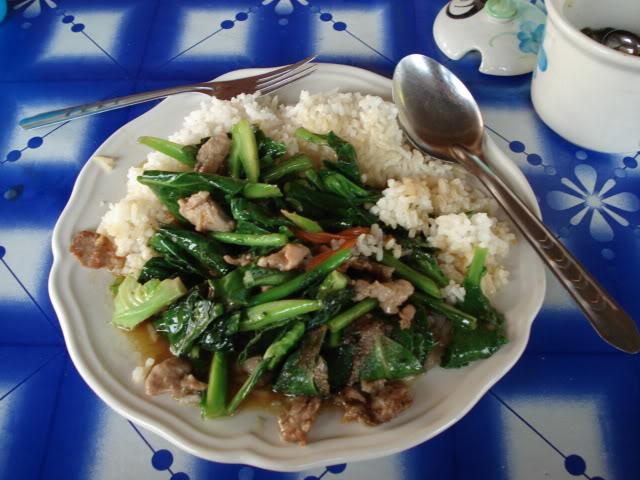 back onto the road I hit 1024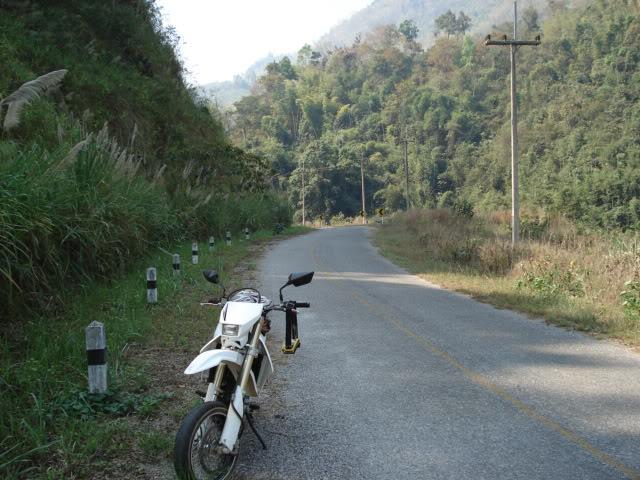 then its 1343, 1342 before joining the 1217.
these roads are infuriating, firstly the burning is bad, if it wasnt for this the scenery would be fantastic. Secondly, the surface is great in parts, then just when you are getting in your stride it throws you a mess of potholes and loose gravel to put a dampening on your fun.
I think rainy season might be a good time to ride here as the views( rain free) would be awesome and it might just wash some of the crap of the surface.
Heading north on the 1217 I reach the 1216 turnoff and take it to na noi.
Its in wonderful condition on the western stretch and I have a great time here.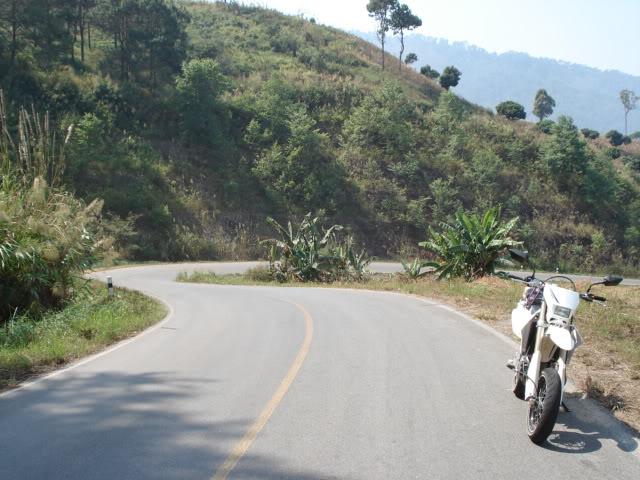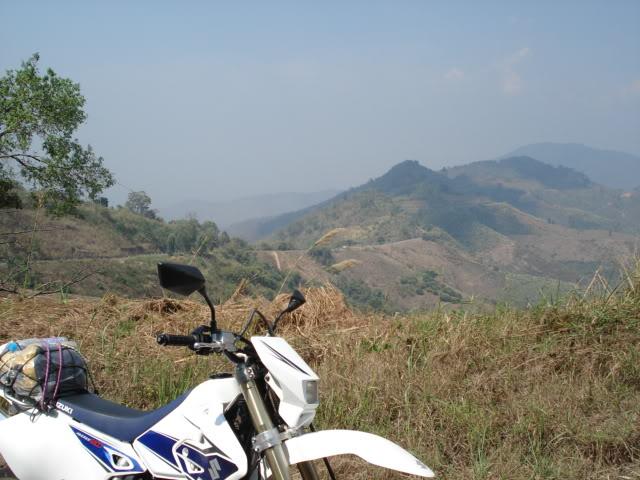 a quick break in na noi and my intention is to head straight to nan for a nice 2 hr massage at the dhevaraj.
However shortly after leaving on the 1026 I notice a road heading off to the left. I see that it says 40kms to the main highway, I figure that must mean the 101 so I try it and It turns out to be ok. quite a few villages along the way so it breaks up rhythm but the scenery is quite nice and its a road ive never done before
here is the best bit of scenery and road i could find so the obligatory picture was taken. The road is not as good as the 1026 so I dont think I will be doing it again. even if 1026 is a bit slippery at times its corners are far better than this new stretch. It drops me off about 10kms south of wiang sa and i continue in on the 101 from here.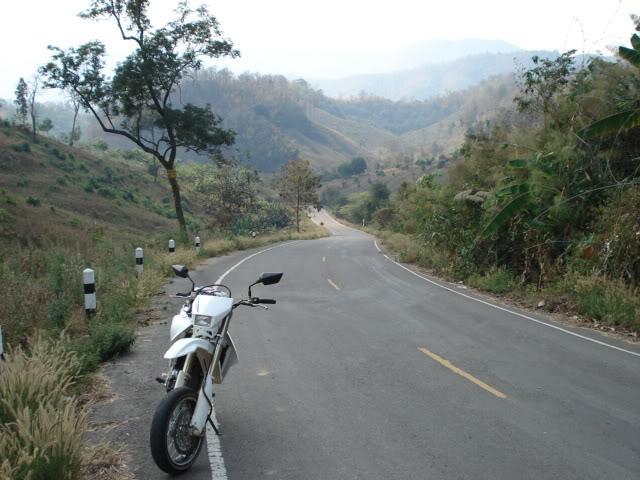 I roll in to nan shortly after 4 o clock and manage that massage. it was 372kms today so my shoulders ache.
cheers.