My wife and I will be coming to the north for a few days of enduro riding. We visited the southern beaches back in 2000 and are excited to return to Thailand.
Plan to rent a pair of Bajas and hire a Thai guide (referred by Walter Fenske) to show us the routes and sites (although I did buy David's maps and book!). Any idea what will be a reasonable salary--in addition to covering all his expenses? In casual Thai style he said he was available and we could have a good trip and to call him when we arrive and we can meet over a beer to work out the details.
We're staying at the Jonadda. We'll try to stop by the Kafe in the evening on the 18th and 19th and introduce ourselves. Possibly review with you the route Mr. Tommy lays out for us--4-5 hours of riding a day, 75% offroad, head north and spend half a day boating the Meekong or rafting a smaller river--that's our target). Once we leave CNX, we're done with western bars, food and sights!
The riding terrain we are used to looks like this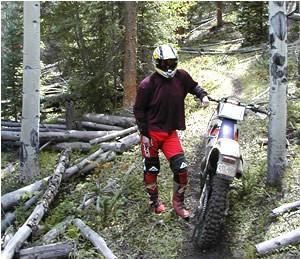 or this
We're looking forward to a change in scenery!
Doug Render
Colorado, USA