For some reason, I kept posphoning this write-up of an overnight cycling trip we made in mid April 2011. There were 8 of us, mostly from Kuala Lumpur, drove our cars with the bicycles loaded to a little town called Cukai, in South Trengganu. From there we left the cars at a friend's home and unloaded the bikes to start our journey northward. Road distance was 68 kilometers to our destination the for the night at Paka, a comfortable distance for a weekend cycling. We took some detour away from the trunk road, sticking to the smaller coastal road from Cukai till Kijal when we were forced to re-enter the trunk road northwards.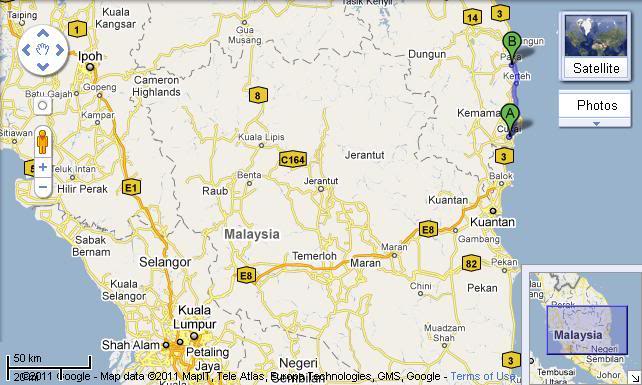 The state of Trengganu which is situated on the eastern part of Peninsula Malaysia, is a rich oil producing state. Oil wells are situated off-shore , but along this route at Kerteh we will see the gigantic infrastructure of Petronas's Refinery Station.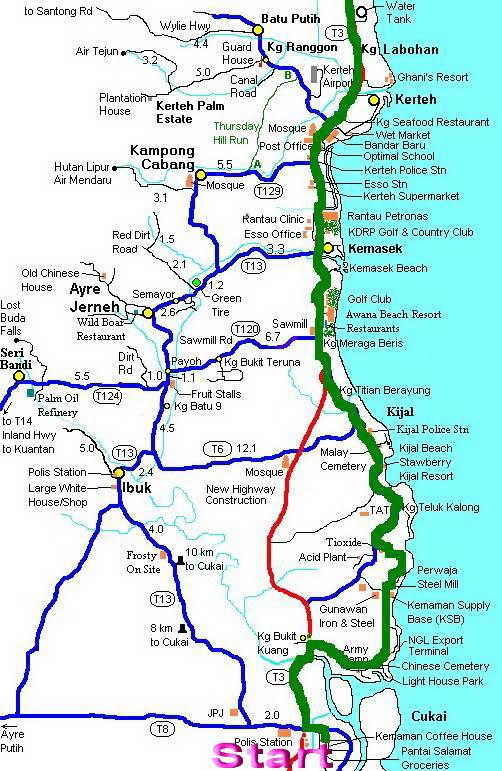 Enlarged view of part of the Tengganu state. At the most southern part, Cukai (Kemaman) we will begin our journey. Green line is the intended route we will cycle and red is the main trunk road that links Cukai to the north.