0
Staff member
Subscribed
Jan 16, 2003
14,088
5,081
113
69
DATES: Thurs 7th July – Sunday 10th July 2005
THE RIDERS
1. David Unk (Honda Africa Twin, almost registered)
2. Dave "Silverhawk" Early (Yamaha TDM)
3. David Bailey & Mai (BMW R1150RT)
4. Ruedi "Sax Bar" Junior & Ploi (Honda Africa Twin)
5. David Lek (Ducati 851)
(This trip should have been called the Davids tour – with Ruedi considering a name change to fit in better with the group next year?)
Pic below: Phi Ta Khon's a pretty raunchy festival. Be prepared!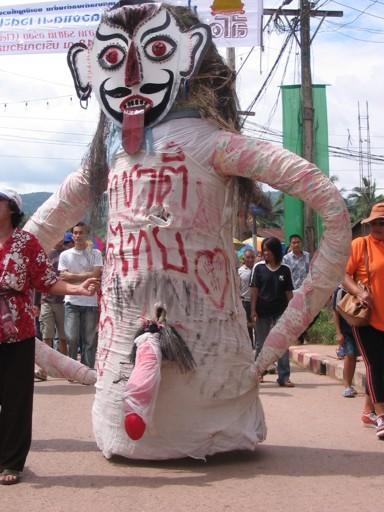 THE WAY: (1) same old way & nothing unusual. Chiang Mai - Lampang - Den Chai - Uttaradit - Chat Trakarn - Nakhon Thai - Dan Sai. (2) Dan Sai day trip. Dan Sai – Pak Mang – Thai Li – Nakraseng & Return. (3) Dan Sai – Nakhon Thai – Chat Trakarn – Uttaradit – Phrae. (4) Phrae – Song – Ngao – Lampang – Chiang Mai.
Pic below: A Normal white guy (David Unk) with the locals on parade.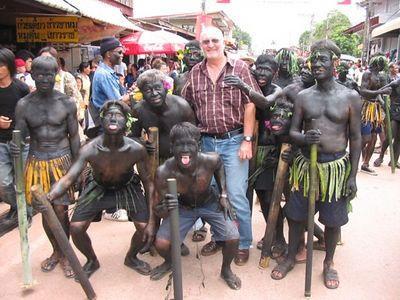 THE ROUTES:
1. Route 11. Chiang Mai – Lampang – Den Chai – Uttaradit
2. Routes 1246 – 1143 – 2013. Uttaradit – Chat Trakarn – Nakhon Thai – Dan Sai.
3. Routes 2114 – 2195 – 2009 – 2195 – 2114. Dan Sai – Pak Mang – Thai Li – Nakraseng – Pak Mang – Dan Sai.
4. Routes 2103 – 1143 – 1246 – 1214 – 11 – 101. Dan Sai – Nakhon Thai – Chat Trakarn – Uttaradit – Phrae.
5. Routes 101 – 103 – 1154 – 1 – 11. Phrae – Song – Ngao – Lampang – Chiang Mai.
Pic below: Locals enjoying themeselves at the temple!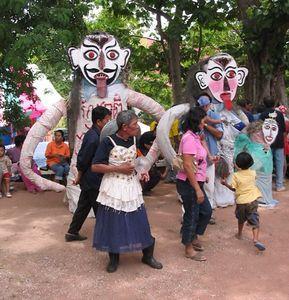 THE WEATHER: Sunny overcast & DRY = no waterproofs this year! (Unbelievable, but that's just the luck of the game in today's screwed up weather patterns = nothing ventured nothing gained, always give it a go! )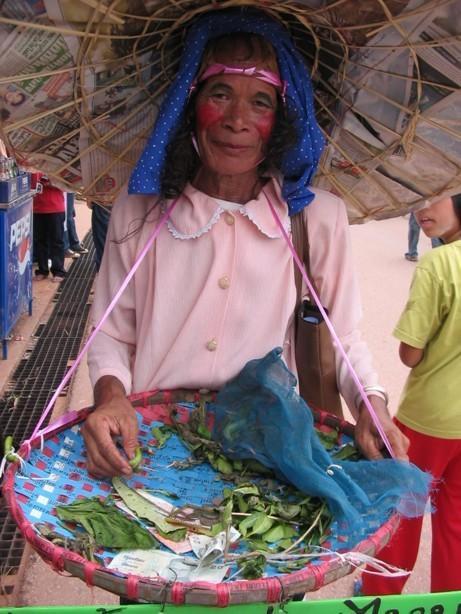 THE TRIP:
Brekky at the Bier Stube at 7.30 am, with David, David & David ALL on time & Ruedi junior turning up promptly at the scheduled departure time. Bet some of you guys never thought ol Davidfl could be there on time, but he was. (1 David = David Lek Ducati 851 rider – is "missing" & will join us a day late. On a Duke 851 it's quicker to blast down alone at warp speed rather than tag along with the boys & girls the day before the festival starts???)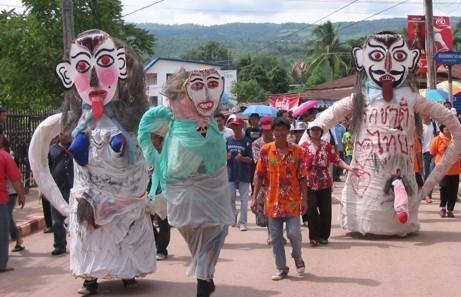 We get away on time from the super at 8.20 am – 10 mins ahead of schedule even.
The traffic is not bad, even for the morning rush hour & we get a nice run down to Lampang.
It's a slower journey than normal with the girls in tow – it's amazing what some riders will do for brownie points I thought? The speed limit appeared to be a mere 117 kph above which the lead bikes were pulling away from the accompanied riders. This was not my normal speed and one which was decidedly uncomfortable on that bumpety-bump concrete super!
Pic below: Normal guys with their bikes.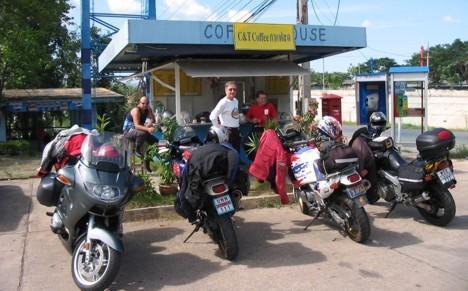 At the early coffee stop in Lampang one of the female pillions asked why I was riding so fast & it was with amusement that I replied I'd never ridden so slow on R11 between Cnx & Lampang! R11 is after all, just a walled concrete dual carriageway with little scenic attraction or smooth surface to justify any sort of cruising or "pottering along" = its only good for speed & a fast ride to get rid of the boredom!
Anyway as expected with a new "group" of riders, the coffee stop was longer than normal, but nonetheless enjoyable with everyone checking each other & their bikes out. Biker camaraderie is always a delight on the road = the BS often flows. And with the girls in flow it's extra sugary & not of any real substance. Ya gotta keep 'em happy.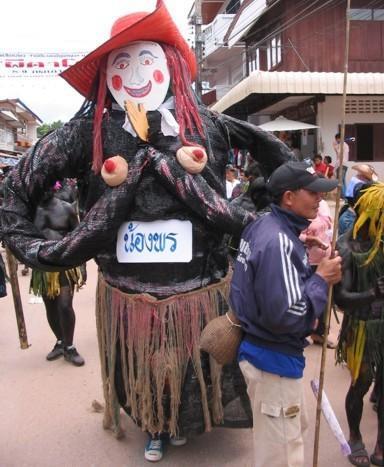 Next stop was the sala viewpoint on the Den Chai / Uttaradit mountain ridgeline & the scene of my freak horrific bike crash many years ago. R11 really is a superb fast flowing swooping road between Den Chai & Uttaradit, & both Silverhawk & I could not contain ourselves & got way ahead of the other 2 accompanied riders.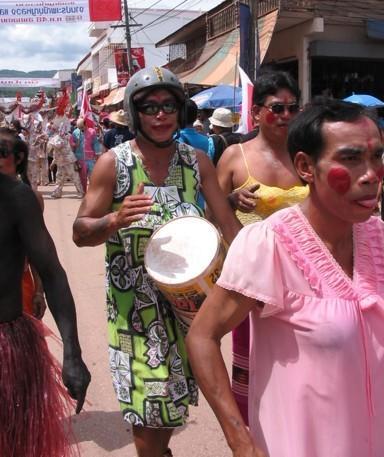 Crossing the ridgeline here is always a bit it of an eerie feeling for me due to the orange crush bus crash & I make sure I obey the Thai custom of giving the horns a work out to notify the guardian spirits that I am crossing, alert & on the ball – you can't catch me out a second time?
Anyway a second more significant break was taken here to enjoy the view, barbequed fish & som tam, complete with hordes of swarming flies. It was amazing how instantaneously the flies appeared once the fish & crab enhanced som tam appeared on the table. It was also even more remarkable to see more flies massing around the open coke can, than around the fish & crab dishes! That was a new one for me.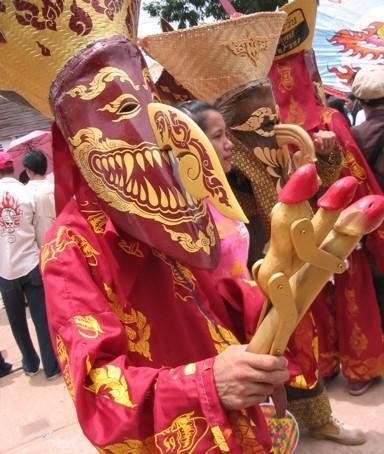 Descending the ridgeline, true to form the road was a little damp, but once on the flat Silverhawk & I wound the wick right up again & enjoyed ourselves right up to the fuel stop just south of town. The group reformed here & we stayed in a nice information up to the R1246 turn off approx 40 kms south of the Nan River crossing at Uttaradit.
Once on 1246 the scenery is a lot nicer with rolling hills & flowing winding rural back roads. We took our time through this section with quite a few photo stops. One rider seemed to get "lost" & was real slow getting into Nakhon Thai.
And Nakhon Thai it was for the next stop & time for old loong David to try a few more lines on a certain female shopkeeper who impressed him immensely the previous year. As expected the stop got a bit longer than necessary & I was impressed by the tolerance shown by my fellow riders, but I cant say that the overall situation has improved anymore in my favour…….. BobS would be impressed though as it would provide him with a glorious opportunity to wind me up as usual. (But for me nothing ventured nothing gained.)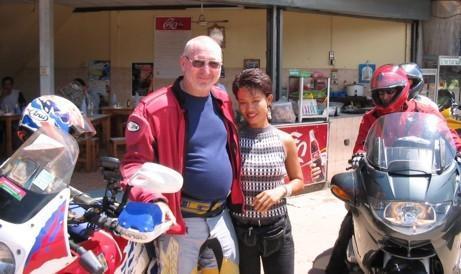 Bit of a size difference isn't there?
We hit Dan Sai "on time" mid–late afternoon, around 3.30 pm. After tracking down another of my local connections we were escorted to our accommodation. Brand new spotlessly clean concrete / brick rooms overlooking a gorgeous stream. Silverhawk was greatly impressed after the semi rat hole we'd shared the previous year. But to be honest I would not mind the semi rat hole as the joint had real character & was right up close to the action down town. Whereas the new unnamed joint was a little out town, tacked onto the family house & a little sterile with a very nice traditional conservative Thai family. Ya can't win 'em all eh?
Pix below: the sterile rooms for 2005.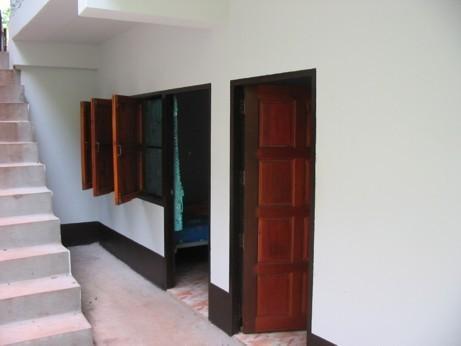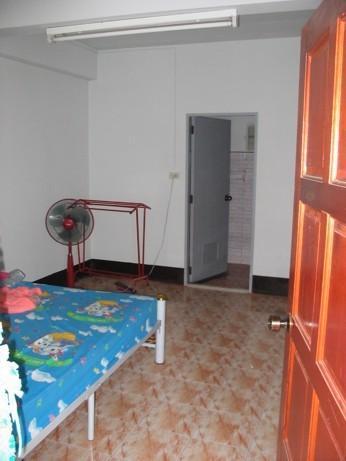 After checking out the rooms to make sure they were good enough for the girls, we re-parked the bikes with one certain rider reversing into a certain parked Africa Twin & knocking it over in the process. Its "funny" the way these events unfold at the time & both Ruedi & I were astounded that our repeated warnings to stop were ignored as the culprit did his thing. It must have been ear plugs or the thought of a comfy room with a hot gal that made him forget about a certain darling Africa Twin. And I should have taken photos of the bike laying on its side beside the road, but we were eager to pick it up before it got run over by a passing vehicle. Damage was only "marginal" = 1 broken indicator, 1 cracked mirror mount, 1 cracked Arai helmet side plate. There was no ill feeling on my part & I'm sure the culprit felt bad enough at the time not to need any sort of ear bashing. Shit always happens when you least expect it & makes life more interesting.
After a short nap it was down town to a cruise & check out the build up to the festival.
Pic below: The gender? Your guess is as good as mine!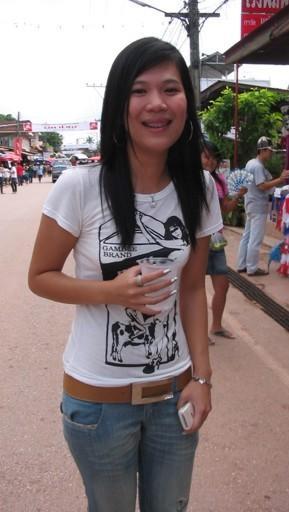 Pic below: He / she had the best T-shirt caption. F--k Milk. Got Pot!!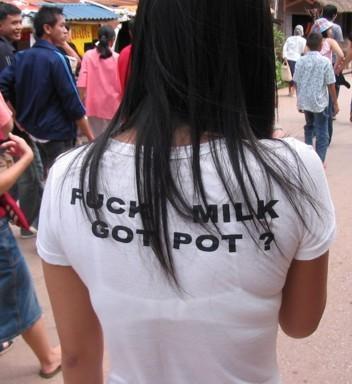 PTK 2005 seemed a lot more organized that any previous year & it's obvious the government & TAT are taking over.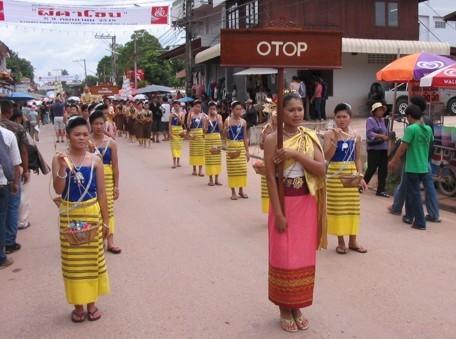 Pic below: A "som tam team" in the cooking competition.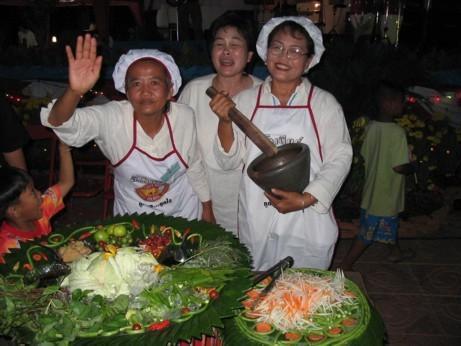 Even Silverhawk picked up on this & he only been 3 times. It's not quite the warm traditional local event it used to be, but it's still one hell of a lot of fun & some of the characters involved are truly amazing.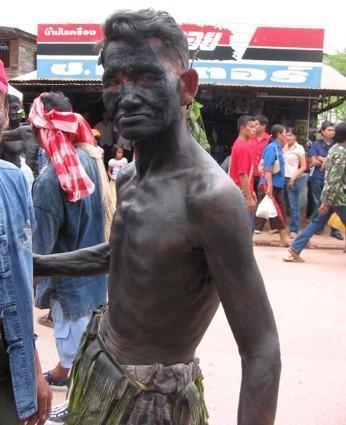 In the grounds of the main temple I witnessed 1 fight between some older drunken parade participants. It was highly entertaining – older 50-60s men & women drunk & attempting to exchange blows, but from what I saw none actually landed.
Pix below: post dust-up at the temple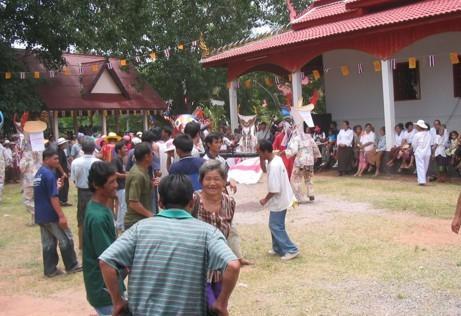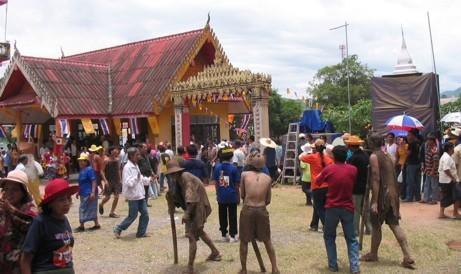 One of the old timers was dragged away by his inebriated wife, who was dressed as a man complete with wild moustache & goatee, carrying a huge wooden penis, which she proceeded the threaten him with. It was hilarious & there's no doubt that the 2 nights / days hanging out in Dan Sai were great, so I'll go again in 2006!
Silverhawk completed 1 nice little loop from Dan Sai with a run up to Tha Li & the Nakraseng border crossing to Laos.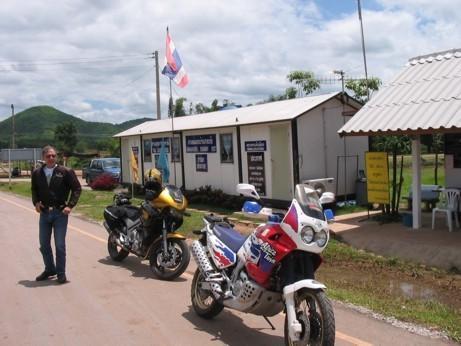 Total distance was just on 150 kms & took around 3 ½ hrs.
Routes 2114 – 2195 – 2009 – 2195 – 2114.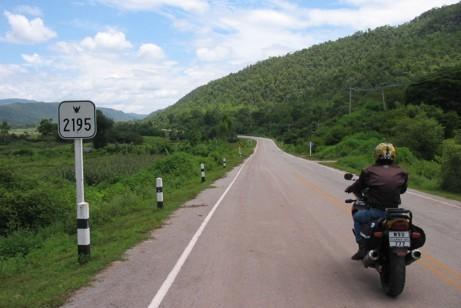 The trip alongside the Nam Hueng river is pretty nice with the road undulating winding twisting, & in the wet the scenery is lush & photogenic.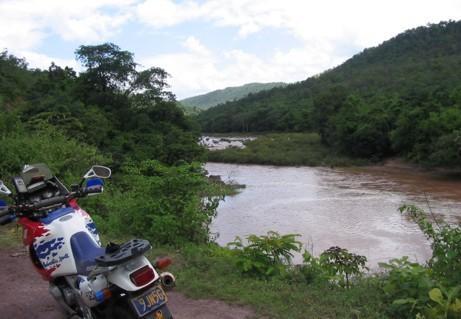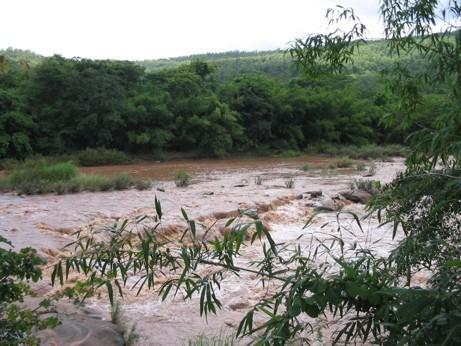 We spotted 1 amazing "soaring" temple with incredibly high walls that looked a bit weird & will certainly impress anyone riding past. The place is called Wat Siri Mongkhon & is in Ahi village at the junction of R2195 & R2099, if you ever want to take a peak.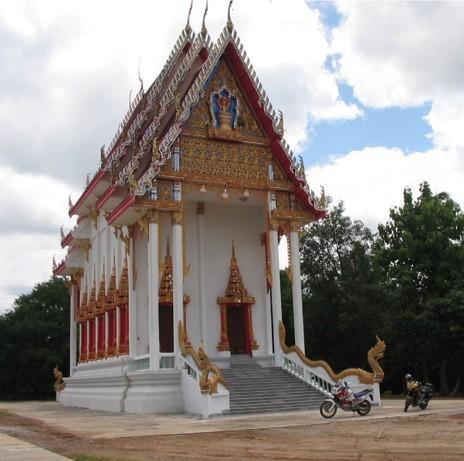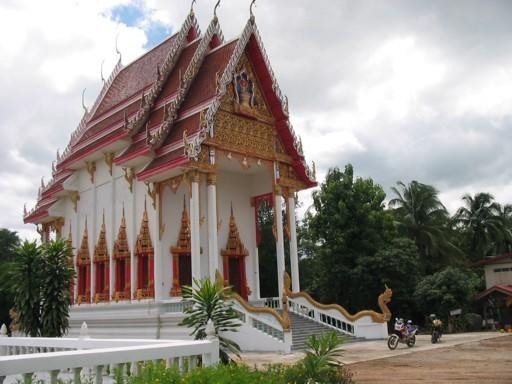 Silverhawk & I retuned to Cnx the "same way" with a night in Phrae.
The other 2 riders Ruedi & David returned via the Lao Border & Nan (maybe they will write up a report if you're lucky.)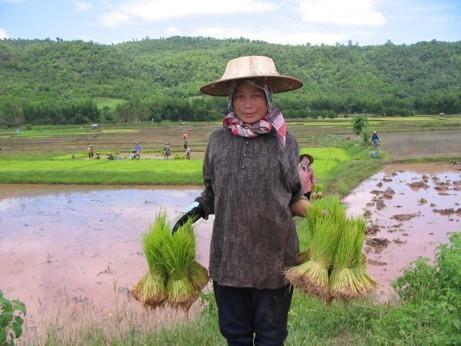 The night in Phrae was real interesting. Phrae used to be one of my fave towns many years ago & I have fond memories of the ex-wife sneaking down to Phrae late at midnight one time to catch me out on the nest with some imagined young delectable & only to be disappointed to find me in bed alone watching TV! I was not amused me & neither was she with some serious heavy duty egg on her face.
Anyway Phrae's only gone backwards night life / entertainment since I last used to frequent the town. In fact I was shocked there was so little going on. It was difficult to find a decent bottle of whisky even, & in the end it was no surprise to see that best whisky shop in town was still the old restaurant opposite the "ancient" Nakorn Phrae hotel, that we all used to frequent due to the great coffee shop & singers. But there's nothing happening of any note at the Nakorn Phrae nowadays, except some of the singers might still the same old ones from 15 years ago!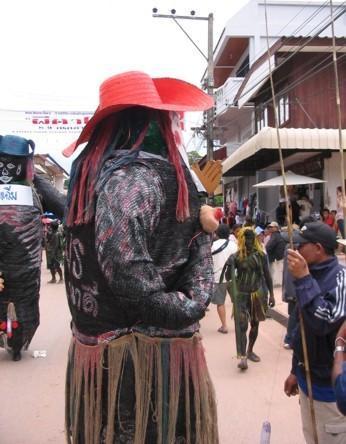 Eventually we found the # 1 Pub- restaurant in town, & thought things might turn out ok, but once seated we discovered that all the waiters were gay & unbelievably even the Tiger beer promotion girl was a lady boy! Well at least the food was excellent & the portions huge, so we had no complaints about that aspect.
Arriving in Phrae was amusing actually, as we had only been in town 15 minutes & "we" were spotted. The spotter was none other than Tai, younger sister of Thip from Bier Stube in Chiang Mai. I'd not seen Tai for several years & it was a pleasure to see her with her husband Joe & happily settled in quiet Phrae. (Mum's got a gold shop, that I guess that makes life slightly more comfortable for you in Phrae.)
Even with Tai's tips for the night life in Phrae we thought we could find some decent going on, but Tai was right – there's nothing happening in Phrae nowadays! I was in bed by 10.30 pm.
Pic below: A parade participant too drunk to stand alone & walk!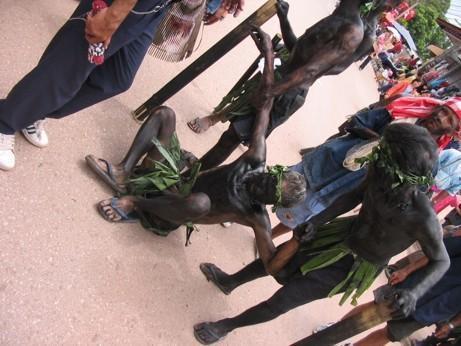 The last day was a run to the N-E of Phrae on R1154 & up to Ngao, then R1 to Lampang & home to Cnx via R11.
R1 from Ngao to Lampang is pretty good on account of the fast flowing twisties thru the hills half way between Ngao & Lampang. This part of the road is a wonderful sport bike ride & worth checking out as part of the Phayao / Phrae loops from Chiang Mai if you like.
R1154 goes for 60 kms & is one I've neglected & not been on since it was made asphalt. It used to be a gorgeous tight winding hilly narrow dirt road. Now it's a tight winding undulating flowing asphalt road. It also goes through the Mae Yom Nat park & has very good forest cover & scenery, especially the bit right alongside the Mae Nam Ngao river. Its pretty good & worth checking out, especially if you think that eventually 'they'll" build a dam in here & it will all be gone. You can use R1154 for an alternative route to Phrae, or even Nan, if you don't want to spend a night in quiet Phrae.
Davidfl
Keep The Power On
Last edited: