Dec 9, 2008
1,070
829
113
I spent the night at the H2O Hotel in Mae Kachan. An excellent hotel, in town on the 118, with large clean rooms and comfy beds with duvets, for 650 Baht a night.
The dirt road runs west across the Khun Chae National Park at the bottom of Chiang Rao province, from Mae Kachan on 118 to below Phrao on the 1001. This is a great dirt road through big jungle, but it is being tarmac'd from the east side.
After about 15klms you come to the Khun Chae waterfall trail.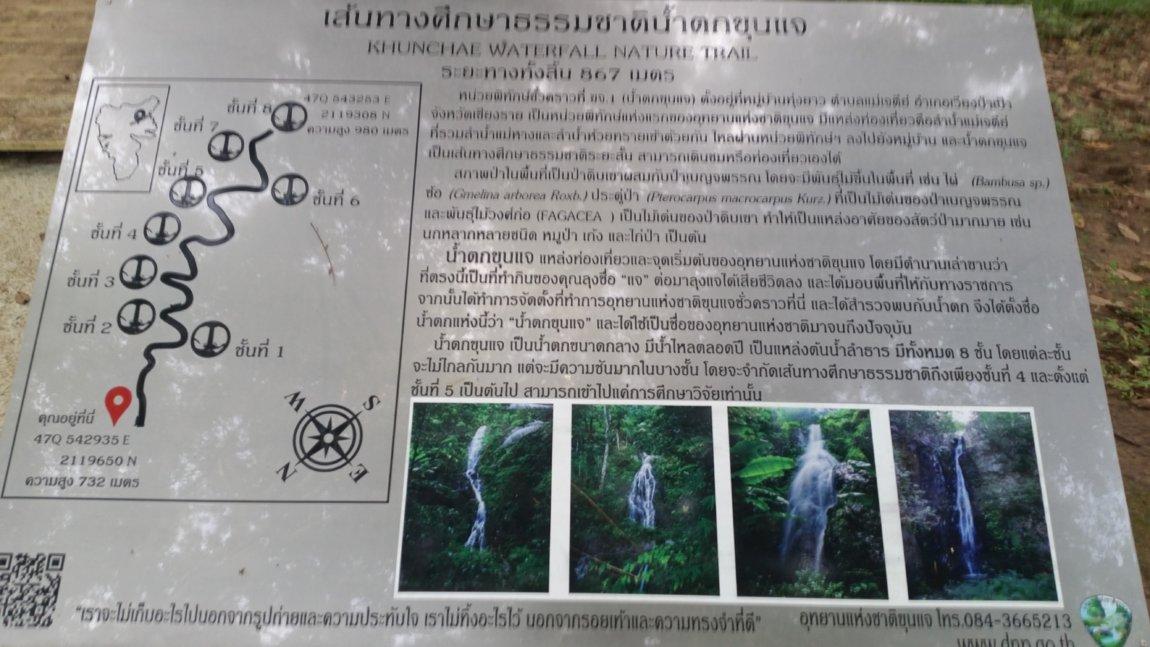 I always take the Sea to Summit daypack, tiny thing to carry..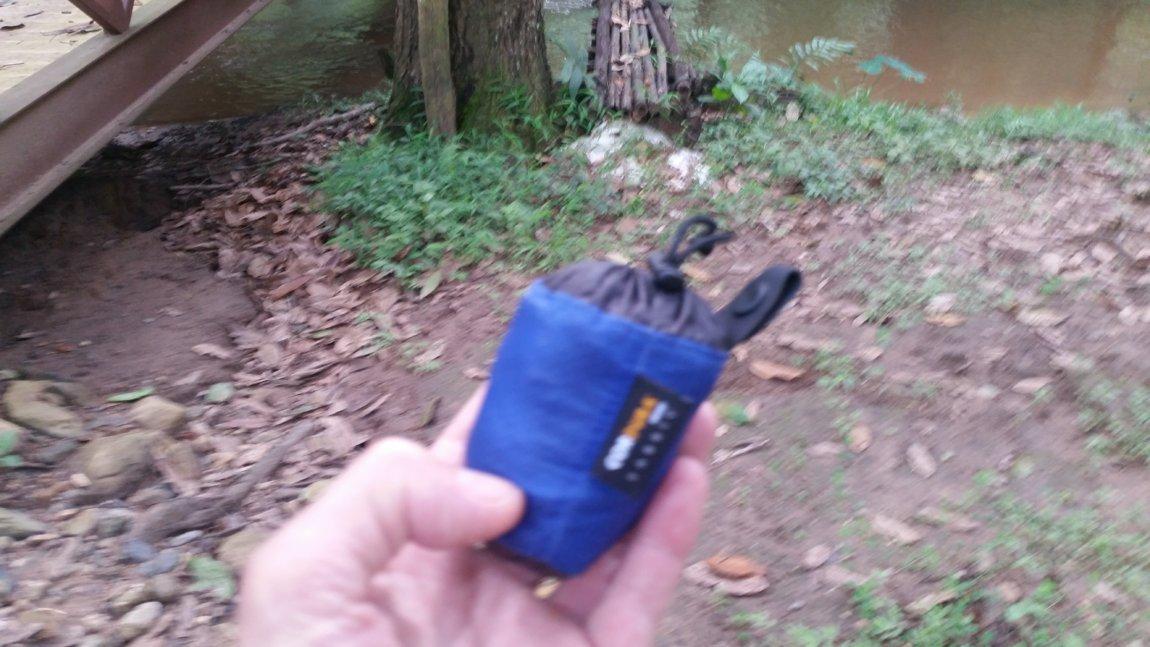 ... which opens into a small backpack that will carry a couple of bottles of water, food and a jumper or so.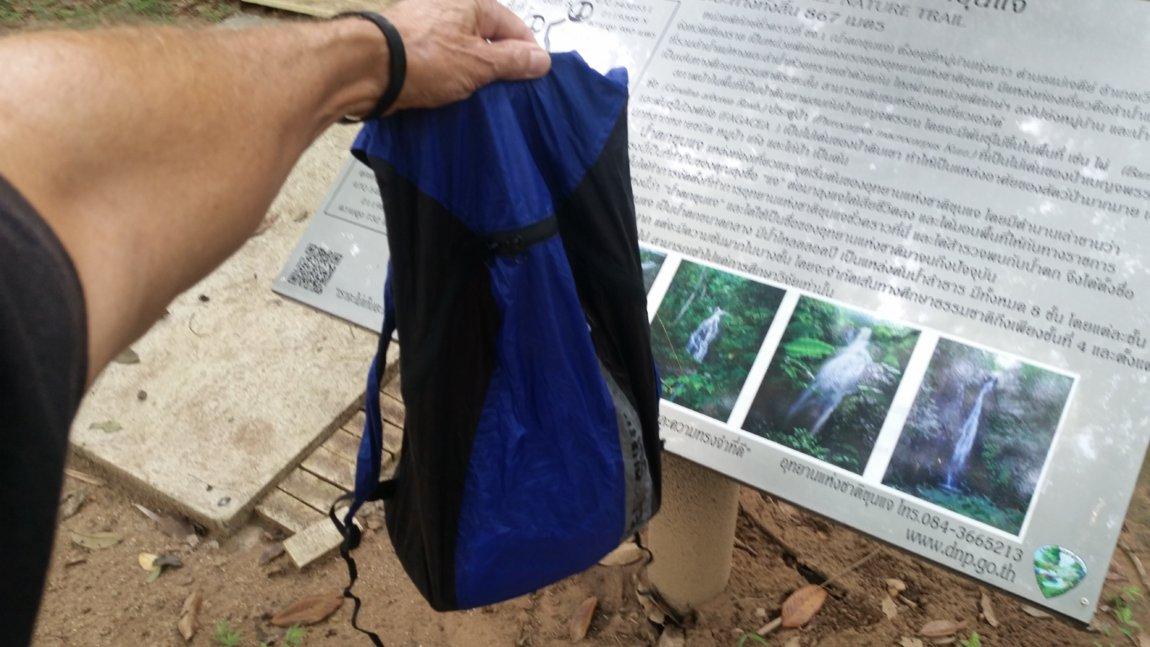 The trail starts with laterite steps and handrails, then is a cleared path.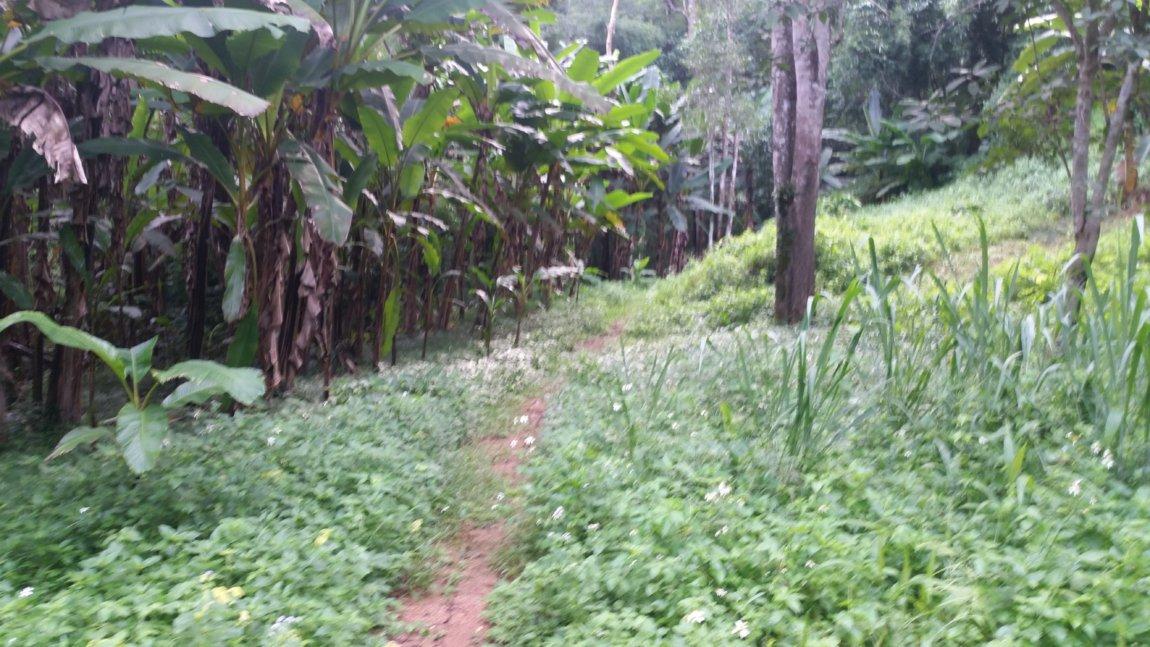 Level 1 fall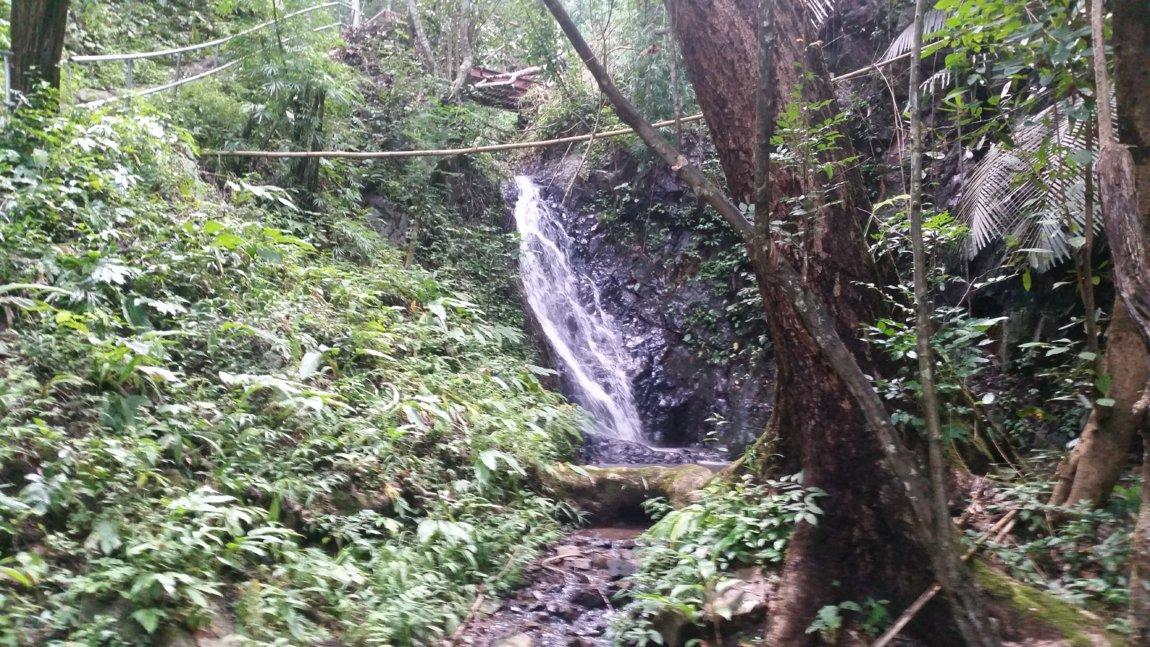 Easy steps..
The level 3 fall is about 20m high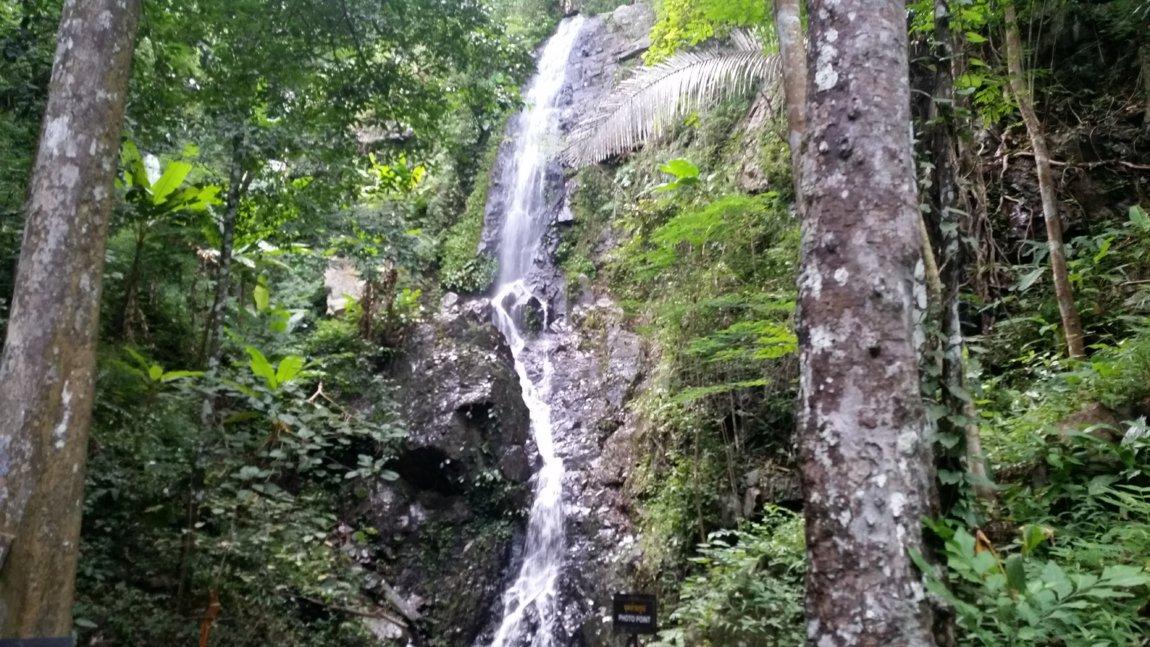 Level 4.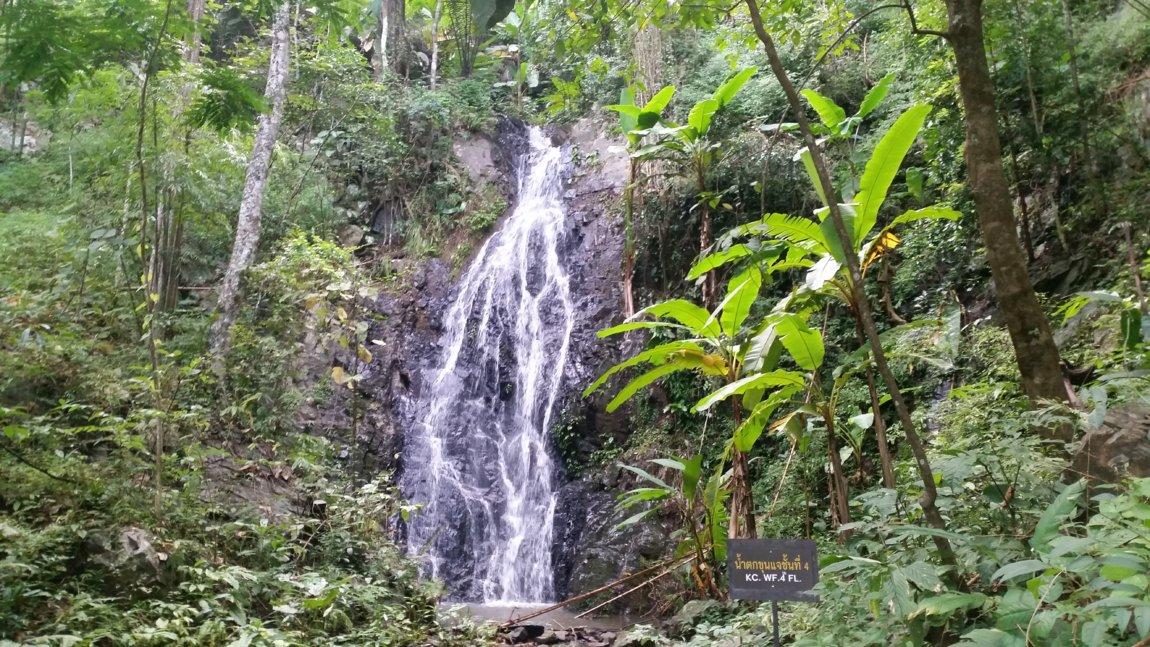 There was no cleared path to the other 4 tiers, so I had to turn back... I saw the rangers on my return and they said they would be clearing the rest of the path to the remaining 4 tiers of falls, after rainy season.
This was alive and sort of throbbing.... ants doing whatever ants do...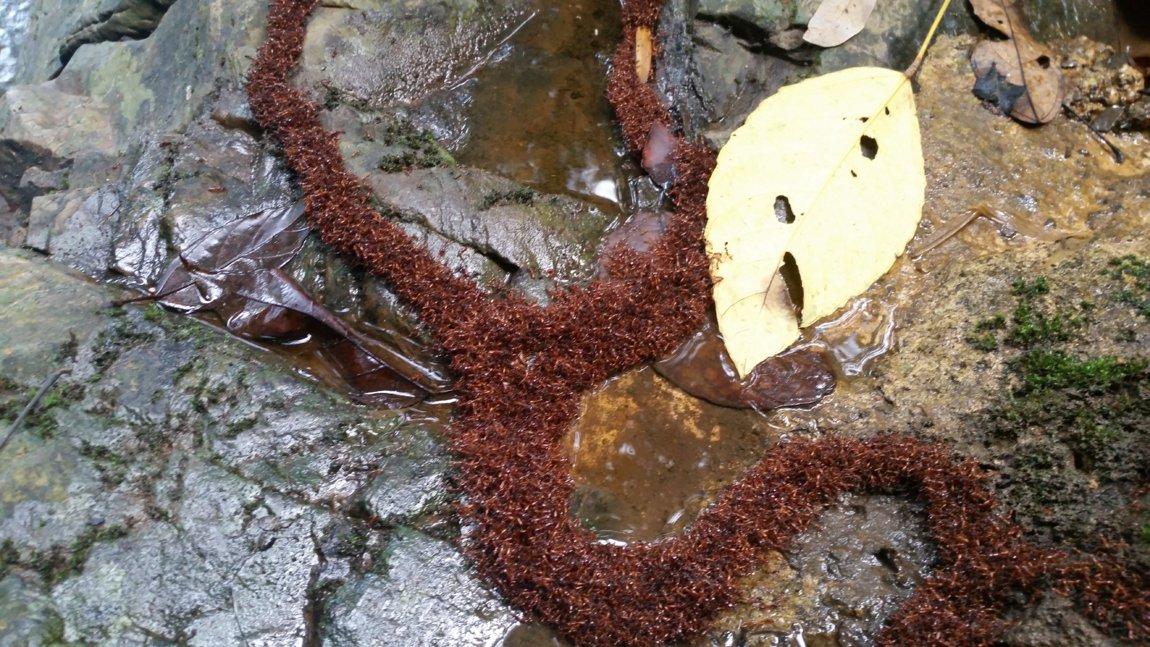 I rode out of the clearing and back to the dirt road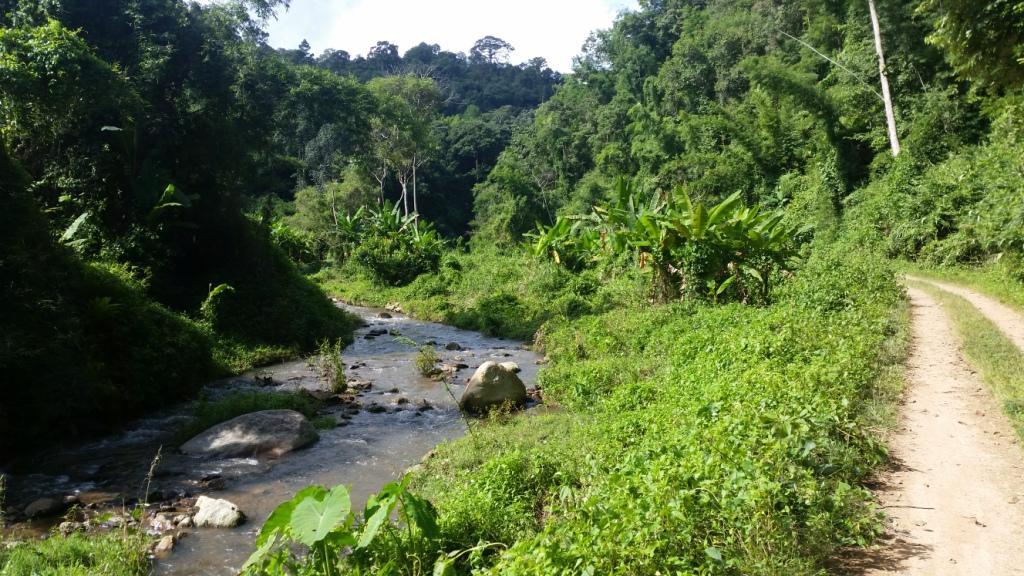 Gorgeous scenery and a beautiful day to be out in the jungle.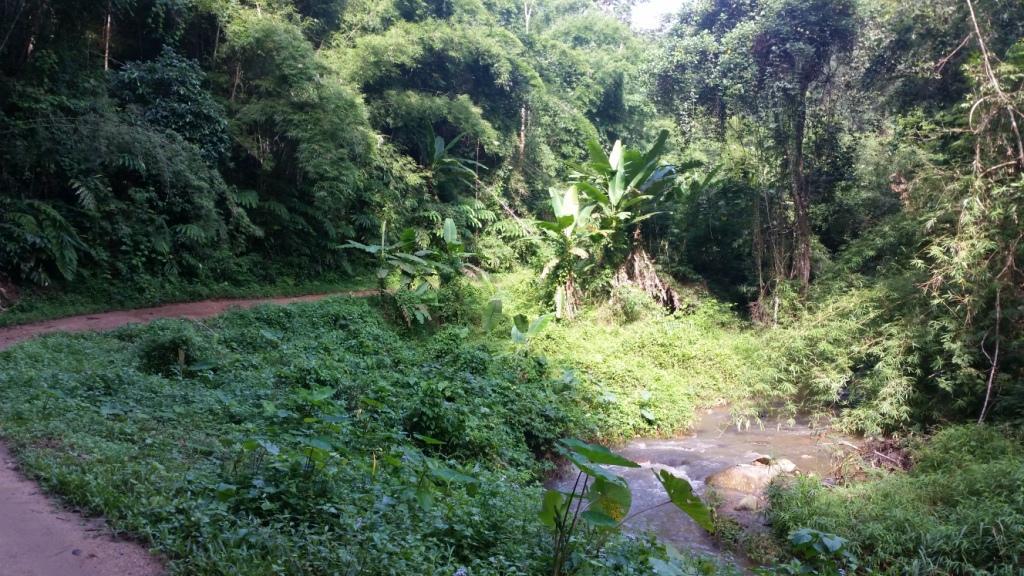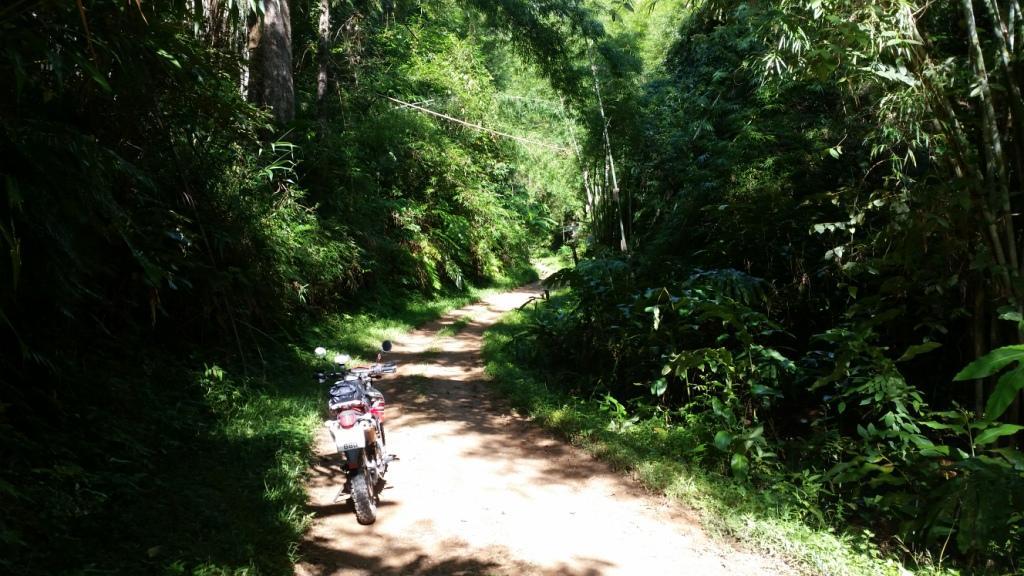 A few of the steeper parts were concreted.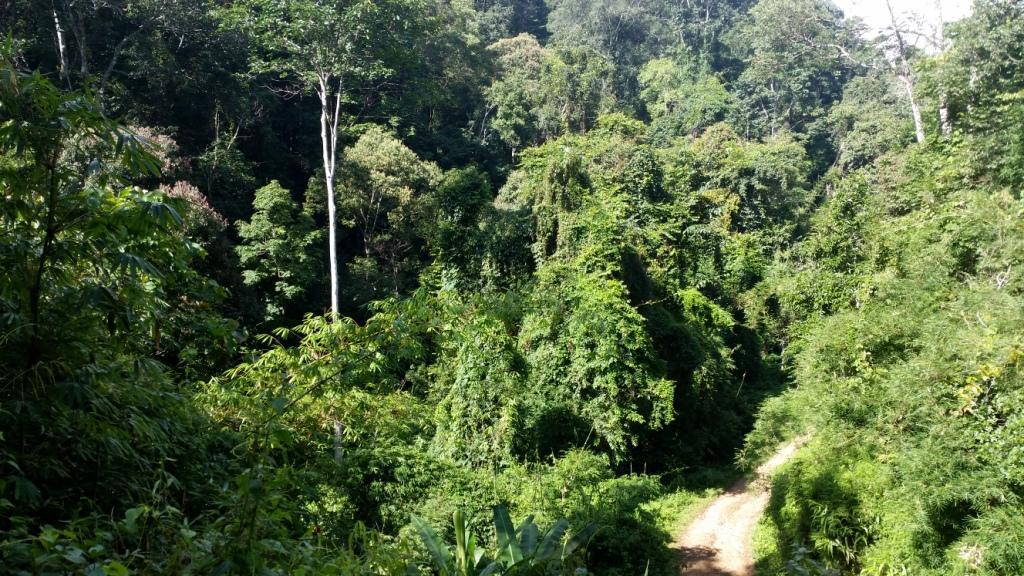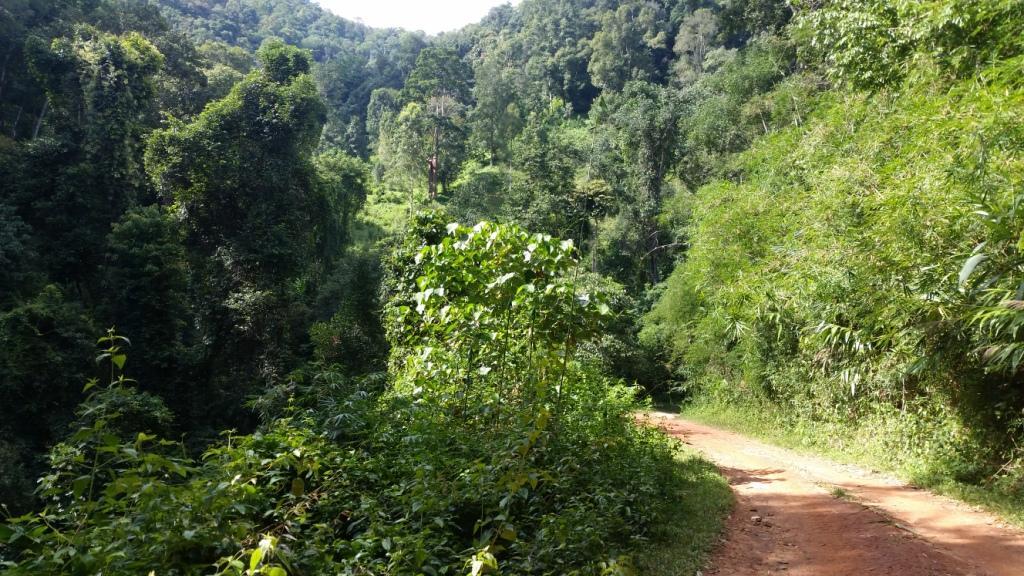 Doi Pa Ngom pops into view suddenly, looking amazing....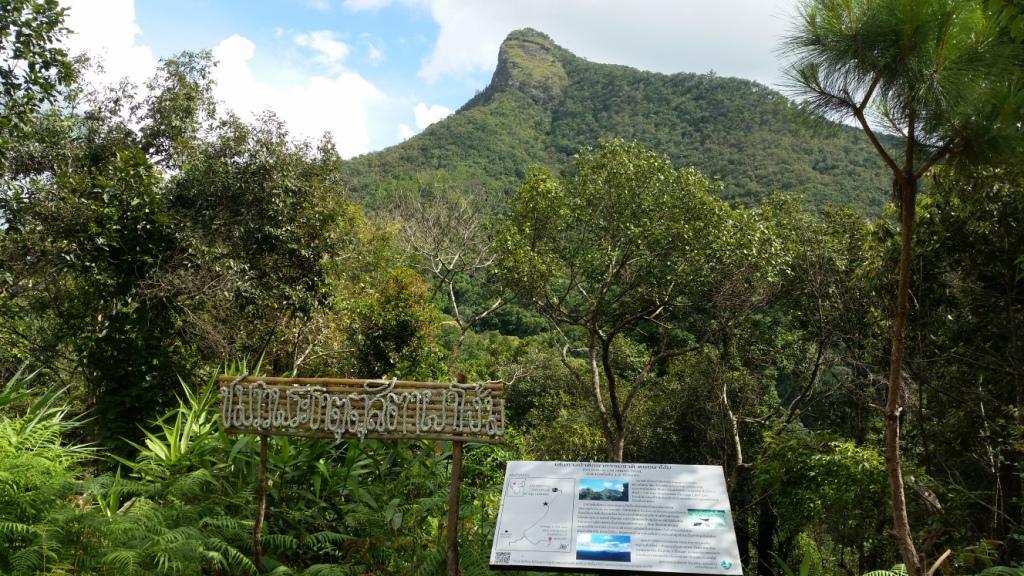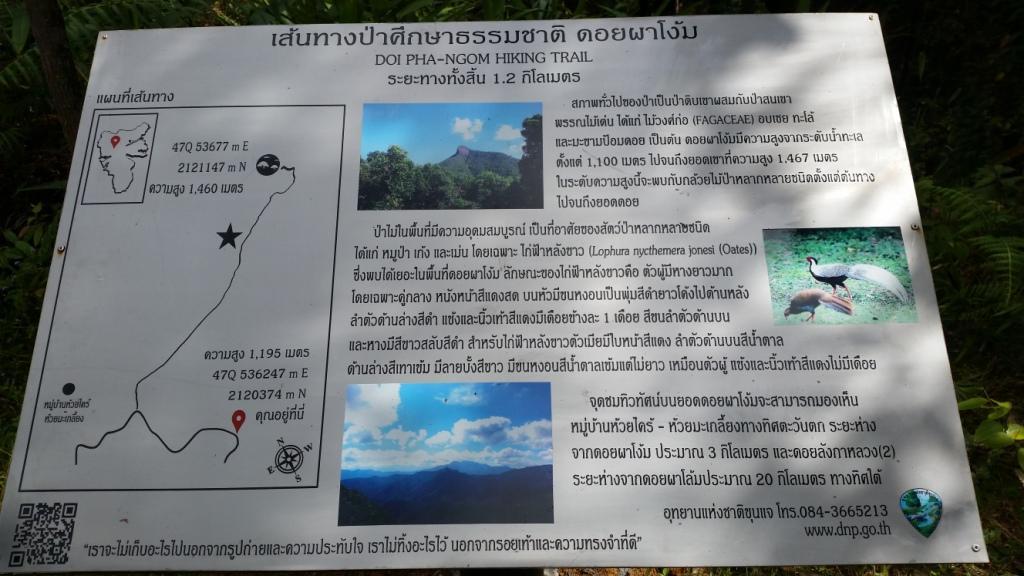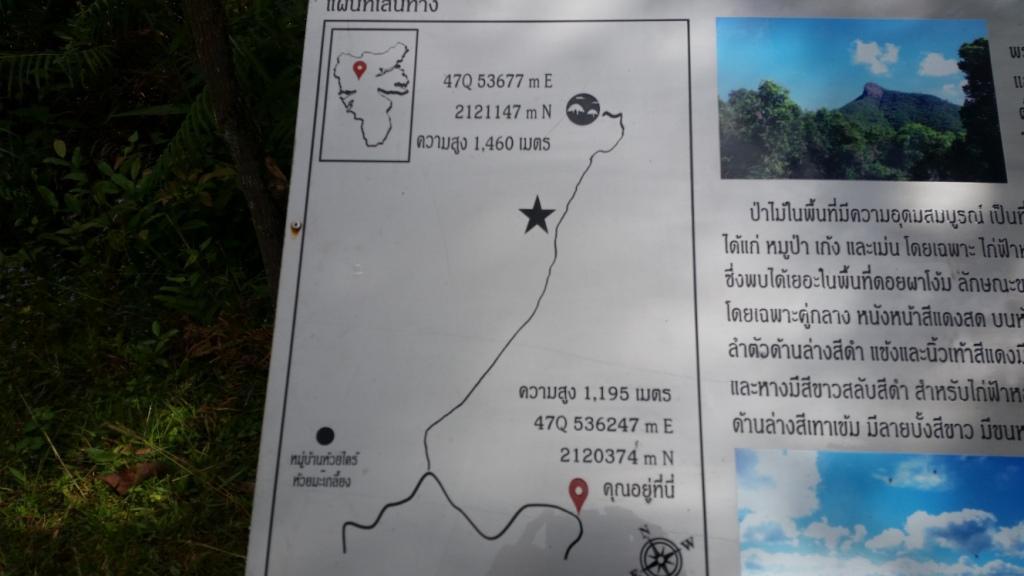 Just past the viewpoint you come the hiking trailhead. I had been here before several times and in fact had tried to climb up this mountain twice before, but failed both times after getting about 3/4 of the way up, as I just did not find the right route.
A little further on you come to the villages of Huay Krai and Huay Makiang. The Huay Krai Homestay is a lovely place with very nice 200 Baht rooms onto a super terrace and separate bathroom. The owner, Khun Thongsuk, called me in for a cup of tea and some fruit.
He explained that the National Park people had now made a good pathway to get to the top of Doi PaNgom and he could be my guide..... OK... lets go then...!. it will take about one hour...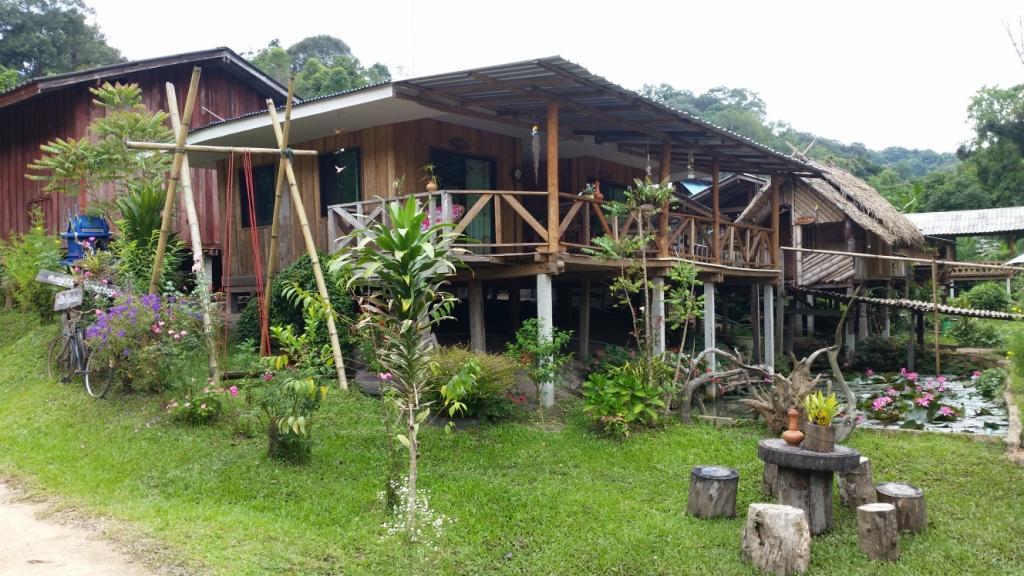 My 60 year old guide, Khun Thongsu, who told me he was 100% Thai and had grown up in Mae Kachan, but loved living out in nature. We rode a couple of klms back to the trailhead.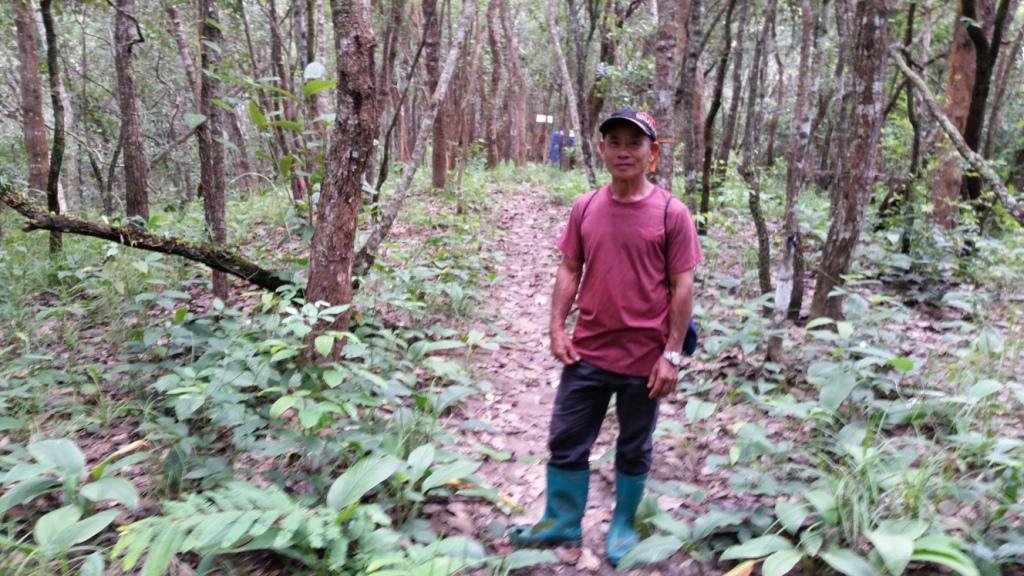 I had a pair of lightweight hiking trousers and quick dry shirt with me. My steel toe safety boots are a bit heavy but good enough for a short hike.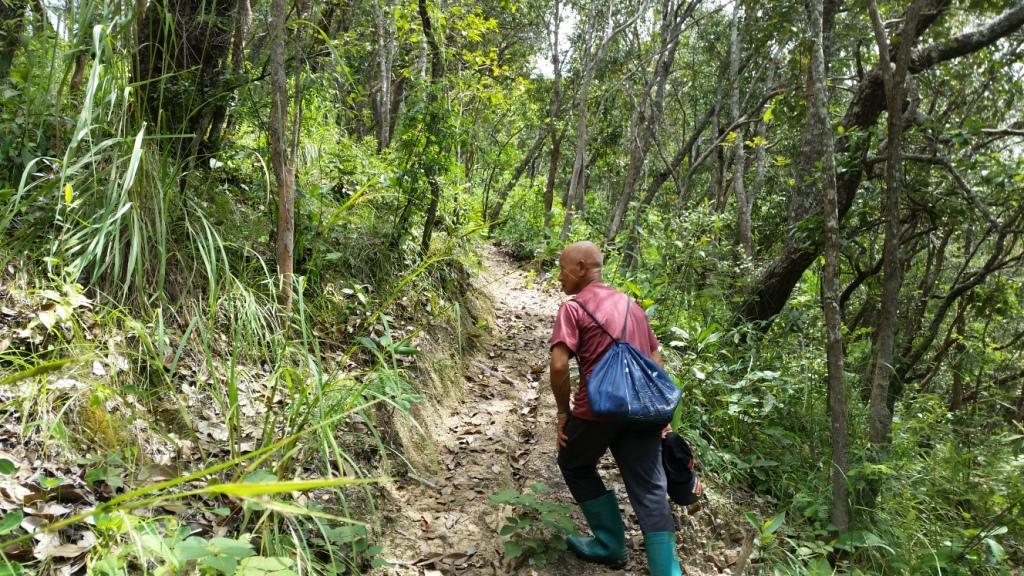 The ropes and clear cut path made a huge difference and it was not difficult, even for 2 old men...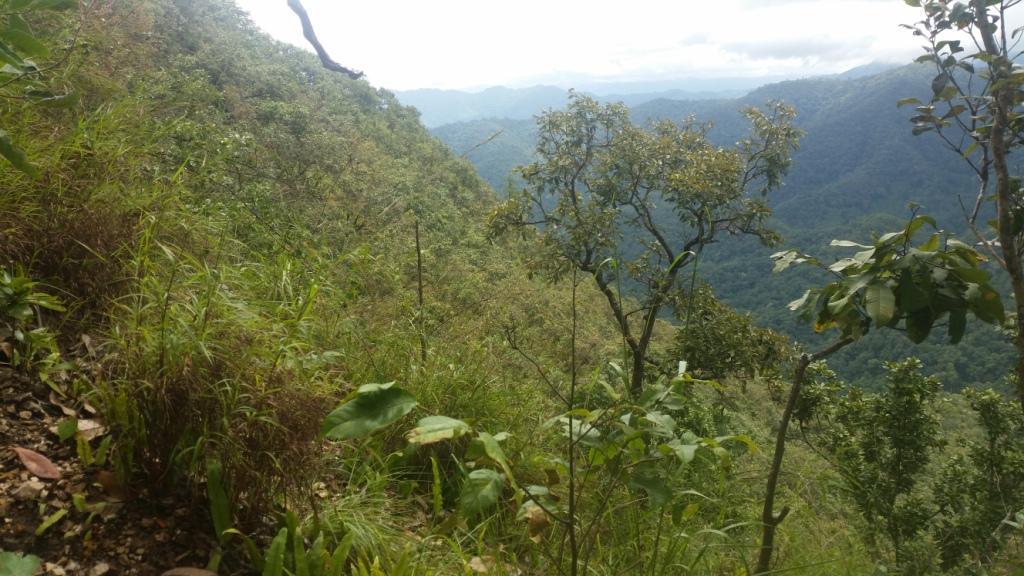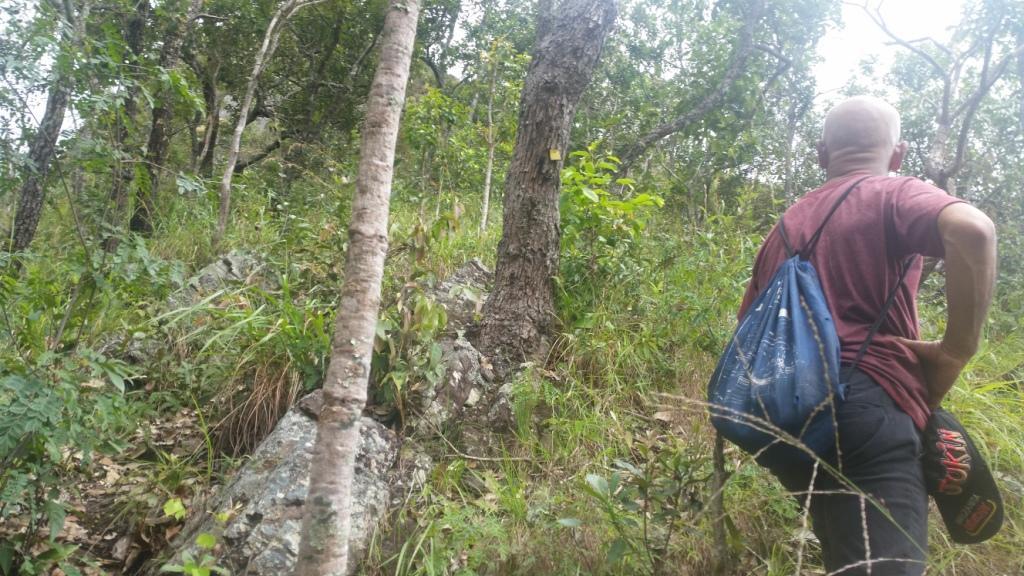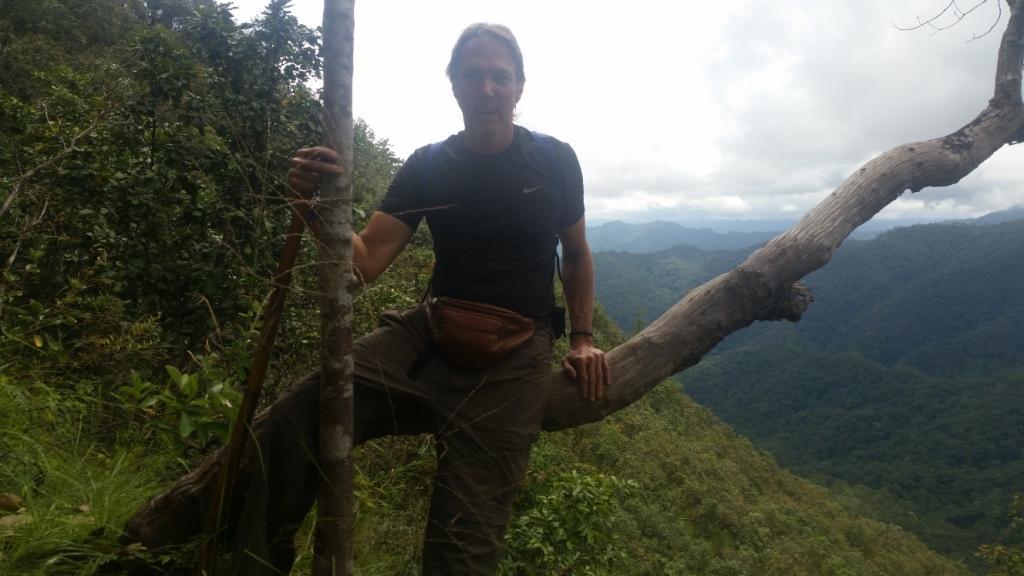 With the summit in sight, the steel rails were a great help too.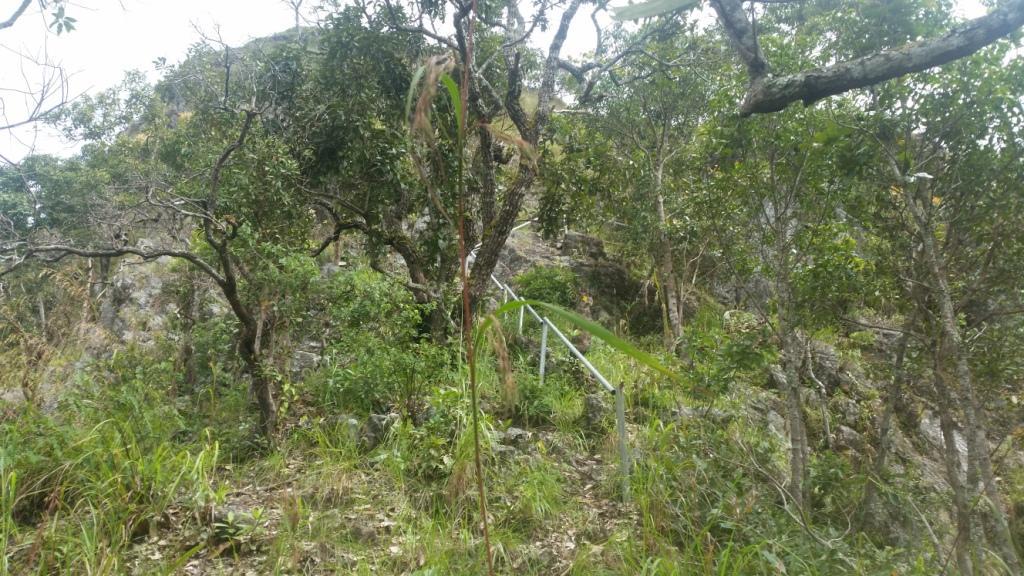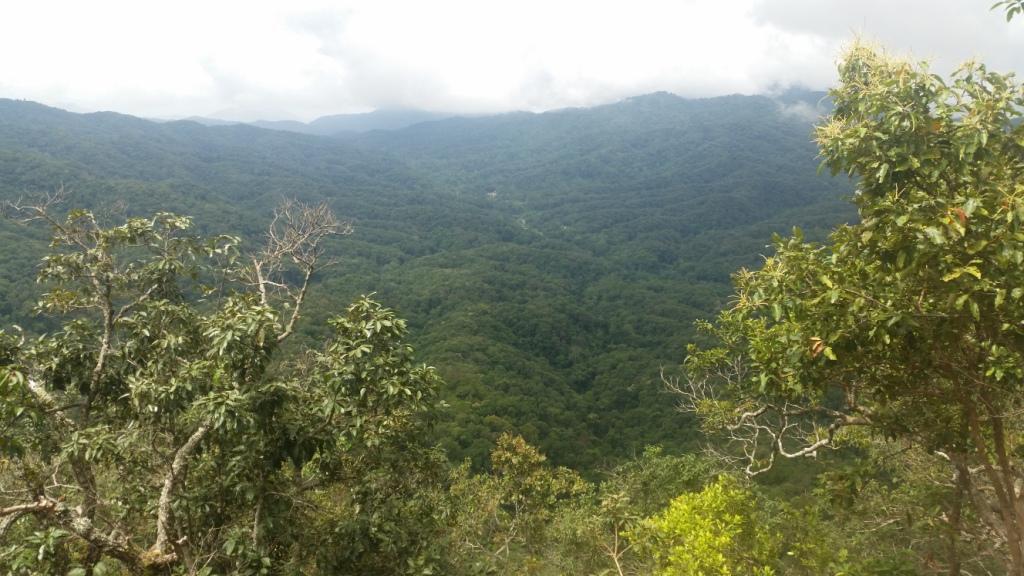 Like rock climbing with hand rails.... made it easy.
In November, the whole mountain is covered in this flowering herbal plant (samunprai), you can eat the root.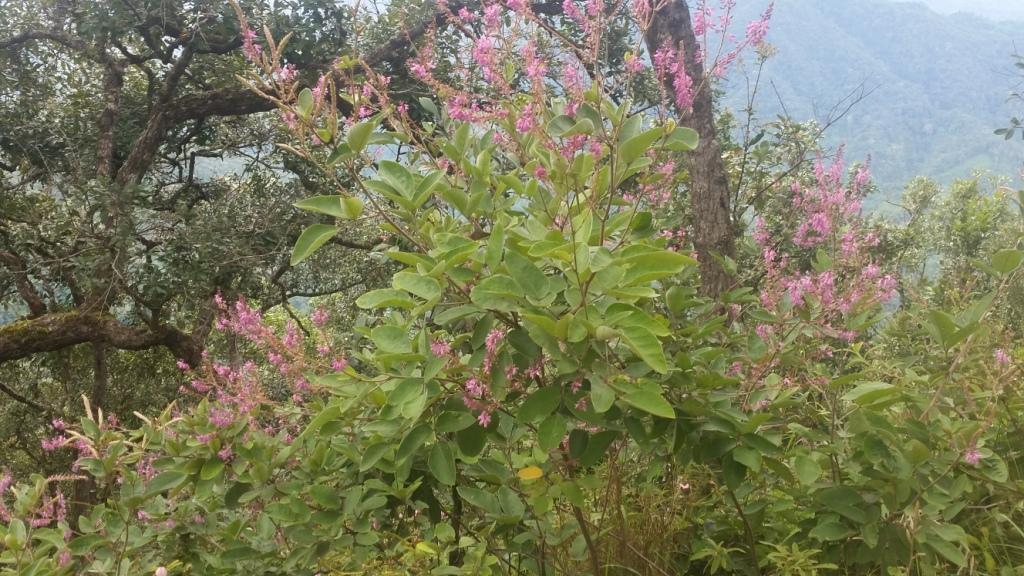 Obscured by clouds a little, but the tallest mountain in Chiang Rai, Doi Langkha Luang is 20klms away to the south.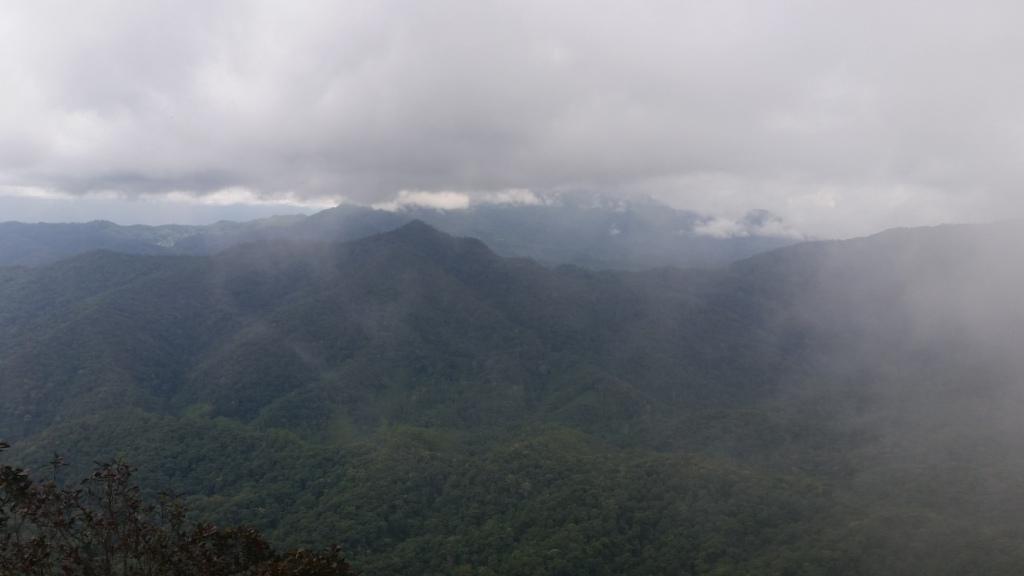 The view to the east, looking back towards Mae Kachan and the 118 valley.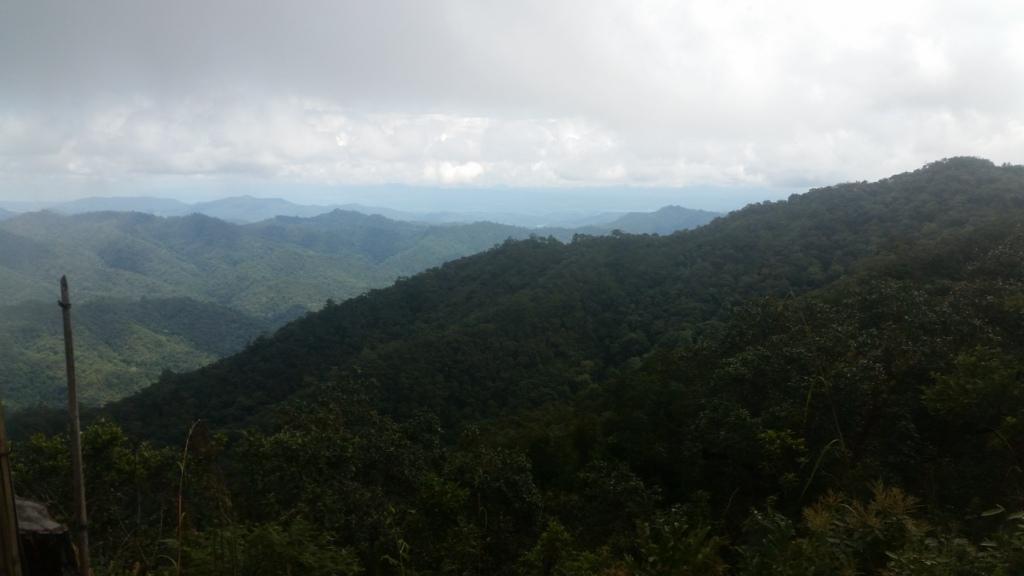 A new stupa has been built on the summit. It is only about 100sq m of flattish top to the peak.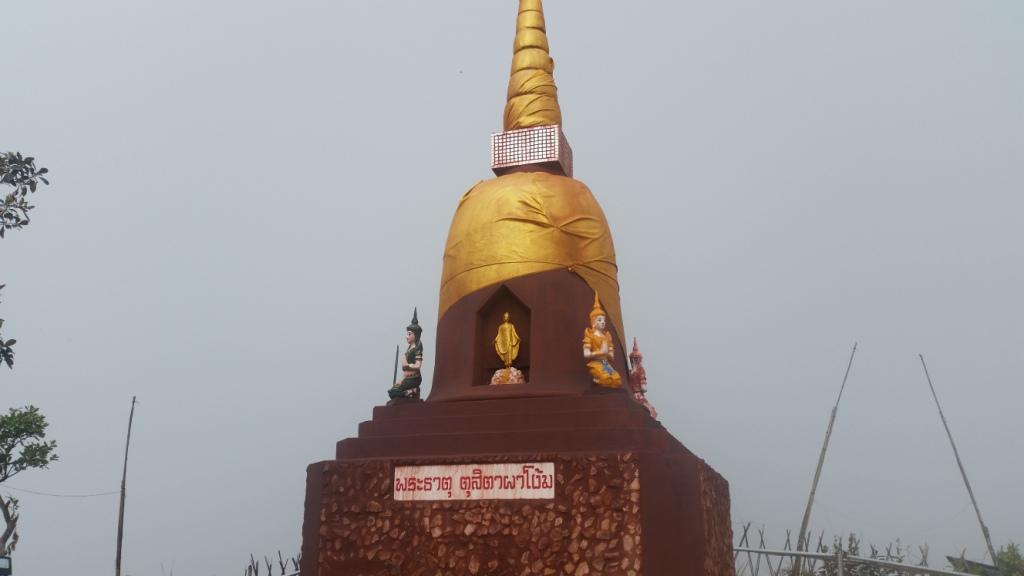 The clouds got thicker.... vertical drop on this side.....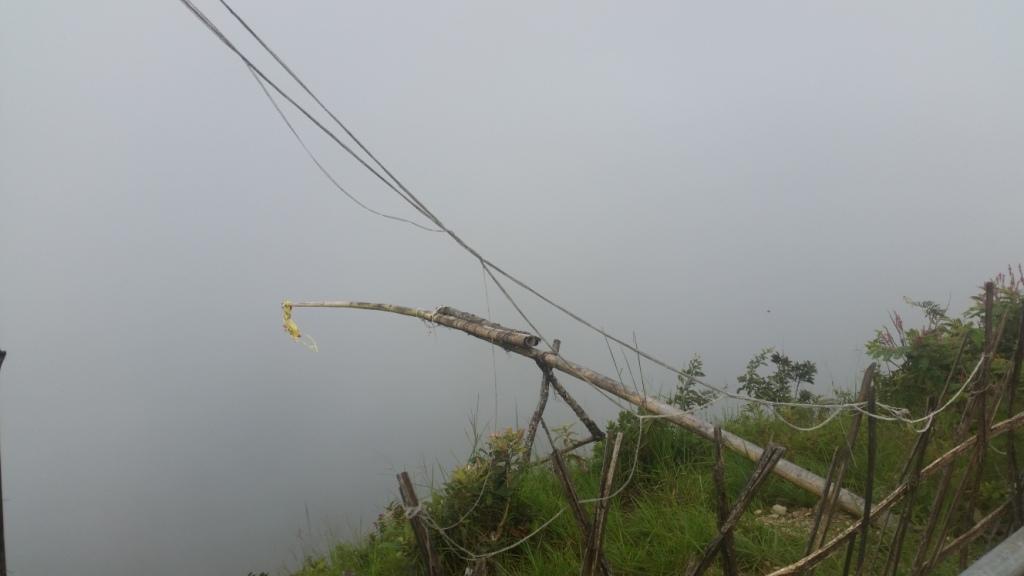 There are 4 solar powered lights to illuminate the stupa at night.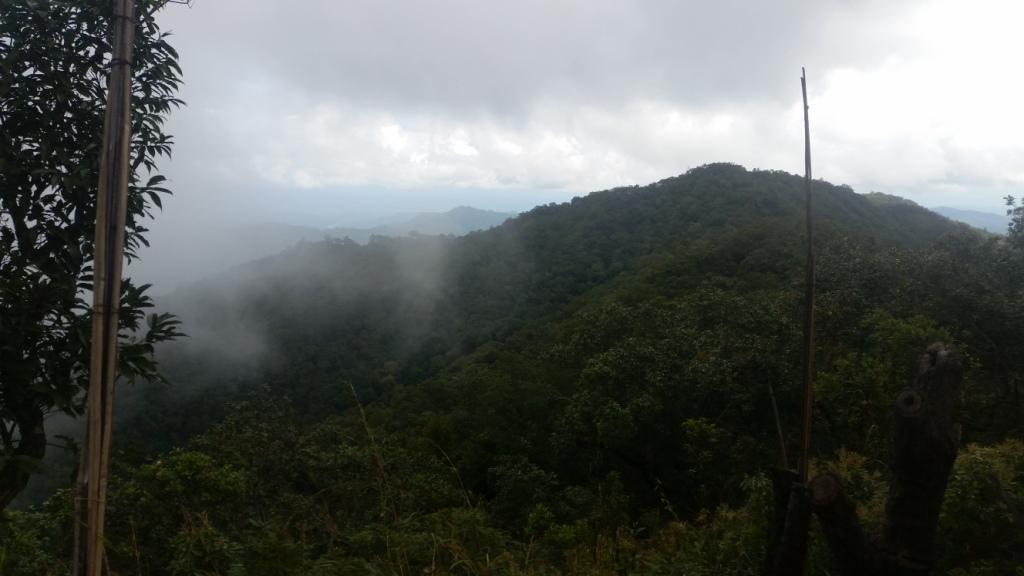 The stupa was erected in March this year.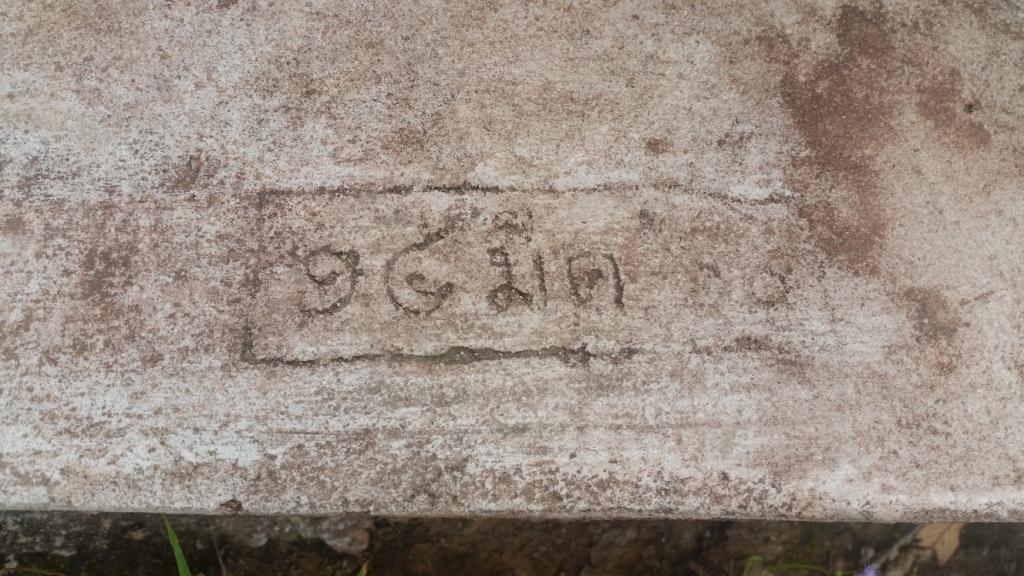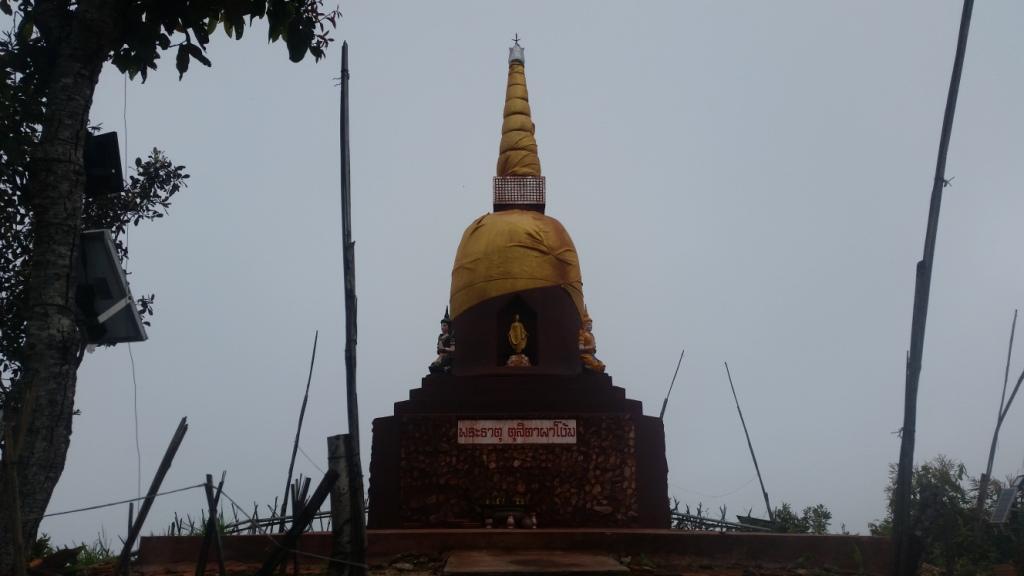 After 30 minutes on the top, some snacks and quiet contemplation, it was time to head back down.
There were plenty of signs of wild pigs that inhabit the mountain. if you are there early morning or late afternoon you may be lucky enough to see a wild silver pheasant......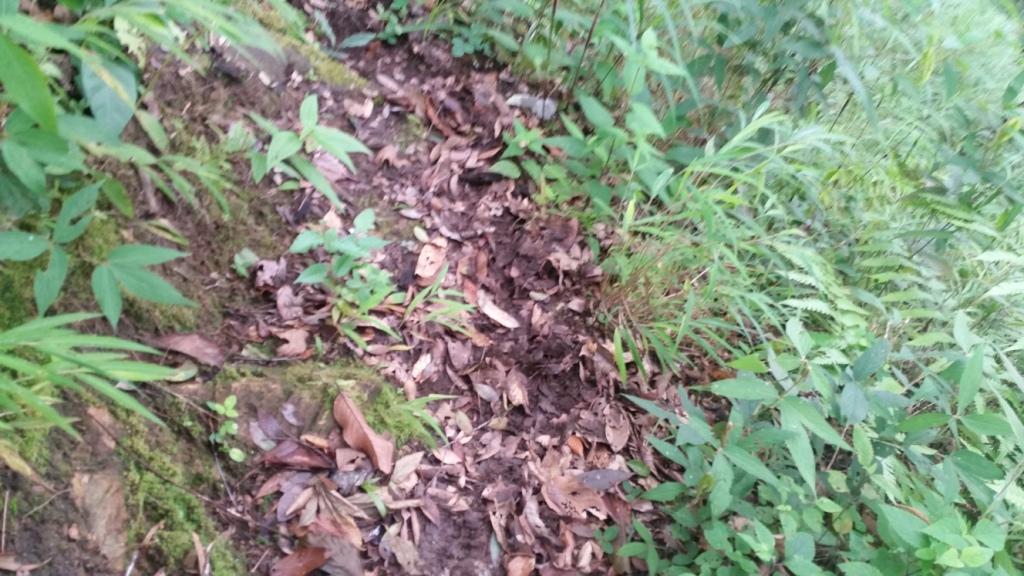 We took a longer but easier route down around the north face of the mountain.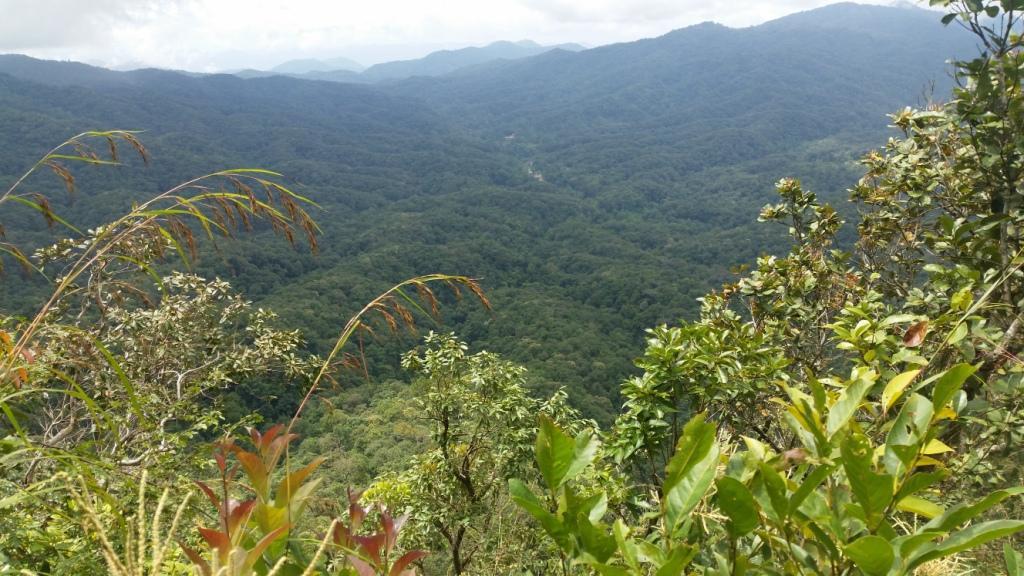 Looking back up the vertical west face.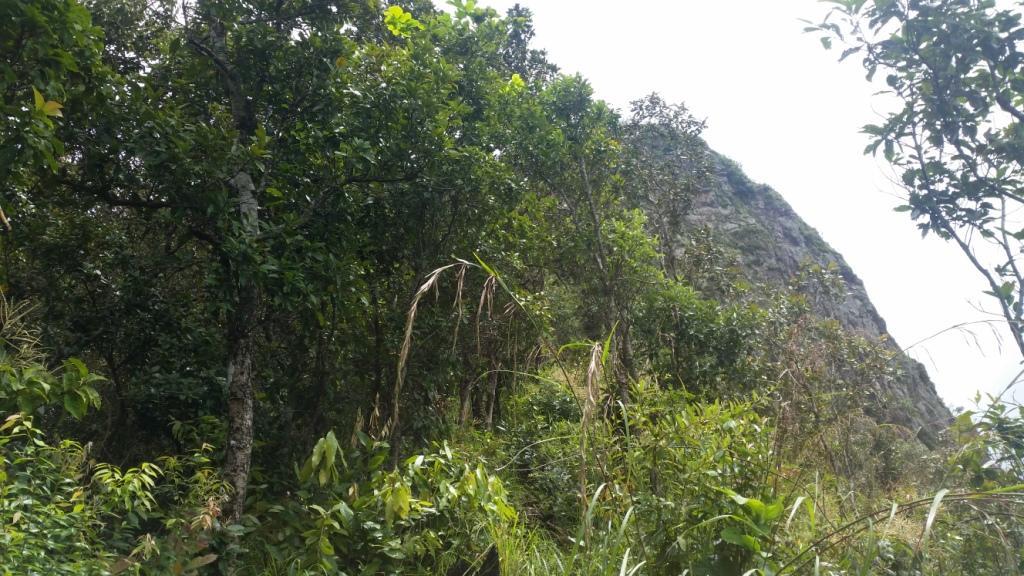 A beautiful cycad that must have been very old to be that tall.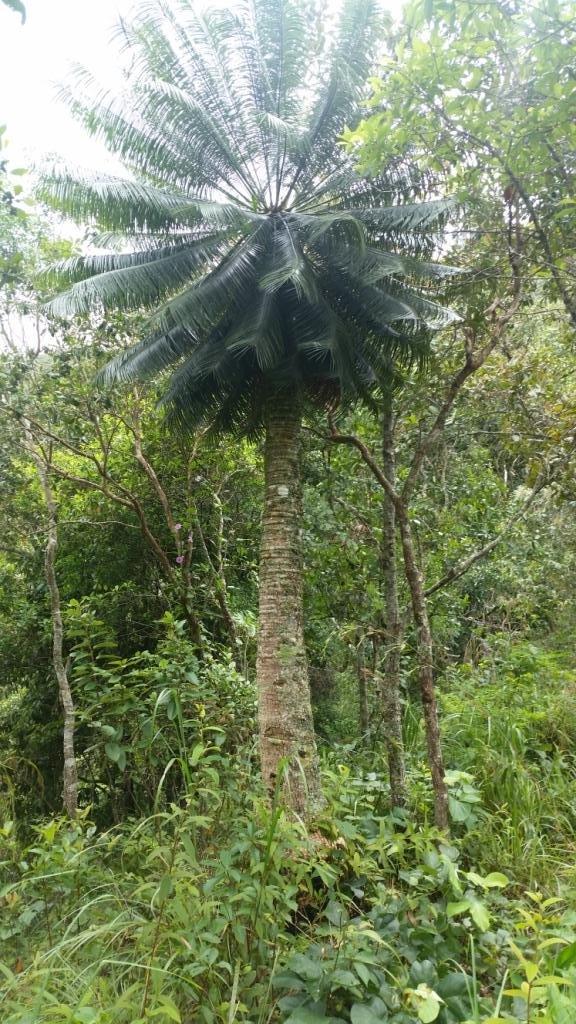 There were more of them around too.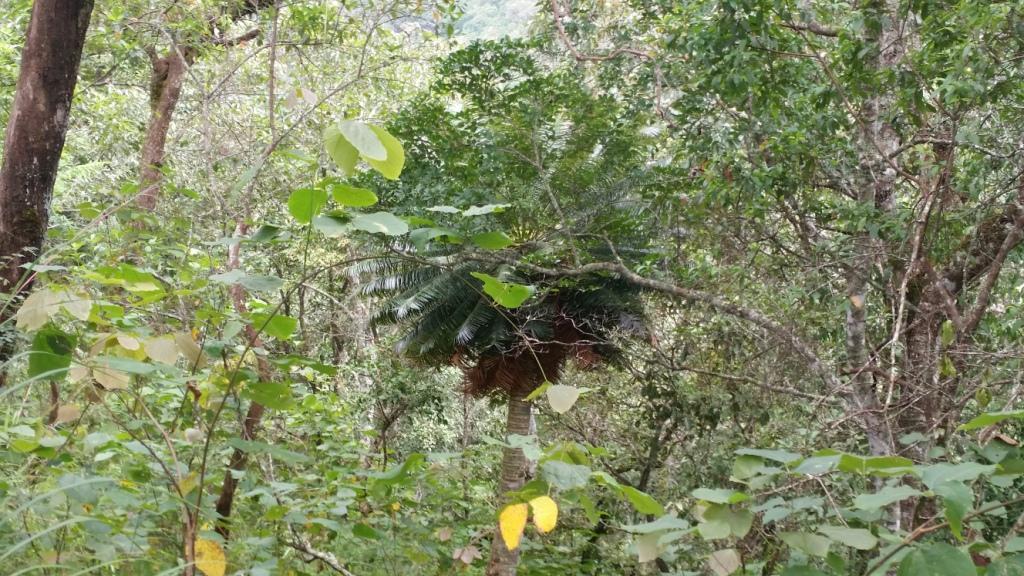 An easy walk down.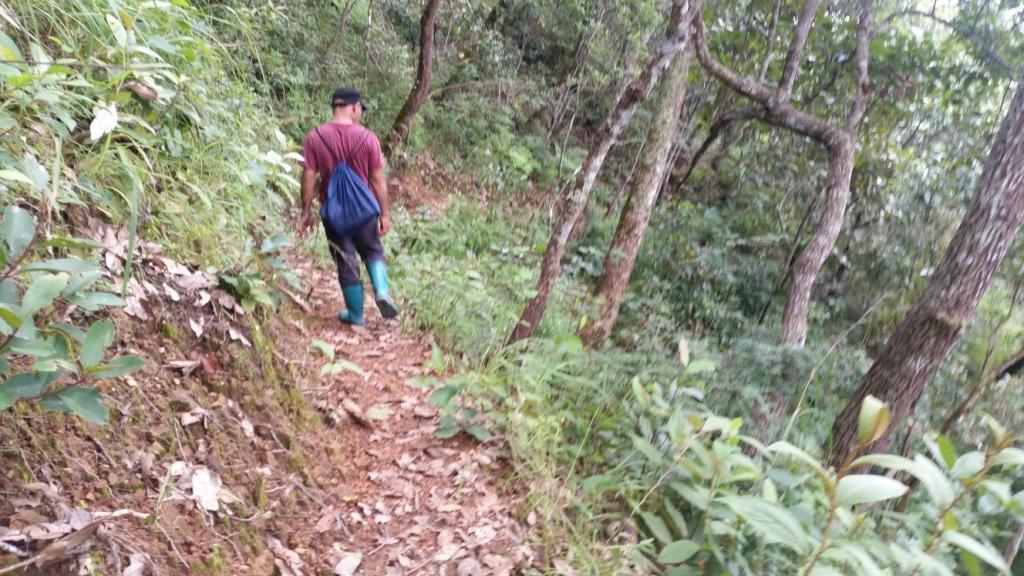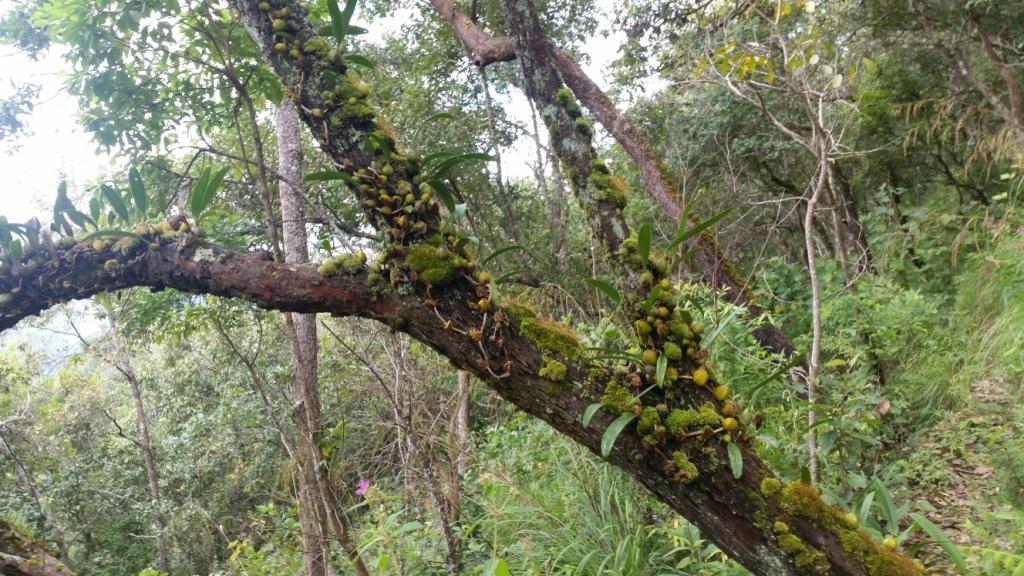 Lots of chestnuts around, which taste OK raw, but much better fried up....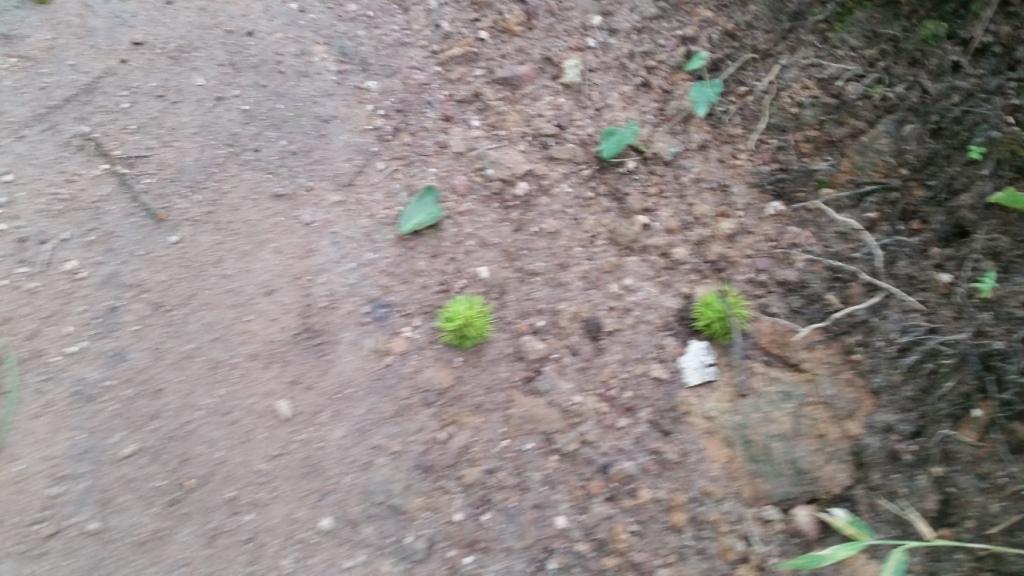 Return to the trailhead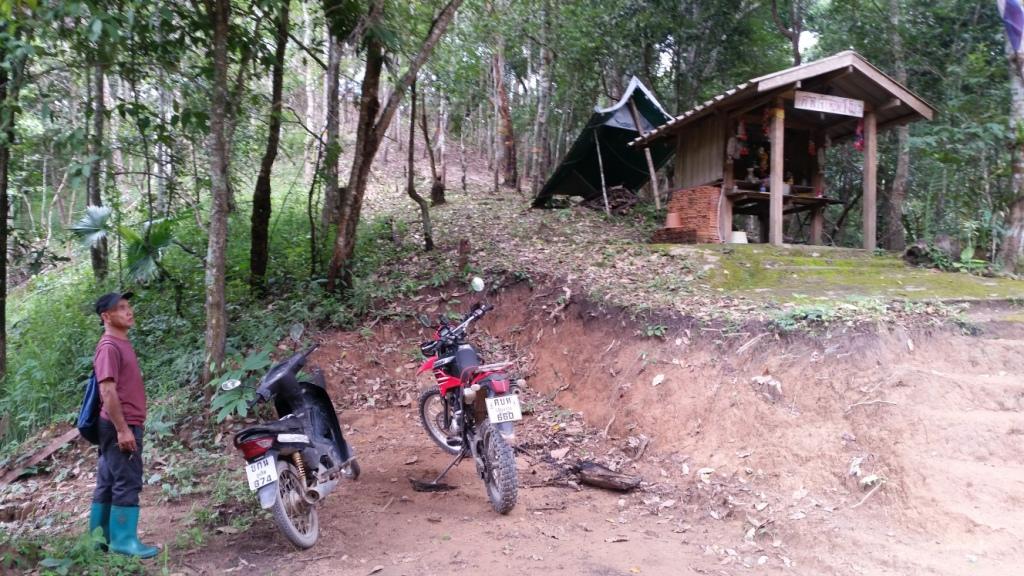 I had left the rest of my riding gear and bag at the homestay. I had a warm water shower, more tea and then Khun Thongsuk offered lunch.
I sometimes wonder what the hilltribe and village people eat, who live out away from markets. Actually, they do pretty well. They have chickens for eggs, may grow some sticky rice, make chilli paste, get bamboo shoots, veggie that grows all over, bananas, citrus fruit and chinese plums. The only thing here brought from town was the biscuits. Fresh fare and delicious. i think they probably only eat meat or fish once a week or so.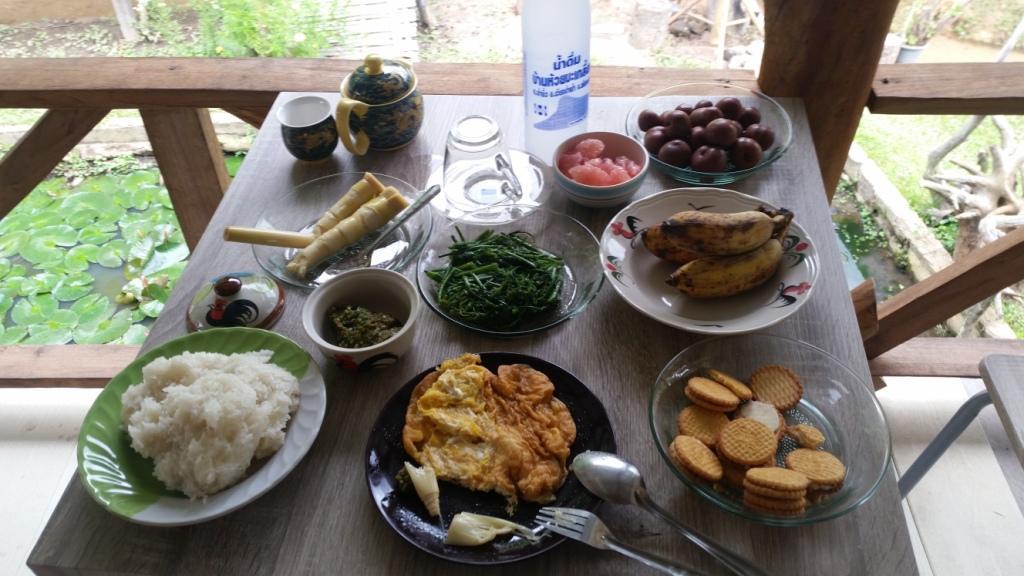 An "away from it all" terrace to relax in.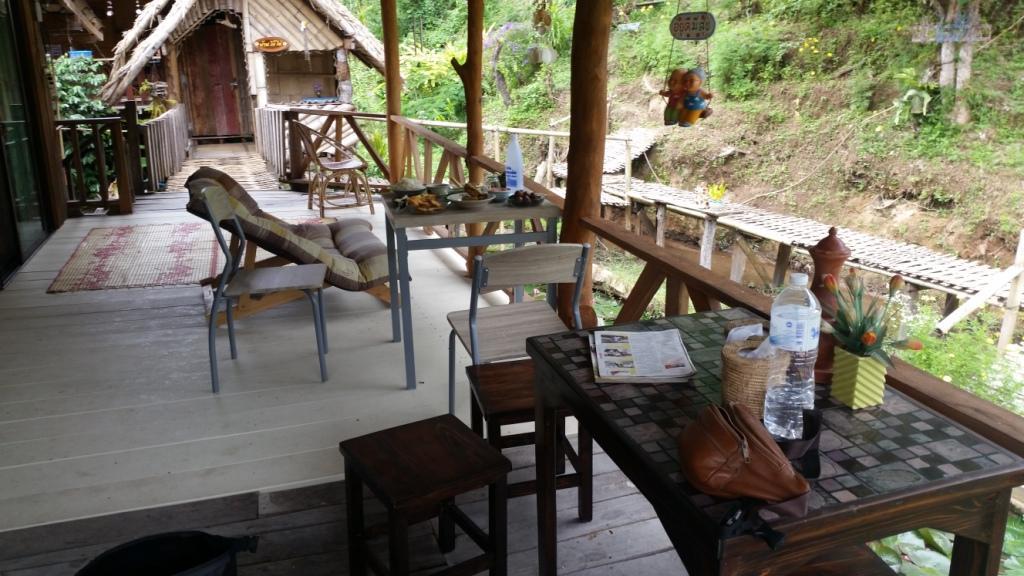 Even the drinking water is Doi PaNgom special....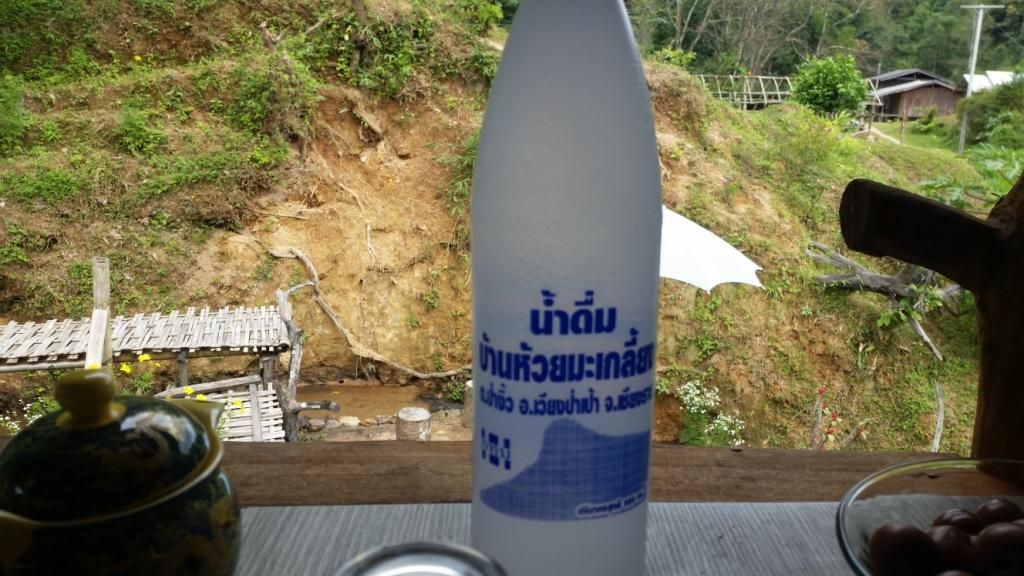 I gave Khun Thongsu 1000 Baht for being so helpful and I was happy that I had managed to climb this mountain on the 3rd attempt. He insisted it was too much, I bet he rarely sees a 1000 Baht note. But it was well worth it to me, so I made him keep it.
I then headed off west through more gorgeous scenery.
There were lots of mud puddles, river crossings and wooden bridges too. Great fun.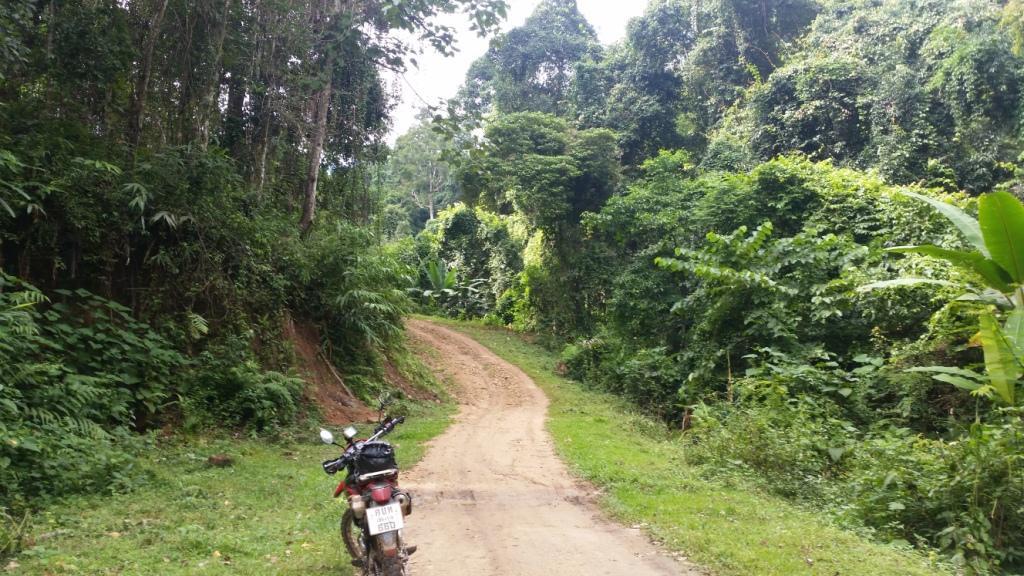 A roadside waterfall.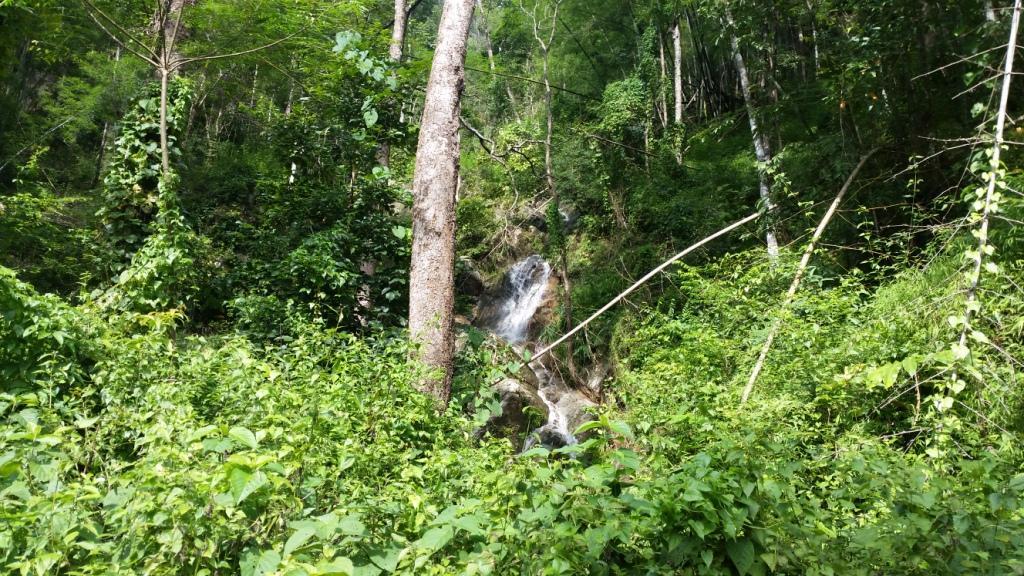 From the Huay Krai Homestay, the dirt road goes about another 25klms of great riding to pop out onto the 1001, about 25klms south of Phrao.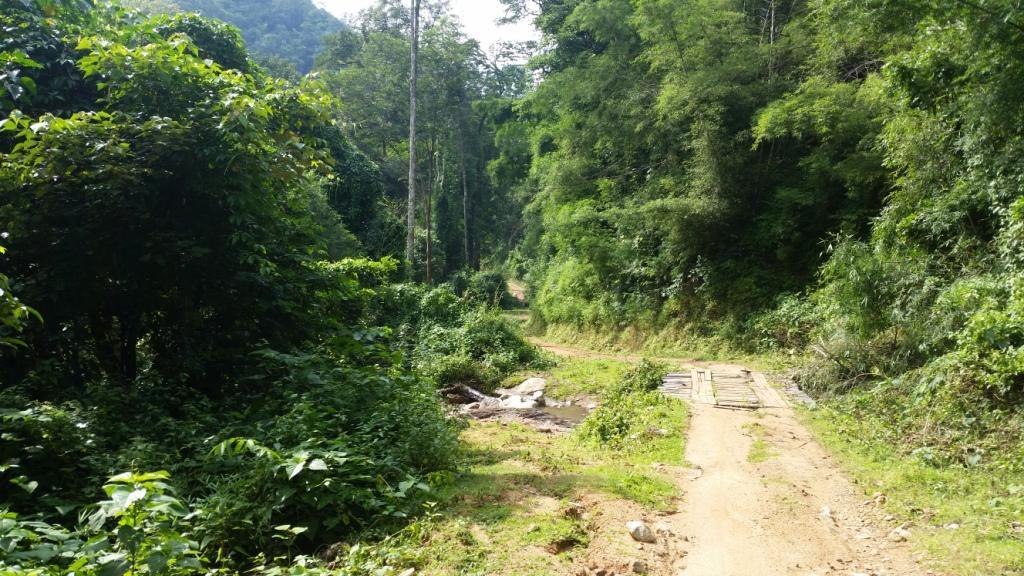 Another great day in Khun Chae National Park and I'm a happy unit, having finally ascended Doi PaNgom.
Last edited: