[size size=12]Well rainy season is upon us which means not the most pleasant weather at times to be on the bike. However riding the bike and exploring sure beats sitting in front of the internet or wasting away at the girlie bars.
This is not a ride report but just a quick update on a couple dirt routes I was poking along.[/size]
118 to 1150 via dirt.
I've been chatting with Auke and DavidFL since last year about finding an off road route that goes from the 118 50KM outside of Chiang mai and comes out on the 1150 East of Phrao. If you're interested here's the beta. Last year I looked for the road with IanBungy, Snail, and Luke. We found a fun trail that went through the forests but came out on the 1001 instead of the 1150. Strike one. Suited Luke up again a couple weeks ago to give it another shot. Well we found another nice road that parallels a river through gorgeous country, but once again came out 10 km west of Phrao on the 1001. Strike two.
Next up to bat was Dirty Dave. Dirty Dave was just having his leg knit back together after getting a steel plate inserted into his thigh thanks to a pick-up 7 months ago. He was itching for an easy ride to get back into riding. The two of us got together to see if the third time would be a charm and get us through to the 1150 for a home run.
Batters up!!! Take the 118 north east out of Chiang Mai about 50 KM's. Turn left under a wooden Arch sign onto a gravel road heading towards Ban Khun Lao.
The KTM needs gas here to make it out the other side with its scooter sized tank. Gas is available in jugs at this small store in Khun Lao.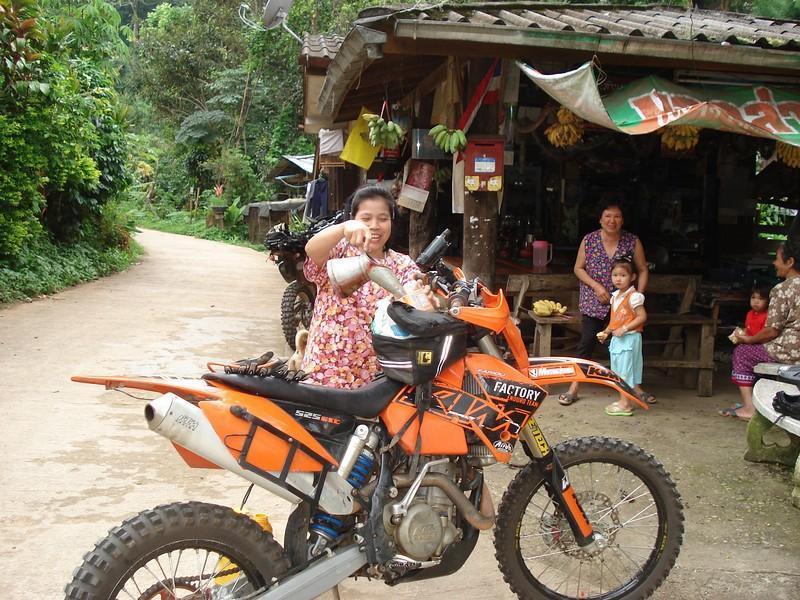 Keep right at this small store and aim for a village called Huai Xai.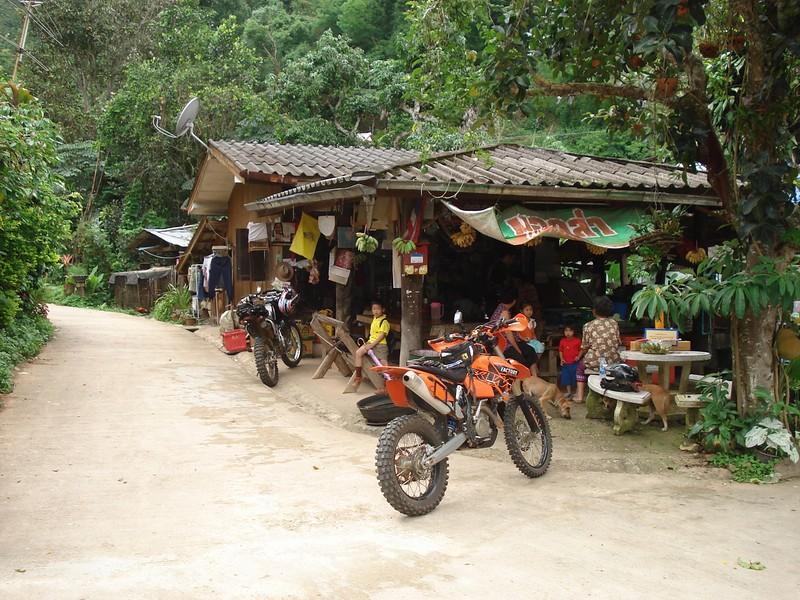 On your way you'll come to road signs in Thai at a fork in the road. Take the left fork under a wooden trellis, and go past the Wat. About a KM pass the Wat make a right that goes up a slight hill towards Huai Xai. When you get to Huai Xai turn left at a junction. So far all the roads are dirt truck roads and relatively mild, though in the wet can be slick. Poor Dave slid out on his still healing leg the poor bugger.
About 6 KM outside of Huai Xai there is a right 90 degree turn signposted in English (who woulda thought) to Chiang Rai. My friend Auke had been perusing various top secret maps and came up with a suggestion to get us to the 1150. Dirty Dave and I followed this suggested route.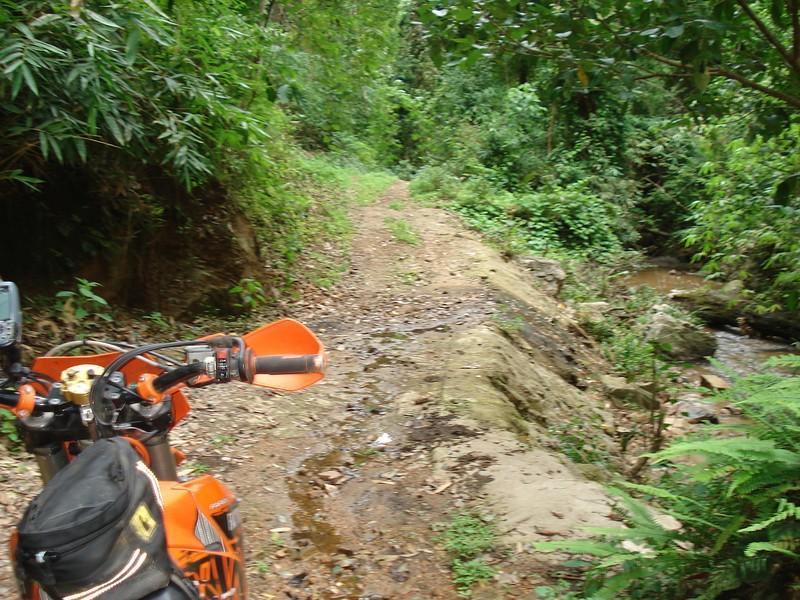 It turned into a gorgeous singletrack that parallels a river, crossing it numerous times.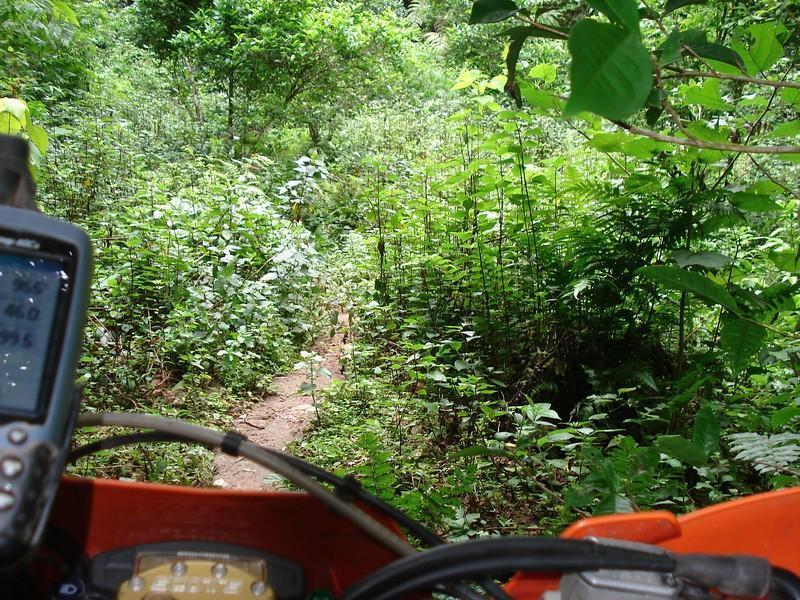 Then the trail changed its demeanor like a bar girl three days into a relationship. It got a bit feisty, rough and less than caring for our wellbeing.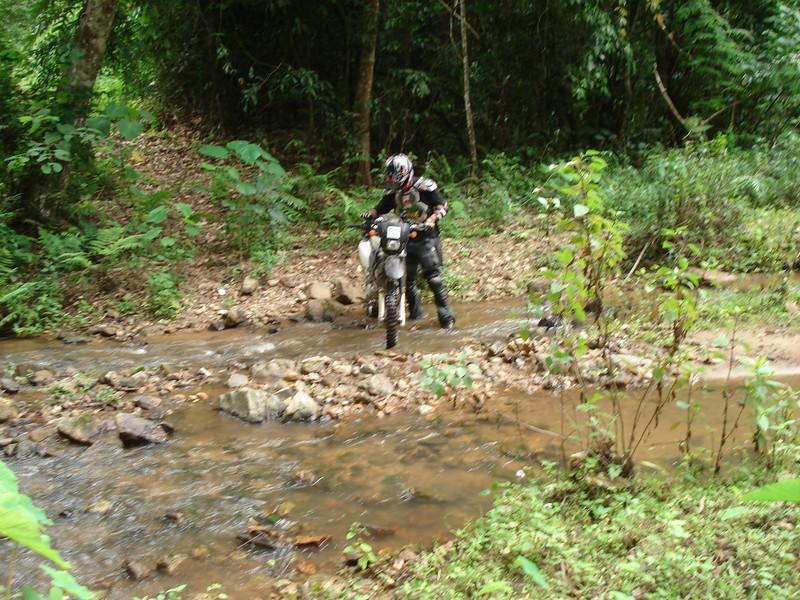 I was concerned about Dave and his still healing leg. He said, "bugger it and lets ride". Tough bastard. Then a slippery river crossing got him and down he went again. Luckily his healing leg was ok, unfortunately his right knee was crying to be propped up in a bar stool instead of wrestling dirt bikes through the muck. He'd pranged it good.
The trail got worse with rocky stream crossings, log crossings and slippery rocks. I begged Dave to stop a bit and rest his leg while I scouted the trail ahead to see if it was makeable with poor Daves leg.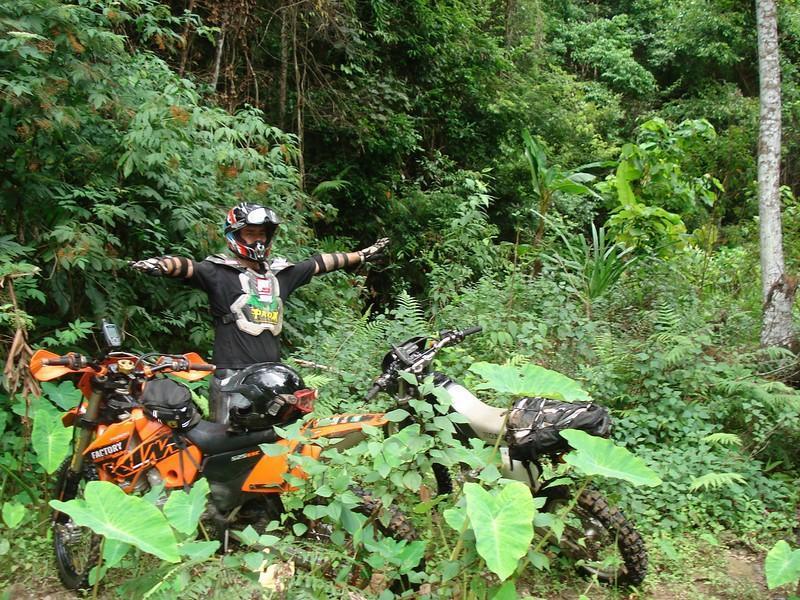 100 yards up the trail on an uphill, moss covered slick rocks scored one for the home team and threw me down like the crappy rider I am.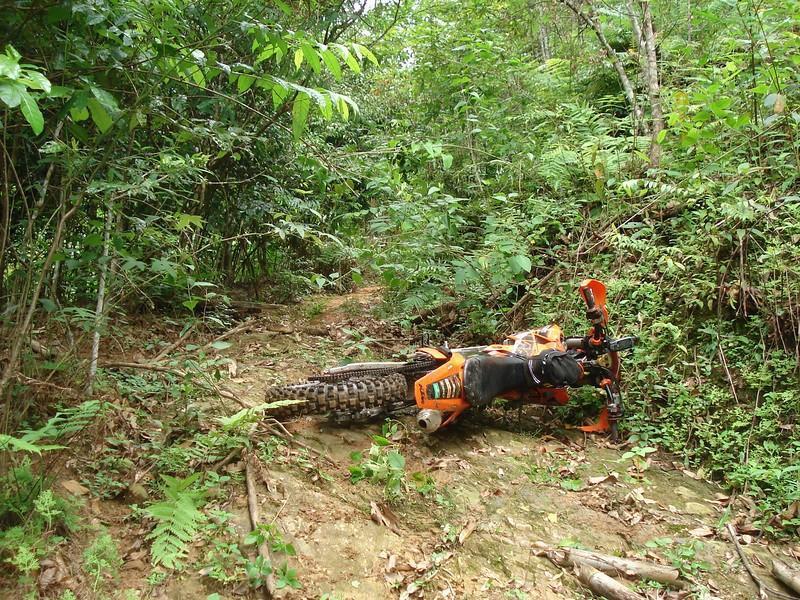 Trying to right the bike was even harder than the slick uphill since I could not stand next to the bike to pick it up. Ended up dragging the beauty queen down the hill like a red headed step child a bit before I could find dirt to stand on and pick the bike up.
Needless to say we threw in the towel on this section and deemed it not kind to bodies in the wet. I talked to a monk who confirmed that the trail does indeed go through though it needs to be a bit drier to get traction. We backtracked down the trail to the Chiang Rai sign and took that nice wide truck road instead. Much easier and about a ½ hour later we pulled up into the village of Mae Haang. Then it was an easy 17 KM's of dirt to the 1150.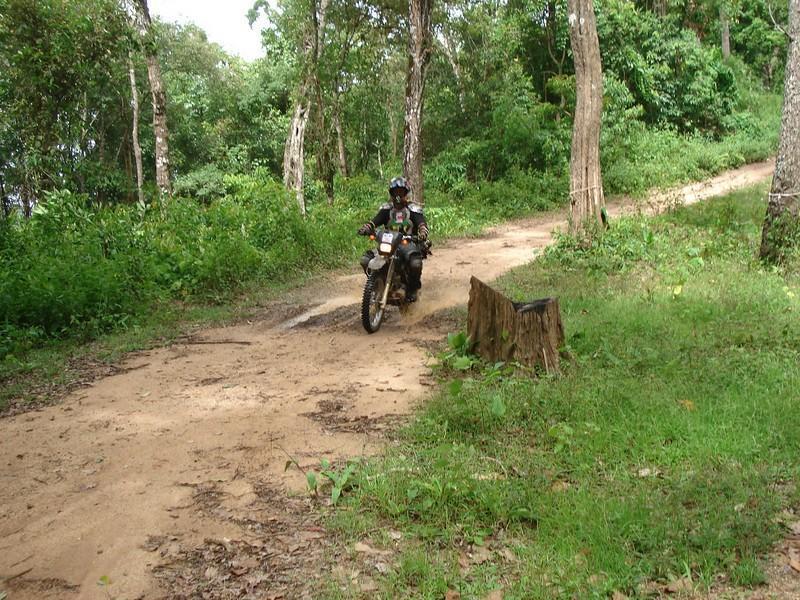 I was overjoyed to finally make it to the 1150, not quite a home run but it sure beat getting struck out a third time. The Tom Yam noodle soup we had in Phrao tasted especially good that lunch. So there is a dirt road from the 118 to the 1150 that is relatively easy dirt truck roads. Once you turn off the 118 ask for Huai Xai, then directions to Mae Haang then just head north to come out on the 118 near Mae Van Noi.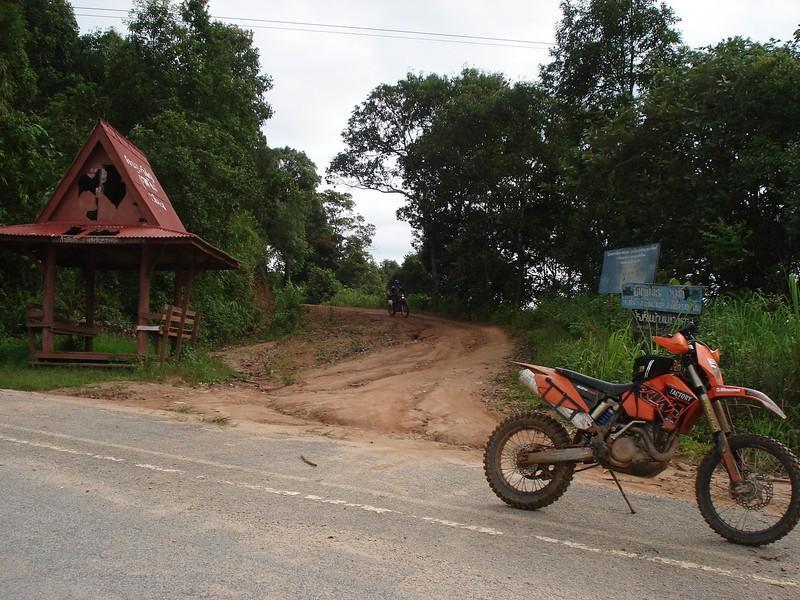 Sadly two days later Dirty Dave called to inform me his ACL was now as useless as a Thai gal; not doing anything productive, not attached, and just hanging about taking up space. Poor Dave needs more rehab than Amy Whitehouse.
===========================================
[size size=18]
107 to 1346 v ia dirt
Next ride HondaHonkey and I kitted up the bikes in supermotard trim for a prance round the roads from Cnx to Chiang Dao, up the 1322 to Wiang heng then 20 Km's of dirt and over to Arunathai then up Doi Ahn Khang and to Fang for the night. After nothing but wet roads the whole way all I can say is I can't wait for the karma to turn cuz she better be a pretty girl after all those soggy turns we went through on the ride. The 20 KM dirt section from Wiang heng was a bit rougher than it was a month ago.
Anyhow after a night on the piss in Fang Luke and I awoke to discover we both had less money in our pants than we thought we should have. Turns out some strange things may have been going on in our pants last night and not the fun kind of strange things.
I had talked with Auke about a route from the 107 that should come out on the 1346 outside of Phrao. He guessed it should be an easy route according to Google Earth. I was originally planning to do it with Dave Early since it would be a nice day ride. However the cherry was in front of us on the way home from Fang and we could not resist. We had Motard tires instead of dirt tires but if the route is easy it should be doable.
The route started as the only asphalt heading east off the 107 between the 1346 and the 1150. About 9 KM or so north of the 1150 on the 107. It started on some nice asphalt turns through bamboo and teak forests. Some of the prettiest terrain is above Chiang dao with Karst formations and teak forests combining for spectacular surroundings. The tarmac surrenders to dirt then the once dirt truck road turns into singletrack. Hmmm this is not what I was expecting I think. The trail is great and Luke and I bounce through the jungle. We start crossing streams and things are all rosey.
That is until the Ready to Race KTM enduro bike got her panties in a twist and threw in the towel on the ride when asked to cross a stream.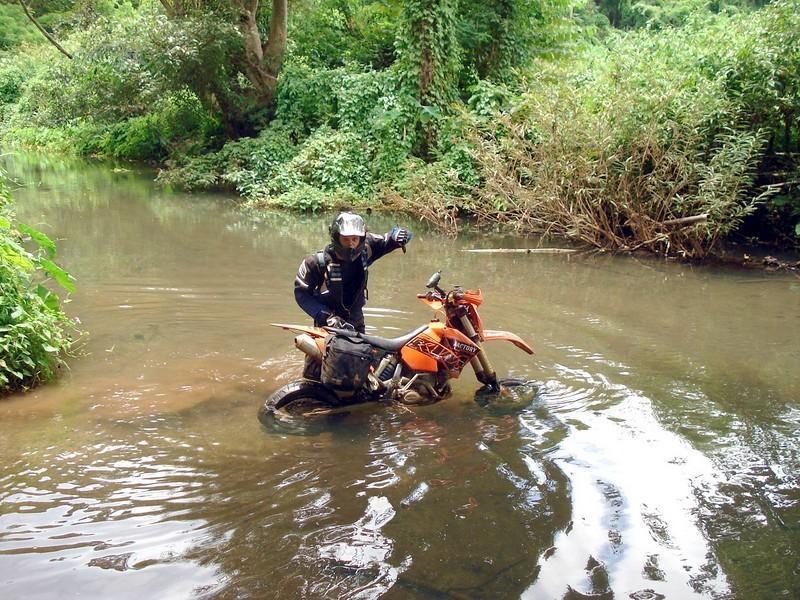 Crossing streams is part of any Enduro riding so Luke and I were flabbergasted when the KTM up and rolled over and died once it got its toes wet. There it sat in under two feet of water dead as a doornail. Bloody useless, the Honda Dreams make it through no problem I think why not the "Ready to Race" KTM. I'm beginning to think KTM stands for Kan't Take Much. Feeling disgusted at this point.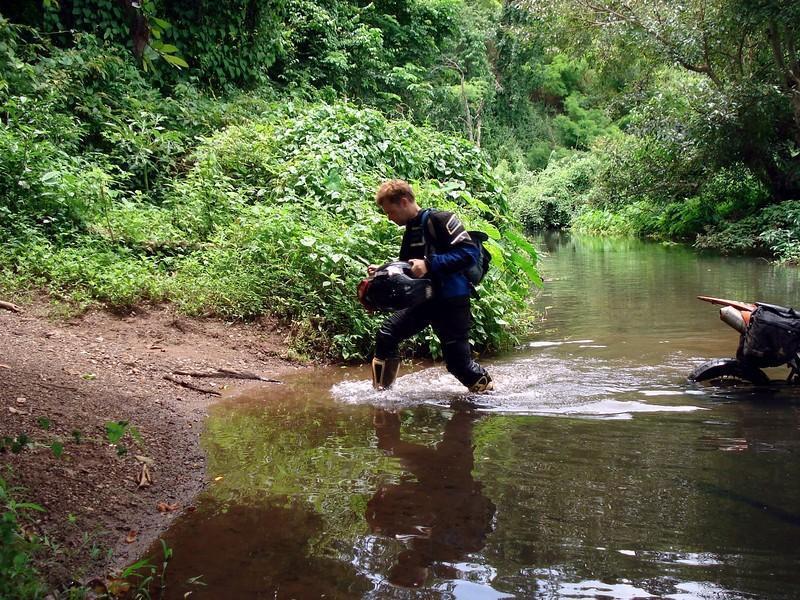 We hauled the KTM out of the river and let it dry its hair. We weren't 3 KM's into the dirt and already the ride had come to an end. 25 minutes later the bike fired up gurgling and snorting. It seemed too early to call it a day so we decided to try the river crossing again. This time the bike made it through, thankfully. Then Luke crossed and his
XR at least waited until it made it out the other side of the river before dyeing.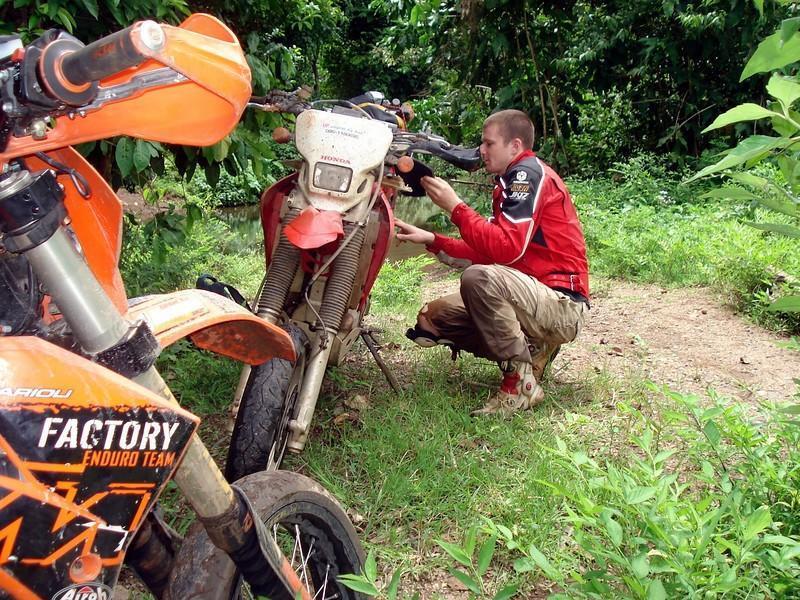 Seems this crossing was cursed. Another 20 minutes of bike rescuing and we were off down the trail.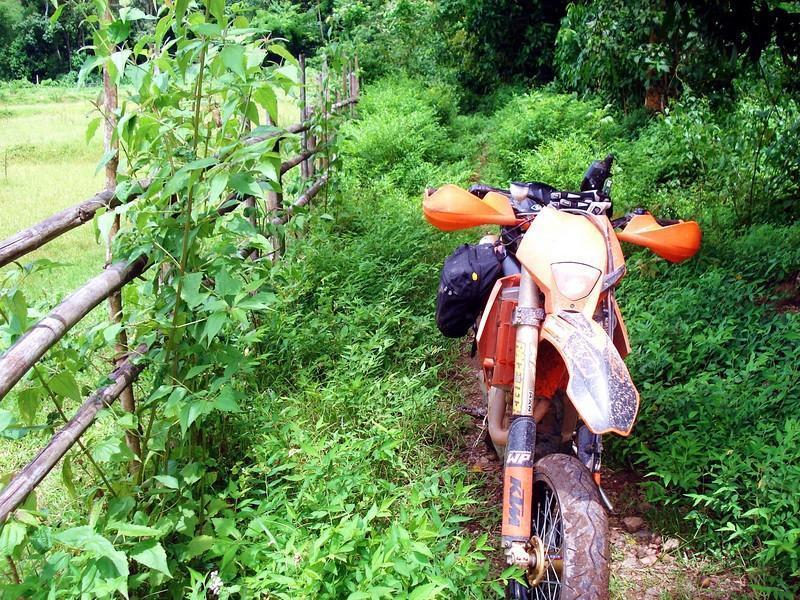 We continued down the trail with a few more stream crossings and skirting some rice fields. The trail was buried deep in a canyon and was marvelous. Then we came to another fence blocking the trail. Most of these are openable with bamboo stakes to keep cattle in and allow free traveling. You just make sure to close them behind you. This gate was different as it allowed you to walk over but not through and was fixed in place. Bottom line it was end of the trail for us as there were no trail options to circumvent the fence.
On the way back we came to the river that was awkward to cross. This time Luke dove in first and continued across…….for ten feet before the bike died in the middle of the river. I laughed my ass off and told him to watch while a KTM shows how its done. Erm, uhh, 15 feet later my bike was dead in the middle of the river. Luke was pleased as punch as the orange queen did not make it as far as his XR. We looked a couple of monkeys with two dead bikes stuck in the river.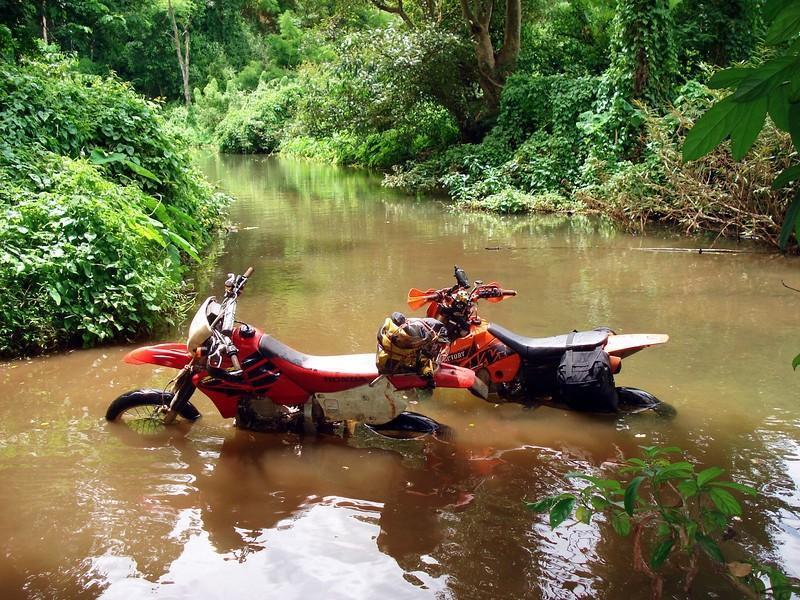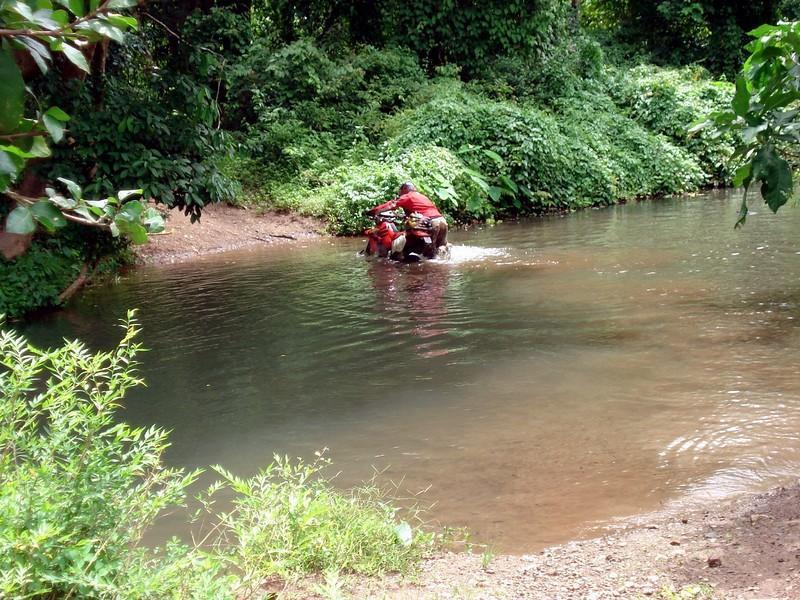 Just then a farmer came down to see what the commotion was about. We told him our prized steeds were now river debris and he asked what we would do. We shrugged and said "don't know". After talking with him he said the trail does indeed go through to the 1346 however not during rice crop season as they put gates along to protect their rice crops. He says in a couple months the trail will be open to through traffic. So Luke and I will be back then with dirt tires instead of motard tires for the nice ride through this forest. He also said there are plenty of Cobras in the area as he says he sees them every week. Dorothy we're not in Kansas any more.
We drug the bikes out for them to dry, drained the carbs and contemplated life. We're a bunch of flipping Muppets sometimes but at least we choose pretty places to have bike problems.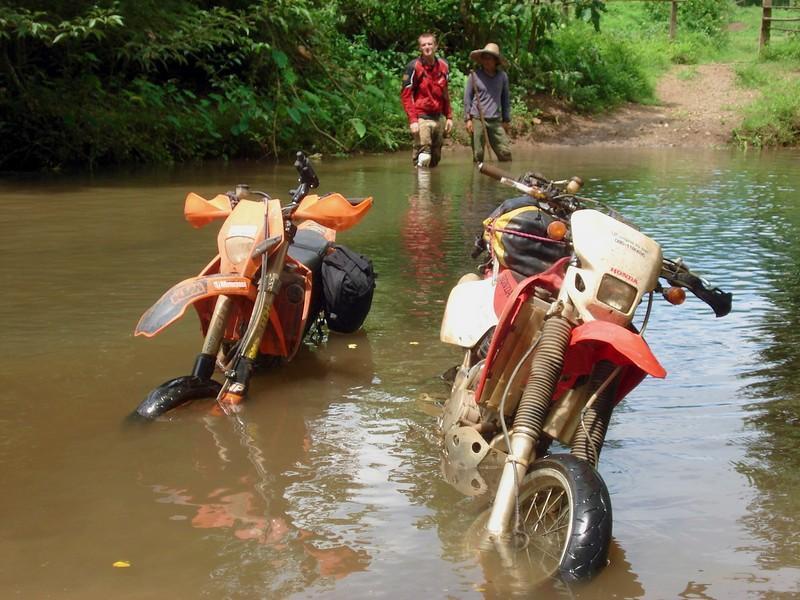 In summary it's a stunning area to ride in and look forward to hitting it in the dry season when the trail is open.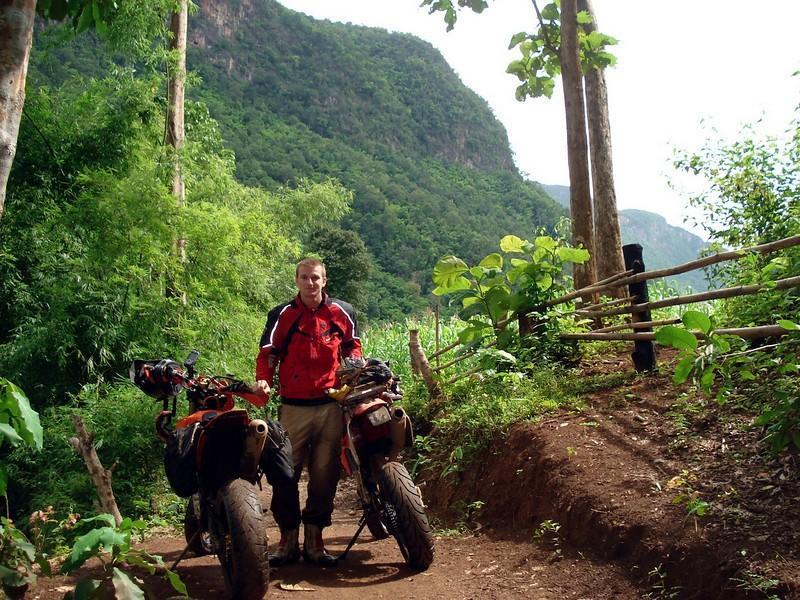 [/size]