This time I will take you on a short half day tour around the city of Putrajaya. But before I proceed, I will add a bit of information concerning Putrajaya to build up a picture what Putrrajaya is all about, mostly picked up from wikipedia.
Putrajaya is a planned city, located south of Kuala Lumpur, that serves as the federal administrative centre of Malaysia. The seat of government was shifted in 1999 from Kuala Lumpur to Putrajaya, due to the overcrowding and congestion in the Kuala Lumpur areas. Nevertheless, Kuala Lumpur remains Malaysia's national capital, as the seat of Parliament, as well as the country's commercial and financial centre. Putrajaya was the brainchild of former Prime Minister Tun Dr Mahathir Mohammad. In 2001, Putrajaya became Malaysia's third Federal Territory after Kuala Lumpur and Labuan.

The vision to have a new Federal Government Administrative Centre to replace Kuala Lumpur as the administrative capital emerged in the late 1980s, during the tenure of Malaysia's 4th Prime Minister, Dr. Mahathir Bin Mohamad. The new city was proposed to be located between Kuala Lumpur and the new KL International Airport (KLIA).

Planned as a garden and intelligent city ( approximately 11,320 acres (46 km²) , 38% of the area is reserved for green spaces by emphasizing the enhancement of natural landscape. A network of open spaces and wide boulevards were incorporated to the plan. Construction began in August 1995 and it was Malaysia's biggest project and one of Southeast Asia's largest with estimated final cost of US$ 8.1 billion. The entire project was designed and constructed by Malaysian companies with only 10% of the materials imported.
I think the best way to discover Putrajaya had to be on bicycle. And thus on 11 Jun I set off alone from a rented room at Precint 10 of Putrajaya. For this short trip I had brought a Merida 901 road bike with sleek tyres and a small bag attached to a clip-on rear rack for the camera and other stuff. As I was travelling solo, most of the pictures were taken with the camera held with one hand or placed on road curbs or whatever solid objects that was convenient. Thus you may noticed that some of the pictures showing large image of my face. The whole trip took me almost 5 hours of leasure ride and photography. The trip meter on my bicycle clocked 32 kilometers.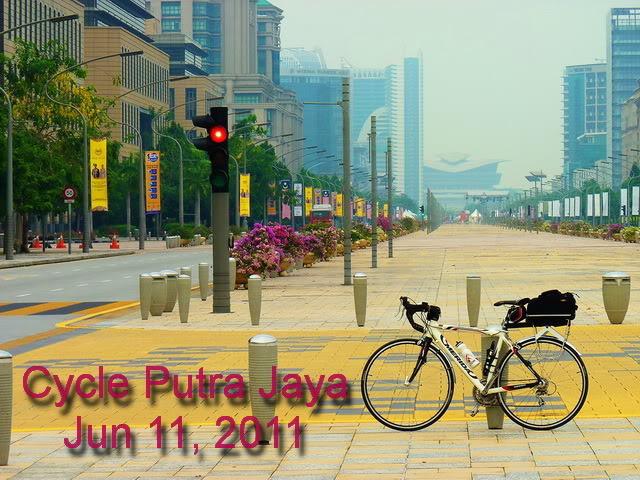 The streets of Putrajaya, always free from traffic, but there was a bad haze early that morning