0
Staff member
Subscribed
Jan 16, 2003
14,188
5,159
113
69
Managed a free ride to / from Chiang Khong the other day to send off our Chinese Zipstar rider to Laos & beyond.
On the way back we had a bit of time to play around with so I suggested we slip up into the Wawi area to check on a favourite old steep dirt trail.
I'd not been in there for many years & it was a bit of a shock when I discovered that it was still the same - very steep dusty, bumpy, stony at the east end.
Check out the GPS profile below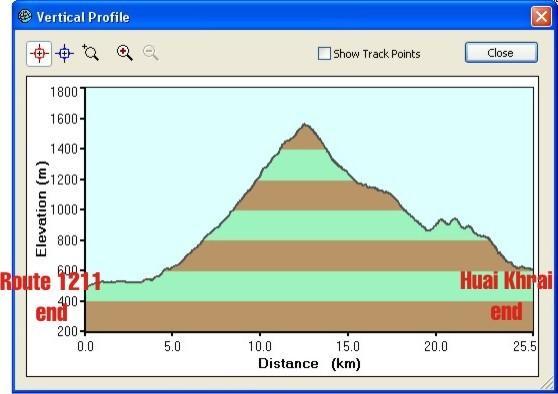 as you can see she goes pretty well straight up at the east Route 1211 end.
Check out page 96 of the GT Rider Golden Triangle guidebook for info & how & where this trail is.
Note that from Doi Chang to Lisu Huai Khrai, most of it is single lane concrete now. But it's still the old forestry trail going over the other side.